Are you looking for a vegan Bolognese sauce like the classic Italian ragù that would make even the pickiest of meat eaters happy? Look no further! This delicious Italian Style dish combines lentils and mushrooms to create an irresistibly hearty, yet delightfully plant-based meal.
You can have it ready in just 20 minutes - perfect if you want to treat yourself on Meatless Monday or any other day! Plus, this recipe is gluten-, soy- and optional nut-free; making sure everyone can enjoy its scrumptious taste.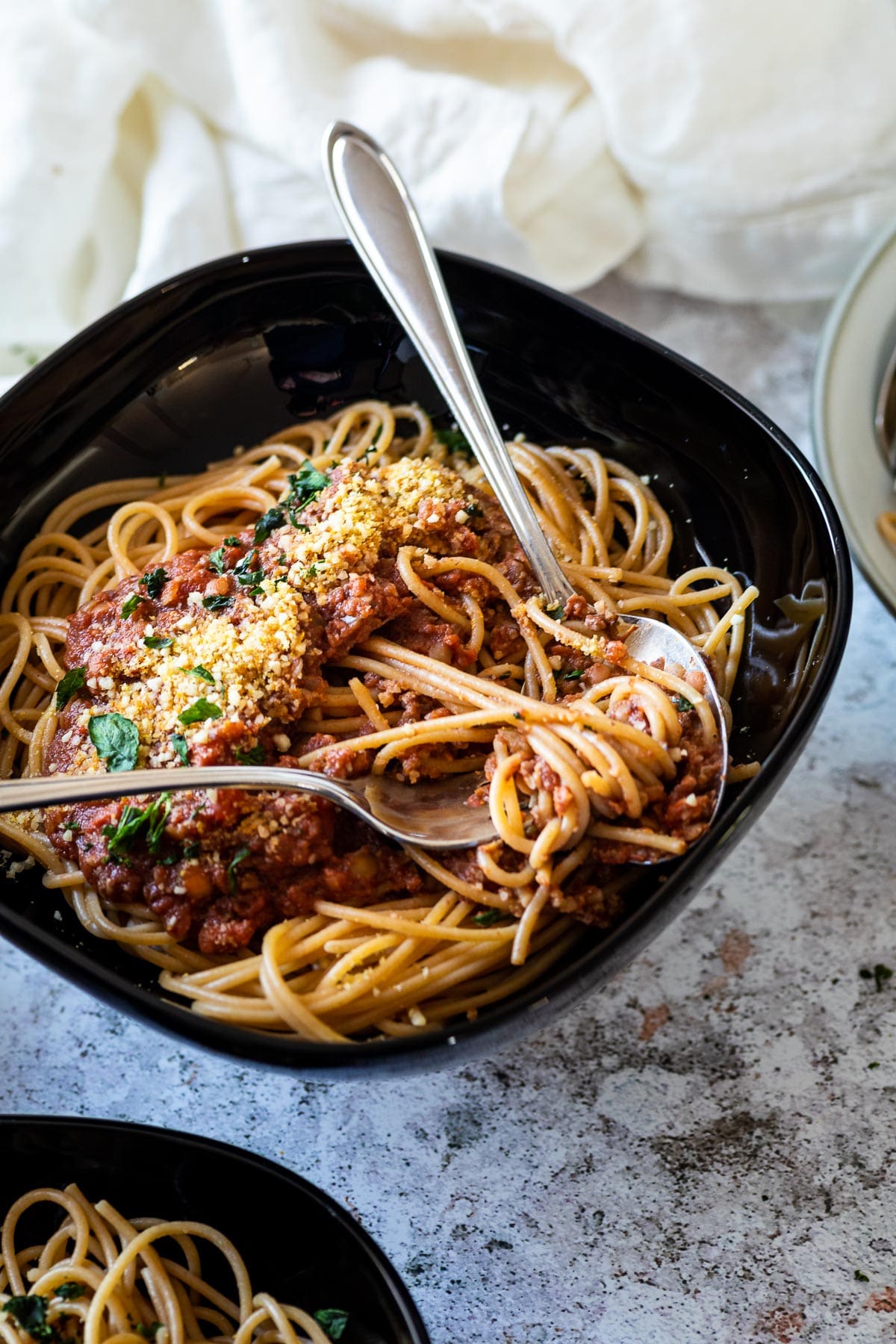 This recipe is inspired by my oil free vegan marinara sauce, vegan lasagna. It pairs well with Cucumber Salad, Caesar Salad, Bruschetta.
As an Amazon Associate, I earn from qualifying purchases. This post may contain affiliate links. Read More
Ingredients
A quick list, what we use to make this lentil bolognese.
You can find the ingredients with quantities and the recipe to print out on the recipe card below.
Main Ingredients:
Mushrooms
Red Lentils
Pecans
Carrot
Celery
Yellow Onion
Crushed Tomatoes
Tomato Paste
Balsamic Vinegar
Almond Milk
Vegetable Broth
Sea Salt
Black Pepper
Other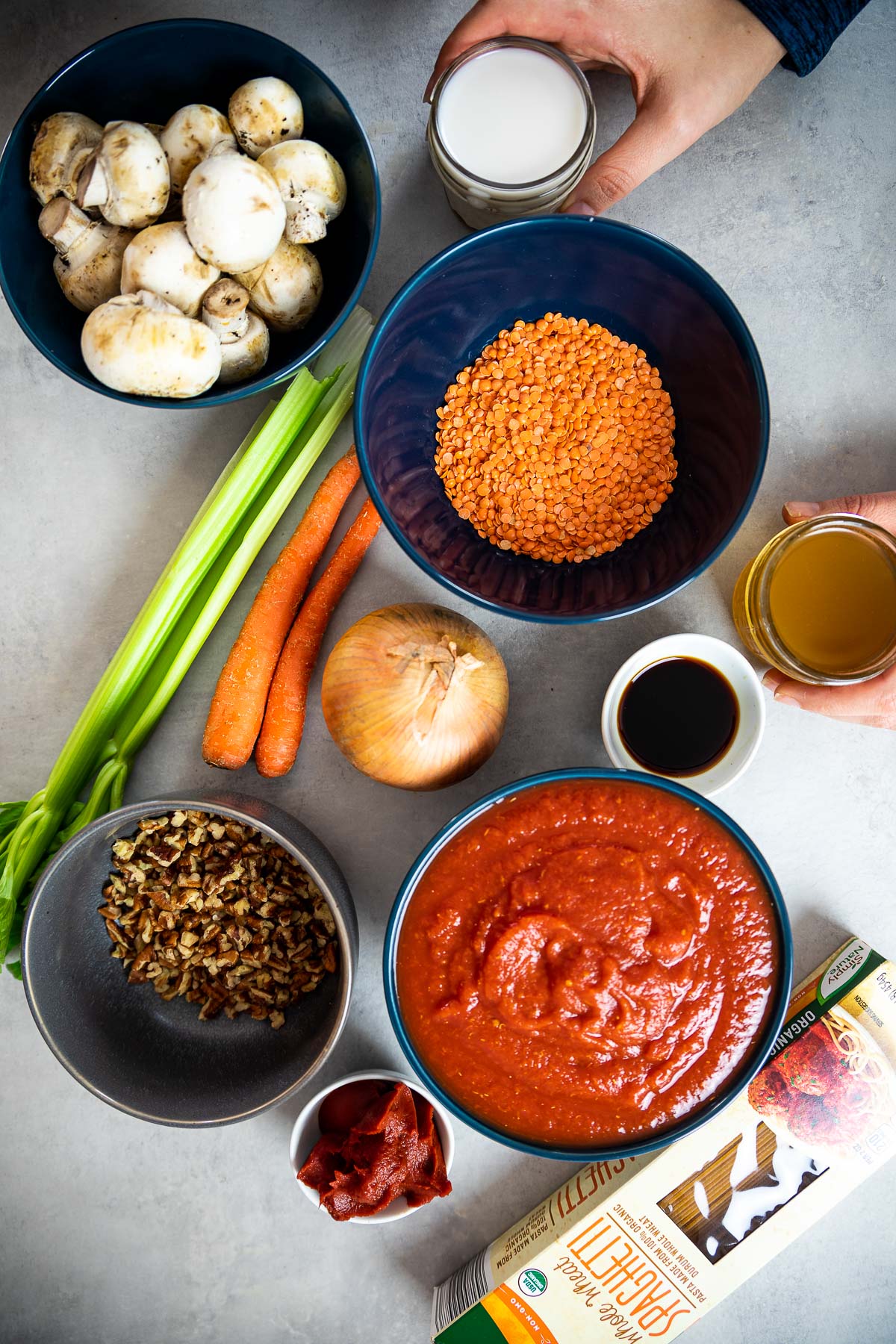 Instructions
To get started, quarter a pack of mushrooms and onion and place them in a food processor. Add a coarsely chopped carrot, 2 celery stalks, 2 handfuls of chopped pecans and use the pulse function until finely chopped. They shouldn't be too small like a mush or too coarse.
Sauté the vegetables in a large pot until translucent. Always add a little water, so it does not stick to the bottom.
Add the ½ cup of red lentils, 2 cans (1600 ml) crushed tomatoes, ½ cup of vegetable stock and 4 tablespoons of tomato paste. Stir until everything is well mixed.
Simmer over medium heat for about 10 minutes. When the lentils are soft, add half a cup of almond milk and 2 tablespoons of balsamic vinegar. Stir until well mixed, and taste with sea salt and black pepper.
Hint: I recommend you chop the carrots and celery with the mushrooms. It tastes best when these are super finely chopped.
Make this tomato sauce, check out my vegan carbonara recipe, vegan arrabiata pasta and my other vegan pasta recipes.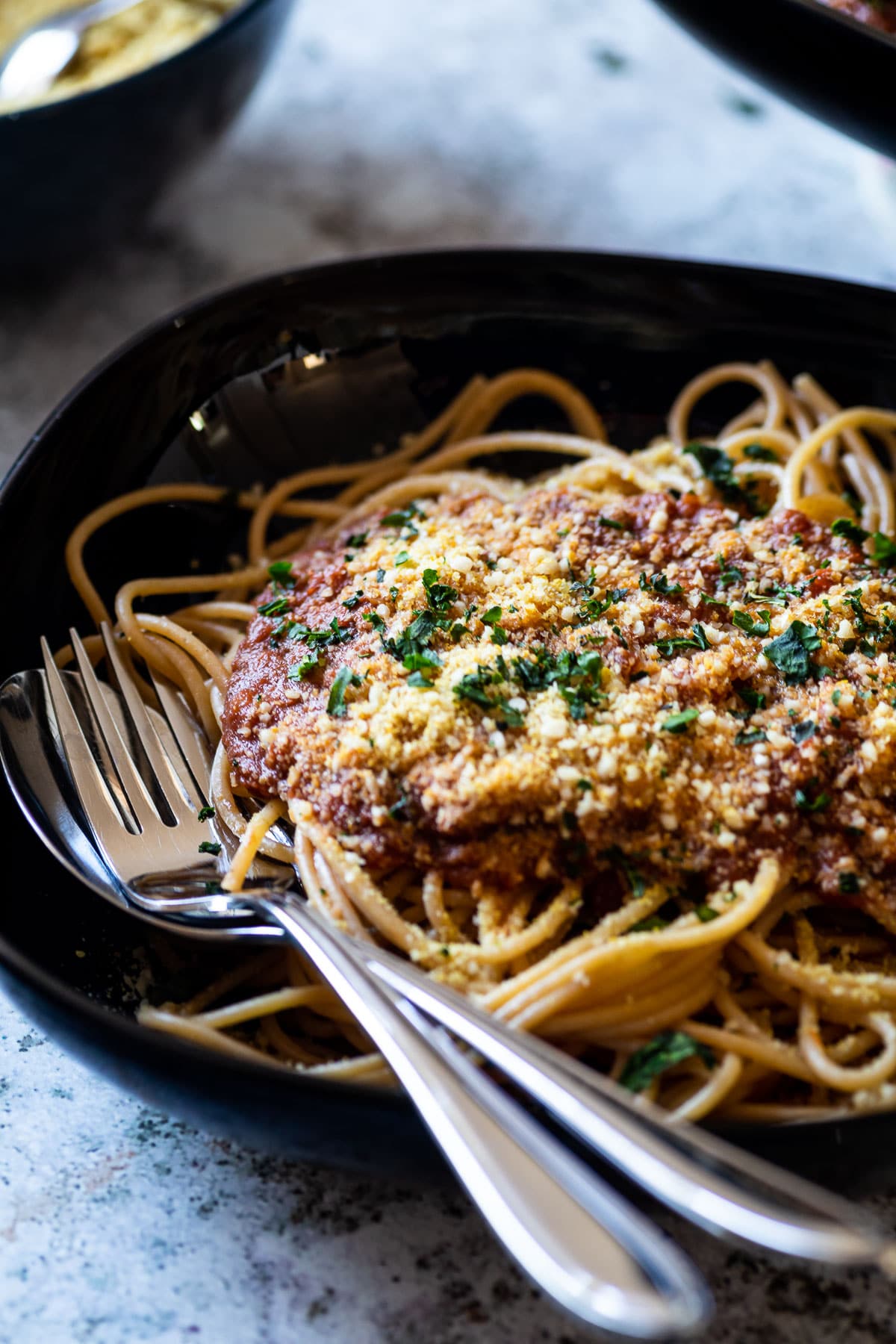 Substitutions
The combo of mushrooms, lentils, carrots, celery and pecans will add the texture of ground meat, below are some ideas how to substitute them.
Mushrooms: You can of course replace the chopped mushrooms with lentils or textured vegetable protein. I think the mushrooms give a great umami taste and meaty texture to our vegan bolognese recipe. Use cremini mushrooms or white mushrooms.
Lentils: Instead of lentils, you can use more mushrooms, carrots and celery. Instead of red lentils, you can also use green lentils. Those also add plant-based protein.
Crushed Tomatoes: You can also use tomato purée instead.
Pecans: If you don't like pecans, or if you don't have any on hand, you can also use chopped walnuts, sunflower seeds, or pumpkin seeds.
Balsamic Vinegar: If you don't want to add balsamic vinegar, you can also add 60 ml of red wine or white wine. Then add this to deglaze after sautéing.
Almond Milk: You don't necessarily have to use almond milk for this vegetarian bolognese recipe. You can also use other unsweetened vegan milk here. I do not recommend using oat milk here, as it is naturally a bit sweet and yet tastes more like oats. I recommend
Pasta: Use for this vegan spaghetti bolognese whole wheat pasta, zucchini noodles or gluten-free pasta. Use your favorite pasta for this vegan meat sauce.
Parmesan: Instead of vegan Parmesan, you can sprinkle this bolognese with some nutritional yeast.
Variations
Garlic: You love garlic, add some fresh minced garlic cloves or garlic powder for some extra flavor.
Herbs: Add some fresh basil, fresh thyme or Italian seasoning if you want to.
Spicy: Add red pepper flakes for some kick to this pasta sauce.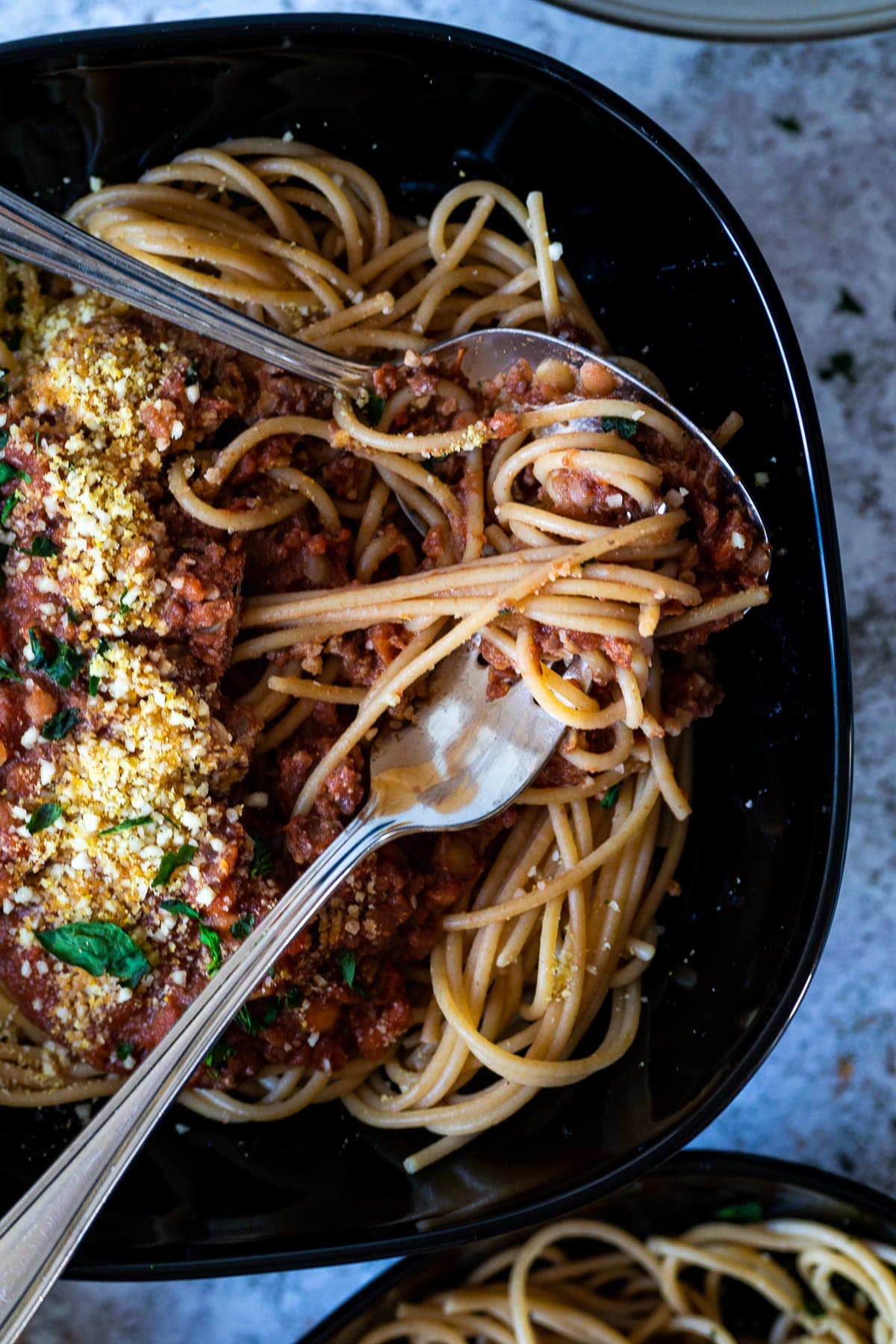 Equipment
Here are some kitchen tools that will help to make this vegan bolognese sauce.
Serving Options
You want to serve something with the Bolognese. We like to eat it with just a green side salad. You can also serve the following with it:
Starter:
Vegan Tomato Mozzarella Platter (Caprese Salad)
Side:
Dessert: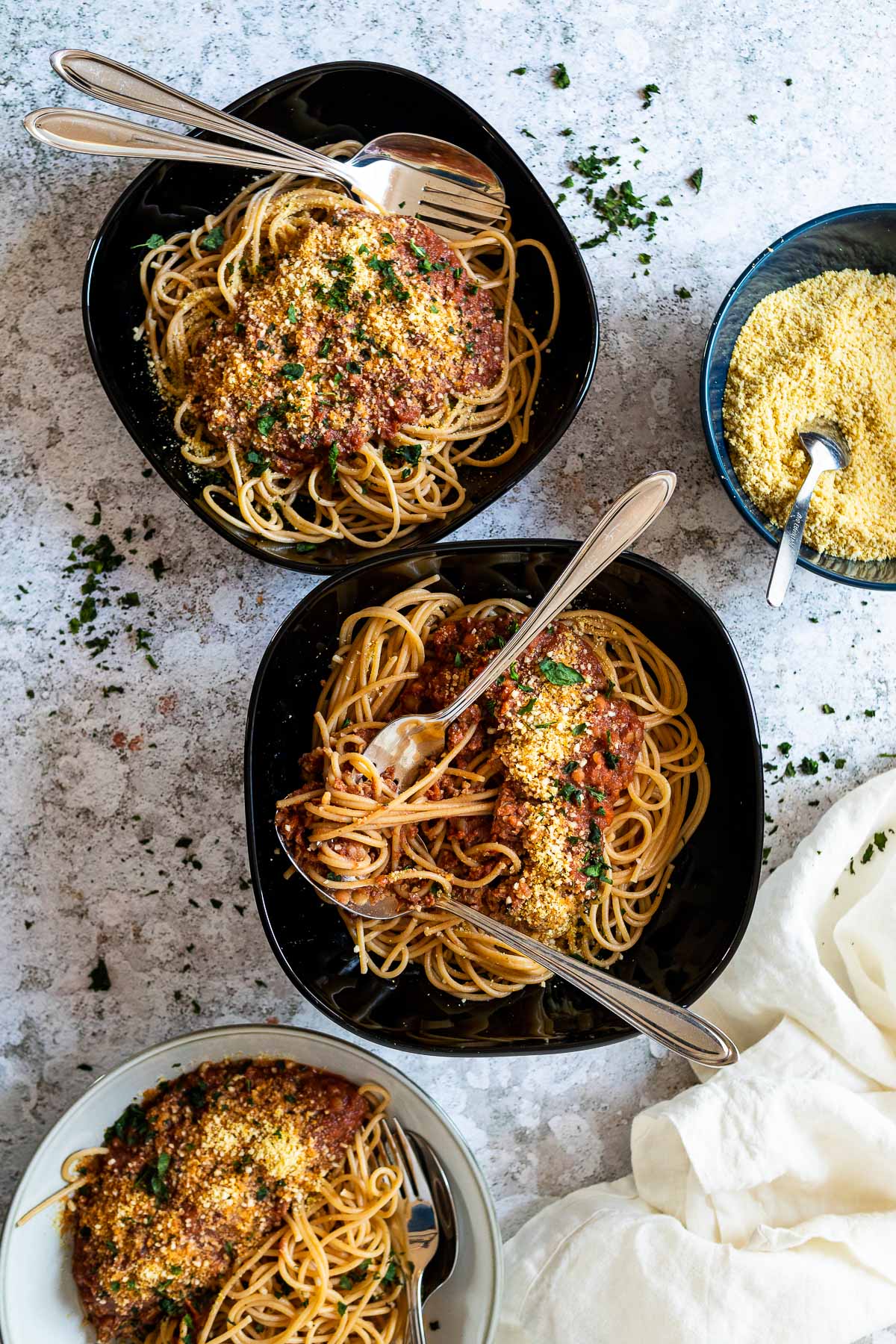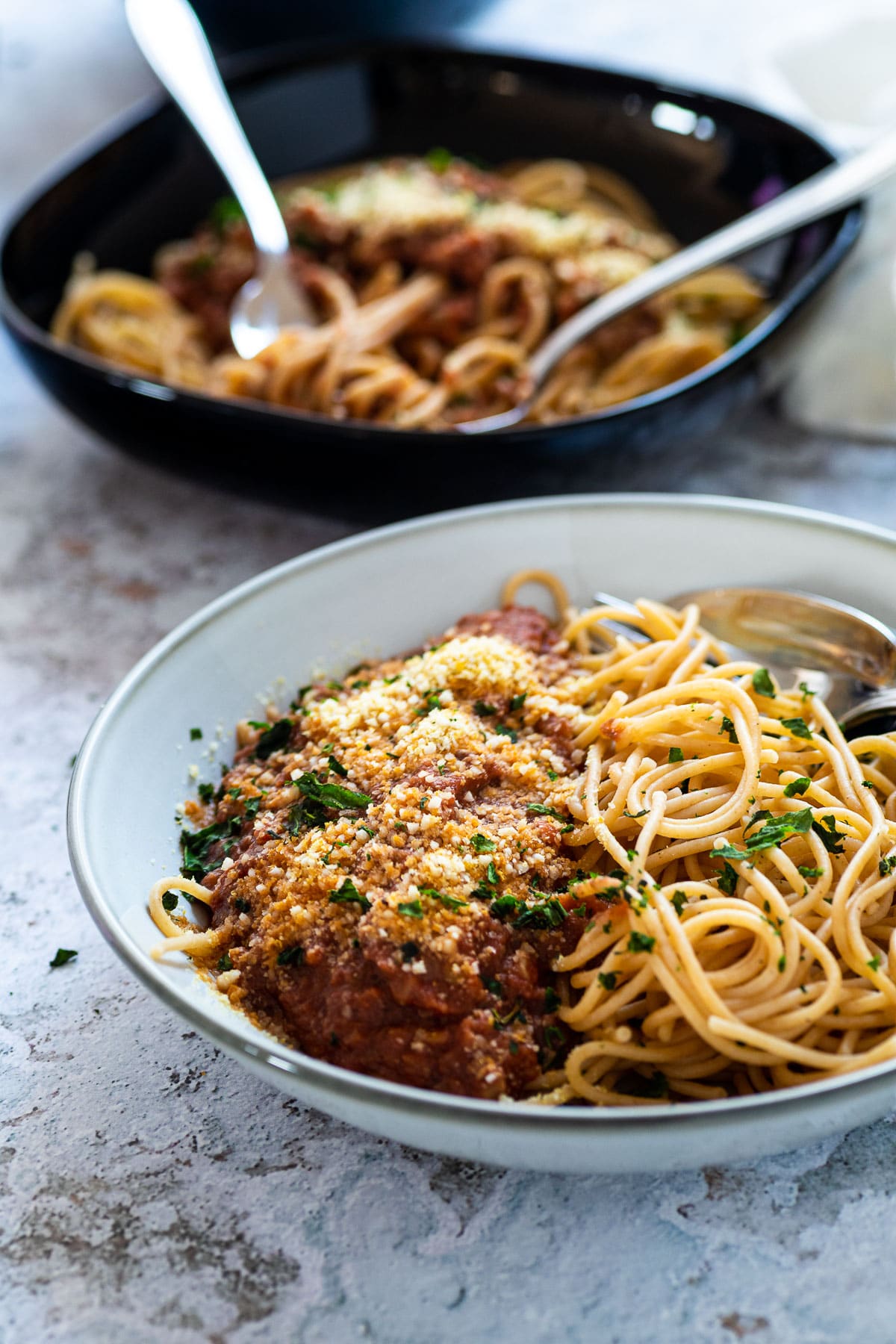 Storage
Fridge: In the refrigerator in an airtight container (e.g. mason jars like Mason Jars) are great for this. The Bolognese last there for about 5 days.
Freezer: To freeze, simply use a portion sized freezer-safe container. Make sure that you don't fill glasses to the brim here. Because the sauce expands a bit when it freezes.
Reheat: To thaw, simply put the easy vegan Bolognese sauce in the fridge overnight and heat it in a small pot the next day.
Meal Prep
This meat-free version is perfect to prep in bigger batches, just freeze some portions. I am sure the whole family, even your meat-loving husband, will love it.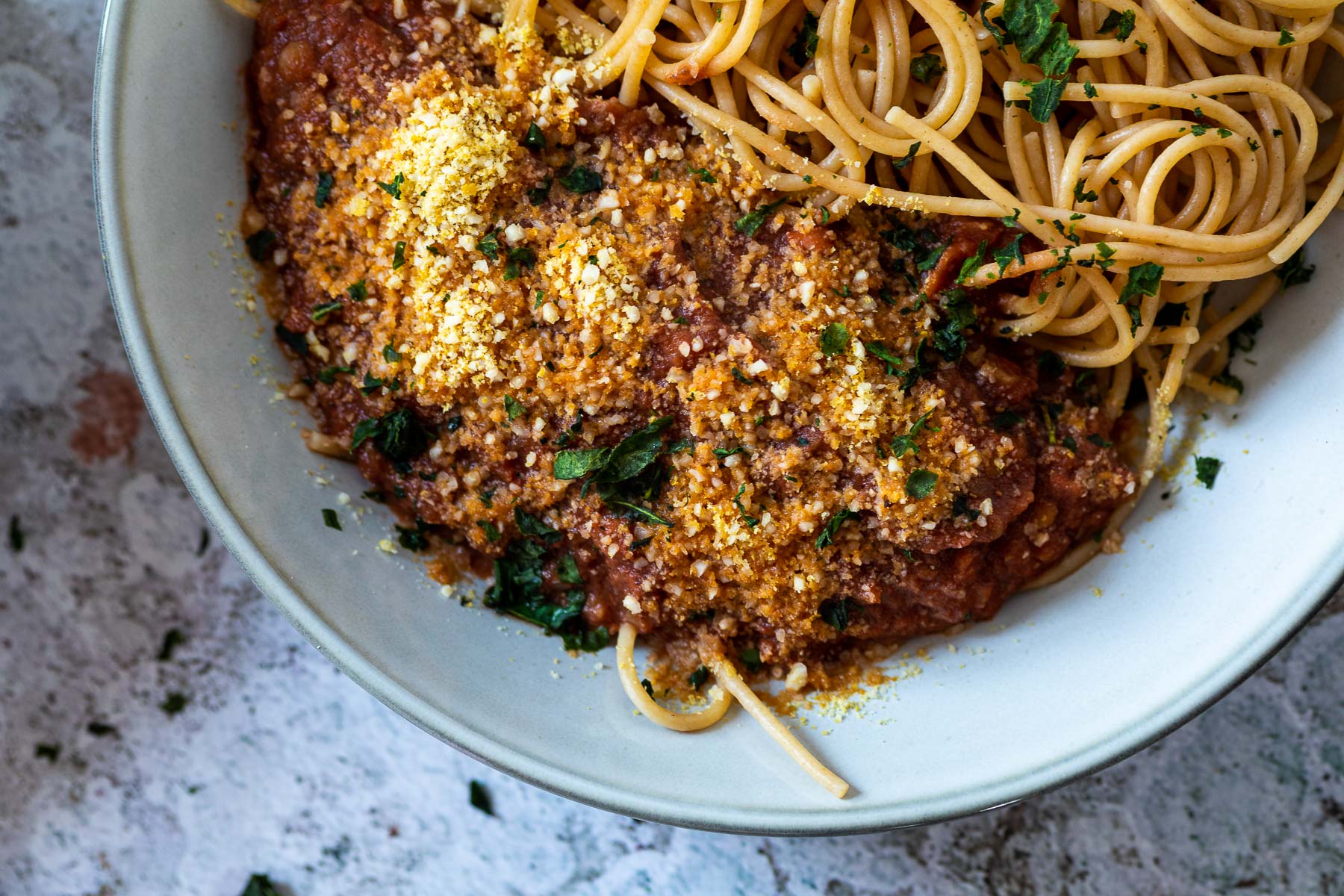 Tips
The sauce is relatively thick thanks to the chopped mushrooms etc. If you want it a little more liquid, I recommend adding a little more tomato passata.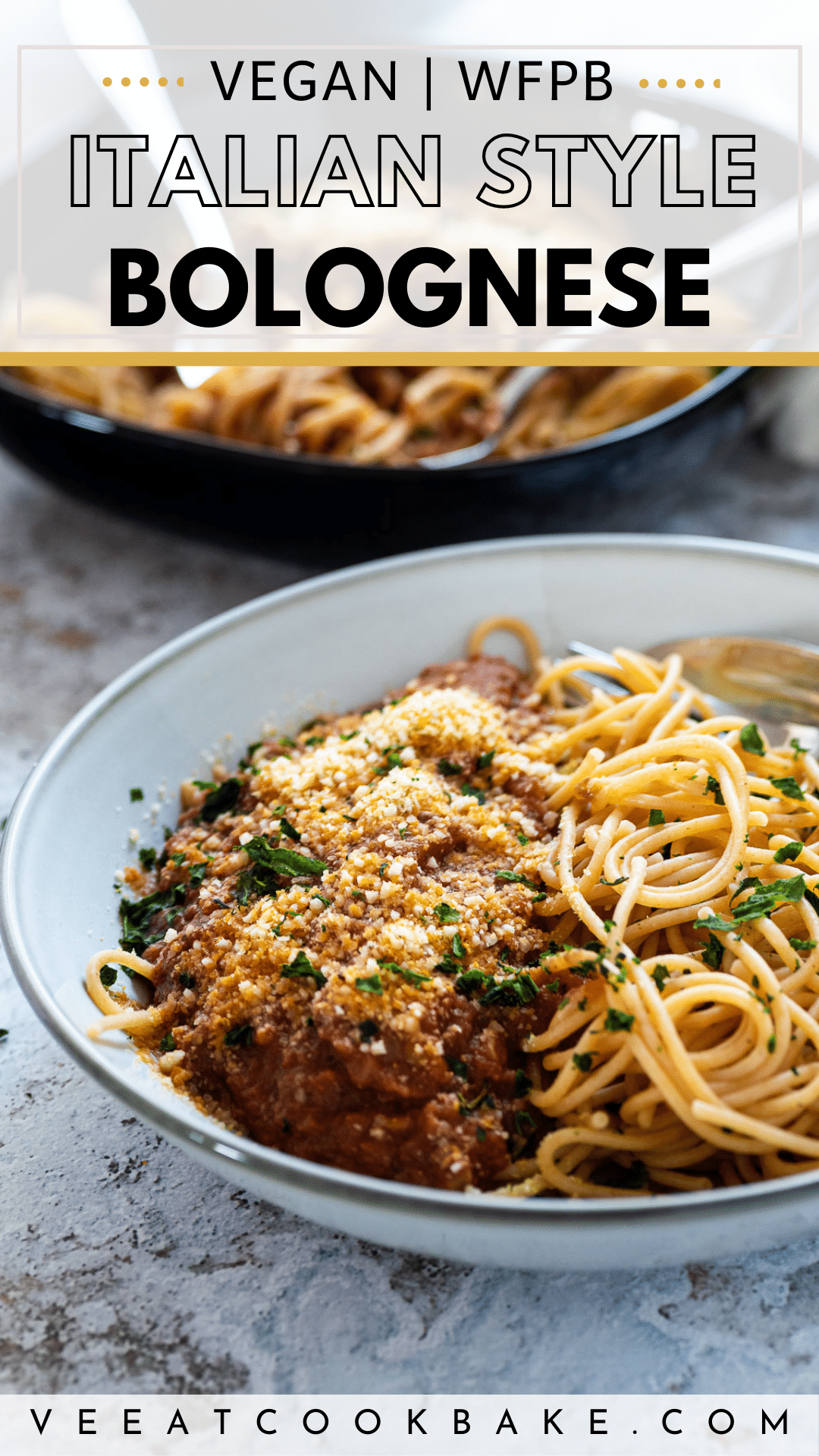 FAQ
What is Bolognese?
Ragù alla Bolognese is one of the most famous dishes from Italian cuisine. Basically, it's a tomato and mince sauce that is traditionally served with pasta.
The classic Bolognese sauce comes from Bologna and is traditionally served there with tagliatelle, or it is made into a lasagna. Outside of Italy, the sauce is known as spaghetti bolognese.
Do you add milk to the Bolognese?
Yes! After a long research for traditional and authentic recipes, I add some milk to an Italian-style Bolognese. This is supposed to soften the taste of the tomatoes a little. I like to take an unsweetened, neutral taste, plant-based milk alternative like almond milk.