Recipe for the best vegan Bolognese sauce ever. From wholesome ingredients you can make a tasty Italian Style Bolognese sauce, which reminds you of the taste of the original from Italy in terms of texture.
The vegetarian Bolognese sauce with mushrooms can be on your table in 20 minutes. This vegan pasta sauce is gluten-free, soy-free and optionally nut-free.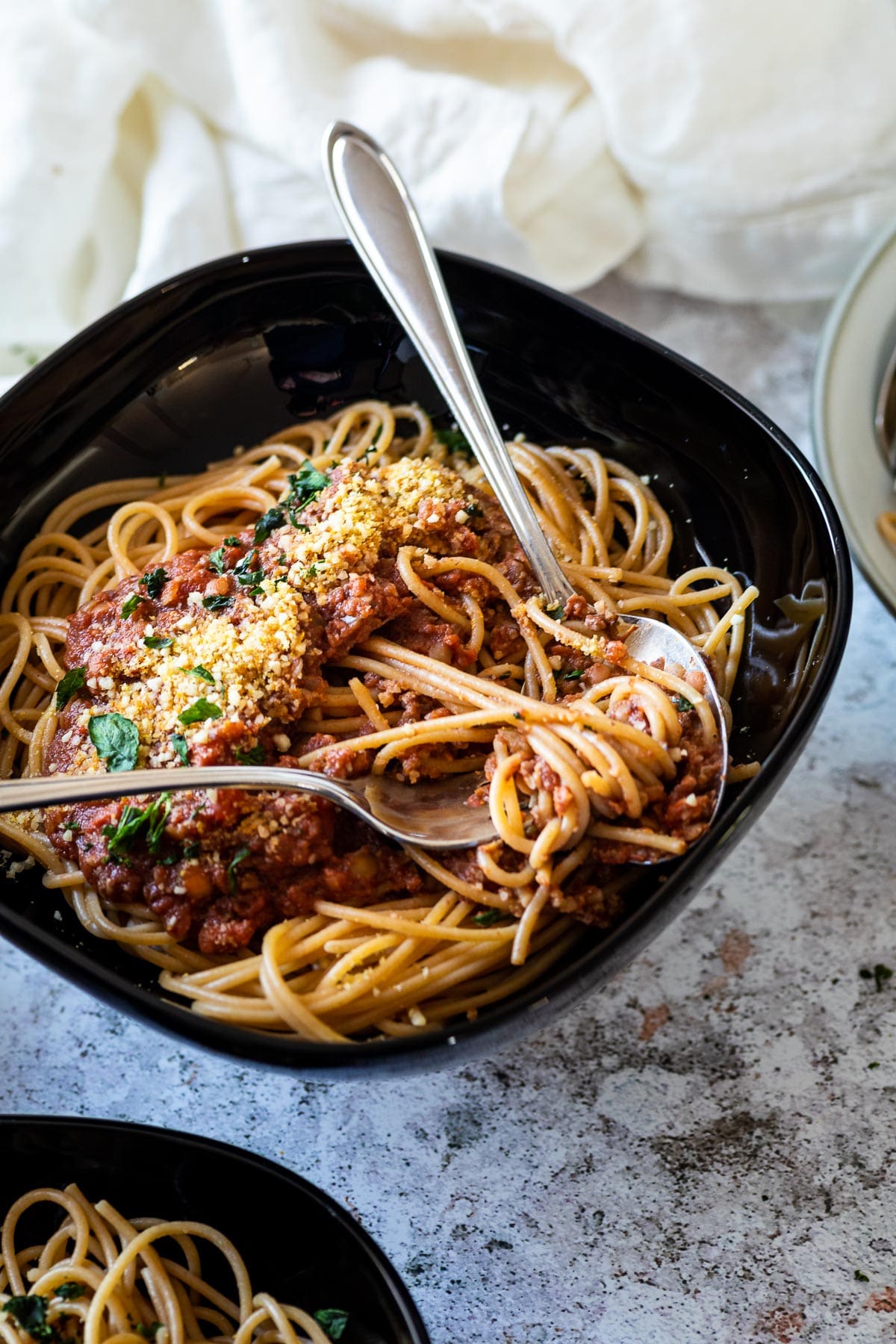 As an Amazon Associate, I earn from qualifying purchases. This post may contain affiliate links. Read More
Jump to:
Spaghetti Bolognese is a mix of lentil Bolognese and mushroom Bolognese. Hearty, meaty and completely without animal products and purely from whole food plant based (wfpb) foods.
Prepared with lentils, mushrooms, walnuts, carrots and celery, this Bolognese is a real comfort meal for your next vegan pasta dinner.
Believe me, even picky meat eaters will love this vegan Bolognese sauce over pasta with a vegan Parmesan. Perfect for meatless Monday!
I like to make this recipe in advance and freeze it. You'll have a great Italian meal ready in no time.
Jump to:
What is Bolognese?
Ragu alla Bolognese is one of the most famous dishes from Italian cuisine. Basically, it's a tomato and mince sauce that is traditionally served with pasta.
The Bolognese comes from Bologna and is traditionally served there with tagliatelle or it is made into a lasagna. Outside of Italy, the sauce is known as spaghetti bolognese.
Do you add milk to the Bolognese?
Yes! After a long research for traditional and authentic recipes, I add some milk to an Italian-style Bolognese. This is supposed to soften the taste of the tomatoes a little. I like to take an unsweetened, neutral taste, plant-based milk alternative.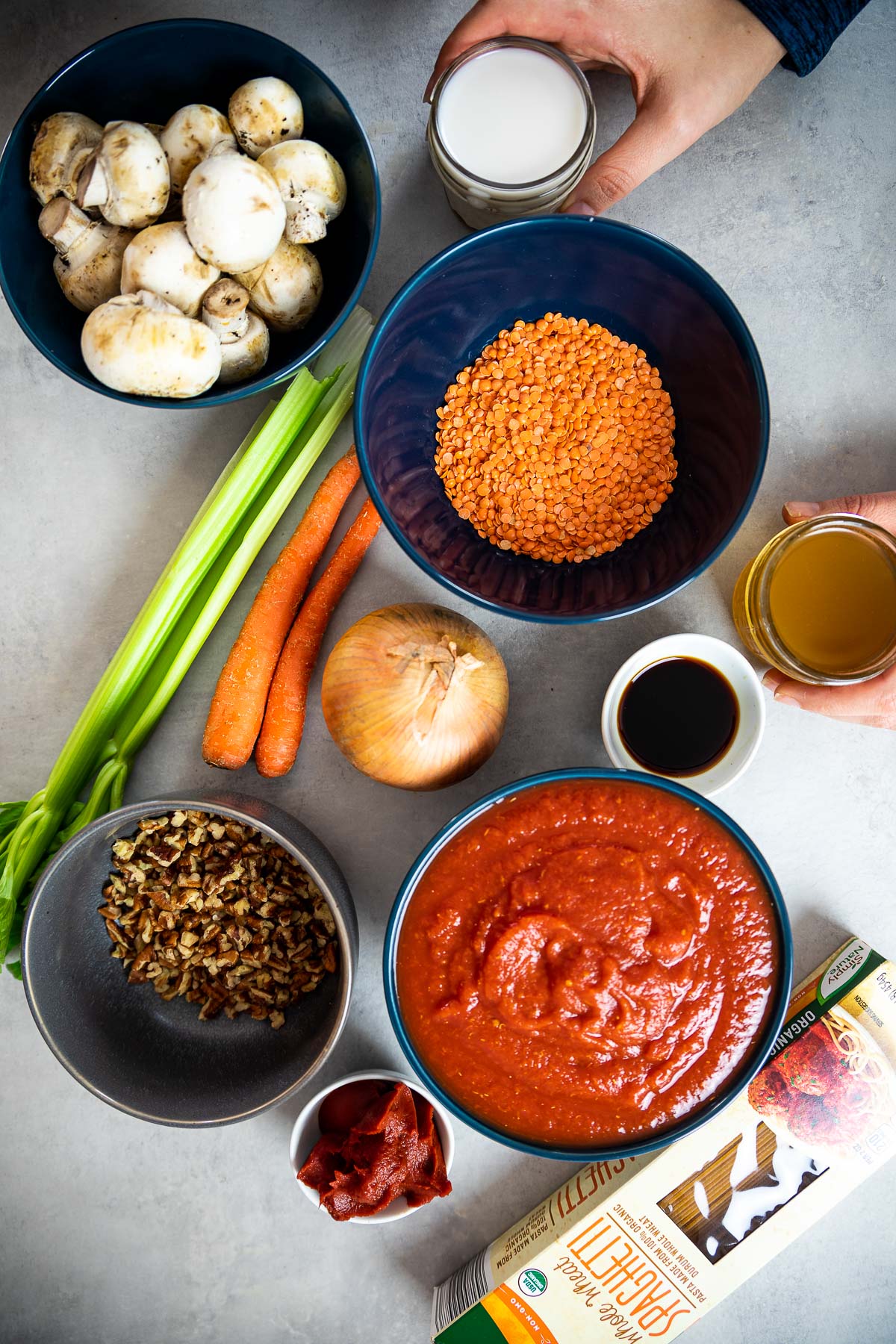 Ingredients
Now let's take a close look at the ingredients in this delicious vegan Bolognese. As always, the exact quantities can be found below in the recipe card.
Mushrooms
Red Lentils
Pecans
Carrot
Celery
Onion
Tomatoes
Tomato Paste
Balsamic Vinegar
Almond Milk
Vegetable Broth
Sea-salt
Pepper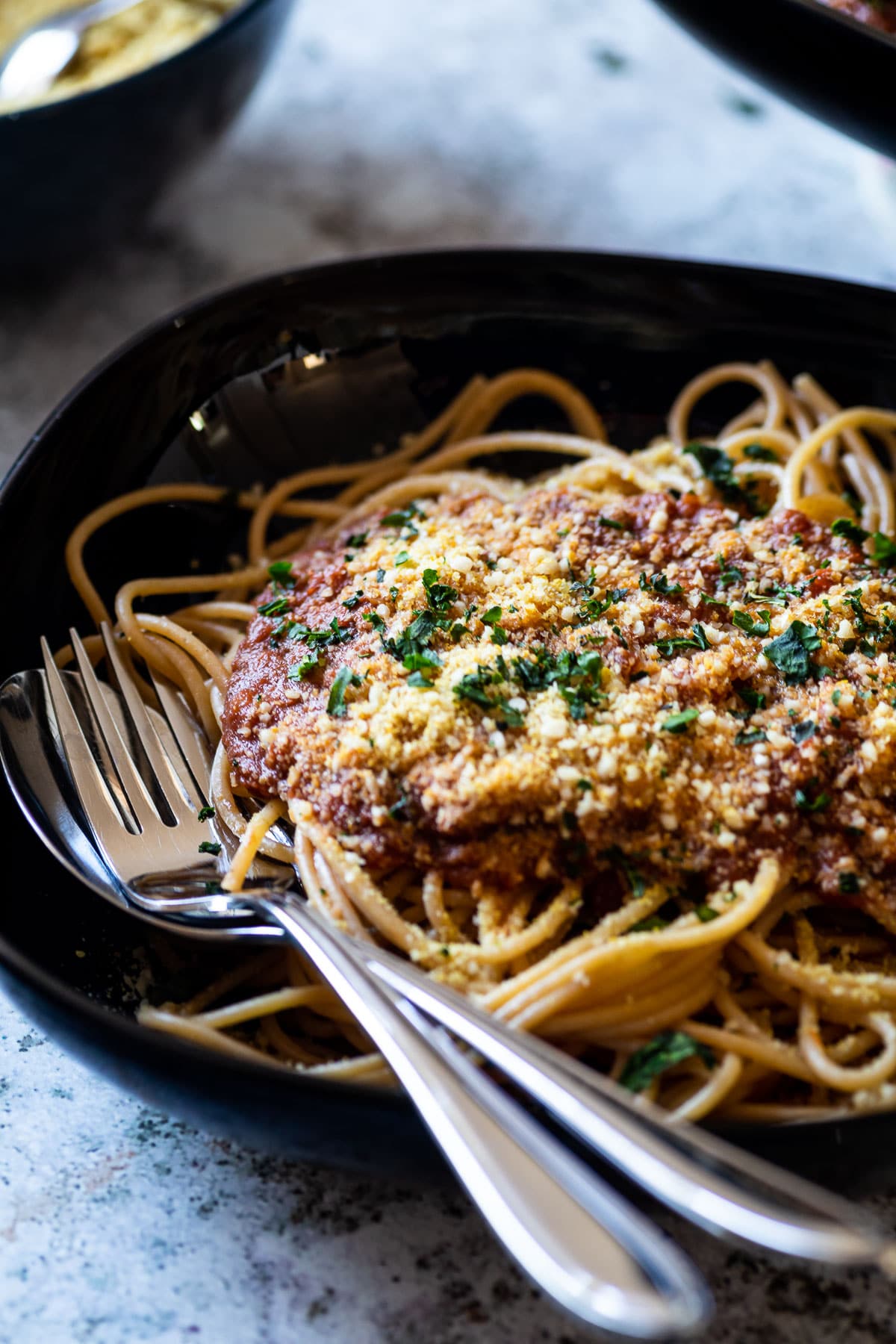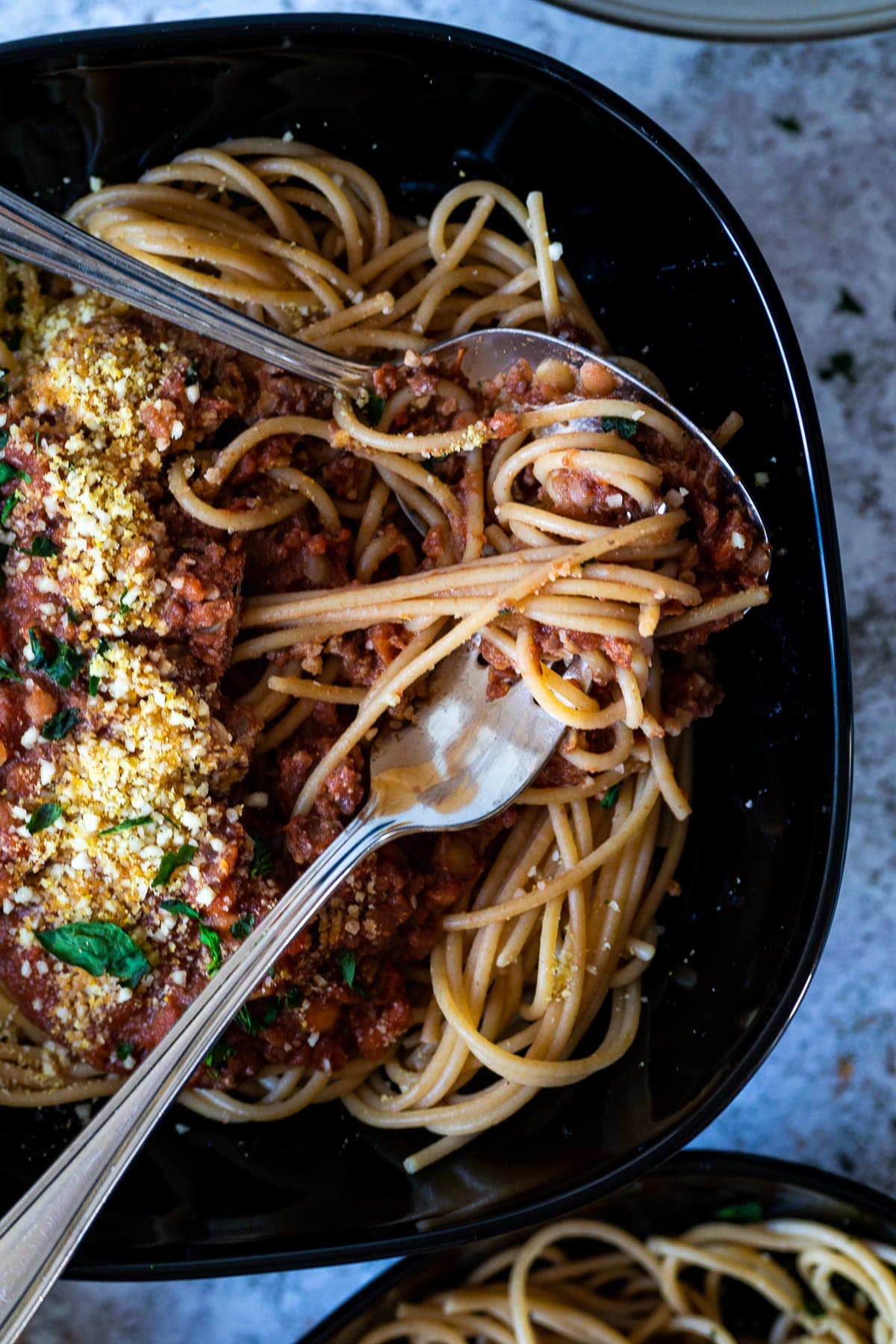 Substitutions
Now that you know which ingredients are in this meatless Bolognese. I would like to show you substitution options in order to still create a super delicious Bolognese.
Mushrooms
You can of course replace the chopped mushrooms with lentils or soy granules. I think the mushrooms give a great umami taste and since we chop them up in the food processor, they don't have the typical mushroom consistency.
Lentils
Instead of lentils, you can use one more packet of mushrooms.
Pecans
If you don't like pecans, or if you don't have any on hand, you can also use chopped walnuts, sunflower seeds, or pumpkin seeds.
Balsamic Vinegar
If you don't want to add balsamic vinegar, you can also add 60 ml of red wine. Then add this to deglaze after searing.
Almond Milk
You don't necessarily have to use almond milk for the vegan Bolognese. You can also use other unsweetened vegan milk here. I do not recommend using oat milk here, as it is naturally a bit sweet and yet tastes more like oats.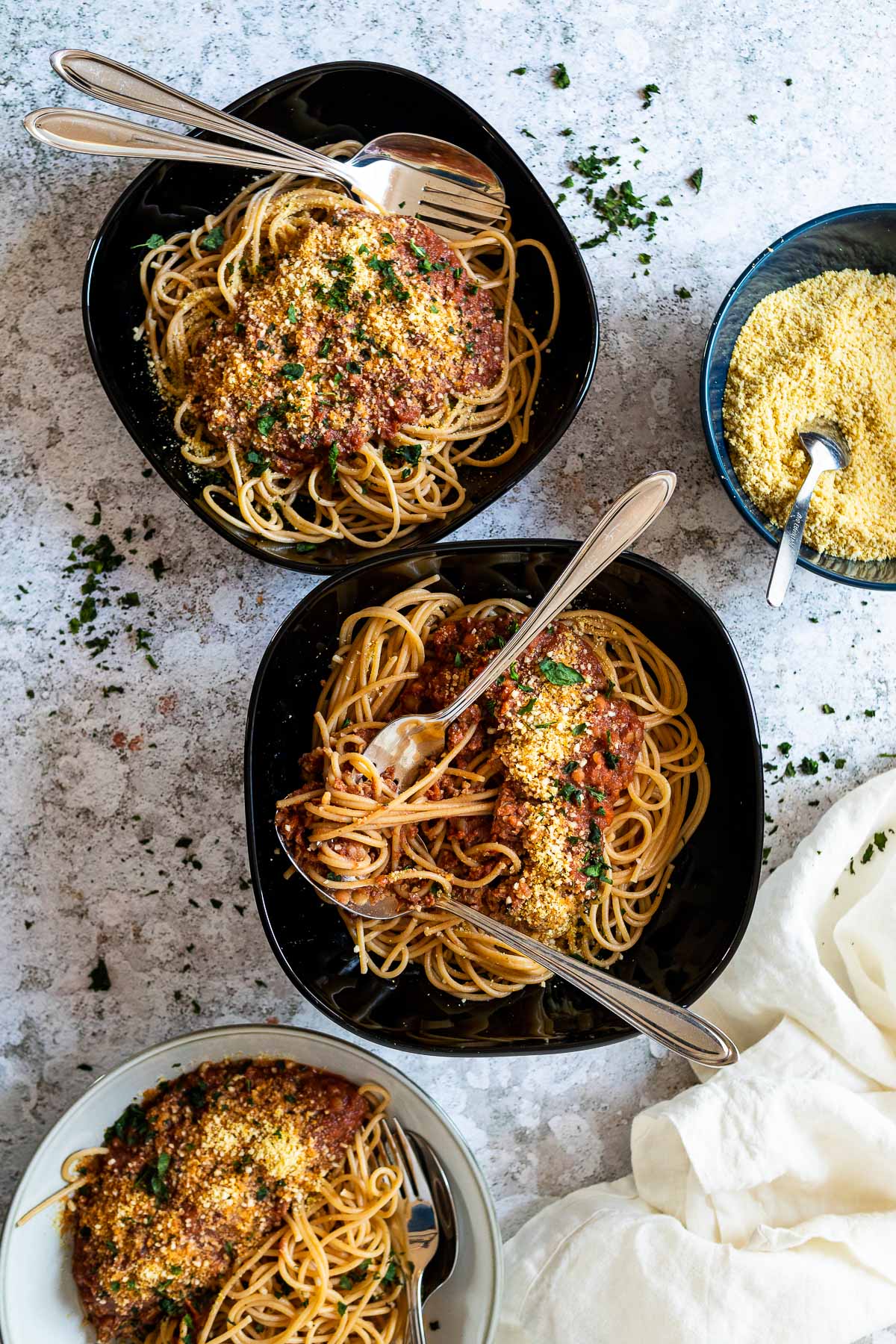 Variations
Let's take a look at how you can adapt the dish so that you can adapt it to other diets.
Nut free
Since we are using pecans, we need to make a small adjustment. You can simply replace the pecans with sunflower seeds or pumpkin seeds.
Soy free and gluten free
The plant-based Bolognese sauce is naturally gluten-free and soy-free and we don't need to make any adjustments.
Keto
The vegan Bolognese sauce is not keto friendly. You could use mushrooms instead of the lentils, carrots, or a little more celery.
Paleo
For the vegan Bolognese sauce, replace the lentils with mushrooms and you get a great paleo vegan Bolognese.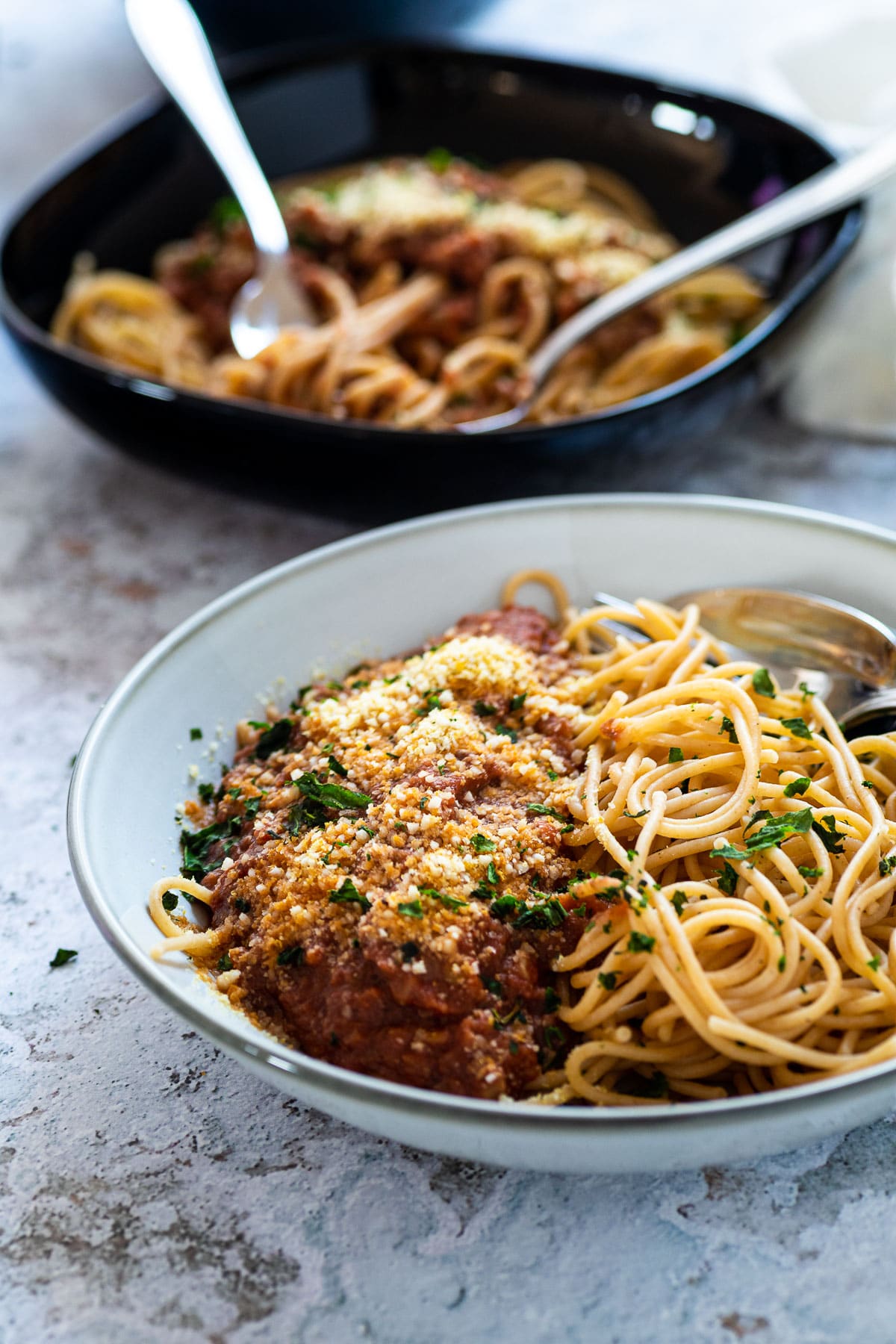 Instructions
To get started, quarter a pack of mushrooms and onion and place them in a food processor. Add a coarsely chopped carrot, 2 celery stalks, 2 handfuls of chopped pecans and use the pulse function until finely chopped. They shouldn't be too small like a mush or too coarse.
Fry the vegetables in a pan until translucent.
Always add a little water.
Add the ½ cup of red lentils, 2 cans (1600 ml) of tomato passata, ½ cup of vegetable stock and 4 tablespoons of tomato paste. Stir until everything is well mixed.
Simmer over medium heat for about 10 minutes. When the lentils are soft, add half a cup of almond milk and 2 tablespoons of balsamic vinegar. Stir until well mixed and taste with sea salt and pepper.
Prepare in advance
As mentioned above, I like to freeze this vegan Bolognese. This makes it ideal for preparing as a meal prep.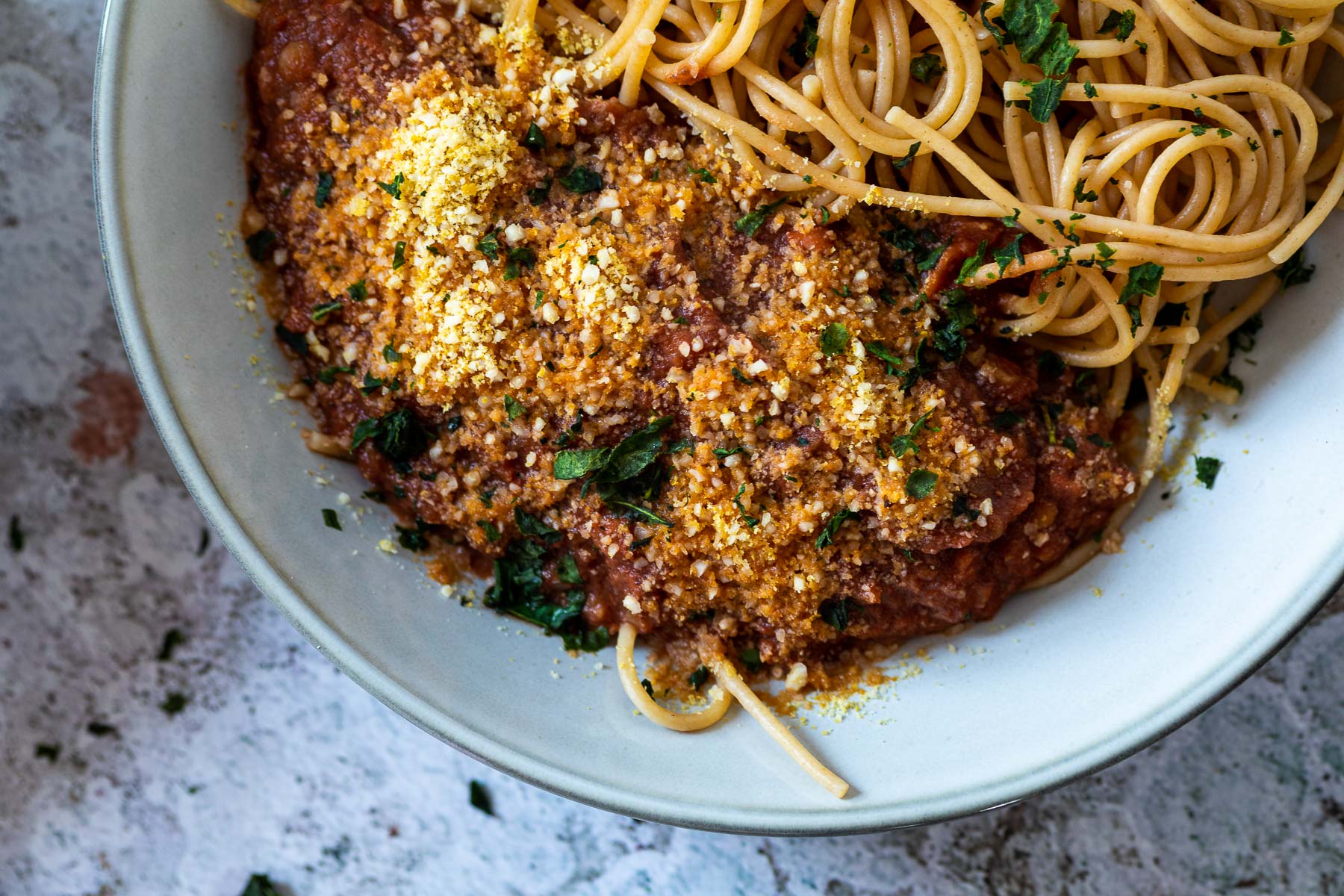 Serving Options
You want to serve something with the Bolognese. We like to eat it with just a green salad. You can also serve the following with it:
Starter:
Vegan Tomato Mozzarella Platter (Caprese Salad)
Side:
Garlic Bread
Dessert:
Storage
Leftovers of the vegan Bolognese are very easy to store.
How to refrigerate it?
In the refrigerator in a closed container (e.g. mason jars like Mason Jars) are great for this. The Bolognese keeps there for about 5 days.
How to freeze it?
To freeze, simply pour portions into glasses and then freeze. Make sure that you don't fill glasses to the brim here. Because the sauce expands a bit when it freezes.
How to thaw it?
To thaw, simply put the vegan Bolognese sauce in the fridge overnight and heat it in a small saucepan the next day.
Tips
I recommend you cut the carrots and celery with the mushrooms. It tastes best when these are super finely chopped.
The sauce is relatively thick thanks to the chopped mushrooms etc. If you want it a little more liquid, I recommend adding a little more tomato passata.
You can add other spices if you want. Just let your creativity run wild. I personally like it best this way.
Use your favorite pasta here. Whole grains, lentils, chickpeas all can be used here.
More vegan Pasta Recipes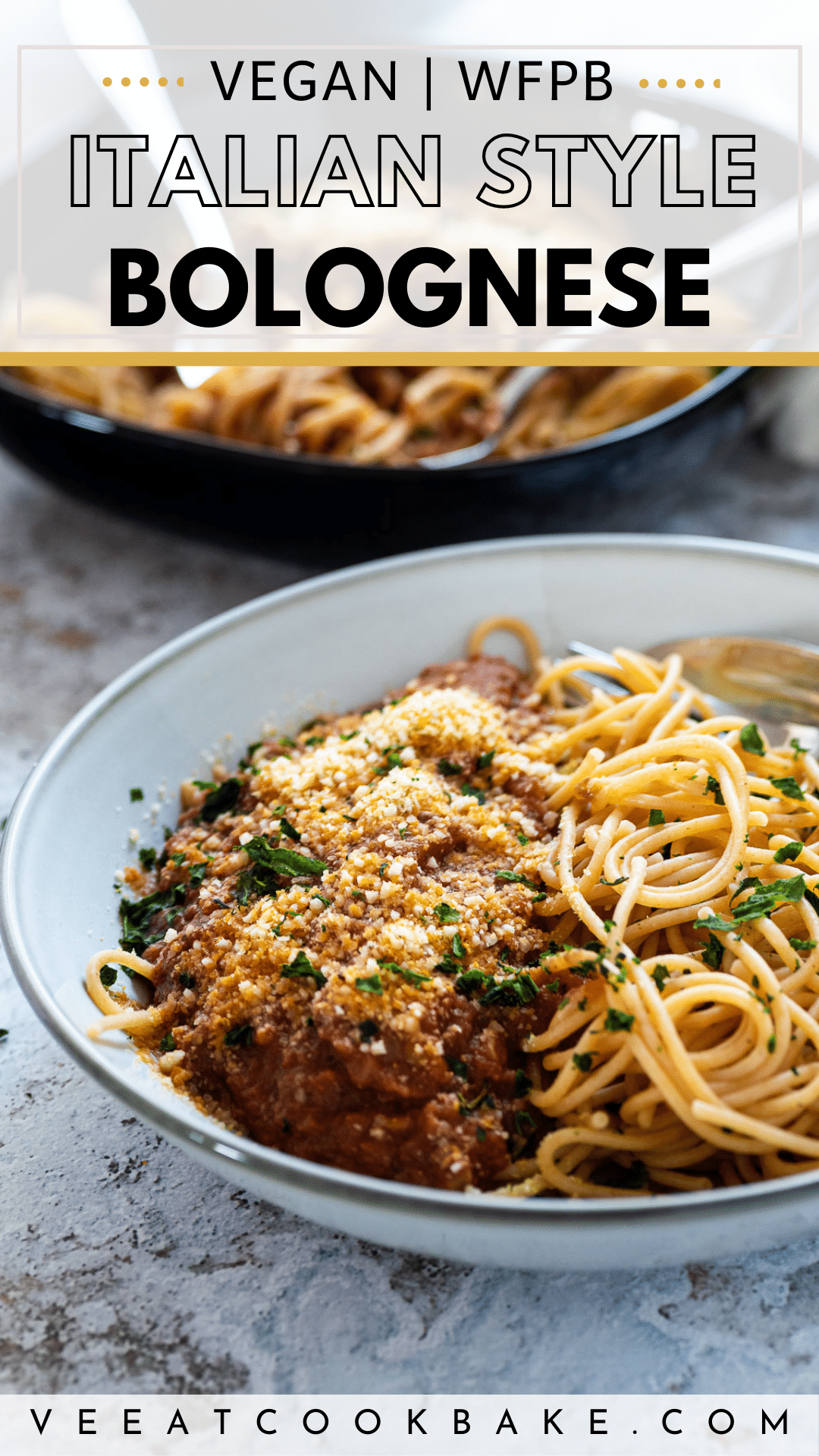 Have you tried the recipe?
If you tried the vegan Recipe, be so nice ♥ and let me know by rating the recipe and writing what you think about it in the comments.  I would love to see your photo on Instagram or Facebook. To do this tag me with @veeatcookbake and my hashtag is #veeatcookbake. So that I can see your creation. Did you know you can add photos n Pinterest under the recipe Pin? I can't wait to see a photo of your creation here. You find me with @veeatcookbake.

Jump to: