Are you a fan of scrumptious, savory pasta sauces? Then you should try this easy-to-make Vegan all'Arrabiata recipe! This plant based sauce is so delicious and the perfect light vegan dish for your next dinner.
All it takes is 30 minutes to have this tasty gluten-free meal on your table. We'll show how to make the tomato sauce extra spicy just like an Italian classic - Penne Arrabiata with that delightful kick from peeled tomatoes! So join us in making some lip-smacking traditional goodness tonight.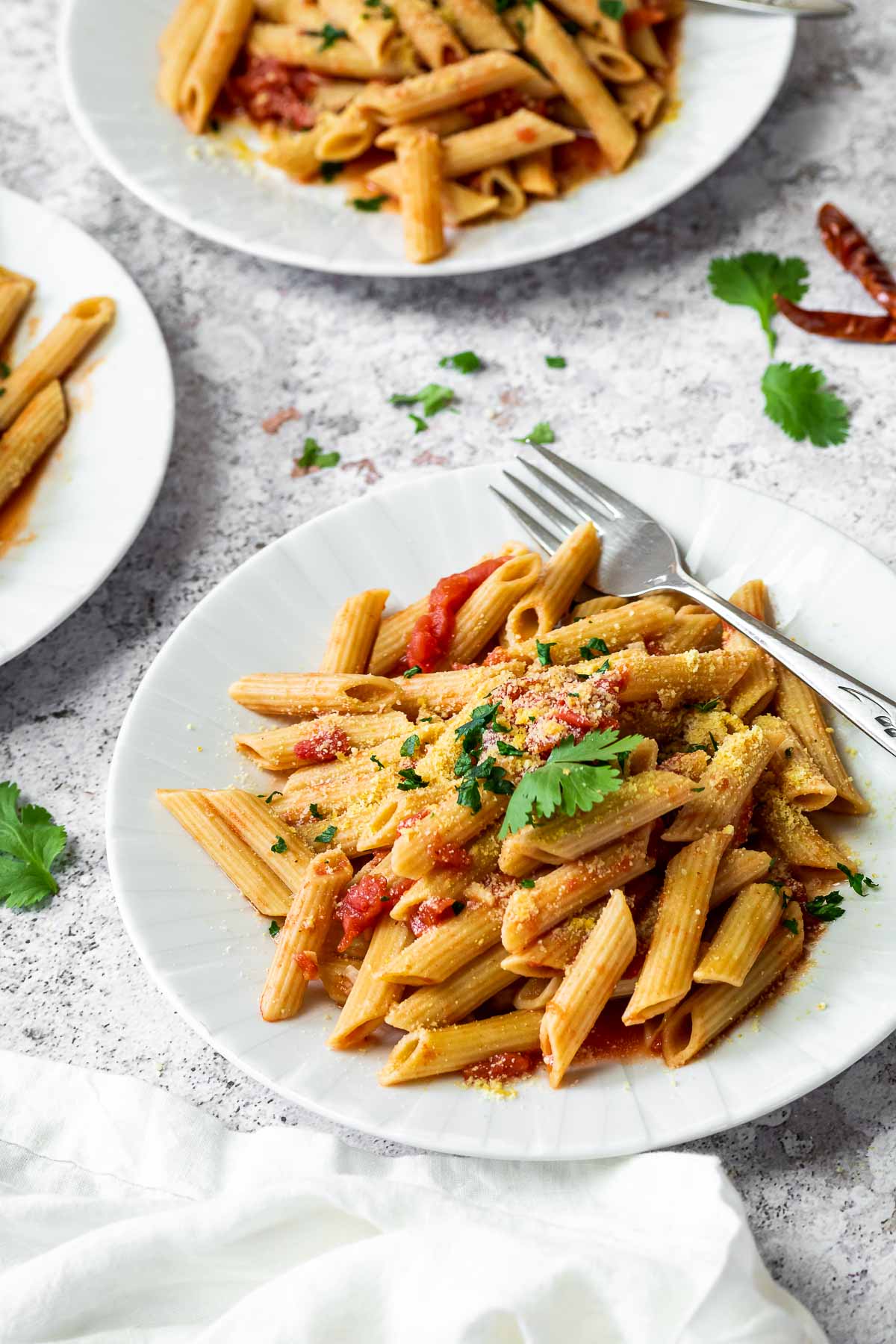 This recipe is inspired by my marinara sauce. It pairs well with a Caesar Salad, Bruschetta for pasta nights.
As an Amazon Associate, I earn from qualifying purchases. This post may contain affiliate links. Read More
Jump to:
Ingredients
A quick list of the simple ingredients you will need to make this spicy tomato sauce.
You can find the ingredients with quantities and the recipe to print out on the recipe card below.
Penne or other pasta
Peeled Tomatoes
Vegan Parmesan Cheese
Garlic Cloves
Chilies, fresh or dried
Fresh Parsley
Sea Salt
Vegetable Broth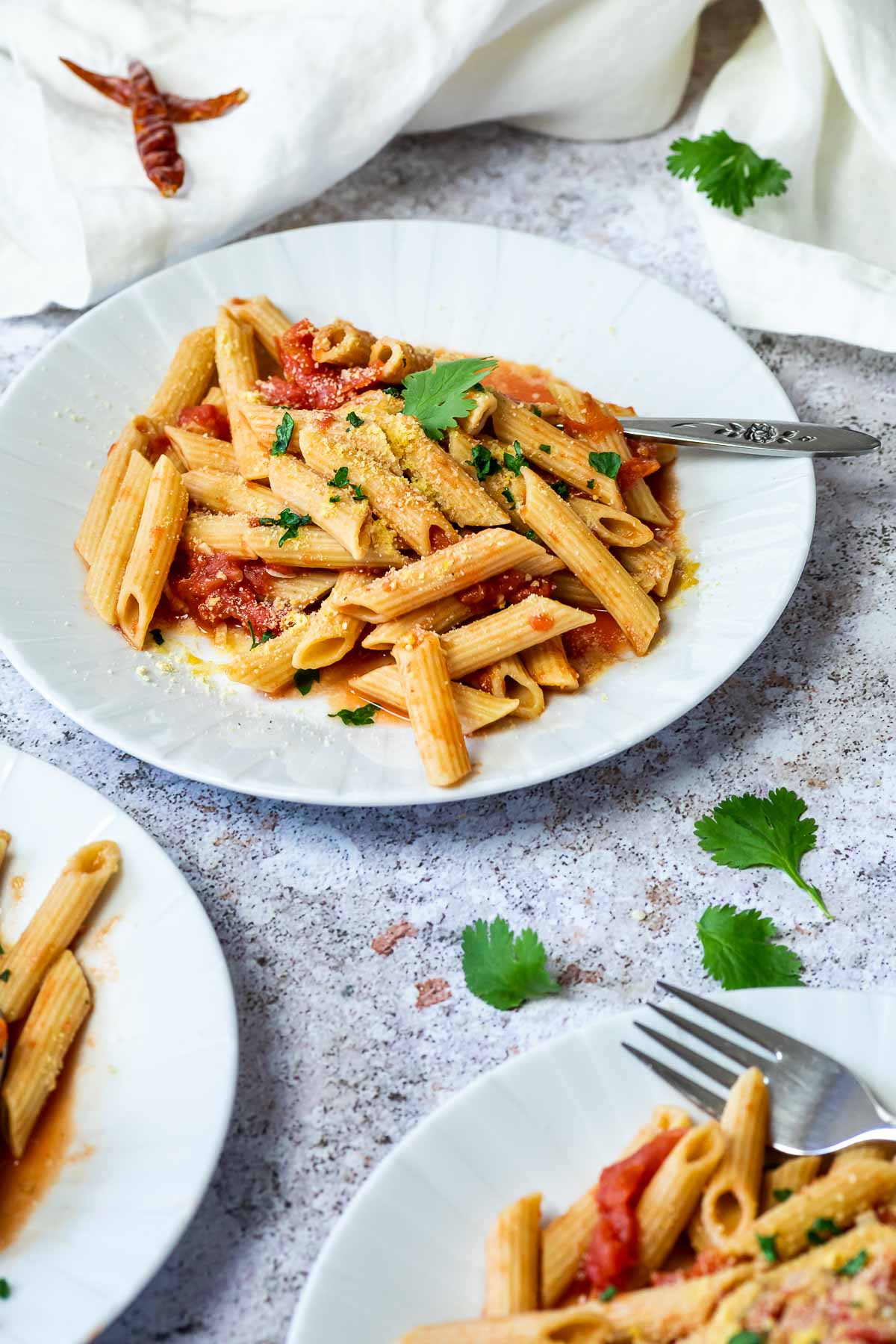 Instructions
Start by sautéing the chopped garlic and chilies on medium heat with some veggie broth. Let it cook for 1 minute. Crush the whole tomatoes in a bowl and add to the garlic. Stir until well combined. Let it simmer over low heat for about 7 minutes. Season with some parsley.
While the sauce is simmering, cook the pasta al dente according to the package instructions. Toss the pasta in the sauce.
Sprinkle some Vegan Parmesan for serving.
Make this spicy pasta sauce, check out my homemade tomato sauce, Broccoli Alfredo, or my other favorite vegan pasta dishes.
Substitutions
If desired, you can experiment with substitutions and additions to this vegan pasta arrabbiata sauce for more flavor.
Pasta: You can use spaghetti, penne pasta, gluten-free pasta to make it gluten-free.
Peeled tomatoes: You can use diced tomatoes, crushed tomatoes or even tomato paste to make the spaghetti arrabbiata.
Chilies: Instead of chilies, you can use red pepper flakes to make this homemade arrabbiata sauce.
Vegan Parmesan: Instead of sprinkling some Parmesan, sprinkle some nutritional yeast over the fresh pasta.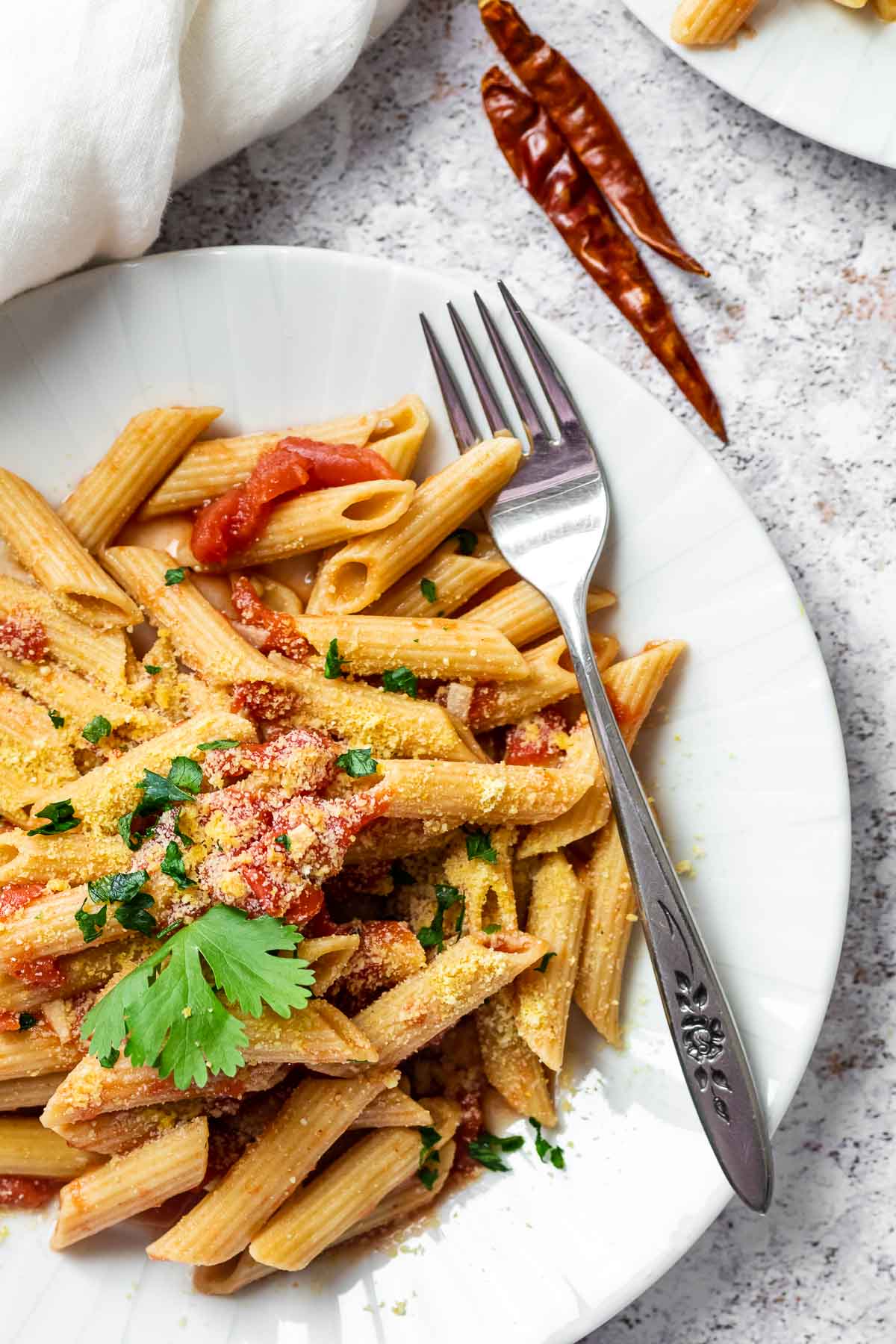 Variations
There are quite a few variations you can try when making this vegan penne arrabbiata recipe.
Basil Leaves: Add some fresh basil for a nice herbaceous note.
Spicy: It is not spicy enough, you can add more red pepper flakes, red chili flakes to make a spicy Arrabbiata sauce recipe.
Creamy: Blend some soaked cashews or add some vegan cream cheese for a creamy spicy red sauce.
Have fun experimenting with different ingredients to create your perfect arrabbiata sauce.
Equipment
These kitchen tools will help to make the perfect weeknight meal.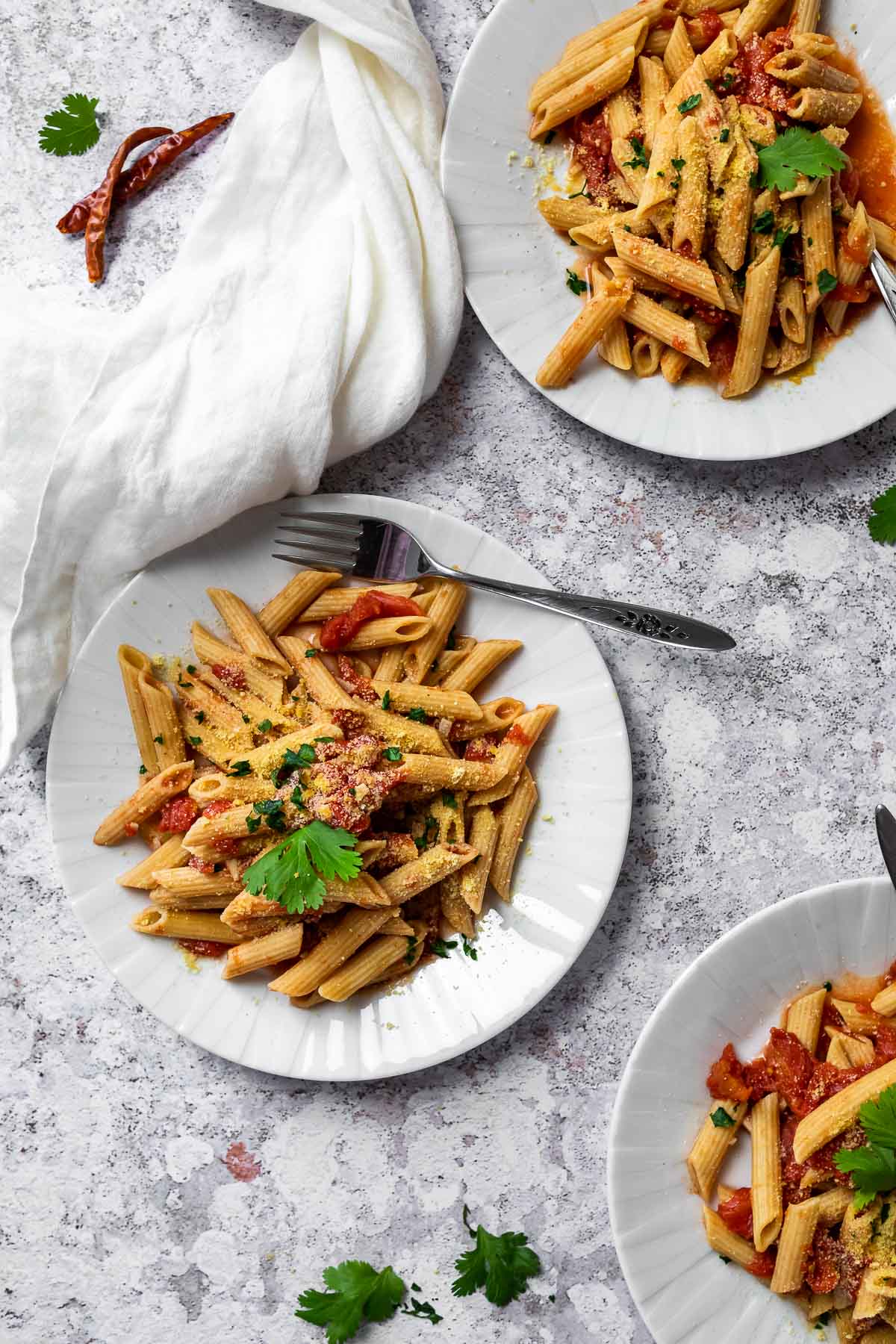 Serving Options
Starter
Side
Dessert
Storage
Fridge: Do you have some pasta with sauce left? Store them in an airtight container in the refrigerator for about 5 days.
Reheating: To reheat, simply heat the pasta with a little water on the stove over medium heat.
Freezing: Do you have sauce left and do you want to store it? If you have cooked too much, or in large quantities, you can freeze the sauce in portions in freeze-proof containers for up to 3 months.
Thawing: To defrost the pasta, simply place in the fridge overnight and then reheat as described above.
Tips and Tricks
Use the best quality ingredients. For example, sun-ripened tomatoes to create a full fruity taste of the sauce.
You should not steam the garlic for too long, it will lose its taste.
If your arrabiata does not have the fine garlic taste, it may be due to the garlic itself. Italian and French garlic have a lot more flavor than the Chinese one that is often found in stores.
Try to find a garlic that is light purple. Maybe at the farmers market or at a regional farmer.
The purple - white colored garlic has a much more intense taste than the white one from the supermarket.
It is also important with the dish that you use fresh garlic.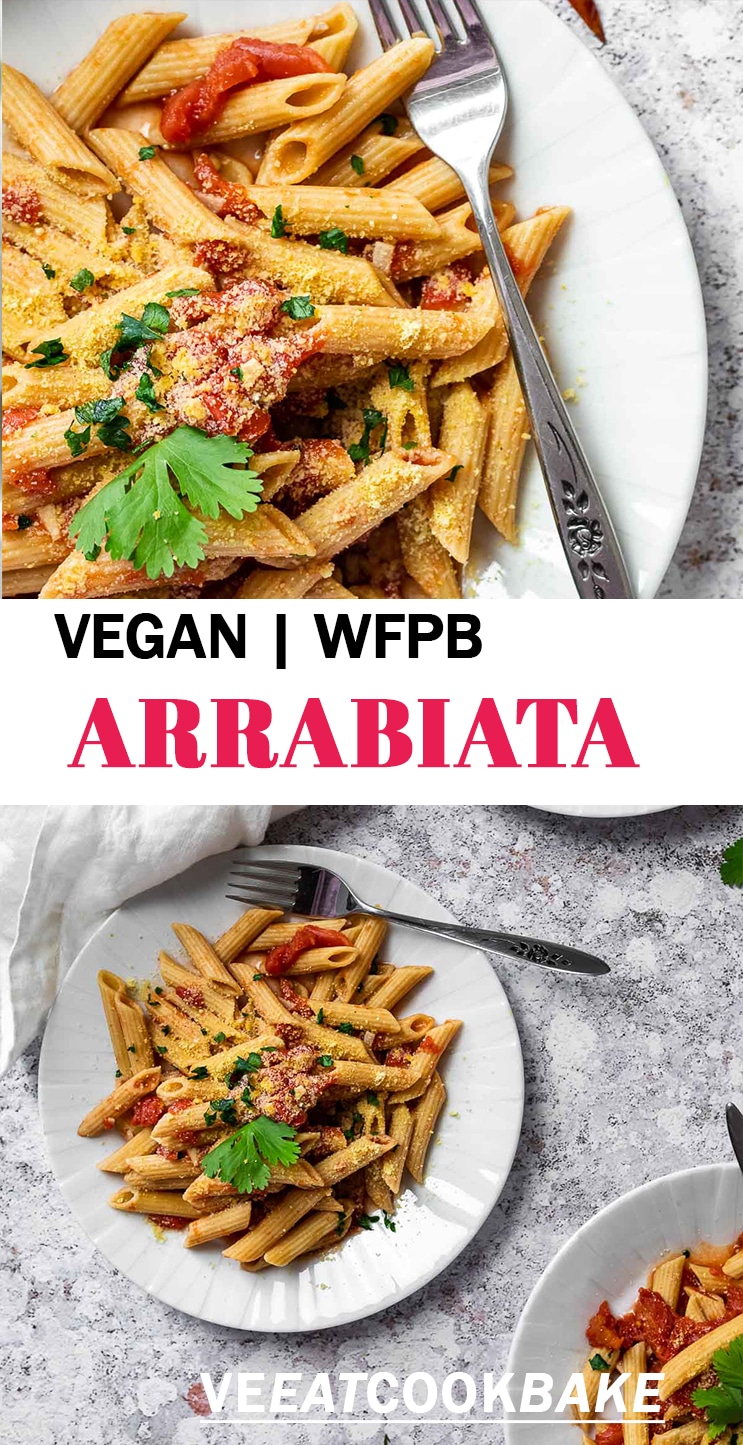 FAQ
What is Penne all'Arrabiata?
This fiery pasta dish comes from Lazio, central Italy. Arrabbiata' mean something like: angry / passionate pasta.
The sauce consists of skinned tomatoes with garlic and a chili pepper that is boiled for a few minutes. A classic in the Italian cuisine.