Vegan bruschetta, made from fresh tomatoes and basil, is an ideal starter or snack. This tomato appetizer really comes into its own on crispy baked bread, also known as crostini.
This Italian dish is one of the classic antipasti dishes and is super easy to prepare in oil-free, and still get the full taste. This is thanks to the olive brine.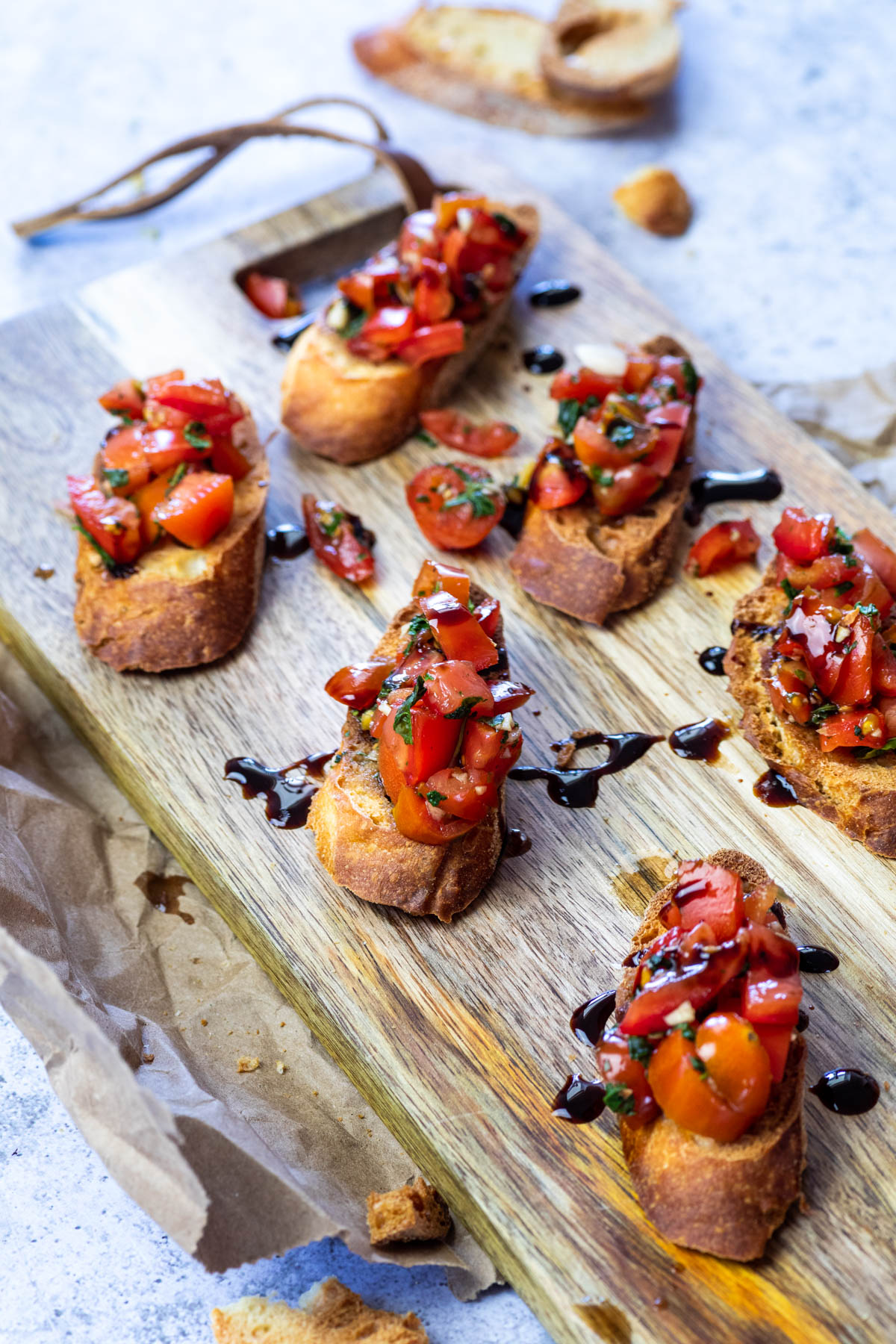 As an Amazon Associate, I earn from qualifying purchases. This post may contain affiliate links. Read More
Do you love Italian cuisine, like pizza, pasta?
Then you should definitely try this delicious bruschetta recipe, which goes perfectly with a crispy toasted whole-grain baguette for a wfpb antipasti platter.
The bruschetta tastes best with sun-ripened tomatoes that are full of flavor. So the bruschetta becomes a real taste experience.
And, if you, like us, have a small herb garden, this bruschetta along with fresh homemade pesto is just the thing to use for your fresh basil.
Where does bruschetta come from?
The original poor people's food comes from Central and Southern Italy and is now one of the classic antipasti dishes in the world.
The best known bruschetta variant with tomatoes and fresh basil is also known as bruschetta con pomodoro e basilico.
This variant is particularly common in Tuscany and the Naples area. Different versions of the bruschetta are prepared in different regions of Italy.
Is bruschetta healthy?
If you look at the list of ingredients of the bruschetta, tomatoes are said to prevent cancer, among other things.
Garlic is said to help with high blood pressure. Garlic has many more advantages. And if you still use whole grain baguette or bread, then even better.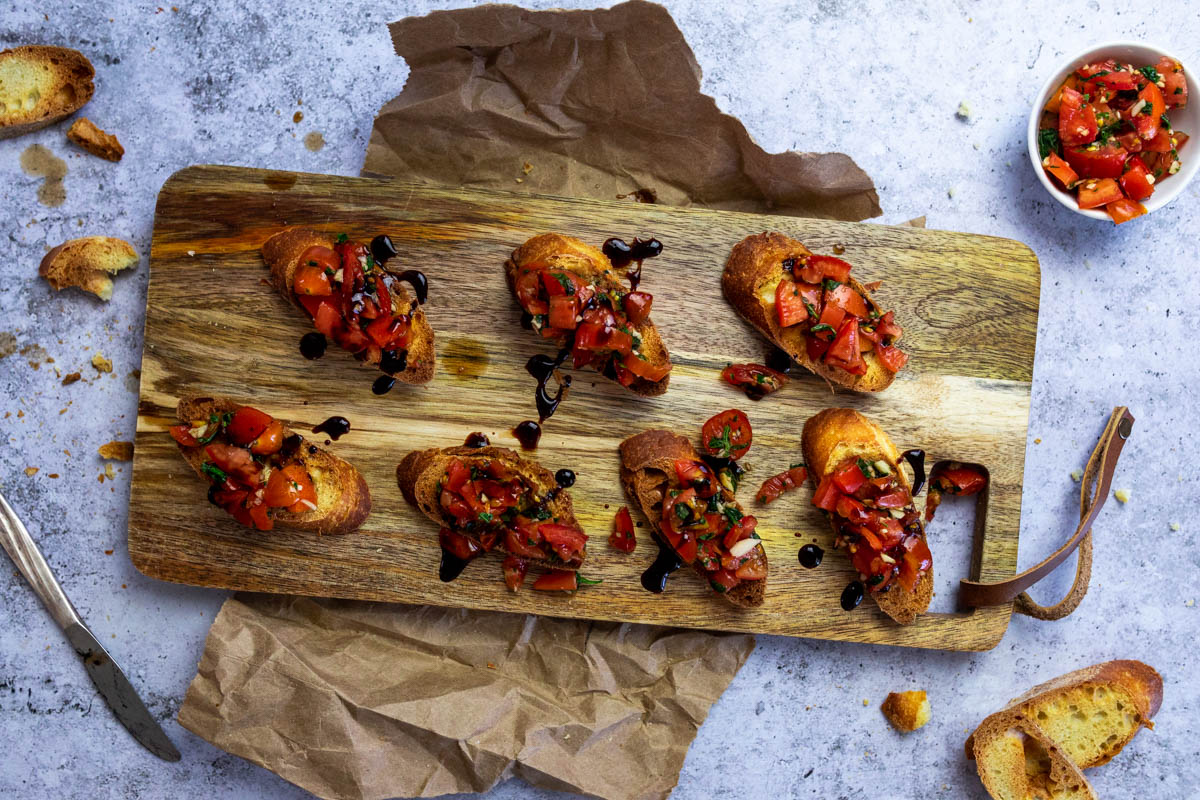 Why is my bruschetta bitter?
If you have used the tomato peel or seeds, then your bruschetta may be bitter.
When you remove the seeds, your vegan bruschetta not only tastes better, it also does not become so fluid and is an ideal topping. I have to say I haven't removed the skin yet.
What is the best way to skin tomatoes?
Start removing the stalk. And cut the tomato with a cross at the bottom.
Now put the tomatoes in a bowl and pour boiling water over them. Make sure you only do this for a few seconds. (no longer than 12 sec.)
Place the tomatoes in ice water. Add ice cubes in water. So the tomatoes stay crunchy.
Now you can carefully pull the skin off with a knife. You do it as if you were peeling a jacket potato.
What is the best way to core tomatoes?
Quarter the tomatoes with a sharp knife.
Now remove the seeds with a knife like a melon. To do this, slide the knife between the pulp and seeds.
Ingredients
A small overview of what is included in the bruschetta. You can find the exact quantities below in the recipe card
Olive Juice (Kalamata olives) from a glass
Garlic Cloves
Large Tomatoes
Fresh Basil
Olive Herb (opt)
Sea-salt
White Pepper
Baguette or Ciabatta
Which tomatoes are best for bruschetta?
Sun-ripened tomatoes are best for a great bruschetta that is full of flavor.
Make sure to buy deep red tomatoes, which are almost overripe and become soft. These are full of taste and make the bruschetta so special.
It is best to buy local tomatoes or maybe you even have tomatoes in your garden?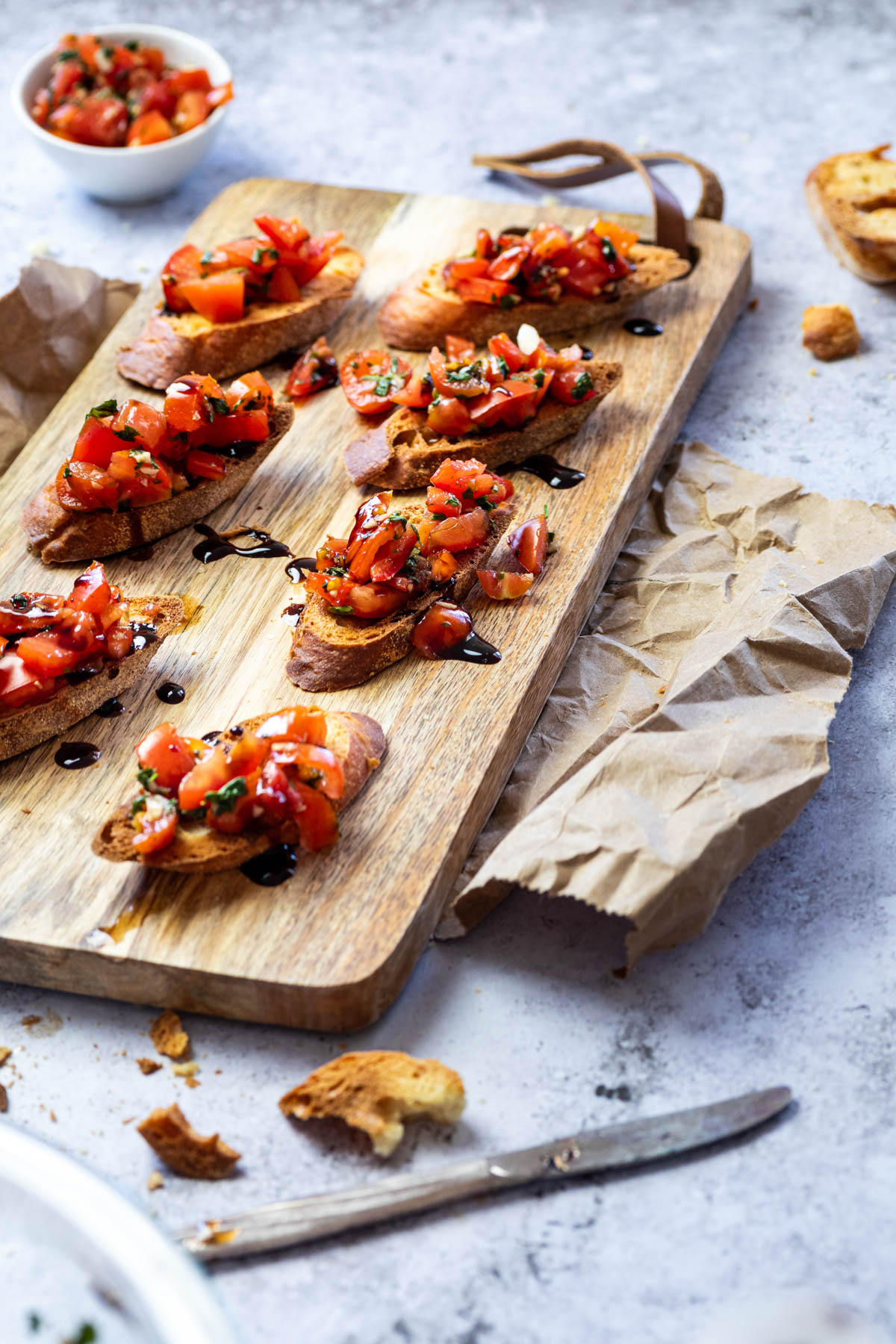 Which bread is best for bruschetta?
For an authentic bruschetta, a diagonally sliced ​​baguette or a ciabatta bread is best. These two types of bread are my favorites when it comes to bruschetta.
You bake this briefly in the oven so that it becomes slightly crispy.
Instruction
Start cutting the bread into slices.
Preheat the oven to 400°F (200°C) and put the baguette in the oven for about 5 minutes. Until it's toasted crispy.
Make sure you don't toast it too long, otherwise it will become too firm. Check the oven from time to time or feel the bread if it is still soft.
Now prepare the tomatoes. To do this, proceed as described above and skin and core the tomatoes. Skinning is optional. I usually don't do it.
You can now cut the tomatoes into small cubes and put them in a bowl. Take the garlic and chop it finely.
Add the garlic to the tomatoes. Do the same with the basil and optional olive herb, chop these and add them to the tomatoes.
Take the brine from the olives and add this to the tomatoes. Now season the tomatoes with a little salt and pepper and taste them.
For serving, add a little bruschetta to the crostini and for decorating, sprinkle with some balsamic glaze.
Storage
The tomato bruschetta is stored in the refrigerator for approx. 4 days in a closed container.
I would not freeze the bruschetta because the tomatoes become soft, soggy and are not so nice anymore.
I would only toast as much bread as is eaten. You can toast the bread relatively quickly if you eat more. The rest of the bread is great to freeze.
Bake just before serving. And it tastes like fresh bread again.
Serving Suggestions
You can serve the bruschetta in the form of an antipasti platter
You can also simply serve the bruschetta as a sole starter.
Eat the bruschetta as a snack.
If you are preparing a salad plate, you can serve the bruschetta as a side dish.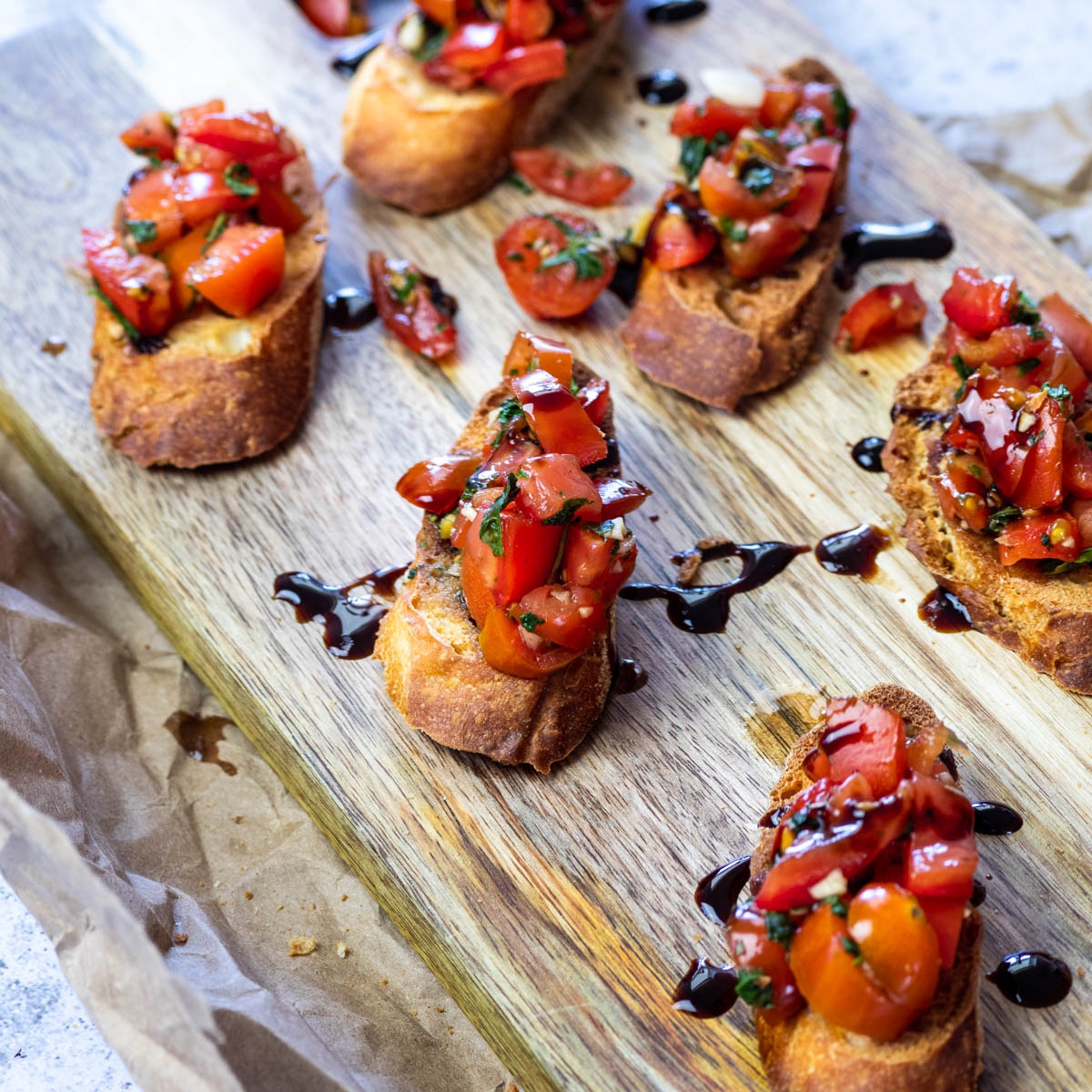 Tips
Remove the seeds as mentioned above. This way your bruschetta won't get watery.
Since no olive oil is used, we use olive water from the olive jar. This gives it a slightly olive taste like olive oil.
If you happen to have olive herb at home. Then you can add this too, but you don't have to.
If you can't find a ciabatta or baguette, use a firmer bread, which doesn't soak quickly. The best is sourdough bread.
If you use a sandwich bread, a soft white bread, you have to toast the bread properly, otherwise it is quickly soggy.
Bruschetta tastes best when it is freshly prepared and consumed. The bruschetta is quick to prepare and I would not prepare it in advance.
What you can do is prepare it a few hours beforehand, but just the Bruschetta not the Crositini.
If you prepare it in advance, only cover the crostini slices shortly beforehand, otherwise they will get soggy.
More vegan Finger Food Recipes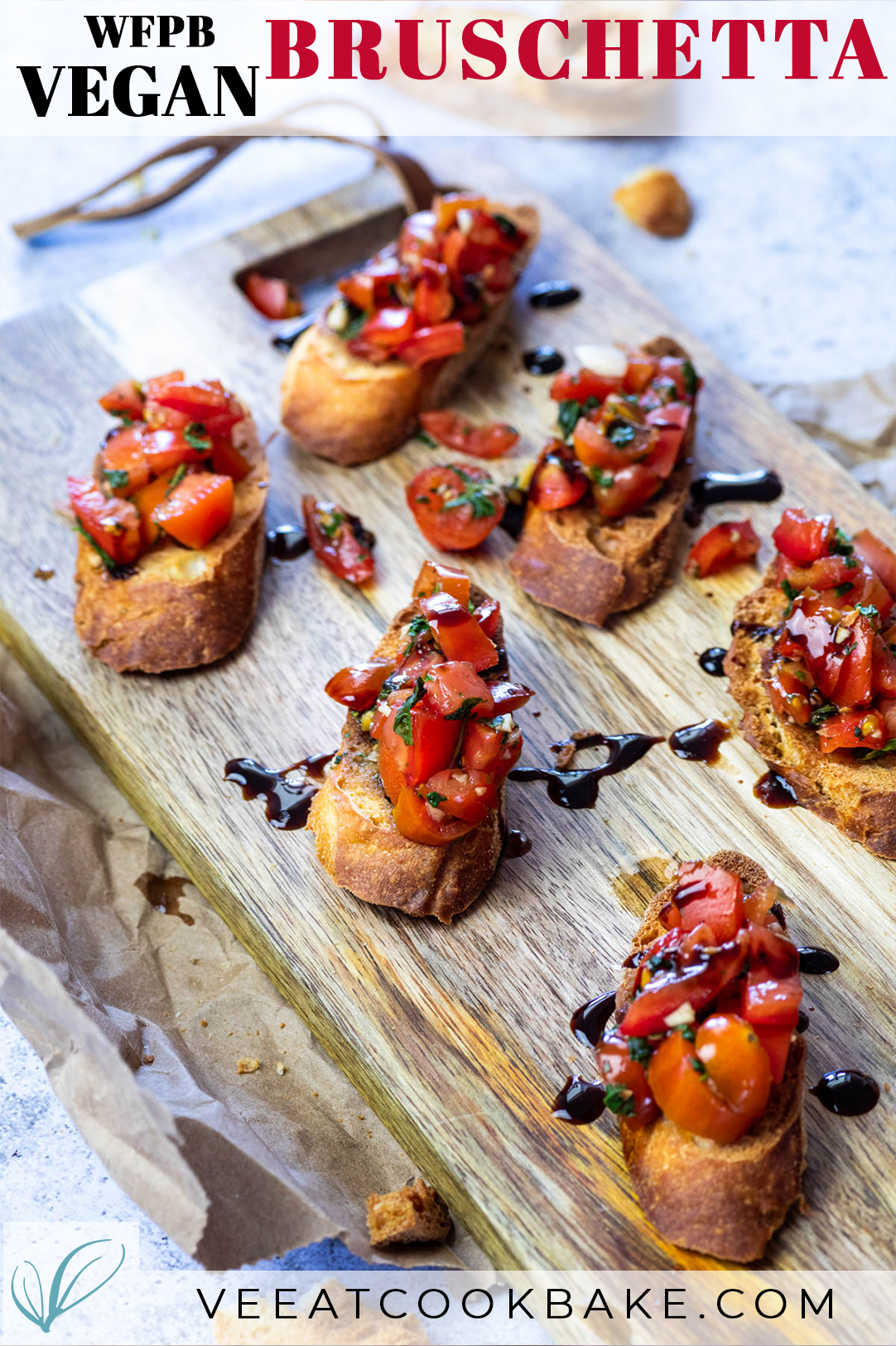 Have you tred the recip
If you tried the vegan Recipebe so nice ♥ and let me knw byrating the recipe and writing what you think about it in the comments.  I would love to see your photo on Instagram orFacebook. To do this tag me with @veeatcookbake andmy hashtag is #veeatcookbake. So that I can see your creation. Did you know you can add photos n Pinterest under the recipe Pin? I can't wait to see a photo of your creation here. You find me with @veeatcookbake