Homemade vegan pumpkin bread with no oil, no sugar and no eggs. Juicy, fluffy, just like a cake, like pumpkin bread should be. And the best is full of pumpkin pie flavors and, if desired, gluten-free and completely dairy-free.
You will probably find most of the ingredients for the plant-based pumpkin bread in your pantry.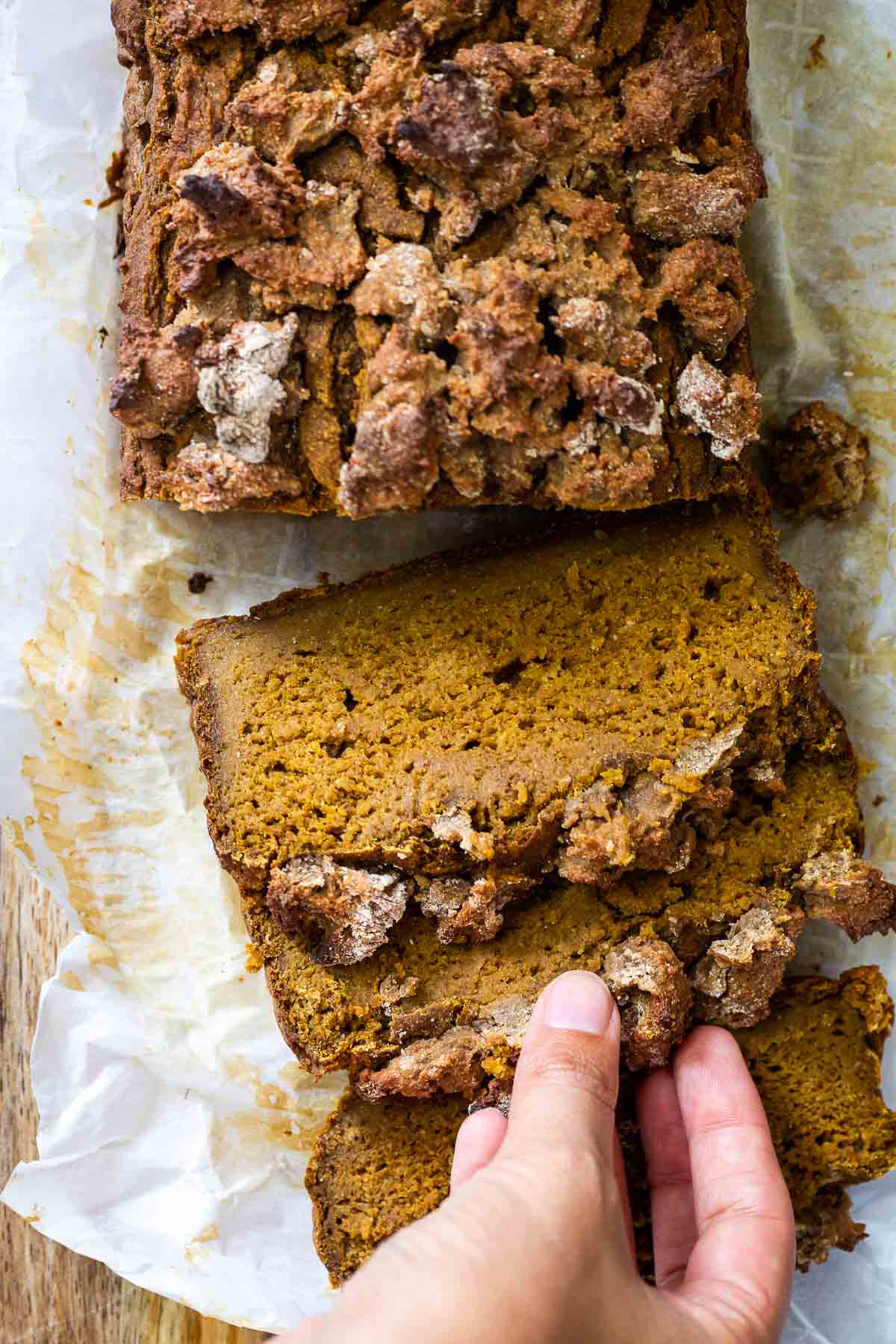 As an Amazon Associate, I earn from qualifying purchases. This post may contain affiliate links. Read More
Jump to:
Thanks to the ingredients it contains, this is a healthy pumpkin bread, which is also wfpb-friendly and you don't even notice that it consists of whole food ingredients.
Pumpkin bread sweetened with dates and banana is made with pumpkin puree, typical pumpkin pie spices, crumbs and is a great vegan autumn breakfast or fall dessert.
All you need for this great dairy free pumpkin bread is mixing bowls and a high speed blender. I am sure this pumpkin bread will become your new favorite recipe.
Let's take a look at how this vegan pumpkin bread is prepared and learn a few tricks and tips as well as substitution options.
If you've eaten banana bread before, you will surely like this egg-free pumpkin bread.
It consists of wholesome ingredients and is therefore ideal as a healthy pumpkin bread recipe that you won't even notice is baked without oil, butter, margarine or sugar.
And if you love pumpkin like me, you have the best from a banana bread with the great taste of a pumpkin pie.
Ingredients
Let's take a look at what exactly is contained in this great pumpkin bread. The exact quantities for the individual ingredients can be found below in the recipe card.
Pumpkin Puree
Linseed
Dates
Banana
Sunflower Seeds
Plant-based Milk
Vanilla Extract
Whole Wheat Flour
Baking Powder
Baking Soda
Cinnamon
Pimento
Nutmeg
Clove
Almond Flour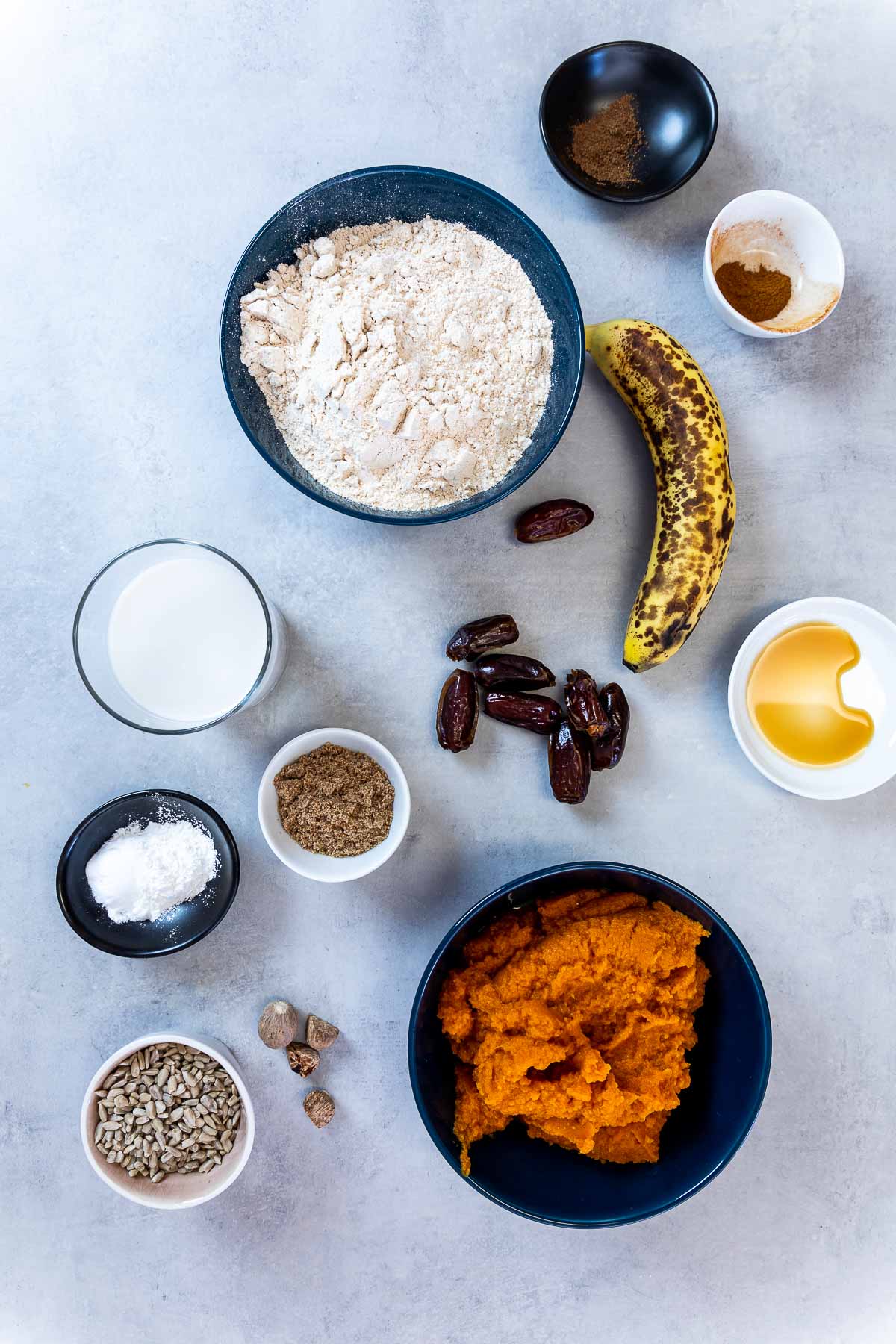 Substitutions
With this pumpkin bread recipe, too, I would like to show you how you can replace certain ingredients.
Pumpkin Puree
If you want to make the pumpkin puree yourself, I recommend you bake a Hokkaido pumpkin in the oven at 400°F (200°C) for about 40 minutes and then puree it finely in a high speed blender.
You can roast the pumpkin uncut and when it is soft cut it open and remove the seeds. This is how you get a firm pumpkin puree like the one out of the can.
Flax Seeds
If you don't have flax seeds at home, but you do have chia seeds, use them for the vegan pumpkin bread.
Use the same amount, i.e. 1:1. You can also leave out the flaxseed and water if you want. This vegan pumpkin bread works without any egg substitutes.
Banana
Instead of the banana, you can also use unsweetened applesauce. Replace 1 banana with ½ cup (125 g) applesauce.
Dates
Here we use dried dates which are naturally sweet. If you've eaten dates before, you will surely have noticed that they are very sweet.
If you don't want to use dates, you can also use maple syrup, date syrup or coconut sugar.
Vanilla Extract
If you don't want to use vanilla extract, you can use the pulp of half a vanilla pod or you can use vanilla powder.
Both options work great as vanilla extract substitutes.
Instead of purchased vanilla extract, you can also use homemade vanilla extract. For self-made you need about 6 vanilla pods halved and 250 ml rum, vodka and then leave it in a glass for about 8 weeks at room temperature in the dark.
Sunflower Seeds
Not everyone has sunflower seeds at home, you can also use equal amounts of cashew nuts here. And mix them in the high speed blender as in the recipe. Or use 2 tablespoons of sun butter, almond butter or cashew butter. Both variants work great.
Plant-based Milk
I used almond milk in this recipe. You can of course also use soy milk, rice milk or oat milk. It's entirely up to you.
Baking Soda
Baking Soda and baking powder make the cake rise great. If you don't have any baking soda, you can also use baking powder. Because we need a raising agent so that we can bake an airy pumpkin bread.
Spices
Instead of the spices, you can also use 2 teaspoons of pumpkin pie spice. Or you just use cinnamon, for example. It's entirely up to you.
Whole Wheat Flour
You can also use wheat flour or spelt flour here. If you want to prepare it gluten-free, I recommend using 1 part oat flour and 1 part ground almonds.
Almond Flour
Almond flour or ground almonds are used for the crumble. Since we don't use butter, we need a different fatty portion, otherwise the crumble will be too firm.
If you don't want to use almonds now, you can also grind walnuts or other nuts. Nuts are high in fat and therefore a great butter substitute.
You can also try pumpkin seeds.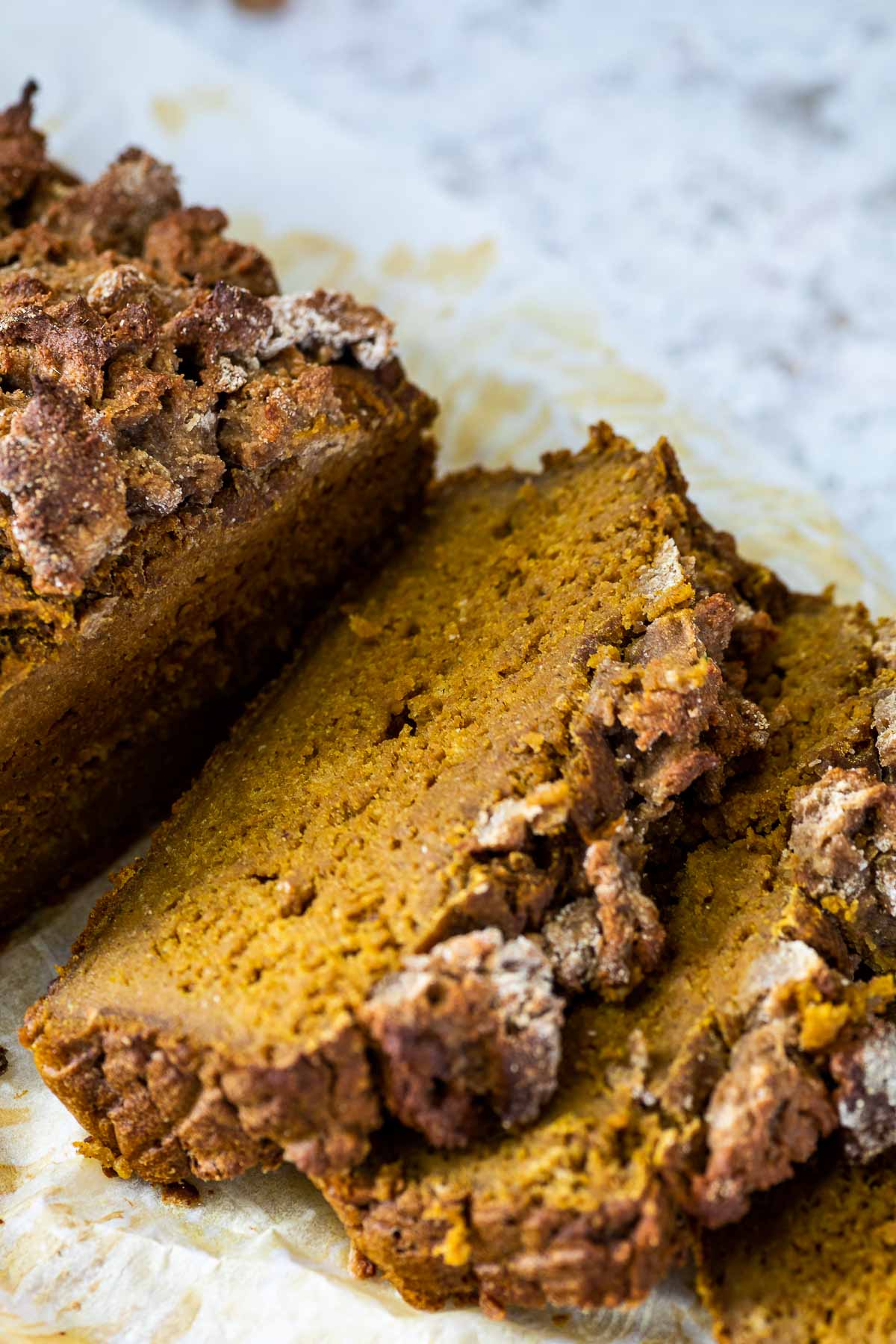 Variations
Let's take a look at which ingredients can be replaced and how so that you can conjure up gluten-free, keto or paleo bread.
Gluten free
Here you can easily use oat flour and almond flour as described above. So you have a delicious gluten-free vegan pumpkin bread.
Paleo & Keto
Grains are not allowed on a paleo and keto diet. Therefore, it becomes difficult to replace it with oats. What you could do is use a ground nut mixture.
Instructions
Soak the sunflower seeds for the dough and the streusel and the dates for the dough and the crumbs in separate bowls.
Mix ground flaxseed and water in a small bowl and let rest.
Preheat the oven to 350°F (175°C).
In a high speed blender, add pumpkin puree, banana, soaked dates for the dough, soaked sunflower seeds for the dough, and plant-based milk. As well as vanilla extract, cinnamon powder, all spices, ¼ teaspoon nutmeg and a pinch of ground clove.
Blend until you get a cream with no pieces. The sunflower seeds and dates should be smooth.
Put the cream in a mixing bowl. Now prepare the sprinkles. Add the soaked sunflower seeds and soaked dates to the high speed blender. Add ¾ cup of water.
Stir ½ teaspoon cinnamon powder and blend until creamy. Now mix this cream with flour and ground almonds in a small mixing bowl until it is crumbly. Put these in the fridge until the pumpkin bread is done.
Add whole wheat flour, baking powder and baking soda to the pumpkin bread cream, flax eggs. Whisk it into a homogeneous batter. Don't stir for too long until everything is well combined with no lumps of flour.
Put the dough in a loaf pan lined with parchment paper. Scatter the crumble on top and bake for about 50 - 60 minutes.
Let it cool completely before removing the pumpkin bread from the mold.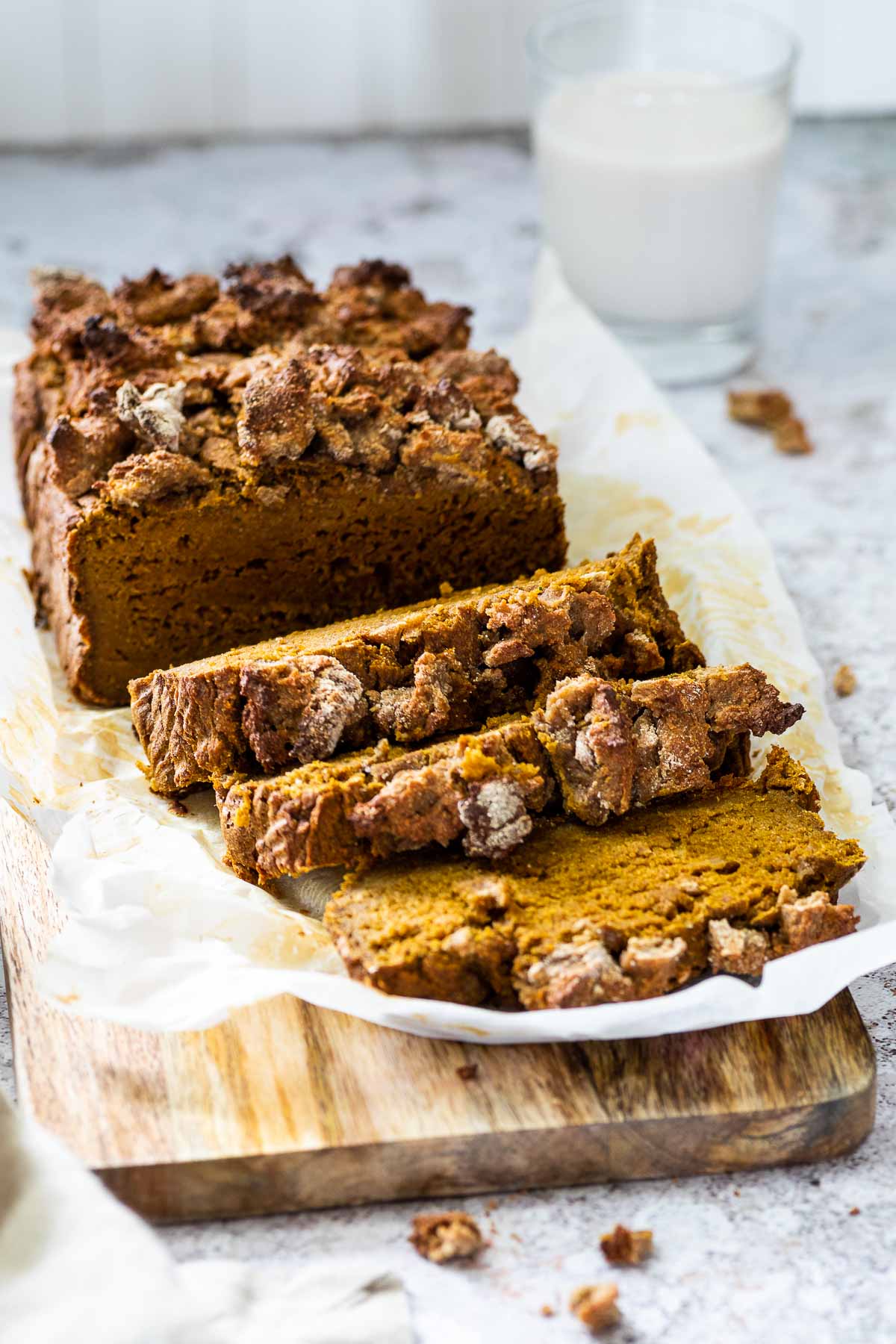 Advance Preparation
You can also prepare the vegan pumpkin bread in advance. Keep it in the refrigerator in a cake container.
Baking Time
The baking time for the pumpkin bread is around 50-60 minutes. If you make muffins out of it, the baking time is only about 20-25 minutes.
Serving Options
You can serve this great vegan pumpkin bread like banana bread for brunch or breakfast.
Since this bread is more like a dry pumpkin pie, you can also serve it great with coffee or tea. You can also serve the dairy-free and sugar-free pumpkin bread as a dessert.
Storage
Now let's take a look at how you can store leftovers of the vegan pumpkin pie. Here you have the option to store it in the refrigerator or to freeze it.
How to refrigerate it?
You can easily store the pumpkin bread in the refrigerator. Simply store the bread in a cake container, for example. It stays there for about 5 days.
How to freeze it?
Here I recommend freezing the pumpkin bread in slices. To do this, first place the slices on a plate or sheet and freeze them on it.
When the slices are frozen through, put them in ziplock bags or containers, for example. This way, the slices don't freeze together and you can take them out one by one.
How to defrost it?
If you want to eat the pumpkin bread, just let it thaw in the refrigerator overnight. Let stand at room temperature for about 1 hour before serving.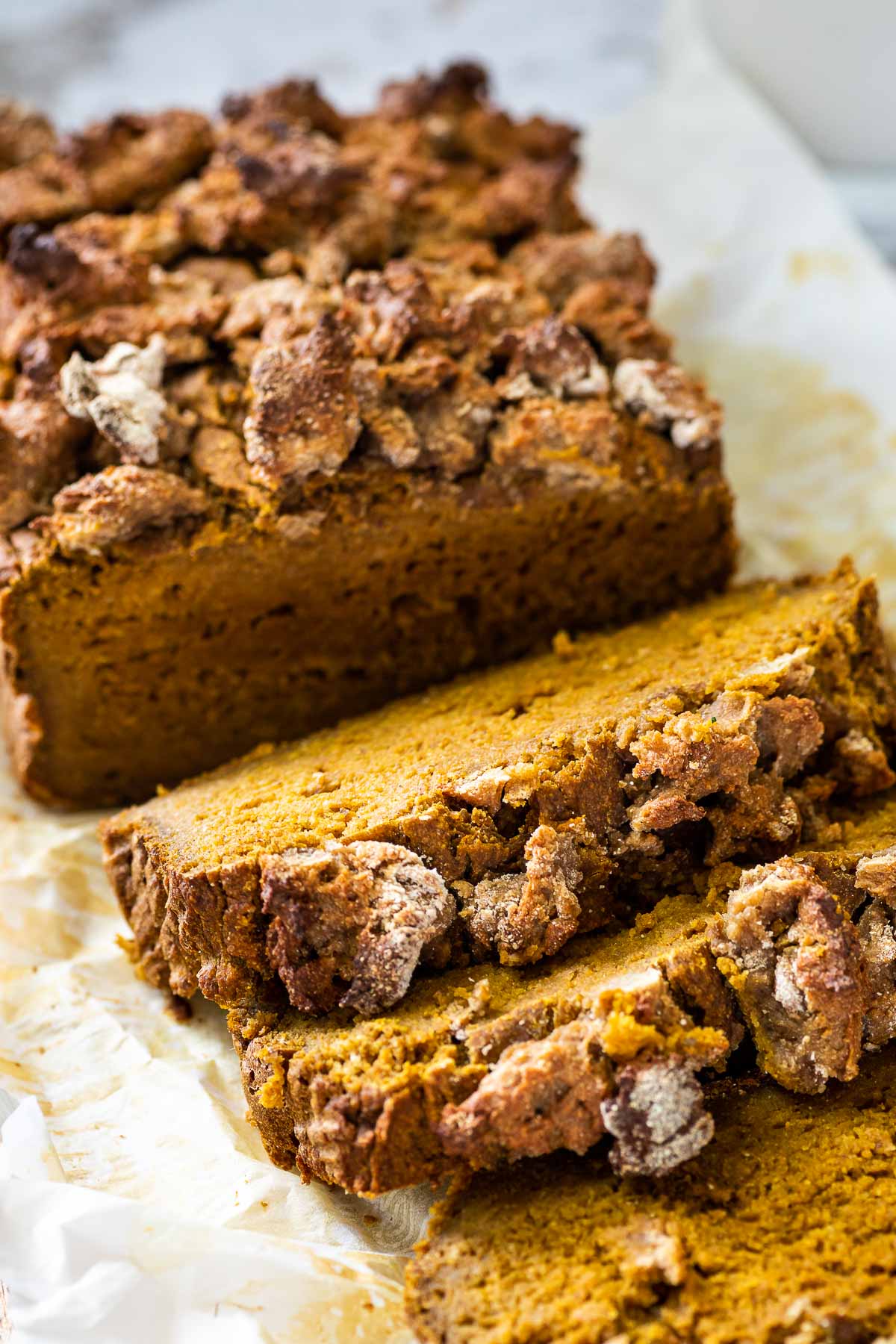 Tips and Tricks
Instead of crumbles, you can also serve the pumpkin bread with pumpkin seeds or chopped walnuts.
Add chocolate pieces, raisins or chopped nuts to the dough.
You can also make muffins or cupcakes out of this pumpkin bread, simply put the batter in muffin cups. Fill the molds up to ⅔ with the batter. The baking time is reduced to 20 minutes here. Always do the toothpick test.
Do the toothpick test and see if the dough is baked through. Put a toothpick in the middle of the bread and see if the dough sticks. If dough sticks, bake longer. If no batter sticks to the toothpick, the vegan pumpkin bread is ready.
It is important that you let the pumpkin bread cool completely before you cut it. It's still very soft and doesn't cut well when it's still warm.
Optionally, you can add 1 teaspoon of apple cider vinegar or lemon juice. This will help the dough rise. Try it out once. You can also leave it out, as the baking powder and baking soda work very well together.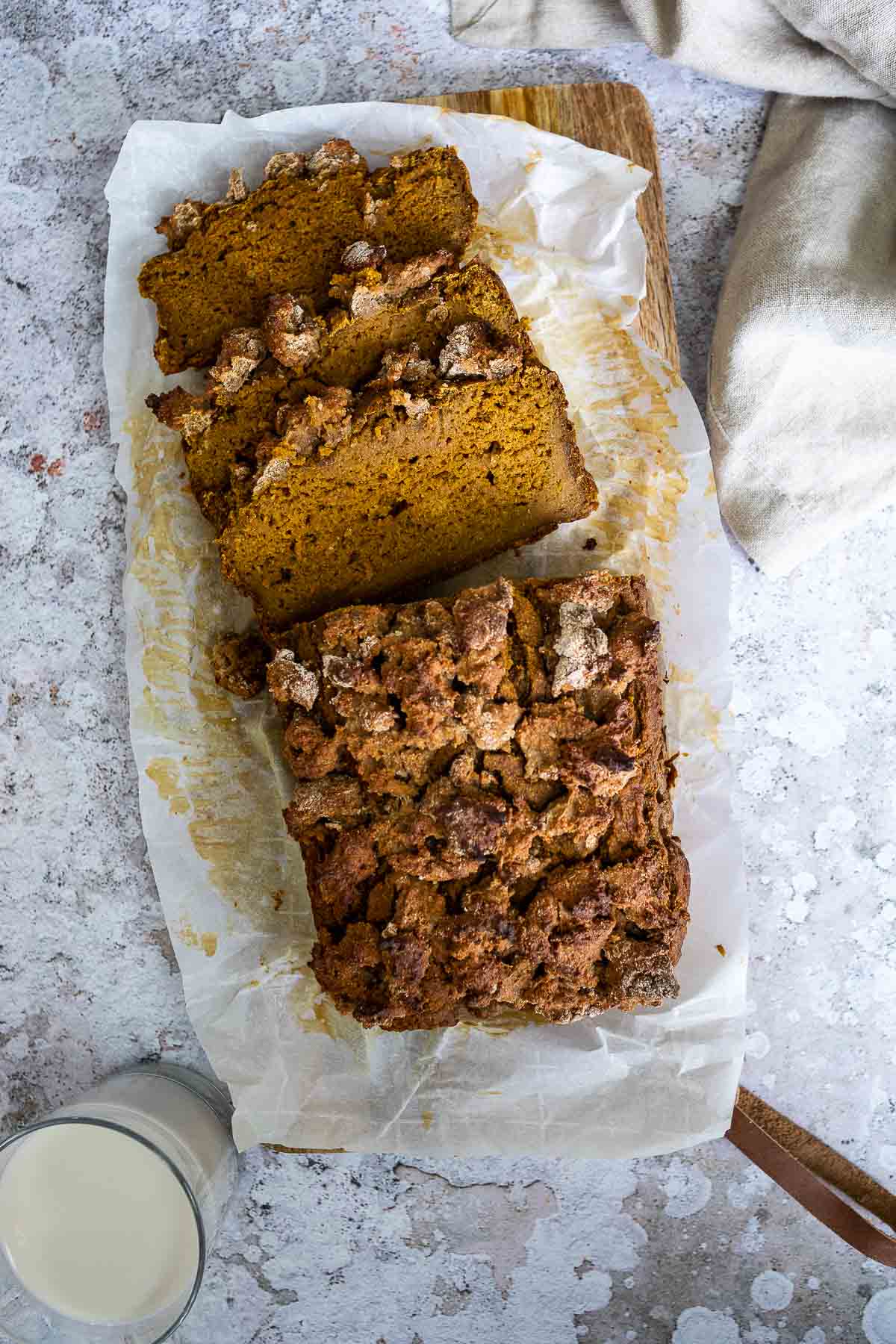 More Vegan Cakes
Blackberry Poppy Seed Crumble Cake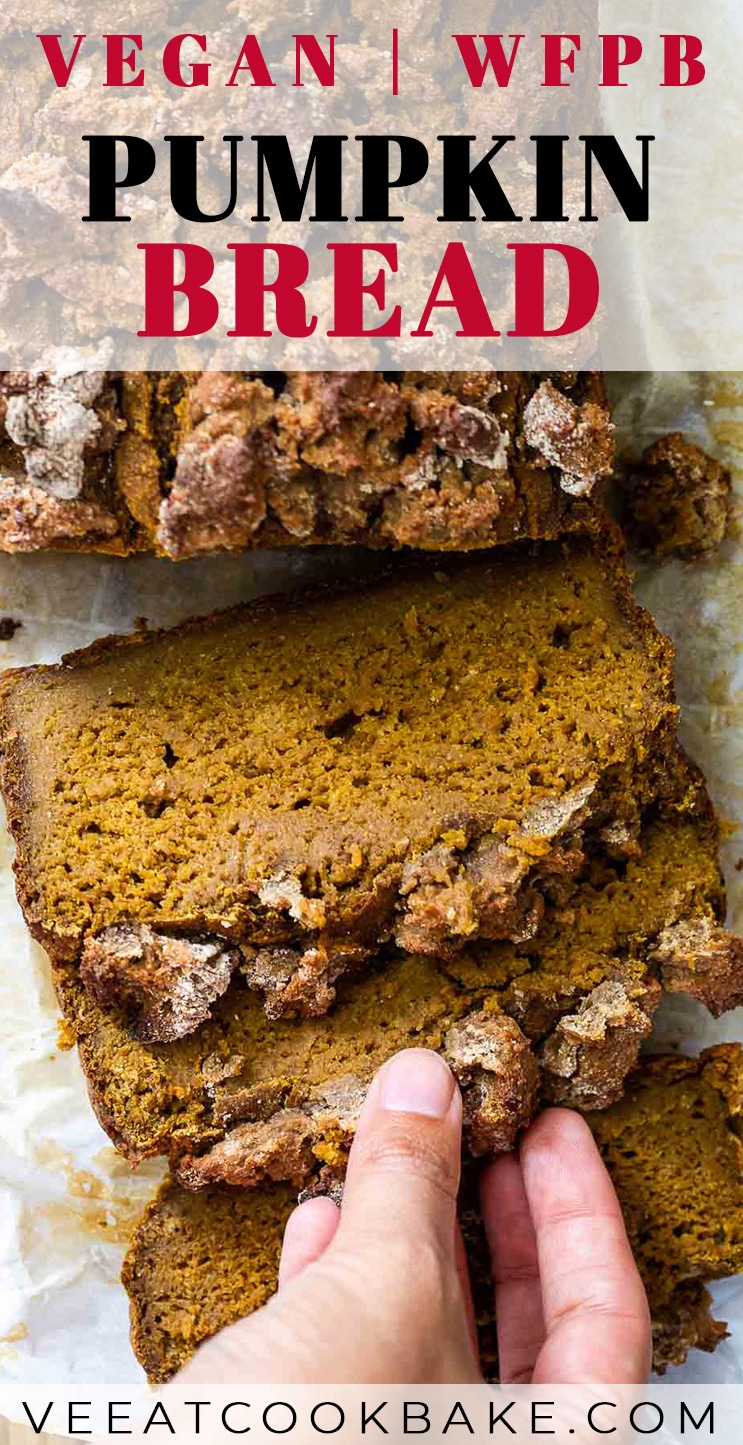 Have you tred the recip
If you tried the vegan Recipebe so nice ♥ and let me knw byrating the recipe and writing what you think about it in the comments.  I would love to see your photo on Instagram orFacebook. To do this tag me with @veeatcookbake andmy hashtag is #veeatcookbake. So that I can see your creation. Did you know you can add photos n Pinterest under the recipe Pin? I can't wait to see a photo of your creation here. You find me with @veeatcookbake