Easy, savory pumpkin Hummus - If you're looking for healthy snack ideas or even dipping ideas that are still vegan (plant-based), I have a great, tasty, savory pumpkin hummus dip for you. The hummus is made from cooked chickpeas and pumpkin puree for a real taste experience. With the spices mace, nutmeg, ginger, allspice, you get not just a fall dip that you can use during the week as an afternoon snack, but this extraordinary pumpkin hummus will also amaze all your guests on Halloween, Thanksgiving or Christmas.
vegan | vegetarian | gluten-free | nut-free | soy-free | oil-free | sugar-free | healthy | wholesome | wfpb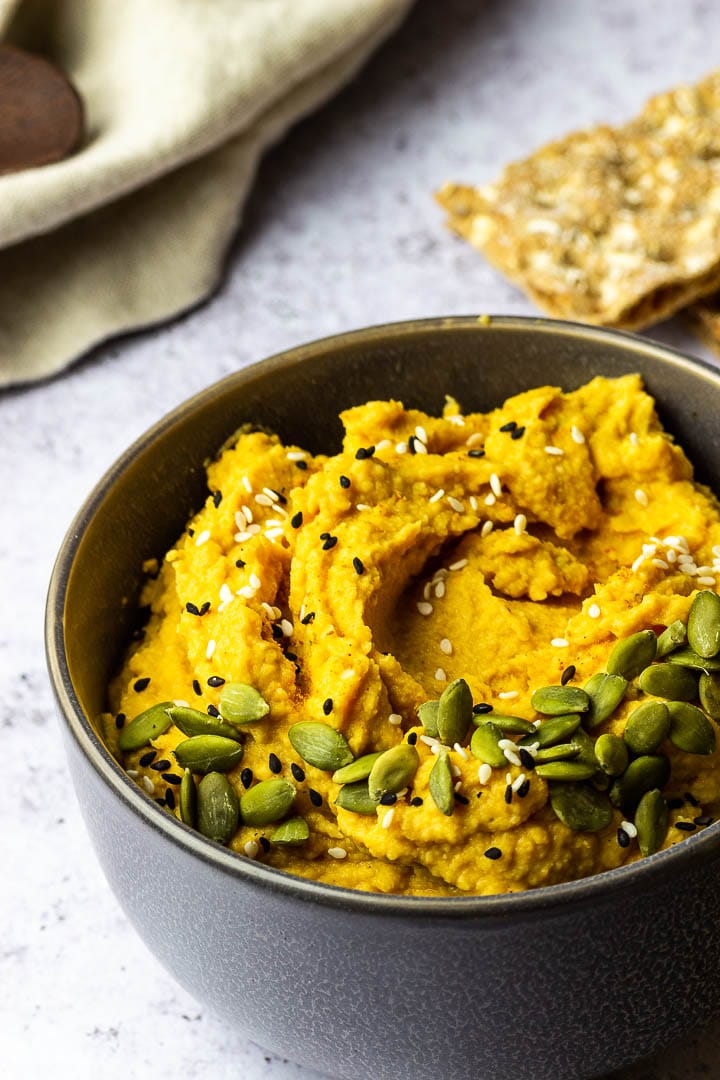 I have to admit that I did not like pumpkin before as a child or as a "young" adult. My grandma used to make pumpkin jam. I never liked it. So I did not want to try other dishes. But now I have begun to love it.
Then when I became a mom and it was time to feed my son slowly with "solid" food, I gave him pumpkin puree or pumpkin soup, among other things. And he just loved it. Of course I prepared the soup for all of us, and I have to say that since then I really enjoy pumpkin and my two kids love it too. That's why I always try to find new ways to serve vegetables and fruit to my children and husband John so that it does not get boring.
And this vegan pumpkin hummus was created from leftover items. I still had some pumpkin from another dish and decided to just make a hummus from from the rest. With the spices that blend beautifully with the sweet taste of pumpkin, I made a simple, hearty pumpkin hummus that's not just vegan but also gluten free and sugar free.
What do you need to prepare pumpkin hummus?
Garlic clove

Chickpeas
Pumpkin puree (roasted or canned)
Mace, grounded
Nutmeg, grated
Ginger powder
Allspice
Sea salt (opt)
2 tablespoons lemon juice, fresh
How to make pumpkin hummus?
It depends on whether you cook the chickpeas yourself and roast the pumpkin yourself, or if you can grab canned ones. If you prepare everything fresh, then first cook the chickpeas and roast the pumpkin until both are soft.
Add the tahini and lemon juice to the food processor and mix until creamy. Now add the remaining ingredients and puree everything in the food processor until everything is creamy. That can take about 4-5 minutes. Taste again with the spices.
Do you want to make your pumpkin even creamier? Then look over here, here I show you tips to get the hummus even creamier.
Which pumpkin can you use for the hummus?
I like to use Hokkaido pumpkin. Of course you can also use butternut or nutmeg pumpkin. These pumpkin varieties can all be prepared with the shell. Or you simply fall back to already cooked squash or pumpkin puree.
[ezcol_1half]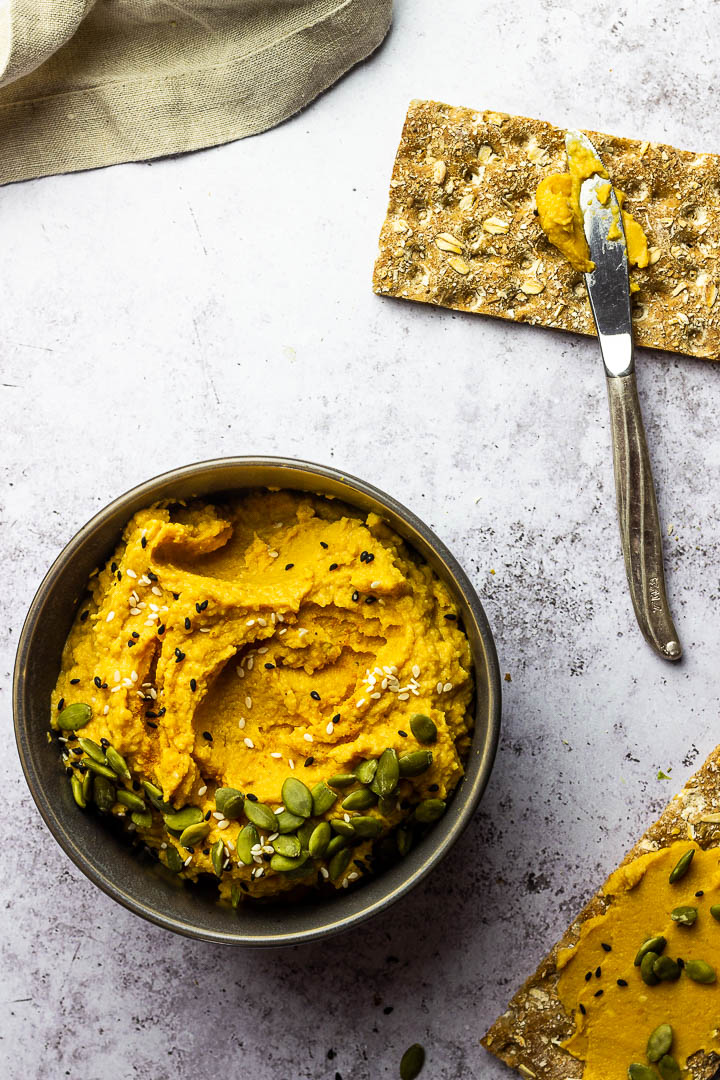 [/ezcol_1half] [ezcol_1half_end]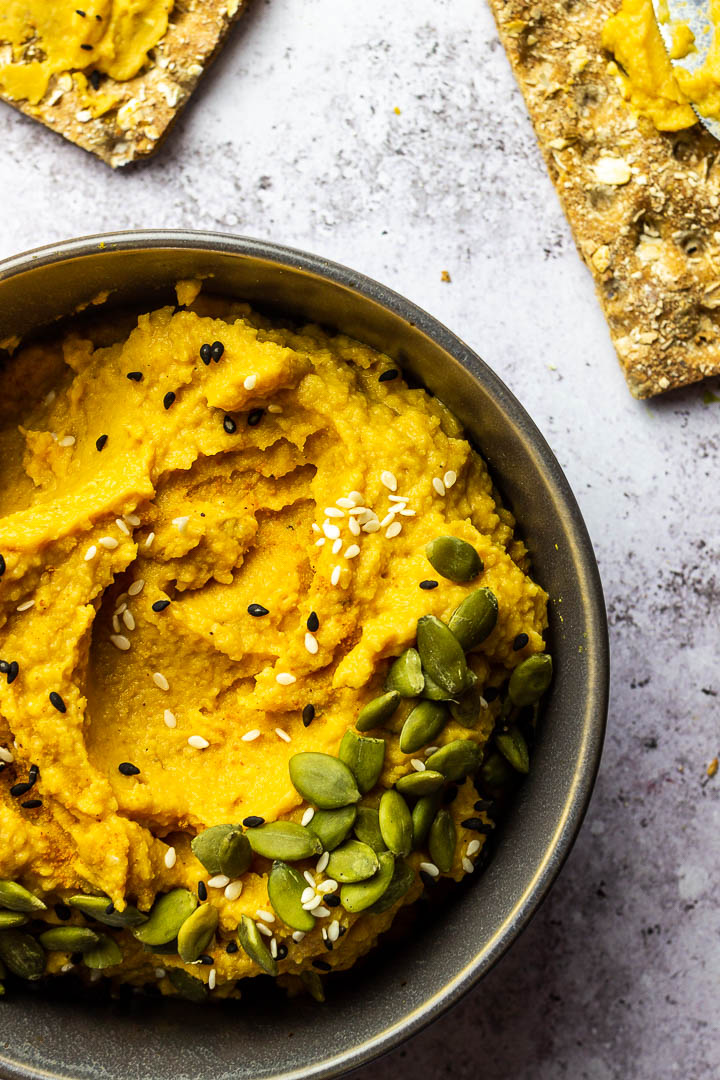 [/ezcol_1half_end]
What can you eat with pumpkin hummus?
Cracker

Vegetable sticks (carrots, cucumbers, celery or kohlrabi) or what your heart desires

Grilled vegetables (zucchini, peppers, carrots, or eggplant, for example)

Freshly baked bread

Wraps

Pita chips

Falafel

Pretzels

Crispy bread chips

Cheese breadsticks
How long does the pumpkin hummus last?
Hummus is usually not older than 3-4 days in our house. So it lasts for sure that long in the fridge. Please put it in a sealable box. If you have a longer experience, you are welcome to write it in the comments. I will update my post in this regard.
Can I freeze pumpkin hummus?
Pumpkin hummus can even be frozen very well. Just put the hummus in a sealable and freezable container. Here the hummus keeps up to 6 months.
Can you prepare hummus without tahini?
The classic hummus is made with tahini. But you can also simply replace the tahini with other nut butters or seed butters. Check out my classic hummus recipe, there I show you several alternatives.
More dips you might like:
More pumpkin recipes you might like:
Do not forget to Pin on Pinterest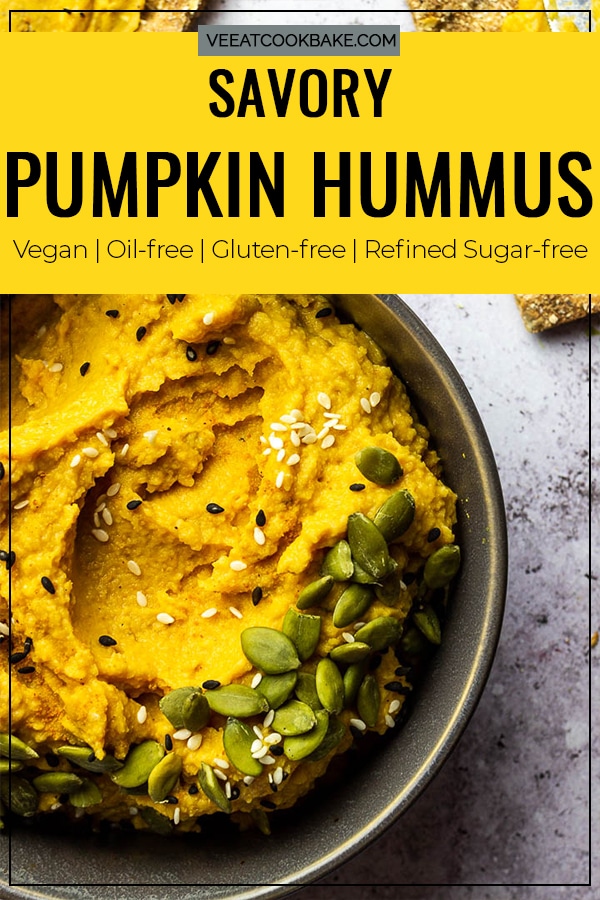 Have you tried the recipe?
If you tried the vegan Pumpkin Hummus, be so nice ♥ and let me know by rating the recipe and writing what you think about it in the comments. Tag me on Instagram too. I am @veeatcookbake and my hashtag is #veeatcookbake. So that I can see your creation. Did you know you can add photos on Pinterest under the recipe Pin? I can't wait to see a photo of your creation there. You find me with @veeatcookbake. I also would love to hear your feedback so I can share it on my social media channels.

This post may contains affiliate links and I may receive a very small commission if you buy through these links at no extra cost. Thank you very much for supporting Ve Eat Cook Bake! More information can be found here.
---