Vegan grilled tofu skewers with spicy marinated tofu cubes, onions and bell peppers should not be left out of your next barbecue party. The spice marinade harmonizes perfectly with the peppers and onions. These extremely tasty Tofu skewers can also be wonderfully prepared in the oven, in case you want these skewers, but you do not want to turn on the grill.
Vegan | oil-free | gluten-free | milk-free | lactose free | whole food plant-based

What are vegan grilled tofu skewers?
Vegan Grilled Tofu skewers are the vegan version of the grill skewers that you can buy from a butcher. As a meat substitute, we take tofu. Thanks to the delicious preparation, this tofu goes well on these grill skewers. Basically we stick onions, tofu and paprika on a skewer. Use wooden shashlik skewers or metal skewers.

How do you make vegan grilled tofu skewers?
First, we press the tofu. Then, if you wish, you can freeze the tofu. Here the texture will change a bit. As thawing releases more water, the tofu becomes a little firmer. After you have thawed the tofu, you can press the tofu again and then cut into cubes. Remember that the cubes should be big enough to stick on skewers. Now we put the tofu cubes in the marinade for at least 2 hours. I like to prepare these the evening before, so I just have to put the skewers together.
How do you grill the vegan grilled tofu skewers?
You can grill these vegan grilled tofu skewers as normal. We usually leave them on the grill until the tofu is quite firm on the outside and the onions have a nice color.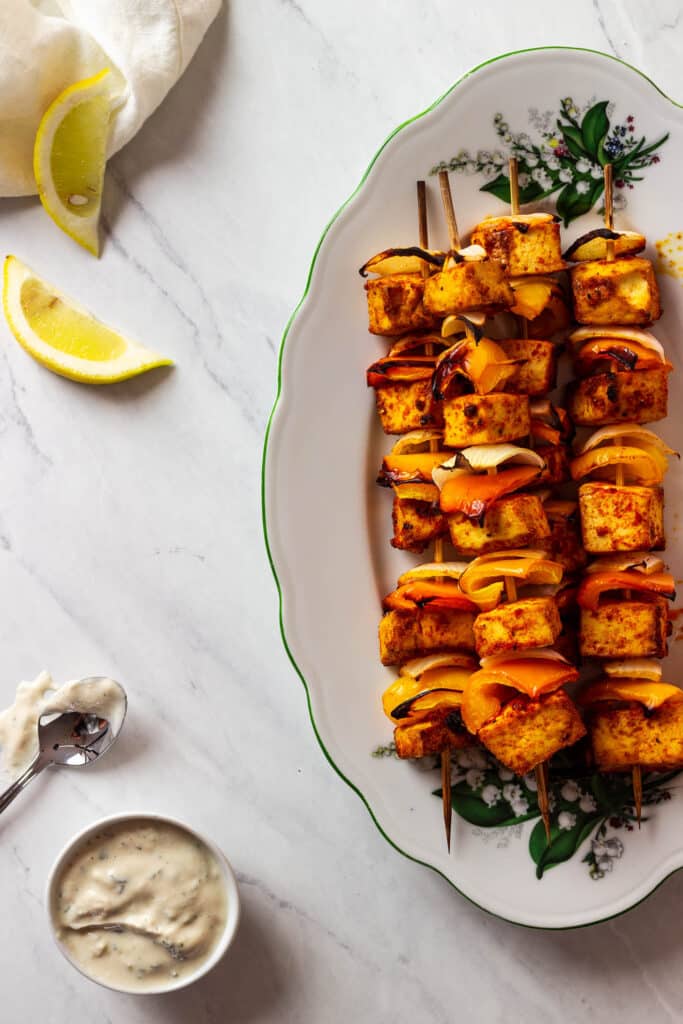 Can I put something else on the skewers?
Of course you can also take other vegetables. Just take what you like or just eat. For example Corn on the cob, mushrooms, tomatoes. Here you can really take what you like best. The onions make it into something special.
What can I serve with the vegan tofu skewers?
Do not forget to Pin on Pinterest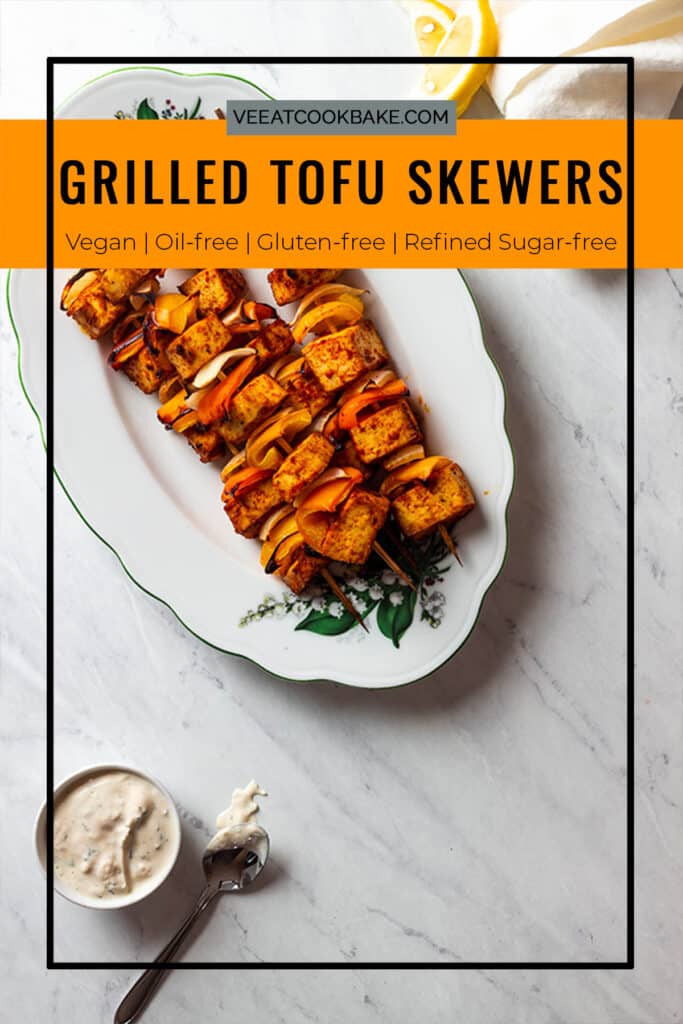 ---
Have you tried the recipe?
If you tried the vegan grilled tofu skewers, be so nice ♥ and let me know by rating the recipe and writing what you think about it in the comments. Tag me on Instagram too. I am @veeatcookbake and my hashtag is #veeatcookbake. So that I can see your creation. Did you know you can add photos on Pinterest under the recipe Pin? I can't wait to see a photo of your creation there. You find me with @veeatcookbake. I also would love to hear your feedback so I can share it on my social media channels.
---

This post may contains affiliate links and I may receive a very small commission if you buy through these links at no extra cost. Thank you very much for supporting Ve Eat Cook Bake! More information can be found here.
---