This great vegan recipe for baked mac and cheese is so cheesy, creamy! Inspired by the American Baked Mac and Cheese, I created this dairy-free macaroni and cheese.
A quick dish that is prepared in no time and that conjures up a great vegan pasta dish.
This recipe is one of our favorites and I really recommend you try this great, extremely cheesy Mac and Cheese, golden brown and crispy baked with breadcrumbs, this is an incredibly great comfort meal.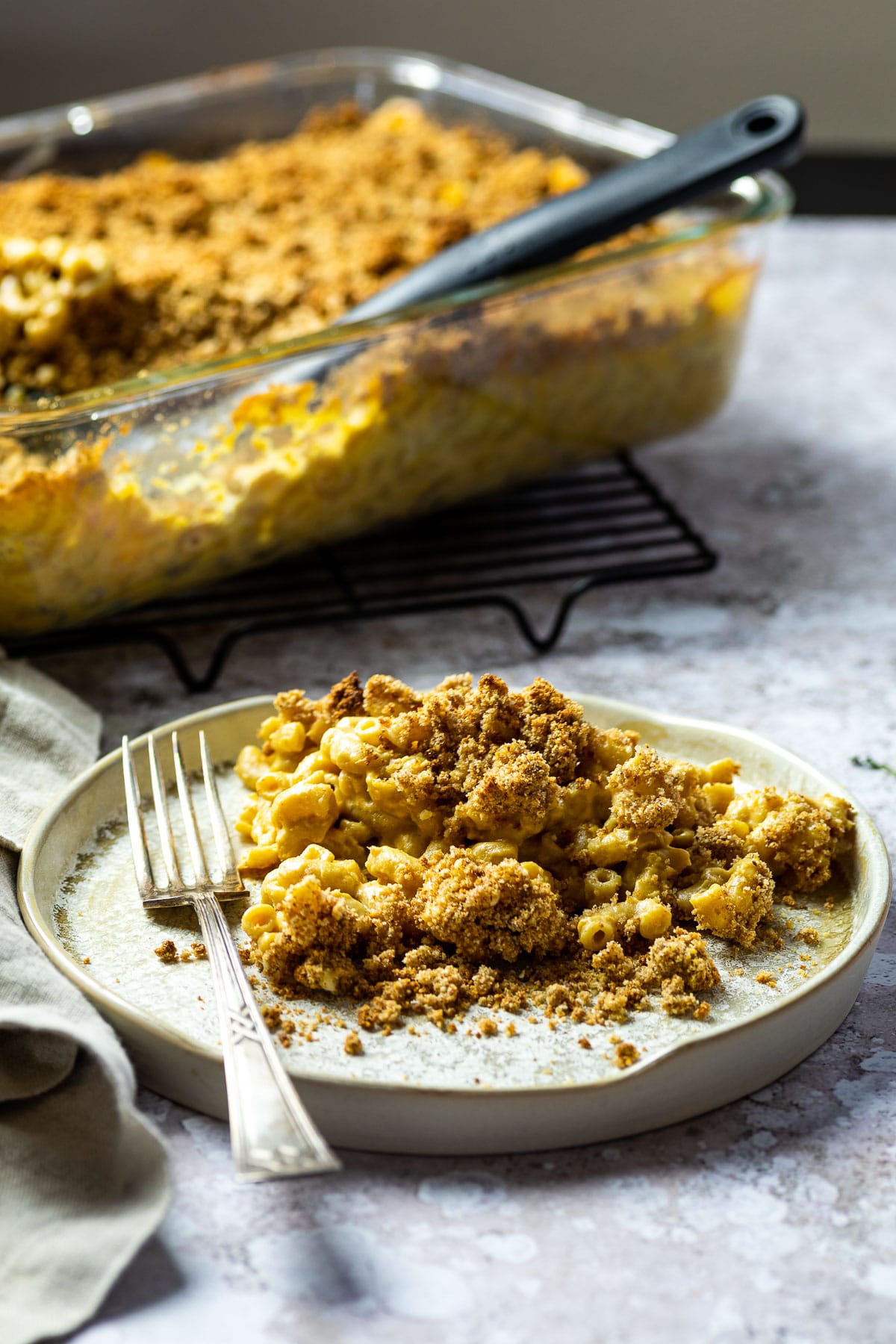 As an Amazon Associate, I earn from qualifying purchases. This post may contain affiliate links. Read More
Jump to:
For this baked pasta, we use my instant Mac and Cheese powder, which tastes so incredibly cheesy thanks to the nutritional yeast it contains.
You don't need a processed vegan cheese substitute to conjure up classic Mac and Cheese. For this vegan cheese noodle recipe, we only use whole food plant-based ingredients.
Are you a big pasta lover too? If you can't get enough of pasta, and that's exactly how it will be with this very fine, simple vegan Mac and Cheese.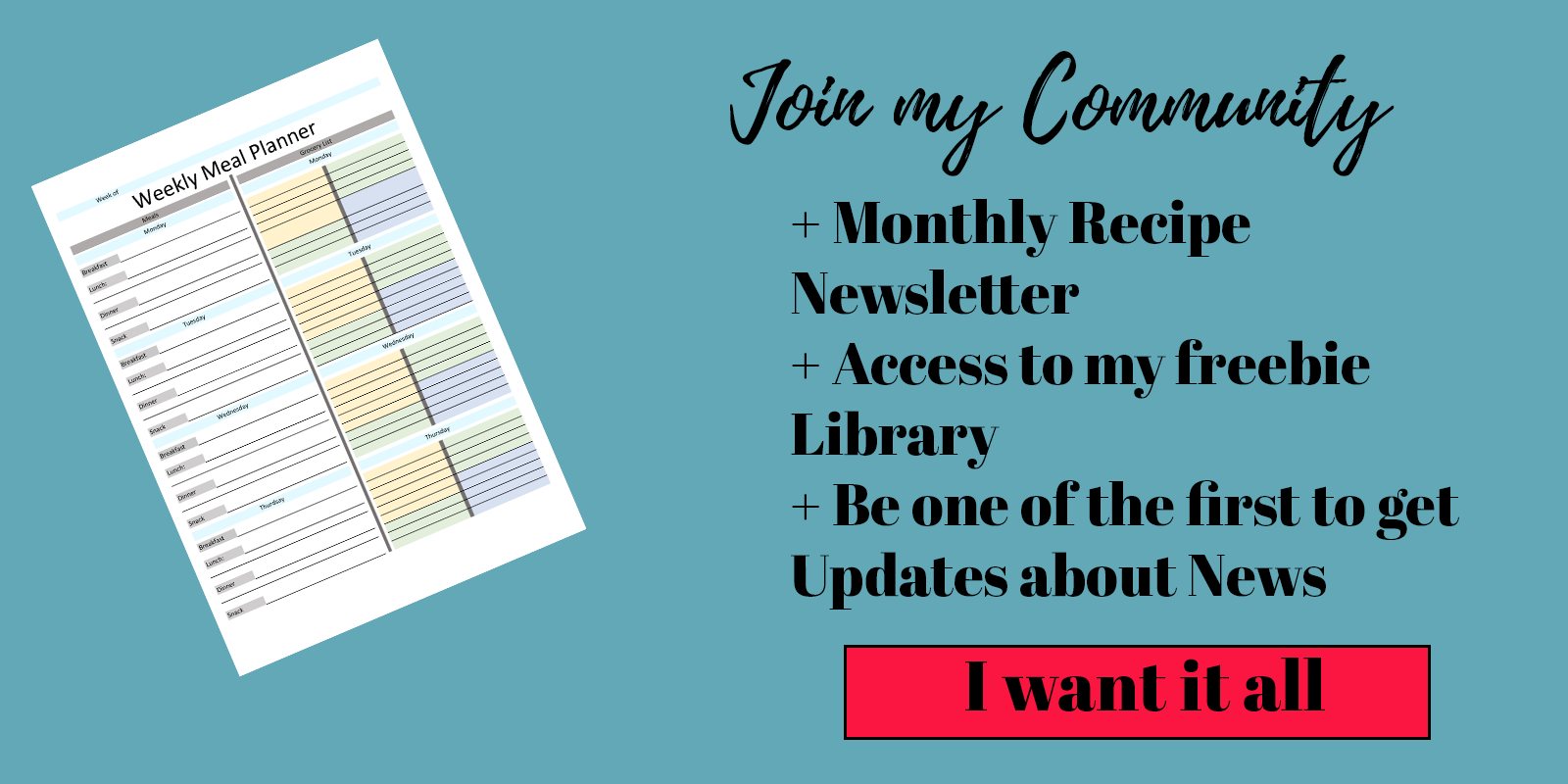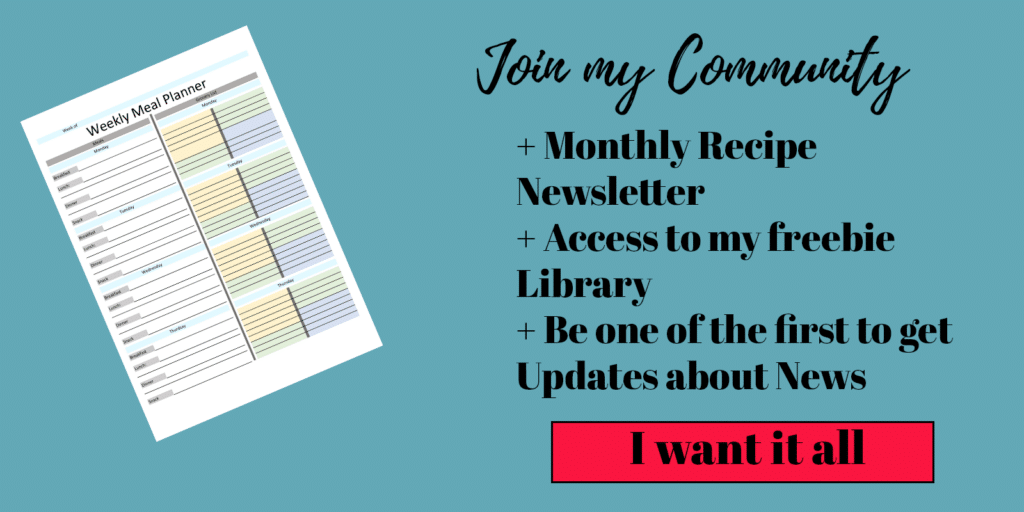 Ingredients
Now let's take a look at what you need for this great dairy-free Mac and Cheese recipe. You can find the exact quantities below in the recipe card.
Elbow Noodles or other pasta
Almond Milk
Whole Grain Bread
Aquafaba
Parmesan, vegan
Smoked Paprika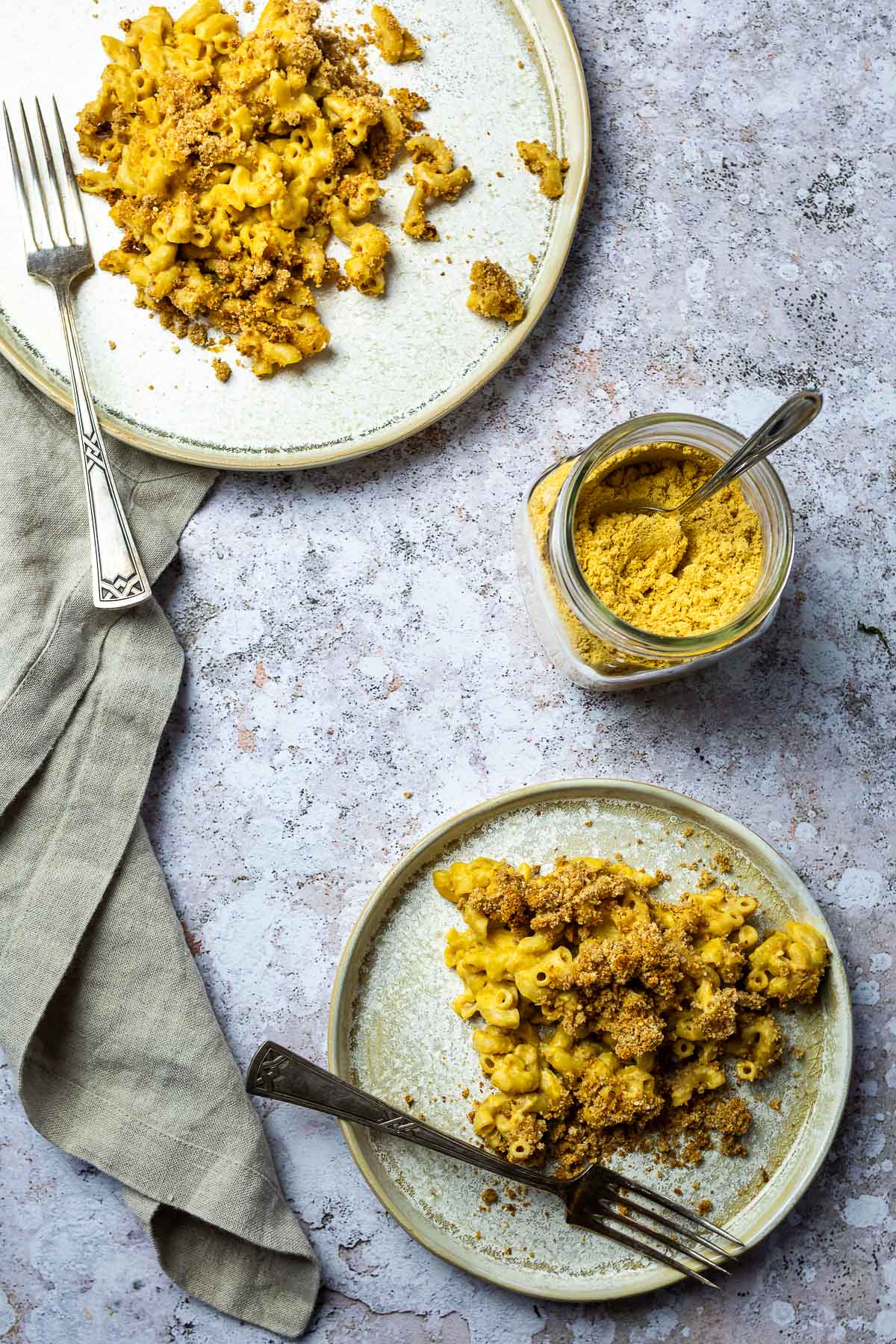 Substitutions
Pasta
We like to use whole wheat pasta. You can use spelt pasta, normal pasta, gluten-free pasta, or lentil or chickpea pasta, if you want to.
Almond Milk
If you don't want to use almond milk, you can also use soy milk, rice milk or coconut milk. I don't recommend oat milk because you can taste the sweetness and the oat flavor.
Whole Grain Bread
Use your favorite bread here. I like to use homemade bread. You can just take the bread that you already have at home. You can also use a gluten-free version here.
Aquafaba
Aquafaba serves as an oil substitute. If you want to use oil , you can substitute it one for one.
Parmesan, vegan
You can either use store-bought parmesan or you can use a homemade parmesan.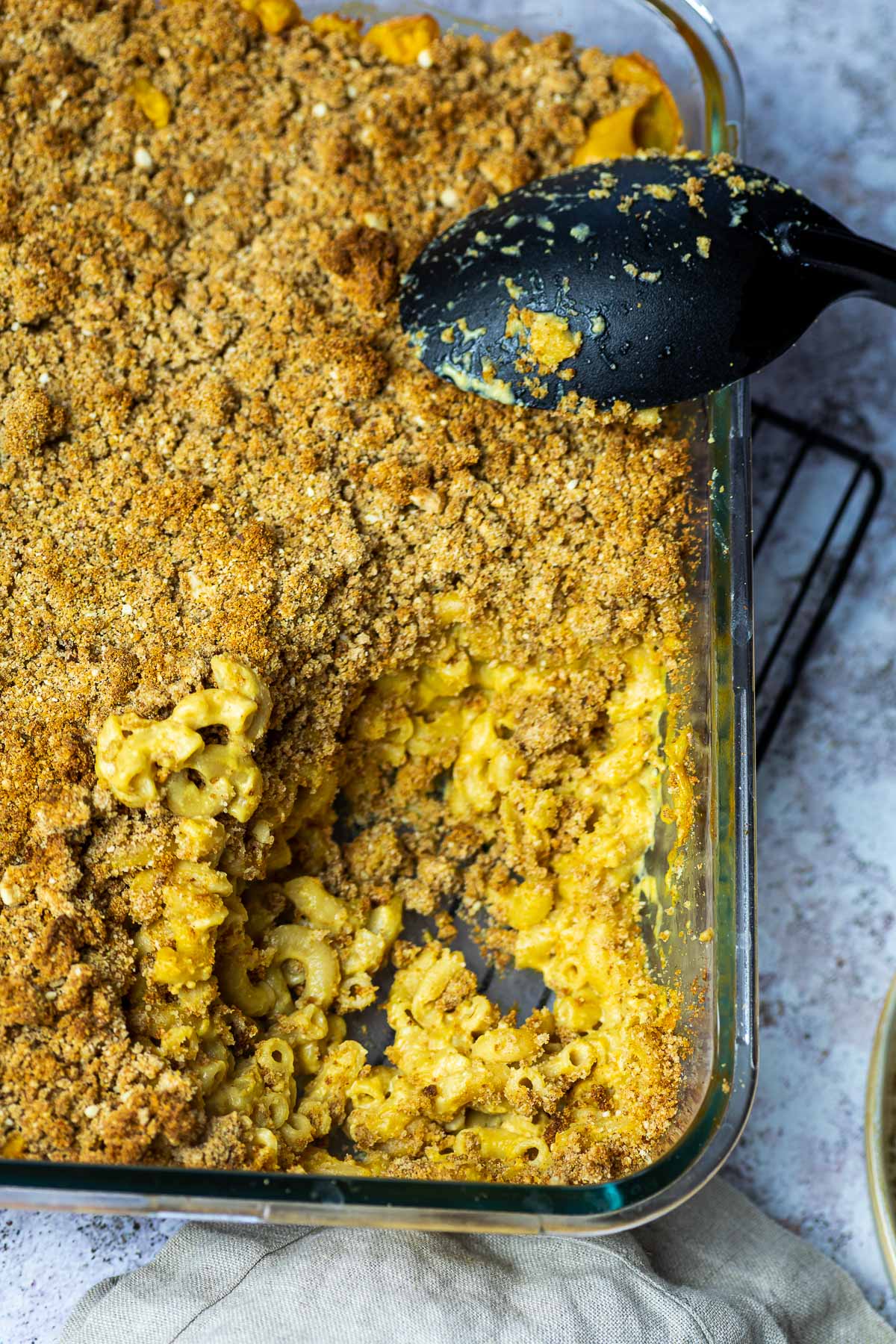 Variations
With this recipe I would like to show you how you can adapt the recipe to make it gluten-free or keto.
Gluten-free
This dish is easy to prepare in gluten-free, simply use gluten-free pasta such as lentil pasta. You replace the bread with gluten-free bread.
Keto
Use keto-friendly pasta for the keto option. You can also use coconut flakes instead of bread, for example.
Instruction
Preheat the oven to 400°F (200°C). Cook the pasta according to the instructions on the box. Now take a measuring cup and measure about 1 ⅓ cup of Mac and Cheese mix. Mix this with about 4 cups of water. Now fold the cooked noodles into the cheese sauce.
Put the pasta in a casserole dish.
Now we're going to prepare the breadcrumbs. Roast the bread slices and chop the bread into small crumbs and mix them with the aquafaba, parmesan and smoked paprika powder.
Add the mixture to the noodles and bake them in the preheated oven for about 30 minutes.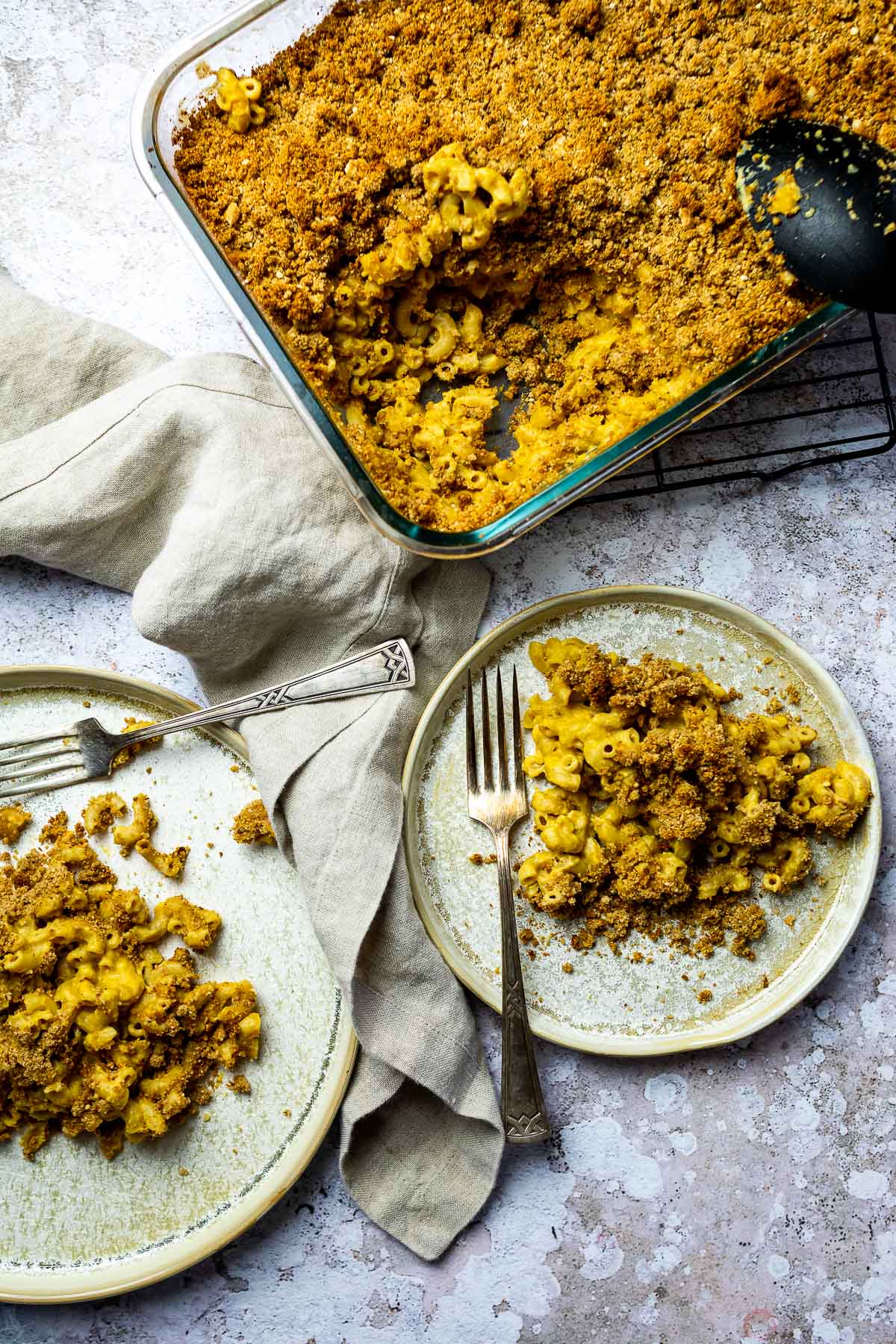 Prepare in Advance
You can also prepare the vegan Mac and Cheese in advance. Simply pre-cook the pasta with the sauce and add the breadcrumbs just before baking.
Storage
This delicious, wholesome mac and cheese can be stored for some time.
How to refrigerate?
You can store leftovers in a closed container in the refrigerator for up to 5 days. Simply place in the oven or in the microwave to warm up.
How to freeze?
You can also freeze the mac and cheese very well. To do this, simply freeze portions and then let them thaw overnight in the refrigerator. Here the noodles last for about 2 months.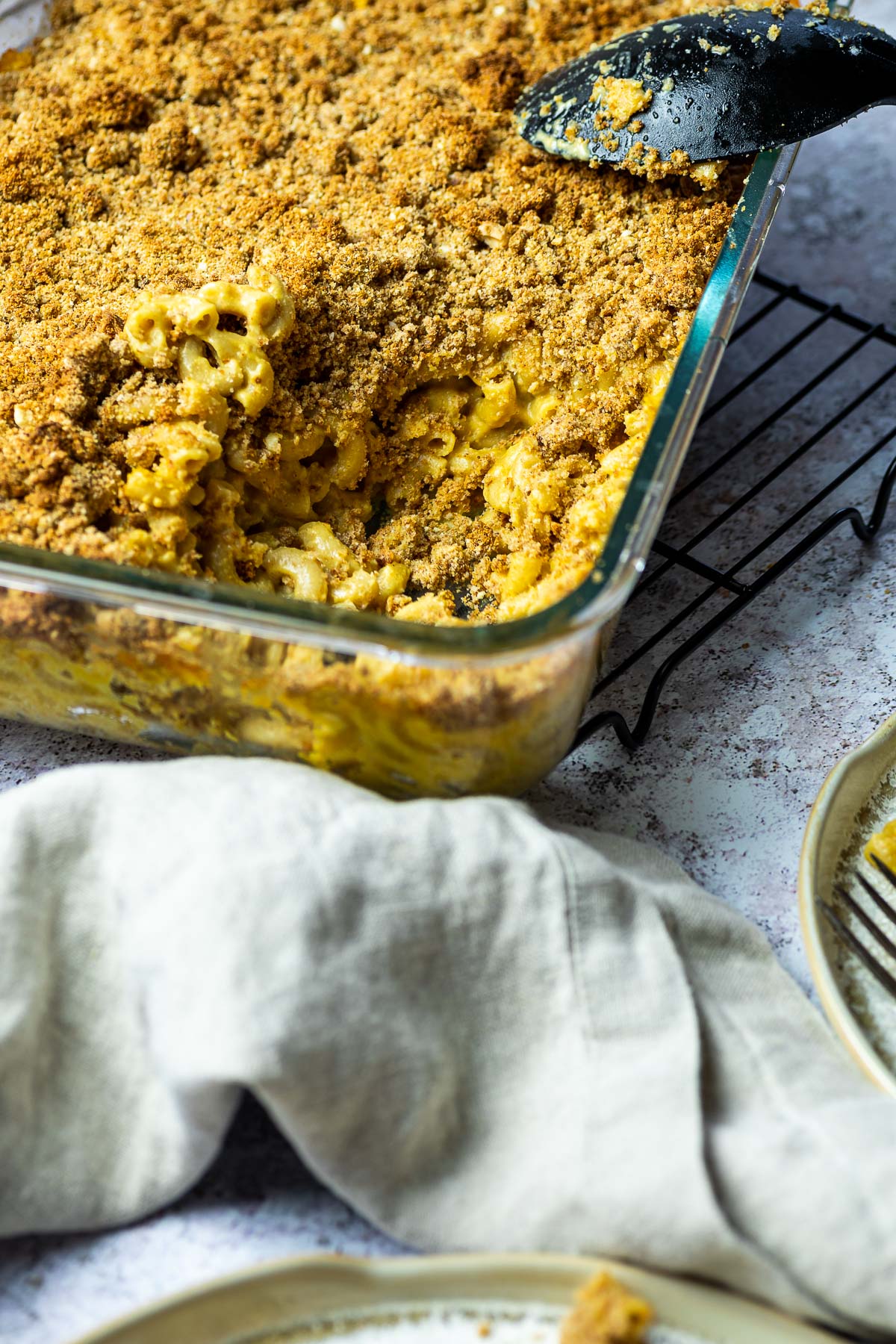 Tips:
Don't leave out the nutritional yeast. These give the special cheesy taste that we want in the pasta.
If you want the sauce to be particularly creamy, you can also use cashew milk.
Take a little more milk (120 ml) and mix this with the cheese powder and add the raw noodles and bake them without pre-cooking the noodles until the noodles are soft.
More Vegan Pasta Recipes: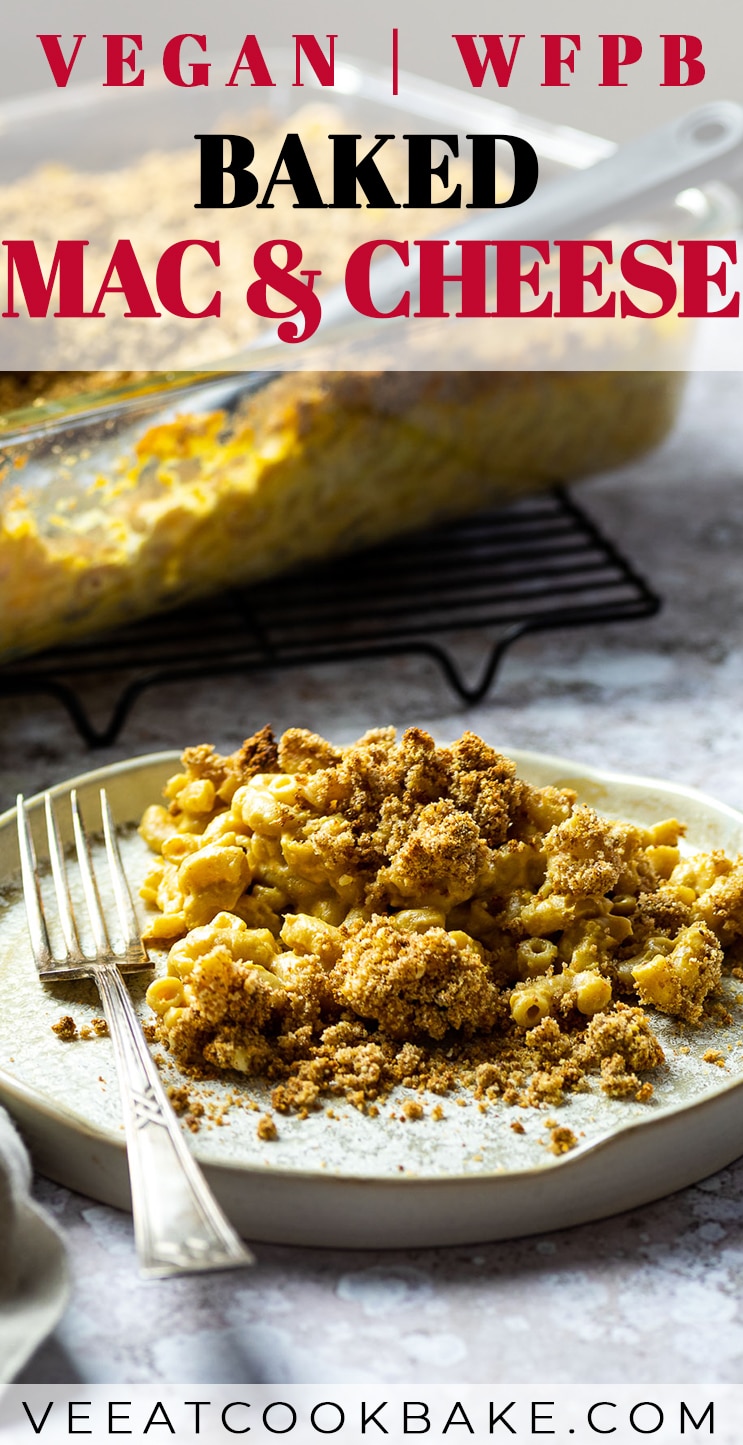 Have you tried the recipe?
If you tried the vegan Recipe, be so nice ♥ and let me know by rating the recipe and writing what you think about it in the comments. I would love to see your photo on Instagram or Facebook. To do this tag me with @veeatcookbake and my hashtag is #veeatcookbake. So that I can see your creation. Did you know you can add photos on Pinterest under the recipe Pin? I can't wait to see a photo of your creation there. You find me with @veeatcookbake.