Get classic Baked Mac and Cheese vibes with this easy-to-make vegan dish. Baked to perfection, savor its crispiness on top while the cheesy creaminess swirls inside! With just a few simple ingredients like nutritional yeast and my instant mac & cheese powder, it's a cozy comfort meal that comes together in no time - so get ready for an amazing plant based pasta experience your taste buds will love!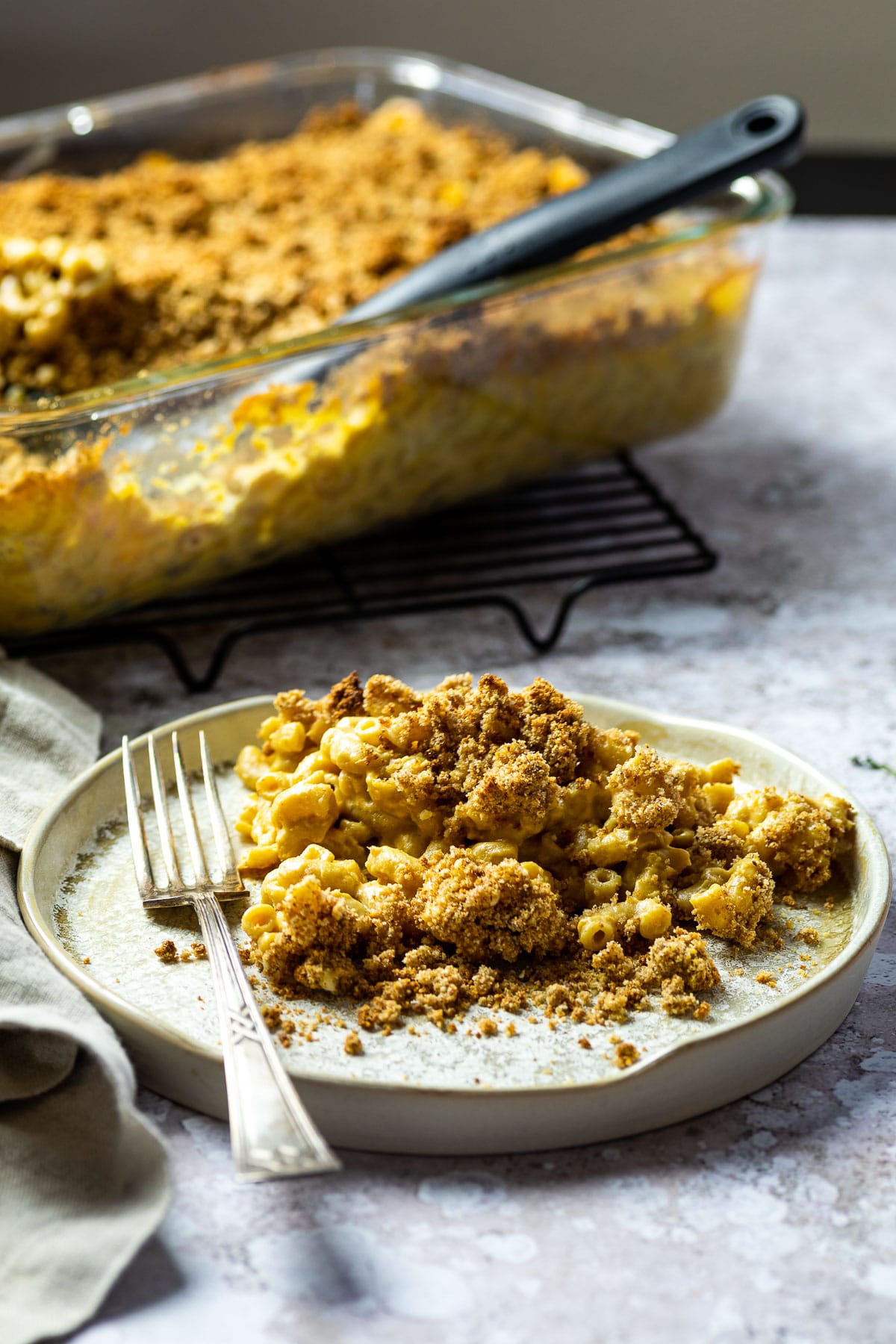 This recipe uses my quick and easy vegan instant mac n cheese powder. It pairs well with roasted Brussels Sprouts and Green Bean Salad.
As an Amazon Associate, I earn from qualifying purchases. This post may contain affiliate links. Read More
Jump to:
Ingredients
Following ingredients, you will need to make the best vegan mac.
You can find the ingredients with quantities and the recipe to print out on the recipe card below.
Elbow Noodles or other pasta
Almond Milk
Whole Grain Bread
Aquafaba
Smoked Paprika
The mac and Cheese Mix is made with onion powder, raw cashews or raw sunflower seeds, oats, garlic powder. The detailed easy vegan mac cheese powder recipe is on my blog.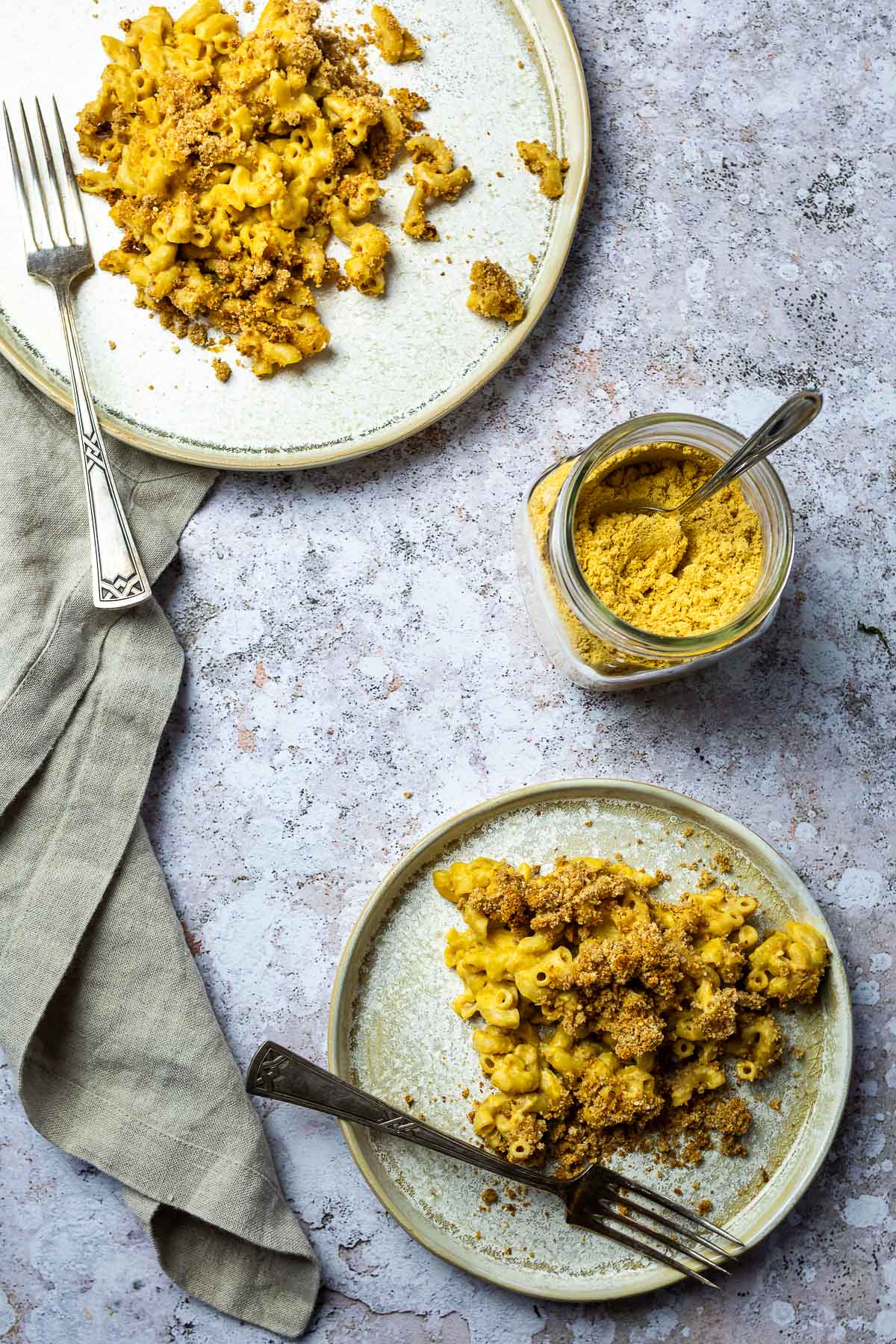 Instruction
Get the oven ready and preheat it to a sizzling 400 °F (200 °C). Cook the pasta like you mean it; al dente, per package instructions. In your trusty measuring cup, scoop 1 ⅓ of Mac'n Cheese mix, then add 4 cups of almond milk.
After that, make sure to fold in cooked pasta into this cheesy sauce before putting everything into an inviting casserole dish! As if things couldn't get any better-now we're getting crumbs involved - toast some bread slices until they are crisp enough for nibbling.
Chop these up real small and blend them with Aquafaba, Parmesan cheese & smoked paprika powder – no margarine (buttery breadcrumbs) required here! Sprinkle this crunchy topping over those creamy noodles before baking off their masterpiece in the hot oven for about 15–20 minutes until golden brown – dinner is served!
Make this recipe, check out my vegan American Goulash Recipe, vegan Pasta Salad and my other vegan pasta recipes.
Substitutions
Pasta: We like to use whole wheat elbow macaroni pasta. You can use spelt pasta, normal pasta, gluten-free pasta, or lentil or chickpea pasta, if you want to.
Almond Milk: If you don't want to use almond milk, you can also use other plant milk like soy milk, rice milk or coconut milk. I don't recommend oat milk because you can taste the sweetness and the oat flavor.
Whole Grain Bread: Use your favorite bread for the breadcrumb topping here. I like to use homemade bread. You can just take the bread that you already have at home. You can also use a gluten-free version here to make your baked vegan mac. You can also use store-bought panko breadcrumbs.
Aquafaba: serves as an oil substitute. If you want to use oil, you can substitute it one for one.
Parmesan, vegan: You can either use store-bought Parmesan or you can use a homemade vegan Parmesan to add a cheesy flavor.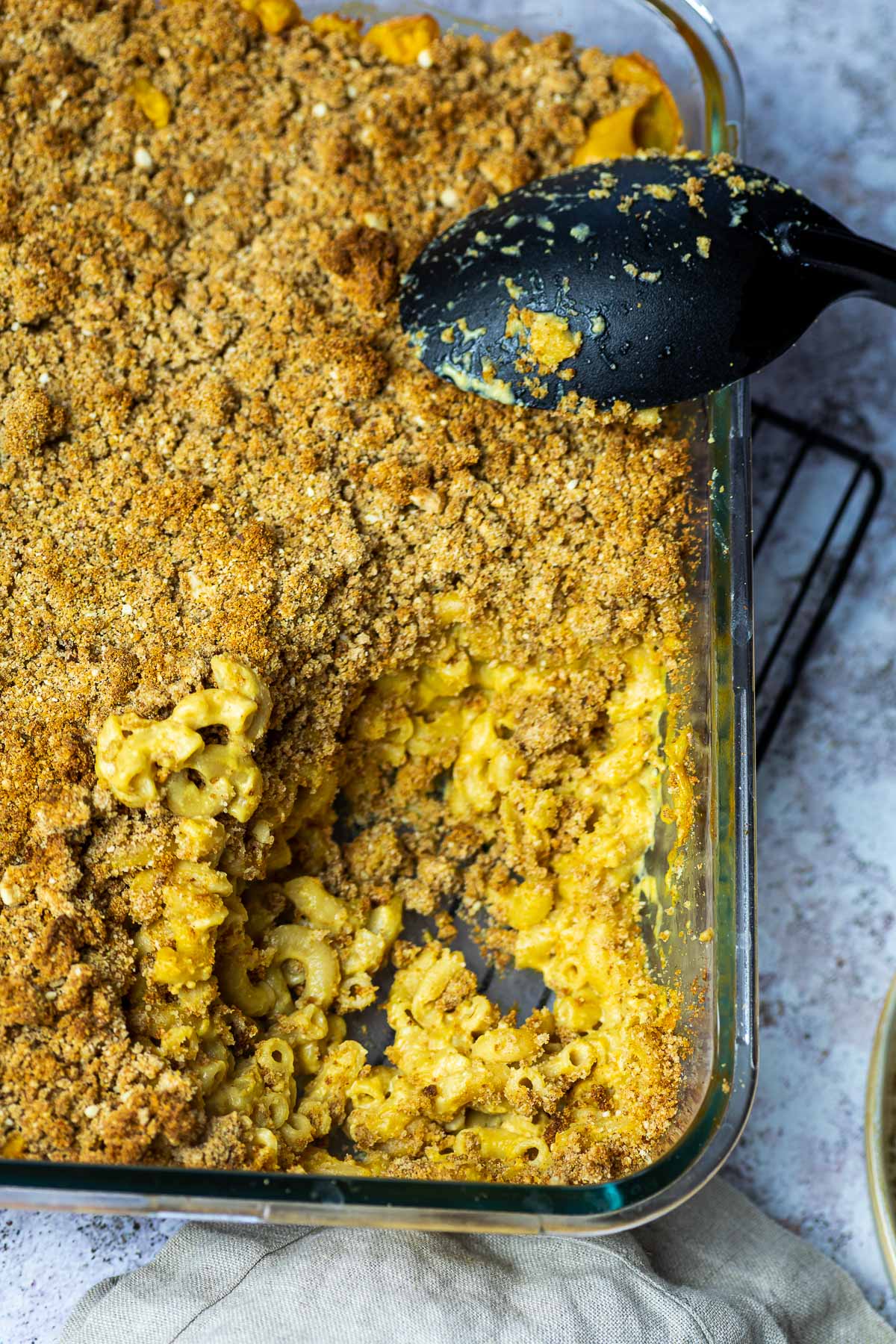 Variations
Chili Mac: Add some Chili Seasoning when you make the creamy sauce. And go ahead with the recipe instructions.
Lemon Juice: Add some splashes of fresh pressed lemon juice to your baked macaroni.
Equipment
To make this cheesy pasta, you will need some kitchen tools.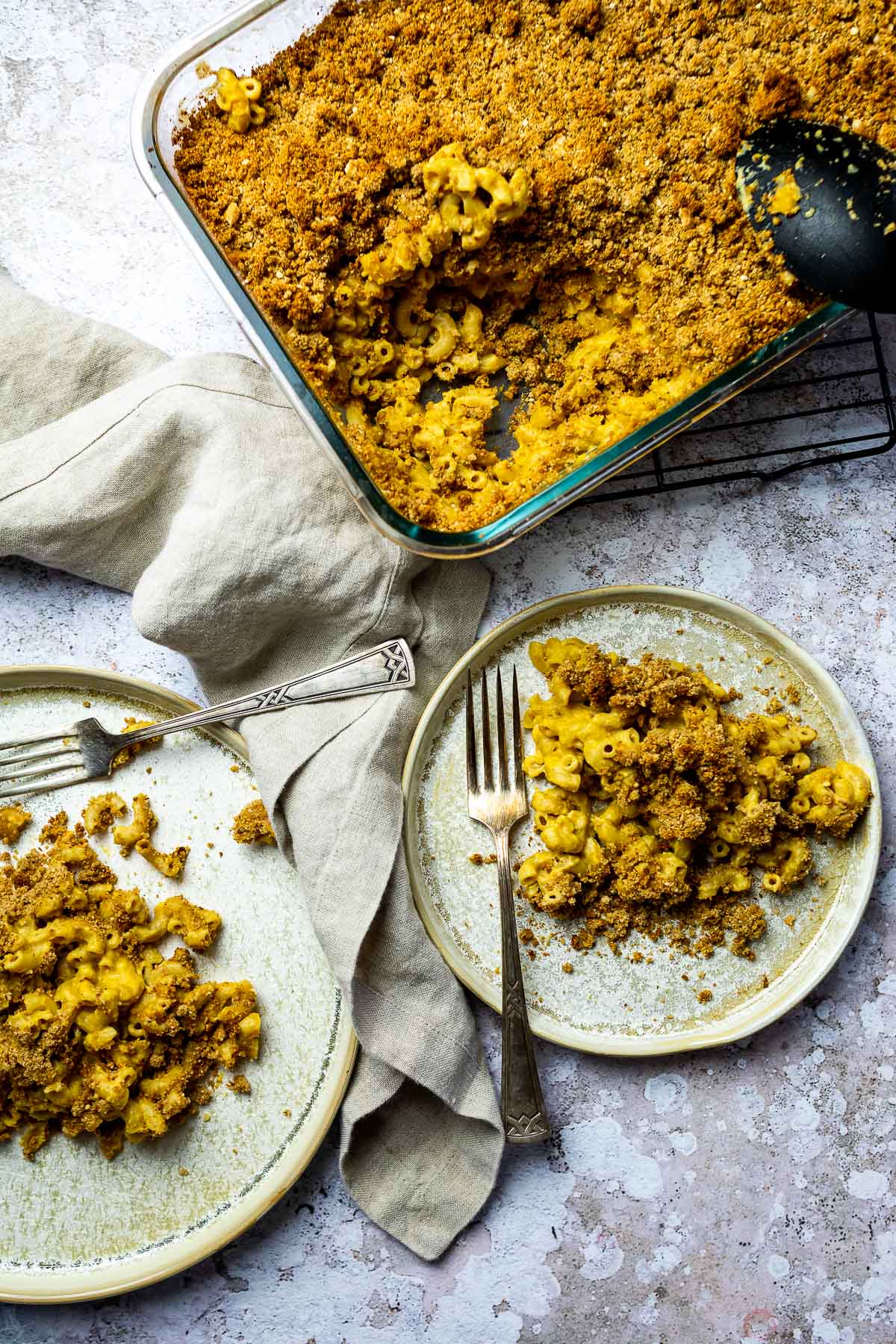 Storage
How to refrigerate? You can store leftovers in an airtight container in the refrigerator for up to 5 days. Simply place the cheese bake in the oven or in the microwave to warm up.
How to freeze? You can also freeze the mac and cheese very well. To do this, simply freeze portions and then let them thaw overnight in the refrigerator. Here, the delicious vegan mac lasts for about 2 months.
Meal Prep
You can also prepare this classic vegan mac in advance for a quick weeknight dinner or holiday dinner. Less work on the actual day you want to serve this amazing homemade mac. Simply pre-cook the pasta with the sauce and add the breadcrumbs just before baking.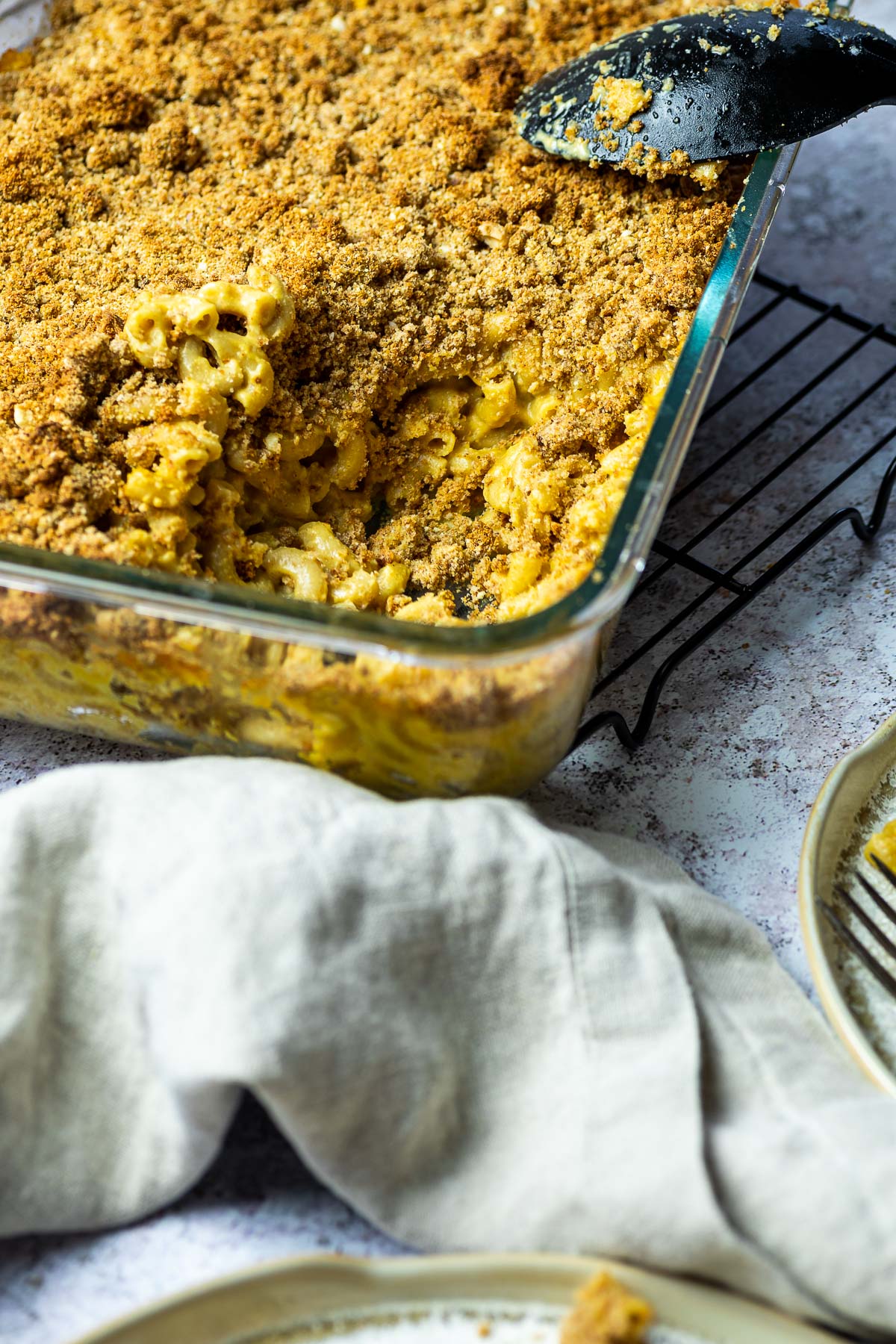 Tips
Don't leave out the nutritional yeast. These give the special cheesy taste that we want in the pasta. If you want the sauce to be particularly creamy, you can also use cashew milk.
Take a little more milk (120 ml) and mix this with the cheese powder and add the raw noodles and bake them without pre-cooking the noodles until the noodles are soft. You will have one less step to prep.