If you're looking for a delicious and comforting meal that's sure to take the chill off your spring days, look no further than this vegan wild garlic soup recipe. This creamy and flavorful soup is packed with robust flavors, not to mention served with vegan bacon parsley pinwheels!

The combination of smoky bacon flavor combined with fresh herbs brings a delightful depth of flavor to this wonderful creation. The base of this soup is a cashew cream.
Invite some friends over or enjoy it all yourself -- this vegan treat is ideal for any kind of gathering (or none at all!). Read on to learn how you can make an easy yet luxurious vegan wild garlic soup right in your own kitchen. You can still make this amazing garlic soup with garlic chives.
Do you like potato soup and cauliflower soup, try it! This wfpb wild garlic (garlic chive) soup pairs well not just with these vegan bacon pinwheels also with some crunchy chickpea topping.
As an Amazon Associate, I earn from qualifying purchases. This post may contain affiliate links. Read More
Jump to:
Ingredients
A quick list of ingredients, what you will need to make this delicious soup.
You can find the ingredients with quantities and the recipe to print out on the recipe card below.
Soup
Yellow Onion
White Wine (optional)
Wild Garlic Leaves or Garlic Chives
Raw Cashews
Vegetable Broth
Lemon
Nutritional Yeast
Dried Basil
Dried Oregano
Salt and Black Pepper to taste
Pinwheels
Whole Wheat Pizza Dough, Filo Dough or puff pastry dough
Coconut Bacon
Fresh Parsley
Shallot
Water
Instructions
Soup
You start by dicing the onion and sautéing the chopped onion in a pot with 2 tablespoon water. When the onion starts to stick at the bottom, add some more water.
Deglaze the onions with white wine. You will wait a little bit of wine until the white wine is evaporated, and you keep doing this until you used up all the wine.
Now it is time to blend the cashews with the vegetable stock in a high speed blender until super creamy.
Add the cashew cream to the onions and stir.
Chop the fresh leaves of the wood garlic or garlic chives. Stir in the bear leek, spices, lemon zest and lemon juice.
Bring it to a quick boil and season to your own taste.
If the soup is too thick for you, add some more water. And if it is not creamy enough, let it simmer a little longer.
Pinwheels
Take your dough and if not rolled out, roll it out.
Sprinkle the thinly rolled out dough with coconut bacon, chopped shallot and chopped parsley. Roll it up and cut into 0.5 inch thick rolls and put them on a baking tray with parchment paper.
Brush with some water. Bake it in the preheated oven at 390 °F (200 °C) for around 10 minutes, or until the pinwheels reached the desired brown color.
Hint: Instead of white wine, you can later add to the soup a shot of white wine vinegar or vinegar.
Make this wild garlic soup, check out some of my other creamy soup recipes like butternut squash soup, broccoli cheddar soup, cauliflower soup and more of my vegan soup recipes.
Substitutions
White Wine: Instead of white wine, you can use later vinegar. This will add some more flavor. You can also add non alcohol white wine.
Wild Garlic: If you cannot find the broad-leaved garlic for a creamy wild garlic soup, you can use Garlic Chives. Depends on where you live, it is possible that you can not find it those wild edibles. You can still enjoy a warm bowl of that smells of garlic with garlic chives.
Raw Cashews: If you do not want to use cashews for this early spring soup, you can totally use sunflower seeds and pumpkin seeds.
Coconut Bacon: You got a different vegan bacon, use what you got on hand. I love my quick and simple coconut bacon recipe.

Variations
Let us see if we can bring some variety in this soup to enjoy the wild garlic season. Wild garlic pairs well with vegetables.
Vegetables: Cook some of your favorite vegetables with it. Like Asparagus.
Potatoes: Add some diced potatoes to this soup to make garlic potato soup.
Storage
This creamy plant based wild garlic soup can be stored in an airtight container in the fridge for up to a week. You can also freeze this soup, just use portion sized containers and freeze it.
Let it cool to room temperature before you store it in the fridge or freezer. For serving, let it thaw overnight in the fridge and warm it up on the stove top in a small pot.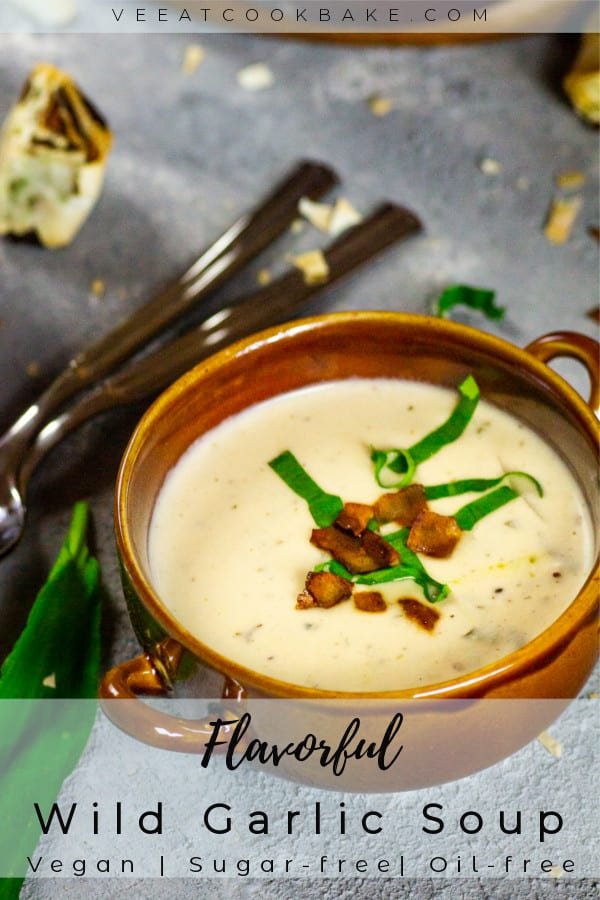 Top Tip
The flavor of the wild garlic gets weaker and fades the longer the soup is simmering. That is why we add the wild garlic add the end of the soup and just let it simmer shortly. We want to preserve the wild garlic taste.
FAQ
Where can I buy fresh wild garlic?
Sometimes you can find it in the store or at farmers markets. Depends on where you live, you can look for it on the woodland floor. Just make sure it is wild garlic (allium ursinum) not the lily of the valley. Both are very similar. You will find it in early spring.
Can I use dried wild garlic (ramson leaves)?
If you cannot find fresh wild garlic, you can also use dried wild garlic. You will need to use a little more than fresh wild garlic.
Can I eat wild garlic raw?
Not just the leaves are edible, it also has edible flowers. The leaves and wild garlic flowers can be eaten raw or used in sauces, soups and other recipes. The flowers of the leafy herb bloom later in season are a great decoration on salads.