talian style panna cotta is a perfect dessert for any dinner party. It's light, creamy and tastes like heaven!
This vegan version of the traditional dish with a Christmas twist will be an essential part of your next shindig or get together with friends - you won't regret it at all 🙂
You've gotta try these raspberry coulis paired up alongside this yummy Italian-style pansotti (vegan). No need for egg whites, egg yolks and heavy cream.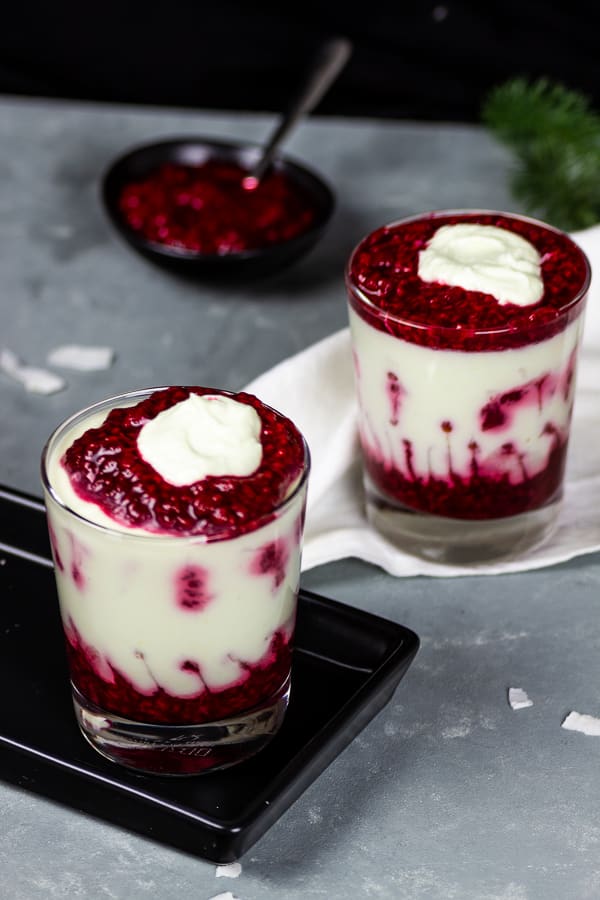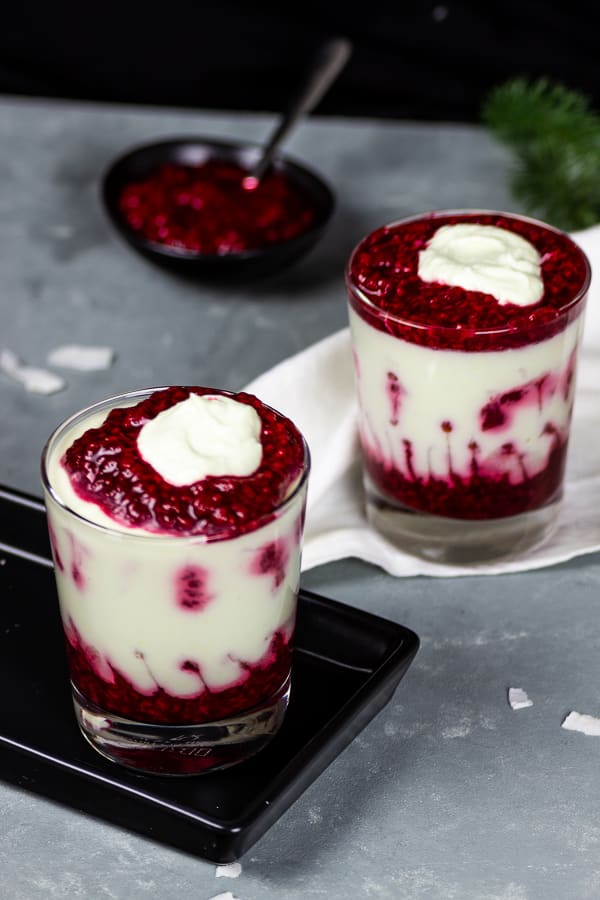 As an Amazon Associate, I earn from qualifying purchases. This post may contain affiliate links. Read More
Jump to:
I love adding some flavor twists to classic desserts like this vegan Eggnog Panna Cotta Dessert.
You can molded this dessert like traditionally or you can serve this italian dessert like I did in jars with different layers. I have to say I should have waited a little longer to take those photos it was not as firm as I wanted it to be. That is why I recommend leaving it for at least 4 hours better overnight. I love to serve this during the Holiday Season for Christmas or New Years.
Ingredients
As you already know it is vegan and you will not need a gelatin mixture. Let us see what you are going to need for this recipe.
The exact quantities will be written down below in the recipe card.
Full Fat Coconut Milk, solid part
Agar Agar Powder (vegetarian gelatin substitute)
Vanilla Bean
Almond Milk (milk of your choice)
Maple Syrup
Raspberries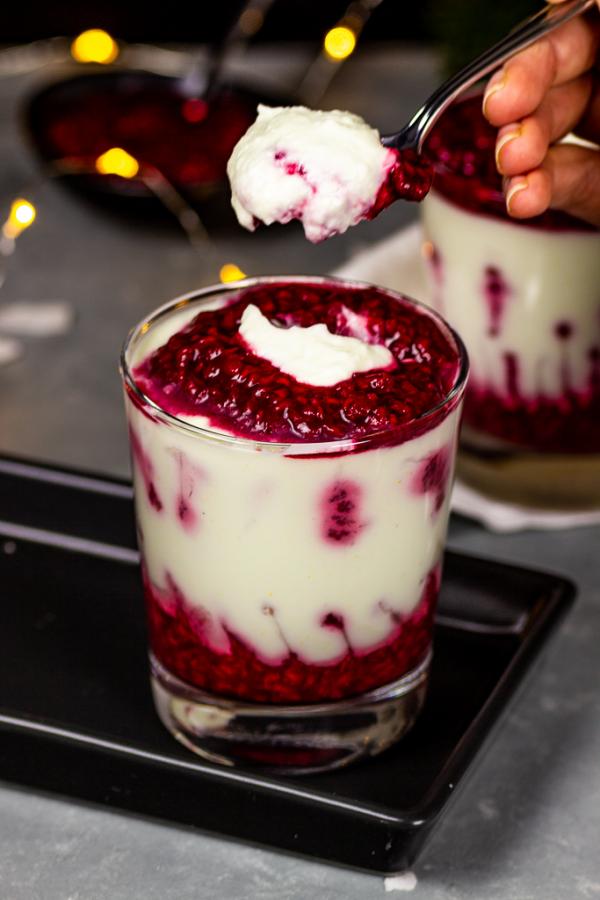 Instructions
First of all pour the almond milk in a small saucepan. Scrape out the vanilla pod and add it to the almond milk. If you do not use vanilla beans simply add the vanilla extract to the milk.
Now it is time to add the Agar Agar powder and stir until dissolved.
Take a medium bowl and whisk the solid part of the coconut milk (coconut cream), maple syrup and the eggnog until well combined.
Bring the milk to boil and let it boil for a few seconds or even a few minutes. Depends on your Agar Agar always check the instructions of your Agar Agar.
Slowly stir the hot cream mixture into the coconut egnnog cream.
For the fruity raspberry sauce, you need to purée the raspberries. If you want to, you can add some sweetener of your choice.
I love mine without extra sweetness. I love that you taste the raspberries, often fruit sauces are so sweet that you do not actually taste the fruit it is made of.
Now you can add it in jars like I did or panna cotta molds.
I love it in jars and I can distribute the cream and sauce evenly and make some layers for a festive creamy dessert. You can serve this dessert in shapes of your choice like prepared tart shell.
Hint: You can always do a gelling test. For this, put a plate or bowl in the freezer. Drop a few drops of the milk on it and if it gets firm on the cold plate it cooked enough.
I use a firmer creamy eggnog, you want to count this in. I got my own eggnog recipe and that recipe is hand downed from my mom to me.
Substitutions
Coconut Milk:
I love to add the coconut milk (cream) to this dessert. I know not everyone eats coconuts and some say it is not wfpb complaint.
But it is seldom that I make a dessert or bake with it. It is not in my daily meal plan.
So I enjoy recipes on occasion, and this panna cotta with eggnog taste is an occasion for holidays.
I do not have a substitution for this because it adds the creaminess you know from the traditional panna cotta.
You can always add some extra almond extracts, especially when you use a different milk than almond milk. And if I mentioned above, you can choose what kind of milk you want to use.
Vegan Eggnog:
You can use for this easy eggnog panna cotta recipe a store bought dairy free eggnog, or you can make your own.
I used my own eggnog recipe. The results may change when you use a different eggnog recipe.
Just letting you know this. And I love to make a part non-alcoholic to serve it the kids or adults who do not drink alcohol.
Variations
Let us see what variations are possible for this christmas dessert. You can always be creative and different things to it. If you do I would love to read your variations.
Sauce:
You can always use a different sauce. Strawberries, Red Currants, Cranberry Sauce
White Chocolate:
Buy some vegan white chocolate and top this simple dessert with a thin layer of white chocolate
Extra Eggnog:
Make an Eggnog Glaze and top the dessert with it.
Sprinkle Some fresh grated nutmeg and orange zest over it to add some more Christmas taste to it.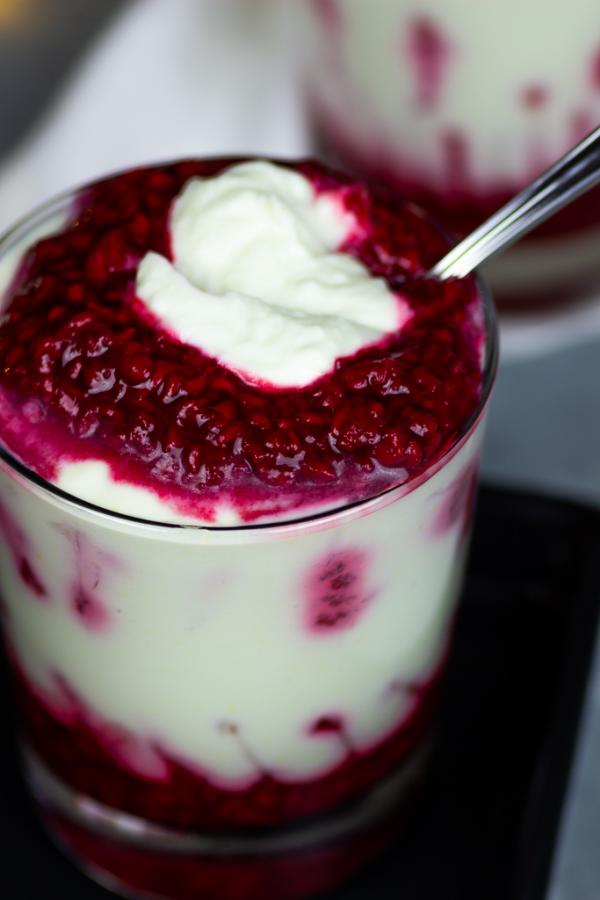 Equipment
For the vegan Panna Cotta Recipe you will need a small to medium saucepan, a whisk and a bowl.
For the Raspberry Sauce you will need a small blender or a food processor.
Storage
Store this dessert in airtight container and in the fridge. It will last there for a few days. I ours hold up for 4 days and it was eaten up.
Top Tip
Give the Agar Agar time to get firm up the Cream. It is important that you leave it in the fridge for a few hours.
I prefer to prepare it a day before. This way you have less to do on the day you will need it.
More Vegan Raspberry Recipes