Vegan eggnog Panna Cotta with refreshing, fruity raspberry sauce - a dessert to delight your guests. This vegan eggnog Panna Cotta is a lighter version of the original and is a great dessert for family gatherings and holidays such as Christmas, New Year's Eve or Easter. The vegan eggnog Panna Cotta is super creamy and a quick recipe which can be prepared the day before. vegan | gluten free | soy-free | vegetarian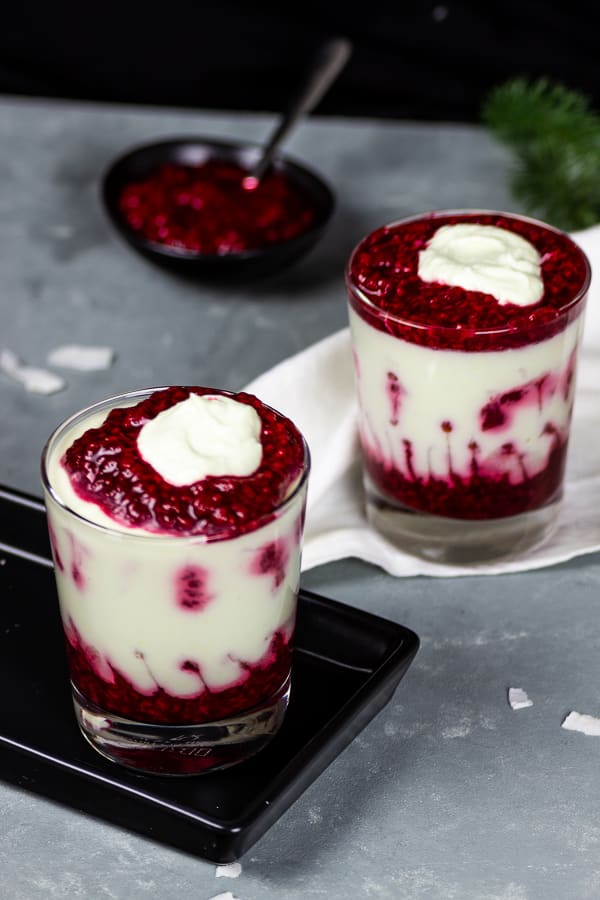 Vegan Eggnog Panna Cotta a stress free dessert
The great thing about this delicious, vegan eggnog Panna Cotta is you prepare it the day before and you have no work on the day of the celebration. The benefit of preparing the Panna Cotta the day before? It is beautifully fixed by the longer standing in the refrigerator. Likewise, this is prepared fix, you need only a few ingredients and you have conjured a super delicious and creative dessert.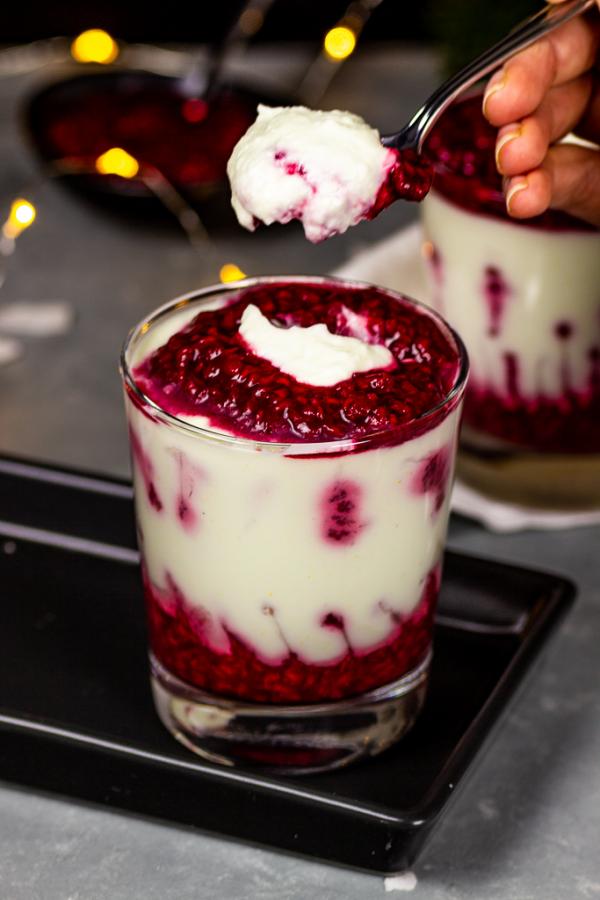 Which eggnog should I use for the vegan eggnog Panna Cotta?
I used my eggnog recipe. Of course you can also use store bought vegan eggnog. However, the dessert tastes awesome with my super creamy eggnog. So you get a really creamy vegan eggnog Panna Cotta.

Fresh or frozen fruits for the vegan eggnog Panna Cotta
This is really up to you. In the photos I resorted to frozen raspberries, because we currently have winter and unfortunately have no raspberry season. In the summer I guess I would rather resort to sun-ripened fresh raspberries for the vegan eggnog Panna Cotta.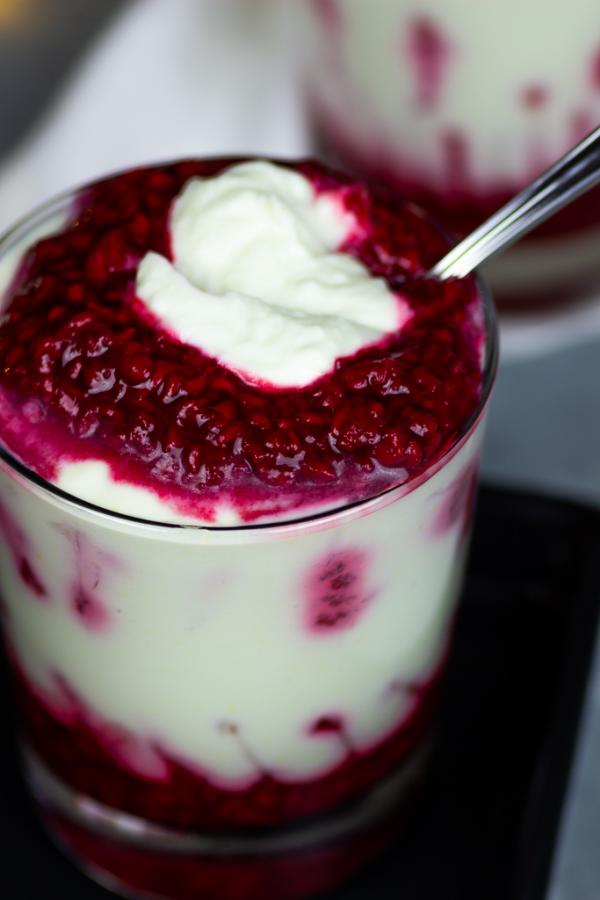 More Raspberry Recipes:
---
Did you try the recipe?
If you did it, be so nice ♥ and let me know by rating the recipe and writing what you think about it. Tag me on Instagram too. I am @veeatcookbake and my hashtag is #veeatcomforts. So that I can see your creation. Did you know you can add photos on Pinterest under the recipe Pin? I can't wait to see a photo of your creation there. You find me with VeeatCookBake.
---
Now the recipe: vegan Eggnog Panna Cotta
Vegan Eggnog Panna Cotta
Recipe Type
:
Dessert, Treat
Cuisine:
vegan, dairy free, egg free, vegetarian, oil free, soy free
Author:
Prep time:
Total time:
Vegan eggnog Panna Cotta with refreshing, fruity raspberry sauce - a dessert to delight your guests. This vegan eggnog Panna Cotta is a lighter version of the original and is a great dessert for family gatherings and holidays such as Christmas, New Year's Eve or Easter. The vegan eggnog Panna Cotta is super creamy and a quick recipe which can be prepared the day before. vegan | gluten free | soy-free | vegetarian
Ingredients
1¼ teaspoon agar agar powder
1 vanilla bean or 1 teaspoon vanilla extract (with fresh vanilla it just tastes better)
• 300 g coconut cream (about 1 - 2 cans, depending on the coconut milk, it varies what has settled, only the solid part of the coconut milk, do not stir or shake)
• 200 ml plant drink (for example almond)
• 5 tablespoon maple syrup or other sweetener as desired
• 200 ml [url href="https://veeatcookbake.com/vegan-eggnog/" target="_blank"]vegan eggnog[/url]
raspberry sauce
200 g raspberries (frozen or fresh)
maple syrup for sweetening (I did not sweeten)
Instructions
Scrape out the vanilla bean and add it to the plant drink. If you do not have vanilla beans, simply add the extract to the milk.
Add the Agar Agar powder and stir until it is dissolved.
Mix the coconut cream and the vegan eggnog with the maple syrup in a bowl.
Now boil the milk and let it cook for a few seconds.
Now slowly stir the milk into the coconut eggnogg liqueur cream.
For the raspberry sauce, purée the raspberries and add some sweetness if necessary. I made some without extra sweeteness.
Depending on the size of the glasses, you get 3-5 glasses out.
Distribute the cream and sauce evenly.
---