Are you in the mood for a delicious, light and healthy meal that everyone will love? We have just the one! Introducing our Vegan Gyros Soup Recipe: a deliciously satisfying take on iconic gyro flavors, this cozy soup is perfect for quick dinners or sharing with friends at potlucks.
Hearty vegan ingredients such as soy curls perfectly mimic traditional proteins, while flavorful herbs and spices make it an irresistible comfort food. It's simple to make yet full of flavor – an easy favorite your guests will clamor over. Get ready to fall in love with this tasty vegan rendition of the classic gyro!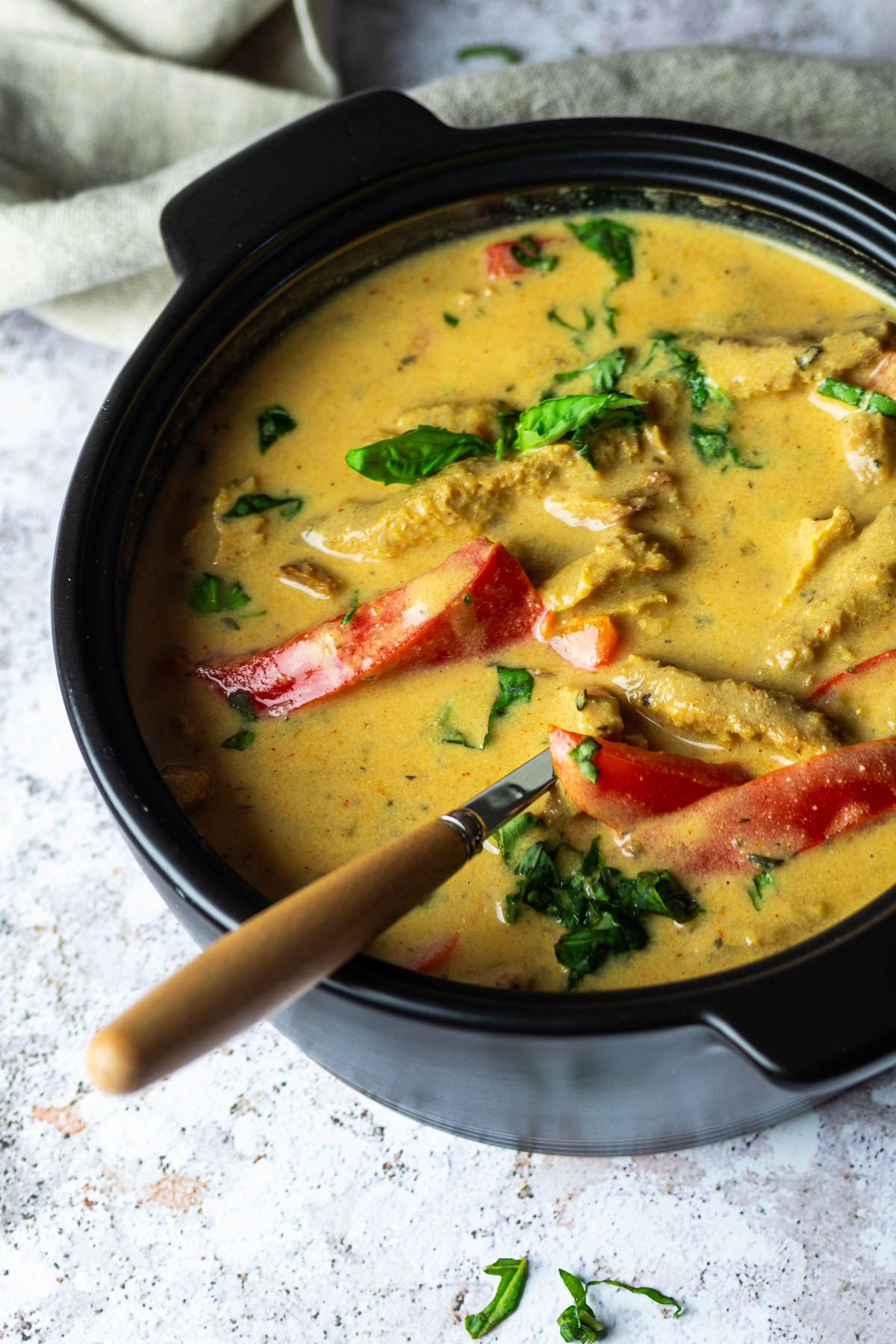 This soup was inspired by my vegan Gyros (Doner) Sandwich. This soup pairs well with my homemade flatbread recipe and dairy-free tzatziki.
As an Amazon Associate, I earn from qualifying purchases. This post may contain affiliate links. Read More
Ingredients
Let us see what you will need to make this homemade gyros soup.
You can find the ingredients with quantities and the recipe to print out on the recipe card below.
Soy Curls
Oregano
Thyme, dried
Sea Salt
Black Pepper
Paprika Powder, smoked
Coriander, ground
Yellow or Red Onion
Bell Pepper
Vegetable Broth
Garlic Clove
Cashew Cream
Sweet Paprika
Turmeric
Marjoram
Basil
Rosemary
Cumin
Tomato Paste
Lemon Juice (optional)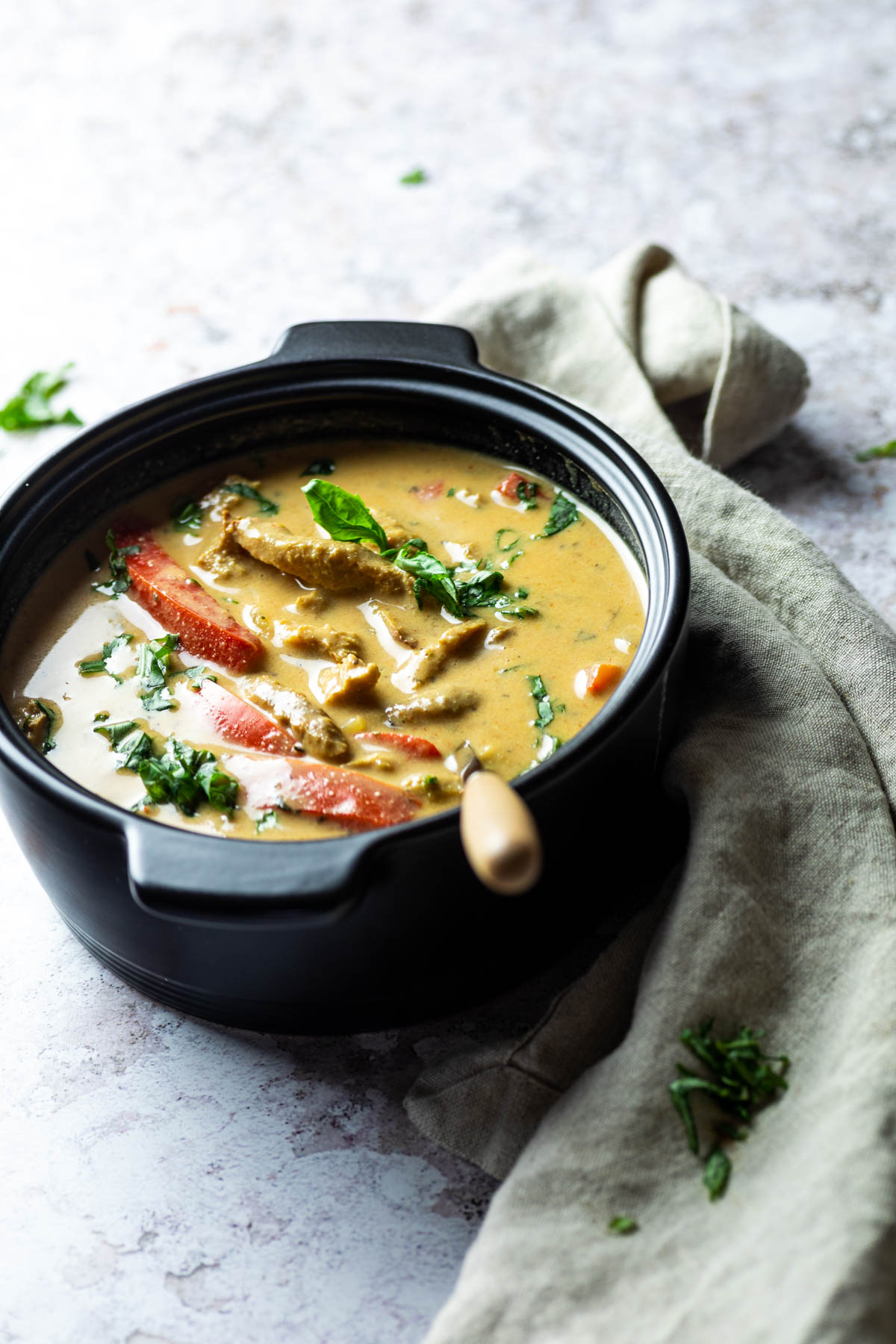 Instruction
Add the soy curls to a large bowl and add the spices. Now fill the bowl with hot vegetable broth until the soy curls are covered. Let them stand for about 10 minutes, or until they are soft. Soak the cashews as well.
Preheat the oven to 400 °F (200 °C).
Cut the onions and bell peppers into strips. Chop the garlic. Now put the onions and the garlic in a pan and sauté them with a little water on medium-high heat. If you notice that the onions are starting to brown, add a little more water.
Repeat it until the onions have a nice color.
Sieve the soy curls and place them on a baking sheet and fry them in the oven until they are brown. It takes about 15 minutes. Turn them periodically.
Now add the peppers to the onions and briefly sauté them.
Mix the cashews with the water in a high speed blender until they have a creamy consistency.
Now add the remaining ingredients to the peppers and stir vigorously. Bring the soup to boil briefly and add the soy curls. Season the soup again.
Serve with a baguette and tzatziki.
Make this vegan gyro soup, check out my other party soup recipes like pizza soup, chili, white chili, serbian white bean soup and my other soup recipes.
Substitute
Soy Curls: If you don't have soy curls on hand or can't find them in the store. You can also use portobello mushrooms to make vegan gyro meat. Simply cut 2 packets of mushrooms into thin strips and fry them with the spices of the soy curls in the pan with the onions. And proceed as in the recipe. You may have to add fewer spices later because you have all the spices in the pan. Taste the soup before adding more spices. Sliced Mushrooms will add a meaty texture to soup.
Raw Cashews: Instead of Cashews, you can also use sunflower seeds or pumpkin seeds to make this soup.
Onion: Instead of a yellow onion or a red onion, you can use green onions or leeks.
Variations
Eggplant Gyros Soup: You got some eggplants? Use this for your vegetarian gyros meat. Use them as you would use the mushrooms.
Feta Cheese: Add some vegan feta to your soup. It will add a tangy taste to your delicious gyro soup. The whole family will love it.
Olives: Add some kalamata olives or black olives to your soup.
Roasted Chickpeas: Top the soup with some roasted garbanzo beans with fresh dill.
Fresh Veggies: You can always add more veggies to your soup, not just bell peppers.
Spicy: Add Greek Pepperoncini to the party soup and you will get a nice kick.
Servings Suggestions
I like to serve Greek food with it like vegan tzatziki sauce with grated cucumber, Moussaka and potato fries. I love to dip fries in the soup and the tzatziki.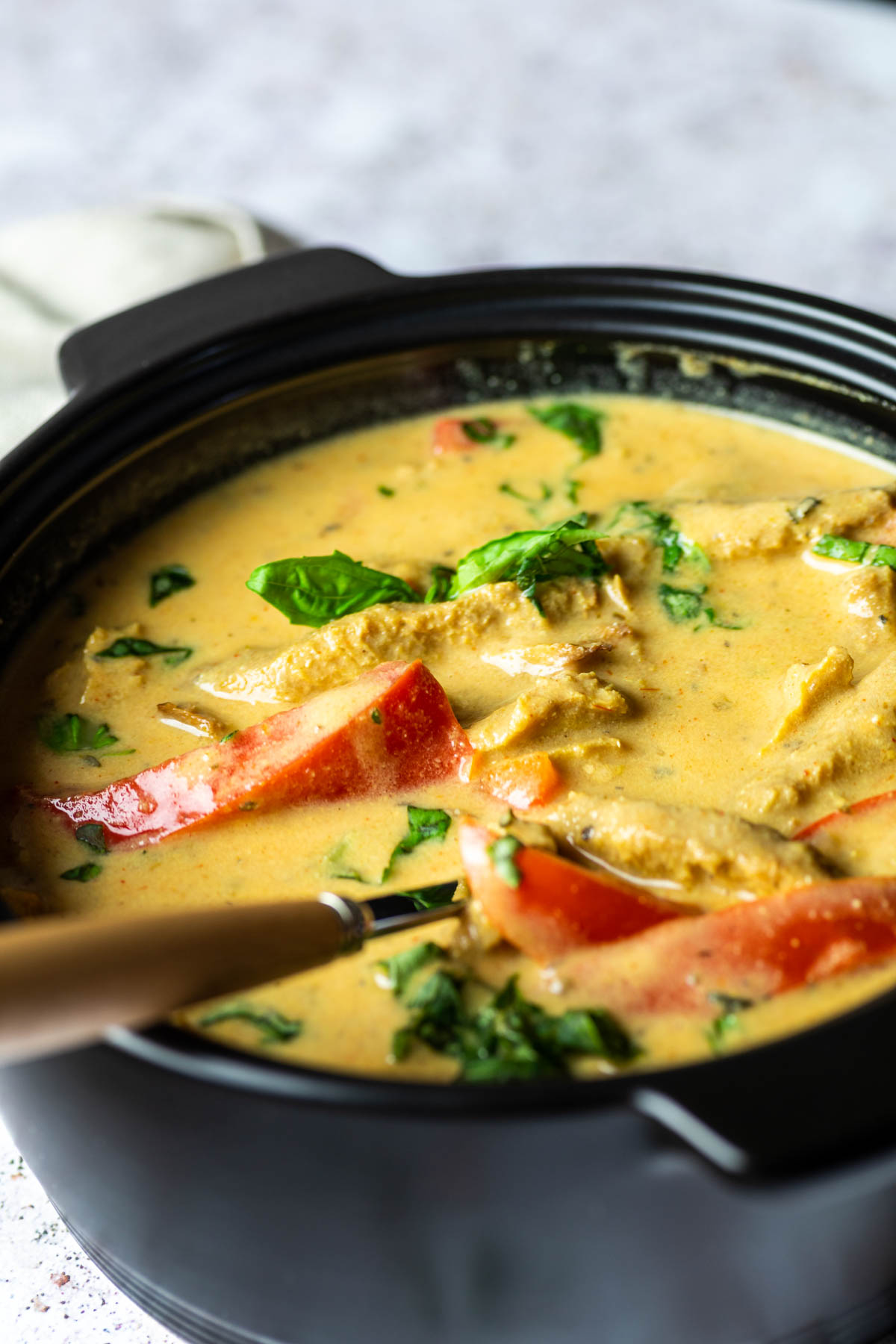 Storage
You can store the leftovers in an airtight container in the fridge and eat within 3–4 days. Or freeze the soup and let it thaw the night before. You may need to add a little more liquid because the soy curls absorb liquid. Perfect dinner for busy weeknights.
Tips
Play around with the spices to make the soup to your liking.
If you don't like cashews, add coconut milk and a little less vegetable broth, so it doesn't get thin and remains creamy.
Add other vegetables, e.g. Add green beans, corn, cabbage or potatoes.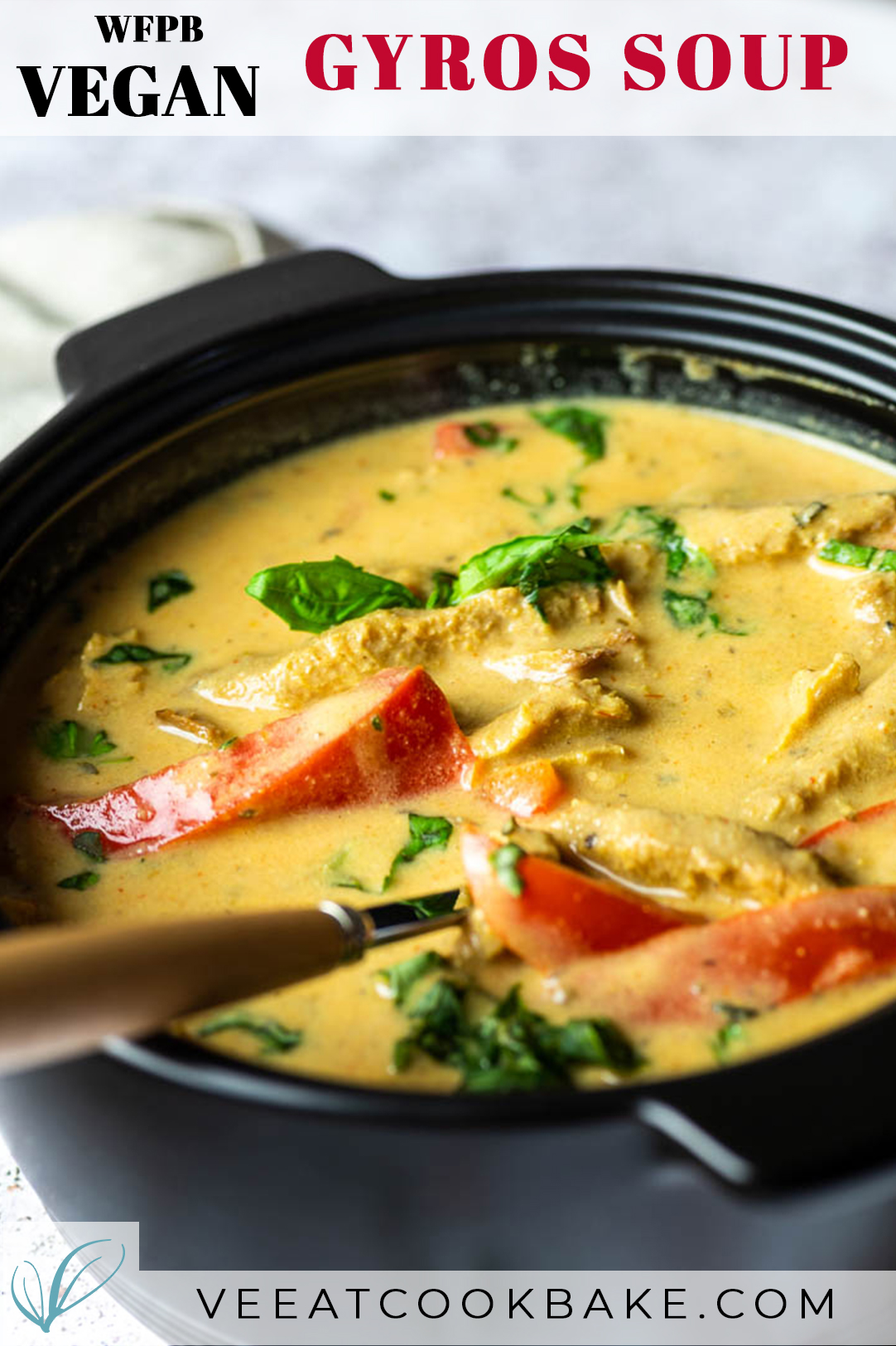 FAQ
What is the difference between gyro and gyros?
Both are pretty similar. The only difference is gyro is middle eastern and gyros is greek. No matter how we call it gyro soup or gyros soup, the most important part is that it is tasty, don't you think so?
How does the soup taste like gyros?
I firmly believe that a dish stands or falls with the spices, and so does this vegan gyros soup. We use the spices contained in a classic gyros and voilà, we get a tasty vegan soup.