Vegan moussaka recipe with delicious roasted eggplants (aubergines) and potato layer and homemade meatless minced meat sauce and creamy vegan bechamel sauce without any butter. Prepared pretty quick.
Greek cuisine is just so delicious. Before I started vegan, I ate it quite often. Unfortunately, Greek cuisine is very meat-based, so to create a vegan version is a must.
And finally I managed to veganize one of the most famous Greek dishes "Moussaka".
And I have to say, I don't miss the traditional, which is anything but plant based.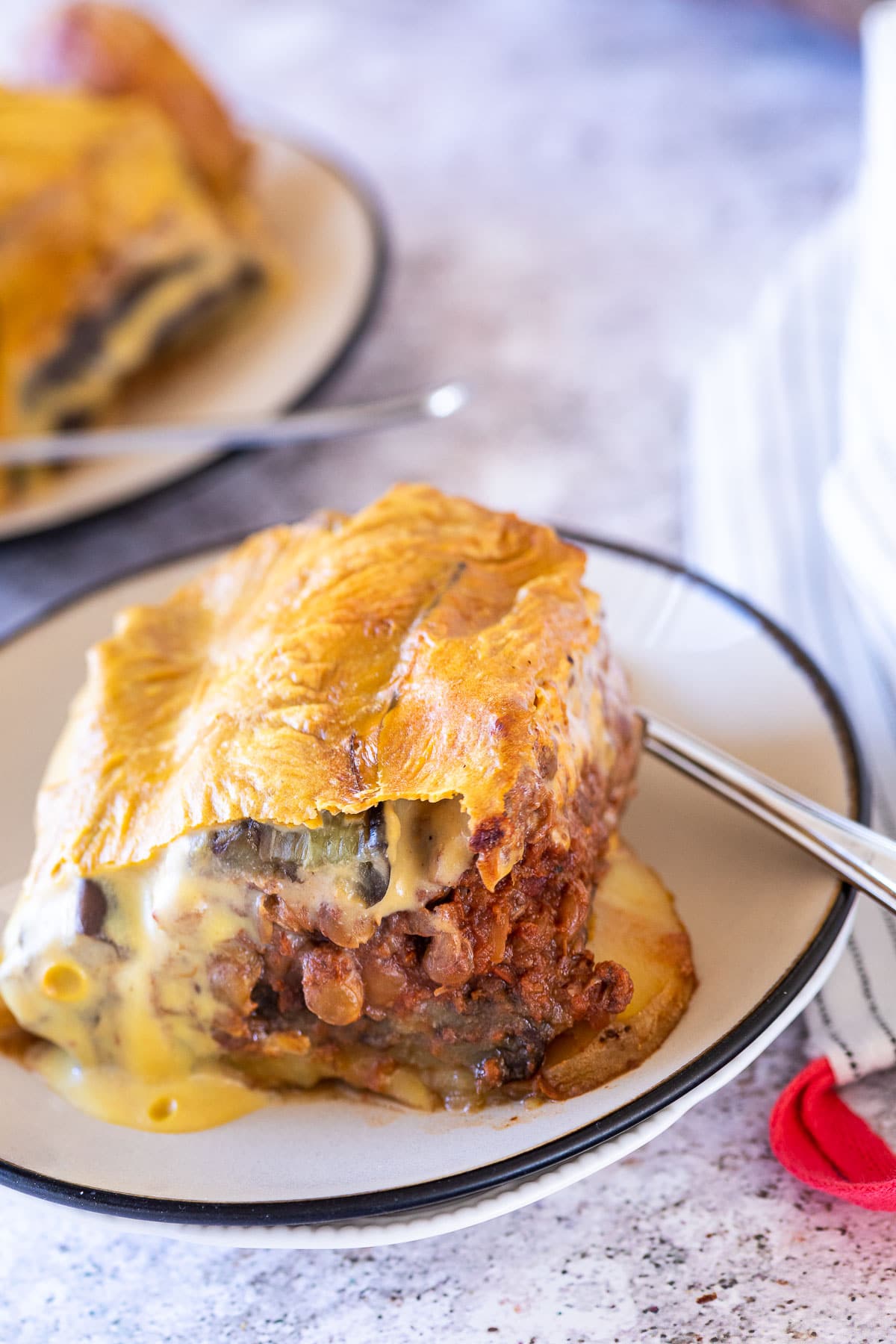 As an Amazon Associate, I earn from qualifying purchases. This post may contain affiliate links. Read More
Jump to:
Traditional moussaka is made with meat, dairy products and eggs. And as you can see, it can be made healthy with no saturated fat or cholesterol, just using whole food plant based ingredients.
And I think the taste of the original comes close to it, even though it doesn't taste better. I love this vegan moussaka.
The non-vegan Moussaka is prepared with lamb or beef. For the vegan Moussaka Sauce, I chose mushrooms, pecans, lentils, carrots and celery. We don't just get an authentic sauce, due to the ingredients, this sauce is packed with valuable nutrients.
This moussaka is not just whole food plant based. It's also gluten-free, soy-free, and easy to prepare nut-free.
I love casseroles like lasagna, scalloped potatoes and this Greek casserole tastes just fantastic. You just have to try it yourself.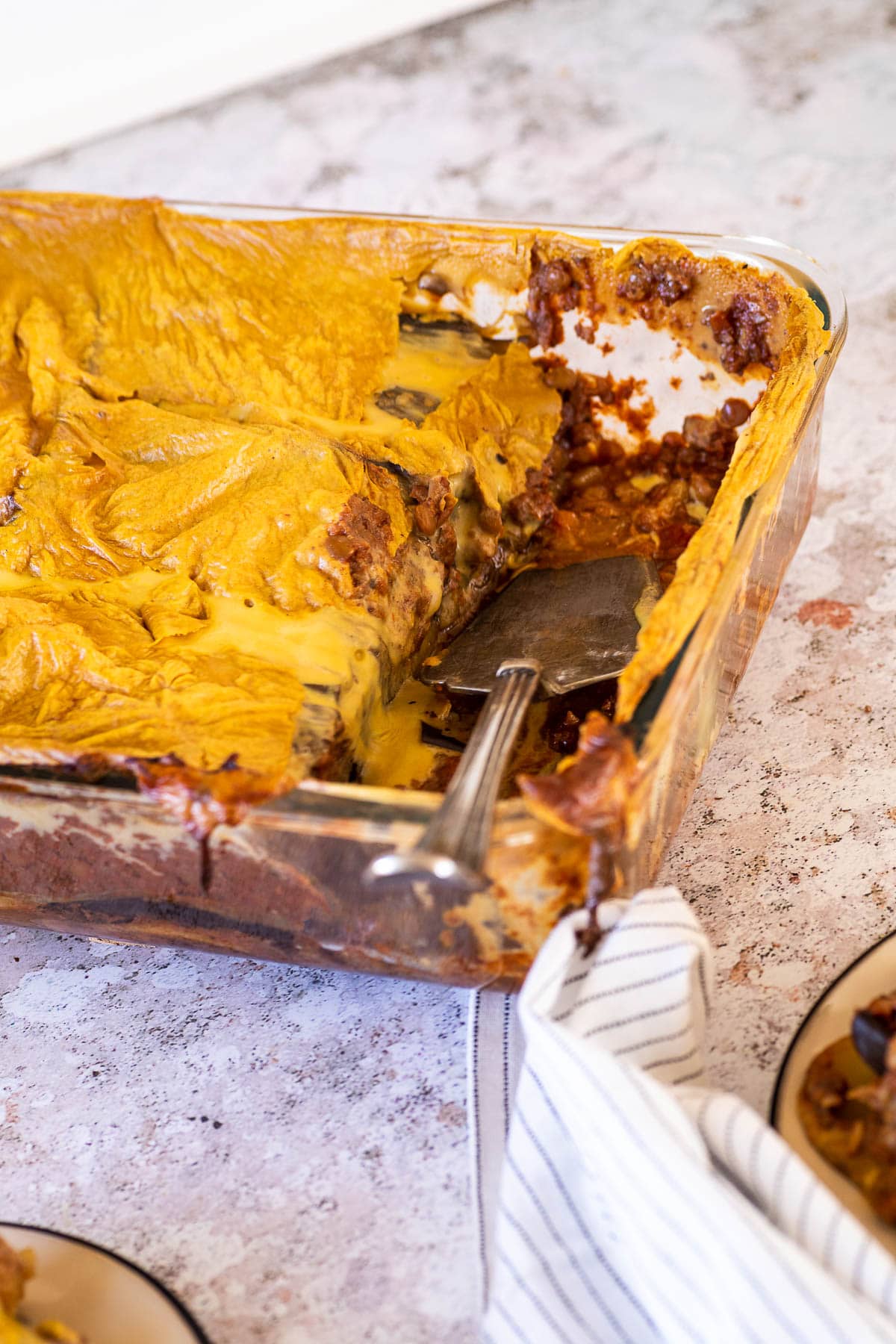 What is Moussaka?
Moussaka is a casserole from Greek cuisine. This eggplant casserole is similar to a lasagna. It is layered and then covered with a bechamel sauce.
However, Moussaka does not contain lasagna noodles but eggplant and potatoes.
Ingredients
After I've already mentioned a few of the ingredients, I would like to give you an overview of what is in this amazing flavorful vegan moussaka.
You can find the exact quantities below in the recipe card.
Eggplant
Potatoes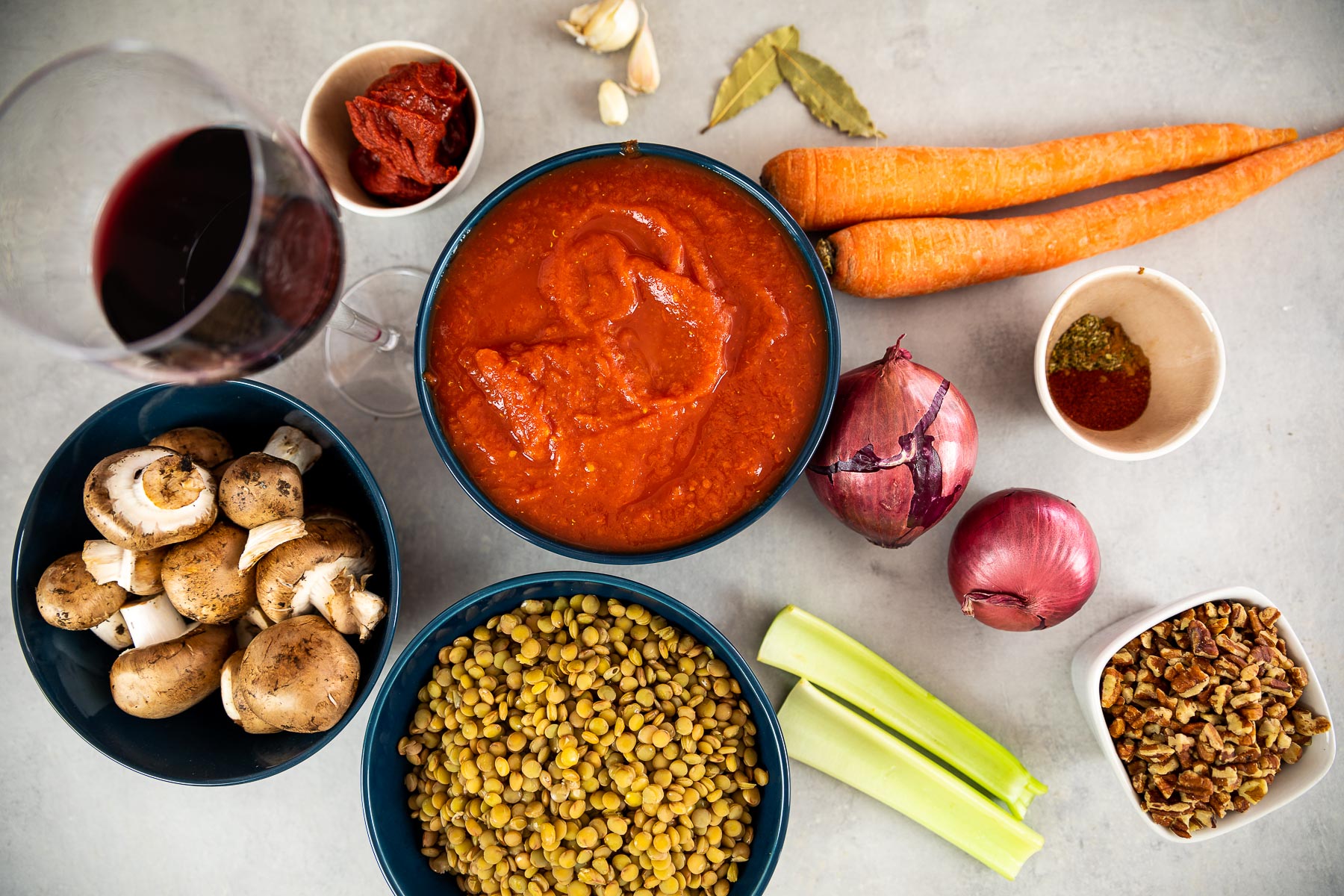 Sauce:
Pecans
Mushrooms
Red Lentils
Onion
Garlic Cloves
Red Wine Vinegar
Tomatoes, diced
Tomato Paste
Pepper
Bay Leaf
Thyme
Oregano
Paprika
Cinnamon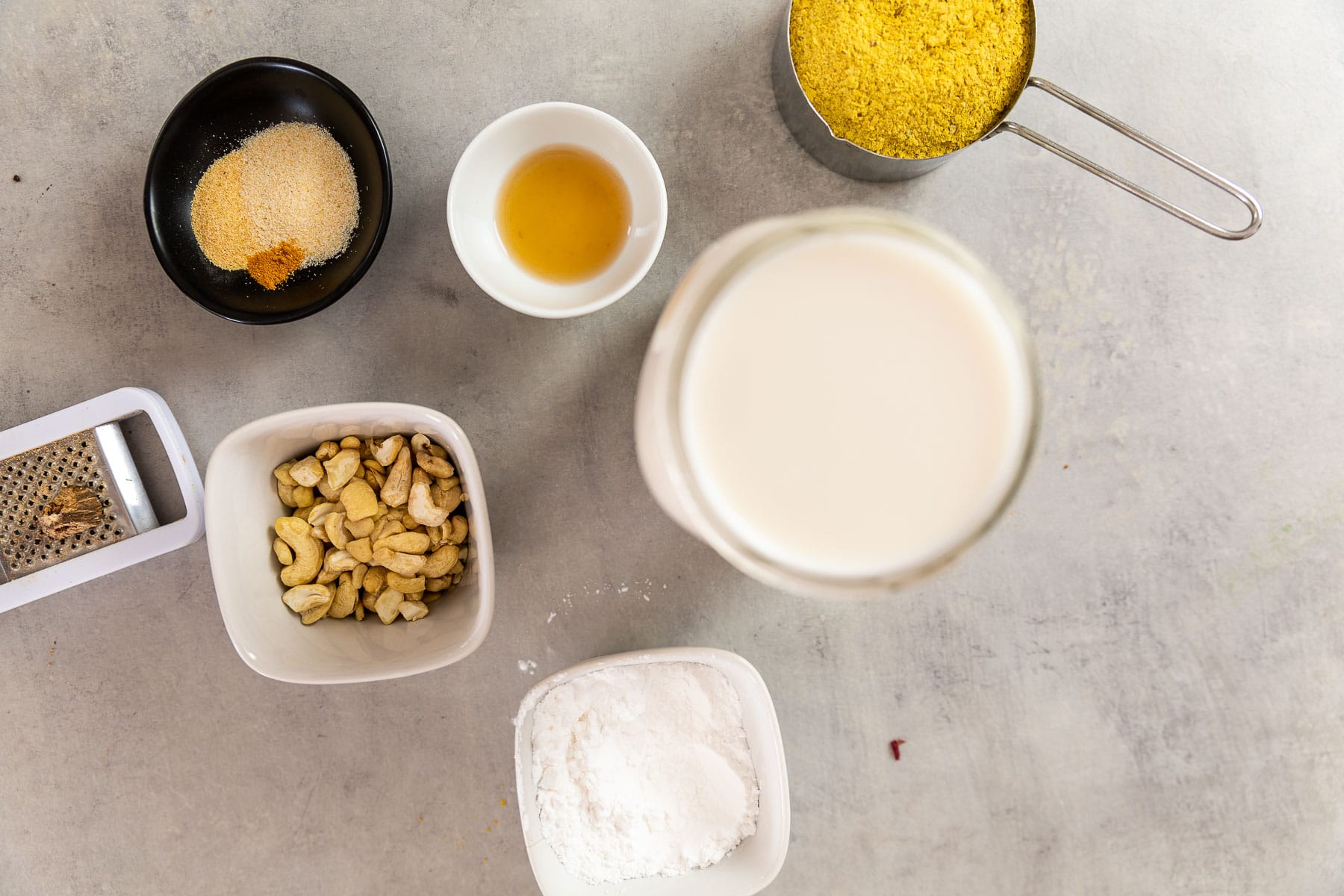 Béchamel Sauce
Cashews
Almond Milk
Starch
Nutmeg
Turmeric
Nutritional Yeast
Onion Powder
Garlic Powder
Apple Cider Vinegar
Substitutions
Potatoes
If you want to make a low carb moussaka, you can also leave out the potatoes. In the traditional moussaka you will find potatoes and sometimes not.
Pecans
The pecans can be replaced with walnuts. Here you can replace it in equal amounts.
Mushrooms
If you don't like mushrooms, you can also use TVP or bulgur. I can also imagine that freekeh tastes very good with it.
Cooking time will vary if you are using grains, however.
Red Wine Vinegar
You can also replace the red wine vinegar with balsamic vinegar or apple cider vinegar. However, I think that the red wine vinegar gives the vegan moussaka a special touch.
Cashew Nuts
If you don't want to use cashew nuts now, you can also use sunflower seeds. Whereby it can happen that the bechamel sauce doesn't turn out quite as creamy.
Sunflower seeds like to discolor the sauces a bit gray, if you don't mind, you can use them instead of the cashews.
Cornstarch
Corn starch thickens the bechamel sauce nicely. What we want with the moussaka. If you don't want to use cornstarch, just use arrowroot starch.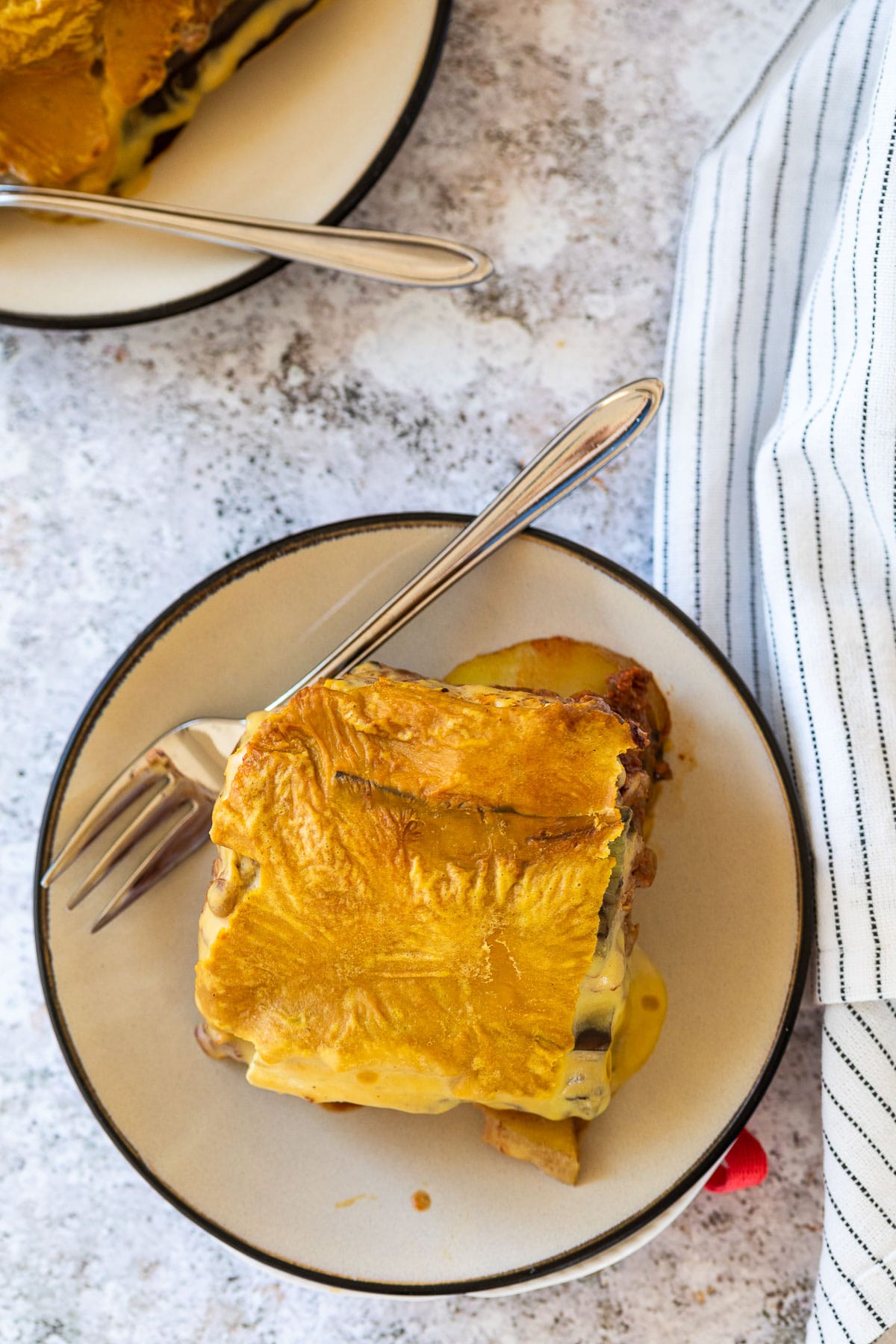 Variations
Now let's take a look at how you can adjust the dish to adhere to certain diets.
Gluten free
First of all, it must be said that this vegan moussaka is gluten-free and we do not have to make any substitutions.
Nut free
If you want to prepare your moussaka not only vegan but also nut-free, then use sunflower seeds or pumpkin seeds instead of pecans. Use soy milk or rice milk for the bechamel sauce. I advise against oat milk, as it is sweet and you can taste the sweetness.
You can replace the cashews with sunflower seeds.
Soy free
This vegan moussaka does not use any soy products and is therefore soy-free.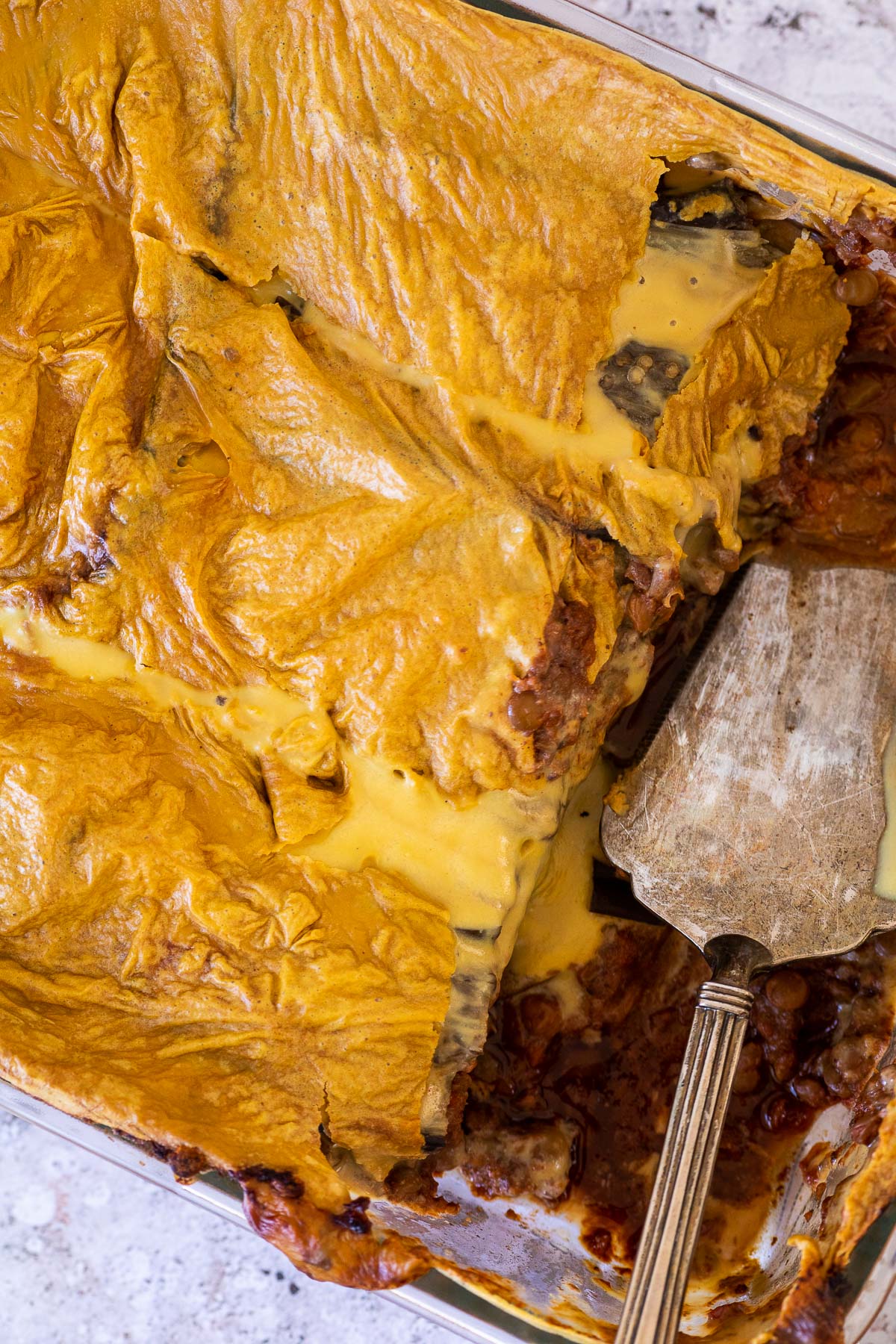 Instruction
We start with preparing the eggplant. To do this, remove the stem of the aubergine and cut about 0.5 inch (1 cm) thick slices lengthways.
Now lightly salt the eggplant and place in a colander for about 30 min. This will drain the eggplant and prevent the moussaka from becoming too watery. And preheat the oven to 350°F (175°C).
In the meantime, cut the potatoes into thin slices. And put them on a parchment-lined baking sheet.
Now rinse the eggplants with water and squeeze out the remaining liquid.
Take a cloth and pat it dry briefly. Now put the eggplants on a baking sheet. And bake the eggplant with the potatoes for about 20 minutes, making sure that the potatoes
won't get too dark.
"Meat sauce"
While the eggplants and potatoes are baking, we prepare the sauce. We use a food processor and add quartered mushrooms, pecans, carrots, celery, onion and garlic and process it with the pulse function until the mixture is finely chopped.
Make sure it doesn't blend too long, or you'll end up with a paste, not a chopped mass.
Now take a large pan and set the stove to medium rather high heat. Add the vegetables and fry them properly. Add a sip of water every now and then so that nothing burns.
Now add the lentils, tomatoes and tomato paste and stir well. Add a pinch of cinnamon (opt), oregano, thyme, 2 bay leaves, paprika and pepper and let it simmer on a low level for about 20-30 minutes. Now add the red wine vinegar and season the sauce.
Béchamel
For the bechamel sauce, put all the ingredients in a high speed blender and blend until a creamy mixture is created.
Now put everything in a saucepan and heat it over medium heat, stirring constantly. The sauce is thickening now.
It should be a thick cream. Briefly season the sauce again. Now take 1 tablespoon of the bechamel sauce and stir it into the "meat sauce".
Set the sauce aside.
Assembling
Preheat the oven to approx. (400°F) 200°C. Use a casserole dish that is about 8x12 inches (20x30 cm).
Put some sauce on the bottom of the pan. Now layer the potatoes and then put half of the eggplant on top. Now put all the "meat sauce" on the eggplants and distribute them evenly.
Add the remaining eggplants to the sauce. Now pour all the bechamel sauce over it and spread it evenly.
Now bake the vegan moussaka for about 60 minutes until it turns golden brown on top.
Then let the moussaka cool down until it is just warm to the touch. This is important! Then just start cutting it into pieces. This makes the bechamel sauce firmer and does not run when sliced.
Prepare in advance
You can also put the moussaka together the evening before and then bake it the next day.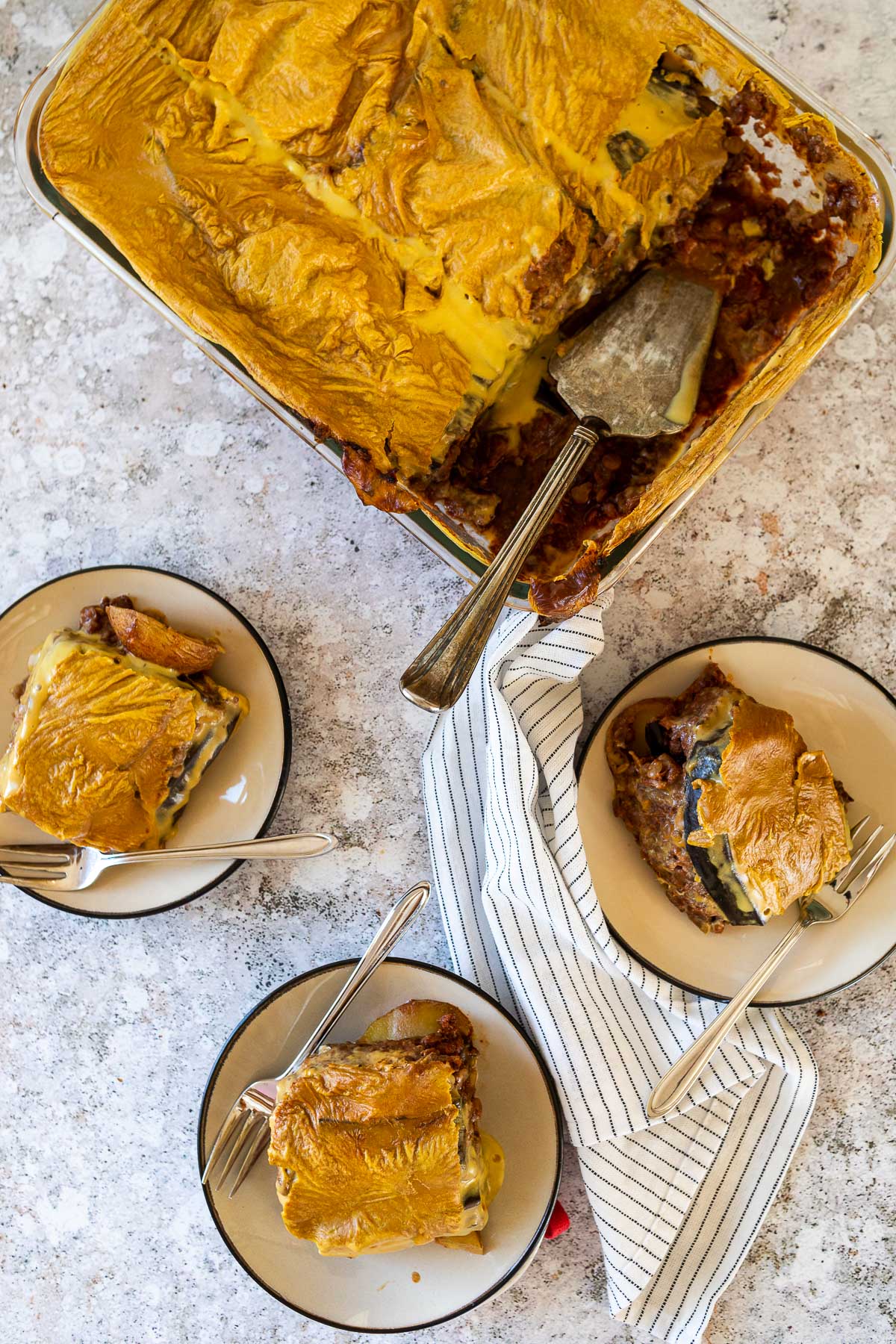 Serving options
What can you serve as a side dish with the moussaka? I have a few suggestions for you here:
Tzatziki with Baguette
Greek Salad
Mixed Green Salad
Roasted Zucchini
Storage
You haven't eaten all the moussaka? No problem. Leftovers are great to store.
How to refrigerate?
You can store leftovers in the refrigerator. There they last in a sealed container for about 3-4 days.
How to freeze
I can very well imagine that you can freeze it. Simply leave it in an airtight container.
If you want to warm it up, it is best to put it in the fridge the evening before and then bake it in the oven. Here I recommend you to bake until the middle is well hot.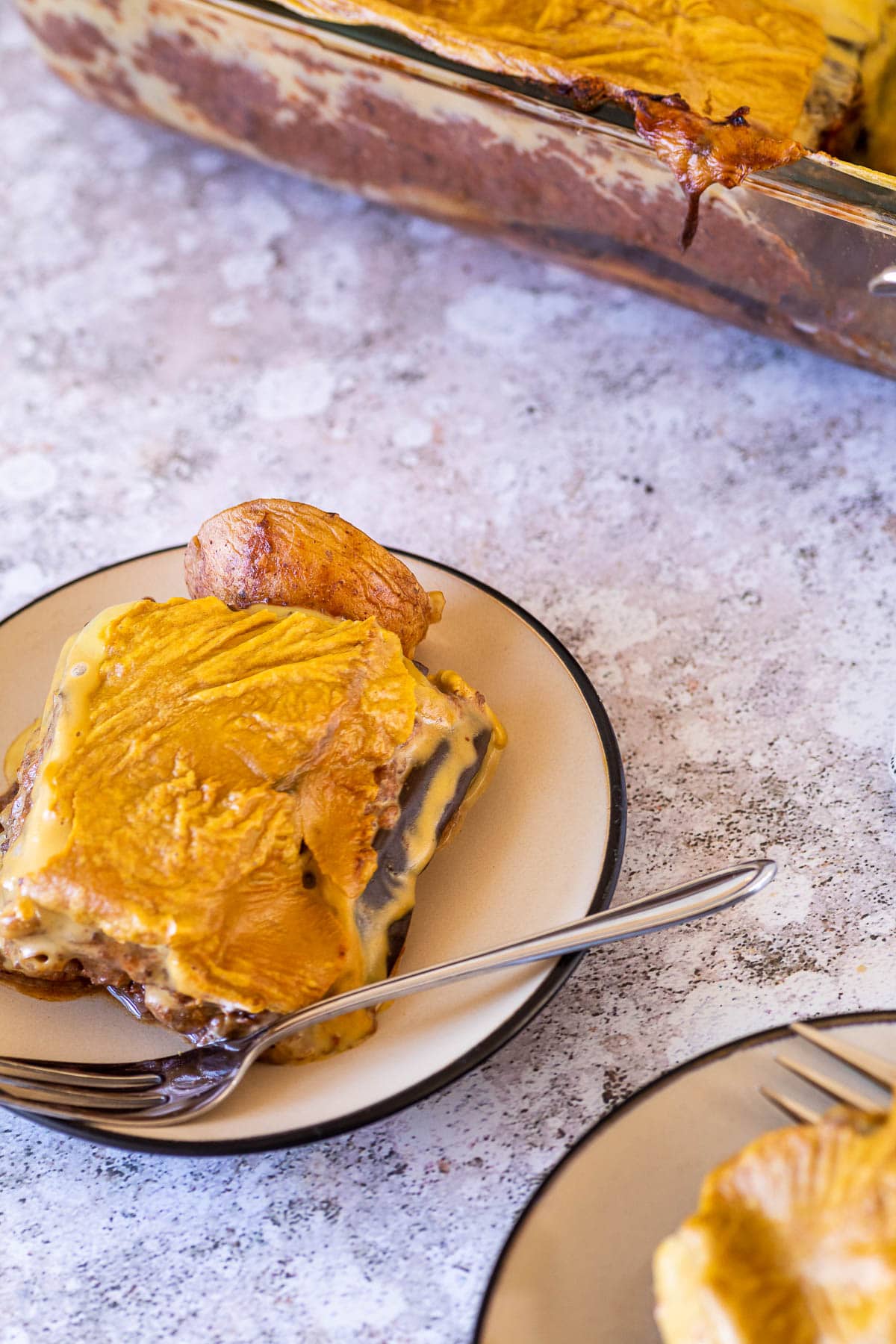 Tips
The sauce becomes very thick and looks more like porridge. This way, the sauce doesn't become too runny when baking.
Do not put more liquid on it, otherwise the sauce will run away when you cut it.
Seasonthe sauce strongly, so I use thyme, oregano, and cinnamon.
The bechamel sauce should be very thick. If it seems too thin to you, stir in some more starch. First stir the starch into some almond milk and then slowly stir it into the bechamel sauce. Make sure the sauce comes to a boil so it thickens.
More vegan Recipes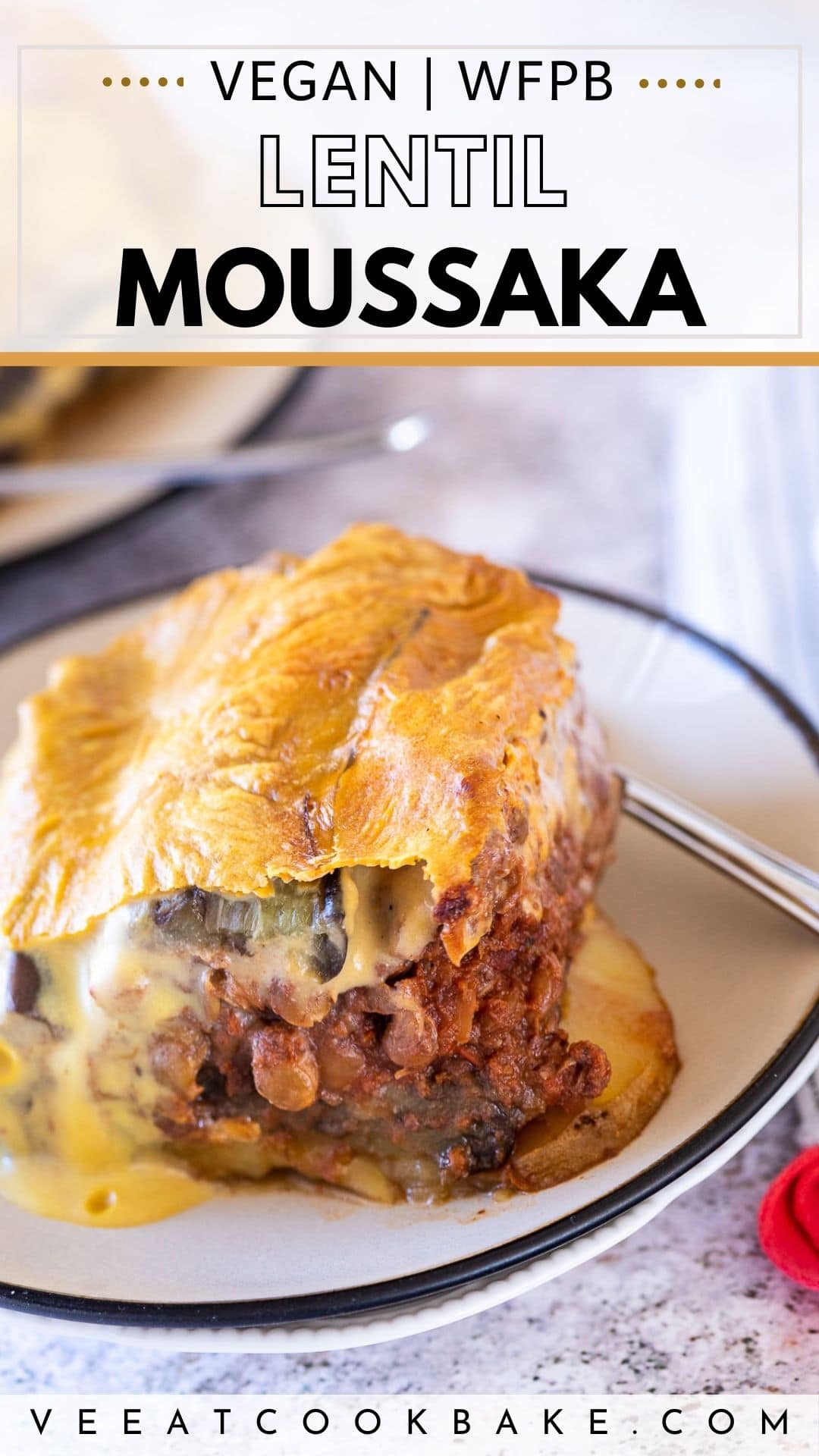 Have you tred the recip
If you tried the vegan Recipebe so nice ♥ and let me knw byrating the recipe and writing what you think about it in the comments.  I would love to see your photo on Instagram orFacebook. To do this tag me with @veeatcookbake andmy hashtag is #veeatcookbake. So that I can see your creation. Did you know you can add photos n Pinterest under the recipe Pin? I can't wait to see a photo of your creation here. You find me with @veeatcookbake