Are you looking for a delicious vegan chili recipe that is full of flavor and easy to make? Look no further! This oil-free, whole-foods plant-based meatless chili recipe is guaranteed to surprise and delight your guests at the next family gathering or potluck (large crowd pleaser).
It has all the traditional flavors that make chili great without any animal products - just pure veggies, beans, spices and herbs crafted into a tasty bowl of goodness.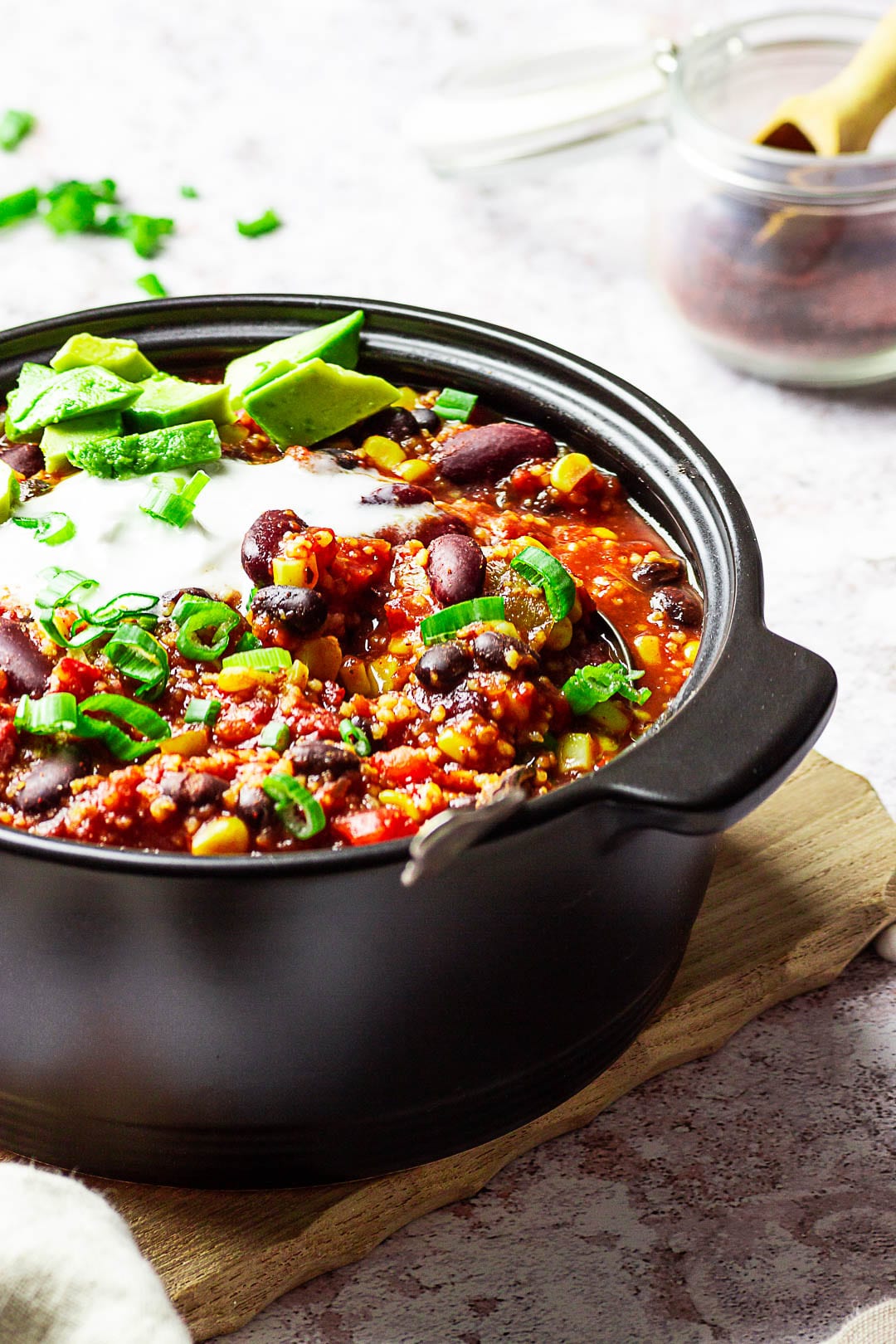 Not only is this healthy vegan chili incredibly satisfying; it's also surprisingly quick and easy to make! So get ready for a hearty experience with this delicious vegan chili dish!
This vegan chili sin carne was inspired by my pizza soup recipe and my other white chili recipe. It also pairs well with Nacho Cheese Sauce, Queso Sauce, vegan cornbread.
As an Amazon Associate, I earn from qualifying purchases. This post may contain affiliate links. Read More
Jump to:
Ingredients
You do not need a lot of unusual ingredients for this vegetarian chili recipe, most of them are pantry staples.
You can find the ingredients with quantities and the recipe to print out on the recipe card below.
Bulgur or couscous
yellow Onion
Garlic cloves
Cocoa powder, unsweetened
Red and green bell peppers
Tomato paste
Diced tomatoes canned
Red Kidney beans, canned
Black beans, canned
Corn, canned
Vegetable stock
Cayenne pepper
Paprika Powder
Chili Powder
Sea salt and black pepper
Oregano, dried
Tabasco or other spicy sauce or fresh jalapeños
Cumin
Dried coriander
Celery powder
Lime Juice (opt)
Favorite Toppings
I love to top my bowl of chili with some of these delicious toppings:
Sliced ​​or diced avocado
Tortilla chips
Vegan cheese, grated
Vegan sour cream
Coconut milk
Lime slices
Tortilla crispy baked in the oven
Roasted Sweet Potatoes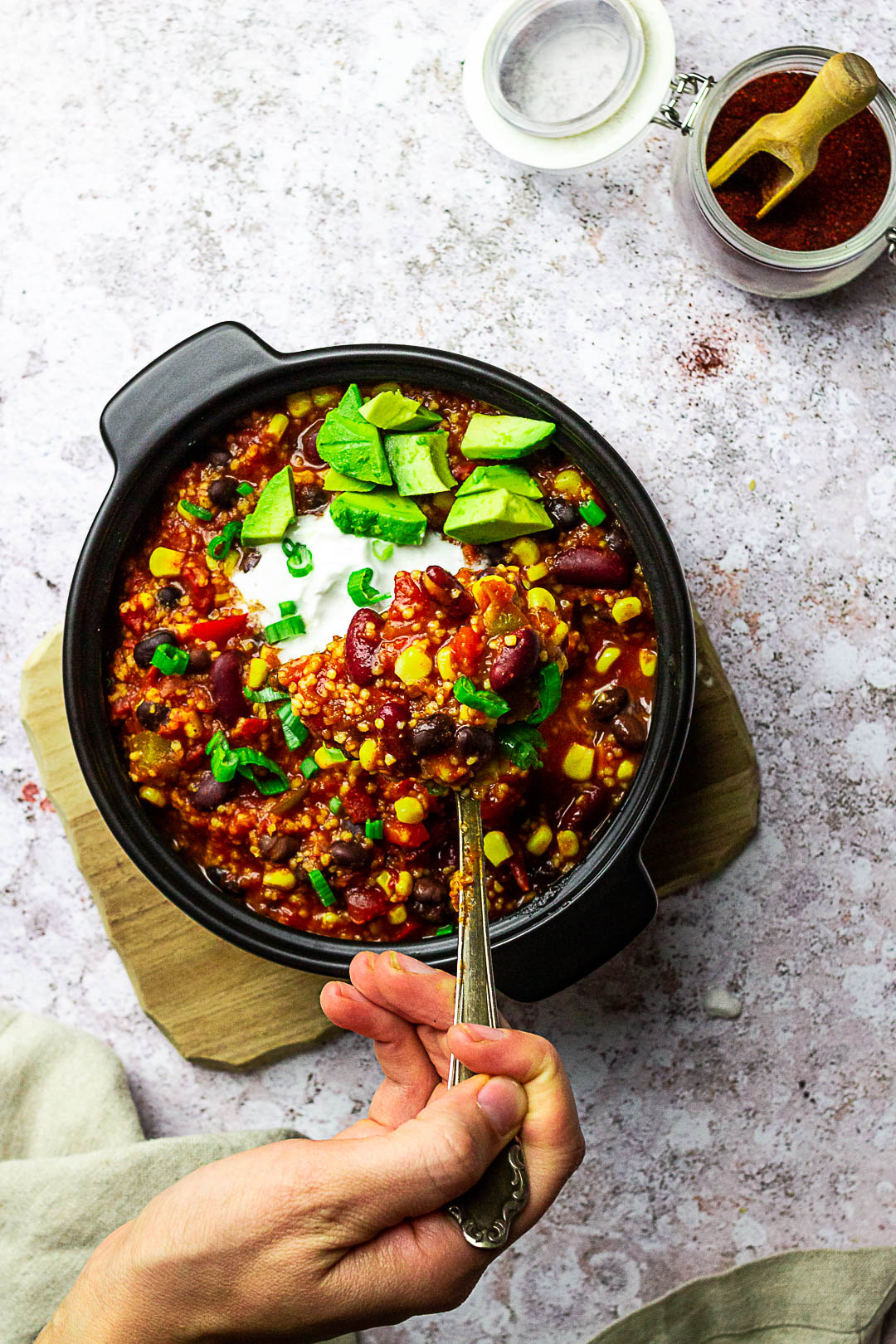 Instructions
First brown the diced onions and chopped garlic cloves vigorously on medium heat. For this I always give a splash of water to the onions. Now you can add the remaining ingredients and stir well. Simmer on low heat for about 15-20 minutes until the bulgur or the alternative is cooked.
This plant-based chili is made easily yin a slow cooker. Just sauté the onions and garlic first to get all the flavor, and add the other ingredients afterward. Let it cook for about 3-6 hours. And you got yourself a hearty vegan chili that has a lot of healthy ingredients in it.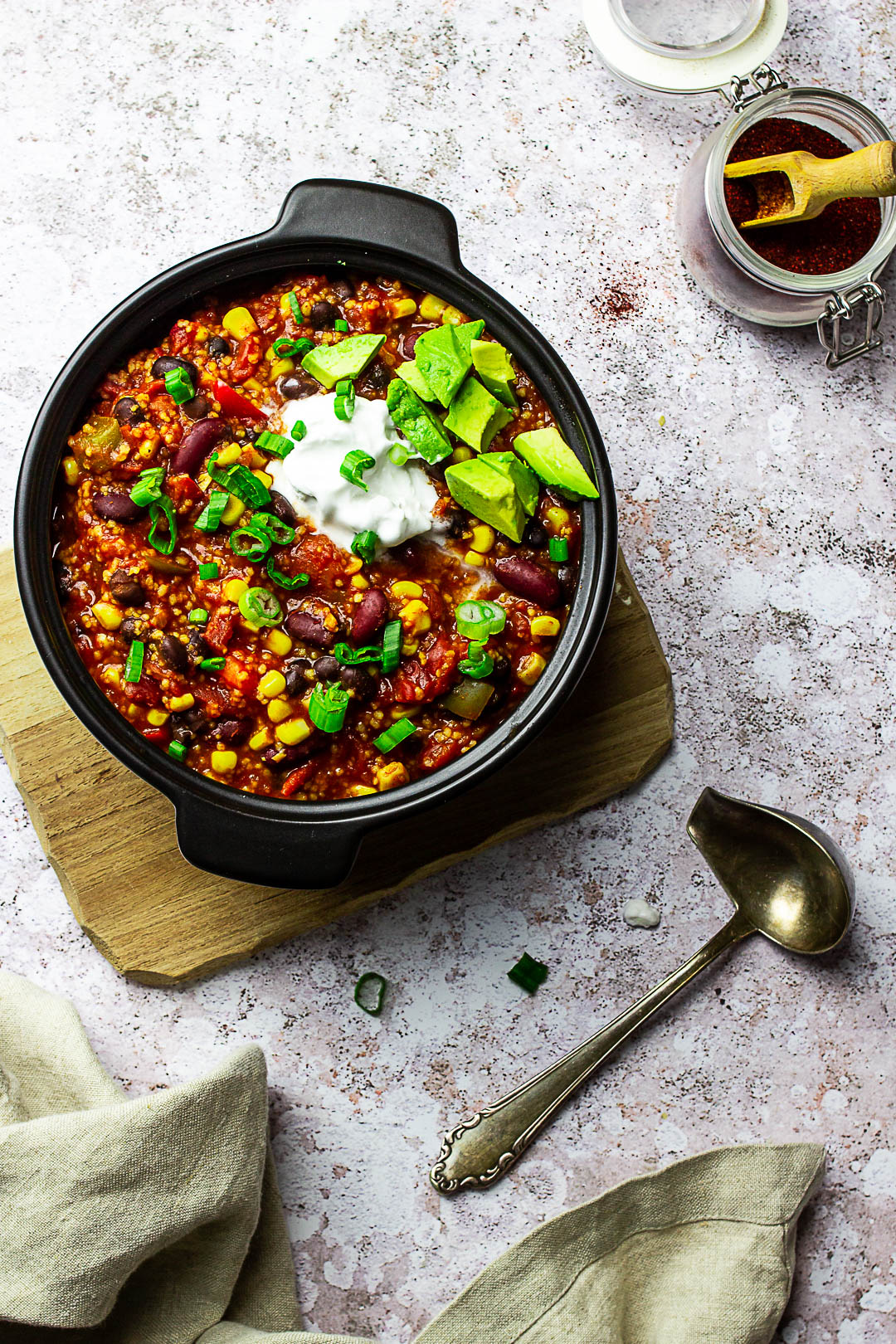 Substitution
Bulgur: I think the bulgur adds a meaty texture to this veggie chili. To prepare a gluten-free version of chili, simply use buckwheat groats, millet or quinoa. Couscous is also suitable as a Bulgur alternative. Couscous is made from durum wheat semolina like pasta. It is a flour granule cooked in some water. Couscous is usually steamed and not cooked and cooked in 5 minutes. Freekeh is perfect as a minced meat substitute or bulgur substitute, just to replace the bulgur 1:1.
Beans: Use your favorite beans here. I love a variety of beans and use different kinds for my plant-based protein.
Variation
Here are some best vegan chili recipes. Change it up and it will never get boring!
Lentil Chili: Add some lentils you can add red lentils, or the "normal" lentils you get at the grocery store.
Creamy: Add some coconut milk or cashew cream to make a creamy version of this good chili recipe.
Fall Style: For a perfect cozy meal, add some pumpkin squash or and sweet potato.
Equipment
To make this hearty chili you will need a large pot like a 4qt (4l), a cutting board, chef knife and a cooking spoon.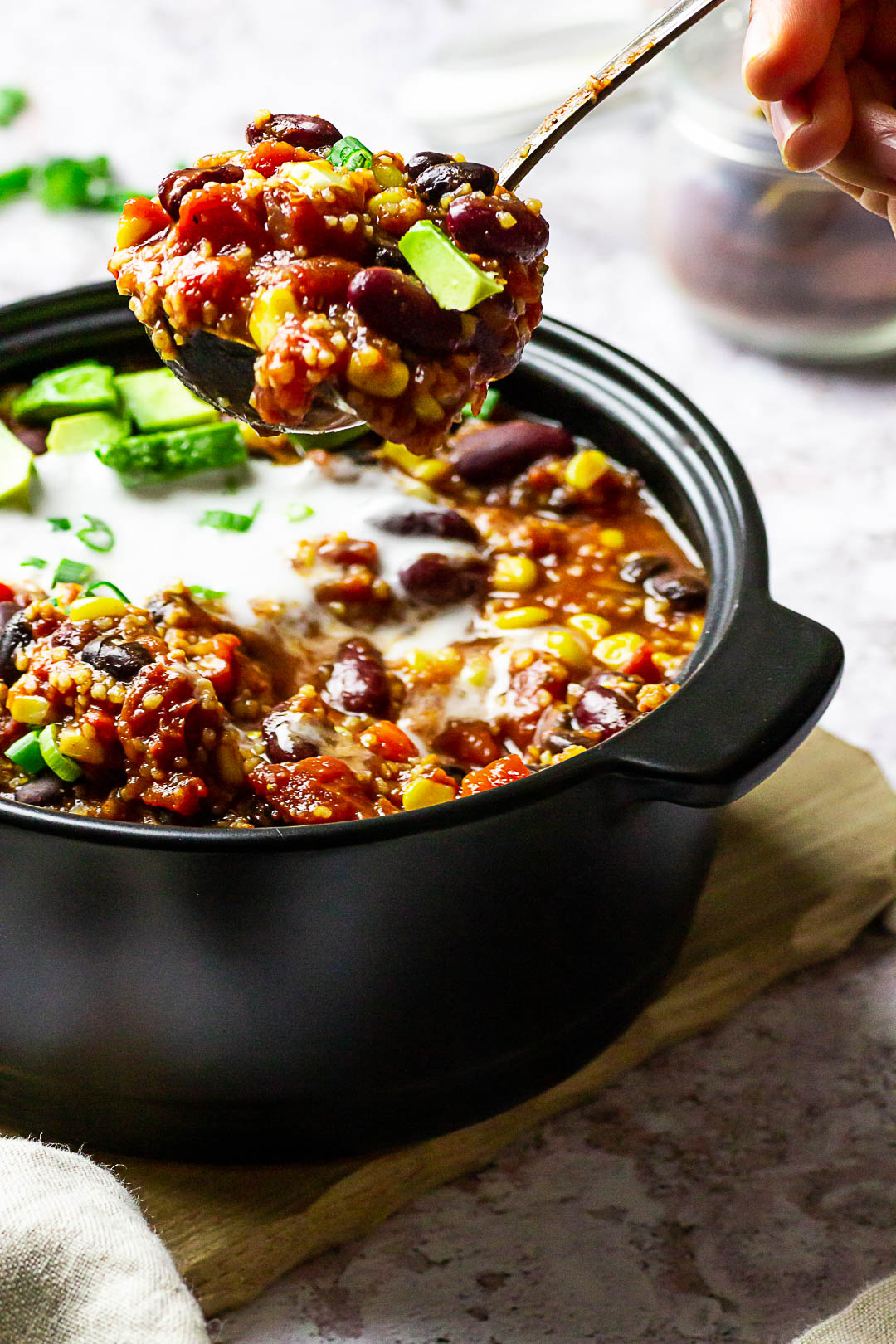 Storage
What can you do with chili leftovers?
In the fridge, the vegan chili lasts about 4-5 days in an airtight container.
Can you freeze chili?
Chili is even great for freezing and thus as a meal prep. The recipe below is designed for about 6-8 people. So if you have leftovers, let the chili cool to room temperature and then freeze it in portions in airtight containers. That's how the chili lasts for 3-4 months. To defrost, simply remove the chili from the freezer the night before and let it thaw on the countertop.
Uses of leftover chili:
Topping for nachos, fried potatoes, fries
Filling for quesadillas, burritos, taquitos, tacos.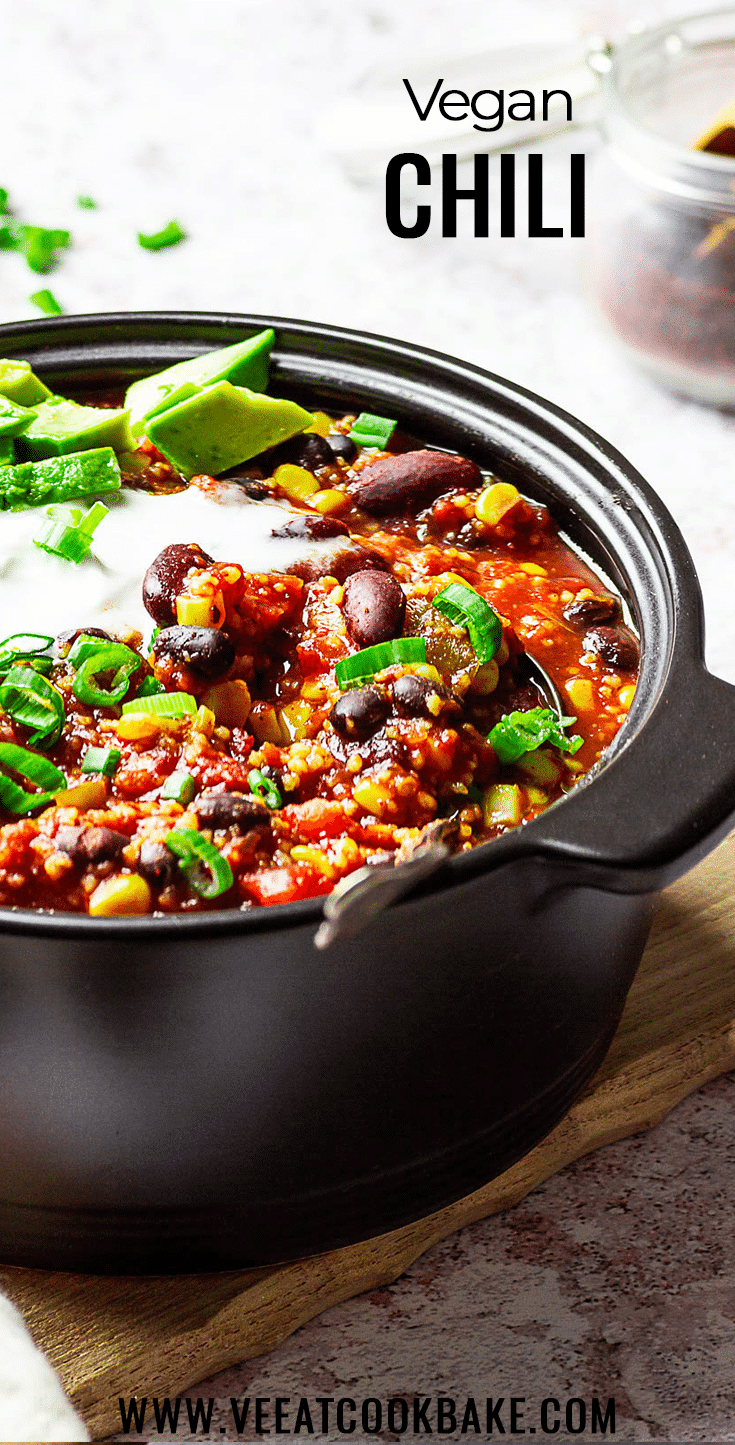 Tips
You can adjust the amount of beans as you like. You can still add white beans or just kidney beans.
Take the beans you just like, e.g. white beans, pinto beans and others
If you like chili thicker, then just use less broth. Depending on whether you use Bulgur or couscous, you need more or less liquid. Bulgur is more absorbent than couscous.
The chili tastes best when it has stood overnight. If it is too thick the next day, just add a little more vegetable broth.
FAQ
How to thicken chili?
Do you love a thick chili? Chili gets thicker through the bulgur, couscous, or you just let it cook a bit longer until it's thickened. You can also thicken with cornstarch, but it won't be necessary. Let it cook a little longer, accordingly. 
Why do you need cocoa powder and molasses in your vegan chili?
Cocoa powder and molasses are not just baking ingredients for cookies, biscuits and other pastries. Thanks to these ingredients, you get a vegan chili full of flavor. These ingredients do not dominate in the stew. But they highlight the other flavors.
What is Bulgur?
Bulgur is a whole groat wheat that is cooked like rice in about 15 minutes. Just follow the instructions of the package. Bulgur is an important ingredient to mimic the texture of minced meat in stews.
You are welcome to boil the bulgur and freeze it. You can use bulgur for other dishes where you would normally use minced meat like taco, stews, sauces.
Bulgur is very good at absorbing the taste of dishes and is therefore very suitable as a ground meat substitute.
Unfortunately, you do not see any bulgur in the pictures, but couscous, because unfortunately I did not find any bulgur in my area and my supply went out.
Is Chili healthy?
We do not use oil or added sugar. The chili mainly consists of bulgur, beans, corn, tomatoes. In my opinion, it is a healthy dish full of nutrients such as vitamins A, C, folic acid, iron and calcium. However, I am not a nutritionist and these are just my assessments.