This post is also available in: Deutsch
*As an Amazon Associate, I earn from qualifying purchases. This post may contain affiliate links. That means if you click and buy, I may receive a small commission. Please see my full policy.*
Rice pudding is one of the classic comfort foods and is easy to prepare vegan. With this easy variant, you can make a quick lunch, snack. Prepare the vegan rice pudding with plant milk and hot cherries and eat at any time of the year. A fast well-being food which you have whipped up in minutes.
vegan | dairy-free | lactose-free | plant-based

Which rice variety is best for vegan rice pudding?
Have you ever looked into the rice aisle in the supermarket, there are so many different types of rice, that it is hard to find the right rice variety. A classic rice variety is the round grain rice. The grain should be as large and round as possible, so that a lot of liquid "can be absorbed, which makes the rice pudding so creamy and should also contain a lot of water-soluble starch, so that the grains stick together, such as the risotto Rice grain which is already declared as a rice pudding or you look after the Arborio rice or Carnaroli. Which are also great for risotto.

Which plant milk do I use to cook the vegan rice pudding?
Here you can actually take your favorite milks. However, I prefer one with relatively high fat such as Coconut milk. However, if you do not want the taste of coconut in rice pudding, you can also resort to another nut milk here, such as Almond milk or cashew milk. I do not prefer rice milk here, as it is rather thin. If you are allergic to nuts, you can also try the vegan rice pudding with oat or soy milk. Which type of milk is your absolute favorite?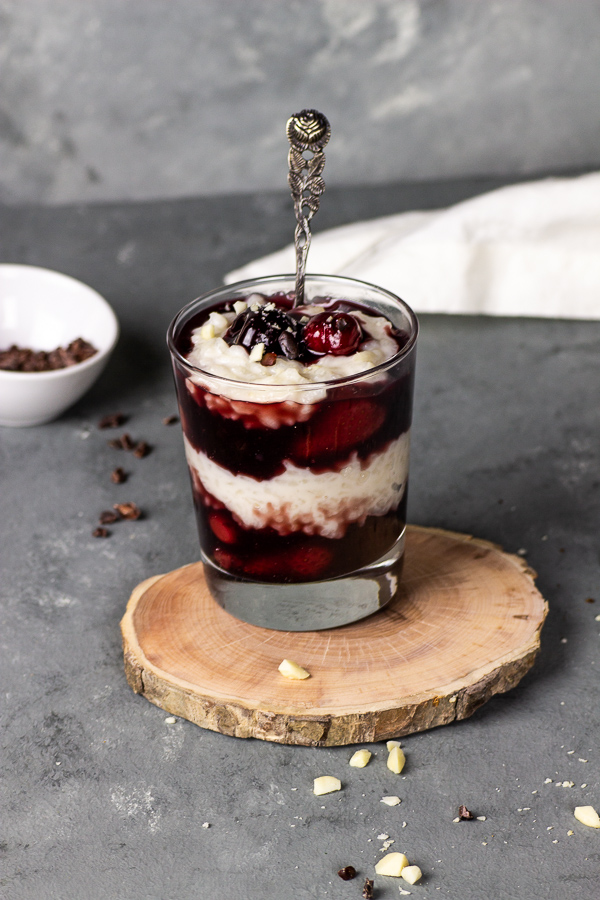 The vegan rice pudding is
creamy as the purchased
a healthier option
an absolute comfort meal
Awakens childhood memories

If you like this vegan rice pudding, you may also like:
How about a vegan panna cotta ?! Take a look at my puff pastry cups with pudding filling. This refreshing fruit salad with mint fits perfectly into the coming season.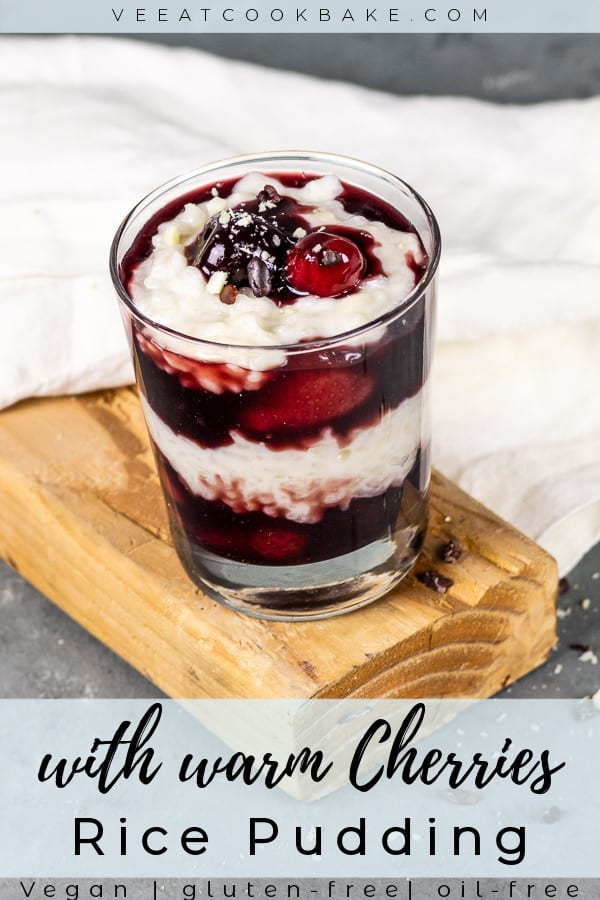 ---
Did you try the recipe?
If you did it, be so nice ♥ and let me know by rating the recipe and writing what you think about it. Tag me on Instagram or Facebook too. I am @veeatcookbake and my hashtag is #veeatcomforts. So that I can see your creation. Did you know you can add photos on Pinterest under the recipe Pin? I can't wait to see a photo of your creation there. You find me with VeeatCookBake.
---
---