Creamy Rice Pudding is a classic comfort food that many people like I, and maybe you know from their childhood.
This is a light, thick rice variant with hot cherry sauce makes it ideal for gluten-free lunch or breakfast too!
It's also perfect as an anytime snack when you want something easy to make but still tasty in the middle of winter time cold weathers. Rice Pudding Lovers, this recipe is for you!!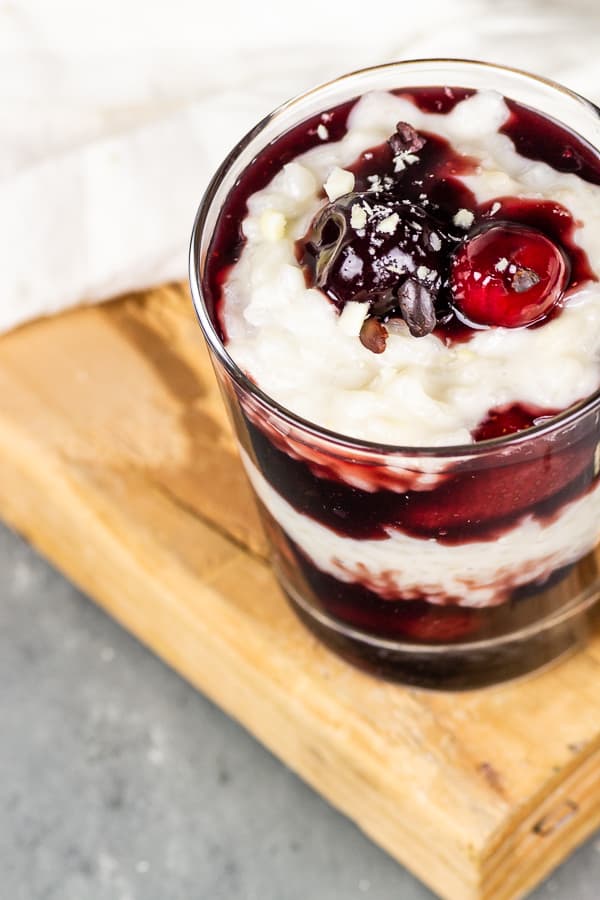 As an Amazon Associate, I earn from qualifying purchases. This post may contain affiliate links. Read More
Jump to:
I would like to show how simple veganizing this dish can really get: Just use non-dairy milk instead of dairy products, long-grain rice and cherries or other fresh fruit if needed (depending on what kind suits your taste).
With these few changes, I guarantee we'll have one amazing tasting dessert ready within minutes
Did you ever ask yourself the question of how to make rice pudding vegan? This recipe for Vegan Rice Pudding with Coconut Milk is really easy to make, and I love to serve it as a breakfast or snack or even dessert.
Ingredients
Let us check out the ingredients what you will need to make this vegan rice pudding recipe.
The exact quantities are written down in the recipe card below. You will see it is made with simple ingredients.
Homemade Rice Pudding Ingredients
Plant-based Milk (Can of coconut milk)
Uncooked Rice (Arborio or Carnaroli)
Vanilla Extract
Maple Syrup or Date Puree
Lemon Zest
Cherry Sauce
Pitted Cherries or frozen
Cherry Juice
Corn Starch
Maple Syrup or Date Puree
Vanilla Extract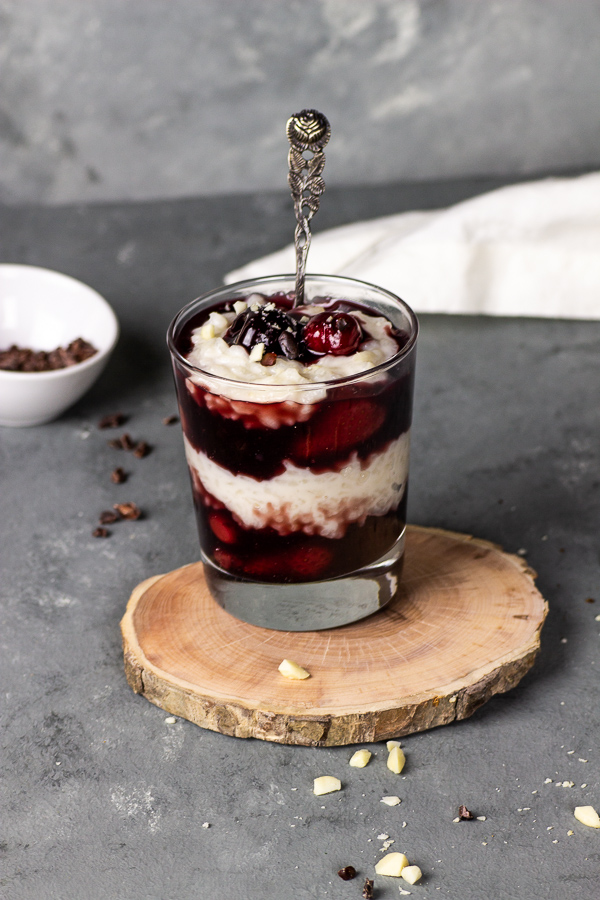 Substitutions
Like always, I want to give you here some ideas how you can substitute certain ingredients for this vegan coconut rice pudding. It is pretty easy to substitute some ingredients to make the perfect batch of rice pudding for you.
Rice
So which type of rice should you choose?
You might think that all rice varieties are created equally, but there's a world of difference between them. For example, risotto requires special attention to the shape and size in order for it turn out perfectly Every time!
So does Rice Pudding! That is why I recommend choosing your grains carefully: make sure they're as round and long grain rice (without being too sticky) before cooking with them - this will ensure plenty of liquid can be absorbed what makes it so creamy and pudding like; additionally consider whether or not the rice is already been designated just for rice pudding purposes.
Arborio Rice and Carnaroli Rice are the best rice variants to get the best dairy-free rice pudding. And when you see a traditional rice pudding, it is usually made with one of those rice options.
Vegan Milk
Here you can actually take your favorite type of dairy-free milk. However, I prefer a variety with a relatively high fat such as full fat coconut milk, cashew milk, or almond milk. There are a lot of great dairy-free milk options. And that is the beauty of being plant based, you got so many amazing options to choose from.
However, if you do not want the taste of coconut in rice pudding, you can also resort to another nut milk here, e.g. Almond milk or cashew milk.
I do not recommend rice milk here because it is rather thin. If you are allergic to nuts, you can also try the vegan rice pudding with oat milk or soy milk. The creamiest is the rice dish with coconut or cashew.
You can choose if you want to make your whole food rice pudding with no coconut milk, then just use one of those mentioned milks, or you could use also make an oat milk rice pudding.
Variations
I always love to experiment with other flavor combinations.
Orange Zest
Instead of using the zest of a lemon, use orange zest. This adds a nice flavor, especially when you serve it as a warm, delicious dessert in the cold season. You are just going to need a vegetable peeler to get some fresh grated zest.
Light Coconut Milk
You want to make this vegan pudding lighter, use light coconut milk or even oat milk.
Topping
Top it with some toasted coconut flakes for extra coconut flavor, sprinkle of cinnamon or even a drizzle of maple syrup would work here amazing. With some different toppings you can create from a simple easy vegan rice pudding a perfect unique dessert.
Some more variations
Eat the rice pudding classically with sugar (I use coconut sugar) and cinnamon. You can even add some dried fruit like golden raisins.
Serve with fruit sauce like this cherry sauce
Prepare the strawberry sauce from my NY cheesecake and serve it with the rice pudding
Season the rice pudding with ginger, turmeric and vanilla
How about winter spices like star anise, cinnamon, allspice, clove, nutmeg. If you are a fan of nutmeg, try my mashed potatoes recipe.
Prepare a chocolate rice pudding, simply stir in a little cocoa powder
Stir in 2 tablespoons of semolina, about 10 minutes before the end of the cooking time, and you will get an exceptional rice pudding
Instructions
Start by putting the rice, milk, maple syrup or date purée, as well as the vanilla extract and cinnamon in a sufficiently large pot.
Now let the rice boil and turn the heat down. Simmer the rice for about 25 minutes and stir from time to time so that it doesn't burn on the bottom.
For the cherry sauce, put the cherries and the remaining ingredients in a second saucepan and stir vigorously. The starch should be dissolved.
Now heat the cherries and let them boil until they thicken. Take them off the stove and let them cool down a bit.
If you are using frozen cherries, let them defrost beforehand.
Serve the rice pudding with the cherry sauce in a bowl or in jars. Top it with your favorite topping!
Storage
If you got leftovers, you can easily store them. You can also use the fridge or freezer.
Fridge
Put the rice pudding in an airtight container and put it in the fridge for about 3 days. It may be that the rice pudding thickens a little and becomes a little thicker.
Warming up
You can eat the rice pudding cold or warm. If you want to eat it warm, you can simply reheat it in the microwave for about 1 minute or in a pot on the stove. To do this, keep stirring so that the vegan rice pudding does not burn during the warm-up.
Freezing
The classic rice pudding is not ideal for freezing. Because of the milk that can clot when thawed.
We do not use dairy products in our vegan version, and therefore you can even freeze it very well. Simply pour the rice pudding into containers in portions and freeze them.
Thawing and Warming
You can simply thaw the rice pudding in the fridge. Or you can heat it in a saucepan on the stove. If you want to go really fast, you can also use the microwave.
Tips and Tricks
If you want to go quickly, boil the milk and let the oven do the rest. Add the rice to the boiling milk and put it in the oven at approx. 255°F (125°C) for approx. 30 min. Stir 1-2 times.
You want it to go even faster? Then cook the rice pudding in the instant pot. Boil everything except the rice in the pot. Add the rice and stir vigorously. Now close the instant pot and set it to the lowest level. Let it cook for about 10 minutes. Let the steam out and see if you like the rice pudding.
Have you burned the rice pudding? Please do not stir and scratch the bottom. This just distributes the burnt taste. It is best to simply put the rice pudding in a second saucepan.
Your rice pudding is too firm? That happened me before, just stir in a little more milk until you have the desired consistency.
You want the pudding to be super creamy. Take some coconut cream instead of heavy cream and stir it under the cooled rice pudding. Makes a great dessert.
More vegan recipes:
Puff Pastry Cups filled with pudding