Vegan semolina pudding served with refreshing rhubarb and strawberry compote is a quick, plant-based breakfast recipe. Prepare a dairy-free cream of wheat with oat milk, almond milk, or another plant-based milk like coconut milk.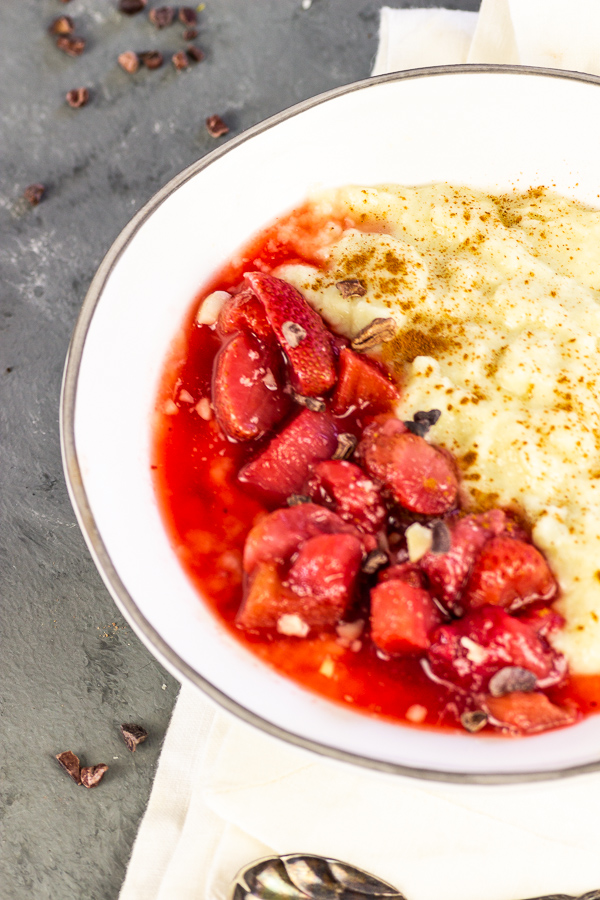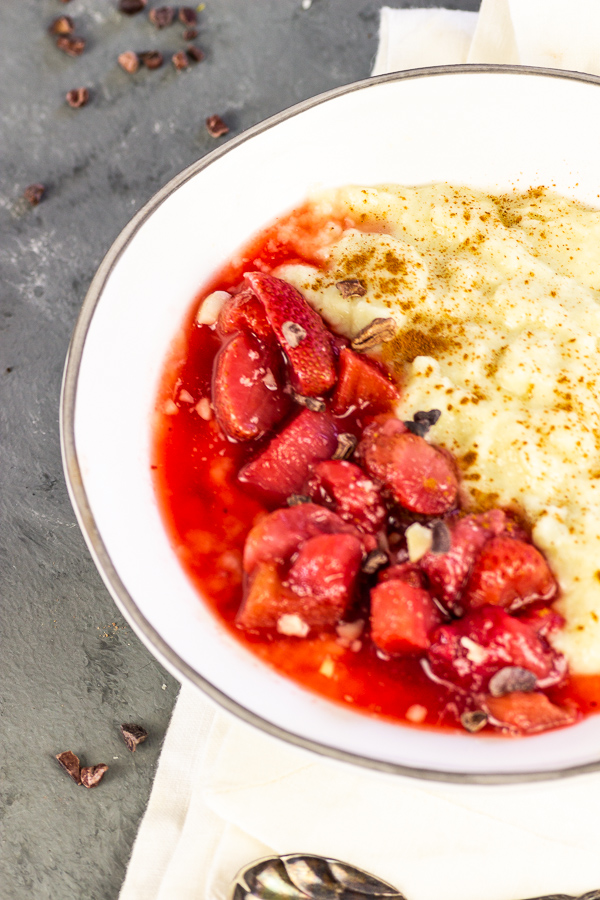 As an Amazon Associate, I earn from qualifying purchases. This post may contain affiliate links. Read More
This recipe for semolina porridge is also ideal as a snack or dessert, which becomes a real comfort meal thanks to the creaminess.
This coconut semolina pudding in vegan is a sugar-free snack, which is also great as a small snack before sport or just when the small appetite grabs you.
With this recipe, I'll show you how you can still enjoy your childhood semolina pudding without having to use dairy products. And with this great semolina recipe you get a creamy pudding alternative.
I will show you how you can prepare the semolina porridge as gluten-free or wheat-free. The best thing about this recipe is that it is prepared sugar-free and is naturally sweetened.
Why will you like it:
creamy
a healthier alternative
awakens childhood memories
prepared quickly and easily
How to make
Have you always wanted to prepare a vegan semolina porridge, but you never really knew how? Here I have a super creamy flavorful recipe for you.
Ingredients
The following ingredients are contained in this dairy-free pudding. The exact amount can be found below in the recipe card.
Plant-based milk such as almond milk, oat milk, soy milk
Coconut Cream
Semolina
Maple Syrup or Date Puree
Cinnamon
Vanilla Extract
Rhubarb-Strawberry-Sauce
Strawberries
Rhubarb
Water
Food Starch
Vanilla Extract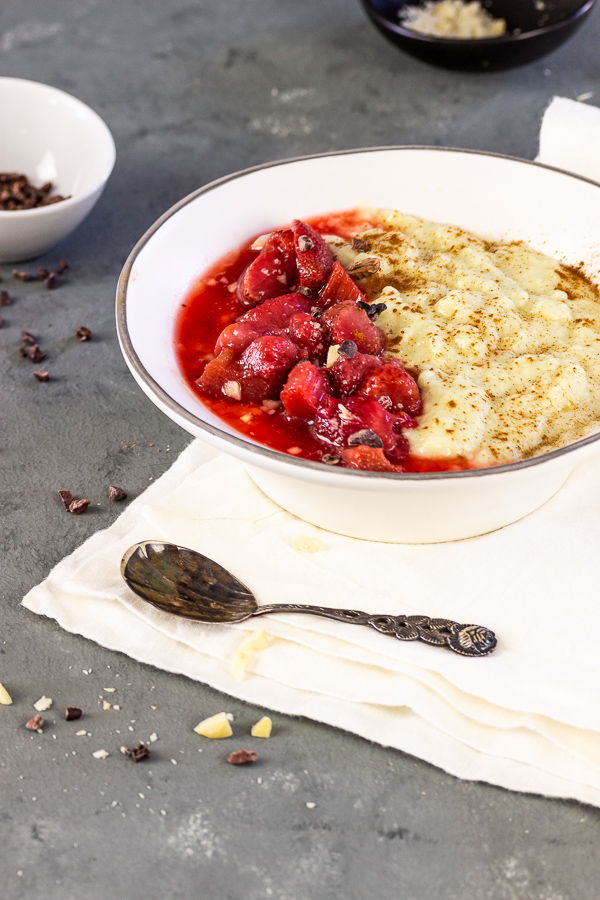 Creaminess
I don't know about you, but I love everything creamy. And that goes for this creamy vegan semolina pudding and it is not difficult to prepare this super creamy.
The only thing you need is coconut cream, the separated part of the coconut milk.
I place the coconut milk in the fridge for at least 24 hours, the longer the better.
To be honest, I always have coconut milk in the fridge for spontaneous actions like this pudding.
If you can buy coconut cream, you can also use it instead of coconut milk.
Wheat-free and Gluten-free Alternative
If you want to make the vegan semolina porridge without wheat, you can use something like spelt semolina. You should find this in every well-stocked supermarket in Europe.
In Germany I like to use spelt semolina as an alternative to wheat.
I have to say it is difficult to find spelt products here in the States, and sometimes I miss them quite a bit.
You can easily prepare the lactose-free semolina pudding in gluten-free. I recommend that you use corn grits or polenta. So you get a great creamy semolina alternative that tastes in no way inferior to the classic semolina porridge.
Coconut Cream Replacement
If you don't want to use coconut, you can of course use another alternative to prepare a creamy semolina pudding in vegan.
For one, you can use homemade cashew cream. I mix cashews and water in equal parts in a high speed blender. Add unsalted and raw cashews. These are tasteless and make a dish very creamy.
You can of course also use another vegan cream. For example oat cream, soy cream or any other you prefer.
Instruction
First, in a sufficiently large saucepan stir in the vegan milk, coconut cream, cinnamon, vanilla extract and maple syrup. Now add the wheat semolina. And let it boil over medium heat, stirring constantly.
Make sure that the semolina porridge does not burn on the bottom. Cook the semolina porridge for about 5-10 minutes, the semolina pudding should thicken.
Sugar-free rhubarb strawberry compote
Place the finely chopped strawberries and the finely chopped rhubarb in a second saucepan and boil them with a little water.
Mix the cornstarch with 2 tablespoons of water. Now add these to the strawberries and rhubarb while stirring so that the compote thickens.
Serve in a bowl. Pour the semolina pudding in first and then the compote on top.
Can I prepare the vegan semolina porridge in advance?
You can also prepare the semolina pudding beforehand. Enjoy the semolina cold later and just pour the warm compote over it. You can prepare the semolina porridge a day or two in advance.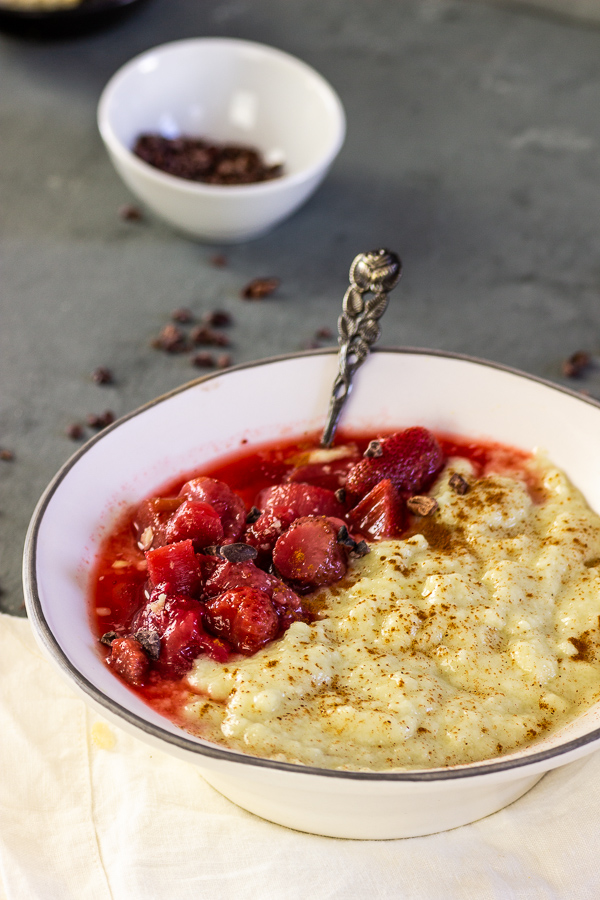 Serving Options
Eat the semolina pudding for breakfast like a porridge
Serve it as a dessert with the compote or other compote
The semolina porridge is also very suitable as a snack
Make it for lunch at work or at school
Leftover Storage
Fridge
You can keep the Pudding in the fridge very well. Just note that the porridge becomes firmer when cold.
Reheating
Put the pudding and some extra vegan milk in a saucepan and slowly heat the semolina porridge. Don't forget to stir.
Freeze
I would say yes. But I haven't tried it myself. Since the semolina porridge is prepared quickly, I usually prepare it fresh.
To freeze the semolina porridge, simply freeze the porridge in portions in a freeze-proof container.
Reheat & Thaw
Let the semolina thaw in the fridge overnight. And heat it in a saucepan with a little milk as described above. So it becomes creamy again.
Tips & Tricks
You can also prepare the semolina porridge in the microwave by adding the semolina to the microwave for 1 minute and then stirring and cooking again in the microwave for one minute. Repeat until the semolina porridge is nice and creamy.
Add some beaten chickpea water, also known as Aquafaba, to the semolina porridge to make it airier. Allow the semolina porridge to cool down a bit so that this vegan egg white does not collapse.
Semolina porridge has a relatively high protein and fiber content. The porridge keeps you full for a long time.
More vegan breakfast recipes:
Have you tred the recip
If you tried the vegan Recipebe so nice ♥ and let me knw byrating the recipe and writing what you think about it in the comments.  I would love to see your photo on Instagram orFacebook. To do this tag me with @veeatcookbake andmy hashtag is #veeatcookbake. So that I can see your creation. Did you know you can add photos n Pinterest under the recipe Pin? I can't wait to see a photo of your creation here. You find me with @veeatcookbake