Homemade vegan oat bars are very easy and quick. You only need a few ingredients and a few minutes of your time to create these incredibly delicious vegan granola bars without sugar.
These are sweetened with fruit. These vegan breakfast bars made from oats, bananas and apples are ideal as a dessert, snack or even breakfast.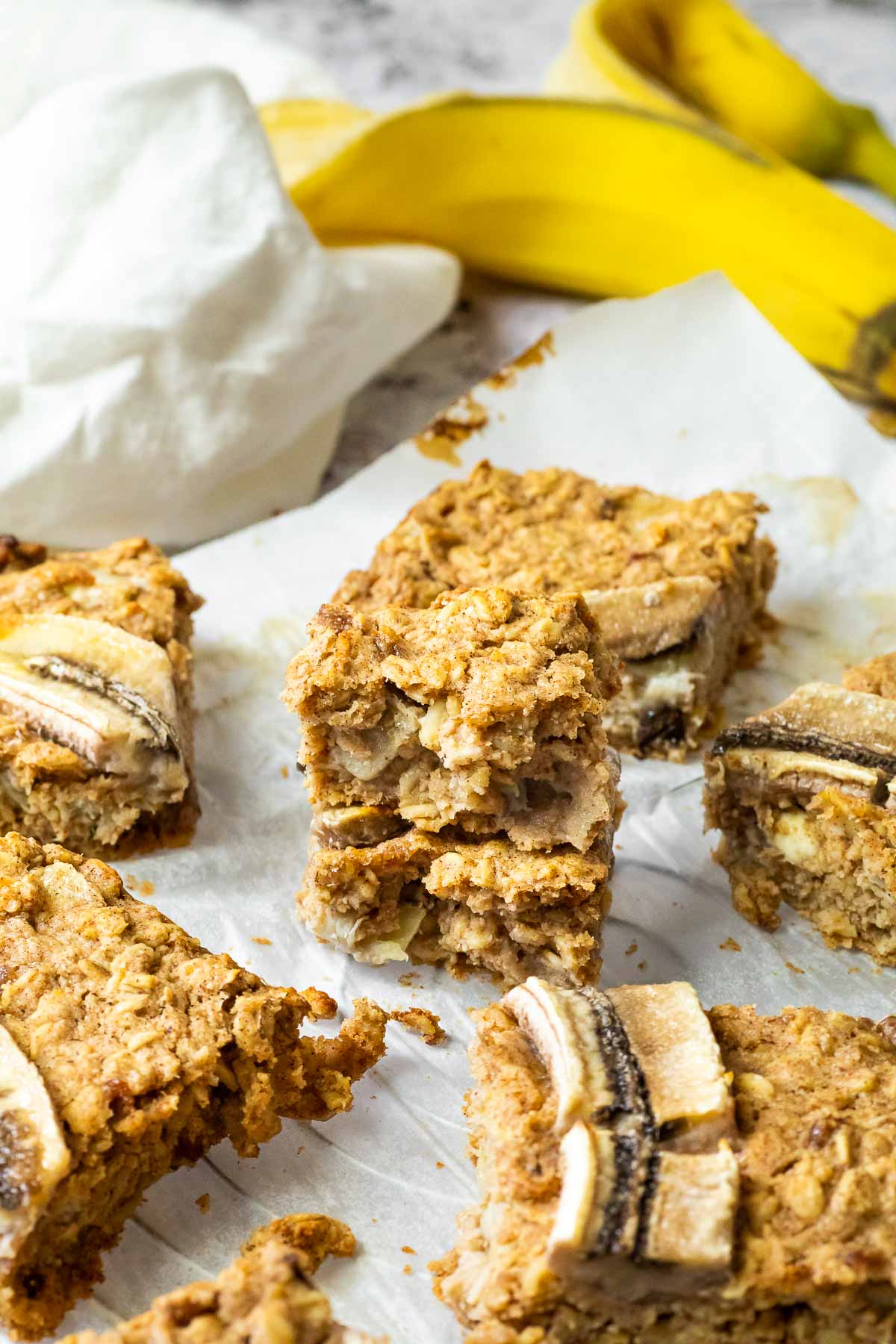 As an Amazon Associate, I earn from qualifying purchases. This post may contain affiliate links. Read More
Jump to:
This healthy oatmeal bar recipe is very reminiscent of banana bread and are healthy vegan bars. Egg-free, sugar-free, gluten-free, whole food plant-based, low calorie and still full of flavor.
These gluten free oat bars make great meal prep breakfasts that you prepare in advance and just have to reach for in the morning. These vegan gluten free breakfast bars are a great snack for school lunches.
Oatmeal bars come in all shapes and sizes, from crunchy granola bars as we know them from the supermarket to soft and fruity, like classic American oat bars.
You can find so many recipes for oat bars on the internet, but most of them contain sugar or fats. I want to show you that it doesn't take extraordinary ingredients to make a delicious vegan oat bar with no sugar or highly processed fats.
I would like to show you how you can make oat bars and give you the option of substitution to adapt the bars to your diet.
Are oat bars healthy?
As you can probably guess, it always depends on the ingredients in the oatmeal bar. In this recipe, we avoid highly processed products and use wholesome foods. There is one plus point, they are budget-friendly too.
The bars you can buy in the store are full of sugar and fat. There aren't that many whole food plant based oat bars on the internet, so I don't want to withhold such a great meal prep recipe from you.
Ingredients
Now that I've raved about the healthy ingredients in the oat bars, we should take a look at what the muesli bars contain.
Old Fashioned Rolled Oats
Oat Flour
Cinnamon
Baking Powder
Almond Milk
Vanilla Extract
Date Puree or Maple Syrup
Peanut Butter
Applesauce (apple pulp)
Banana
Chopped Dates
Walnuts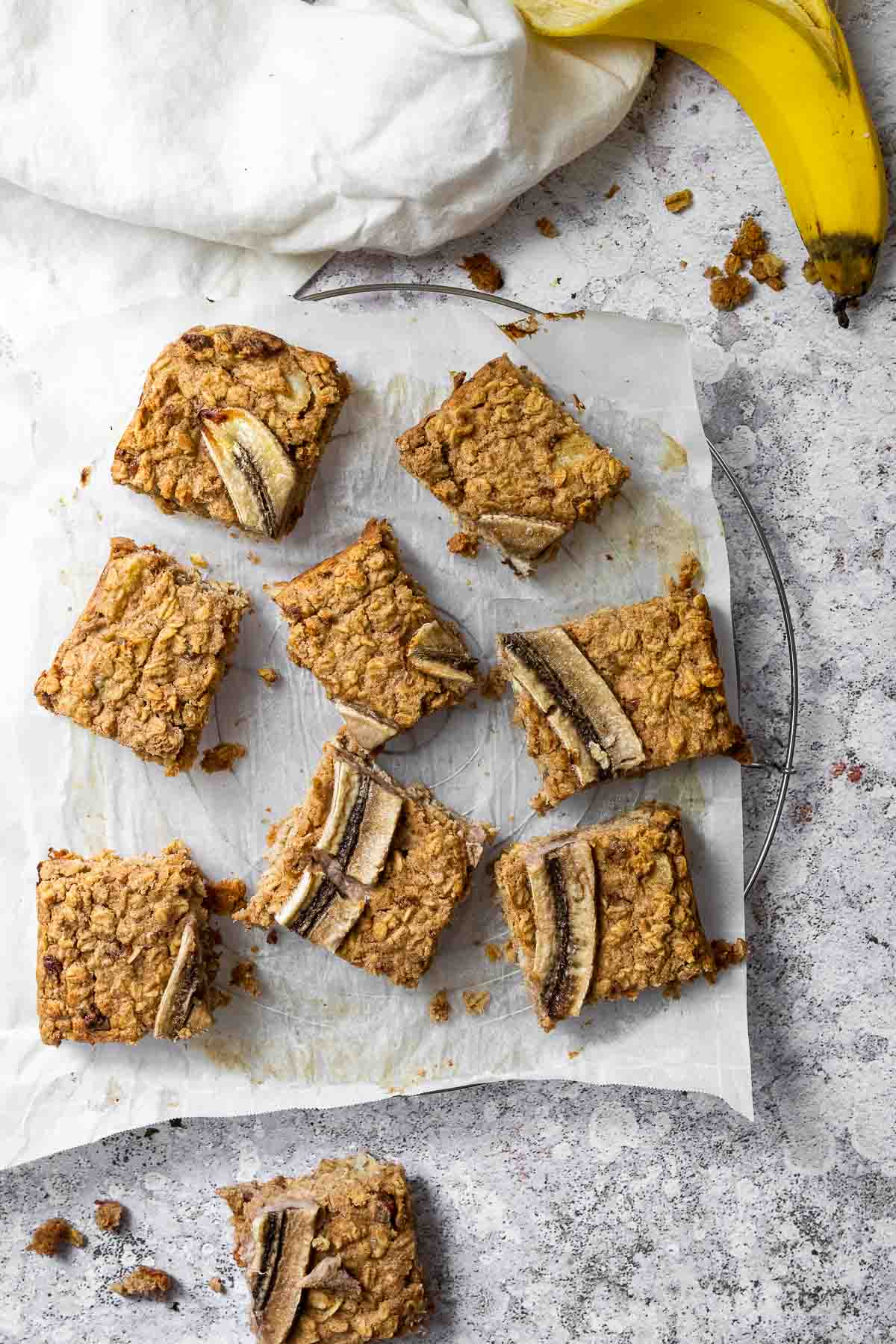 Are oats gluten-free?
Oats are gluten-free. However, you should make sure that you still buy rolled oats that are certified gluten-free.
Oats are often processed in factories that also process other types of grain with gluten, so there is a risk of cross-contamination.
If you are not supposed to consume gluten for personal or health reasons, then I recommend buying a gluten-free certified oat.
Substitutions
Now let's take a look at which oat bar ingredients can be easily substituted.
Almond Milk
We mostly have almond milk at home and use it. In the US, almond milk is actually cheaper than oat milk. But you can replace the unsweetened almond milk with any other milk alternative. Here, for example: oat milk, rice milk, soy milk are available.
Date Puree
The date puree serves as a sweetener in this oat bar recipe. You can also use maple syrup, date syrup, coconut sugar. Of course, you can also make a paste from other dried fruits.
Peanut Butter
You don't have to use peanut butter, here you can also use another nut butter, e.g. Almond butter, cashew butter. You can also use a sauce made from seeds such as sunflower seeds.
Applesauce
Instead of applesauce, you can also use other fruit sauces, e.g. pear sauce.
Banana
The banana also serves as a sweetener here and makes a great consistency. If you don't like bananas, just grab an apple and cut it into pieces.
Walnuts
Walnuts are a great source of Omega 3. Instead of walnuts, you can also use pecans. If you want to prepare the oat bars nut-free, I can recommend cooked tiger nuts.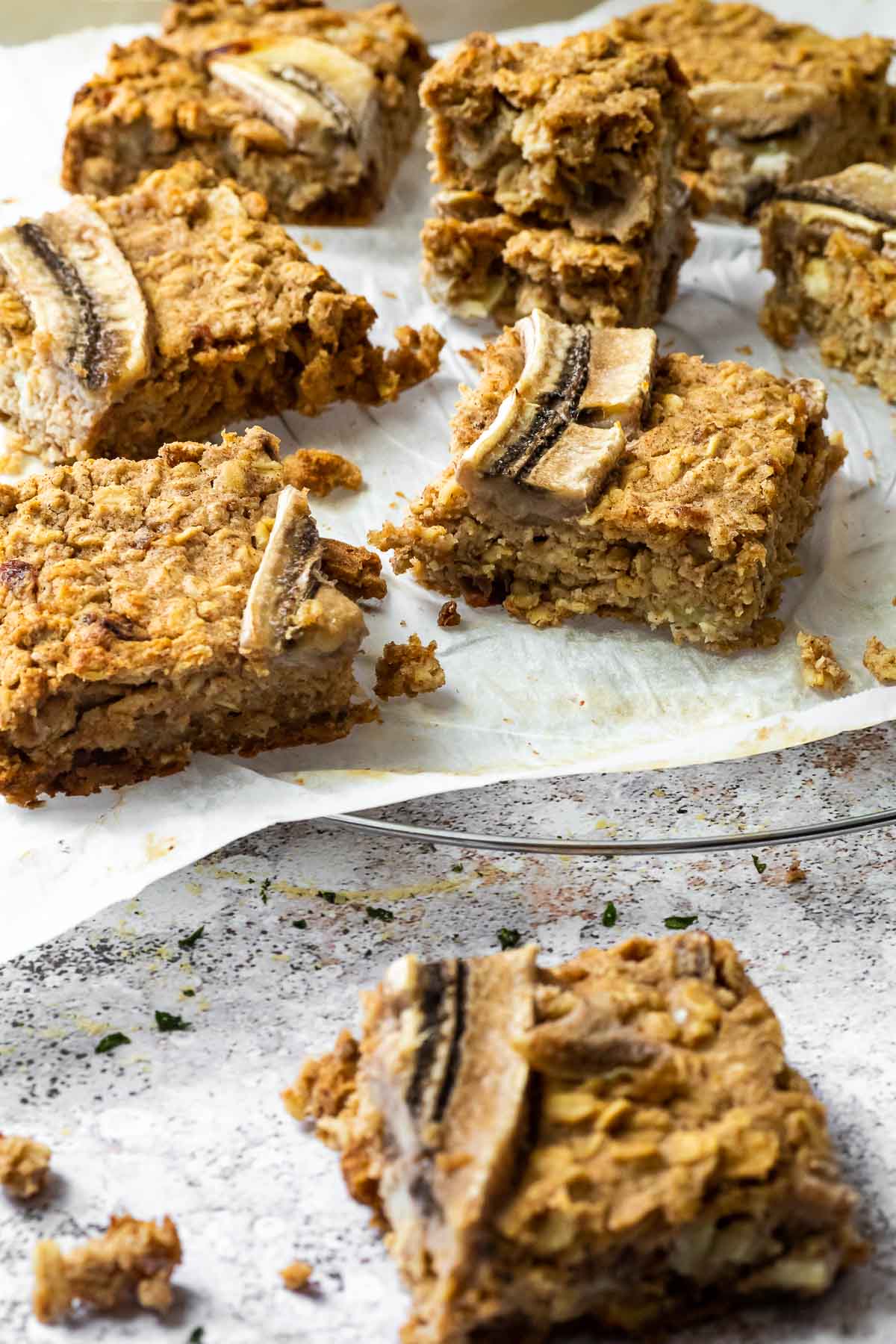 Variations
Let's take a look to what extent we can adapt these great vegan granola bars.
Gluten free
As we noted above, oats are essentially gluten-free. Make sure you are using oats that are certified gluten-free to ensure there is no cross-contamination.
Keto and Paleo
Oats are not keto or paleo friendly. Since this is an oat bar, it is difficult to replace it. You could try using different nut flours to make these. I haven't tried it myself, though.
Nut Free
These oat bars are easy to prepare nut-free. Instead of peanut butter use sunflower seed butter. You can replace the walnuts with tiger nuts or other seeds.
Instruction
Preheat the oven to 350°F (175°C).
Mix in a big bowl the almond milk, vanilla extract, date puree, peanut butter and applesauce until creamy.
Now add the rolled oats, the oat flour, the baking powder and the cinnamon. Keep stirring until everything is well mixed together.
Now add the diced banana, the chopped dates and the chopped walnuts.
Line a 8"x8" (20x20 cm) baking dish with parchment paper and spread the batter over it. If you want, you can cut a banana in half and place it on top.
Now bake the dough for about 35 minutes.
Prepare in Advance
These oat bars are perfect to prepare ahead of time, so you'll have a quick breakfast on hand. Here I recommend you bake the entire bars.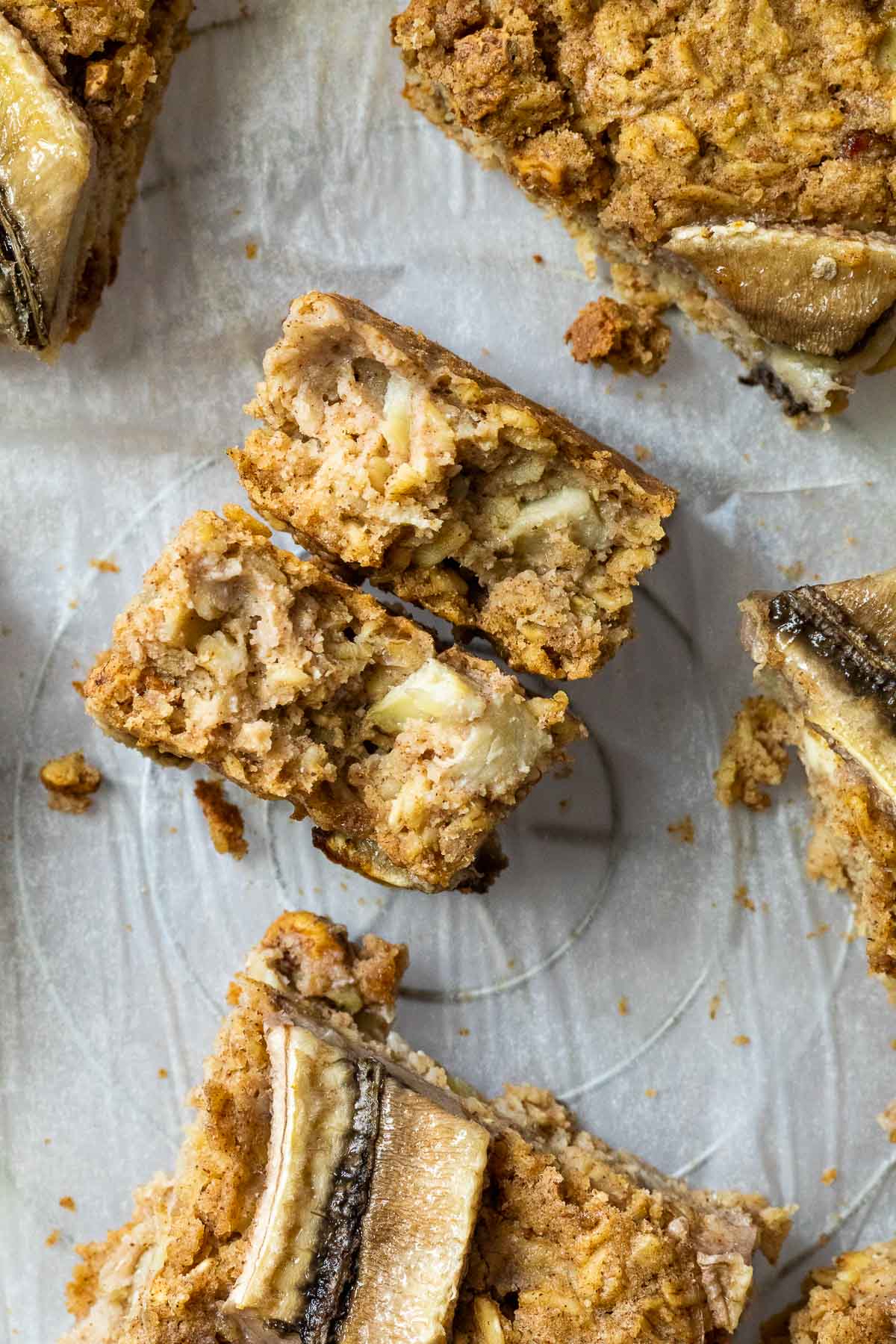 Serving Options
You can serve these oatmeal bars for breakfast or at a brunch buffet.
You also have the option of eating this as a healthy snack or as a healthy dessert.
As an alternative to banana bread, you can also serve this at the next coffee or tea party .
Storage
You made the bars and now you have something left. Let's take a look at how you can store them.
How to Refrigerate It?
These sugar-free oat bars can be kept in the refrigerator for about 4-5 days. Keep them in an airtight container. To serve, you can serve them straight out of the refrigerator or you can let them warm to room temperature.
How to Freeze It?
The bars can also be frozen in portions. Simply freeze the bars on a sheet in the freezer. When frozen, put them in containers in portions. That way, the bars don't freeze together. Place the bars in the refrigerator overnight to thaw.
Tips
If you can't find oat flour, use rolled oats, which you mix into flour in a high speed blender.
Add other fruits like blueberries or other berries and these bars will never be boring.
Add some chopped chocolate to the batter to create a chocolatey oat bar.
You can also add part of the milk as coffee to conjure up a mocha variant of the oat bars.
Vegan Breakfast Recipes: