Married a Saarland inspired specialty with vegan dumplings and potatoes in a cream sauce. Dumplings do not just taste amazing in "chicken" veggie broth soup. Those are made with ingredients from your pantry in no time at all, this simple recipe is a perfect midweek dinner.
vegan | dairy-free | lactose-free | egg-free | vegetarian | oil-free | whole foods plant-based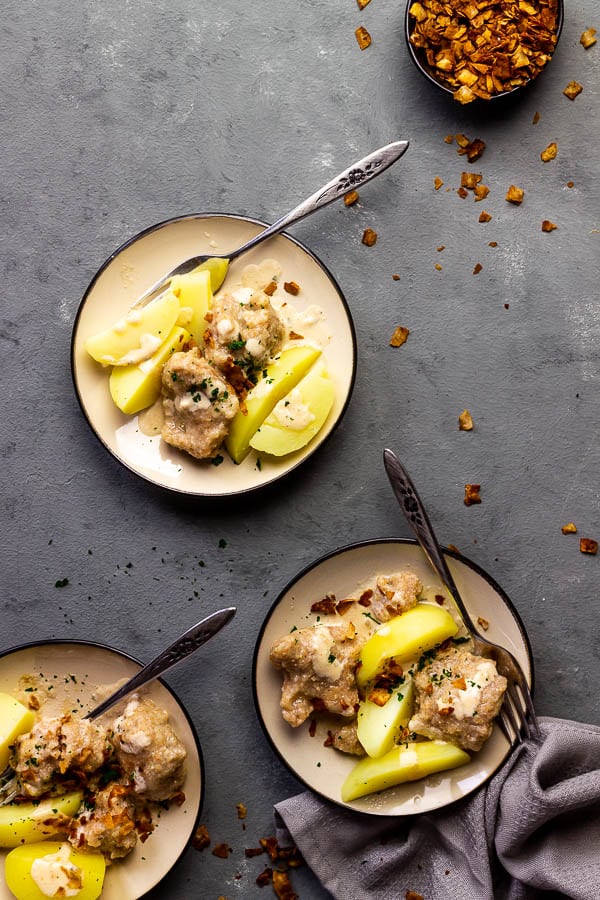 What dish is married?
My mom grew up in Saarland, a state in Germany, therefore Saarland specialties can't be missed on my blog. My mom (hello mom;)) has influenced my childhood more or less with Saarland dishes, so these vegan dumplings with potatoes and cream sauce, or as in Saarland called married. And if you only do the dumplings then the Saarlanders speak of "divorced ones". Which dishes shaped your childhood?
How to prepare vegan dumplings?
Vegan Dumplings are absolutely not difficult to prepare. The result is a firmer, tough dough. If you cook them in the water or vegetable broth, the vegan dumplings do not fall apart. Just make sure that the water simmers and does not boil bubbly. For the dough, first mix the dry ingredients and stir in the sparkling water. Take sparkling water without flavor.

How do the vegan dumplings get so airy?
If I remember, my mom used to make the dumpling dough with sparkling water. Due to the carbonic acid, these are beautifully fluffy and get a perfect consistency. My mom used to mix them together by feel, which I do normally, but I took the trouble to write down the ingredients. I hope the vegan dumplings with potatoes and cream sauce taste just as good as our family does. What tips do you have to make a batter airy?
Can vegan dumplings be reheated?
We usually make a larger amount and usually eat the leftovers the next day. The dumplings are super to warm them up. In addition, I give everything in a pan and let it briefly get hot. Or you can heat the vegan dumplings in the microwave.
Can vegan dumplings be frozen?
In and of itself there is nothing against freezing the vegan dumplings. However, I would only freeze them without potatoes and sauce.
Which dishes can you still prepare with vegan dumplings?
Dumplings in a vegetable soup, which is often eaten in the USA
Dumplings with vanilla sauce
Dumplings with cherry compote
Which recipes could you like as well
Do not forget to Pin on Pinterest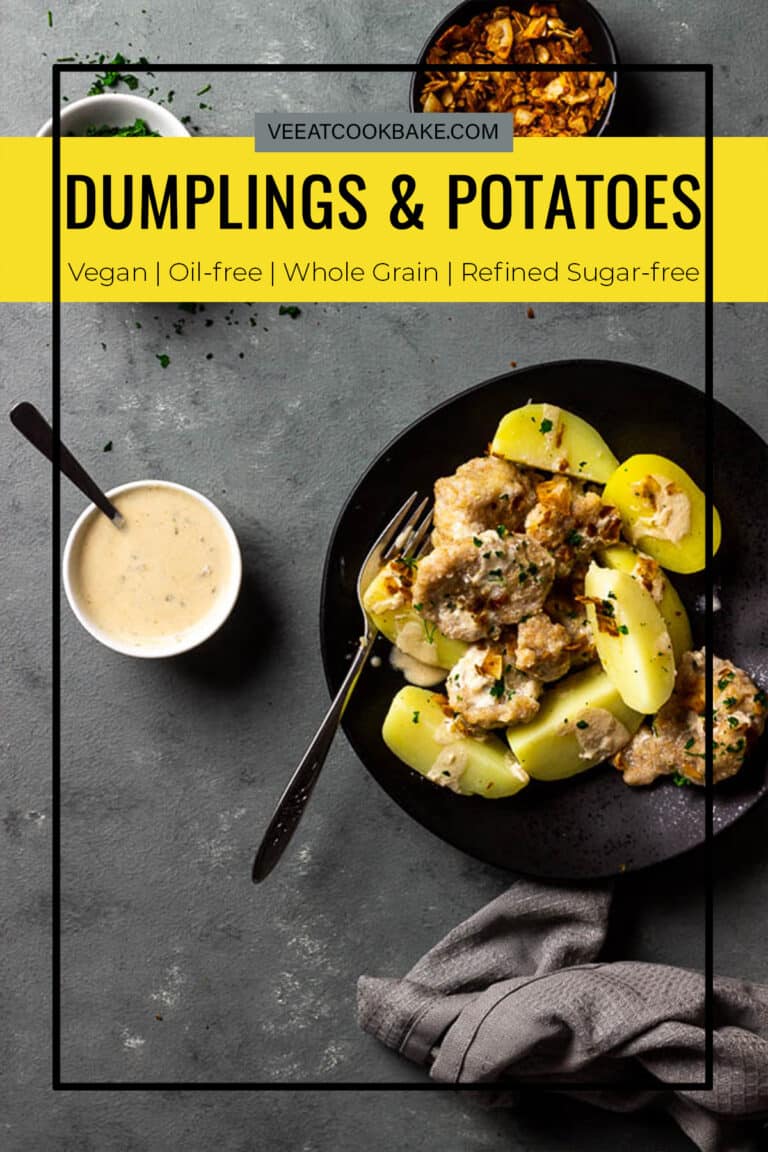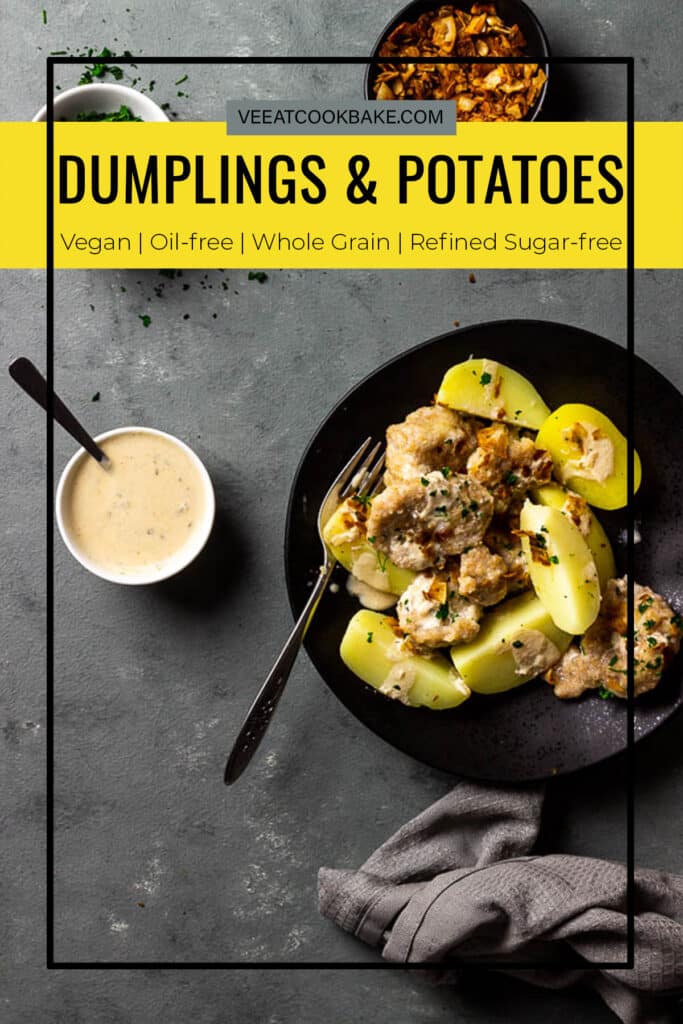 ---
Have you try the recipe?
If you tried the vegan Dumplings, be so nice ♥ and let me know by rating the recipe and writing what you think about it in the comments. Tag me on Instagram too. I am @veeatcookbake and my hashtag is #veeatcookbake. So that I can see your creation. Did you know you can add photos on Pinterest under the recipe Pin? I can't wait to see a photo of your creation there. You find me with @veeatcookbake. I also would love to hear your feedback so I can share it on my social media channels.
---

This post may contains affiliate links and I may receive a very small commission if you buy through these links at no extra cost. Thank you very much for supporting Ve Eat Cook Bake! More information can be found here.
---