Vegan Enchilada Skillet with Rice - a quick comfort food you have in minutes on the table. This vegan enchilada skillet with the stringy cheese sauce leaves nothing to be desired. Whether you prepare it as a quick dinner during the week or on the weekends as a delicious feel-good meal, it will please everyone.
vegan | vegetarian | dairy-free | egg-free | lactose-free | soy-free | nut-free | gluten-free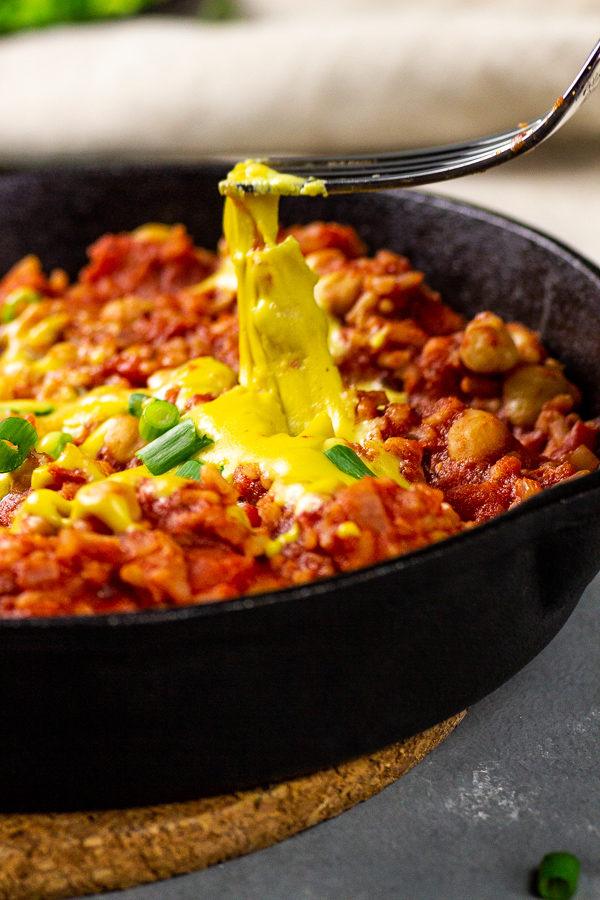 Enchilada Skillet, a vegan feel-good dinner
Do you love Mexican food? Whether burrito, tortillas or fajitas, all are welcome. And Enchiladas are high up. Why not conjure something new from the classic enchilada? So I came to this enchilada skillet, which tastes like an enchilada, but is prepared much faster.
What is the vegan cheese sauce made of?
I have been trying for a long time for a vegan cheese, which is better than most vegan cheeses. As you may already know, tapioca starch helps to make it stretchy. But somehow that's not enough for me. I'm too demanding. Now I've often used psyllium husk powder for baking. If you mix these, you will get a gelatinous consistency that will be great. Now I thought, why not combine these two components. So I experimented around and this is how this delicious vegan cheese sauce was made and tastes great with the vegan enchilada. I continue to try a meltable cheese that has exactly the same characteristics as this cheese sauce. So be curious. In the meantime, I would like to hear from you which vegan cheese is your favorite cheese and which cheese you have missed since you vegan!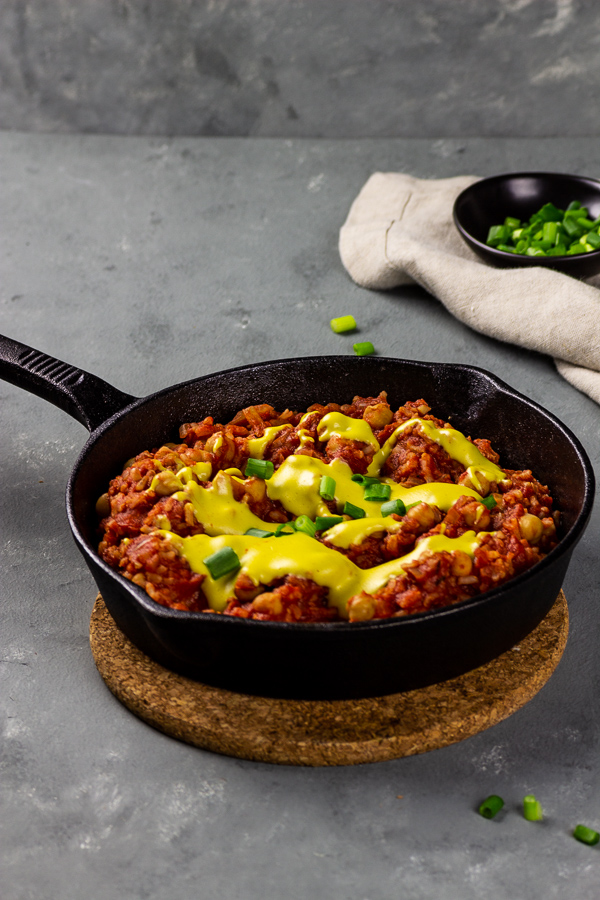 This vegan enchilada pan is:
a one pot dish
cooked quickly,
perfect for a quick and healthy dinner
full of flavor
You like dishes like this vegan enchilada skillet, then look here: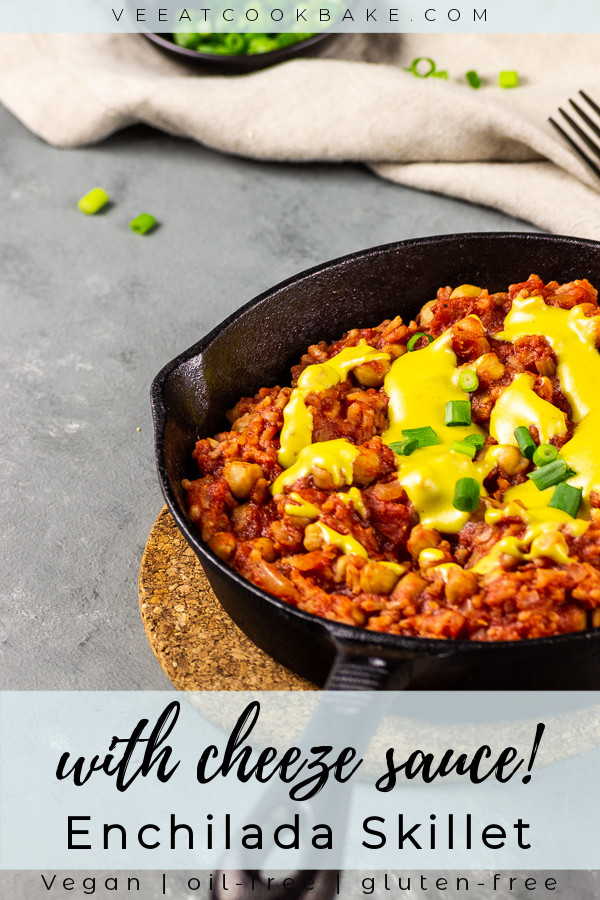 ---
Have you tried the recipe?
If you have, be so nice ♥ and let me know by rating the recipe and writing what you think about it. Tag me on Instagram or Facebook too. I am @veeatcookbake and my hashtag is #veeatcomforts. So that I can see your creation. Did you know you can add photos on Pinterest under the recipe Pin? I can't wait to see a photo of your creation there. You find me with VeeatCookBake. I will share your photos on Instagram and Facebook.
---

This post may contains affiliate links and I may receive a very small commission if you buy through these links at no extra cost. Thank you very much for supporting Ve Eat Cook Bake! More information can be found here.
---