Recipe for a healthy and delicious vegan Cornbread flavored with rosemary, made with corn, whole spelt flour with no sugar, oil and without milk, in a cast iron pan. Served with an amazing fast veggie bake with the typical spices of the southwest. You can easily make some muffins or a casserole with this vegan Cornbread and veggie bake.
Gluten-free opt. | vegetarian | whole foods | plant-based

Is vegan Cornbread quick to make?
This vegan cornbread, which is a classic of American cuisine, is not only quick to prepare, it also tastes great with various vegetable casseroles like this Southwestern Veggie Bake. You only need a few ingredients and these can be mixed in a few minutes in a bowl to a homogeneous dough. This batter can now be filled into a cast iron or into a normal casserole dish, as shown below.
Is vegan Cornbread healthy?
This vegan cornbread not only tastes delicious. Thanks to the full spelt grains and Tahini it even contains extra nutrients. Spelt is said to have much more nutrients than wheat. Amongst others, spelt contains the following nutrients: iron, magnesium, zinc, manganese, copper, silicic acid. It's the same with the vitamins. As you have probably heard Tahini (sesame) is also a very good iron supplier. And if you eat foods containing vitamin C, your body will be able to absorb it better. Therefore, it makes sense to bake this vegetable casserole to the vegan cornbread.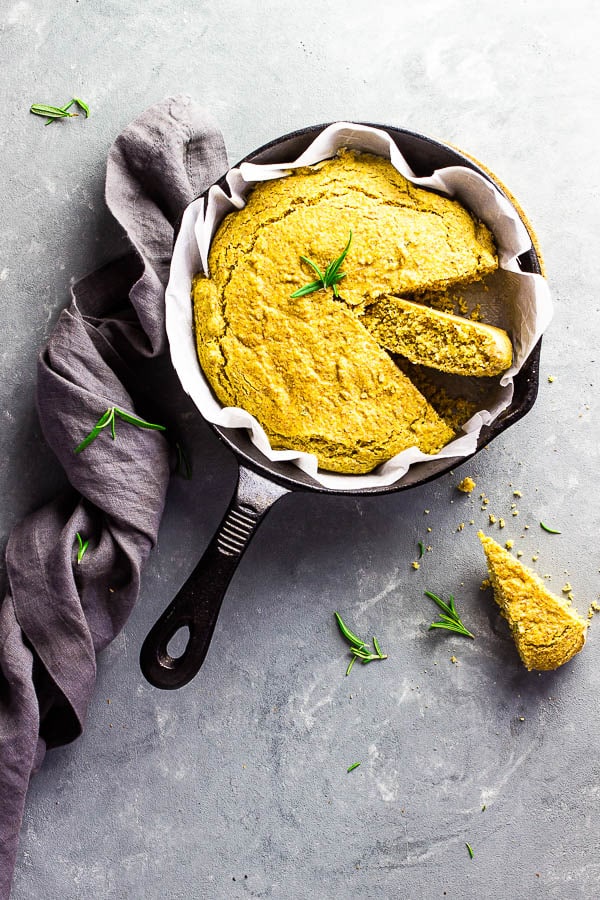 What is special about this vegan Cornbread?
Full of nutrients
Healthy
Simply prepared
A great recipe for lazy days
What else could I like?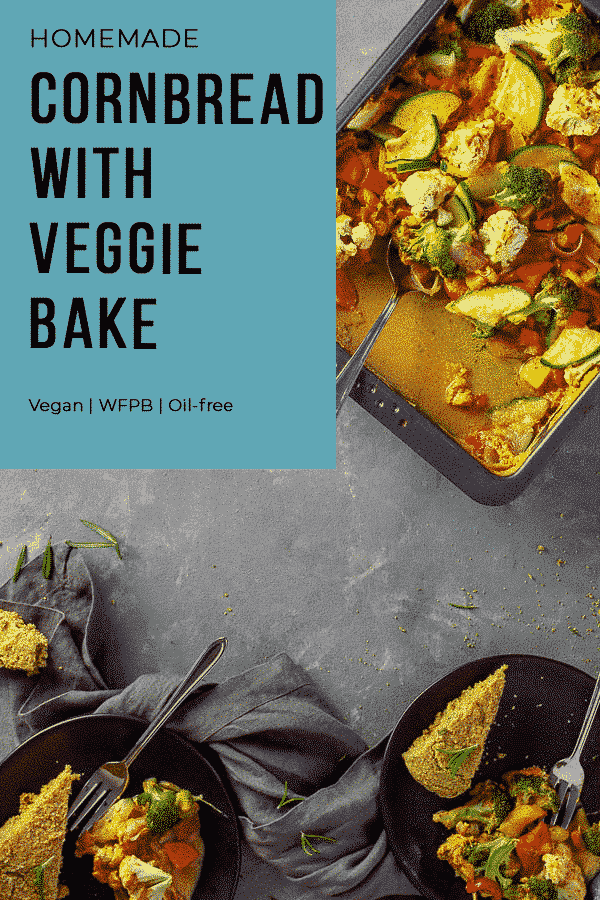 ---
Have you tried the recipe?
If you have, be so nice ♥ and let me know by rating the recipe and writing what you think about it. Tag me on Instagram or Facebook too. I am @veeatcookbake and my hashtag is #veeatcookbake. So that I can see your creation. Did you know you can add photos on Pinterest under the recipe Pin? I can't wait to see a photo of your creation there. You find me with VeeatCookBake. I will share your photos on Instagram and Facebook.
---

This post may contains affiliate links and I may receive a very small commission if you buy through these links at no extra cost. Thank you very much for supporting Ve Eat Cook Bake! More information can be found here.
---
---