Vegan Garlic Yogurt Sauce - A Turkish yogurt sauce recipe that not only serves as a vegan kebab sauce, but also tastes great with other dishes such as falafel, Buddha bowls, salads and more. Vegan yogurt dip with garlic is a true taste explosion for your taste buds, which is in no way inferior to the Turkish version of Ayran.
vegan | vegetarian | gluten-free | oil-free | dairy-free | lactose-free | whole food plant-based| sugar-free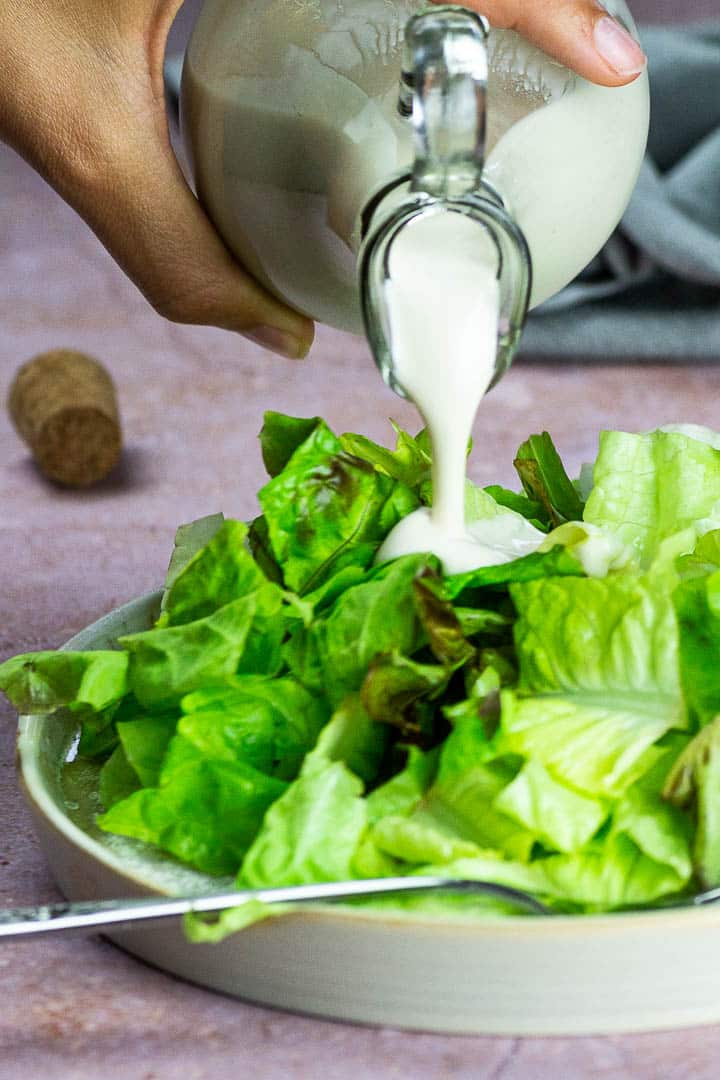 Do you love sandwiches or bowls with a lot of sauce?! Then you should definitely try this vegan garlic yogurt dressing. If desired add some herbs like chives, parsley and / or dill and you'll never get bored with this quick garlic sauce. You only need a handful of ingredients to stock a sauce and to make an outstanding meal out from your usual food.
What is the vegan garlic yogurt sauce made of?
Vegan Yogurt: I recommend taking unsweetened soy or almond based yogurt. This yogurt serves as Ayran substitute (Turkish yoghurt drink). Sweetened yogurt makes the sauce just too sweet and I think it does not come across as delicious as with unsweetened yogurt. I tried both, as it's hard to find unsweetened yogurt in stores here in the US.
Apple Cider Vinegar and Lemon Juice: Adds the typical acidic taste of a kebab sauce. Lemon juice also supports iron absorption, thanks to its vitamin C.

Salt:

Kebab sauce is usually a sauce made from Ayran. Ayran is a salty yoghurt drink. To get the taste that way, we need some salt. I would start with 1 teaspoon sea salt and see how it tastes.

Cashew Butter or Tahini:

To get a creamy consistency, I recommend the addition of Tahini or cashew butter, which makes the vegan garlic sauce creamier.

Fresh garlic:

In a garlic-yogurt-sauce fresh garlic should not be missing. Fresh garlic gives the sauce a special note. Garlic powder is not exactly the same as fresh garlic.
To make the vegan yoghurt sauce, we just need to mix all the ingredients together and let it absorb the garlic taste.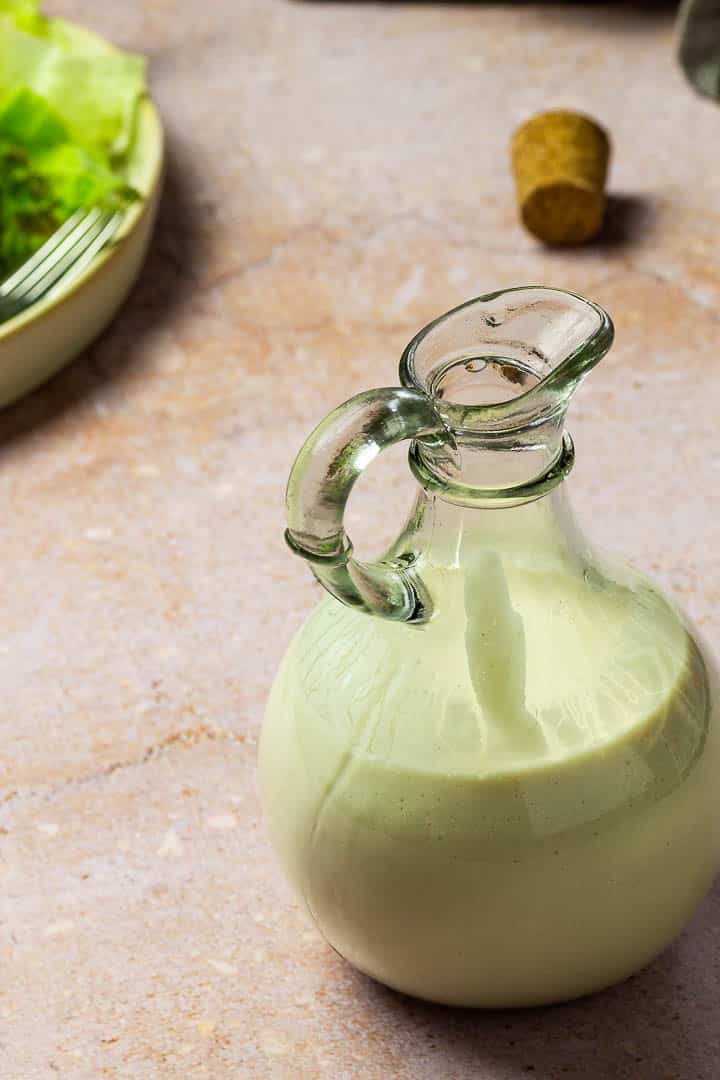 How long does this delicious vegan kebab yogurt sauce last?
The sauce stays in the fridge for about 3-4 days. We have not froze the sauce so far. I would be happy to read some experience below. Please keep the sauce in a sealable container, such as preserving (Mason) jars. Remember to stir the sauce briefly before serving. If the sauce is slightly thicker than it was, simply add some water and dilute until desired consistency is achieved.

What are some uses for the sauce?
At the top of the list is the vegan kebab. The sauce tastes perfect with the Turkish food.
ry the vegan garlic yoghurt sauce as a salad dressing. We love it.
It also tastes excellent as a dip for raw vegetables and / or potato wedges.
If you like to prepare sandwiches and wraps, then you should try this sauce on your next sandwich.
Do you like Falafel too? If you want to eat it something other than a Tahini sauce, then prepare this tasty sauce.
Tofu skewers taste great with this delicious garlic yoghurt dressing.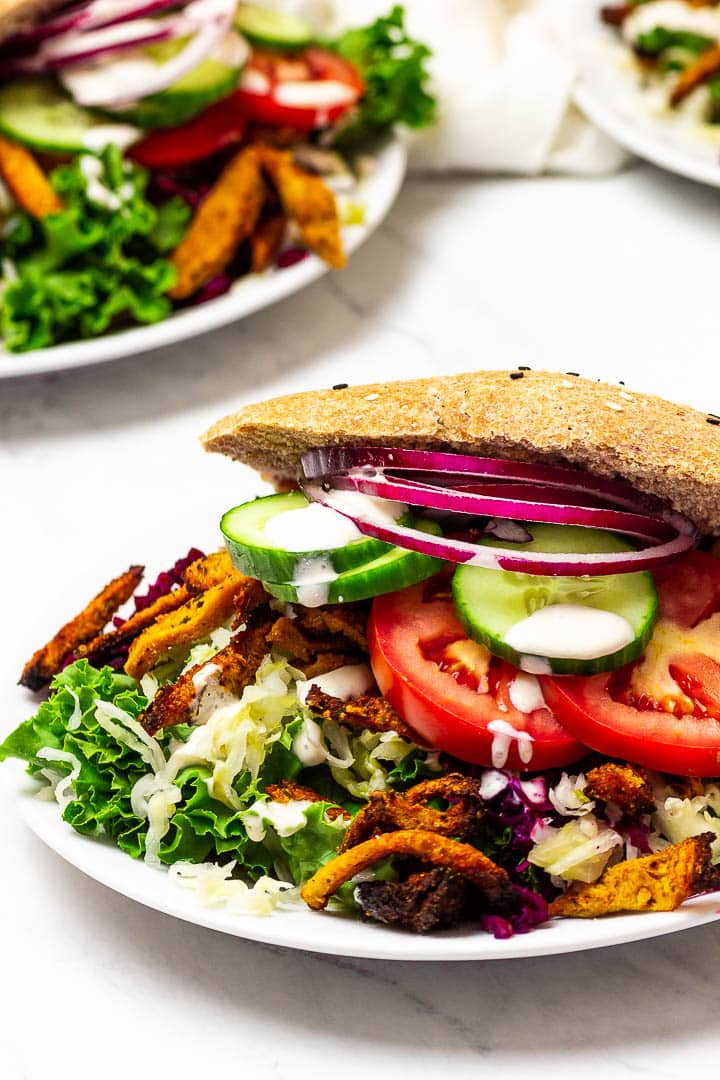 Tips for the vegan yogurt sauce
I recommend using unsweetened yogurt. You can also use homemade unsweetened yogurt. So far, I have used soy yoghurt and almond yoghurt for this delicious, sugar-free dressing.

Use fresh garlic or garlic powder? I recommend fresh garlic here. Simply for the delicious taste of fresh garlic, you should already resort to fresh. However, if you do not have some fresh, you are welcome to use the powder. However, the sauce will taste a little different than with fresh garlic.

If you like this sauce but you want some variation? Here I can recommend adding some herbs like parsley, chives or dill.
You like the recipe? Do not forget to Pin on Pinterest!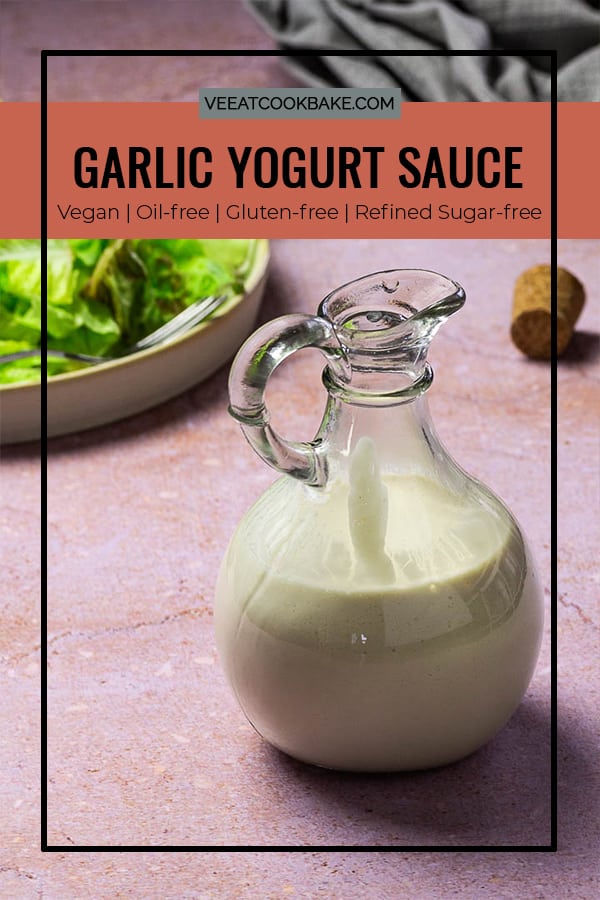 Have you tried the recipe?
If you tried the vegan garlic yogurt sauce, be so nice ♥ and let me know by rating the recipe and writing what you think about it in the comments. Tag me on Instagram too. I am @veeatcookbake and my hashtag is #veeatcookbake. So that I can see your creation. Did you know you can add photos on Pinterest under the recipe Pin? I can't wait to see a photo of your creation there. You find me with @veeatcookbake. I also would love to hear your feedback so I can share it on my social media channels.

This post may contains affiliate links and I may receive a very small commission if you buy through these links at no extra cost. Thank you very much for supporting Ve Eat Cook Bake! More information can be found here.
---