For this vegan garlic sauce you only need 5 ingredients and most of them you will probably have in your pantry like us. Easy recipe for your next buddha bowls.
Garlic lovers must definitely try this super quick garlic sauce once. And if you feel busy, then you only have to sacrifice 5 minutes of your precious time and this versatile dairy-free yogurt garlic sauce is ready to serve.
You do not even need a food processor to make this creamy garlic sauce.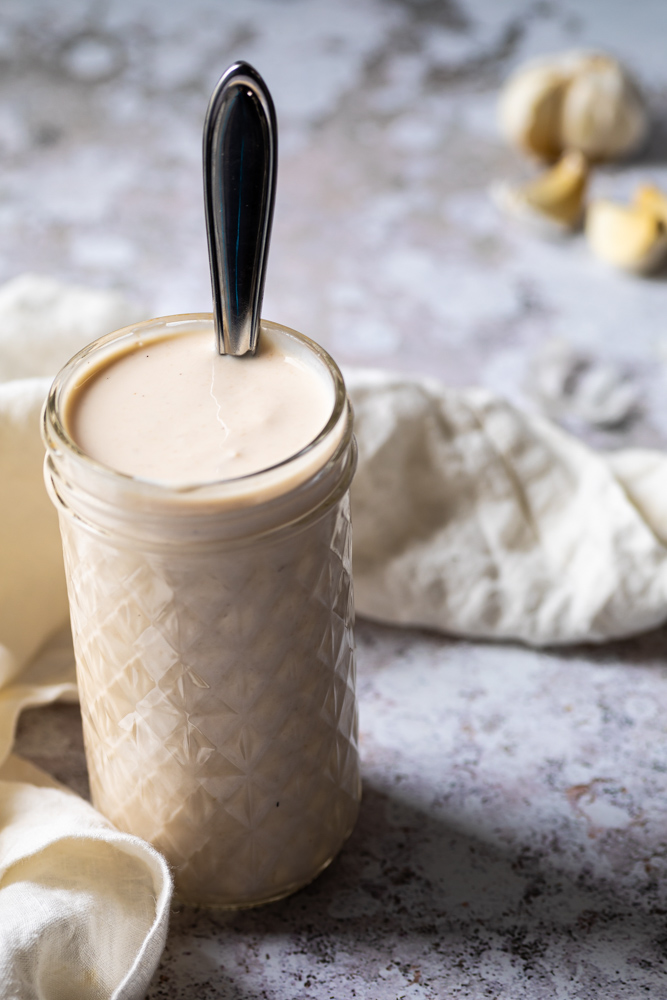 As an Amazon Associate, I earn from qualifying purchases. This post may contain affiliate links. Read More
Jump to:
This is not just great for a doner kebab, but also as a vegan sandwich sauce or as an oil-free salad dressing, this yogurt sauce with garlic is simply super delicious.
Can you never get enough of garlic? Or do you have a different opinion? If you landed here, it's probably because you love garlic, and this vegan garlic yogurt sauce will amaze you.
You already love a vegan tzatziki sauce recipe? Then this delicious sauce will just taste as amazing.
Take the white sauce, a piece of pizza and dip the pizza in it. Yuuum. You can eat this sauce with just about anything. And best of all, you don't need any sugar, no oil for this sauce recipe. Instead, you make these with plant-based unsweetened plain yogurt.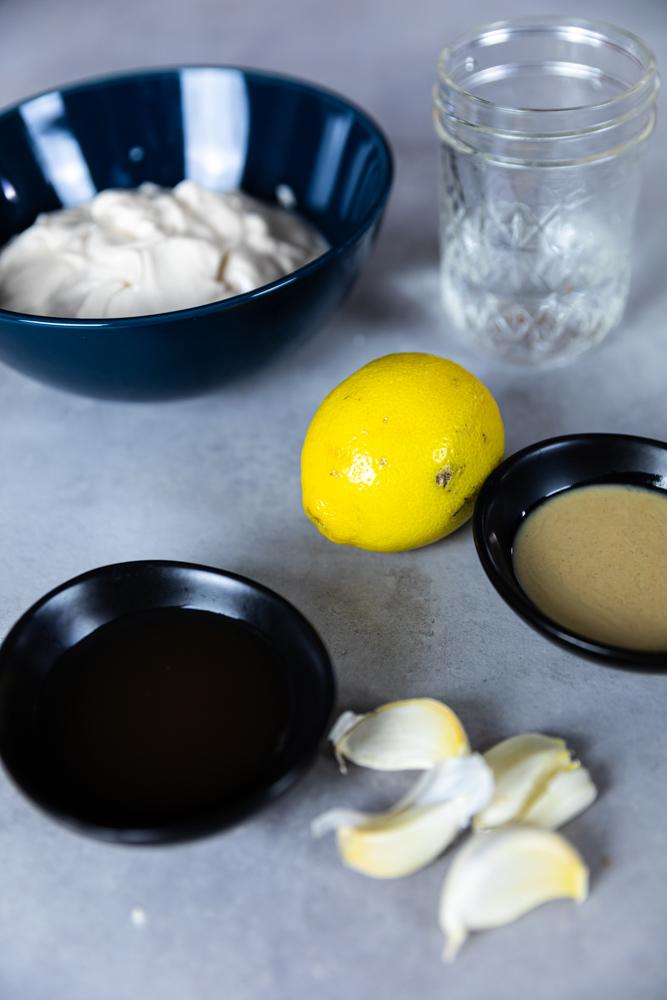 Ingredients
Then let's just take a look at the handful of ingredients you require for this great vegan garlic sauce.
As always, the exact quantities can be found below in the recipe card.
Vegan unsweetened yogurt
Apple Cider Vinegar
Lemon Juice
Tahini
Fresh Garlic Cloves
Sea salt and White Pepper
Optional: herbs such as dill, parsley, chives
Substitutions
Also, with this quick sauce recipe, I would like to show you substitution options.
Yogurt
If you can't find unsweetened plant-based yogurt now, or you don't want to go to the store, you may have all the ingredients for the vegan mayo without oil.
You could also use some vegan sour cream, cashew cream made with raw cashews or combine yogurt with cashew cream. You can either use almond yogurt, soy yogurt.
Important it is not too sweet otherwise the vegan kebab sauce will turn a little sweet.
Then simply prepare double the amount and proceed as in the recipe.
Tahini
The tahini serves as an oil substitute, if you don't have a tahini at home, you can use cashew butter or almond butter instead.
Apple Cider Vinegar
You can use white wine vinegar instead of apple cider vinegar. You can replace both of them 1:1.
Lemon Juice
Thanks to the lemon juice, you have to add less salt. Which is ideal for a low-salt diet.
You can also replace the lemon juice with lime juice.
Variations
As always, I'll be happy to show you variants of the vegan garlic sauce.
This dairy-free sauce recipe is already gluten-free. Depending on which yogurt you use, you can make the garlic sauce nut-free or soy-free.
You can really use your favorite yogurt here.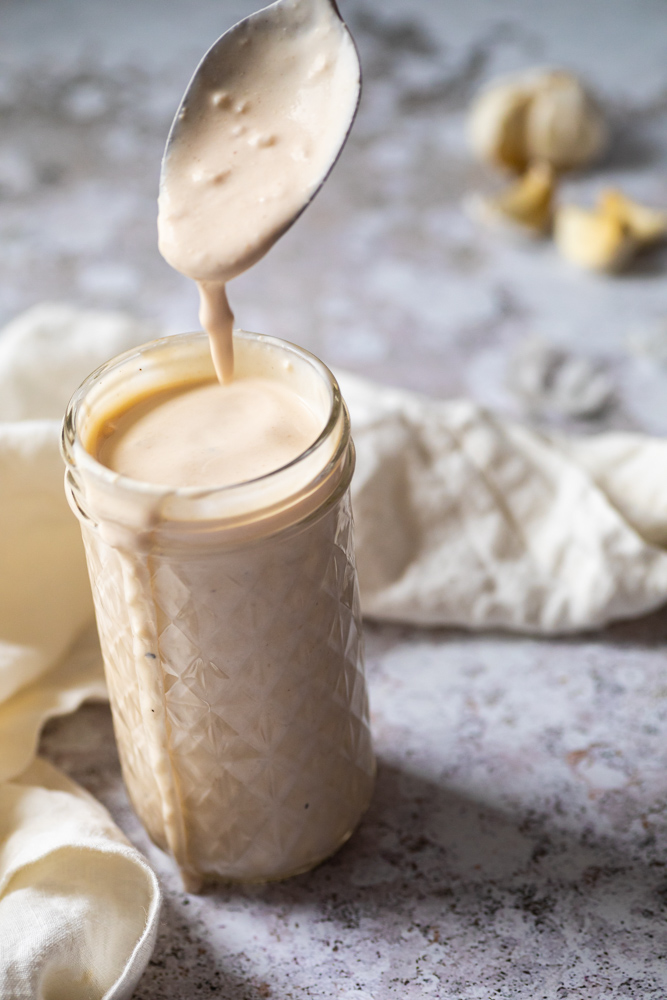 Instructions
Put all the ingredients for the vegan garlic sauce in a mixing bowl and stir with a whisk. You should chop the garlic very finely or put it through a garlic press.
Season the sauce with a little sea salt and pepper.
You can also add herbs if you wish.
Prepare in advance
This recipe is great for prepping in advance and then eating during the week.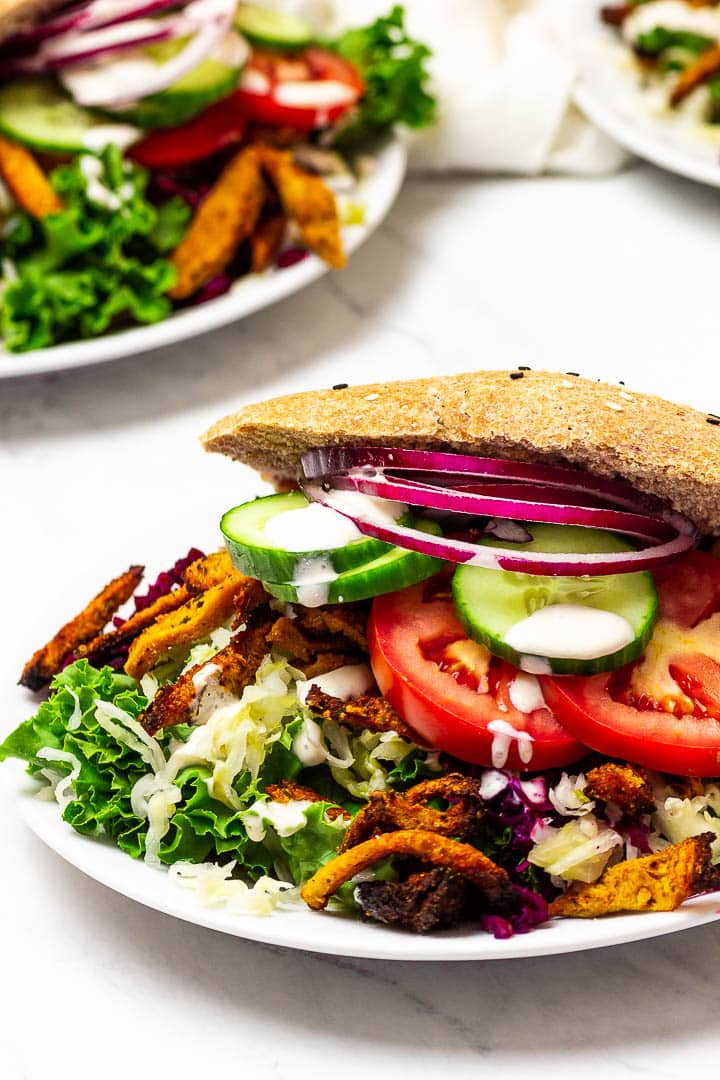 Recommended equipment
All you need for this vegan garlic sauce is a mixing bowl and a whisk.
Serving options
With this vegan yogurt sauce with garlic you have a diverse sauce that really goes well with many things like as a creamy dip:
Salad Dressing
Sandwich Sauce
Pizza Dip Sauce
Wraps
White Pizza Sauce
Garlic Pasta Sauce
Vegan Gyro
Pita Bread
Storage
Do you have leftovers or did you cook in large quantities? Here I will show you how you can store the leftovers of the vegan garlic sauce.
How to refrigerate it?
The garlic sauce can be kept in an airtight container in the refrigerator for approx. 5 days.
How to freeze it?
You can also freeze the sauce in portions and then let it thaw. So you always have a universal sauce at hand quickly. The sauce will keep there for about 3 months.
Tips
Depending on the yogurt sauce you use, add a little more tahini so that you get a creamy sauce. I like to use almond or soy-based yogurt.
Let the sauce sit for 30 minutes and taste again. You can add more garlic if you want.
Add some fresh herbs to get other flavors with this garlic sauce. Like cilantro for a cilantro garlic sauce. Or fresh parsley or fresh dill.
Add a cheesy note with some nutritional yeast.
You want a thicker consistency, add some more tahini or nut butter.
Add as much garlic cloves as you want to. Adjust to your spice level. I cannot have enough garlic in my yogurt-garlic sauce.
More vegan recipes

Have you tred the recip
If you tried the vegan Recipebe so nice ♥ and let me knw byrating the recipe and writing what you think about it in the comments.  I would love to see your photo on Instagram orFacebook. To do this tag me with @veeatcookbake andmy hashtag is #veeatcookbake. So that I can see your creation. Did you know you can add photos n Pinterest under the recipe Pin? I can't wait to see a photo of your creation here. You find me with @veeatcookbake