Vegan dip that reminds you of the taste of a cheeseburger. This plant based dip is prepared with lentils and is super quick and easy to prepare. You shouldn't forget this dip in your vegan dip repertoire.
For this vegetarian cheeseburger dip you don't even need meat or dairy products to create the taste of the traditional cheeseburger dip. This lentil dip conjures up a great lentil appetizer and finger food.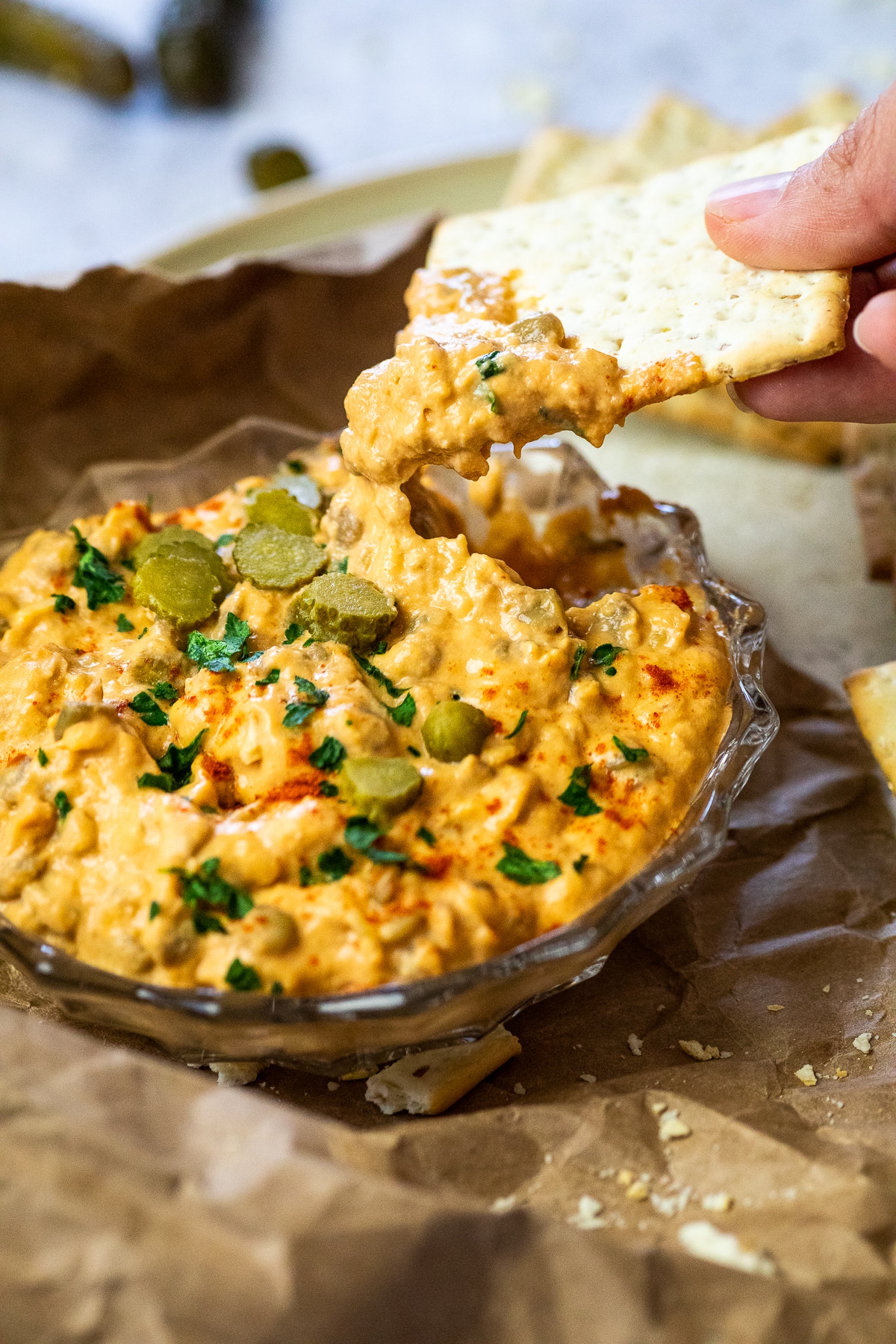 As an Amazon Associate, I earn from qualifying purchases. This post may contain affiliate links. Read More
Jump to:
As a quick lentil spread, you can top great vegan sandwiches and vegan toasts. If you are looking for great lentil snack recipes, prepare this oil-free cheeseburger dip and dip in delicious vegetable sticks such as bell peppers, cucumbers and the like.
Your friends who don't eat vegan will also enjoy this dip. It's cheesy, mustardy, tomato-like and tastes like eating a cheeseburger.
Party planned? Are you looking for extraordinary vegan dip recipes? This dip, because you don't see it every day, should definitely be on your to-do list.
This plant-based dip is oil-free, sugar-free and, if desired, nut-free and gluten-free.
I'll show you how to make the vegan cheeseburger lentil dip, as well as give you alternative options and more tips and tricks.
Ingredients
Let's take a look at what you can expect from this vegan lentil dip and what ingredients are included in such a tasty cheeseburger dip.
You can find the exact quantities below in the recipe card.
Onion
Garlic
Lentils
Cashews
White Beans
Pickle Juice
Pickles
Tahini
Soy Sauce
Garlic Powder
Onion Powder
Psyllium Husk Powder
Yeast Flakes
Tomato Paste
Mustard
Sea-salt
Black Pepper
Alternatives
Now let's take a look at which products we can replace with others without any problems.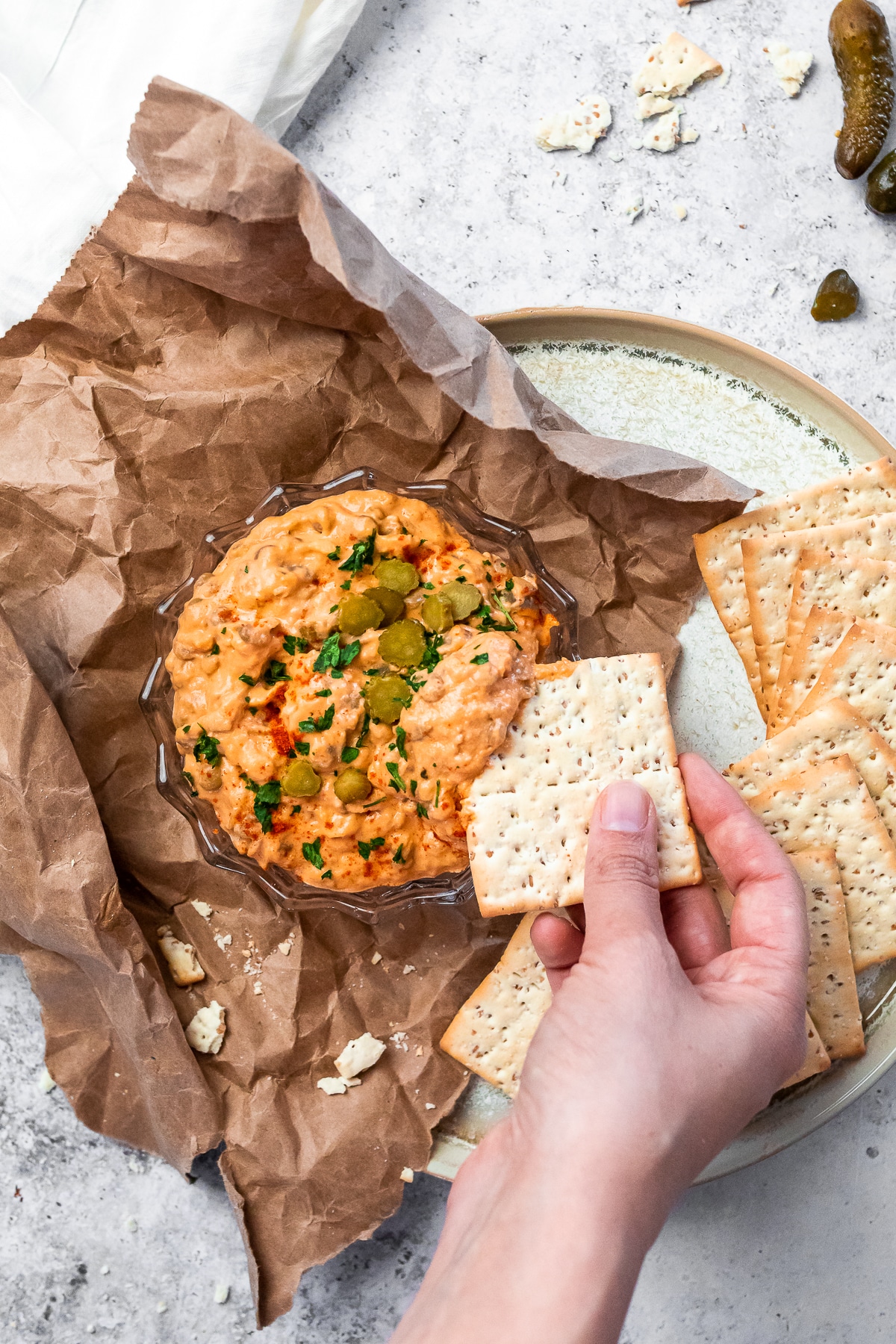 Lentils
You don't want to use lentils with the vegan cheeseburger dip. That is absolutely no problem. You can either use TVP (textured vegetable protein) here, which you have to soak beforehand.
You can also use purchased vegan ground meat. I try to use more unprocessed foods, and I love the consistency of lentils in this dip.
You could also sauté and use chopped mushrooms.
Cashews
Can you eat cashews or do you want to make the dip a little cheaper, budget friendly? Here I recommend that you use the same amount of sunflower seeds.
I currently love cooking with sunflower seeds, the last time I used it to prepare my pesto cream sauce. And it turned out incredibly creamy.
White Beans
If you don't tolerate legumes, or especially white beans, then use more cashews or sunflower seeds instead.
Soy Sauce
There are two ways to substitute soy sauce. For one, you can use gluten-free soy sauce, also known as tamari. Or you can use the soy-free alternative coconut aminos.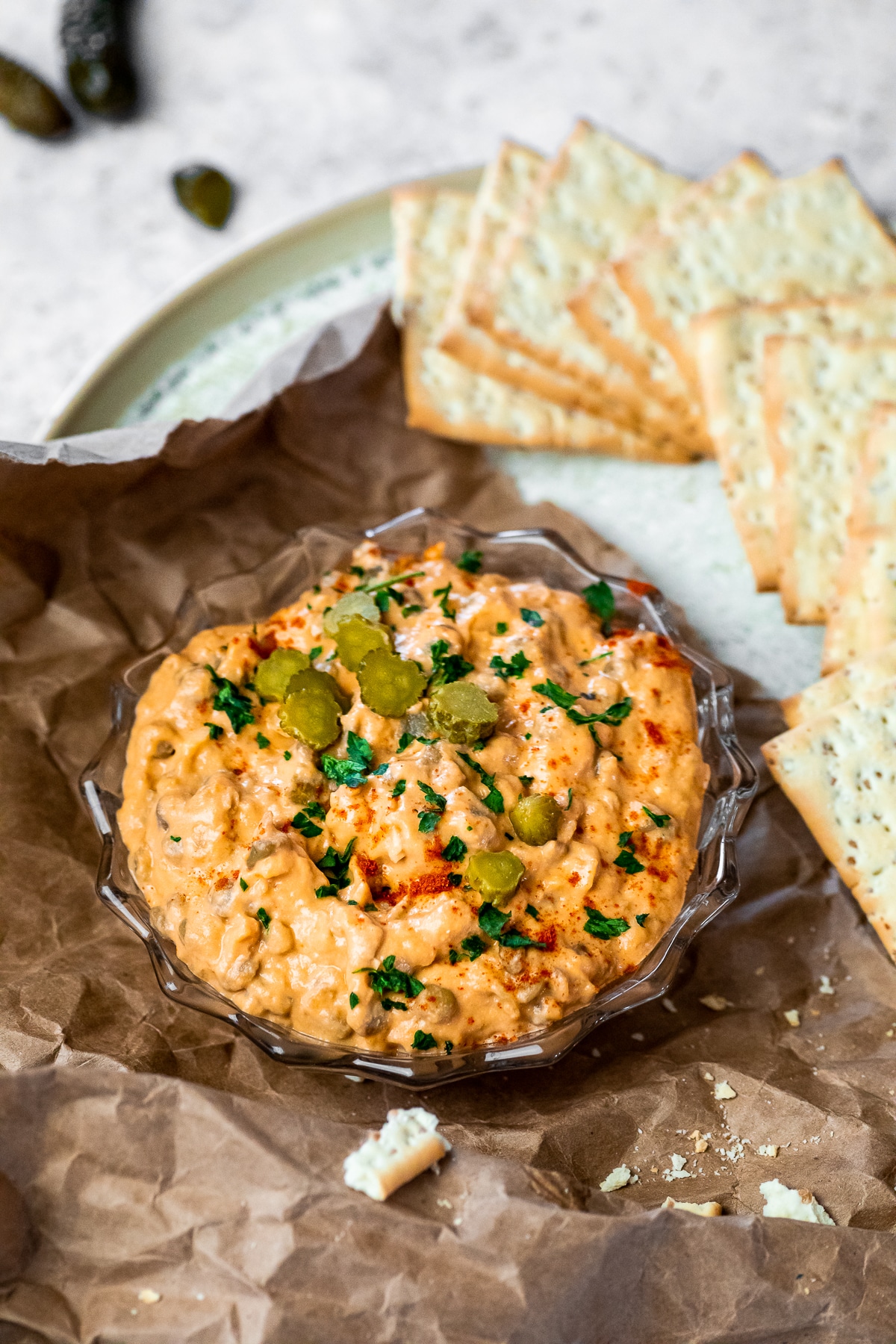 Variants
There are so many different diets. Here I would like to show you how you can adapt this vegan cheeseburger lentil dip to other diets such as gluten-free, nut-free, soy-free, keto, paleo.
Gluten free
To make the lentil dip gluten-free, you basically only have to use coconut aminos or tamari instead of soy sauce.
Nut free
A nut-free vegan lentil dip can be made with sunflower seeds, so you can make a dip quickly and budget-friendly.
Soy free
Instead of the soy sauce, use coconut aminos and you've created a great soy-free vegan dip.
Keto
Keto is all about cutting down on carbohydrates. Instead of the lentils, I recommend you use mushrooms here, if you dice them and fry them, they are a great alternative.
Instead of the white beans, use more cashews or sunflower seeds. Instead of the soy sauce, use coconut aminos.
Paleo
With the Paleo diet it is a matter of dispute whether legumes are included or not.
If you don't consume legumes, use mushrooms as you do with the keto variant and more cashews instead of white beans.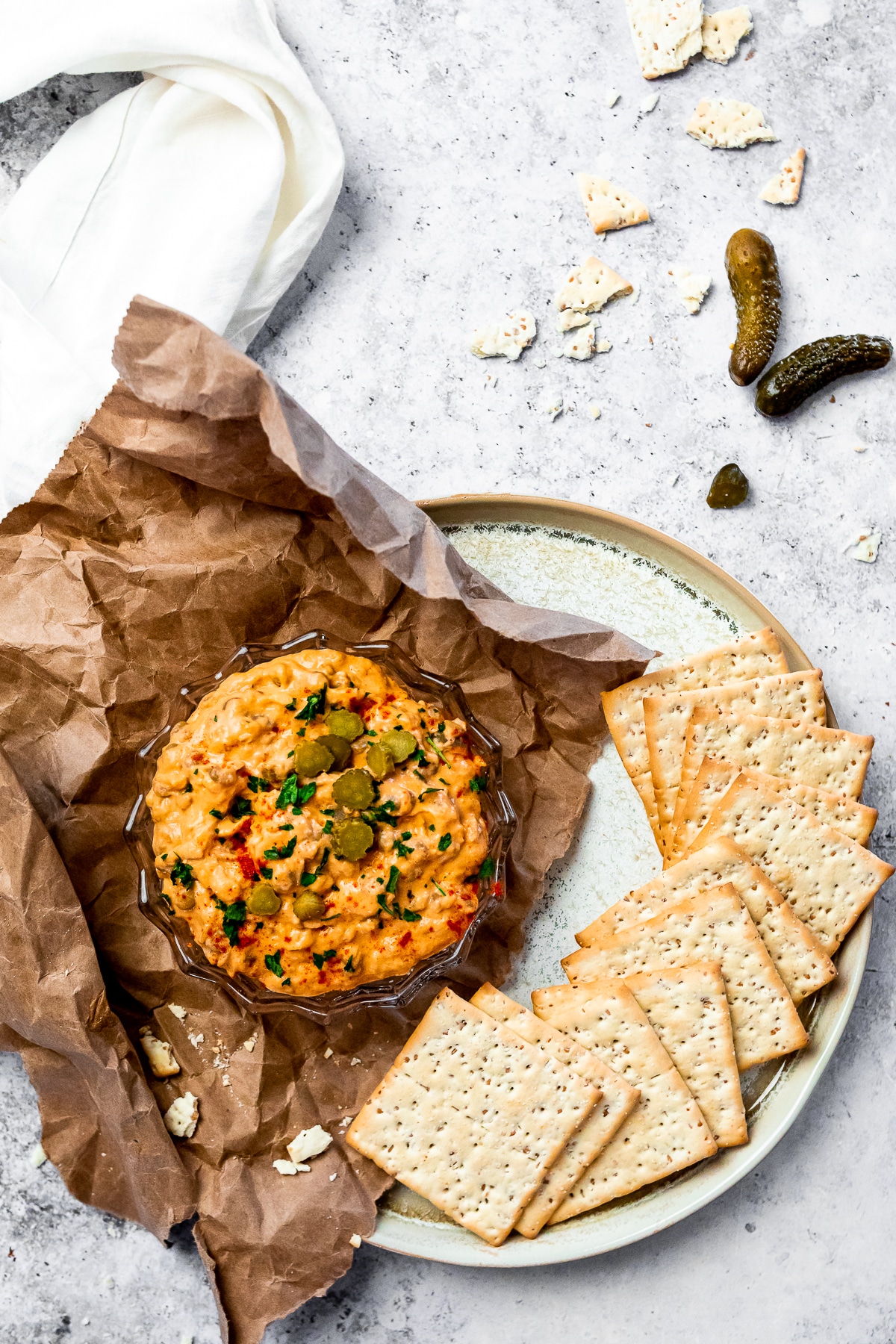 Instruction
Start cooking the lentils until they are firm to the bite according to the package instructions.
In the meantime, chop the onion and garlic and fry them vigorously in a coated pan, adding a sip of water every now and then.
Now take a high speed blender and add the remaining ingredients except for the pickles. And blend until you get an incredibly creamy sauce.
Now add these to the fried onions and stir until they thicken.
Take the dip off the stove and stir in the chopped pickles and lentils. Let the dip cool down.
Garnish the dip with chopped pickles, parsley, green onions, or coconut bacon.
Prepare in advance
This vegan cheeseburger lentil dip is also great to prepare in advance.
I recommend making the dip the day before. And take them out of the refrigerator about 30 minutes before serving so that it is not too cold.
Serving options
This lentil dip is so versatile that there are different ways to serve it.
You can serve it with bread chips, simply cut bread into very fine slices and toast it in the oven.
Dipping vegetable sticks in this vegan lentil dip also tastes great.
Use the dip as a spread and prepare a great sandwich, which you can eat on the go and is suitable as a school lunch or for work.
Storage
Do you have leftovers and don't know what to do with them?
How to refrigerate it?
This dip can be kept in a sealed container in the refrigerator for about 5 days. So you can eat the dip during the week, whether as a snack or as a sandwich for lunch, that's up to you.
How to freeze it?
You can also freeze the lentil dip really well. To do this, simply pour the dip in portions into containers and freeze. To thaw, take the dip out of the freezer the evening before and thaw it in the fridge.
Tips
If the dip is too thick and firm for you, stir in some plant-based milk such as almond milk. Make sure you are using unsweetened almond milk.
If the lentil dip is too runny for you, let it thicken a little longer in the pan.
Bring variety to the dip and add diced tomatoes or other vegetables.
Don't cook the lentils too soft, we want something to bite on in the dip. In addition, always taste a lentil to see whether it is soft enough, but not so soft that it gets mushy.
More vegan dips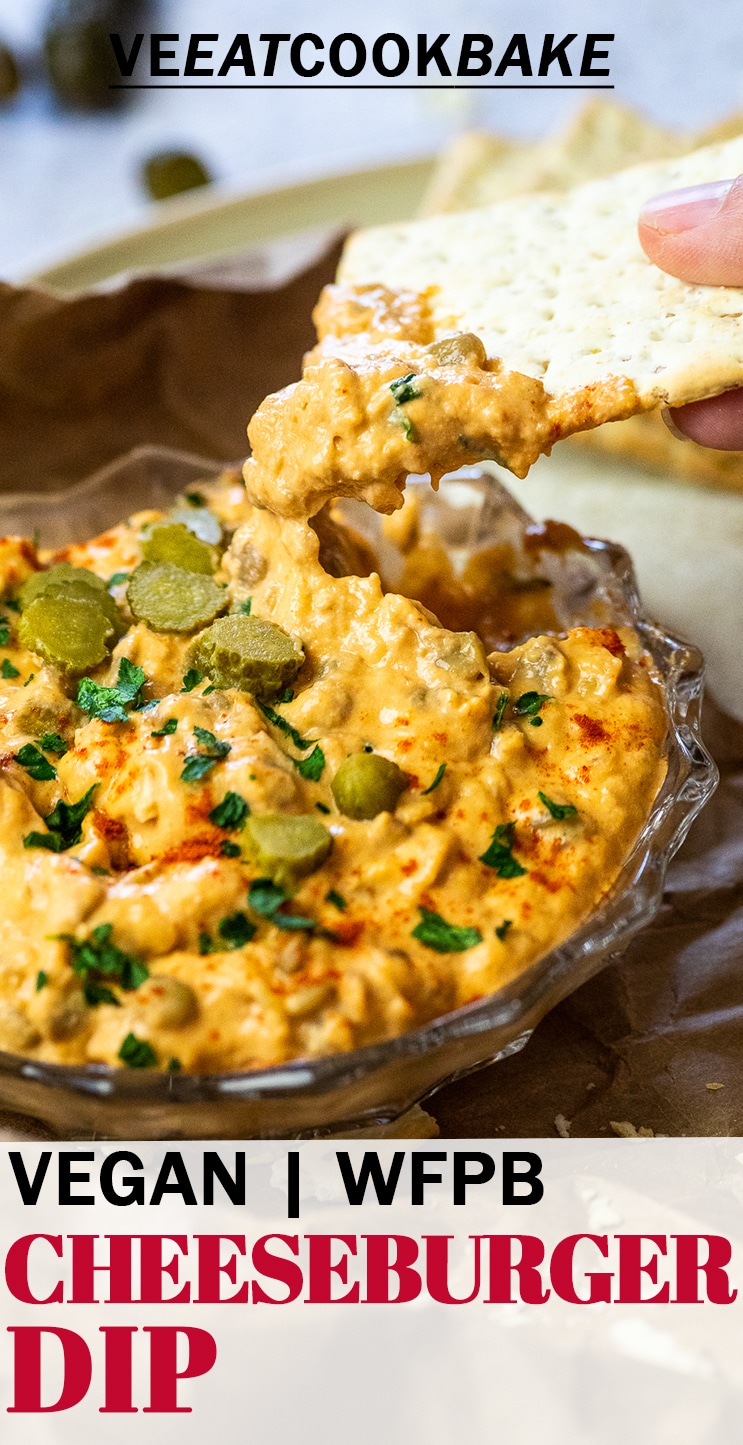 Have you tred the recip
If you tried the vegan Recipebe so nice ♥ and let me knw byrating the recipe and writing what you think about it in the comments.  I would love to see your photo on Instagram orFacebook. To do this tag me with @veeatcookbake andmy hashtag is #veeatcookbake. So that I can see your creation. Did you know you can add photos n Pinterest under the recipe Pin? I can't wait to see a photo of your creation here. You find me with @veeatcookbake