Brownie Batter Hummus or also known as Chocolate Hummus is a great healthy and vegan alternative to classic chocolate spreads. Thanks to the chickpeas, this sweet spread is full of protein and tastes good not just on bread or for dipping.
Try this delicious, creamy brownie hummus on waffles, crepes or pancakes. Or as a healthy snack dip for dipping fruit.
You can also simply spoon this dessert chocolate hummus for dessert, it tastes so good.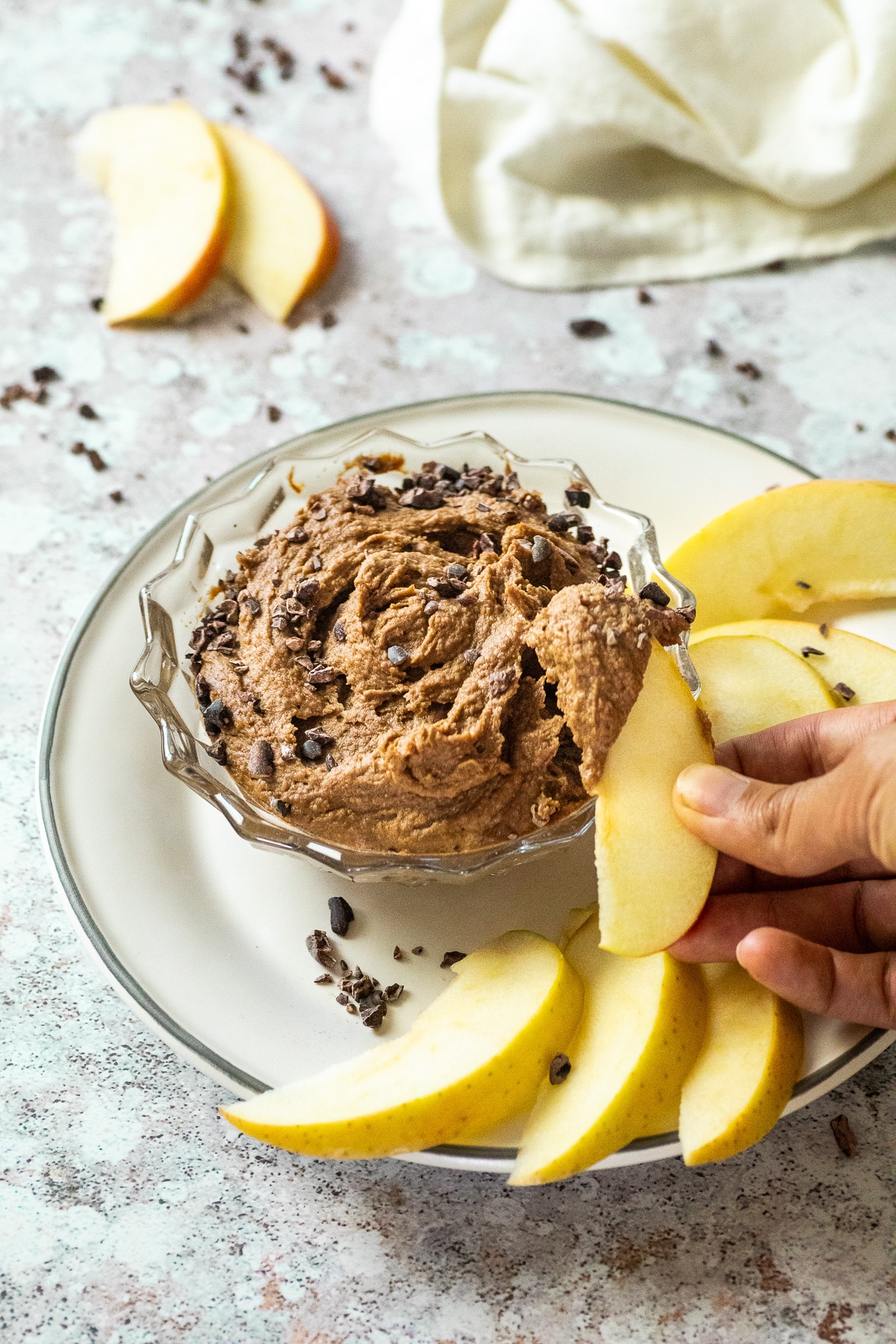 As an Amazon Associate, I earn from qualifying purchases. This post may contain affiliate links. Read More
My children are absolutely thrilled with this delicious gluten-free chocolate hummus that we sweeten with dates. This hummus works without any oil, is refined sugar free and the perfect snack when they want something sweet.
We don't just dip apples, strawberries or bananas in this delicious Brownie Batter Hummus Dessert Dip. I also love to serve it on crepes or as a sweet spread.
This delicious pantry-friendly Brownie Dough Hummus will be on your table in 10 minutes. If you ever crave something sweet, I recommend you to prepare this great dairy-free chocolate hummus. This will satisfy your craving for chocolate.
This chocolate brownie hummus variant is more budget-friendly than the chocolate hummus you can buy.
Let's take a look at the recipe, I will not only show you what you can use and how to make chocolate hummus, I will also show you variants and alternative options.
Is Brownie Batter Dessert Hummus good for you?
Chocolate hummus is made from whole food plant based foods. We don't use highly processed foods. This brownie hummus is naturally sweetened with dates. If you want, you can add chocolate chips or cocoa nibs to make it even more chocolatey.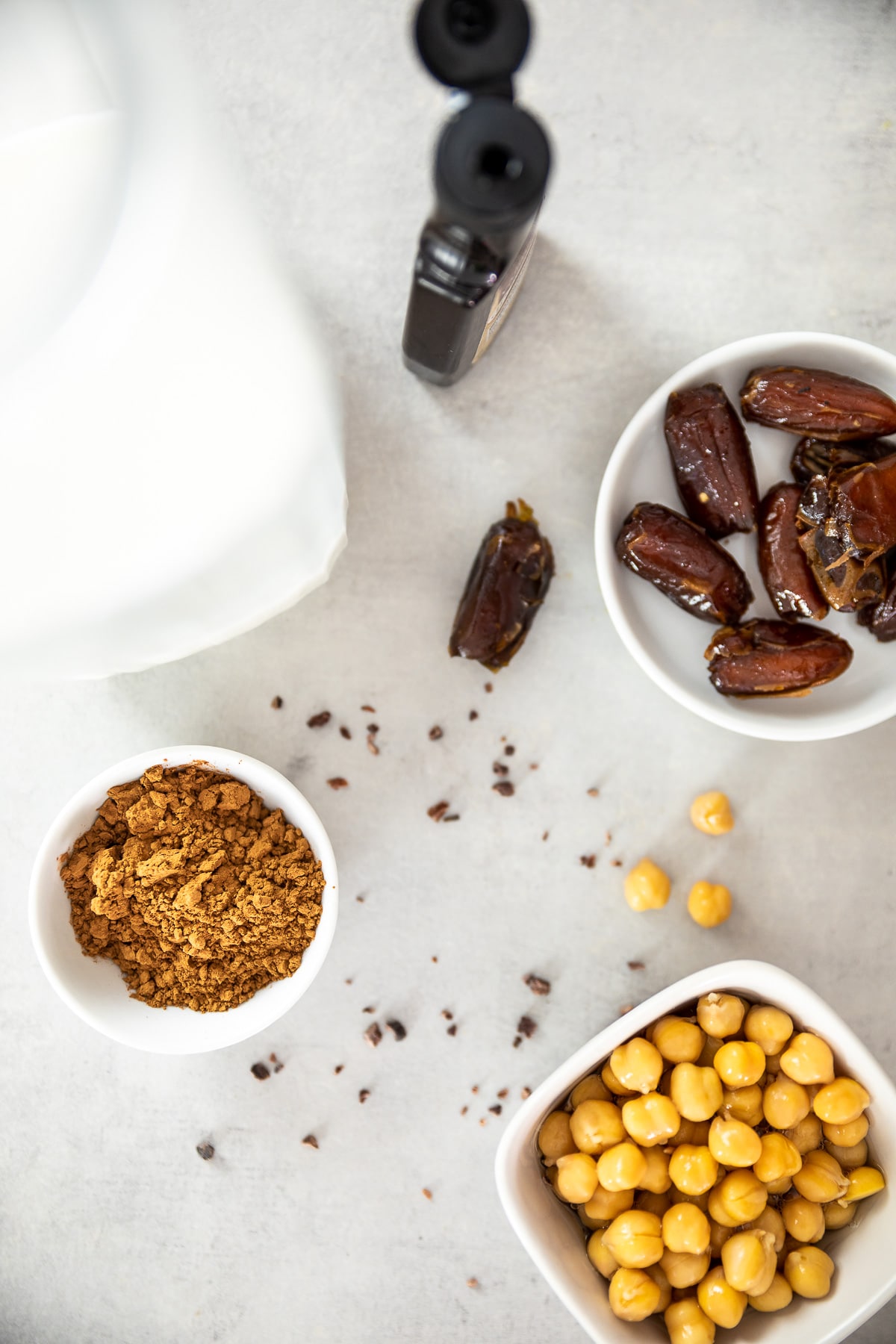 Ingredients
Now enough of the talk and let's take a look at the ingredients that go into this incredibly creamy brownie hummus. You will see, we only use natural foods. You can find the exact quantities below in the recipe card.
Chickpeas
Water
Dried Dates
Cocoa Powder
Vanilla Extract
Almond Butter or other nut butter
Almond Milk
Substitutions
Now let's take a look at how we can replace select ingredients for the chocolate hummus.
Chickpeas
The main ingredient for this chocolate hummus consists of chickpeas. You can of course also use e.g. white beans or black beans and use them to make the dip. Simply replace it 1:1. You may need to adjust the water, as beans are slightly more runny than chickpeas when puréed.
You can also replace just part of the chickpeas.
Dates
The dates are used as a sugar substitute in the vegan chocolate hummus recipe. Dates are full of natural sugar and other valuable nutrients. If you don't have dates at home or don't want to use them, you can also use coconut sugar or date syrup.
Almond Butter
If you 0don't want to use any nuts or almonds, here you can also use sunflower seed butter or tahini. However, almonds or cashews taste the most neutral.
If you want to conjure up a protein Nutella from the chocolate hummus, add some toasted hazelnut butter or add a few toasted hazelnuts and mix until the nuts are creamy.
Almond Milk
You can also use other plant-based milk for the chocolate hummus. You can use soy, rice or oat milk. Just make sure that you are using an unsweetened milk alternative.
Variations
If you do not only eat plant-based foods, but also follow other forms of diets. Here I would like to show you a few alternatives.
Gluten free
The chocolate hummus is already gluten-free and does not need to be adjusted. We do not use foods that contain gluten.
Keto
Legumes, which include chickpeas, are not necessarily keto-friendly because they are relatively high in carbohydrates, even if they are full of protein.
If you now want to prepare the chocolate hummus in a keto version, I recommend using cauliflower. Here you can use approx. 2 cups (250 ml volume) cauliflower florets, which you briefly roast in the oven. And use 1 avocado to make the chocolate hummus nice and creamy.
Instead of dates, use your favorite keto sweetener.
Paleo
As with keto, you can use cauliflower and avocado for a paleo diet.
The difference to the keto diet, you can use dates as a sweetener.
Instruction
Start by soaking the dates in hot water.
In the meantime, you can sieve the chickpeas and put them in a food processor. Add cocoa powder, vanilla extract, nut butter and the soaked dates.
Now mix it until it has a creamy consistency.
It can take a while.
Add a dash of milk until the desired consistency is achieved. For me it's about 3 tablespoons of almond milk.
Prepare in Advance
This brownie batter hummus can be prepared in advance as a meal prep. Simply keep the hummus in the refrigerator in an airtight container.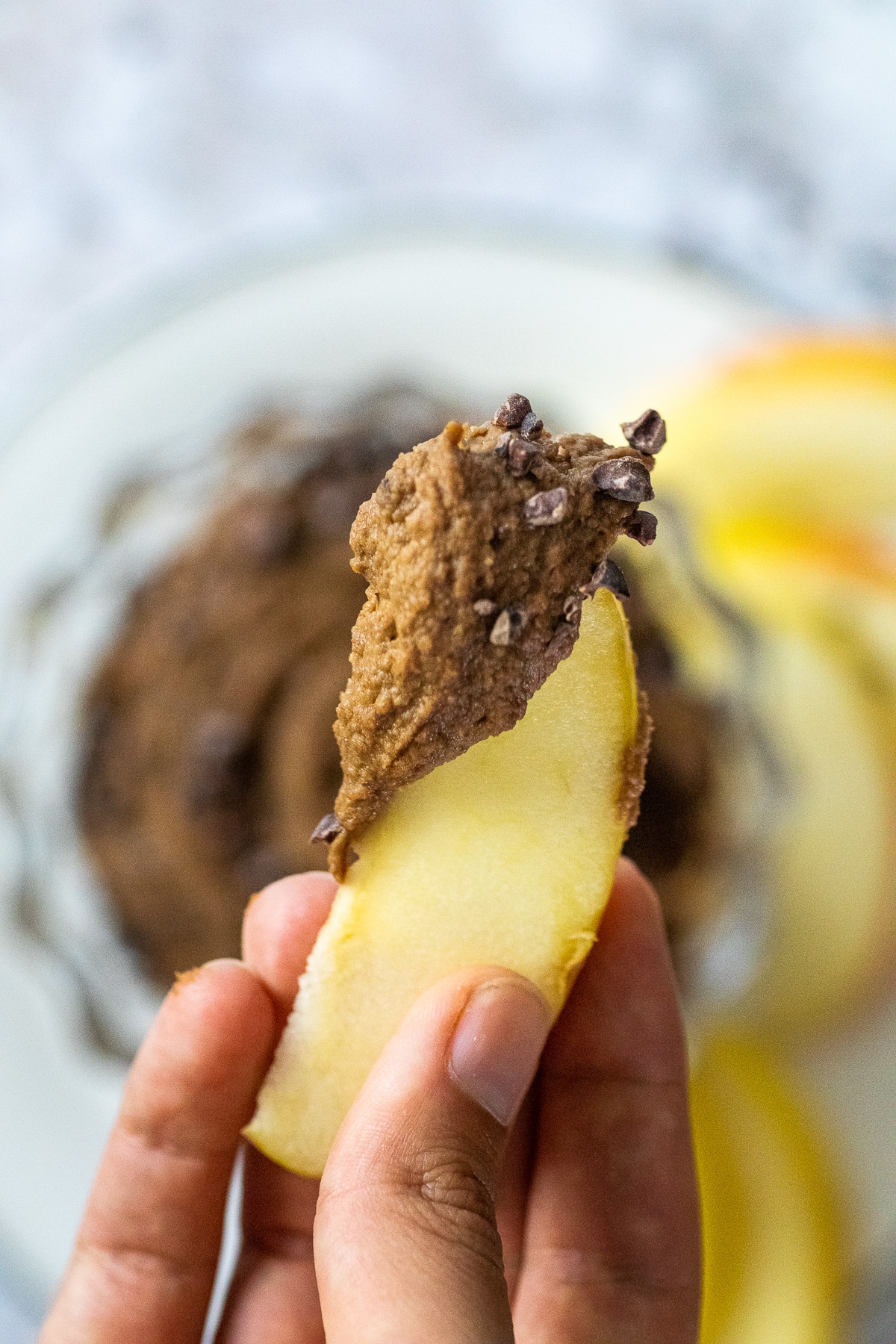 Serving Options
Now let's see what you can serve with this delicious brownie dip.
Cracker
Pretzels
Fresh Fruit, e.g. Apples, strawberries, bananas
Simply spoon as a pudding alternative
Storage
Got some chocolate hummus left? Then let's take a look at how you can store it.
How to refrigerate it?
You can store the hummus in an airtight container in the refrigerator for about 7 days. With us it usually doesn't get that old.
It is best to put the hummus in small containers, in portions, so you don't run the risk of the hummus spoiling faster when dipped.
How to freeze it?
You can also freeze this hummus well. Simply freeze portions in containers and take out the evening before and let them thaw in the refrigerator.
This chocolate hummus is great as a meal prep and you can make it in larger quantities and freeze some of it.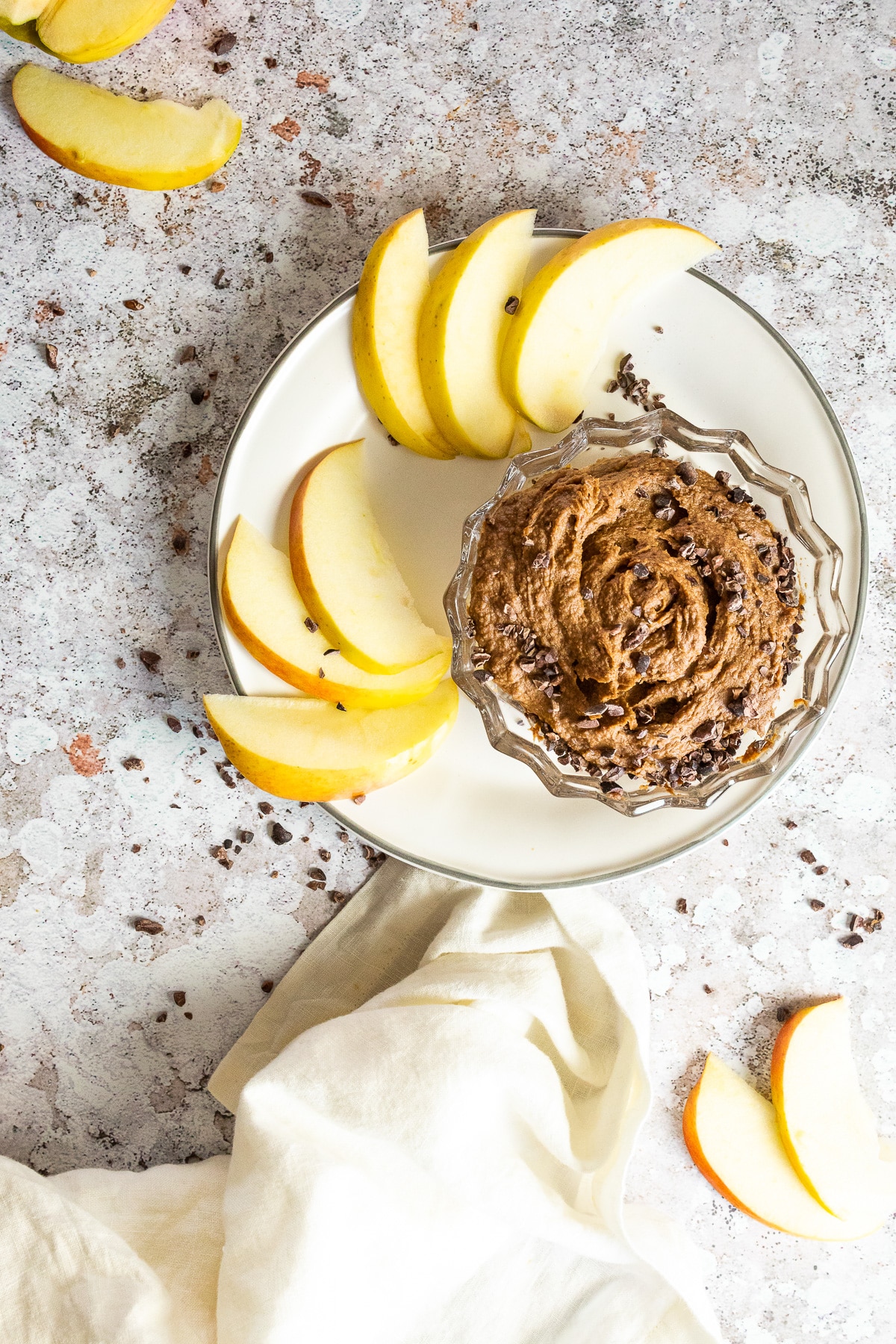 Tips
The hummus tastes best when you put it in the fridge overnight. This makes the taste even more intense.
As mentioned above, you can use other nut butters. You can use hazelnut to make healthy Nutella. To make a kind of peanut butter cup hummus, you can add peanut butter.
Make sure you buy good quality cocoa, some cocoa powder can have a bitter aftertaste, you would taste this in hummus. Dutch cocoa powder is less bitter than most of the cocoa powders in store.
Prepare a mocha chocolate dip by adding some instant espresso powder or some cold coffee instead of the milk.
Mexican hummus: To make a Mexican dessert hummus, you can add cinnamon, some nutmeg, and chili powder.
More vegan dips and spreads: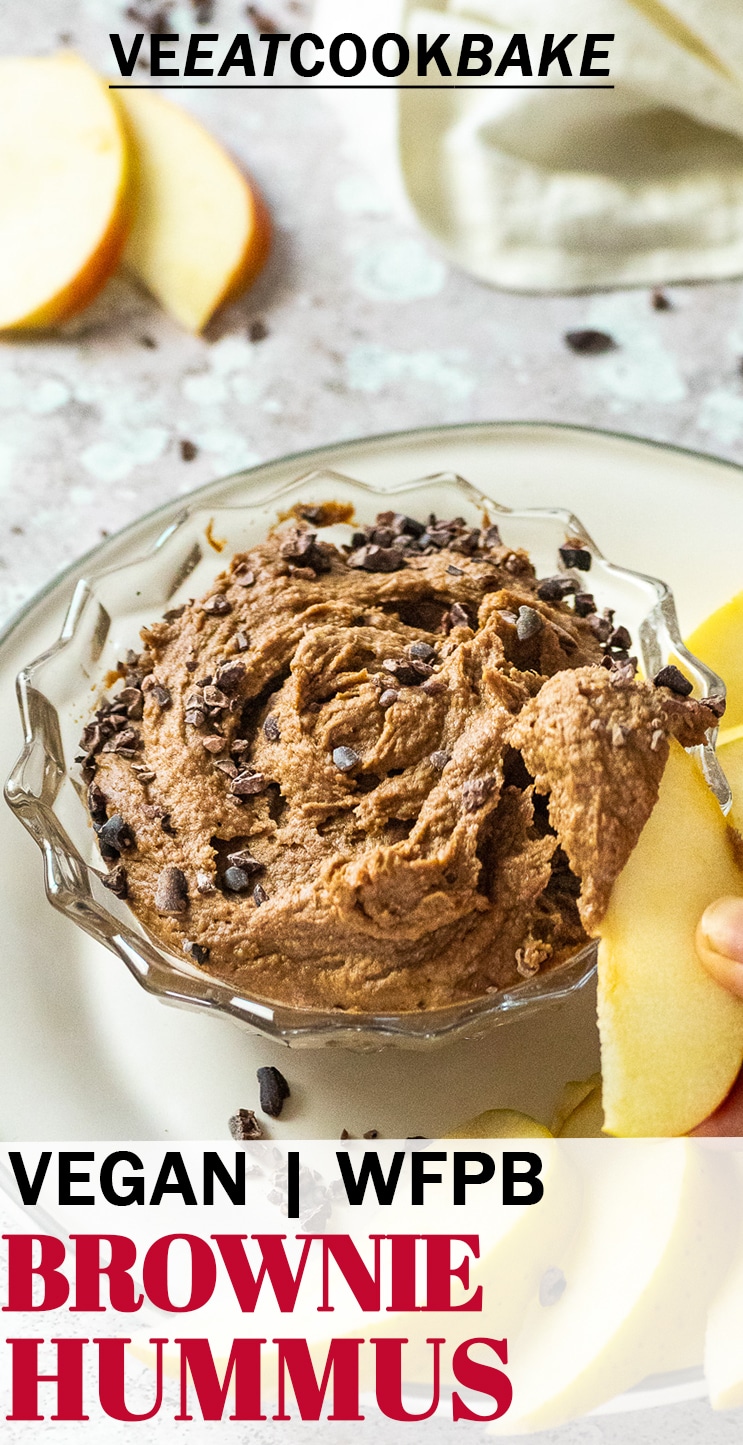 Have you tred the recip
If you tried the vegan Recipebe so nice ♥ and let me knw byrating the recipe and writing what you think about it in the comments.  I would love to see your photo on Instagram orFacebook. To do this tag me with @veeatcookbake andmy hashtag is #veeatcookbake. So that I can see your creation. Did you know you can add photos n Pinterest under the recipe Pin? I can't wait to see a photo of your creation here. You find me with @veeatcookbake