Vegan feta - a recipe that you use to create an authentic feta cheese that is not only tangy and salty, but also crumbly like the real thing.
Thanks to the mix of tofu and soybeans, you get this incredible vegan feta cheese that will not let you miss the original.
You do not have to marinate this vegan tofu in oil like other recipes do.

As an Amazon Associate, I earn from qualifying purchases. This post may contain affiliate links. Read More
This variant of sheep's cheese is creamy, crumbly and salty. Just like a feta should be.

If you are now looking for goat cheese replacement, then you should definitely try this vegan version of the classic Greek cheese.
How to make
This vegan feta is made on the basis of soybeans and tofu and gets the perfect consistency.
Important in making the vegan feta is that we chill the boiled soybeans in brine. Two days are enough.
Thereafter, all ingredients are added except the gelling agent and a little water in a blender and mixed thoroughly.
If you already taste the cream, you will notice it tastes very much like feta.
If you, for example, want to make a feta dip, you can make the feta without gelling agent and you have an authentic feta cream.
Ingredients
Ingredients of my vegan feta cheese:
Soybeans: make the cheese creamy and I let them soak in brine for 2 days before making the cheese
Firm or super firm tofu: makes the cheese crumbly
Refined coconut oil or coconut butter: makes it creamy and meltable. For a oil-free version use coconut butter. It is possible that you taste a light coconut flavor.
Almond milk or another plant-based milk
Lactic acid powder or lemon juice: gives the sour, salty taste
Miso paste: gives a really spicy, cheesy taste. And the vegan feta cheese develops more and more flavor after days.
Sea Salt
Kappa Carragenan or Agar Agar: makes it firmer. Without it, it would melt too quickly, especially in summer.
When should I begin?
I often got asked when to start making the vegan feta cheese.
3 days are enough here. But you can also start a little earlier, as the vegan feta keeps in the fridge for some time.
Here's an example, if you need the feta cheese on a Thursday:
Monday morning: soak Soybeans

Monday evening: Roughly remove the skin of soybeans and cook. Let them sit in brine for 2 days.

Wednesday evening: finish the feta cheese and let it sit overnight. So the feta can get firm.

Thursday morning: Now the feta can be used.

Why should you use this vegan feta recipe instead of one with tofu?
I know it's a matter of taste.
However, this feta has convinced me more than the marinated tofu variant. Personally, the consistency of the tofu is not feta-like enough, so I created this recipe.
And it has not only convinced me, but also my whole family, who are all cheese lovers.

Storage
You can easily store the vegan feta a week. I do not have any longer experience, as we usually eat them within a week.
Fridge
Here I even recommend storing the feta in the fridge. You can also store it in a brine in the fridge. This makes the cheese even more authentic.
Usage
You can use this vegan feta as you would use the normal one. Here is only to note that it melts faster.
You can use the vegan feta:
sprinkle over salads
serve on antipasti plates
replace the feta in recipes
In which recipes I use this feta:
Do not forget to Pin on Pinterest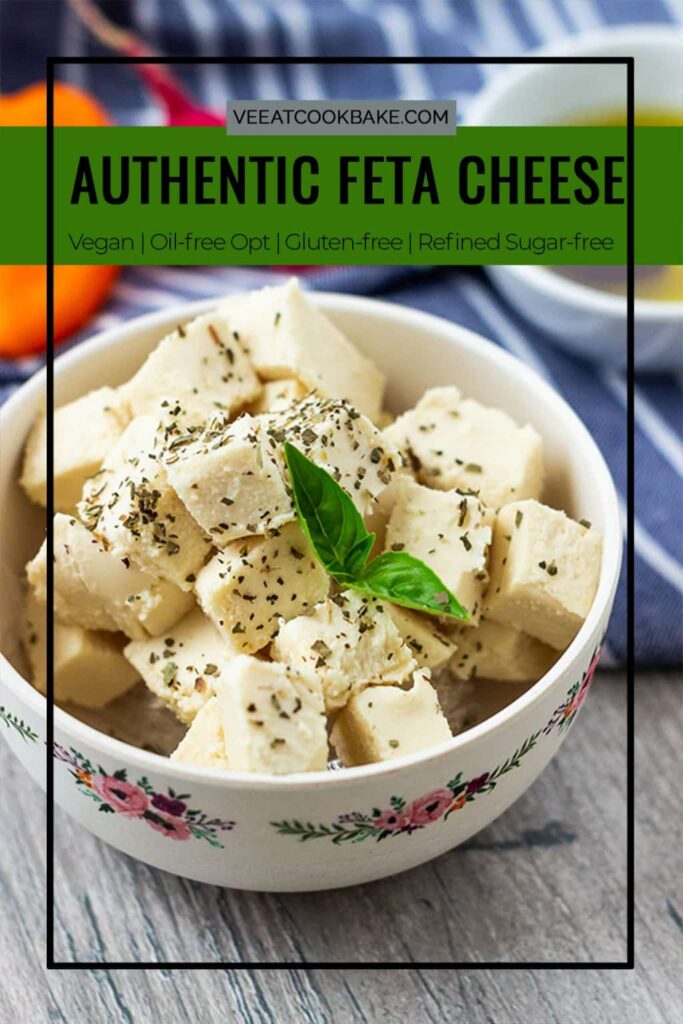 Have you tried the recipe?
If you tried the vegan Recipe, be so nice ♥ and let me know by rating the recipe and writing what you think about it in the comments. I would love to see your photo on Instagram or Facebook. To do this tag me with @veeatcookbake and my hashtag is #veeatcookbake. So that I can see your creation. Did you know you can add photos on Pinterest under the recipe Pin? I can't wait to see a photo of your creation there. You find me with @veeatcookbake.