Attention all movie fans, you no longer have to watch a movie without cheesy nachos. This vegan nacho cheese dip not only tastes great on a movie night. Thanks to the combination of the right ingredients, you get a stretchy, creamy nacho cheese dip that is perfect for dipping tortilla chips for "loaded nachos" as a starter or snack.
vegan | vegetarian | dairy-free | lactose-free | egg-free | sugar-free | healthy | gluten-free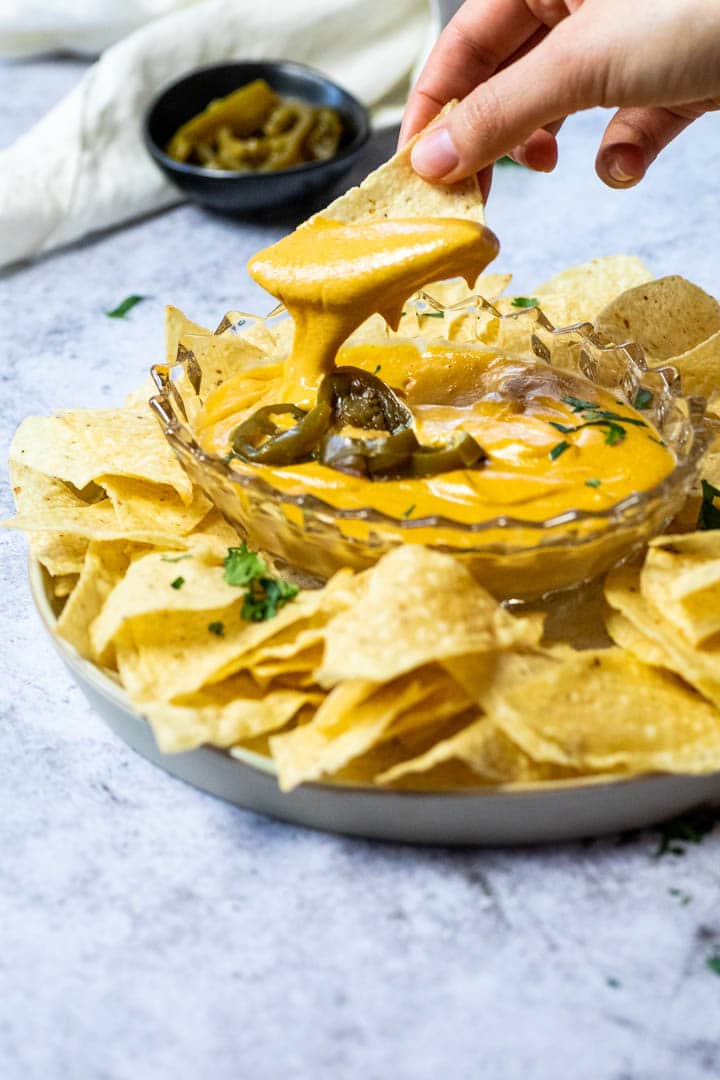 Thanks to the combination of starchy potatoes, carrots, cashews and spices such as nutritional yeast and miso paste, we create this incredibly gooey cheese dip that has the perfect consistency. When adding sriracha sauce, be careful not to make the cheese sauce too hot for yourself or children.
This cheesy nacho cheese is perfect for dipping your tortilla chips or simply making overloaded nachos like in the Mexican Cuisine.
I used to like to eat nachos with cheese dip in the movie theater, but I haven't had any nachos in the cinema since I was vegan. And this dip is just perfect for a movie night or game night / day at home.

What do I need for homemade vegan nacho cheese?
You need the following ingredients to make a stretchy cheesy Nacho Dip:
Starchy potatoes like yukon gold
Carrots
Tahini
Cashews
Cooking water from the potatoes
Nutritional yeast
Tapioca starch
Sea salt
Miso paste, light
Onion powder
Garlic powder
Chipotle Powder
Mustard powder
Smoked peppers
Half a lemon juice
opt Sriracha sauce
Green chiles from a jar
How do I prepare vegan nacho cheese?
First of all, cut the potatoes and carrots into small pieces and boil them in sufficient water.
Soak the cashews in hot water.
Now take a ladle and add the potatoes and carrots, if they are soft, to a high speed blender and add the other ingredients.
Now mix everything until you get a creamy consistency. I always remove the small lid in the middle of the high speed blender because we are using hot food in it.
When the sauce is creamy just season the sauce to your own taste buds.
If it isn't stretchy yet, cook the sauce a bit in a pot until stretchy.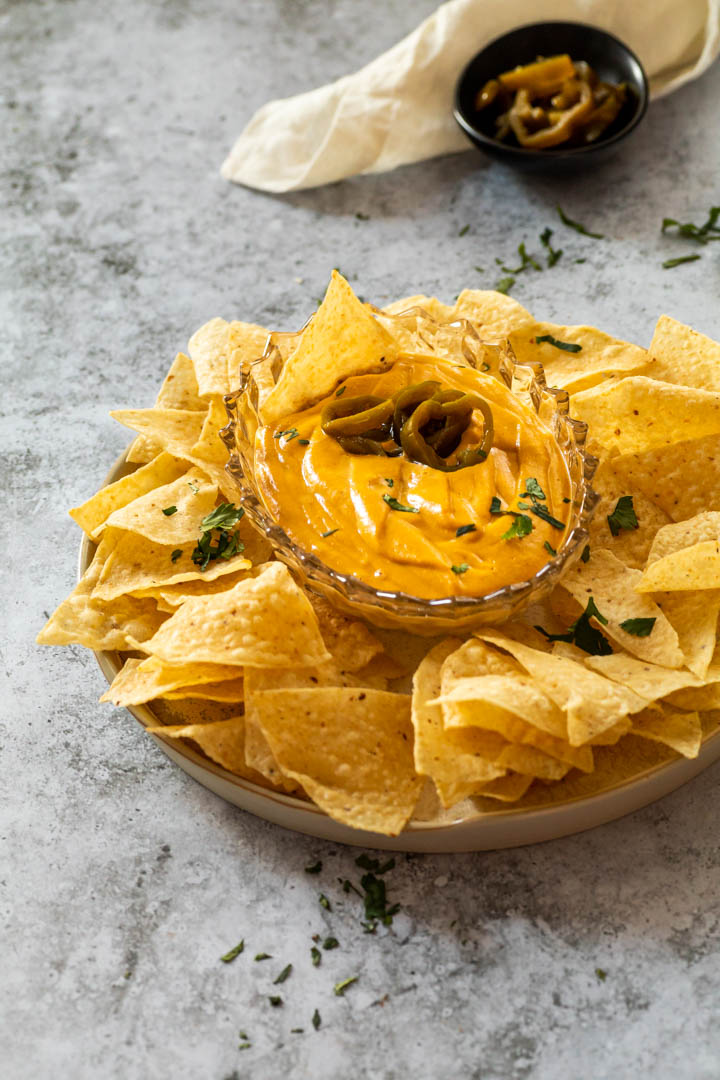 How can I store the leftovers of the vegan nacho cheese dip?
You can store the leftovers in the fridge in an airtight container. When the dip is cold, it becomes firm, ideally briefly reheat on the stove. Possibly dilute with a little water if the dip is too viscous.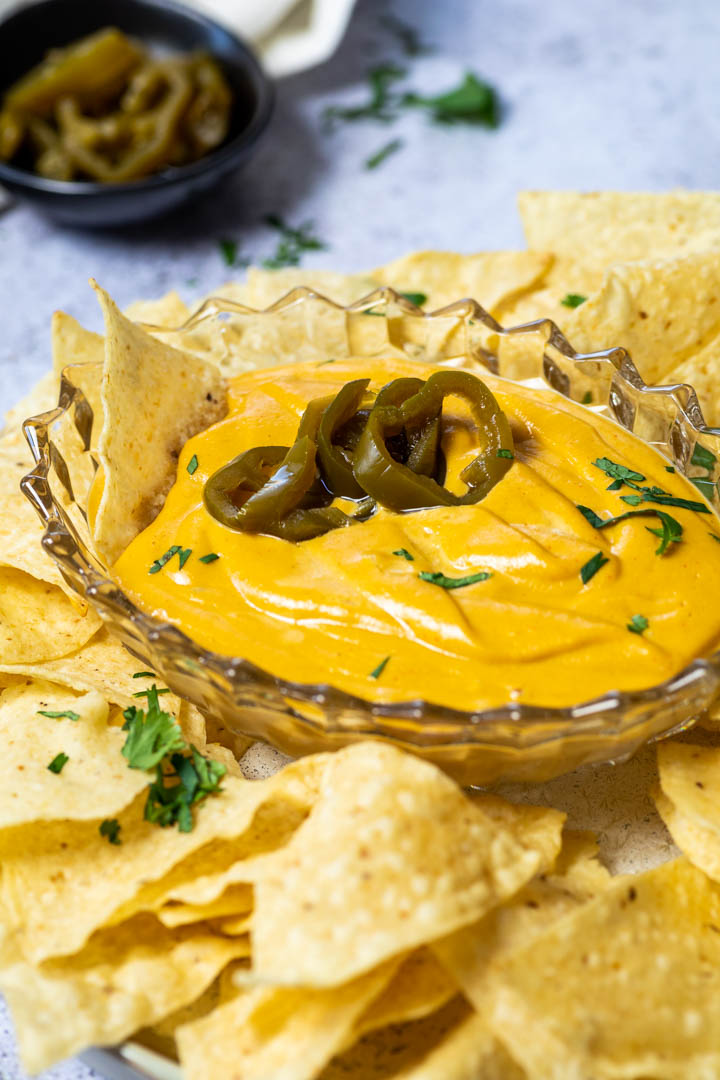 Can I prepare vegan nacho cheese in advance?
You can store the cheese in the refrigerator as described above and then briefly reheat on the stove. If necessary, dilute again with a little water.
Tips to create the perfect cheese:
Tapioca starch makes the nacho cheese stretchy. Do not use cornstarch or potato starch

Take some psyllium husk powder to make the cheese even more gooey

The cheese leftovers stay "liquid", "melted" and never become a cheese block.
Do not forget to Pin on Pinterest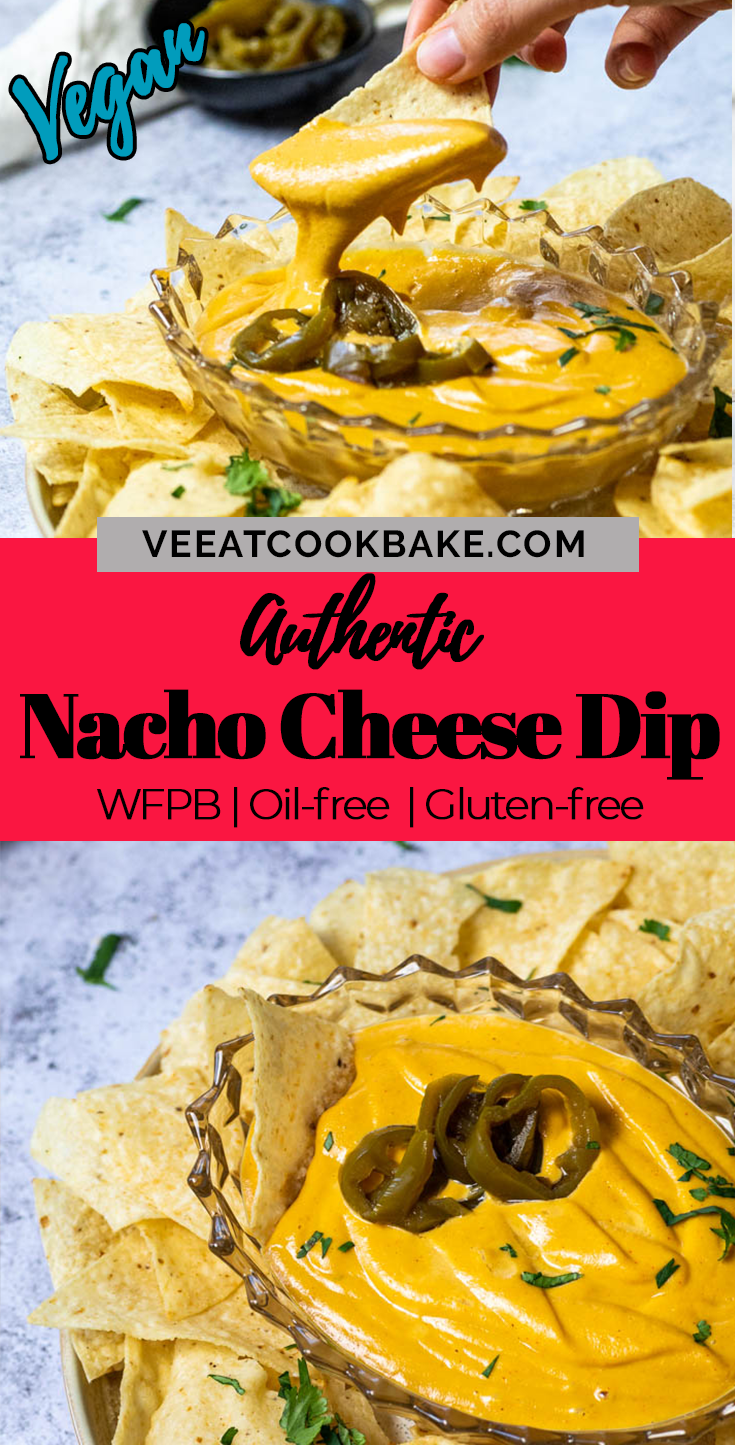 Have you tried the recipe?
If you tried the vegan Nacho Cheese, be so nice ♥ and let me know by rating the recipe and writing what you think about it in the comments. Tag me on Instagram too. I am @veeatcookbake and my hashtag is #veeatcookbake. So that I can see your creation. Did you know you can add photos on Pinterest under the recipe Pin? I can't wait to see a photo of your creation there. You find me with @veeatcookbake. I also would love to hear your feedback, so I can share it on my social media channels.

This post may contains affiliate links and I may receive a very small commission if you buy through these links at no extra cost. Thank you very much for supporting Ve Eat Cook Bake! More information can be found here.
---