Vegan quesadillas are super easy to prepare. Prepare vegan Queso Dip and add black beans, corn, tomatoes and olives and you get an incredibly aromatic Quesadilla.
This Mexican classic is a great quick dinner or lunch. Use corn tortillas for gluten-free quesadillas.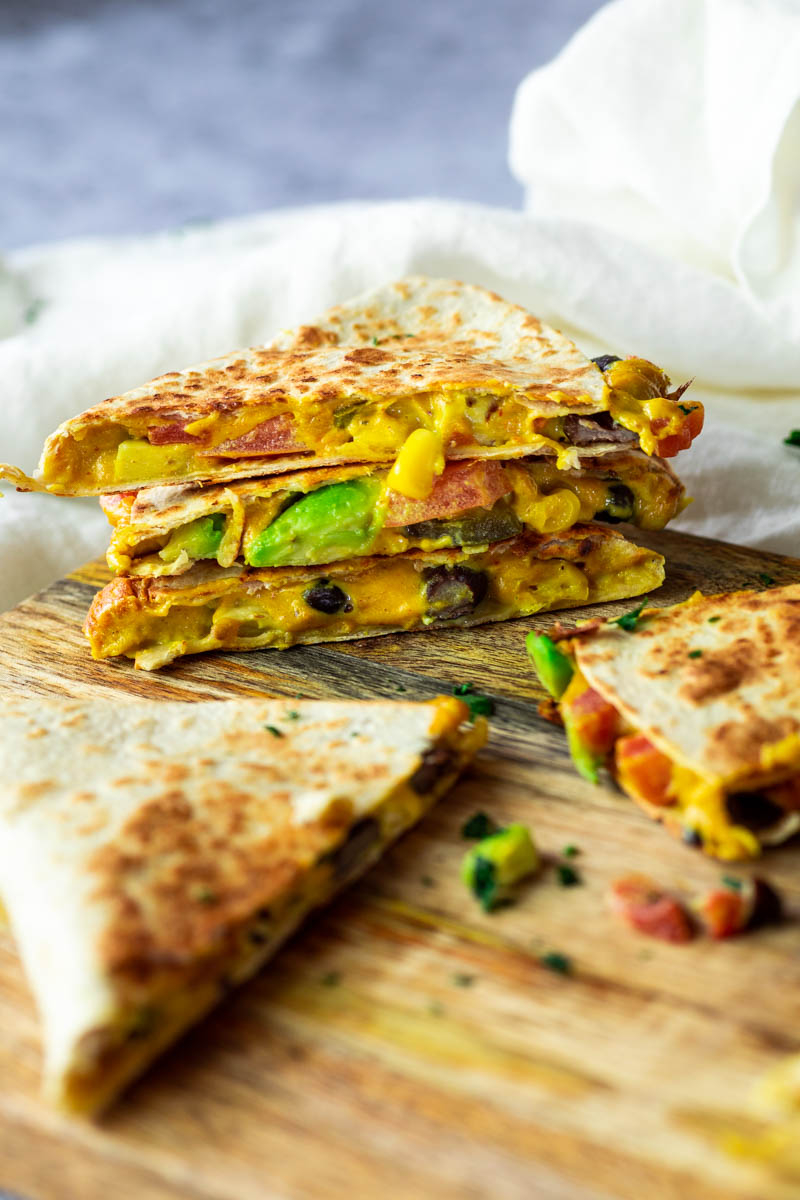 As an Amazon Associate, I earn from qualifying purchases. This post may contain affiliate links. Read More
I haven't eaten quesadillas since I became vegan. Before that, I loved the cheesy quesadillas.
And lately I've craved a lot of comfort foods and count such quesadillas as comfort meals.
If you eat a plant-based diet, you don't have to live without such dishes and you can easily prepare them without dairy.
In addition to tacos, enchiladas, burritos, and quesadillas are traditional Mexican dishes that you can easily prepare in vegan.
And they are very varied with different fillings and never get boring.
What do I need to make cheesy vegan quesadilla?
Here's what you need to prepare delicious vegan cheesy quesadillas. Below you will find the exact quantities.
Large Tortillas
Queso Cheese Dip Recipe
Roma Tomatoes
Spring Onions
Corn Kernels
Black Beans
Black Olives, sliced
Shallot, diced
Jalapenos, pickled (opt)
Spinach
Avocado
Vegan Sour Cream
Salsa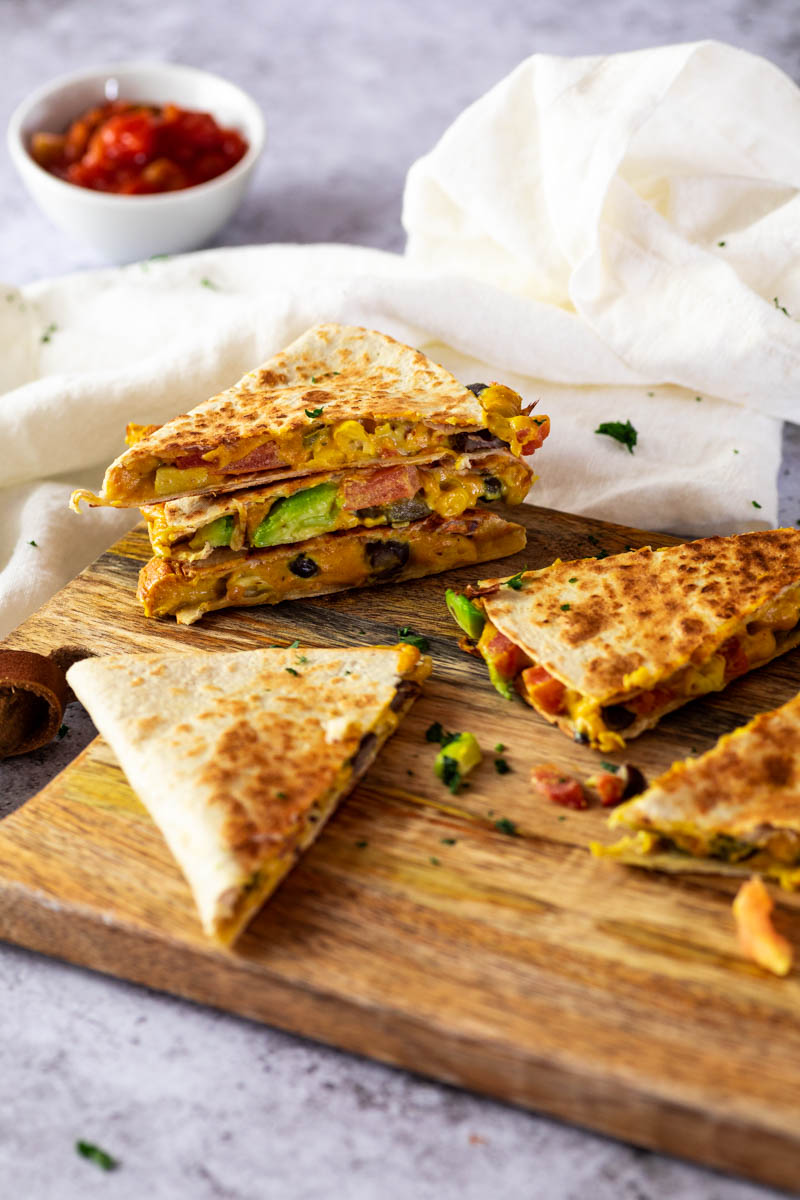 How do I make vegan quesadilla?
First prepare my vegan Queso Dip recipe.
Fry a tortilla on both sides in a pan until they turn slightly brown.
Now put the vegetables on one side of the tortilla and pour some vegan quesco over them. Now fold the other side over the filling. Press down the tortilla with a spatula and sauté it on one side for a few minutes and then on the other side and continue to press down with a spatula.
You repeat this with all tortillas.
What can I use for a vegan cheese?
I used my vegan Queso Dip. You can also use the Nacho Dip. Or buy and use vegan grated cheese. The Quesadilla gets more flavor with the Queso or Nacho Dip.
Gluten-free
If you use corn tortillas, these quesadillas are gluten-free. We do not use grain in the filling.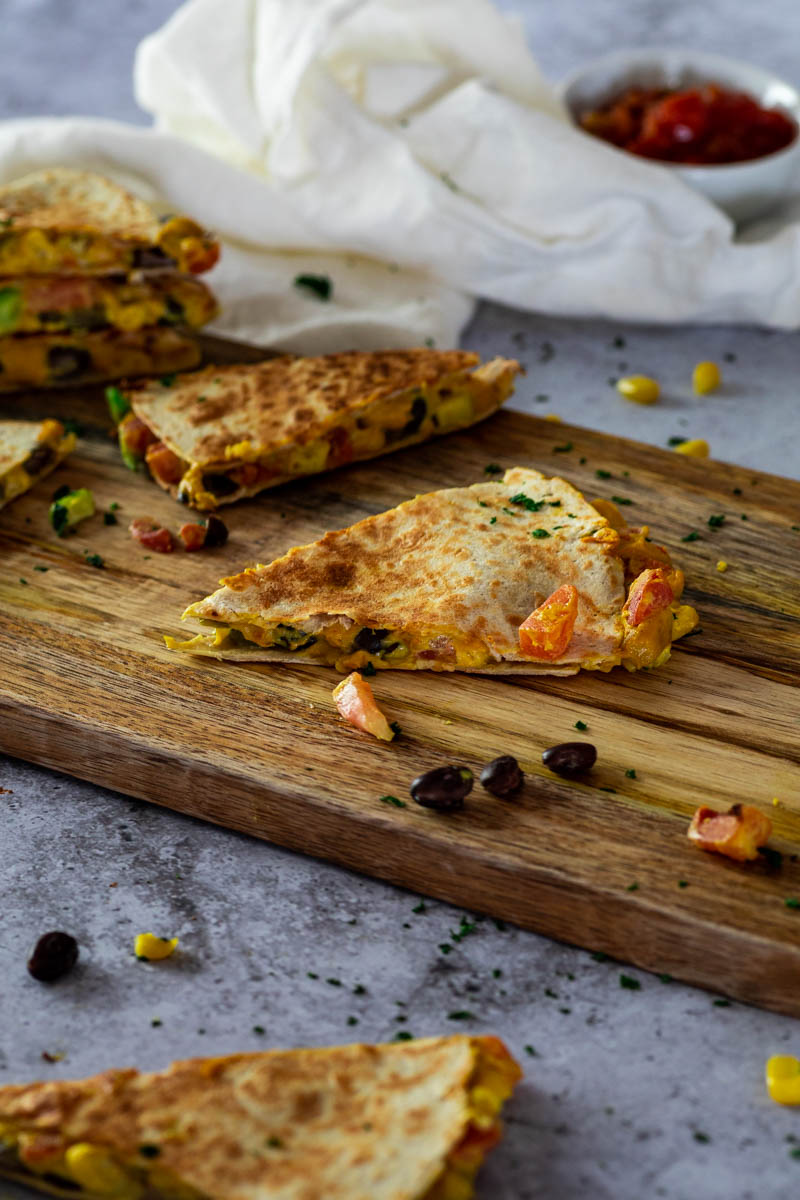 Make it in advance
You can prepare the cheese 1-2 days beforehand. And then you only have to assemble the vegan quesadillas prior to cooking.
Serving Suggestions
Mexican Rice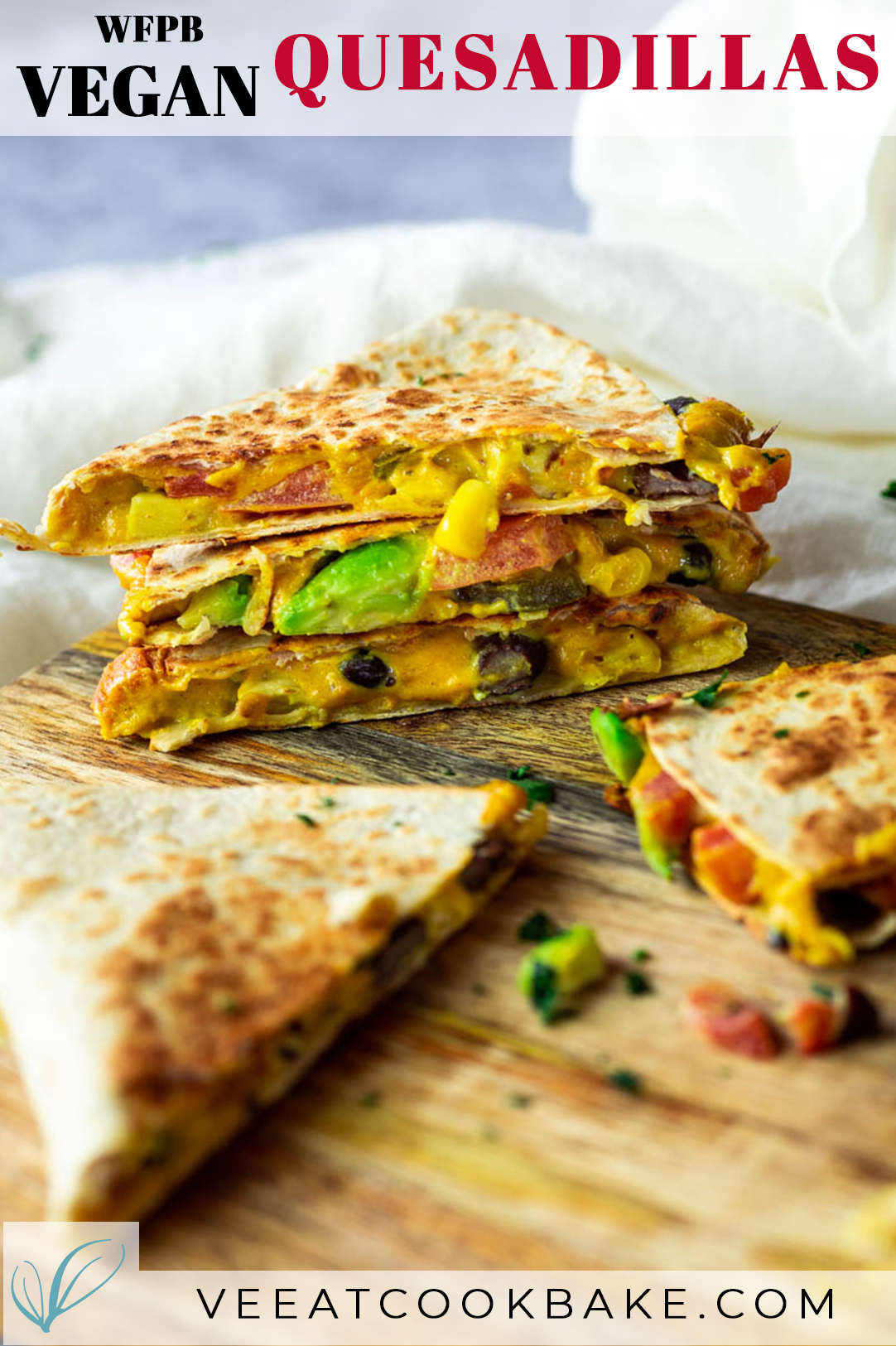 Have you tred the recip
If you tried the vegan Recipebe so nice ♥ and let me knw byrating the recipe and writing what you think about it in the comments.  I would love to see your photo on Instagram orFacebook. To do this tag me with @veeatcookbake andmy hashtag is #veeatcookbake. So that I can see your creation. Did you know you can add photos n Pinterest under the recipe Pin? I can't wait to see a photo of your creation here. You find me with @veeatcookbake