These vegan loaded nachos are super easy to prepare and will be a hit at your next party or movie night.
These loaded nachos are covered with a lentil-bean mixture, diced tomatoes, avocado, black beans and a nacho-cheese sauce like that from the movie theaters.
This Mexican-inspired dish is a super quick dinner or a great appetizer, snack.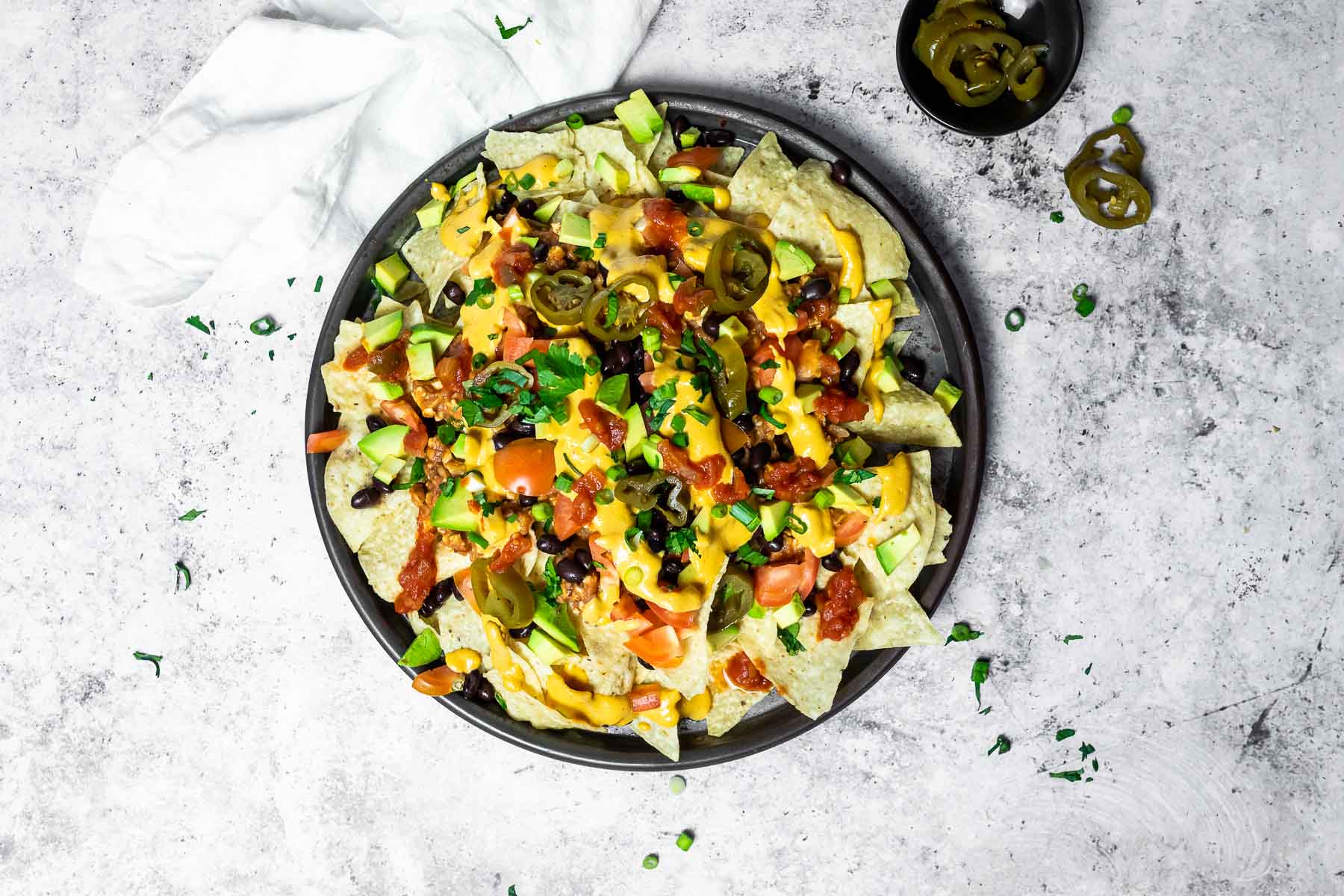 As an Amazon Associate, I earn from qualifying purchases. This post may contain affiliate links. Read More
Jump to:
I've always loved tortilla chips with nacho cheese dip. I often ate them instead of popcorn in the movie theater and of course before my vegan time.
So an alternative had to be found and why not take this recipe to the next level and load it with everything?
This is how this recipe came about. If you've ever been to the Mexican restaurant, like you find them here in the States like sand on the beach, you've probably seen a similar recipe before.
And these ultimate loaded nachos are really addictive and are certainly not only prepared once.
If you love Mexican-inspired dishes as much as we do, you should definitely give this vegan nacho plate a try.
Why you should make these vegan nachos:
super easy to prepare
full of mexican taste
a healthier version of the original
fully loaded with protein from black beans, refried beans (pureed beans), lentils or tofu
will be a great success with your guests
How can I make healthier vegan nachos?
It's not that difficult to make these loaded nachos healthier. On the one hand, you can use legumes instead of the classic ground meat.
Then we use a lot of fresh toppings like tomatoes, avocado etc.
If you want to use oil-free tortilla chips for this nacho plate, you can easily make them yourself. For this you need corn tortillas, which you cut into 6 triangles like a cake.
You then bake them in a preheated oven at 400°F (200°C) for about 16 minutes. You can optionally brush the tortillas lightly with lime juice. So the chips get a little extra taste.
Loaded nachos are topped with a delicious plant-based nacho sauce, which is also prepared without oil.
What ingredients are included in the vegan nacho platter?
We use these ingredients for a great vegan loaded nachos.
You can find the exact details below in the recipe card.
Tortilla Chips
Taco Meat
Onion
Solid Tofu or Lentils, black or green
Garlic Cloves
Taco Spice
Refried Beans
Water
Topping
Black Beans
Pickled Jalapeños
Tomato
Avocado
Spring Onions
Coriander Leaves
Nacho Cheese Sauce
Salsa
Hot sauce to pour over it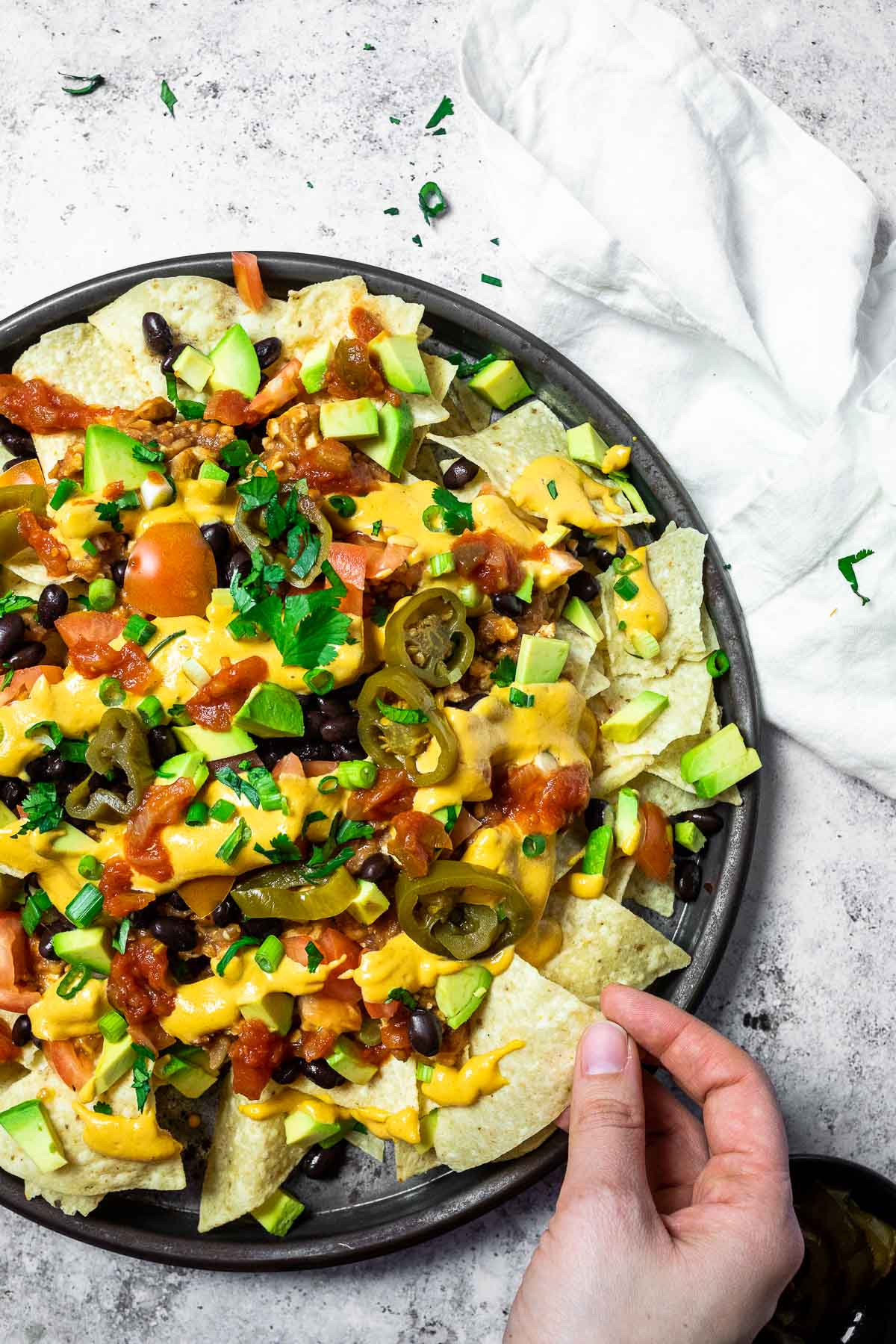 Are these nachos gluten free?
These loaded nachos are gluten free. If you look at the ingredients list above, nothing contains gluten. And is therefore naturally gluten free.
How many portions are these nachos?
This plate is relatively large and is enough for about 8 people. Depending on whether you serve something else, I would calculate this for 10 people.
How do I prepare a vegan loaded nacho?
Start cooking the lentils or squeezing the tofu.
In the meantime, cut the remaining ingredients accordingly. Prepare the nacho cheese sauce.
Now start to sauté the onions in some water. Add a sip of water every now and then. The onions should now turn brown. Add the garlic and tofu if you use them.
Now mix in the taco spice. When the garlic is steamed or the tofu is colored, add the remaining ingredients and let them warm up. To do this, stir vigorously.
Now you can prepare the platter:
Put the chips on your platter and pour the bean mixture over the chips. Now top the chips with the tomato cubes, avocado cubes, spring onions, black beans, jalapeños, and coriander.
Add the nacho cheese sauce and the salsa over it and drizzle with the hot sauce, optional.
How do I prepare refried beans?
If you can't find any refried beans in the supermarket. Have a look in the Mexican aisle. If you want to prepare them yourself, you can prepare them relatively easily.
You need:
340 g cooked pinto beans or black beans
1 teaspoon onion powder, garlic powder, chili mix powder, sea salt
Put the ingredients in a food processor and mix until a puree is created. Taste the beans again.
Easy to prepare, right?
When can I serve vegan loaded nachos?
No matter if a big football game or a card game night is coming up, this vegan nacho platter is ideal for nibbling during the game.
If you want to be on the safe side, only mention after they have emptied the plate that it is vegan, oil-free or healthy. People are often skeptical of these words and sometimes want to not try it at all. We also have some of these in our family and friends. And it helps to just say nothing;)
If you have maybe planned a movie night with friends or as a date, then you should definitely try these ultimate loaded nachos.
What can I do with the leftovers?
The nachos taste best when they are hot / warm and crispy. I would only try to add as many to the plate that are eaten. You can retain some ingredients and quickly reapply them later.
The nacho cheese keeps very well in the fridge and can be used for e.g. Burritos, tacos, quesadillas.
If you are fewer people, just prepare less. The bean mixture also keeps great in the fridge and can also be used for other Mexican dishes such as tacos, burritos.
You can also simply eat the nacho cheese with corn chips over the next few days.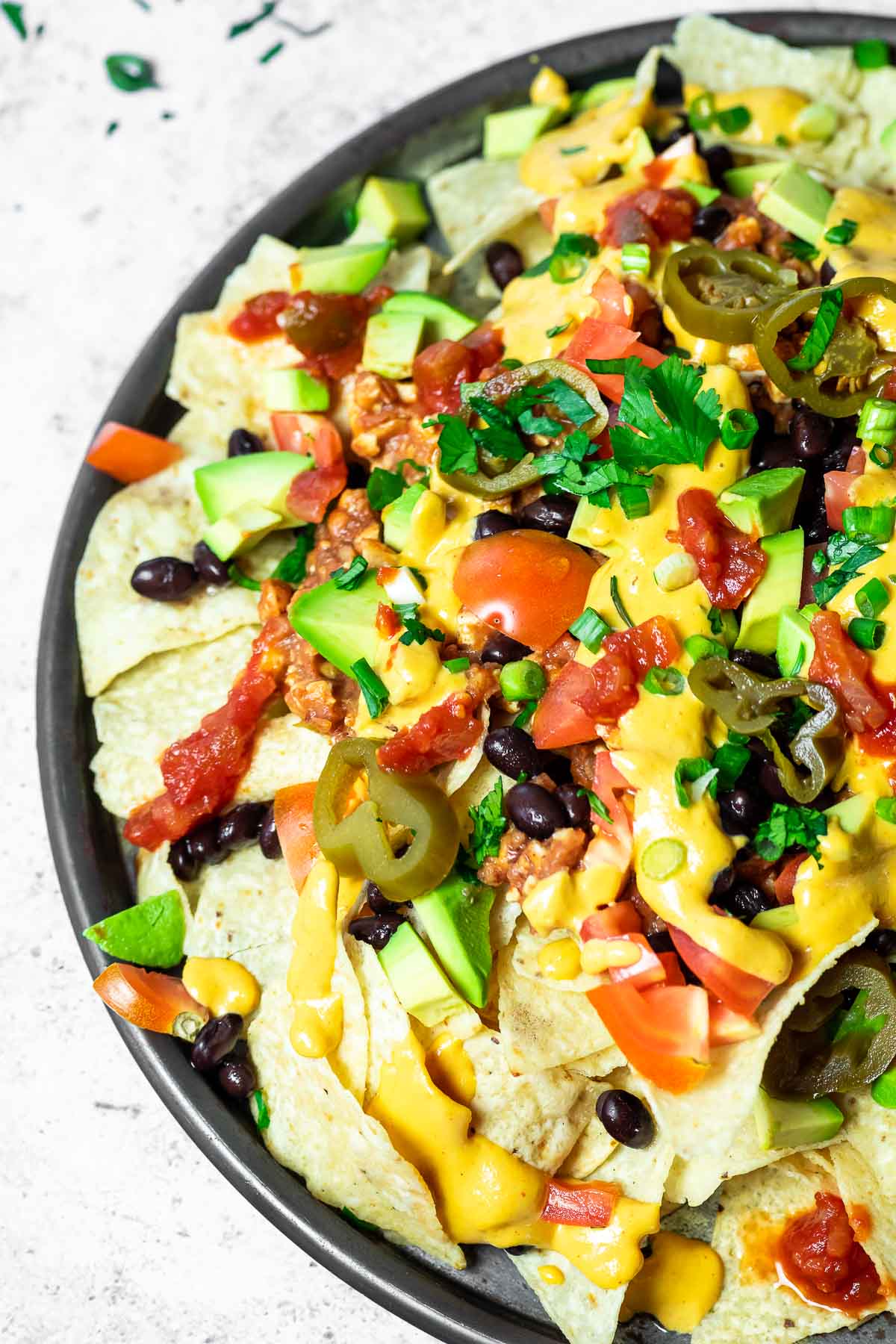 How can I reheat loaded nachos?
Have you prepared too much of the nachos and you have something left?
While they taste best fresh, you can bake them in the oven at 220°F (120°C) and try to get them crispy again.
Spread the nachos on the baking sheet and bake them for about 5 minutes.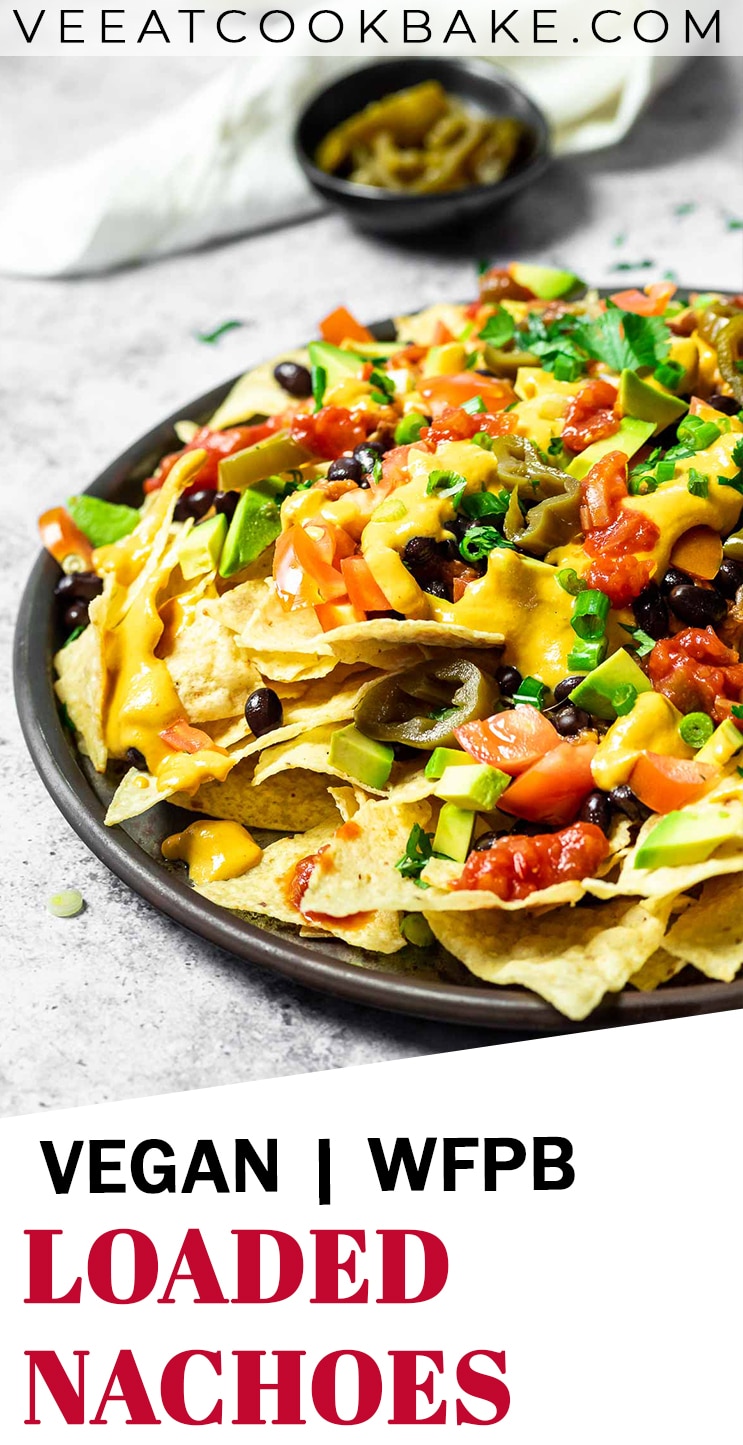 Have you tred the recip
If you tried the vegan Recipebe so nice ♥ and let me knw byrating the recipe and writing what you think about it in the comments.  I would love to see your photo on Instagram orFacebook. To do this tag me with @veeatcookbake andmy hashtag is #veeatcookbake. So that I can see your creation. Did you know you can add photos n Pinterest under the recipe Pin? I can't wait to see a photo of your creation here. You find me with @veeatcookbake