Vegan fajitas can be prepared quickly and easily. You need portobello mushrooms, peppers, onions and typical Fajita spices such as chili, paprika and cumin and your vegan dinner is on the table in no time. Topped with guacamole and salsa, these vegetarian and wfpb fajitas leave the traditional Mexican dish behind.
vegan | vegetarian | oil-free | sugar-free | healthy | gluten-free | nut-free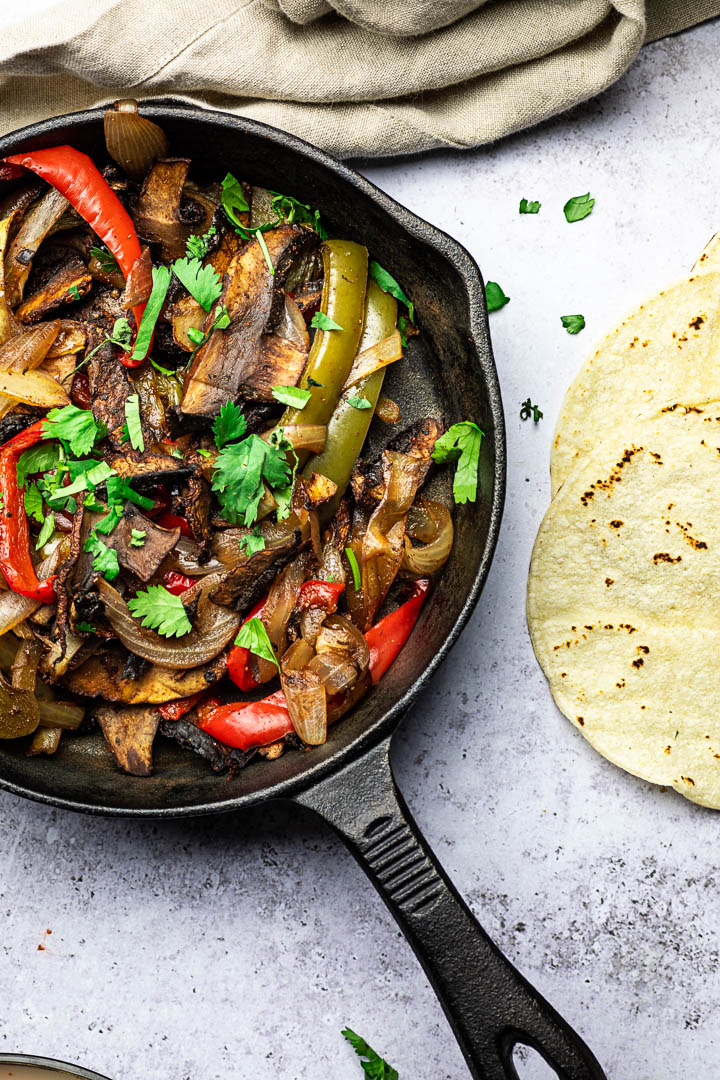 Fajitas are a traditional Mexican dish that is super easy to prepare vegan. In addition to tacos, enchiladas, nachos, and taquitos, fajitas are among the best known Tex-Mex dishes. Of course, I had to make a vegan, whole food plant-based version for my blog.
Just take warmed tortillas, fill with the homemade fajitas filling and top with guacamole, salsa and other ingredients.
What are the ingredients for vegan fajitas?
Chili powder

Ground cumin

Paprika powder

Ground cilantro

Sea salt and black pepper

Portobello mushrooms

Red and Green peppers

Onion

Garlic clove

Cilantro

Fresh coriander

Tortilla wraps

Vegan sour cream, avocado or guacamole, diced tomatoes or salsa.
What to use for the fajitas instead of mushrooms?
If you do not like mushrooms, you can also use jackfruit, chickpeas, soy curls, or beans. Here you can really use different things you like.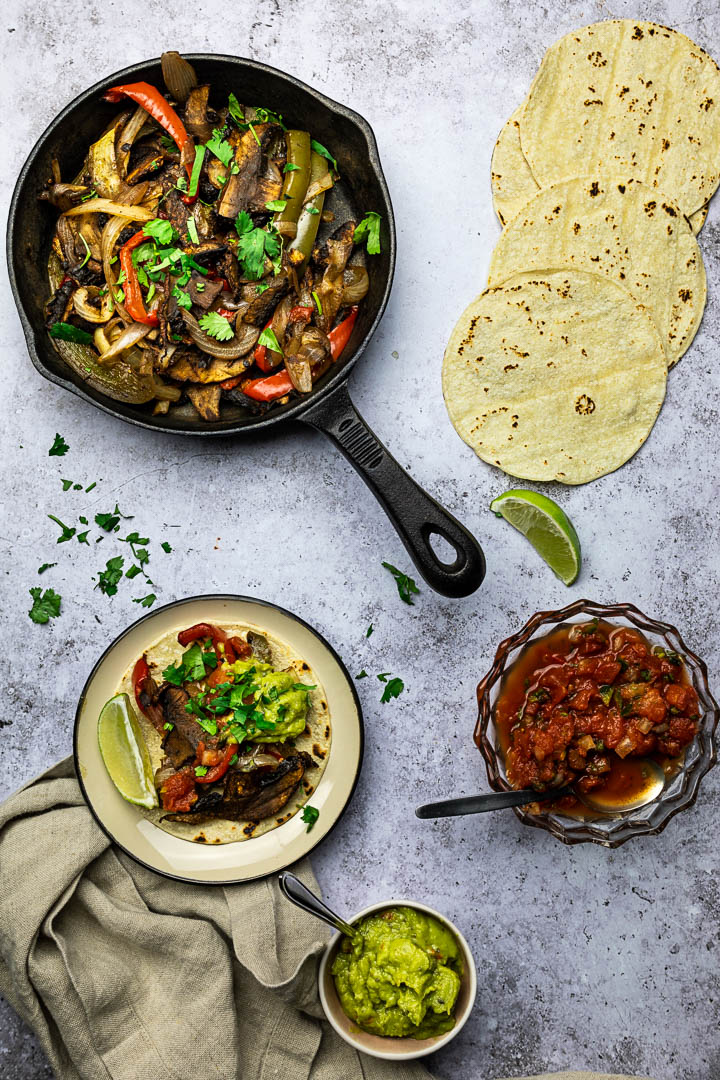 How to Make Vegan Portobello Fajitas?
Place the sliced ​​mushrooms, peppers and onions on a baking tray lined with baking paper. Now sprinkle the vegetables with the spices. Stir the vegetables briefly with your hands until the spices are evenly distributed. Now bake at 350°F (175°C) until the vegetables are tender. Serve the fajita stuffing in tortillas.
Can you use a variety of fajita vegetables?
Sure, of course. Traditional vegetables are onions and peppers, but you can also use your leftover veggies. You may have to adjust the cooking time to the other vegetables.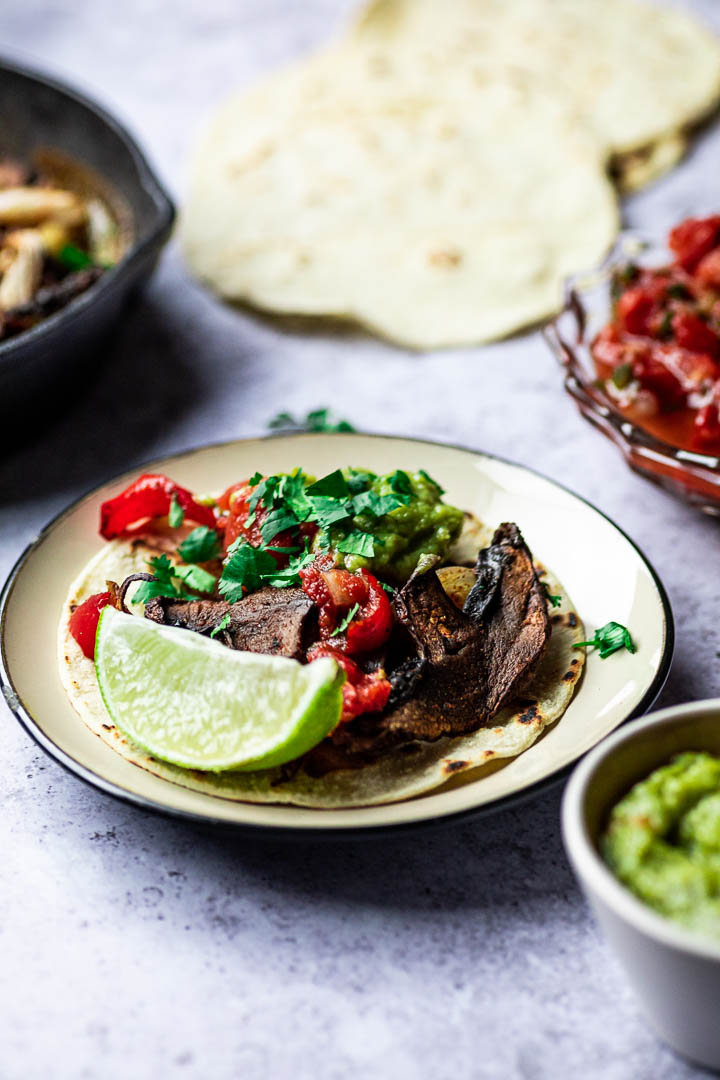 Should I line a baking tray with baking paper?
Yes, you should line a baking tray with parchment paper. Otherwise, it may be that the vegetables stick to the baking sheet. Yes, you should line the sheet pan.
How do you warm vegan fajitas?
If you have leftovers from the fajitas, you can heat up the fajitas in a pan on the stove. This prevents the food in the microwave from becoming too soft and mushy.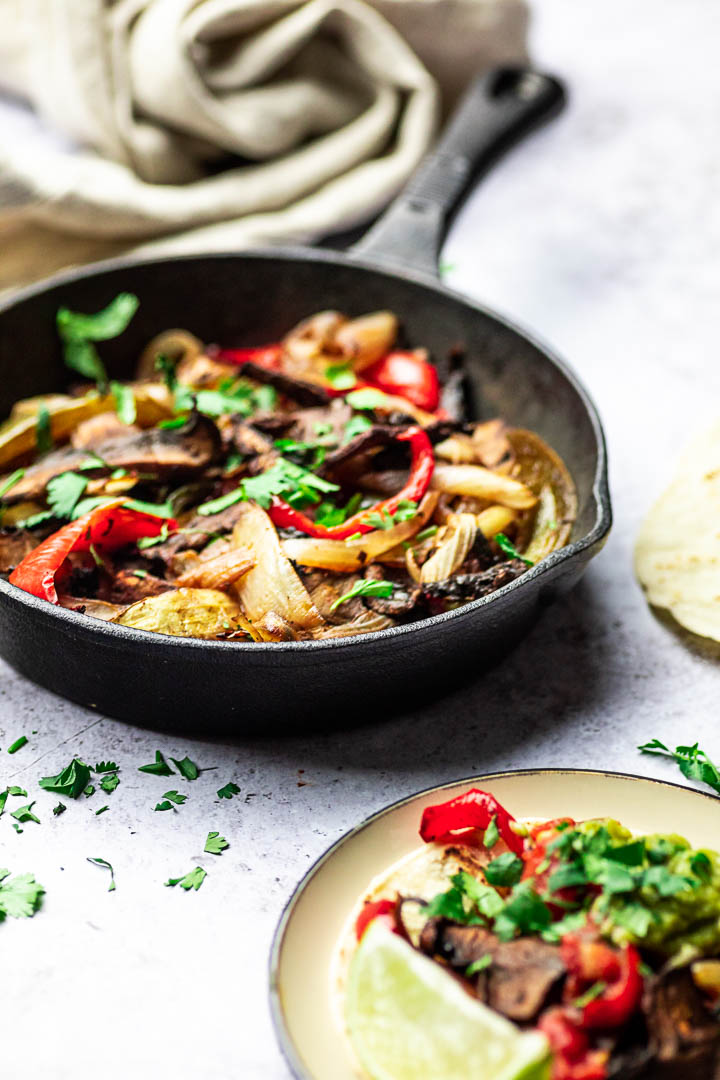 Are vegan fajitas healthy?
We prepare the fajitas without oil, and we use healthy mushrooms and bell peppers. As tortillas, use corn instead of flour tortillas to make them a little healthier.
Tips for the best vegan Portobello fajitas
The mushrooms are soft and brown when they are cooked

Turn the Fajita filling after half the baking time.

Use a toppings that you prefer, for example; sour cream, avocado, or salsa.

Heat the tortillas one by one in the pan.
How do you eat fajitas?
You serve the fajitas filling and tortillas separately. Then, you fill the tortillas at the table. You can top them and roll them together. Then the fajitas are eaten by hand.
What are fajitas?
Fajitas in Mexican cuisine is grilled meat served as a taco on a flour tortilla or corn tortilla. Fajita originally means skirt steak, which was first used for this dish.
Can vegans eat fajitas?
The traditional dish is made with meat. Meanwhile, there are vegan varieties of fajitas in many restaurants that you can order. Just ask menu or the waiter.
More vegan Recipes you might like:
Do not forget to Pin on Pinterest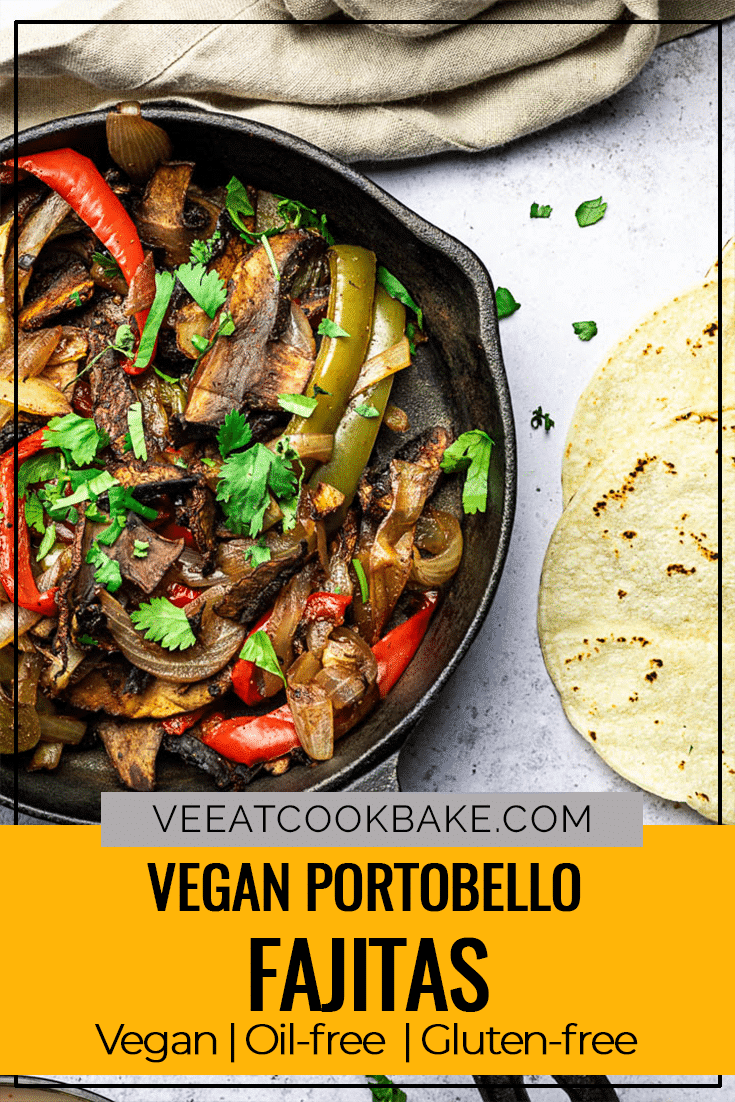 Have you tried the recipe?
If you tried the vegan Fajitas, be so nice ♥ and let me know by rating the recipe and writing what you think about it in the comments. Tag me on Instagram too. I am @veeatcookbake and my hashtag is #veeatcookbake. So that I can see your creation. Did you know you can add photos on Pinterest under the recipe Pin? I can't wait to see a photo of your creation there. You find me with @veeatcookbake. I also would love to hear your feedback so I can share it on my social media channels.

This post may contains affiliate links and I may receive a very small commission if you buy through these links at no extra cost. Thank you very much for supporting Ve Eat Cook Bake! More information can be found here.
---