Vegan enchiladas with black beans and kale are not only super tasty and filling, they are also easy to prepare and make a great vegetarian dinner during the week or when you expect guests.
These plant-based enchiladas are made from tortillas filled with a black bean and kale mixture. Baked with a homemade enchilada sauce and a vegan cheese sauce.
This mexican dish is made dairyf-free, egg-free, refined sugar-free, oil-free and is wfpb friendly.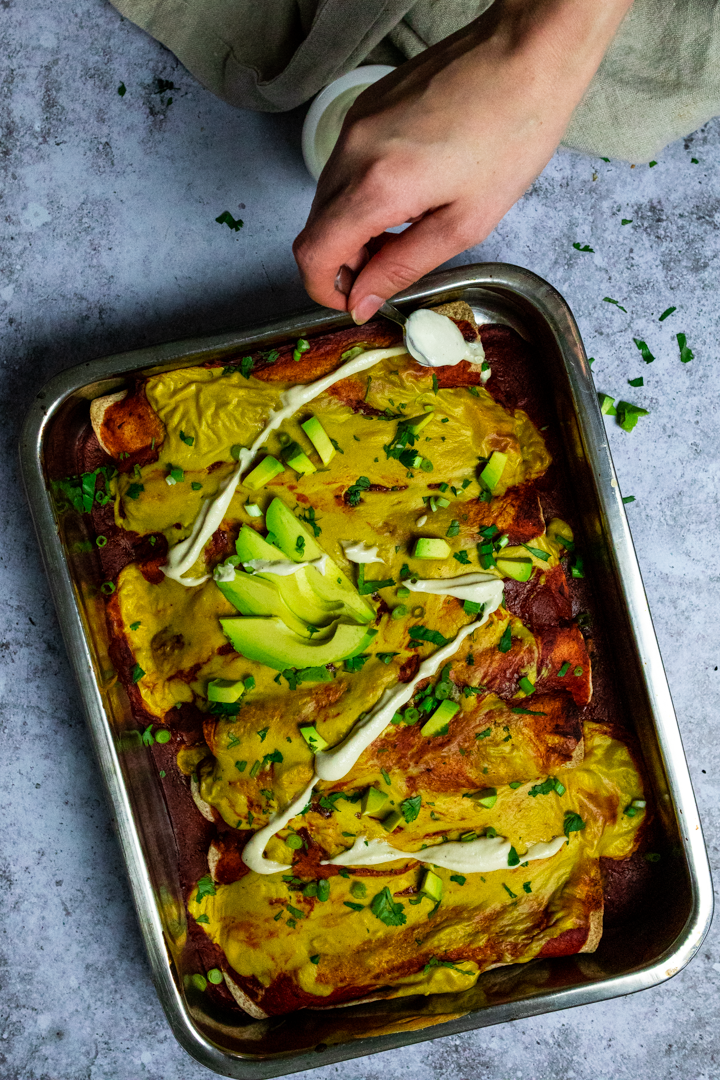 As an Amazon Associate, I earn from qualifying purchases. This post may contain affiliate links. Read More
I have to say, these enchiladas are the best I've eaten. Full of flavor and easy to prepare super quickly.
The best they are made without any highly processed foods, and thanks to the black beans, these enchiladas are also budget-friendly.
Once you've made the homemade enchilada sauce, you can freeze and use the rest the next time you prepare the enchiladas.
You can do the same with the vegan sour cream and you even have less work to do the second time.
In addition to tacos, enchiladas are one of the most popular Mexican dishes. These enchiladas are full of taste and will not let you miss the classic meat enchiladas.
Ingredients
Here is a short list of what is included in the vegan enchiladas. You can find the exact details below in the recipe card.
Enchilada Sauce
Tomato Puree
Water
Cornstarch
Chili Powder Mix
Onion Powder
Garlic Powder
Dried Oregano
Sea-salt
Apple Cider Vinegar
Sour Cream
Raw Cashew Nuts, soaked
Water
Lemon juice
Enchiladas
Tortillas
Enchilada Sauce
Cheese Sauce
Spring Onions
Avocado
Coriander
Filling
Cashew Sour Cream
Onion
Clove of Garlic
Juiced Lime
Green Chillies, canned
Black Beans
Mild Chunky Salsa
Paprika, chopped
Garlic Powder
Cumin (black optional)
Smoked Paprika
Cayenne Pepper
Kale Leaves
Fine Sea Salt
Store Bought Enchilada Sauce
You can of course also use purchased enchilada sauce, although I find the homemade taste a lot better. If you buy an enchilada sauce, please check the list of ingredients, as milk is sometimes added.
Instruction
Preparing an enchilada sauce is super quick and easy. Take all the ingredients and put them in a large saucepan.
Mix them with a whisk and bring to the boil while stirring. You can taste the sauce again briefly with the chili seasoning and sea salt.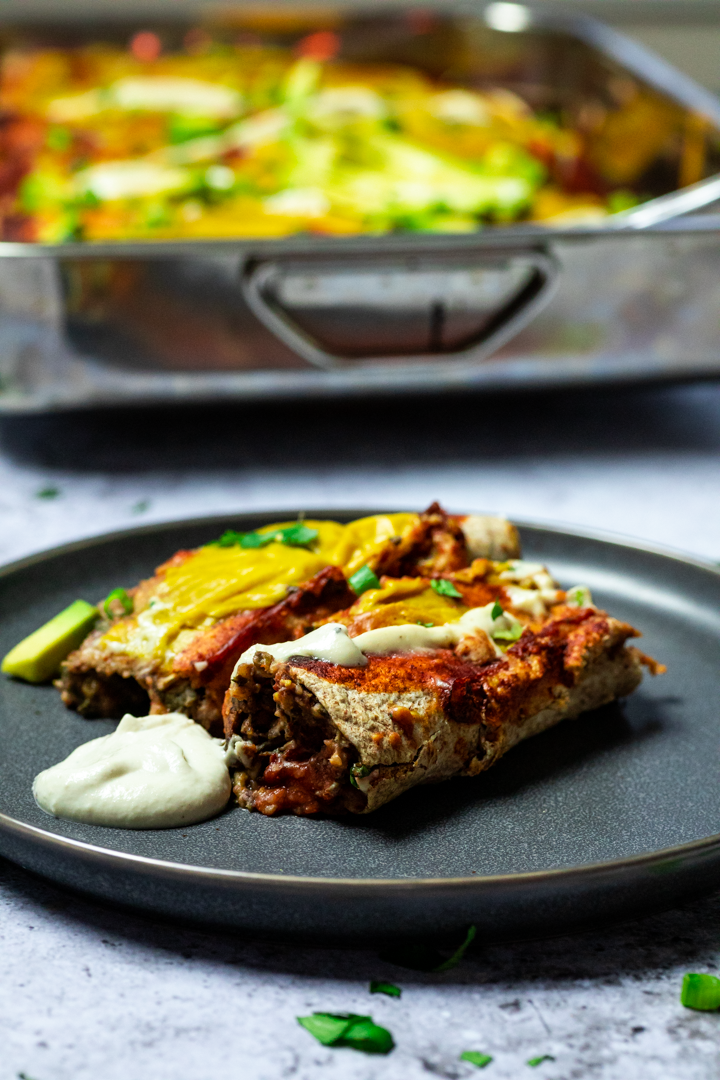 Vegan sour cream
Soak the raw cashews in water and rinse them off. Put all ingredients in a high speed blender and mix until a creamy consistency without pieces is created. Season the sour cream with salt and lemon juice.
Vegan cheese sauce?
You can make the vegan cheese sauce according to this recipe. It is a quick and tasty cheese sauce.
Enchilada Filling
First sauté the onions and garlic in a pan. Now add all the ingredients except the kale to a food processor and process until a mass with coarse pieces is created.
Add the finely plucked kale and use the pulse function until it is raised. Now taste and season the filling.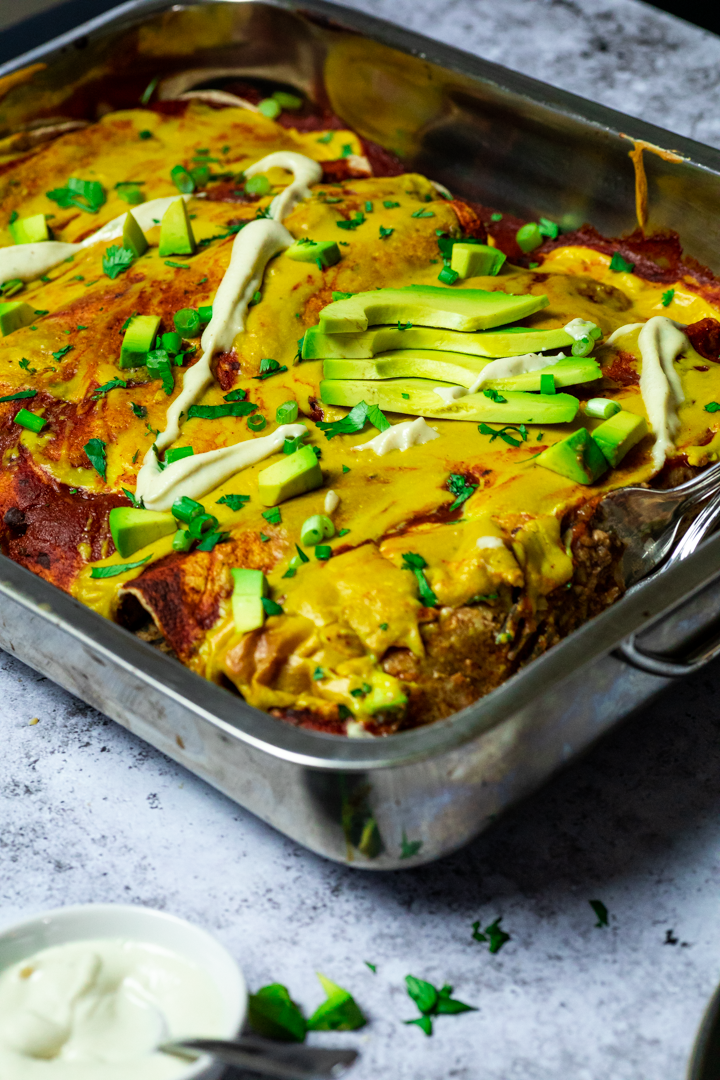 Assembling
Preheat the oven to 350°F (180°C). You take a tortilla and fill it with the filling and roll it up. If you place this in a sufficiently large baking dish with the opening facing down, the enchiladas remain closed.
Do the same with the rest of the tortillas and pour the enchilada sauce evenly over the enchiladas. You distribute the vegan cheese sauce in the same way. Now bake the enchiladas in the oven for approx. 30-45 min.
When it's done baking, top the enchiladas with sour cream, avocado, and freshly chopped coriander.
Tortillas
You can use corn or flour tortillas. Traditionally, enchiladas are made with corn tortillas. You need about 8 large tortillas for the recipe.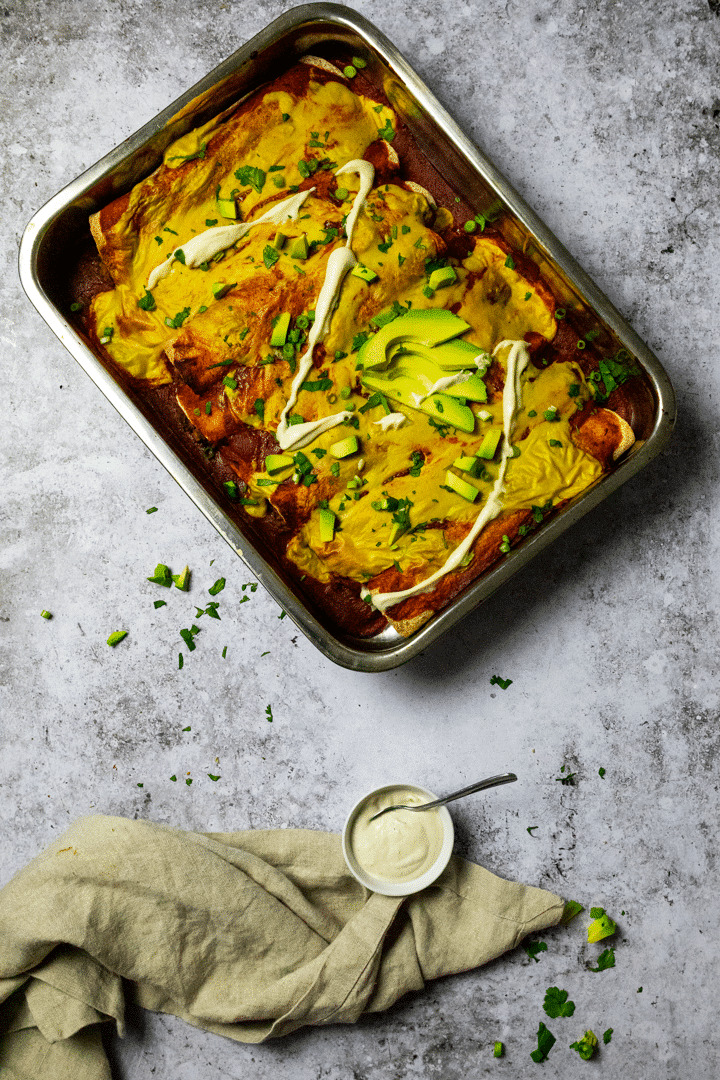 Leftover Storage
You can store the leftovers in an airtight container in the fridge and bake in the oven for about 10 minutes just before serving.
You can also freeze them and then simply bake them again, I bake them for about 30 minutes.
More vegan Mexican dishes:
Enchilada Pan without tortillas
Do not forget to Pin on Pinterest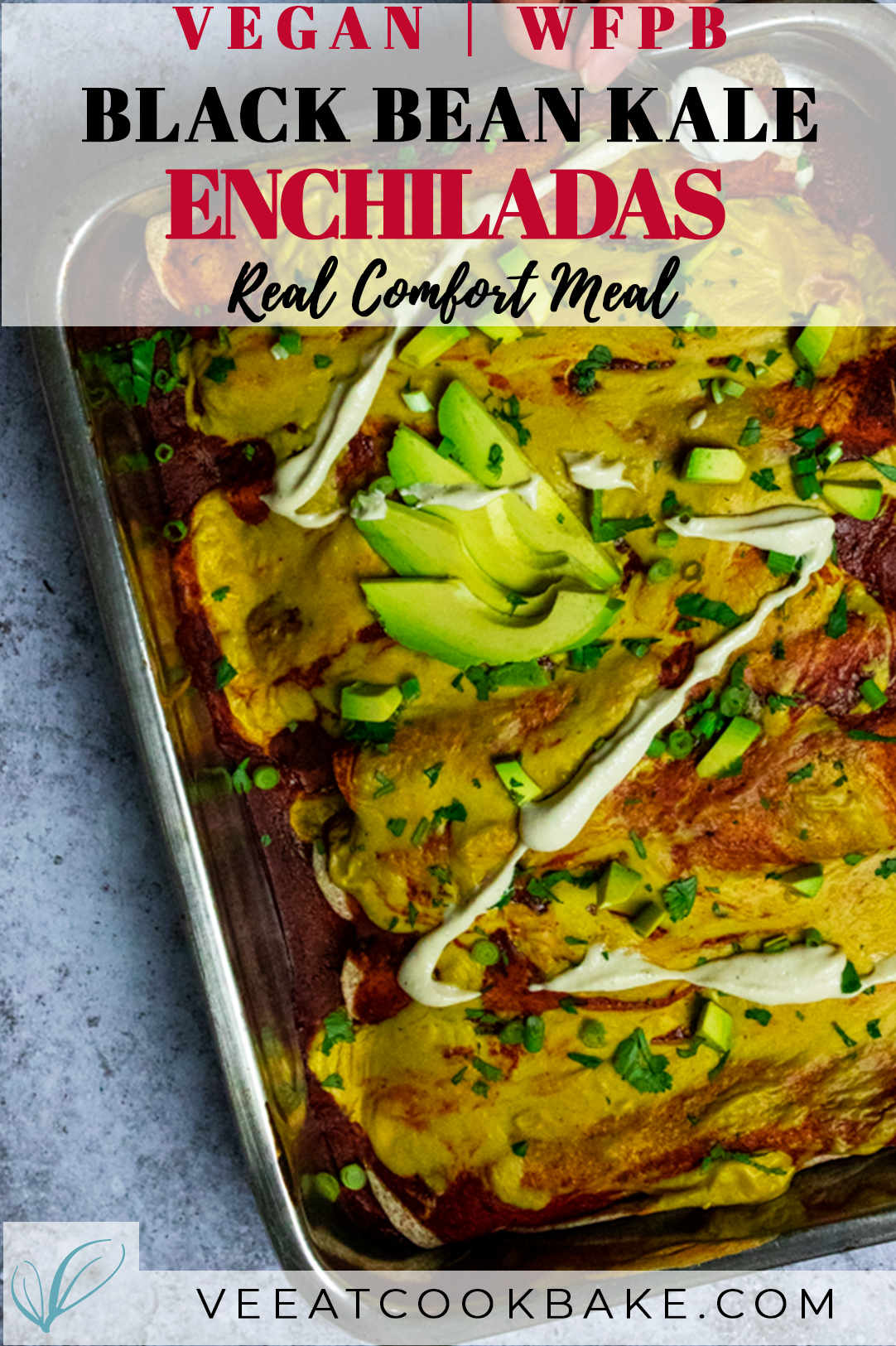 Have you tred the recip
If you tried the vegan Recipebe so nice ♥ and let me knw byrating the recipe and writing what you think about it in the comments.  I would love to see your photo on Instagram orFacebook. To do this tag me with @veeatcookbake andmy hashtag is #veeatcookbake. So that I can see your creation. Did you know you can add photos n Pinterest under the recipe Pin? I can't wait to see a photo of your creation here. You find me with @veeatcookbake