Vegan tacos are anything but difficult to prepare. With this simple vegan taco meat recipe made from lentils, mushrooms and pecans, you can create amazingly delicious vegetarian tacos that you absolutely do not miss the meat-containing tacos.
You love Mexican dishes, which you can also quickly prepare yourself at home? Then these plant based tacos are something for you.
They are soy-free and, if desired, also nut-free. We do not use tofu, which is often found as a meat substitute for ground meat.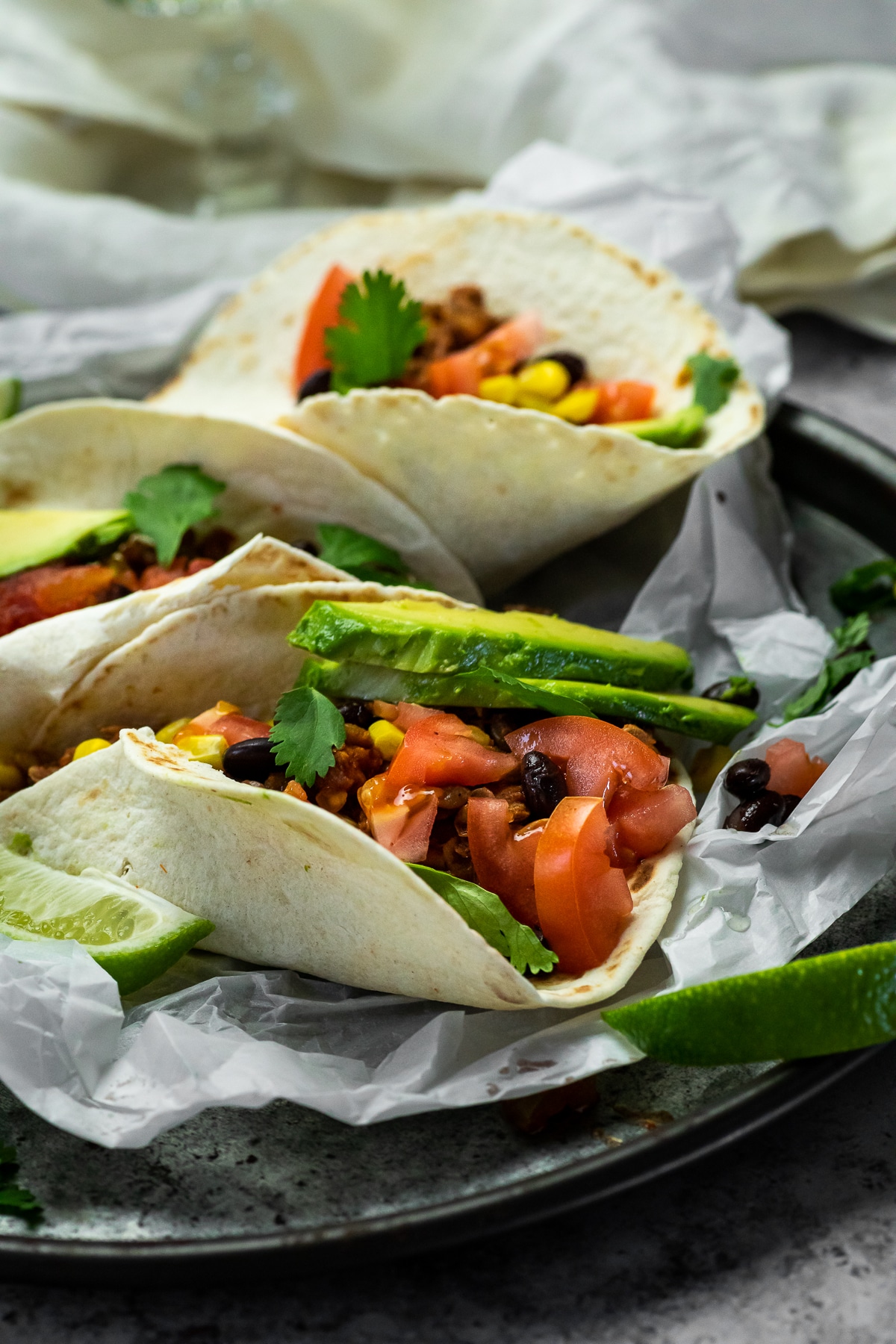 As an Amazon Associate, I earn from qualifying purchases. This post may contain affiliate links. Read More
We do not use vegan meat substitutes for the vegan taco filling and create these lentil tacos from whole foods. Thanks to the right spices, you can prepare authentic tacos that taste like Mexican food.
Simply top the tacos with your favorite topping and you have a real comfort meal in no time.
I don't know about you, but I like to use lentils as a meat substitute, especially if it's ground meat. Like this Sloppy Joe sandwich, or this vegan Shepherd's Pie.
Lentils are hearty and adapt perfectly to the added spices like a taco seasoning mixture.
I personally think that the Mexican cuisine is very vegan-friendly. You can replace meaty side dishes with beans and the like. And so you continue to get a high quality protein source.
Legumes not only taste delicious, they are also cheap and therefore super budget-friendly.
This recipe is ideal for feeding a crowd at the same time. The best thing is that everyone can put together their own vegan taco.
Recipes are great, which you can store in the fridge and then eat the next day again. Let's face it, can you ever get enough of tacos?
Jump to:
Benefits of Lentils
Do you actually eat lentils regularly? These legumes are not only super cheap, they are also a great source of protein.
Especially for people who are afraid to get not enough protein with a plant-based diet.
In addition, lentils are full of iron and fiber, which not only help your blood sugar regulation, but also fill you up for a long time.
What are vegan tacos made of?
This vegan taco meat recipe is made from lentils, chopped mushrooms and finely chopped pecans. This is fried in a pan and seasoned with a delicious taco spice.
Are Taco Shells Vegan?
Generally, tortillas, flatbread and the same are vegan. They are based on wheat or corn. However, if they are cheese-flavored taco shells, then they are probably not vegan. E.g. the Dorito Taco Shells are not vegan.
Again, I recommend that you always look at the ingredients list to see which ingredients are really included.
For a whole food plant based diet, I recommend to look at the list of ingredients and see if there are only ingredients that are compatible with this diet.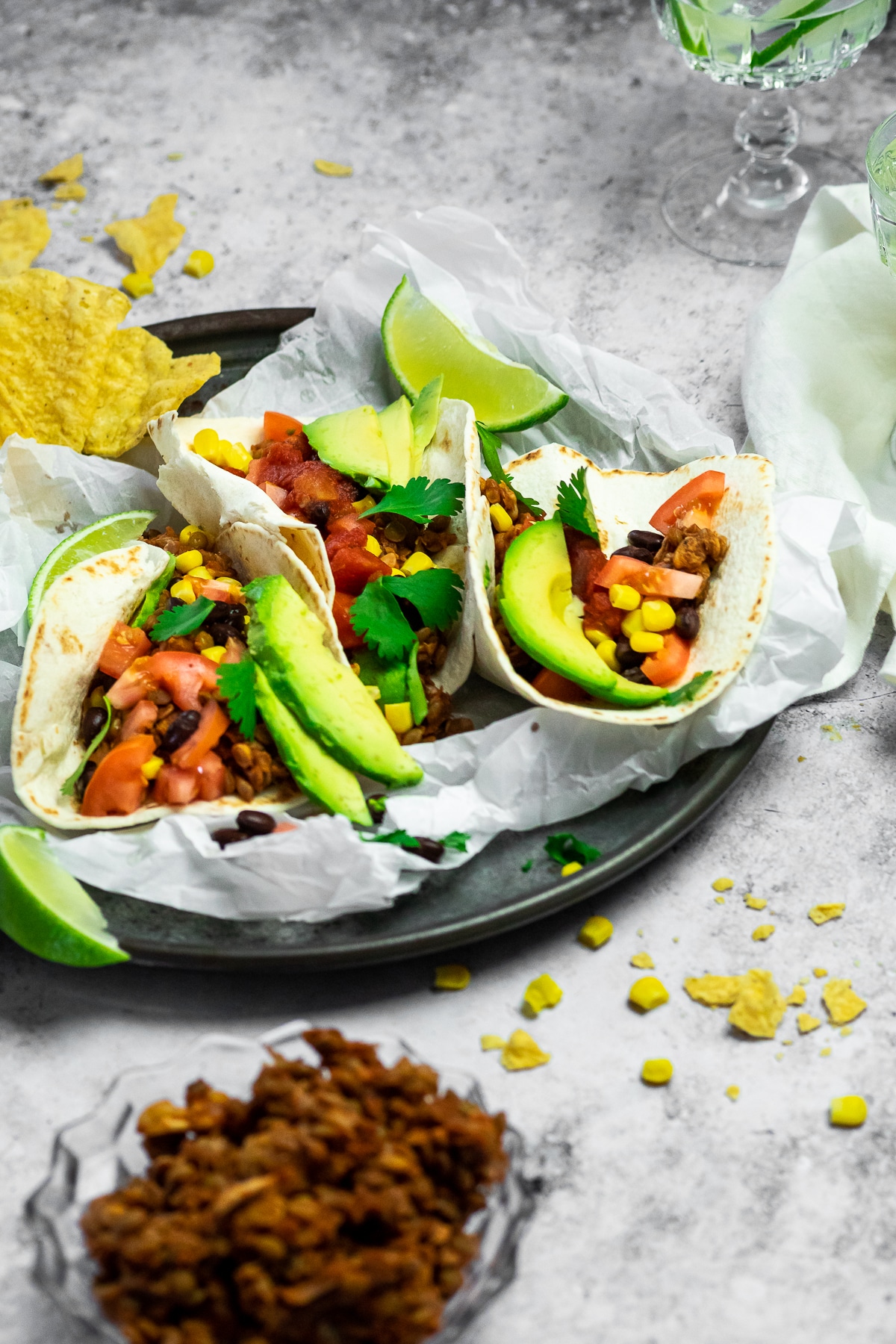 Ingredients
Now let's take a look at exactly which ingredients are contained in these vegan tacos. You can find the exact quantities below in the recipe card.
Taco Meat
Lentils
Mushrooms
Onion
Pecans
Taco Seasoning
Topping
Tomatoes
Avocados
Black Beans
Salsa
Corn
Cilantro
Lentil Type
I prefer to use black lentils for those savory dishes where I replace minced meat. Here you can use French lentils or Beluga lentils as you like.
In terms of consistency, these remain somewhat firmer than the green lentils. So you have a little more bite.
But if you only have these green ones, you can also use them to prepare them. I also prepare them more often with the green lentils. Here in the USA I have to order the French or Beluga lentils online because they are difficult to find.
I would not recommend red or yellow lentils as they become too soft and tend to become mushy which we don't want with this vegan taco recipe.
Mushroom Replacement
You can also substitute the mushrooms with more lentils. The mushrooms give the taco dish that certain something.
Whatever I like to do, use more onions. The mushrooms and the onion help to get a good umami taste in the recipe. Just by frying the mushrooms you get an incredibly great taste.
Lentil Replacement
You don't like lentils, then you can try replacing them with more mushrooms. Or try chopped cauliflower and use it as a replacement.
Gluten free Tacos
The vegan taco meat is gluten-free. With corn tortillas you made gluten-free tacos very easily. Instead of wheat tortillas, corn tortillas are a great substitute, and they taste at least as good as with wheat tortillas.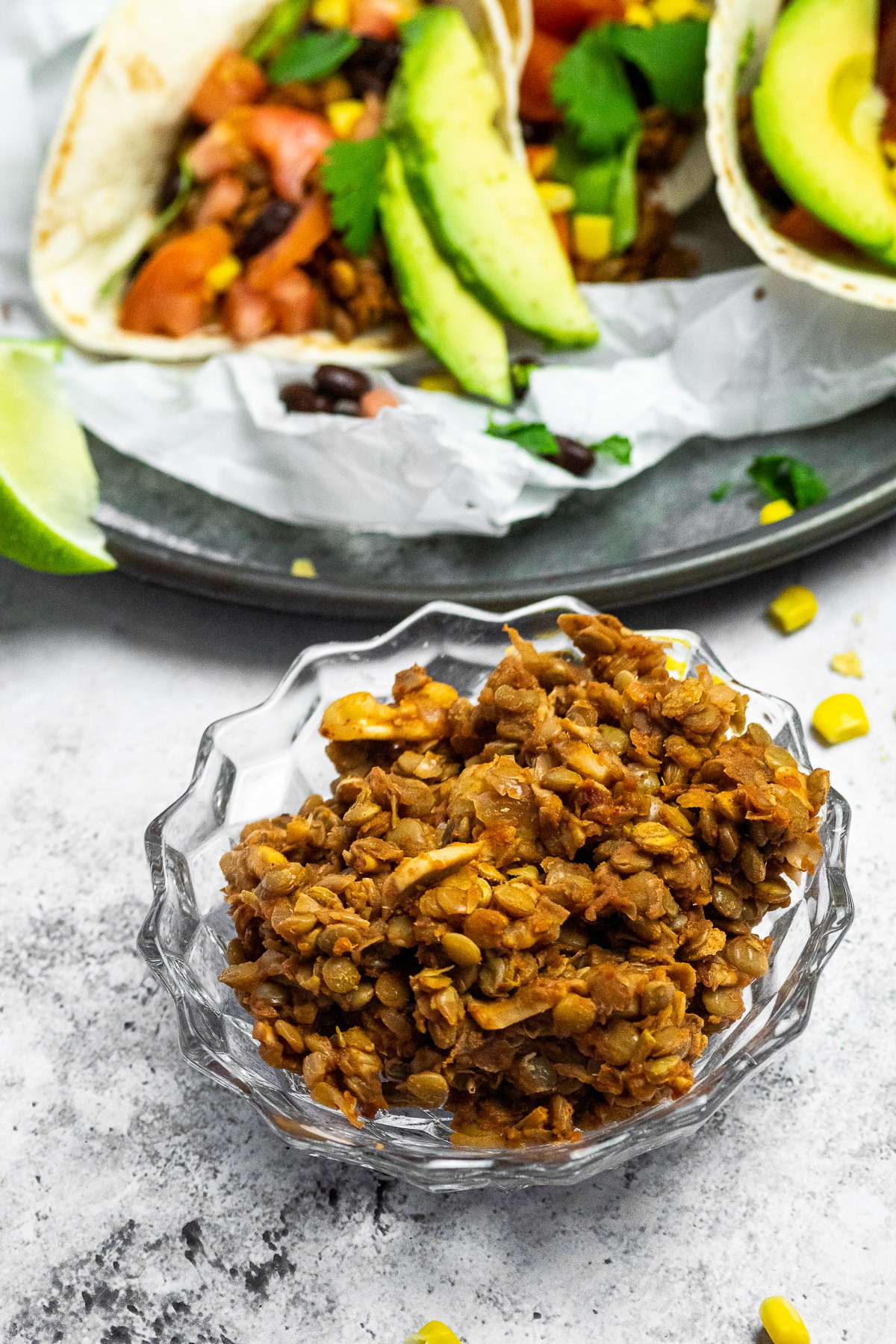 Pecan Substitute
If you don't want to use pecans, you can do this.
Replace with other nuts such as walnuts, almonds and the like.
If you don't want to use nuts in your vegetarian tacos, you can of course also use seeds like sunflower seeds or pumpkin seeds and chop them.
Instruction
If you don't have a taco seasoning, first prepare the seasoning mix for the tacos. Simply add all the ingredients to a small blender and blend. I like to use a small chopper.
Now cook the lentils according to the package instructions.
Chop the mushrooms, nuts and onion and fry them vigorously in the pan. Here you can either add a dash of water or vegetable stock from time to time.
Add most but not all of the taco seasoning and then taste it. If necessary, add a little more. If you like it a bit more spicy or even hot, you can also add a little Tabasco if you wish.
While the mushrooms are sautéing, prepare the remaining ingredients.
When the mushrooms are seared, add the lentils and season again with the spice. You can also add some salsa and add extra flavor.
Now you can put the tacos together. Put some of the taco meat in a tortilla and add your topping as you like.
Prepare in Advance
The taco lentils can be prepared in advance. Simply prepare the "lentil meat" as described above and heat it up the next day. You can also cut the remaining ingredients into small pieces and keep them in the fridge.
Tips
If you want to prepare it faster, you can also use canned lentils instead of cooking lentils yourself.
I like to cook the lentils myself. Lentils are one of the fastest cooked legumes. I cook lentils in a normal pot.
You can use vegan sour cream. I like to prepare it using vegan yogurt and lemon juice.
Use guacamole instead of avocados.
If you don't like coriander, just take some parsley or other herbs you like.
Vary the filling and just prepare your favorite toppings.
Prepare the tacos together with friends and partners. It's a lot of fun.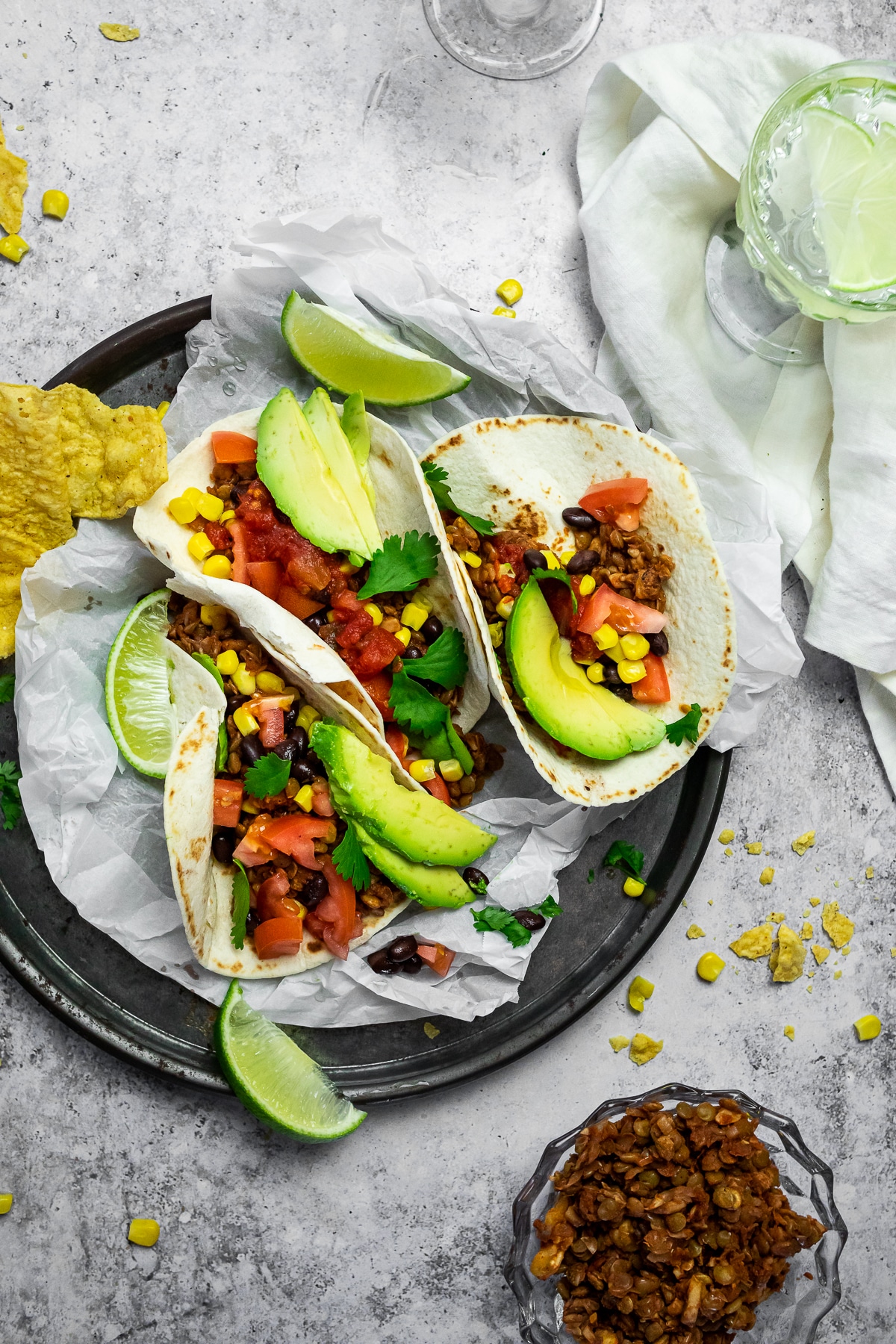 Storage
The taco filling can be frozen. I recommend that you freeze tacos that have not been put together. Instead, freeze the lentil filling and the tortillas separately. And thaw and warm up.
The taco filling can be stored in the fridge for about 5 days. So you can prepare it ideally as a meal prep and use it for vegan burritos, vegan taco bowls and more.
Serving Suggestion
Mexican Rice
Refried Beans
Mexican Corn Salad
More vegan Mexican-inspired Recipes: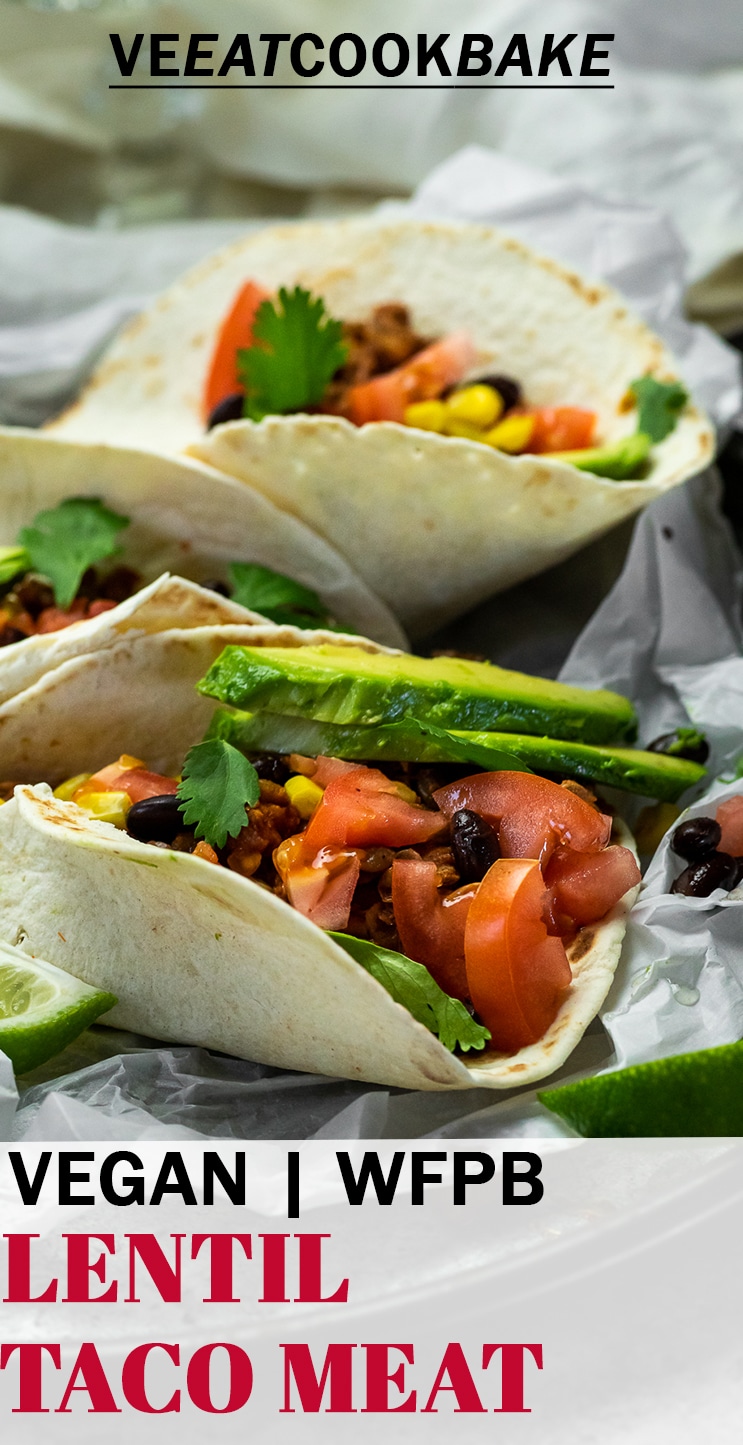 Have you tried the recip
If you tried the vegan Recipebe so nice ♥ and let me knw byrating the recipe and writing what you think about it in the comments.  I would love to see your photo on Instagram or Facebook. To do this tag me with @veeatcookbake andmy hashtag is #veeatcookbake. So that I can see your creation. Did you know you can add photos n Pinterest under the recipe Pin? I can't wait to see a photo of your creation here. You find me with @veeatcookbake

Jump to: