Do you love mayonnaise? But would you like to not use the traditional mayonnaise? Then you should definitely try this vegan oil-free mayo. You only need a few ingredients, and you get a great alternative to mayonnaise with oil.
This plant based mayo is made from whole foods without eggs or oil. It is on your table within 5 minutes.
Low in fat, creamy and soooo delicious. It's full of healthier fats and conjured up from simple ingredients from your pantry.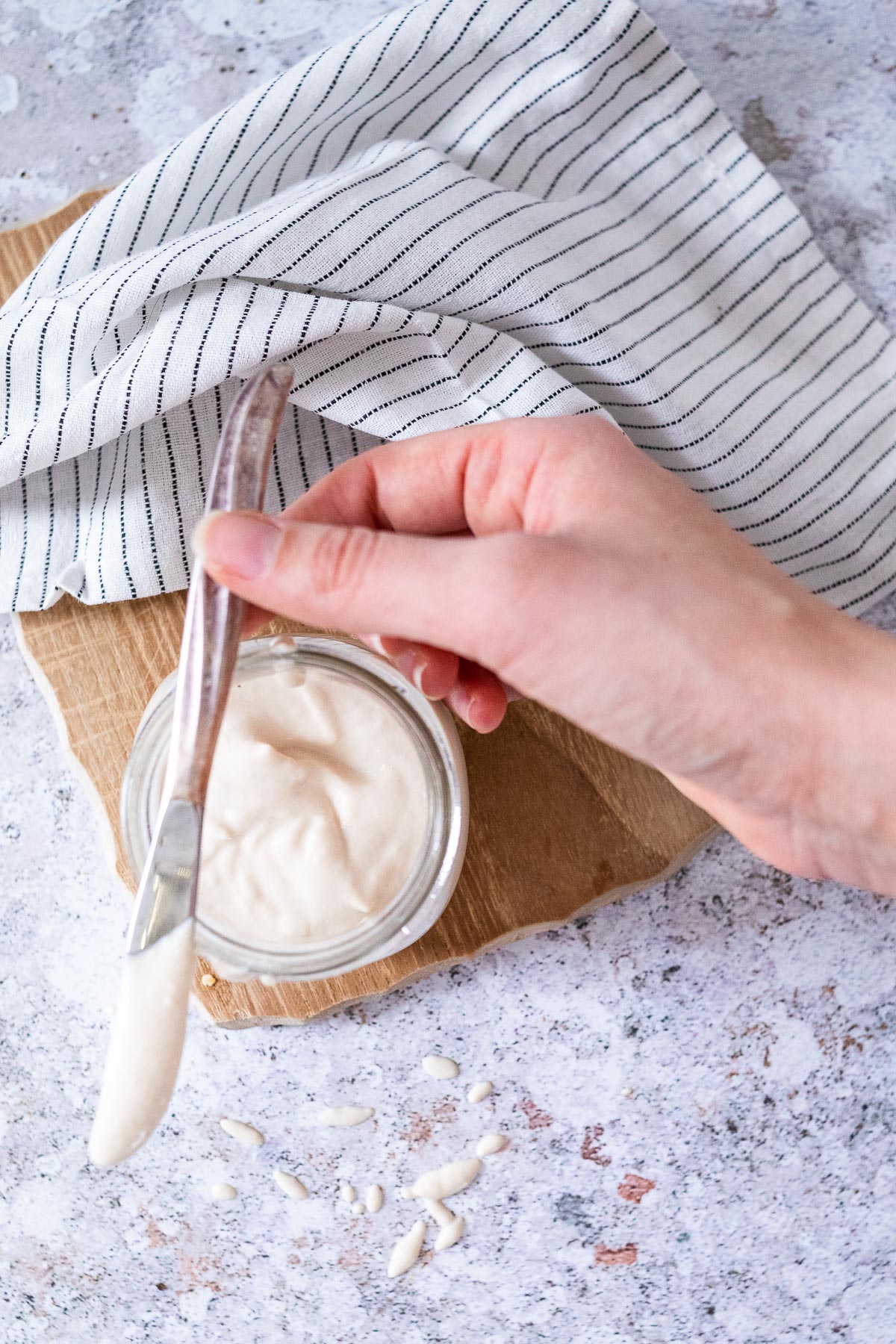 As an Amazon Associate, I earn from qualifying purchases. This post may contain affiliate links. Read More
Jump to:
This vegan mayo contains no dairy products, no eggs and no oil. I'll also show you an alternative to cashew mayo here.
Vegan mayonnaise substitute, which is so incredibly creamy thanks to cashews and white beans and you get extra fiber and protein.
If you want to eat a whole food plant based diet now, it will be difficult to use store-bought vegan mayo.
These are also made from oil that we do not want to consume in a wfpb diet. And it's really super easy to make vegan mayo without using any processed oils.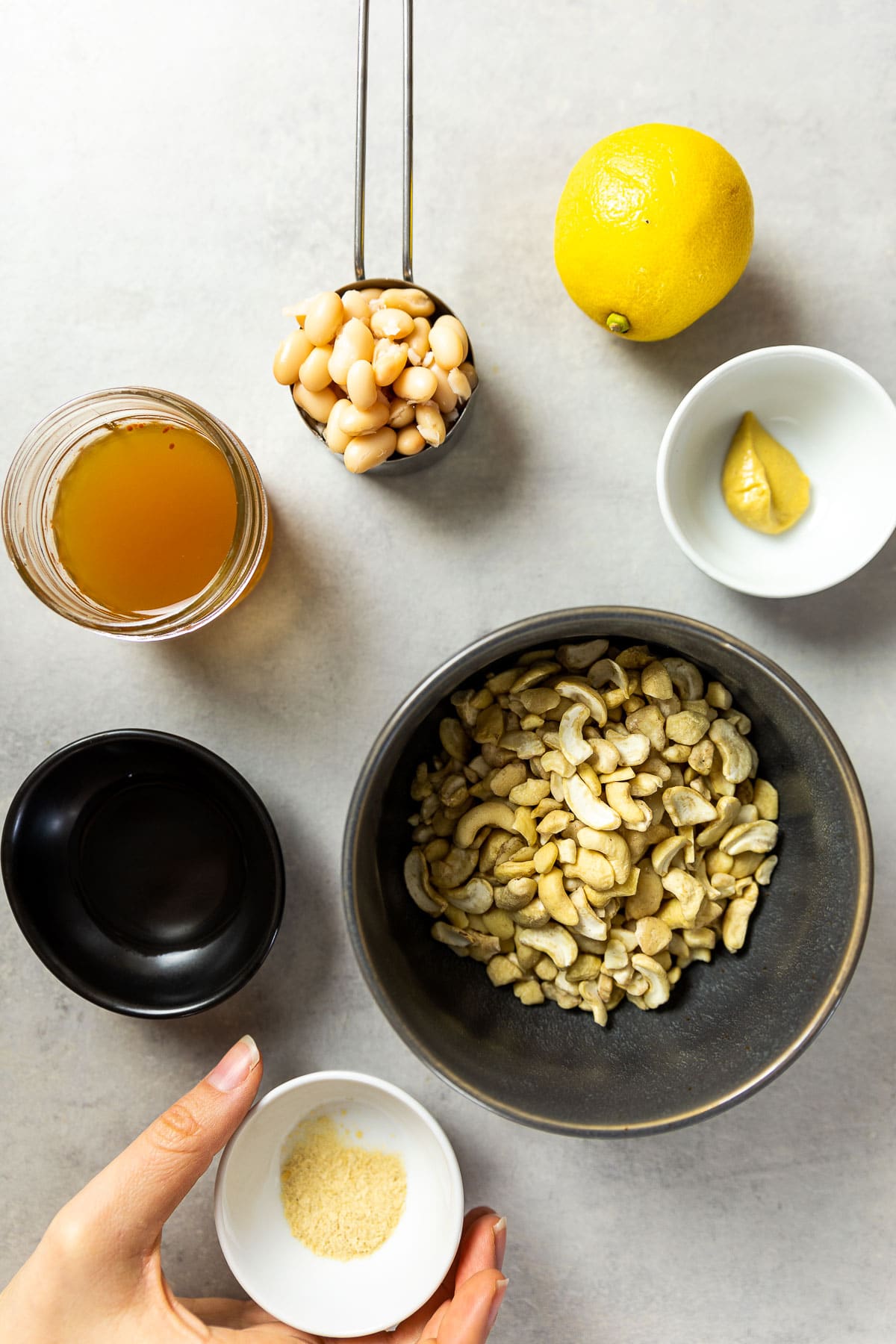 Ingredients
Let's take a quick look at which ingredients are in the vegan mayo without oil. As always, the exact quantities can be found below in the recipe card.
White Beans
Cashews
Water
Lemon Juice
White Vinegar
Dijon Mustard
Nutritional Yeast
Sea Salt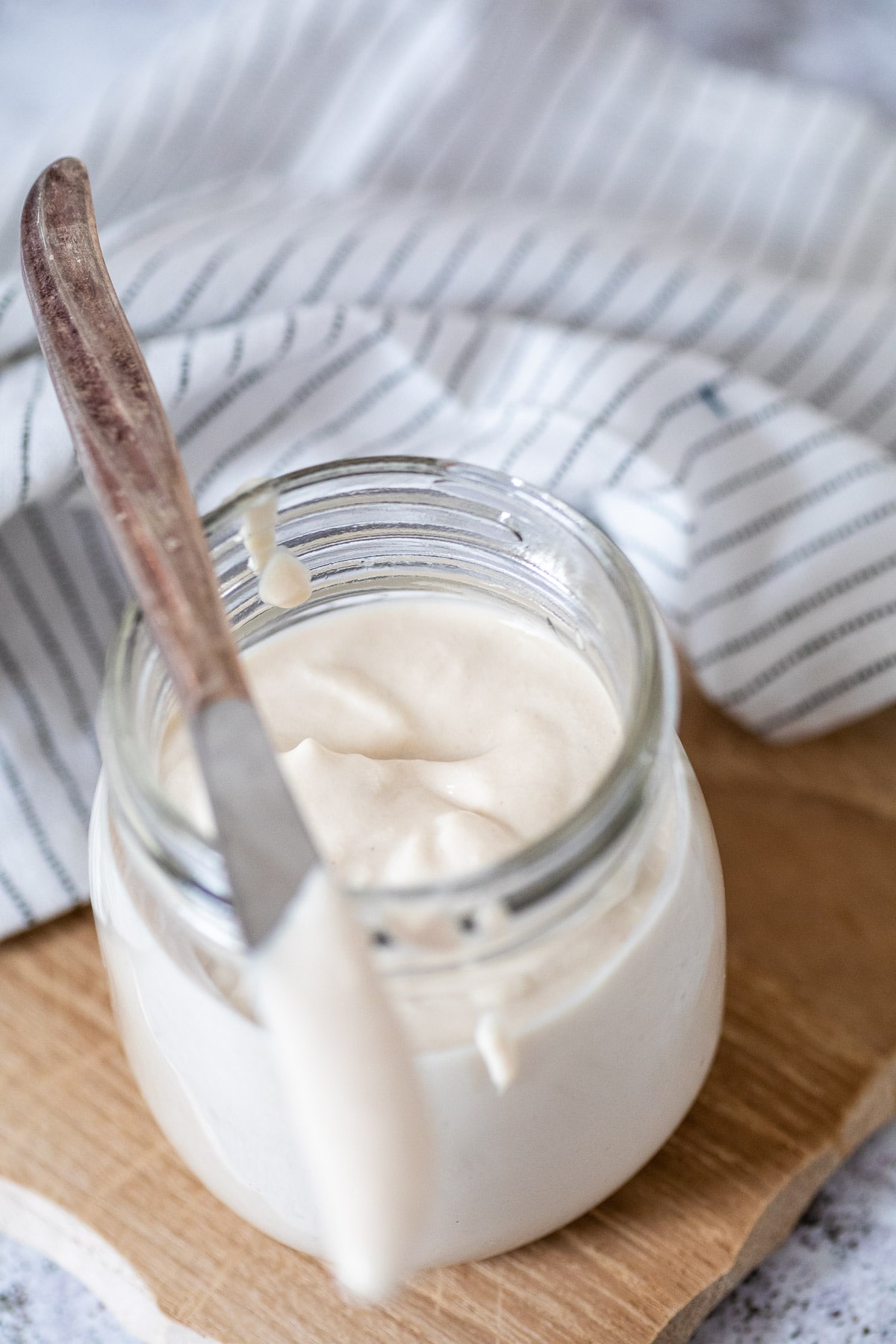 Substitutions
Now let's take a look at which ingredients you can replace.
White Beans
If you don't want to use legumes for the vegan mayo, you can also use cashews here. I can also imagine tofu working too.
Cashews
Would you like to make a nut-free mayo? Then just use sunflower seeds or pumpkin seeds. However, the color will then change a little.
Water
Do you want more flavor in your vegan mayonnaise? Then add vegetable stock instead of water.
White Vinegar (5% acid)
I think white vinegar gives the best taste. You can also use apple cider vinegar or white wine vinegar.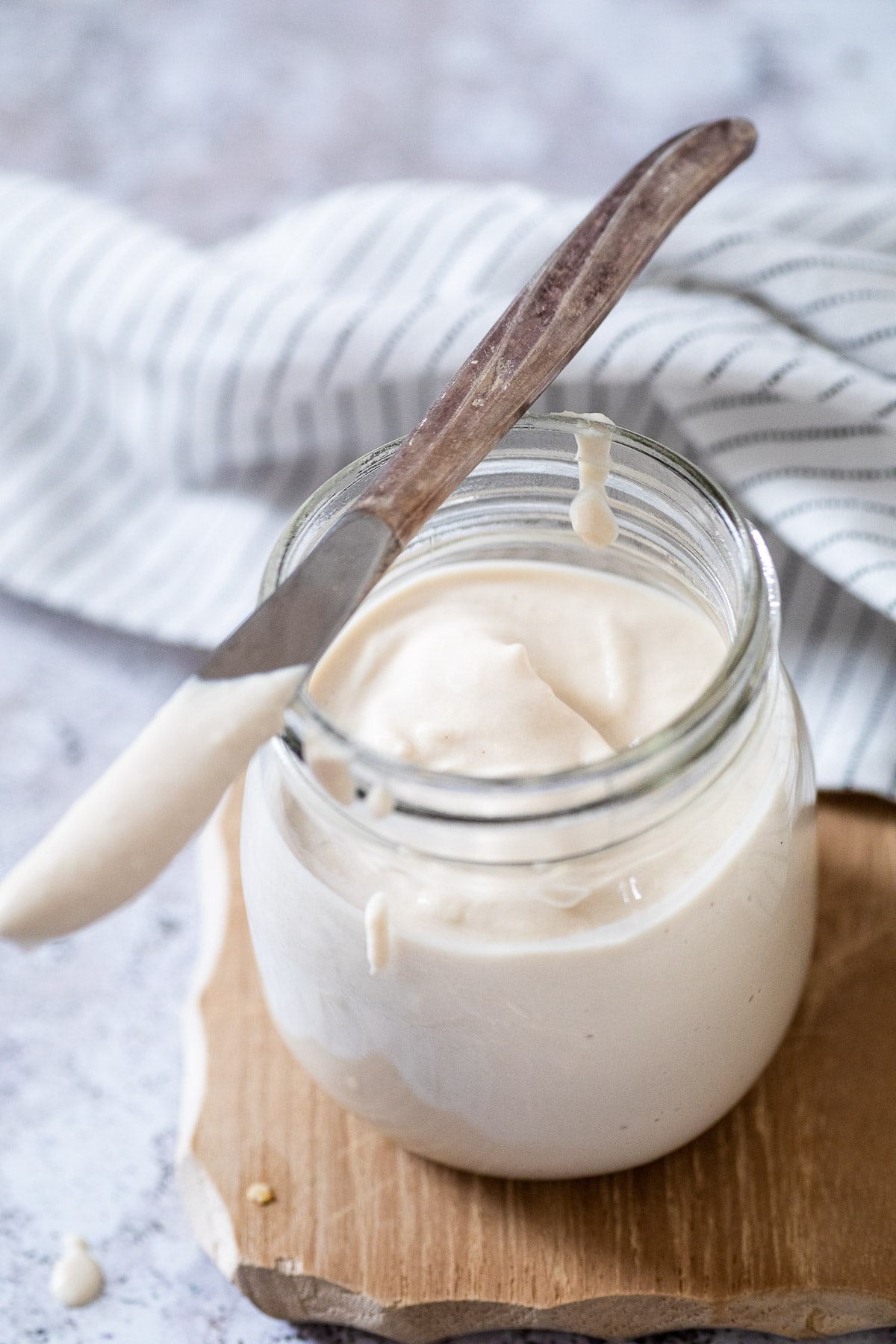 Variations
Let's take a look at how you can adapt the vegan mayo without oil to different diets.
Nut free
You can easily prepare this plant-based mayo without any problems. To do this, simply replace the cashews with sunflower seeds or pumpkin seeds.
Gluten free
This is a gluten-free vegan mayo recipe. So you don't have to change anything about the recipe.
Keto and Paleo
You can make a keto vegan mayo by replacing the white beans with cashews.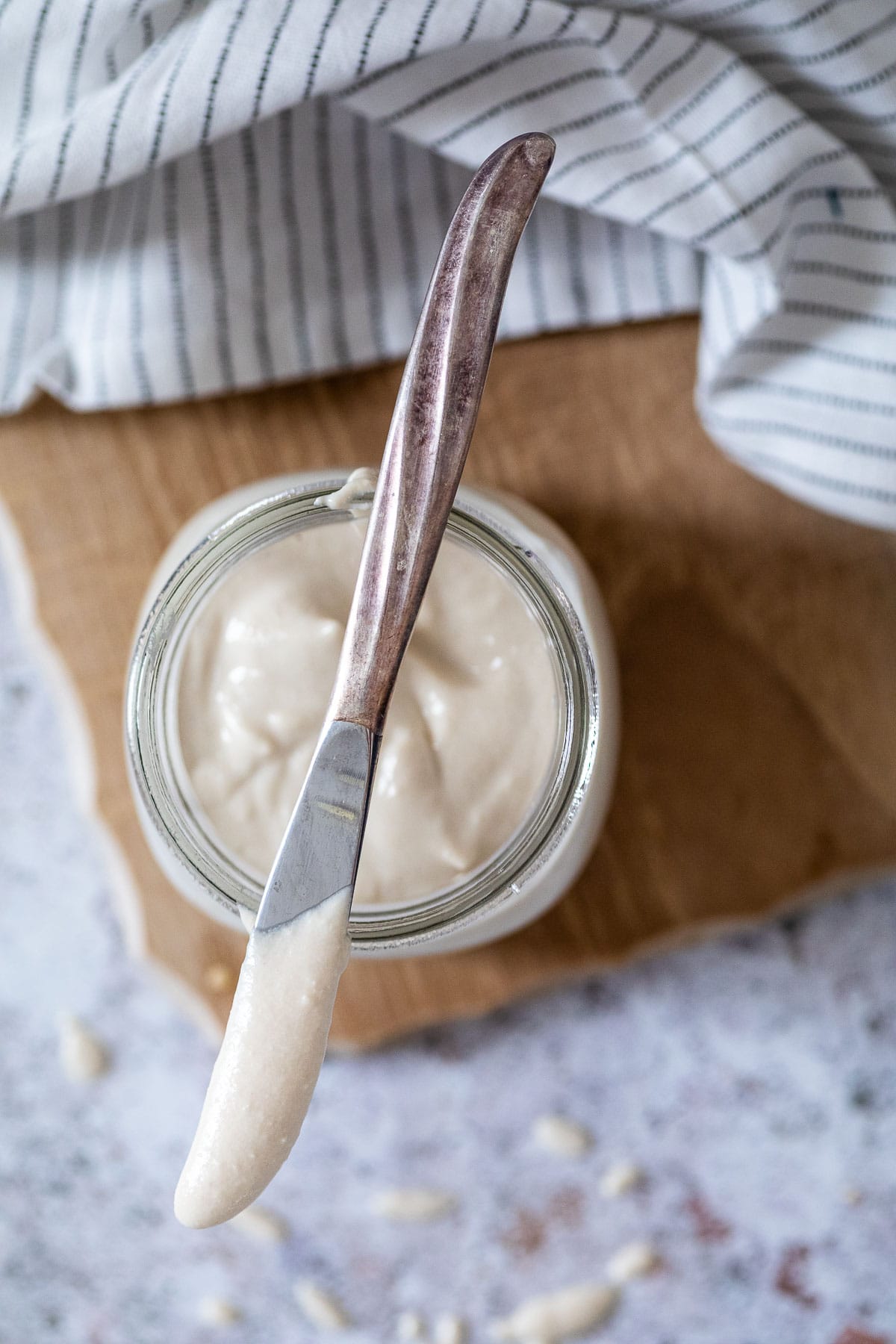 Instructions
Start by rinsing off the white beans. Now, put the beans in the high speed blender as well as the cashews, water, lemon juice, vinegar, Dijon mustard, nutritional yeast.
Now mix until you get a creamy consistency without pieces. This is very important so that you get a creamy consistency like mayo.
If necessary, season the mayo with sea salt.
Prepare in advance
This vegan oil-free mayo is great to prepare in advance. It can also be frozen so that you always have something on hand.
Storage
How to refrigerate?
This vegan mayo is great to store in the fridge. Simply store the mayo in an airtight container in the refrigerator. The Mayo lasts here for about 5 days.
How to freeze?
The mayo will keep frozen for approx. 2 months. To do this, freeze them in portions. So you can only thaw what you need.
Serving options
Use this oil-free vegan mayo just like you use regular mayonnaise. You can use it as a dressing or make a dip out of it.
Tips
If you think the mayo is creamy, mix it up a little more. It's super important that there aren't any pieces left.
Depending on how much power your high speed blender has, I recommend that you soak the cashews in hot water beforehand. This will make the mayo creamier.
The next day it will be a little thicker and creamier than on the first day.
More vegan recipes: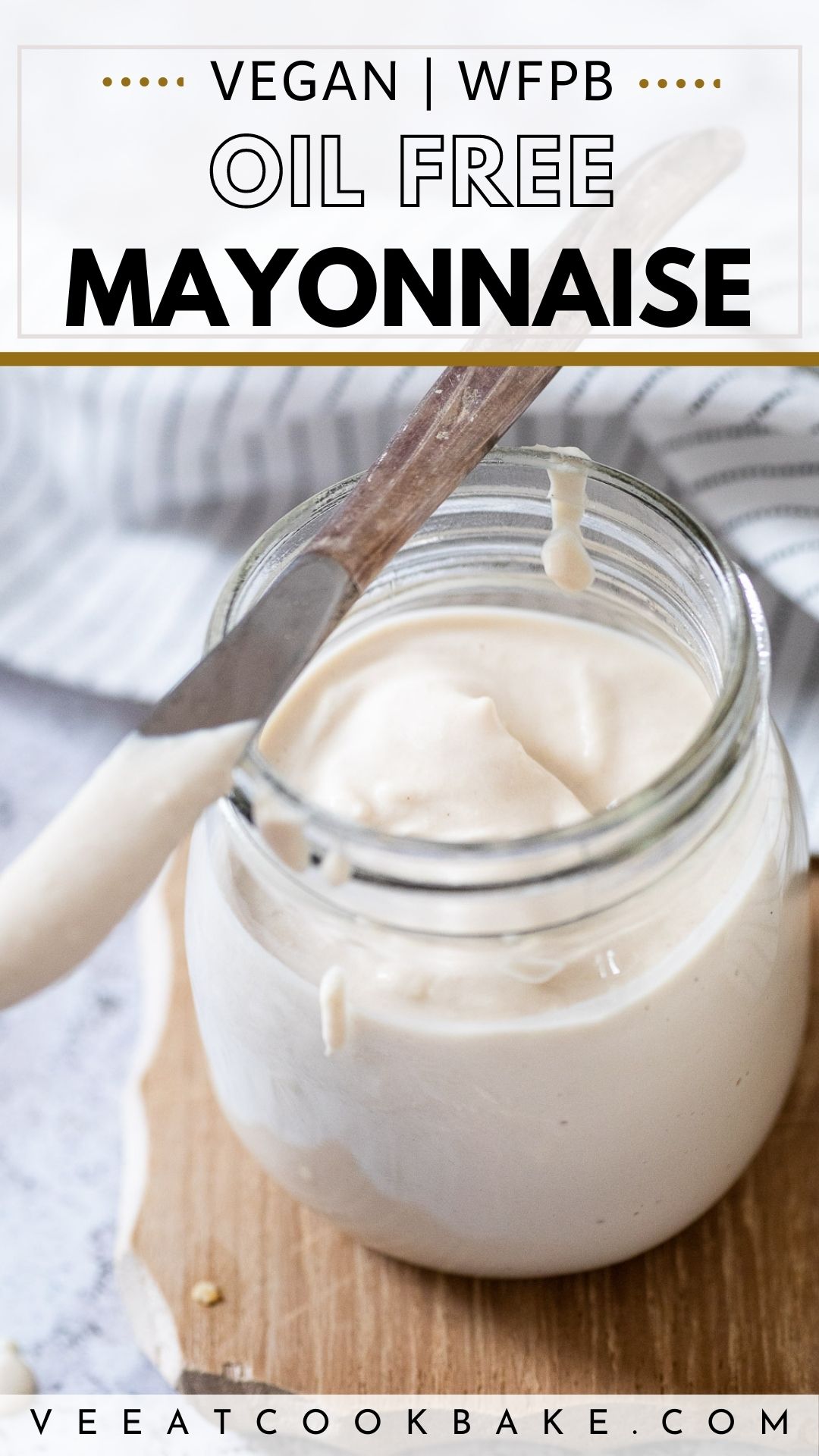 Have you tred the recip
If you tried the vegan Recipebe so nice ♥ and let me knw byrating the recipe and writing what you think about it in the comments.  I would love to see your photo on Instagram orFacebook. To do this tag me with @veeatcookbake andmy hashtag is #veeatcookbake. So that I can see your creation. Did you know you can add photos n Pinterest under the recipe Pin? I can't wait to see a photo of your creation here. You find me with @veeatcookbake