This vegan beetroot hummus risotto has a light earthy taste thanks to the included beetroot and becomes heavenly creamy thanks to the chickpea hummus and Tahini.
This vegetarian risotto with beetroot, hummus, nutritional yeast, miso, deglazed with white wine is rounded off with vegan Parmesan.
This healthy risotto is the perfect dinner on work or schooldays.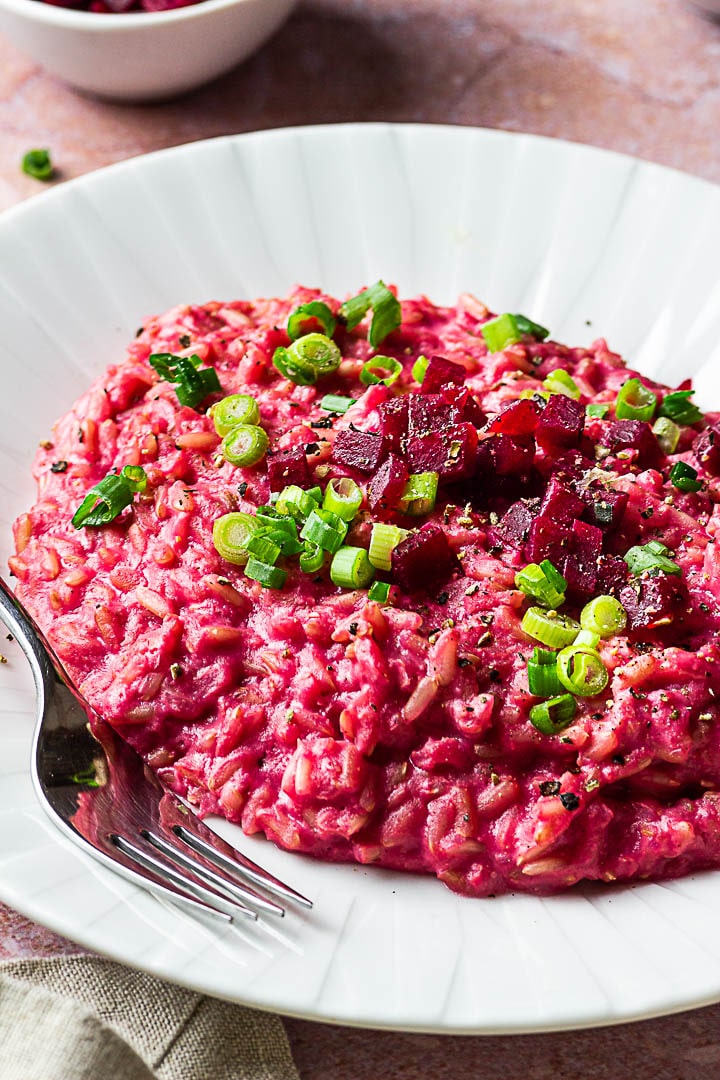 As an Amazon Associate, I earn from qualifying purchases. This post may contain affiliate links. Read More
Jump to:
The first time I prepared this risotto with the leftovers of my beetroot hummus, I was totally thrilled how good it tasted.
It was so good that a few days later I had prepared a risotto with hummus and beetroot again.
And it was so incredibly creamy and thanks to the seasonings, this risotto was anything but boring.
My two kids were thrilled when I made this risotto again, and I knew I had to share this risotto recipe with you here.
Ingredient

List

Here is just a quick list of what ingredients are in this amazing vegan beetroot risotto. The exact quantities are in the recipe card below.
Rice

Hummus original or homemade with a tin of chickpeas

Precooked beetroot

Garlic cloves

Shallots 

White wine or white balsamic

Nutritional yeast

White miso

Lime

Vegan Parmesan

Spring onions and a few beetroot pieces for garnish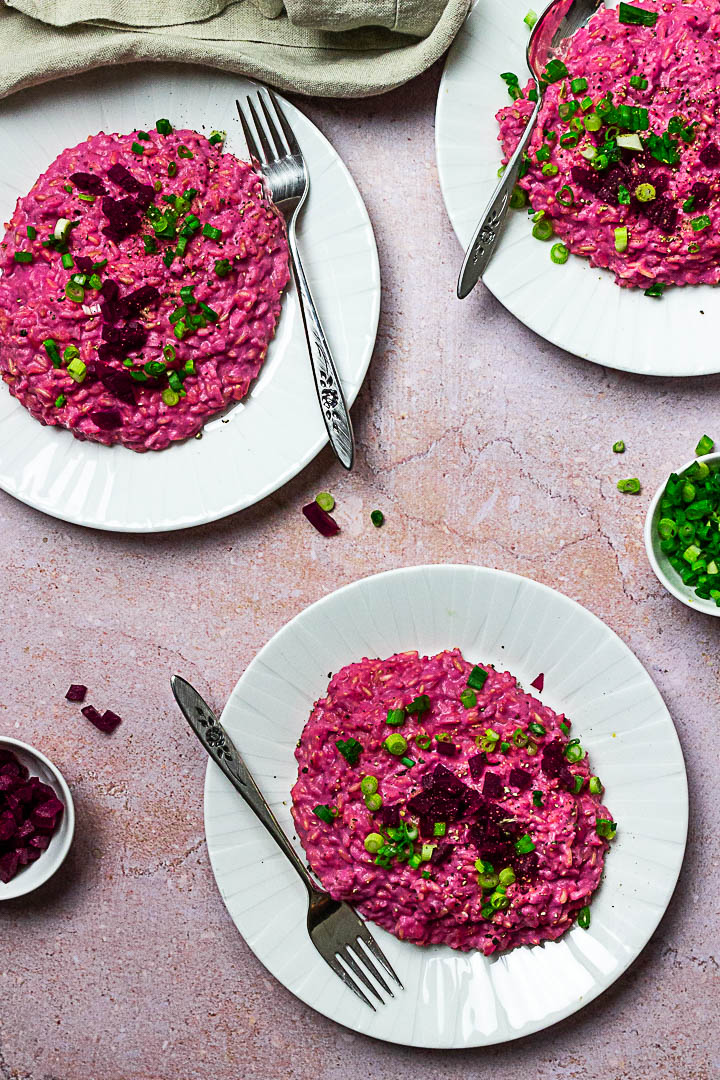 Cooking Process
First, cook the rice (brown rice) according to the package instructions.
In the meantime, cut the shallot finely and fry it with chopped garlic cloves in a pan.
When the shallots turn brown, slowly deglaze them with white wine and wait until it is completely overcooked.
If you do not use white wine, just add the balsamic to the hummus.
In the meantime, you can process the hummus, beetroot and the remaining ingredients into a creamy sauce in a food processor.
When the rice is cooked, add everything to the onions and stir vigorously until the rice is completely mixed with the hummus cream.
Serve with a green salad.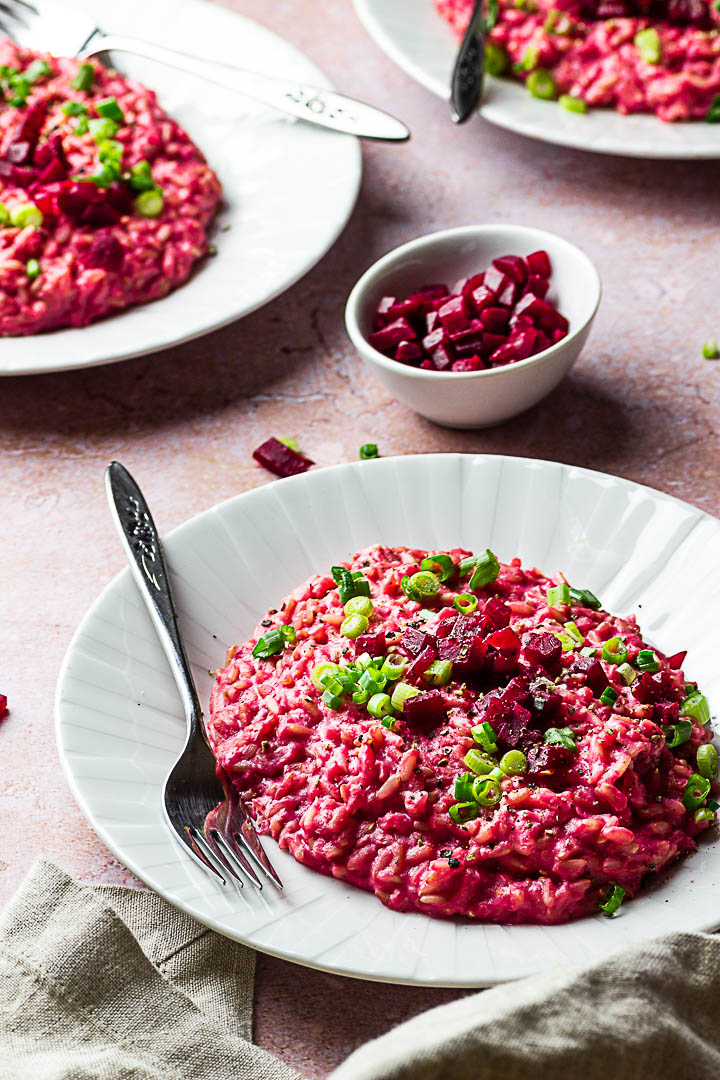 Storage
Risotto can be easily frozen, just let the risotto cool and then put in an airtight container in the freezer.
There the vegan beetroot risotto lasts for 2-3 months.
Leftover Usage
You can serve the leftovers as before or try to make patties out of them, just put the leftovers in a food processor and mix with some breadcrumbs.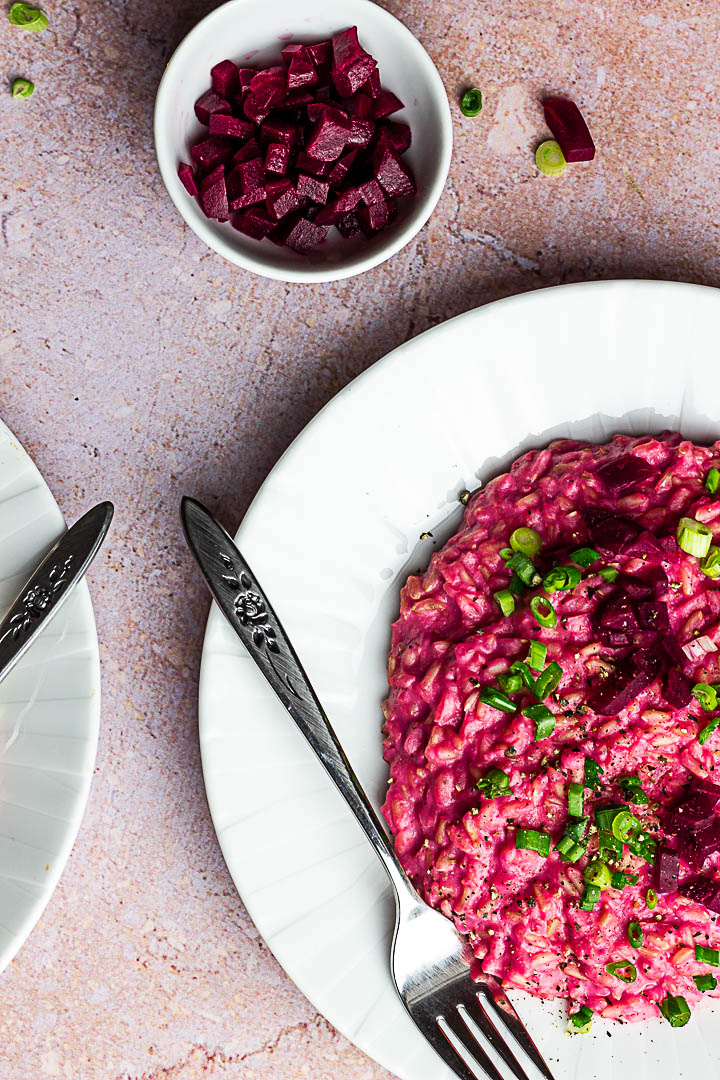 More Beetroot Recipes:
More vegan rice dishes:
Creamy savoy cabbage with rice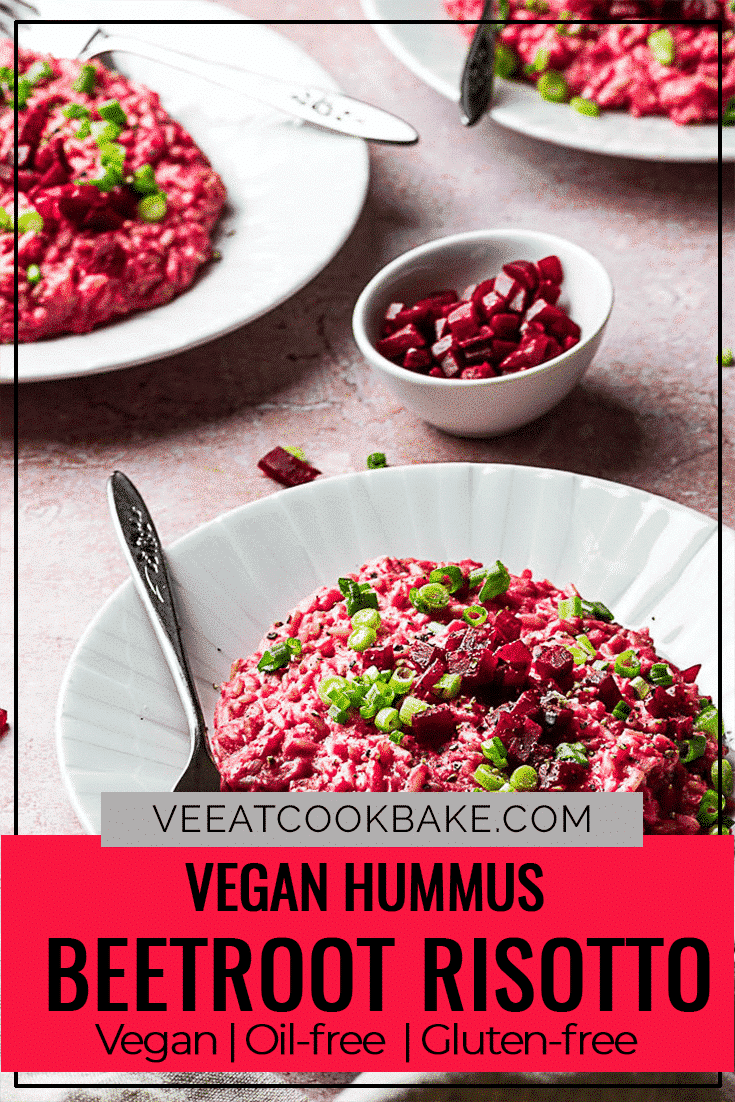 Have you tried the recipe?
If you tried the vegan Recipe, be so nice ♥ and let me know by rating the recipe and writing what you think about it in the comments.  I would love to see your photo on Instagram or Facebook. To do this tag me with @veeatcookbake and my hashtag is #veeatcookbake. So that I can see your creation. Did you know you can add photos n Pinterest under the recipe Pin? I can't wait to see a photo of your creation here. You find me with @veeatcookbake.