If you're looking for a delicious vegan dinner that won't take hours to prepare, this creamy and earthy beetroot hummus risotto is the perfect choice. I'm not exaggerating when I say it was love at first bite - between my leftovers of chickpea hummus, Tahini, nutritional yeast and miso sautéed with white wine deglaze (with some vegan Parmesan sprinkled on top!) This dish had me totally smitten...
And so did my two kids! So if you want a fuss-free meal ready in no time flat yet still full of flavor; give this easy risotto recipe your go-to tick tonight. Enjoy it on weeknights or for your next date night. It also makes the perfect Valentine's Day dinner.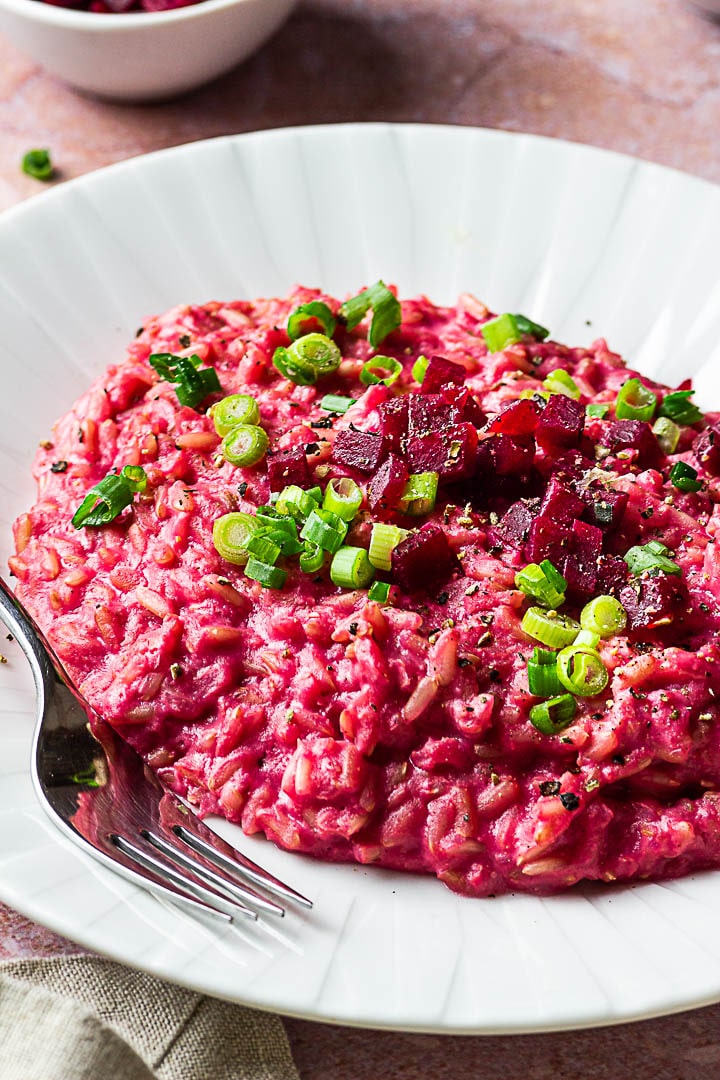 This recipe is inspired by my vegan asparagus pea risotto recipe. It pairs well with bruschetta, side salad like a vegan Caesar salad.
As an Amazon Associate, I earn from qualifying purchases. This post may contain affiliate links. Read More
Jump to:
Ingredients
A quick list of ingredients you will need to make this creamy beet risotto.
You can find the ingredients with quantities and the recipe to print out on the recipe card below.
Risotto Rice
Hummus
Fresh Beets
Garlic cloves
Shallots
White wine or white balsamic
Nutritional yeast
Vegetable Broth
White miso
Lemon Juice
Garnish
Vegan Parmesan
Spring onions
Beetroot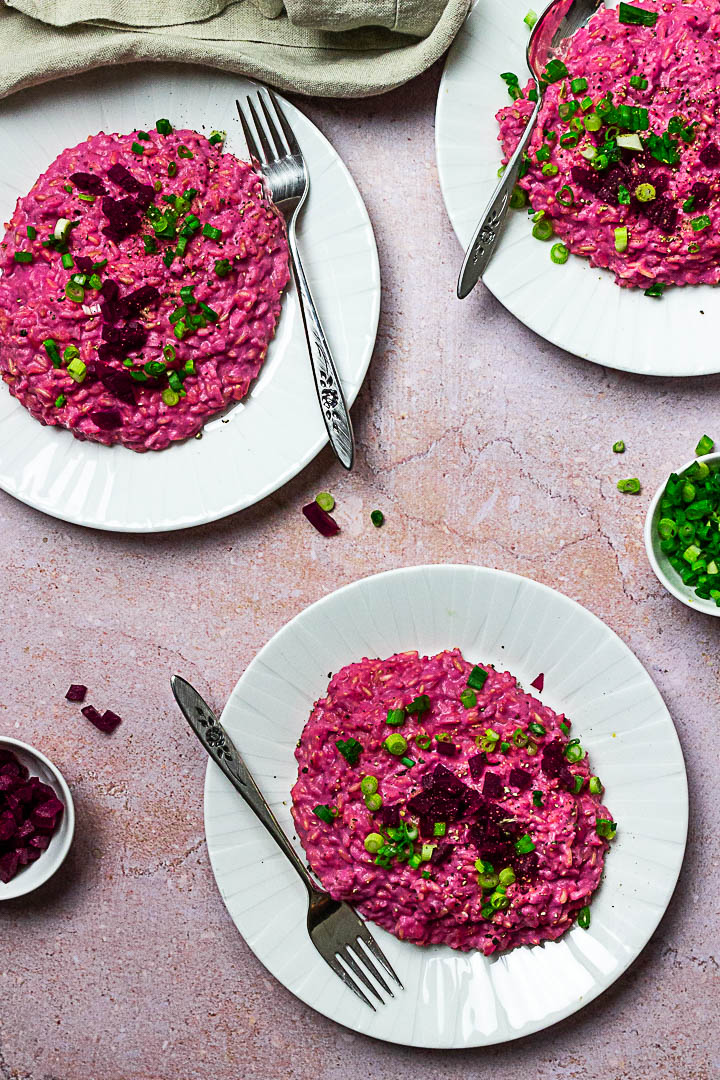 Instructions
Sauté the diced shallots and minced garlic in a little water in a heated up large non-stick pan on medium heat. Use one for that you have a fitted lid for. We will need the lid later on.
While you are sautéing your shallots, heat up your stock in a small pot. Keep the vegetable stock hot until your risotto is done. You can also dice your peeled beets.
Add the white wine to your shallots and let it deglaze. The wine should cook off completely. Mix in your rice and let it sauté for a few seconds while stirring. Toss beets, nutritional yeast, some salt, black pepper and miso paste. Add vegetable broth just enough to have the rice covered. Let it simmer on low heat. You will keep adding veggie broth in small amounts. Before you add more veggie broth, wait until the rice absorbed it fully. You want to stir the rice often, which makes the risotto creamy. You add stock until the rice is almost al dente. This will take about 20 minutes. Taste some rice to see if it is almost ready. Turn off the heat and cover the pan and let it rest for about 5 minutes. Add the hummus and lemon juice and stir it under.
Divide the risotto in a shallow bowl, top it with some vegan Parmesan cheese, beet cubes, spring onions and lemon zest.
Hint: Depends on the rice you are using and the heat, you will need less or more veggie broth.
Make this classic risotto, check out my vegan beetroot soup, beetroot hummus.
Cooking Time
The cooking time for the rice is 20-25 minutes, plus the time you sauté the onions. It will take around 35-40 minutes to prep this risotto.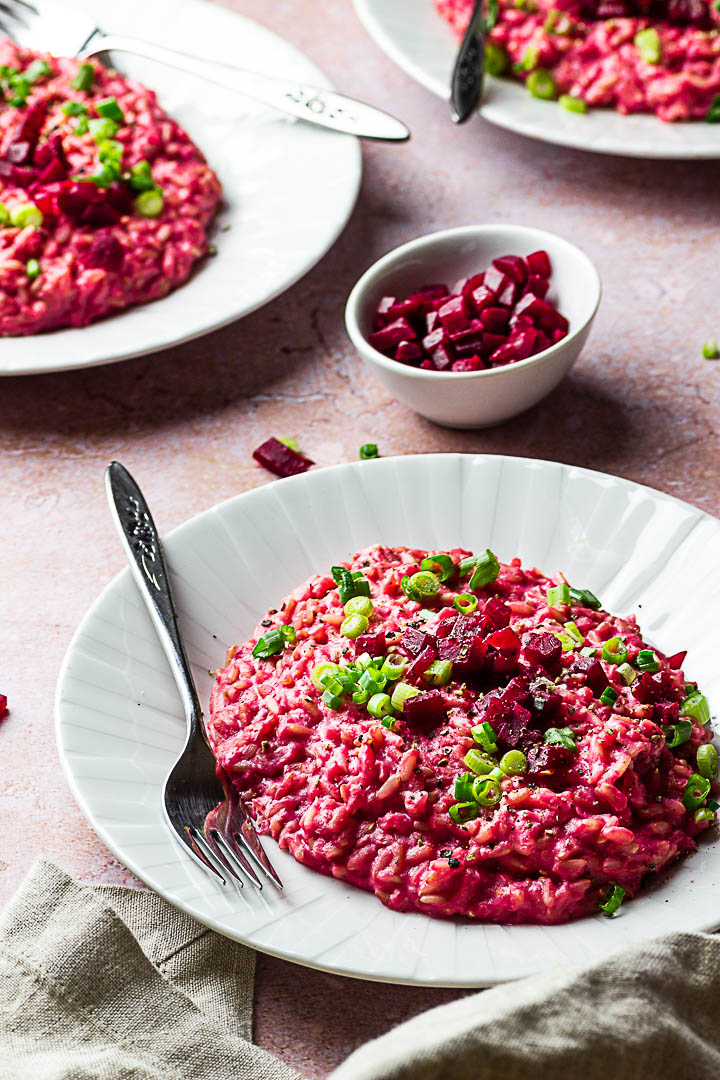 Substitutions
Risotto Rice: Arborio Rice is a short grain rice. If you can find, buy brown arborio rice. You could also make a barley risotto and use pearl barley instead of rice.
Hummus: I love to add some hummus add the end to add some more creaminess to this creamy beetroot risotto.
White Wine: You can also use red wine. Or you can omit the white wine and stir in later some white balsamic vinegar or white wine vinegar.
Nutritional Yeast: I love to add some cheesy flavor, you can also add some vegan Parmesan instead.
Lemon Juice: You got some Lime, add lime juice instead!
Shallots: Instead of shallots, you can use red onion. Those have a milder flavor, like the shallots.
Variations
Roasted Beets: You can also use roasted beets instead. Just roast them before in the oven.
Fresh Parsley: Add a bunch of chopped fresh parsley for some extra flavor.
Orange Zest: Instead of lemon juice, add some orange zest.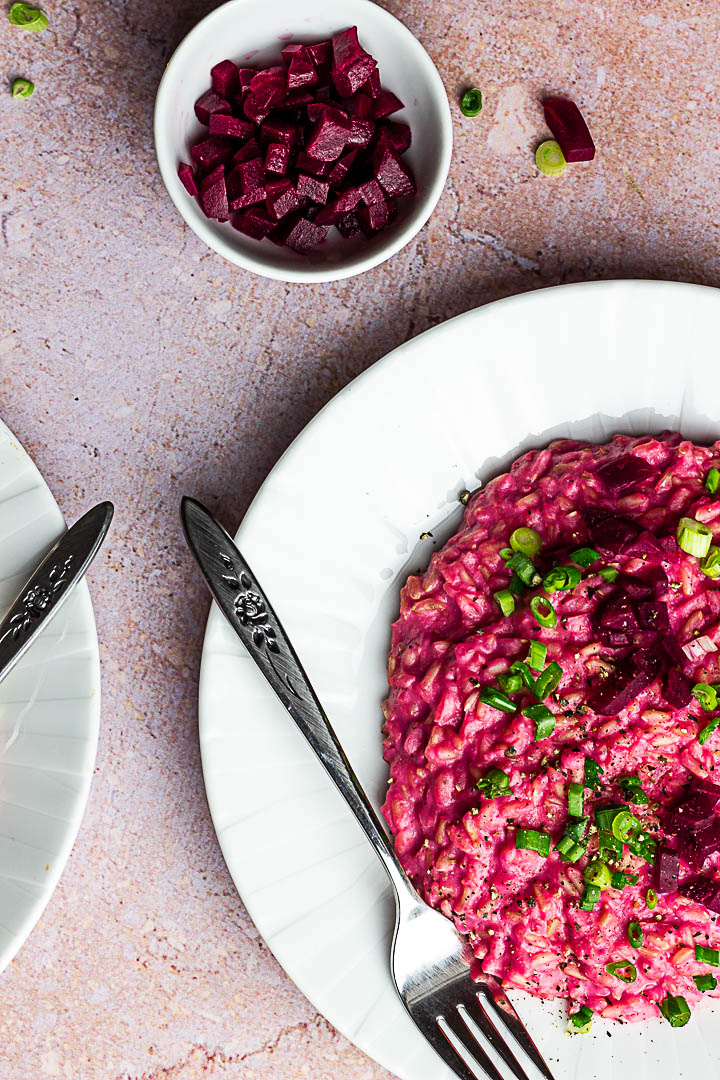 Storage
Fridge: You can store leftover risotto in an airtight container in the fridge for about 5 days. I think it tastes even better the next day.
Freeze: It can be easily frozen. Let the creamy risotto cool completely before you freeze it in a freezer-safe container. It will last for about 2–3 months.
Meal Prep
For an easy dinner, prep this comforting risotto on a Sunday and enjoy it the following week for dinner.