Are you a fan of the classic American Mac and Cheese dish? If so, this vegan cheese sauce powder is what you need! It's super easy to prepare and tastes just as good as Kraft's original version, but without any dairy products. This cashew and nooch powder is flavorful and spicy - ideal for busy nights when you don't have much time to cook.
You can also give it away as a gift: wrap it in an attractive glass jar for a special Christmas or birthday present! Besides this vegan cheese sauce powder, I've also got another Mac and Cheese recipe that takes more time to prepare. And if I'm feeling especially lazy or pressed for time, I like having some of this vegan cheese sauce powder stashed away in my pantry instead of having to use boxed meals full of preservatives and artificial flavors.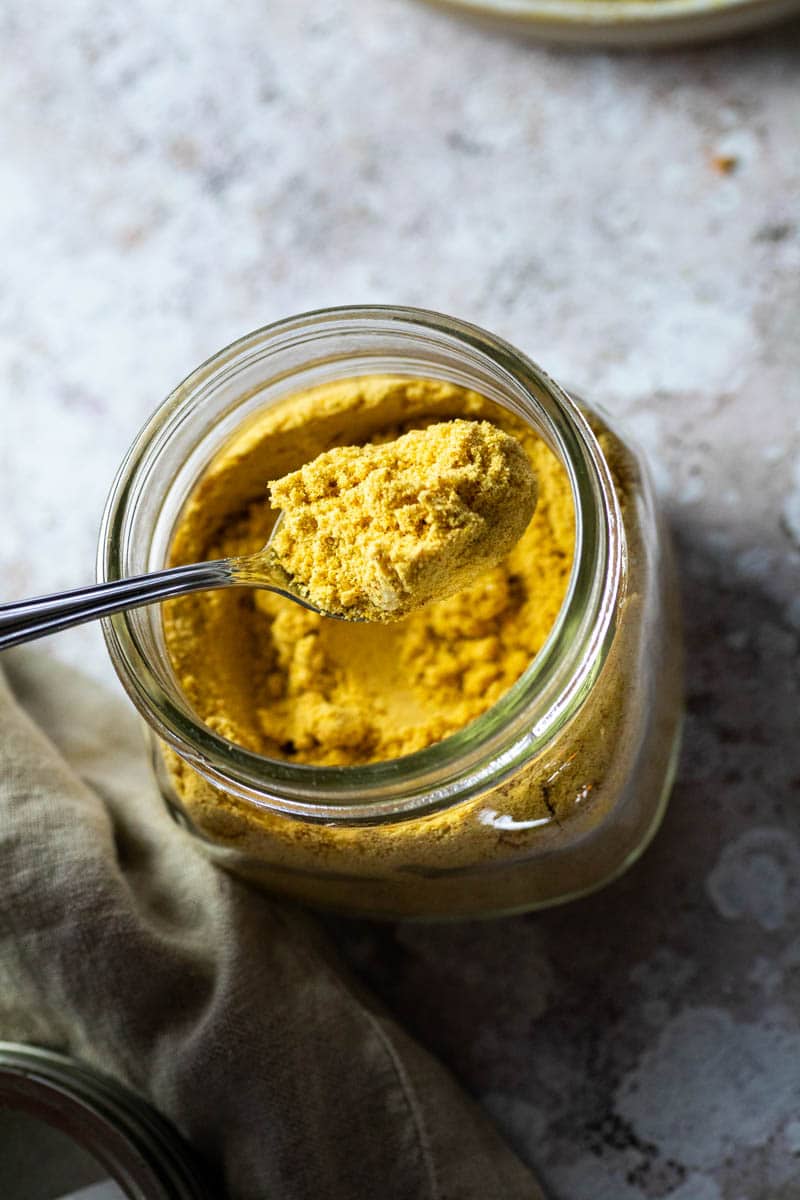 This comforting meal is inspired by my other non-dairy mac and cheese recipe and my pumpkin mac and cheese. It pairs well with veggie side dishes like Brussels sprouts, roasted broccoli, roasted asparagus. 
As an Amazon Associate, I earn from qualifying purchases. This post may contain affiliate links. Read More
Ingredients
Here is a quick list of the ingredients you will need to make the powder for vegan instant macaroni.
You can find the ingredients with quantities and the recipe to print out on the recipe card below.
Raw Cashews
Nutritional Yeast
Whole Wheat or Oat Flour
Tapioca Starch
Paprika Powder
Garlic Powder
Onion Powder
Mustard Powder
Sea-salt
Smoked Paprika
White Pepper
Turmeric
Dried Lemon Peel (opt)
To prepare stovetop mac: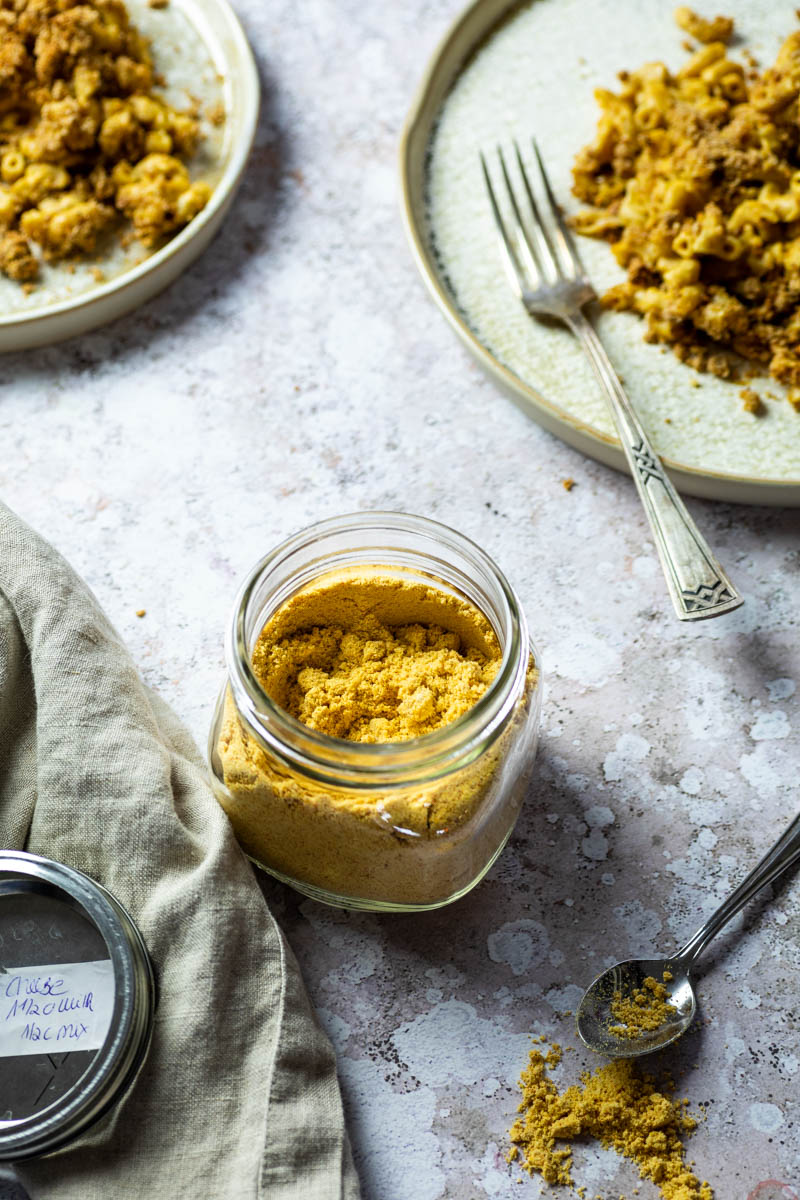 Instruction
Cheese Sauce Powder:
Place all ingredients in a high-speed blender and mix until a fine powder is obtained. You don't want to have any pieces in the mix. Fill in an airtight container and store in your homemade vegan pantry.
Prepare Mac n' Cheese
Cook pasta al dente in a large pot of salted water according to package directions.
In a pot, or using the pasta pot when you drained the cooked pasta, heat up the plant milk with the cheese powder and bring it to a boil. It should thicken pretty quickly.
Add the pasta and stir until the pasta is coated in cheesy sauce.
Substitutions
Cashews: Instead of cashews, you can also use sunflower seeds, pumpkin seeds.
Nutritional Yeast: We want that cheese taste from traditional mac, and the nutritional yeast will add a nice cheese like flavor to the cheese mix.
Flour: Instead of oat flour, use rolled oats.
Pasta: I love for my vegan macaroni, whole wheat elbow macaroni. You can also use gluten-free pasta like brown rice pasta other pasta shapes.
Plant-based Milk: Use oat milk, almond milk, soy milk or coconut milk. This is up to you. Any nondairy milk will work.
Paprika Powder: You want it to have a little more kick, add some chili powder.
Equipment:
For this cashew sauce mix, you will need some kitchen tools: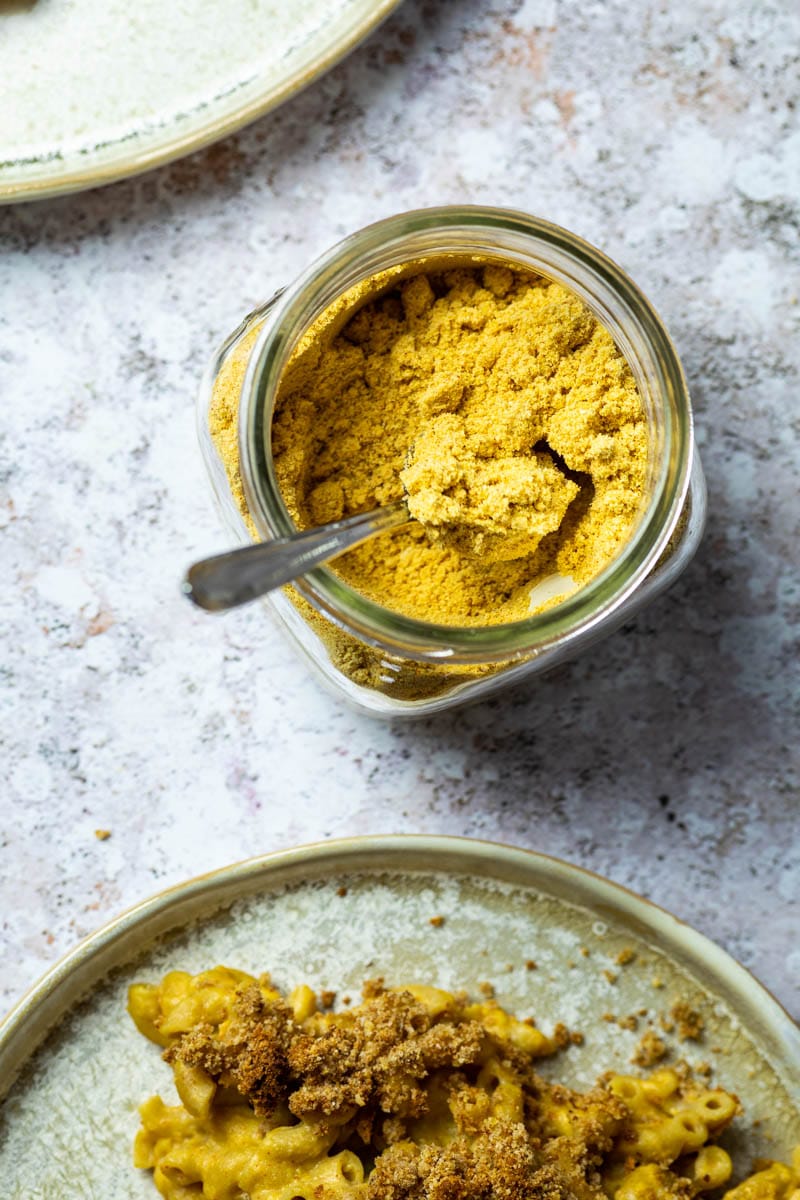 Storage
This powder for cheesy pasta as a long shelf life and is perfect to store in your pantry. The powder lasts about 1-2 months in the pantry. You can keep it in the fridge for up to 3–4 months.
Serving Suggestions
Prepare some other comfort food with this instant mix. Some ideas:
Prepare a quick vegan queso or nacho dip by cooking it as described above. Possibly add a little more of the powder to make it more viscous, and then stir in a little salsa.
Add some of the powder to your soups to create a cheesy touch.
Add it to popcorn or tortilla chips to make it cheesy and full of flavor.
Make my scrambled tofu and add some of the powder to make it cheesy
Instead of my vegan cheese, use this powder.
Season oven baked vegetables.
Tip
I also love to use leftover pasta for this. You made too many pasta, make this cheesy creamy sauce, yuuuum.