Vegan Italian Sausage full of Protein With A Touch Of Fennel And More - This vegan sausage tastes great as a hot dog or meatballs in a tomato sauce.
The texture of the vegan Italian sausage is perfect and tastes grown ups and little ones for dinner or lunch on the go. Prepare in larger quantities and have always some in the freezer.
vegan | vegetarian | opt. soy free | milk-free | oil-free | free | nutfree

How does this vegan Italian sausage get its extraordinary taste?
As you may already know, I think that with the right spices you can make everything in vegan, including this vegan Italian sausage. You will be amazed, the vegan sausage is full of flavor.
I have researched a lot on the internet, which spices are used in the Italian sausage, which is very popular here in the US. And after a long time trying, I found the perfect combination of spices.
Which "sausage" do you like the most or do you miss? Let me know below in the comments.
The Textures of Vegan Italian Sausage
I'm still amazed about this insanely great texture of the vegan Italian sausage.
Do you also make soy milk by yourself and do not know what to do with the soy pulp (okara)? Then this vegan Italian sausage is something for you.
If you do not like soymilk, or you just can not tolerate soy, then just take some soaked uncooked chickpeas instead. Furthermore, I use gluten, the protein of wheat.
This gives the vegan Italian sausage only this incredible texture. Have you ever made a vegan sausage yourself? Then I'm looking forward to reading how you prepared it.

You will love this vegan Italian sausage. It is:
quick to prepare
full of flavor
fully versatile
So if you like this vegan sausage, you may also like it?
Look at my other vegan seitan chickpeas sausage, it tastes so great from the pan or from the grill.
You like hot dogs, then try these chili cheese dogs.
You feel like pasta with meatballs, then check out this recipe.
You like the recipe? Do not forget to Pin on Pinterest!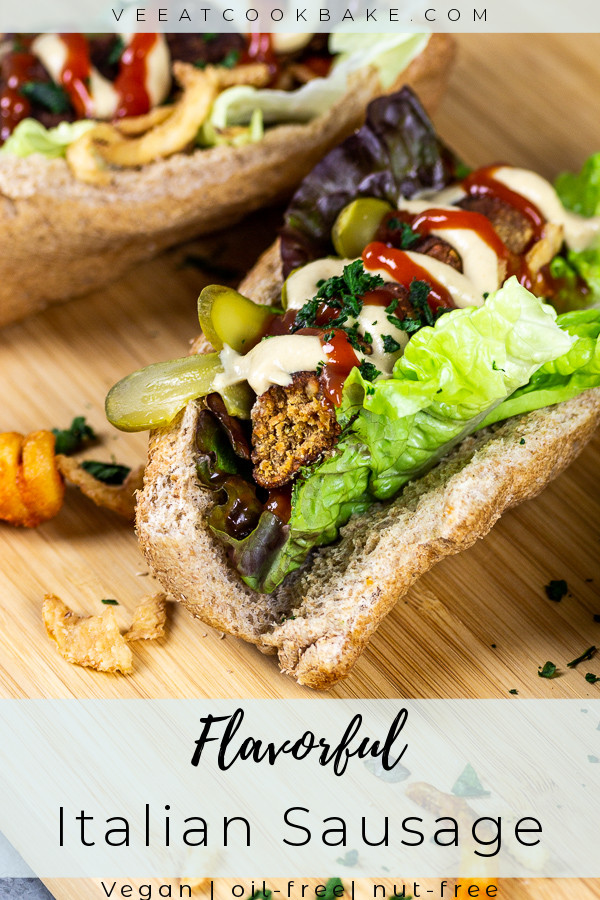 ---
Have you tried the recipe?
If you have it, be so nice ♥ and let me know by rating the recipe and writing what you think about it. Tag me on Instagram or Facebook too. I am @veeatcookbake and my hashtag is #veeatcookbake. So that I can see your creation. Did you know you can add photos on Pinterest under the recipe Pin? I can't wait to see a photo of your creation there. You find me with VeeatCookBake.
---
Now the recipe for the vegan italian sausage

This post may contains affiliate links and I may receive a very small commission if you buy through these links at no extra cost. Thank you very much for supporting Ve Eat Cook Bake! More information can be found here.
---
---
---