Get ready to whip up delicious vegan sausages with this easy and quick-to-prepare seitan sausage recipe! Its authentic flavor is inspired by the famous Frankfurters, while spices give it an even more distinctive kick.
The addition of chickpeas creates a soft texture that will transport you straight back to your favorite hot dog stands or Currywurst eateries—all in the comfort of your own home. Plus, you can make them ahead for convenient plant-based snacks at any time! No need for soy protein or pea protein!
This recipe pairs well with homemade hot dog buns, coleslaw.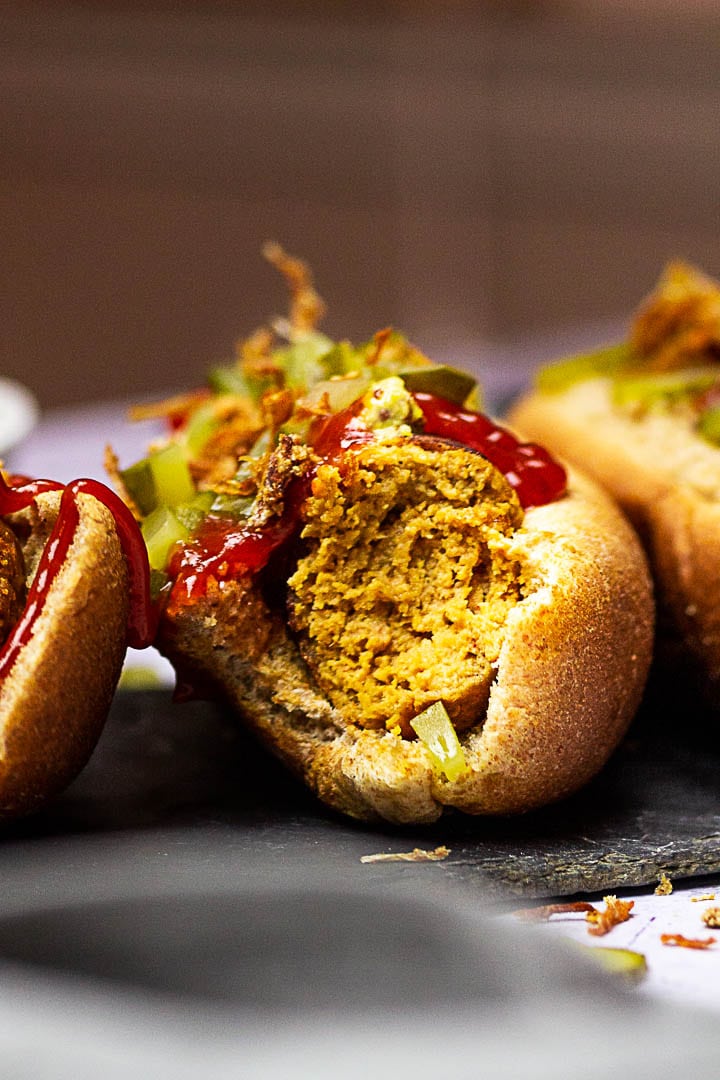 As an Amazon Associate, I earn from qualifying purchases. This post may contain affiliate links. Read More
Jump to:
Ingredients
A quick ingredients list you will need for these soy-free veggie dogs.
You can find the ingredients with quantities and the recipe to print out on the recipe card below.
Chickpeas
Tahini
Gluten flour (vital wheat gluten)
Water
Liquid Smoke
Garlic powder
Lemon
White pepper or Black Pepper
Mustard powder
Coriander powder
Paprika Powder
Nutmeg Powder
All spice Powder
Onion powder
Miso paste optional (omit if you want to make them soy free)
Tomato paste
Mustard seeds
Beetroot powder
Beetroot juice
Optional, you can add some natural red food coloring to get pinkish vegan hotdogs.
Hot Dog Toppings
Pickle Relish or diced Pickles
Onions
Ketchup
Yellow Mustard
Whole Wheat Hot Dog Roll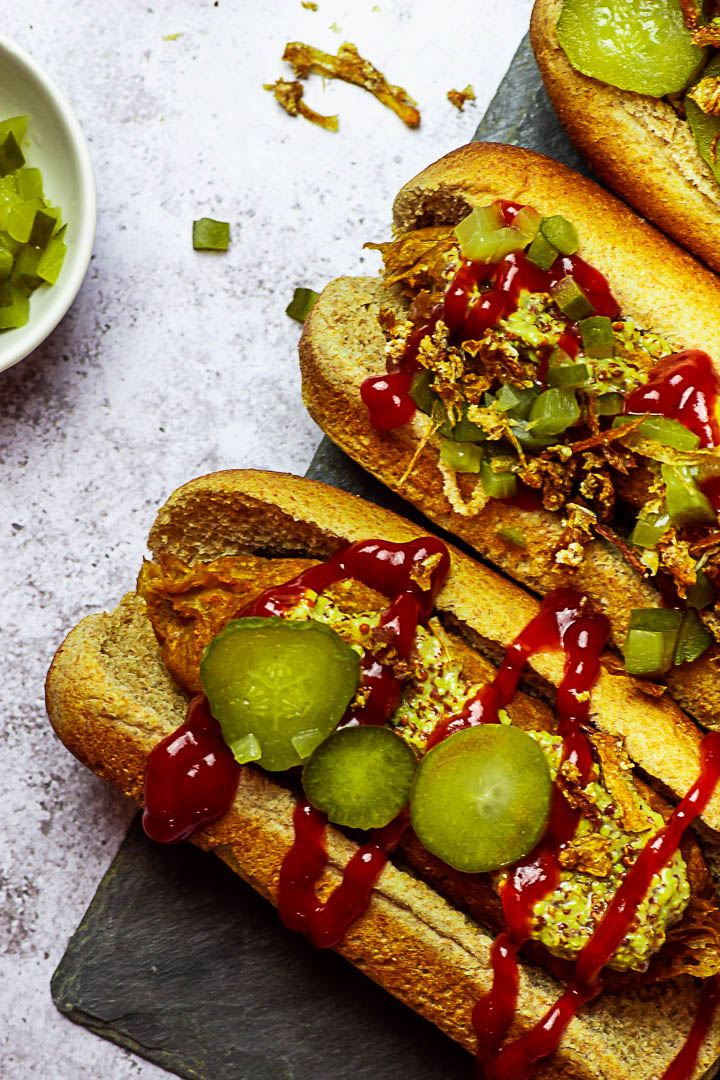 Instructions
First, we mix all the ingredients, except the gluten and the mustard seeds, in a food processor and process until a creamy consistency is created. Now you can taste the mixture and season a little more if you want. It should taste relatively strong and slightly over-seasoned, as we lose some of the taste with the gluten powder.
Mix the gluten powder and mustard seeds in a bowl and stir, then add the mixture and knead with a dough hook until a homogeneous dough is formed that no longer sticks. This can take a while. Around 8–9 minutes.
Cut out 12"x12" (30 cm x 30 cm) squares of parchment paper. Now divide the dough into 8 equal pieces and roll them out as sausage. Now roll the dough into the baking paper and reinforce the ends with some aluminum foil. Or use a silicone sausage mold.
Take a steamer and steam the sausages for 1 hour. Now let the sausages cool, leave them in the baking paper and put them in the fridge overnight. The next day they are ready to serve. Grill them on your grill, grill pan or in a nonstick skillet on medium heat.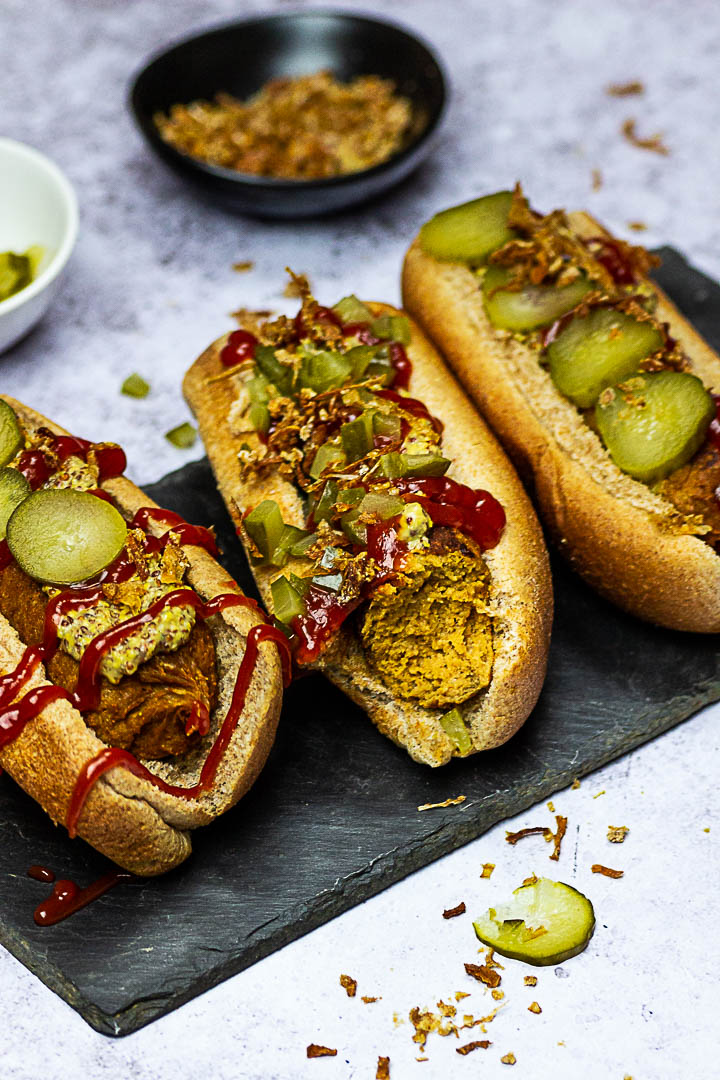 Prepare in advance
Seitan tastes best 1–2 days after preparation. Therefore, prepare the hot dog sausages at least one day before. The texture and flavor changes slightly, and the sausages become a little firmer. It tastes a lot better than the same day.
Make this recipe check out my black bean burgers, carrot dog recipe, vegan chili dogs, vegan meatloaf and my other meat alternative recipes.
Substitutions
Chickpeas: If you can not eat chickpeas? You can also replace the chickpeas with tofu, cooked soybeans, pinto beans. The consistency will change. Just try what you like best.
Gluten-free: Can I make vegan seitan sausage gluten-free? Unfortunately, that will not work. Seitan is the gluten (protein) of wheat and the main ingredient of these vegetarian sausages. If you can not eat these sausages, then check out my Italian sausages made from chickpeas.
Variations
Spicy: You would like to make some vegetarian hot dogs with a kick, add some chili powder or cayenne pepper to them.
Herbs: Add some herbs of your choosing like thyme, lovage to your oil free hot dogs.
Equipment
Some kitchen tools that will help to make these amazing vegan hot dogs.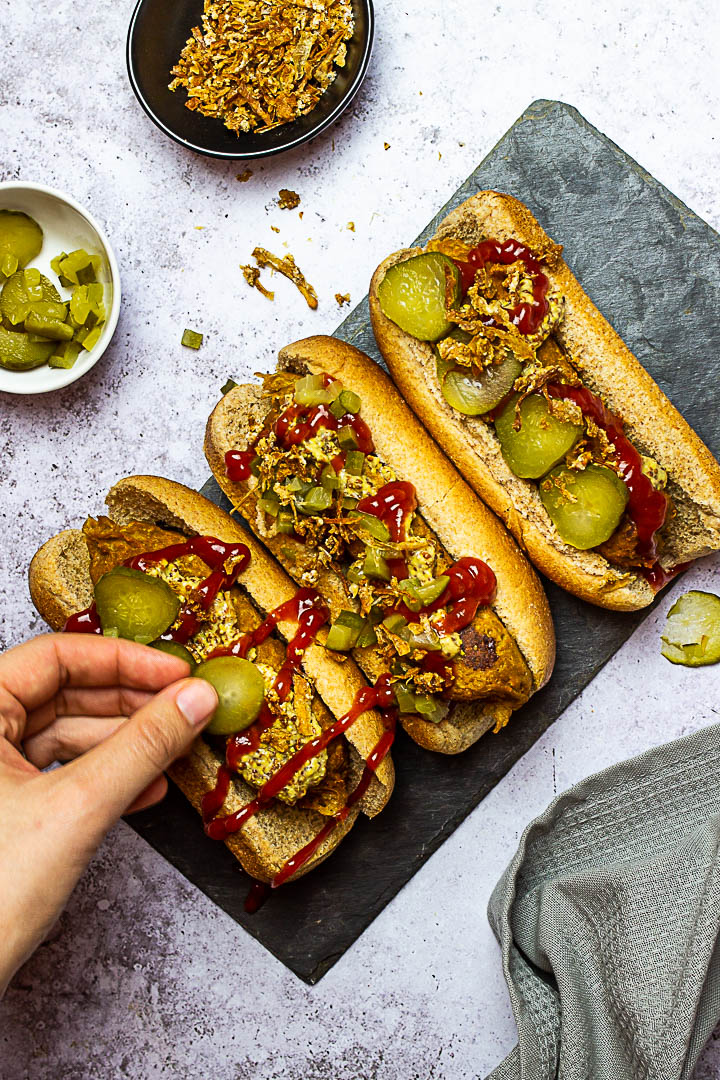 Storage
Fridge: If you have prepared these hot dogs, store them in an airtight container. The first night with the baking paper, and then you can unwrap and store without the baking paper.
Freezer: Here I can give you a big fat yes. These sausages even freeze very well. Place the sausages side by side on a baking sheet, so that they do not touch, and let them freeze first. If the sausages are frozen, you can freeze them in portions. They won't freeze together. To thaw, just place them in the refrigerator the night before and prepare as usual.
Meal Prep
A fun recipe to make for meal prep. I always prepare a bigger batch and freeze some, so we have some on hand that we can just throw on the grill.
Serving Suggestions
As in the recipe card as a hot dog with tater tots or french fries, potato wedges
As curry sausage with ketchup and curry powder
To potato salad
In a roll with mustard
To salad buffet