This vegan seitan sausage recipe is not only prepared quickly, it also has an incredibly authentic taste of the well known Frankfurter sausages. Thanks to the spices that are contained in the original Frankfurter, we create a distinctive seitan sausage alternative. With these vegan sausages we can prepare super fast hot dogs or seitan Currywurst.
vegan | vegetarian | nut-free | dairy-free | oil-free | sugar-free | egg -free | healthy | plant-based | wholesome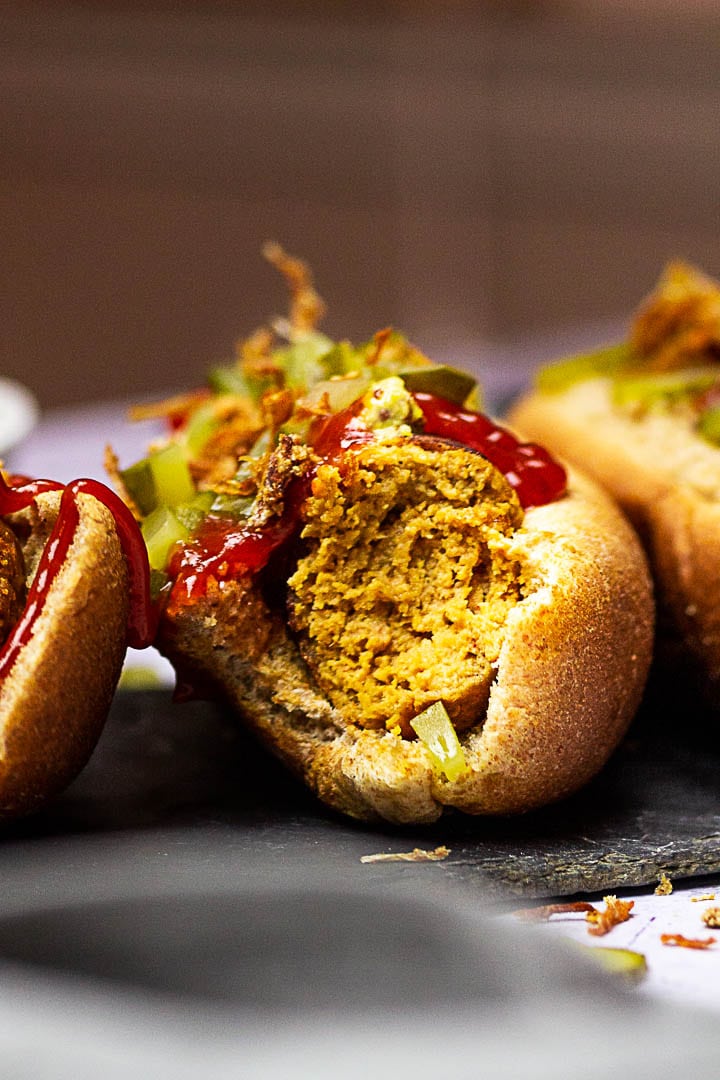 I would like to introduce you to this great recipe for super delicious and grill able vegan seitan sausages. The addition of chickpeas soften the sausages to get a sausage-like consistency.
We like to eat hot dogs at home or prepare a Currywurst. We are always happy to have some in the freezer and can quickly turn to a healthier alternative to the store bought ones.
At the beginning I tried to make seitan sausages with tofu, but I did not like the consistency of sausages with tofu. These vegan hot dogs with chickpeas have a better taste than the Frankfurter alternatives from the store (it is at least my opinion) and you know exactly what they're made of. And the sausage has less fat and calories.
What do you need for vegan seitan sausages?
For the vegan seitan sausage, you need some spices, but they are prepared super fast.
Chickpeas
Tahini
Gluten flour (VWG)
Water
Smoked salt
Garlic powder
Lemon
White pepper
Mustard powder
Coriander powder
Sweet paprika
Nutmeg
All spice
Onion powder
Miso paste
Tomato paste
Mustard seeds
Beetroot powder
Beetroot juice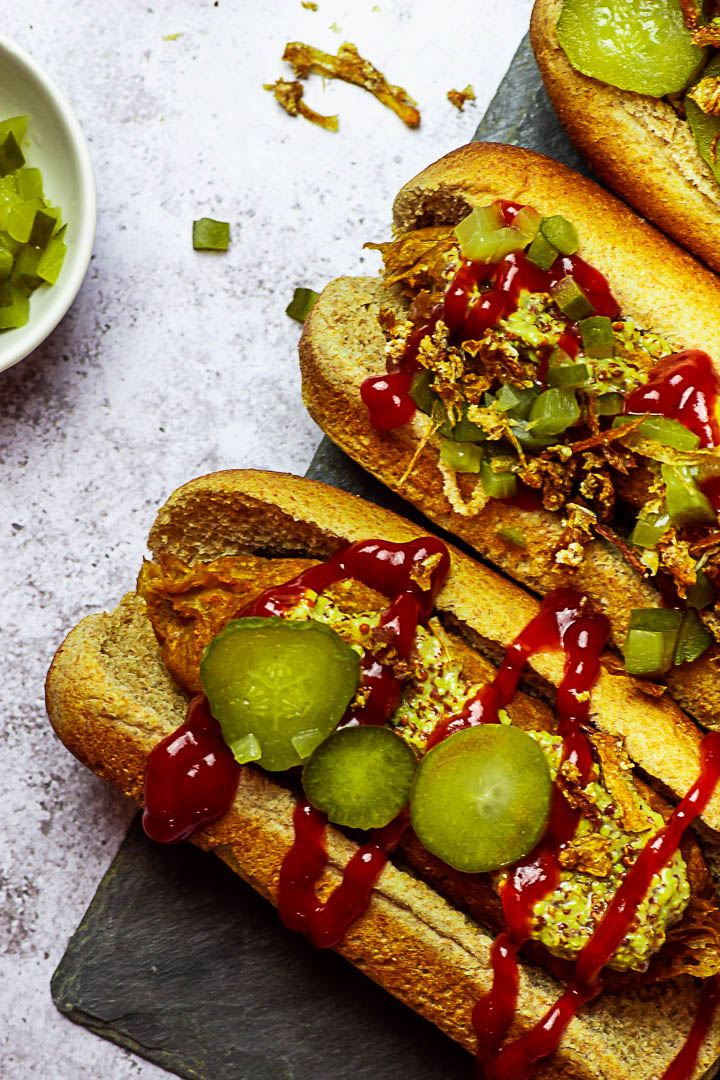 If you can not eat chickpeas?
You can also replace the chickpeas with tofu, cooked soybeans. The consistency will change. Just try what you like best.
Can I make vegan seitan sausage gluten-free?
Unfortunately, that will not work. Seitan is the gluten (protein) of wheat and the main ingredient of these vegetarian sausages. If you can not eat these sausages, then check out my Italian sausages made from chickpeas.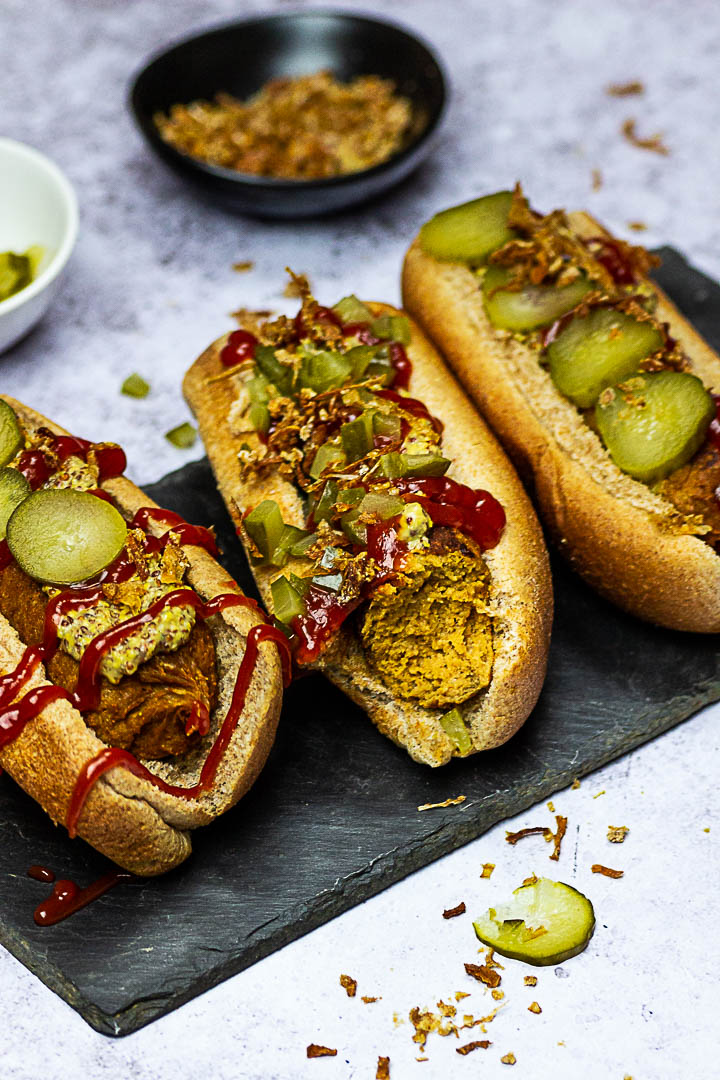 How are seitan sausages prepared?
First of all, we mix all the ingredients, except the gluten and the mustard seeds, in a food processor and process until a creamy consistency is created. Now you can taste the cream and spice some more if you want. It should taste relatively strong and slightly over-seasoned, as we lose some of the taste with the gluten powder.
Mix the gluten powder and mustard seeds in a bowl and stir, then add the cream and knead with a dough hook until a homogeneous dough is formed that no longer sticks. This can take a while.
Cut out 12"x12" (30cm x 30cm) squares of parchment paper. Now divide the dough into 8 equal pieces and roll them out as sausage. Now roll the dough into the baking paper and reinforce the ends with some aluminum foil.
Take a steamer and steam the sausages for 1 hour. Now let the sausages cool, leave them in the baking paper and put them in the fridge overnight. The next day they are ready to serve.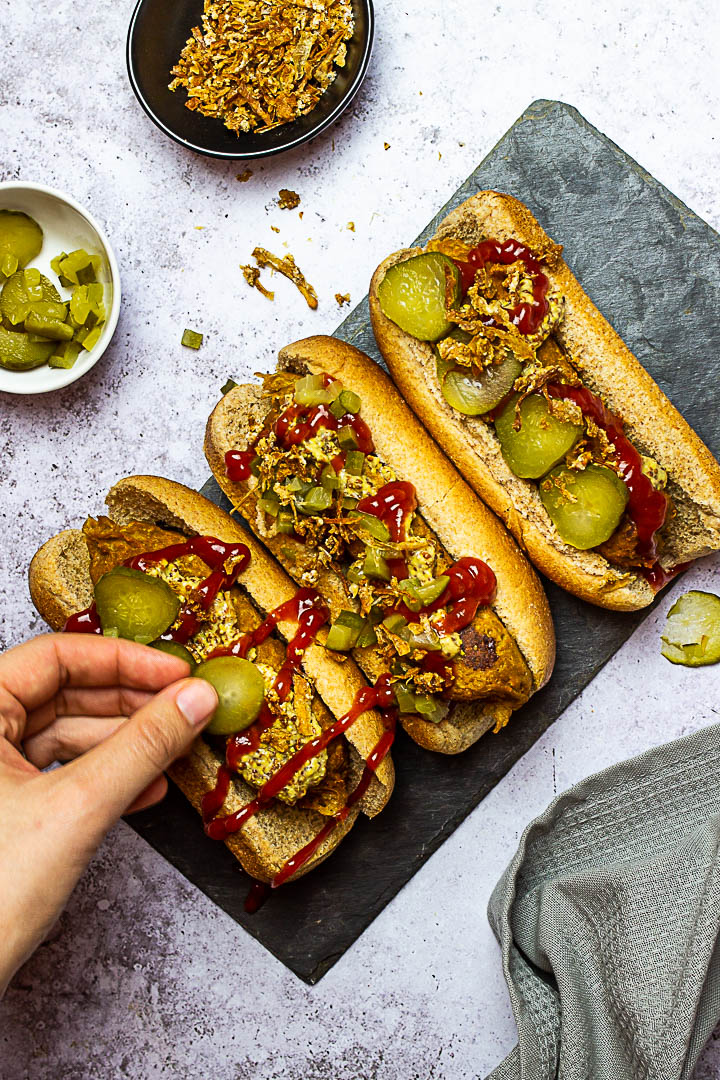 When should you prepare the vegan seitan sausages?
Seitan tastes best 1-2 days after preparation. Therefore, prepare the sausages at least one day before. The consistency changes slightly and the sausages become a little firmer. It tastes a lot better than the same day.
How can I store the vegan seitan sausages?
If you have prepared the seitan sausages, store them in a sealable container. The first night with the baking paper and then you can unwrap and store without the baking paper.
Can you freeze vegan seitan sausage?
Here I can give you a big fat yes. These sausages even freeze very well. Place the sausages side by side on a baking sheet, so that they do not touch and let them freeze first. If the sausages are frozen, you can freeze them in portions. They won't freeze together. To thaw, just place them in the refrigerator the night before and prepare as usual.
How can you prepare seitan sausages?
You can either boil these tasty vegan sausages in a water bath, grill, or roast in the oven. I like to take a grill pan and fry it briefly.
What can I eat the seitan sausages for?
As in the recipe card as a hot dog
As curry sausage with ketchup and curry powder
To potato salad
In a roll with mustard
To salad buffet
Do not forget to Pin on Pinterest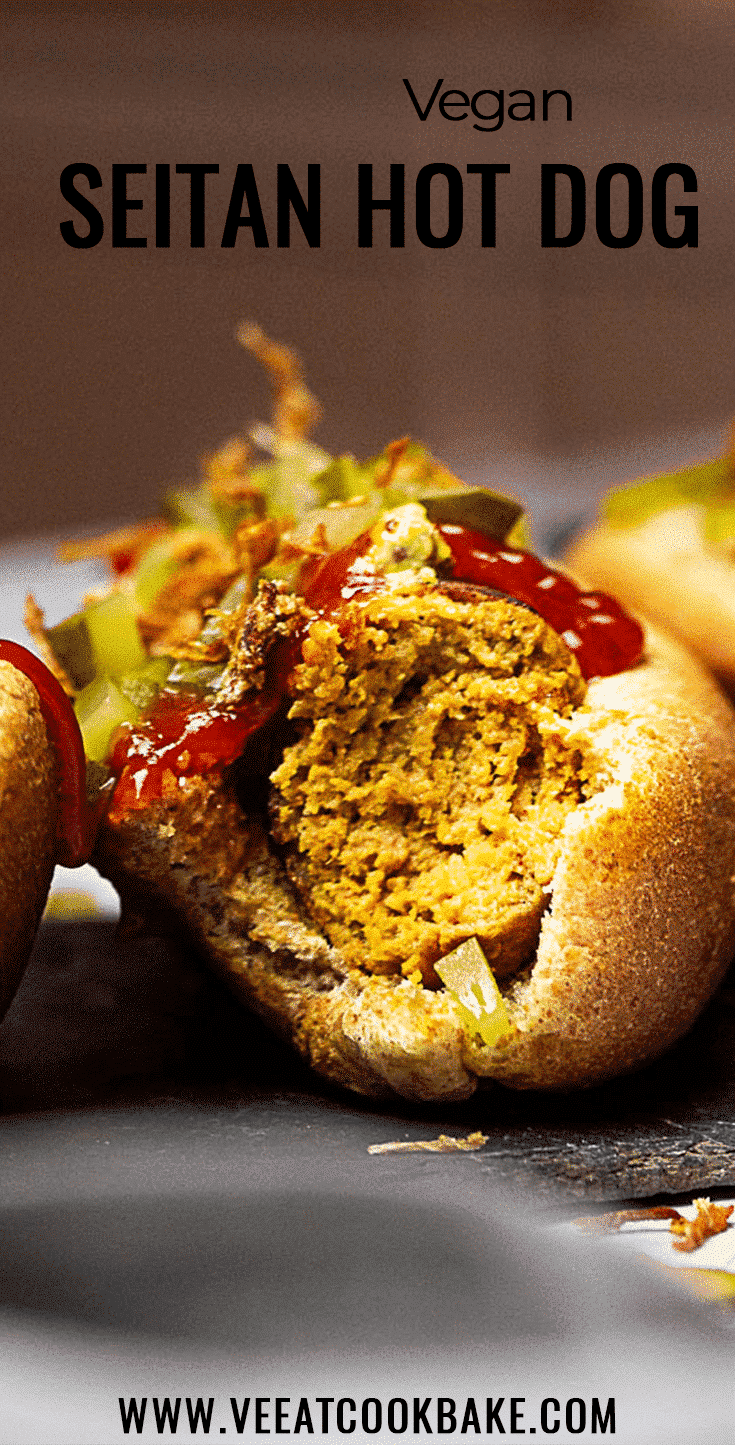 Have you tried the recipe?
If you tried the vegan Seitan Hot Dogs, be so nice ♥ and let me know by rating the recipe and writing what you think about it in the comments. Tag me on Instagram too. I am @veeatcookbake and my hashtag is #veeatcookbake. So that I can see your creation. Did you know you can add photos on Pinterest under the recipe Pin? I can't wait to see a photo of your creation there. You find me with @veeatcookbake. I also would love to hear your feedback so I can share it on my social media channels.

This post may contains affiliate links and I may receive a very small commission if you buy through these links at no extra cost. Thank you very much for supporting Ve Eat Cook Bake! More information can be found here.
---