Vegan nut babka - for this airy, fluffy nut bread we prepare a yeast dough, which we fill with ground hazelnuts and dates. This lactose-free brioche bread is super soft and can be prepared quickly except for the rising time.
You do not have to miss the classic nut bread from the German bakery. Prepare this nut babka when you expect guests, or just when you feel like a good babka bread.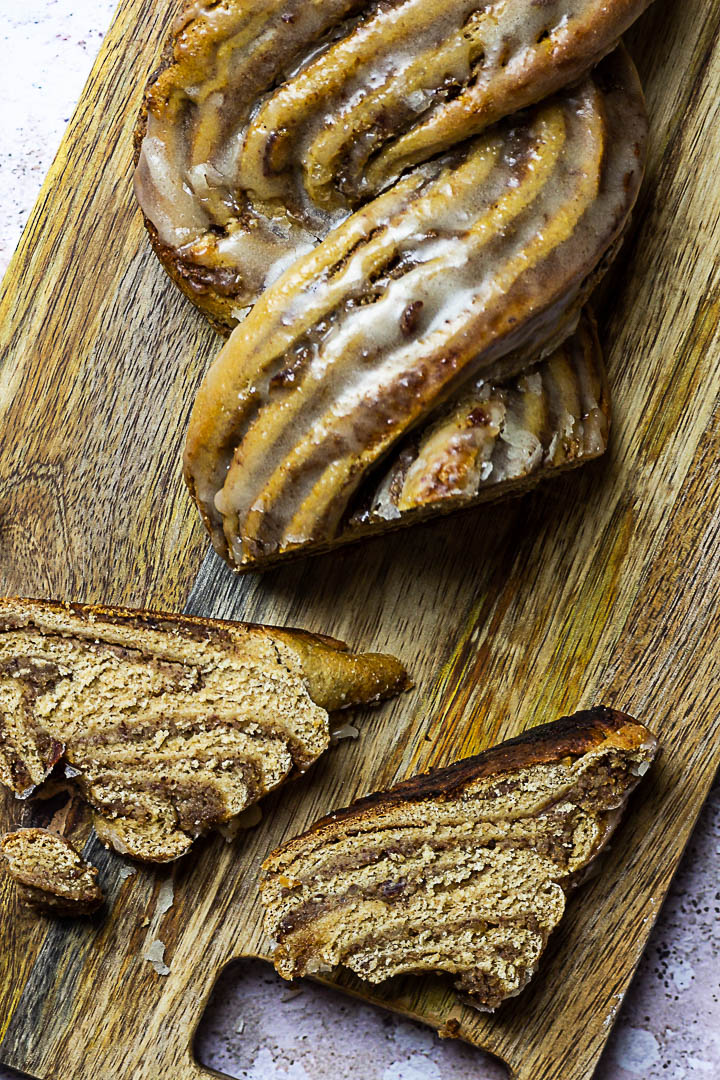 As an Amazon Associate, I earn from qualifying purchases. This post may contain affiliate links. Read More
I must say my family is always up for a good braided nut bread. Usually, we do not bake this ourselves, instead we buy the nut braid at the bakery in Germany. At least that's how it was before we became vegan.
So far, I have not found a vegan nut braid there. And here in the states it's hard to even find a bakery.
And I always looooooved a good nut bread. So I had to dig out one of my mom's many cookbooks and to find a delicious recipe in one of her old baking books.
I used the recipe as a foundation and veganized it quickly and changed it slightly in terms of sugar and oil. And voilà it came out with this delicious vegan nut babka.
Ingredients
Flour e.g. Spelt or Whole Wheat flour
Almond milk or other vegan milk, unsweetened
Dry yeast
Cashews or coconut oil
Sugar alternative such as coconut sugar, maple syrup, date sweetness etc.
Filling:
Hazelnuts, roasted
Dried dates, pitted
Almond milk or other plant milk unsweetened
Cinnamon
Raw cane sugar
Tapioca starch
Lemon juice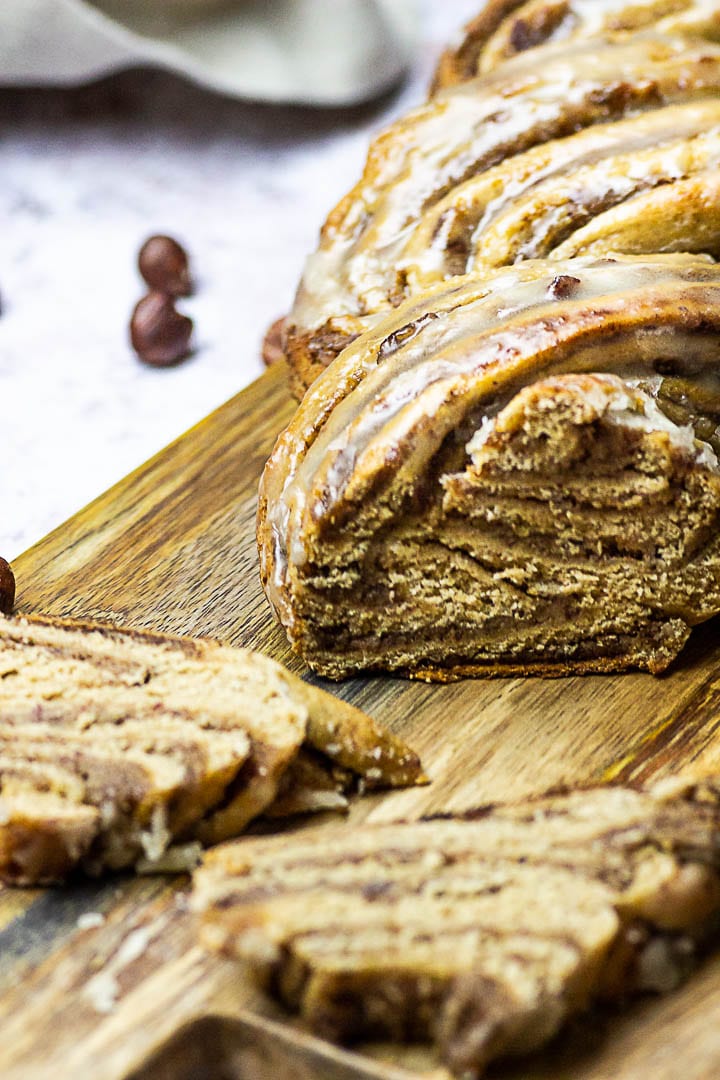 Dates Substitute
We use the dates as a sweetener for the nut braid and to keep the filling not too dry. If you do not like dates, or have no dates on hand, you can, for example, use dried apricots.
If you do not like dried fruits, just take raw cane sugar or coconut sugar. Here you probably have to add a little more milk until you get a thick creamy nut filling. You can replace the dates 1:1.
Instruction
We start to make the yeast dough by adding all the ingredients to a stand mixer with a dough hook and knead the dough until it is smooth.
The dough should no longer stick to the edge of the bowl. If necessary, add some flour or liquid. Let the dough knead for at least 10 minutes. We want an elastic dough that can be rolled out well later.
Let the dough rest for about 1 hour in a warm place. The yeast dough should take up twice the volume. Cover the dough with a damp cloth to prevent it from drying out.
Now soften the dates for the filling in hot water for about 30 minutes.
Now we can continue with the filling. To do this, take the ground hazelnuts, dates, almond milk, cinnamon and put everything in the food processor. Now let it mix until we get a creamy filling without pieces
When the dough is ready, bake the dough on a floured work surface and roll it out rectangular. Now you can spread the filling on it.
Roll up the dough from the short side.
Now cut the dough roll once long in the middle. And then divide the two halves again into 2 strands, so you have 4 strands. Now turn the cut side up. And braid two strands together so that you get two braids.
Put it all on a baking sheet covered with baking paper. Cover this for 30 minutes to 1 hour and let it rise again.
Preheat the oven to 350 °F / 175 °C in the meantime.
The Vegan Nut Braid bakes for about 30 minutes.
Let the nut braid cool. In the meantime, prepare the frosting. Take the raw cane sugar or coconut blossom sugar, and tapioca starch and grind it into powdered sugar. Now mix the icing sugar with lemon juice.
Coat both braids with the icing. The frosting becomes lighter when it is dried out.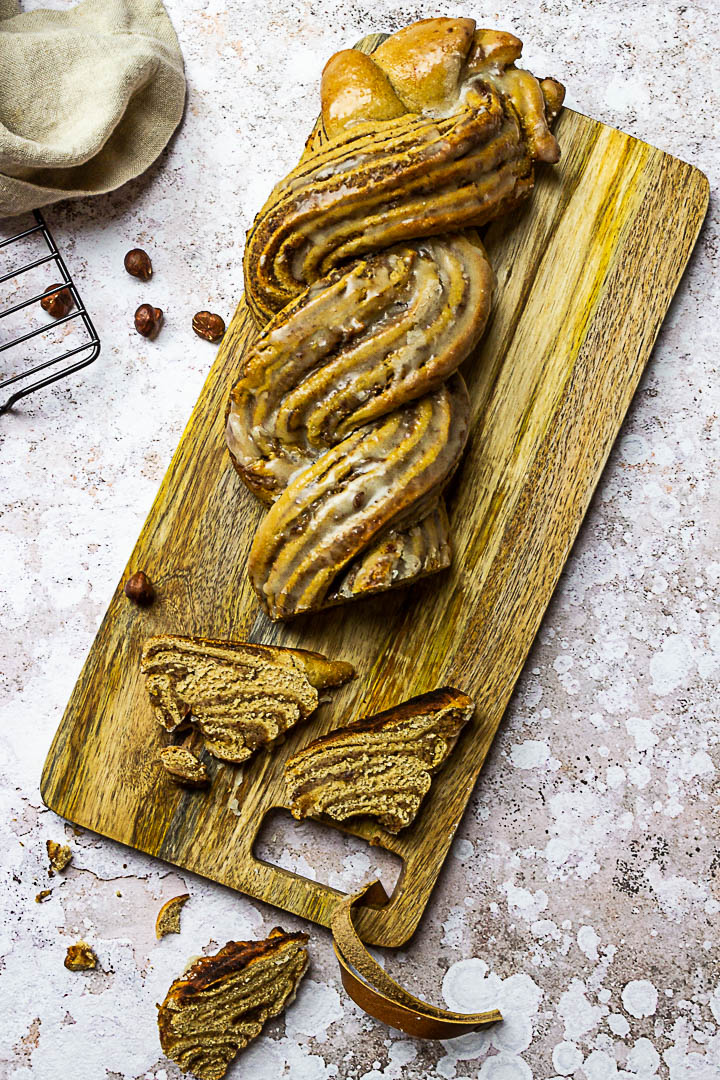 Babka vs braided nut bread
A Babka is a fluffy spongy , brioche-like yeast pastry bread popular in Eastern Europe.
You can find it in any neighborhood bakery, usually filled with cinnamon and sugar or chocolate. In Germany, you find a similar yeast pastry bread like a babka, which is called nut braid or poppy seed braid in German neighborhood bakeries.
It is a braided brioche bread which is filled with hazelnuts or poppy seeds.
Freezing
A nut braid can freeze very well. Simply freeze the nut braid in an airtight container. If you prepare the nut braid in a larger amount, leave the braids that you want to freeze without icing.
And brush them fresh just before serving.
If you want to serve the vegan nut braid, take the nut braid out of the freezer one night before and let it thaw. Now bake the nut braid again briefly. Only as long as the brioche bread is warmed up.
Now the nut braid tastes like freshly baked.
Storage
If you have a bread box, store the nut braid in the bread box. This is how the nut braid lasts the longest. It may be that the nut braid gets a bit dry over time. Usually we already finish the nut braid on the 2nd or 3rd day.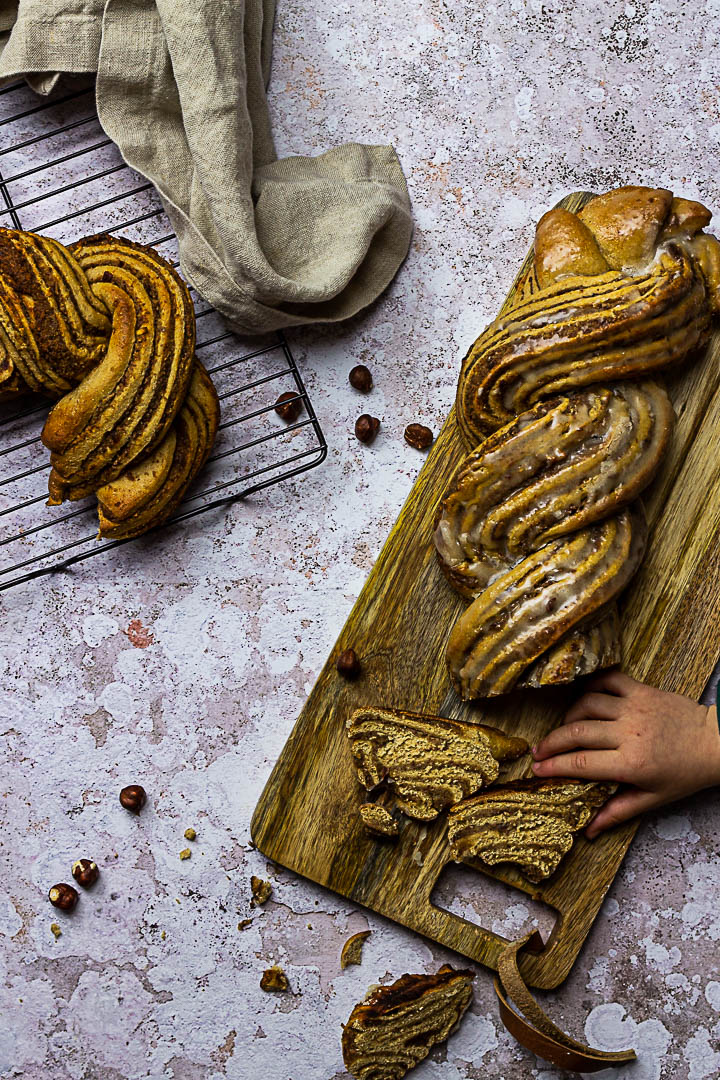 Tips & Tricks for an airy yeast dough
Knead the dough for 10 min. This is important to make the dough elastic and soft. This is how the sticky gluten forms and the dough becomes airy tender.
If you do not have whole hazelnuts, you can also roast hazelnut flour for a short time. This then gives the typical hazelnut flavor. And I love it.
For the filling, it is important that you use dates or similar fruit, which keeps the filling moist.
Do not forget to Pin on Pinterest