This post is also available in: Deutsch
*As an Amazon Associate, I earn from qualifying purchases. This post may contain affiliate links. That means if you click and buy, I may receive a small commission. Please see my full policy.*
This vegan braided  nut bread really tastes like from a German bakery. The nut bread is fluffy and soft. It also tastes delicious after a few days. It goes perfectly with a delicious breakfast, brunch, dessert or coffee/ tea and cake time. vegan | dairy free | oil free opt | plantbased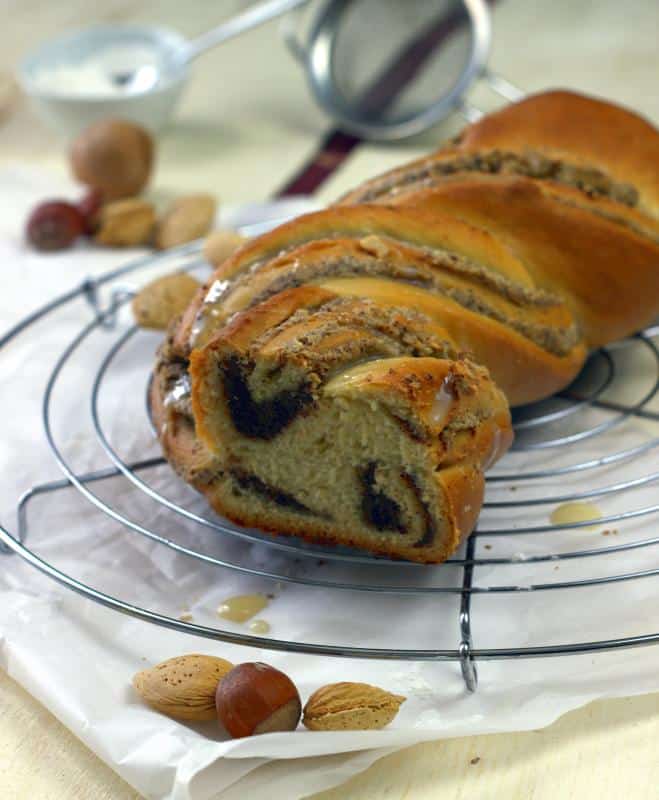 Mother's Day is already knocking on the door! Do you have something nice planned? I keep our fingers crossed that the weather holds. We stay home with the kids, in good weather both can play a lot in the garden, dig up the dirt. 😉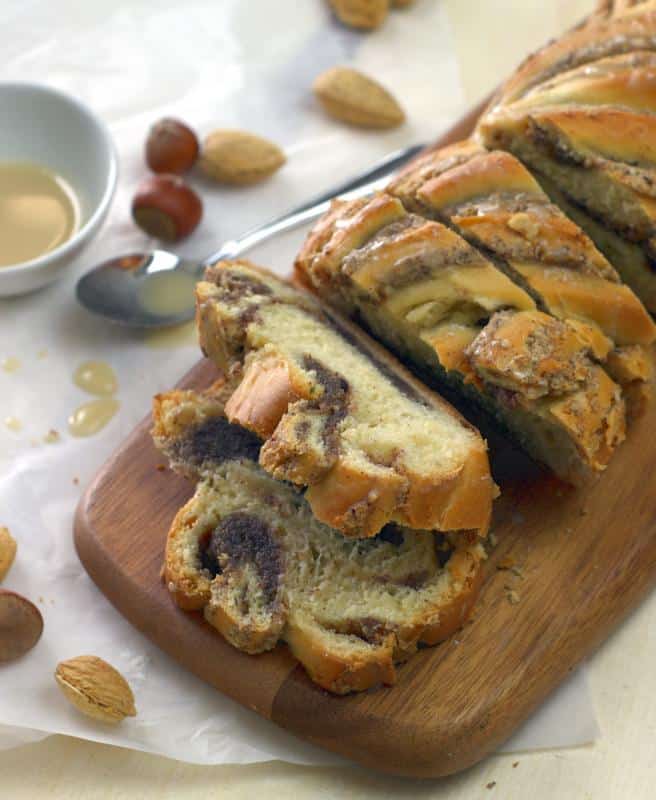 How did I get the idea to bake a nut bread?
Since we are expecting a visit on Sunday, I wanted to make cakes that do not directly ask: Is this vegan? And this nut braid was just great. I can only warmly recommend it, if you do not know what you should put on your table.
I also made a second cake. This delicious rhubarb – Aquafaba cake
My family  and friends love such cakes/ breads like this nut bread. Usually we do not bake this ourselves, we used to buy it at the bakery. Unfortunately there is no vegan nut breads available, so I grabbed one of my mom's many baking books and found a delicious recipe in one of her old baking books. I quickly veganized this recipe and voila it came out while this delicious vegan nut braid.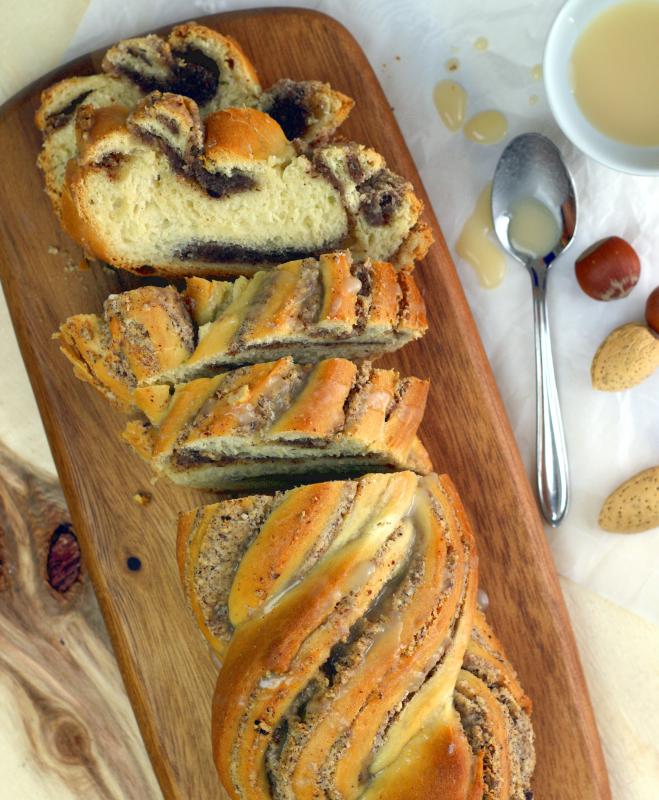 ---
Did you try the recipe?
If you did it, be so nice ♥ and let me know by rating the recipe and writing what you think about it. Tag me on Instagram too. I am @veeatcookbake and my hashtag is #veeatcomforts. So that I can see your creation. Did you know you can add photos on Pinterest under the recipe Pin? I can't wait to see a photo of your creation there. You find me with VeeatCookBake.
---
Leckerer Nusszopf - vegan, ölfrei, raffinierter Zucker frei
This vegan braided nut bread really tastes like from a German bakery. The nut bread is fluffy and soft. It also tastes delicious after a few days. It goes perfectly with a delicious breakfast, brunch, dessert or coffee/ tea and cake time.
Recipe type:
Cake, Baked Stuff
Cuisine:
vegan, dairyfree, oil free, less sugar
Ingredients
Dough:
500 g spelt fllour
250 g of plant drink
1 pck of dry yeast
1 teaspoon salt (optional)
50 g of oil or nut butter
25g sugar alternative like coconut sugar, maple syrup, date sweetener etc.
Filling:
Grind 200 g of hazelnuts
100 g marzipan paste
100 g apricot puree
75 g of plant drink
½ teaspoon cinnamon
25 g sugar or date puree (optional), less or more: depending on how sweet you like it
Frosting (optional)
50 g Grind raw sugar cane [
1 tsp tapioca starch
1-2 tablespoons of lemon juice
Instructions
First, make the yeast dough by kneading all ingredients in a stand mixer with the dough hook to a smooth dough. Until it doesnt stick on the bowl, possibly add a little more flour or liquid. kneafor d about 5 minutes so that he is nice and soft and he can roll out later good.
Cover the dough in a bowl for at least 1 hour. It is best to cover it with a damp cloth, so that the dough does not dry out.
In the meantime prepare the filling. In addition you take the hazelnuts or you have bought directly ground hazelnuts. In a blender mix the plant drink with the marzipan paste until the marzipan is dissolved. Now pour to the ground hazelnuts and add the remaining ingredients. Now mix to a homogeneous mass. Is rather a firm consistency but spreadable. . Tastes the filling, maybe add some sugar.
Roll out the dough into a rectangle. Slightly larger than a baking tray.
Now distribute the filling on it.
Roll up the dough from the short side. Now you cut the dough the long way in half and then again cut through both strands. Now you turn the strands with the open side up and weave first two strands together and then the two resulting strands.
Put it all on a baking sheet lined with baking paper. Cover this for 30 minutes to 1 hour and let it rise again.
The Vegan Nut Braid is baked at 180 ° C for about 30 minutes.
Let the nut braid cool down and cover it with the frosting optional). You can also eat this just like that.
---
---
Join my Mailing List and get a exclusive monthly recipe
---
---
 [:]