This vegan nut babka is baked with a soft brioche bread and filled with a hazelnut and date filling and braided into a plait.
This yeast braid is a Brioche (Challah) without dairy products and without eggs and the babka is great as a vegan dessert or with your next coffee.
Do you like the nougat flavor of toasted hazelnuts? Then this vegan nut babka is perfect for you. The hazelnut flavor goes very well with the dates.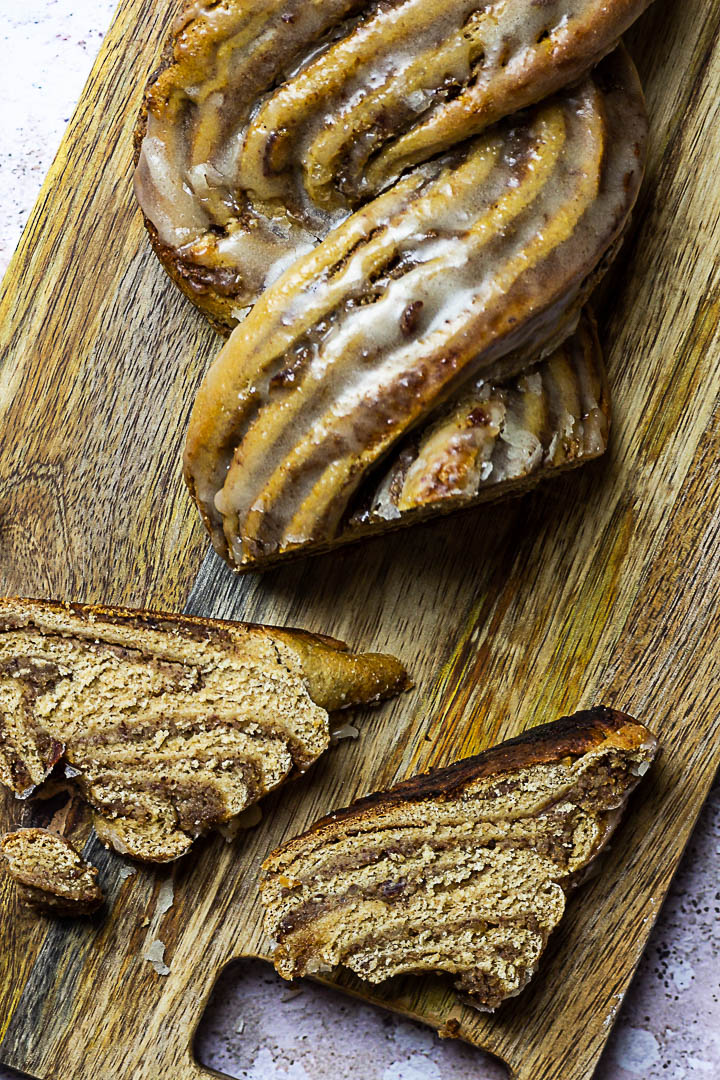 As an Amazon Associate, I earn from qualifying purchases. This post may contain affiliate links. Read More
Jump to: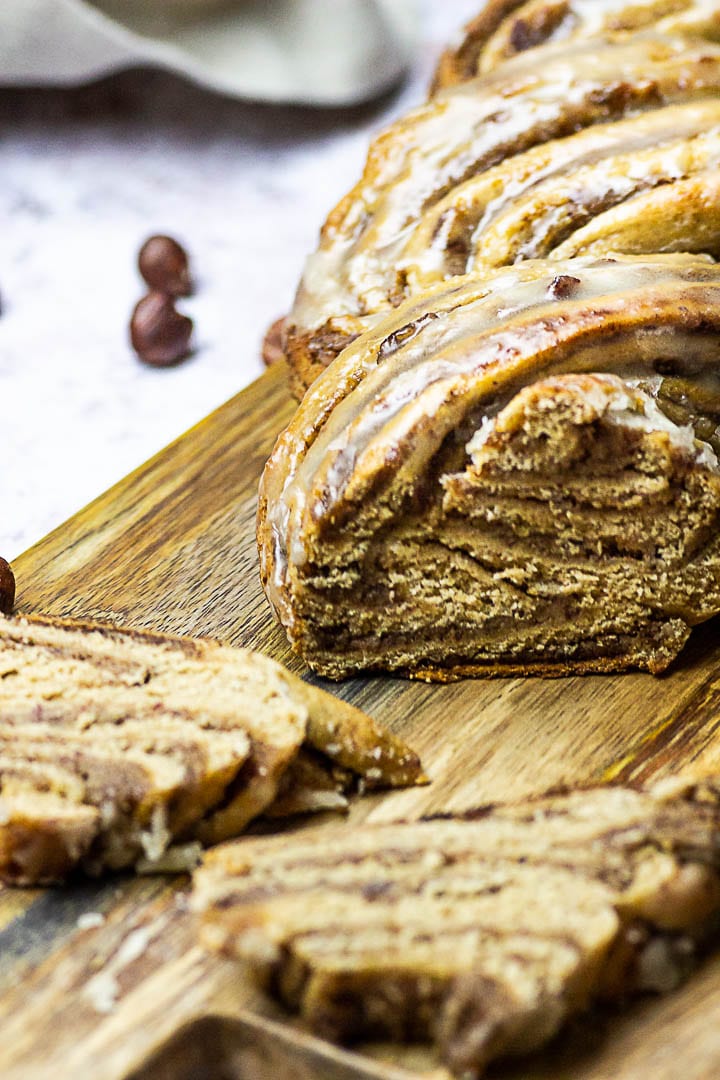 The babka is made from a few ingredients and only needs a slightly longer kneading time to create a smooth and loose yeast braid.
The almond butter helps the dough to be juicy and not dry.
If you want to, you can make a sugar glaze from coconut sugar and lemon juice and coat the nut babka.
If you've eaten a chocolate babka before, you'll like the nut alternative.
What is babka?
In Germany, we simply call this yeast plait, nut braid or Krantz cake. In many other countries such a sweet, braided yeast bread, which is eaten like cake, is known as babka. This bread was developed in the 19th century in a Polish-Jewish community.
A brioche dough is rolled out and traditionally filled with chocolate. We are preparing a popular German version here. Which is then rolled up and braided into a braid.
Ingredients
Now let's take a look at the ingredients that go into this vegan nut babka. As always, the exact quantities can be found below in the recipe card.
Almond Milk
Dry Yeast
Maple Syrup
Whole Wheat Flour
Gluten
Almond Butter
Hazelnut
Dates
Cinnamon
Coconut Blossom Sugar
Tapioca Starch
Lemon Juice
Substitutions
Let's see which ingredients can be exchanged here. Please make sure that you do not change too much, as this will change the properties of the yeast dough.
Almond milk
I like to use almond milk. Since this is rather tasteless. But you can also use oat milk, soy milk or rice milk. All plant varieties will work here.
Active Dry Yeast
If you have fresh yeast at home, you can use the fresh yeast here too. Use half a cube (21 g) for this.
Make sure that you first dissolve the fresh yeast in the almond milk and let it rest for about 5 minutes. This is how the yeast activates.
Maple Syrup
I use maple syrup in this babka, but you can also use date sweetener, date paste or coconut sugar.
Whole Wheat Flour
As you may have already seen from my other recipe, like these chocolate buns, I like to use whole wheat flour. You can also use normal household flour or spelt flour here. The whole wheat flour makes the dough a little firmer in texture than if you were using normal flour.
Gluten Flour
Gluten helps loosen up the dough, especially with whole grain baked goods. If you don't want to add gluten, you can just leave it out. It may be that this will make your babka a little firmer.
Almond Butter
Instead of almond butter, you can also use another nut butter such as cashew butter or seed butter made from sunflower seeds, for example.
Hazelnut
The nut babka gets its traditional taste from hazelnuts. You can also use almonds or other nuts here.
Coconut Sugar
You can also use other granulated sugar such as raw cane sugar or date sweetener for the icing. The frosting will be a little more brownish than with normal table sugar. But it tastes at least as good. You can also leave out the frosting entirely.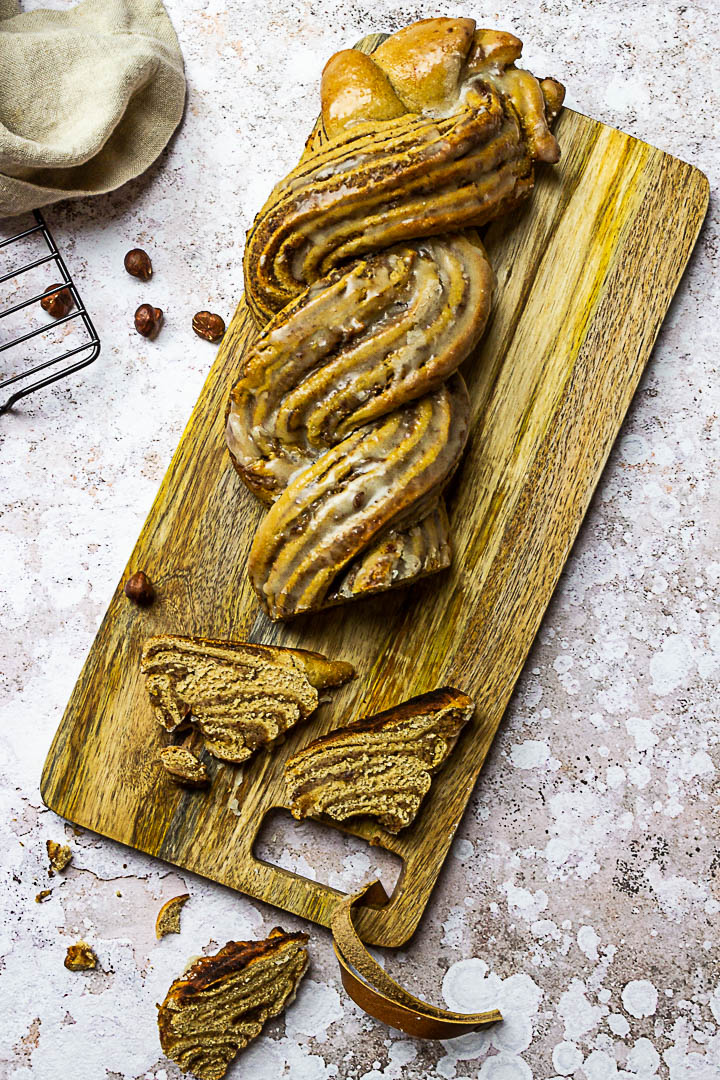 Variations
Regarding the adaptation to other forms of diets, I cannot really help you here. The bread is made from grains that contain gluten, which does not make it gluten-free. The bread is oil-free, refined sugar-free and soy-free. As the name suggests, vegan nut babka, it contains nuts.
If you want to make the bread nut-free, I recommend trying the following variations.
Chocolate Babka
Here just use a different filling. You can use the following ingredients.
400 g dark chocolate
2 tablespoon cashew butter or seed sauce
1 teaspoon vanilla extract
4 tablespoon cocoa
1 tablespoon maple syrup
Melt the chocolate in a double boiler and stir in the remaining ingredients. Let it cool down a bit before spreading it on the dough.
Proceed with the rest as in the recipe card
Poppy Seed Babka
Use the following ingredients for the filling:
200 ml plant-based milk
200 g ground poppy seeds
60 ml maple syrup
2 tablespoon almond butter or seed sauce
Boil the vegan milk in a saucepan and add the remaining ingredients. Keep stirring and simmer for about 2-3 minutes. Let the filling cool. Before you spread it on the dough.
Now proceed as with the nut braid.
Instructions
Add the flour, gluten powder (vital wheat gluten) and active dry yeast into the mixing bowl of a stand mixer with a dough hook and briefly stir the dry ingredients. Now add the almond milk, maple syrup and almond butter and knead for 20 minutes. That makes the dough nice and supple and elastic.
Now let the dough rise in a warm place for 1 hour, the dough should double in volume. Now knead the dough again for about 3 minutes.
While the dough is rising, you can prepare the nut filling. To do this, soak the dates in a little water. After about 20 minutes you can process the dates with the hazelnut flour, almond milk and cinnamon in a food processor until the dates are small.
Now roll out the dough into a rectangle and brush the dough with the nut mixture. Roll up the dough and cut it into 2-3 strands. Take the strands and braid them into a braid.
Now take a loaf pan and line it with parchment paper. Put the braid in the loaf pan and let it rise again for 1 hour. Preheat the oven to 300°F (150°C). Brush the braid with aquafaba or almond milk and bake it for about 40 minutes or until baked through.
Lift the babka out of the pan and let it cool on a wire rack. If you wish, you can now prepare the icing and spread it on the cold nut babka.
Prepare in advance
You can also prepare the nut babka the evening before and then put it in the refrigerator overnight. Take it out of the refrigerator an hour before baking.
Storage
Bread tastes best like the nut babka freshly baked on the same day. But you can also store it.
You can store it in an airtight container for about 2-3 days. Freshly baked goods dry faster than bought bread.
If you have leftovers, I recommend freezing them.
How to freeze it?
You can freeze the vegan nut babka very easily.
You have the option of freezing it in slices, so you can always take it out as needed or you can freeze the whole thing and let the whole nut babka thaw.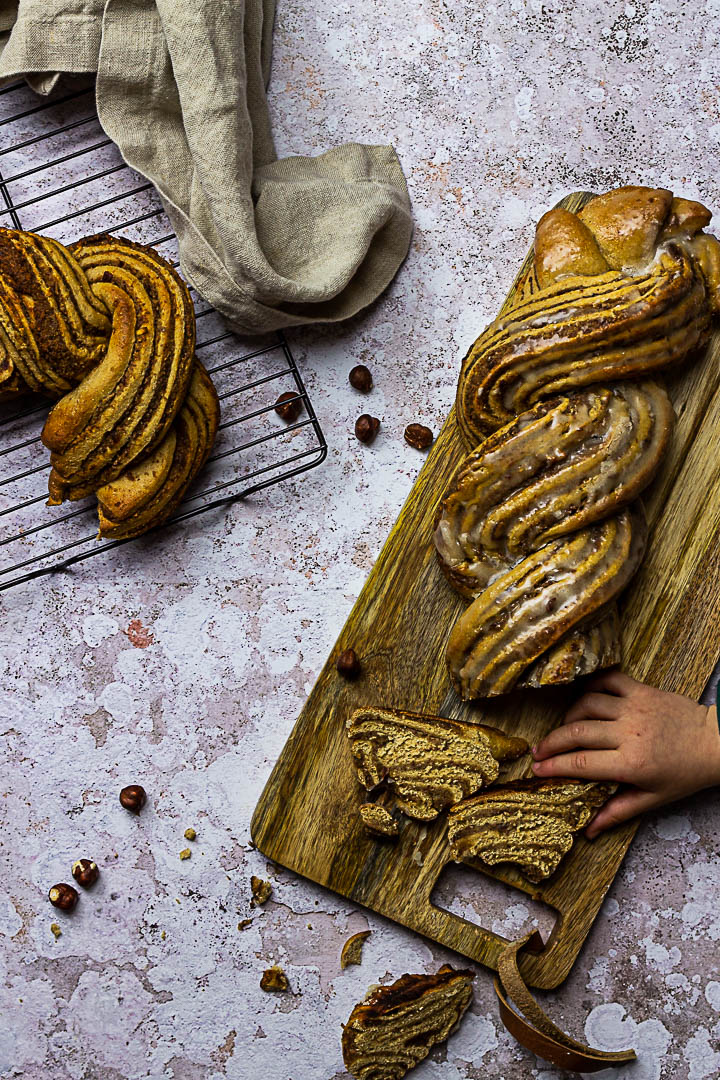 Tips
I recommend that you go by the number of grams and use a scale. This is much more accurate and will help you make the dough just like mine.
Let the nut braid cool down completely before you cut it. Otherwise, it can be that the crumb one becomes too tight.
You can experiment and use different fillings. Like a custard filling, fruit filling.
More vegan recipes:
Do not forget to Pin on Pinterest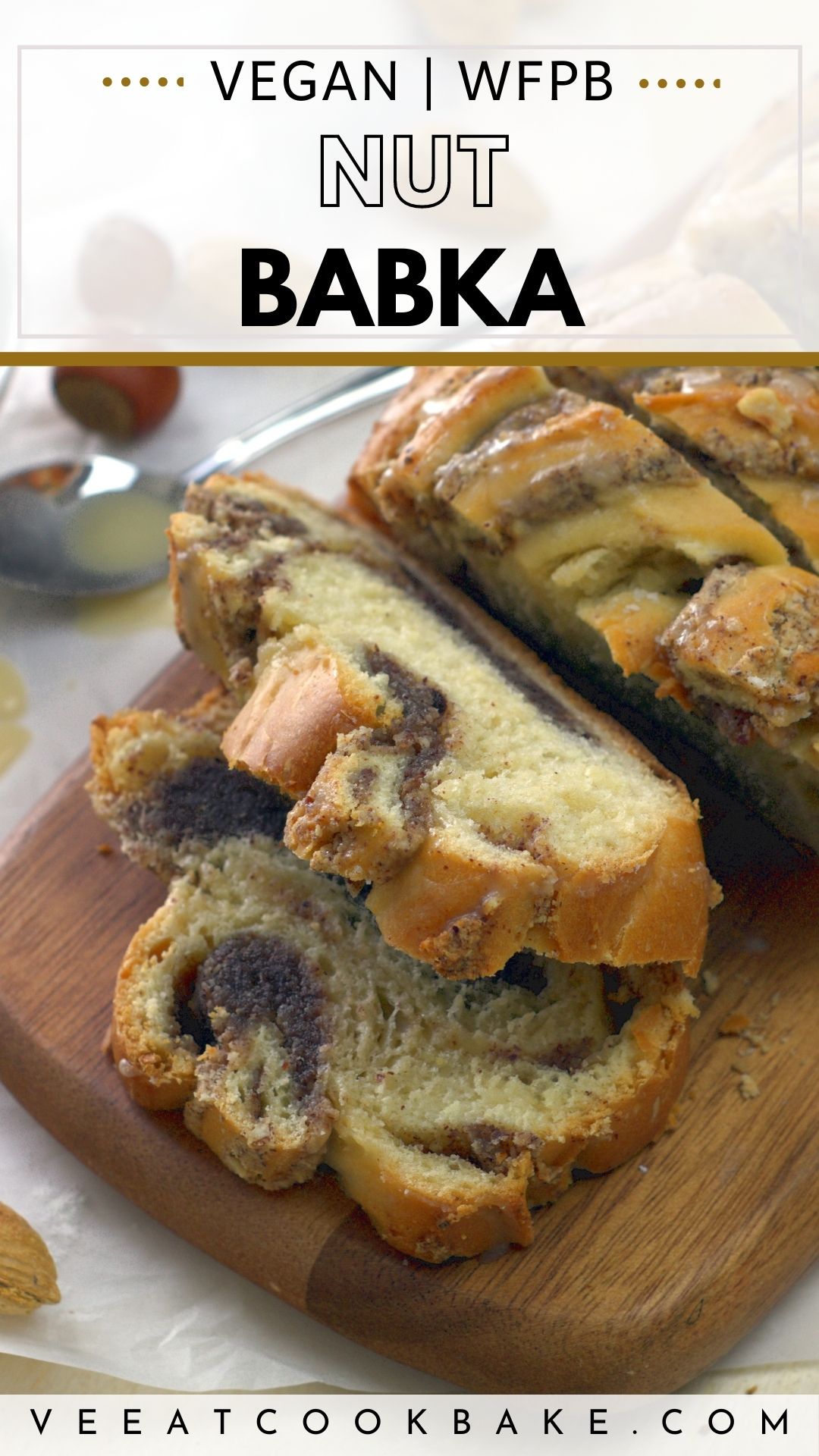 Have you tred the recip
If you tried the vegan Recipebe so nice ♥ and let me knw byrating the recipe and writing what you think about it in the comments.  I would love to see your photo on Instagram orFacebook. To do this tag me with @veeatcookbake andmy hashtag is #veeatcookbake. So that I can see your creation. Did you know you can add photos n Pinterest under the recipe Pin? I can't wait to see a photo of your creation here. You find me with @veeatcookbake