These vegan chocolate chip cookies are prepared in no time. If you are looking for recipes without highly processed oils and other ingredients, then you should definitely try these soft American cookies.
These chocolate chip cookies are soft, chewy and simply indescribable yummy. A perfect snack, dessert or treat.
As an Amazon Associate, I earn from qualifying purchases. This post may contain affiliate links. Read More
Have you always wanted to try the world-famous American cookies? But you do not want to use that much butter or fat, like most recipes, and all of that sugar?
With this recipe we do not use any processed fats, instead we use cashews and almond flour.
When I created the recipe, I was initially quite skeptical. But I have to say, these vegan chocolate chip cookies far exceeded my expectations. And they not only taste delicious when cold, but also warm.
These cookies taste best on the first day. Freshly baked, slightly warm with melted chocolate.
Ingredients
The following ingredients are contained in these cookies. The exact amount of each ingredient can be found below in the recipe card:
Cashews
Water
Vanilla Extract
Applesauce, unsweetened
Plant Milk, unsweetened
Apple Cider Vinegar
Baking Powder
Baking Soda
Cornstarch
Flour (spelt or whole-wheat white) or gluten-free Baking Flour
Blanched Almond Flour
Raw Cane Sugar, Date Sugar or Coconut Sugar
Molasses (opt)
Chocolate Chips or Chocolate Pieces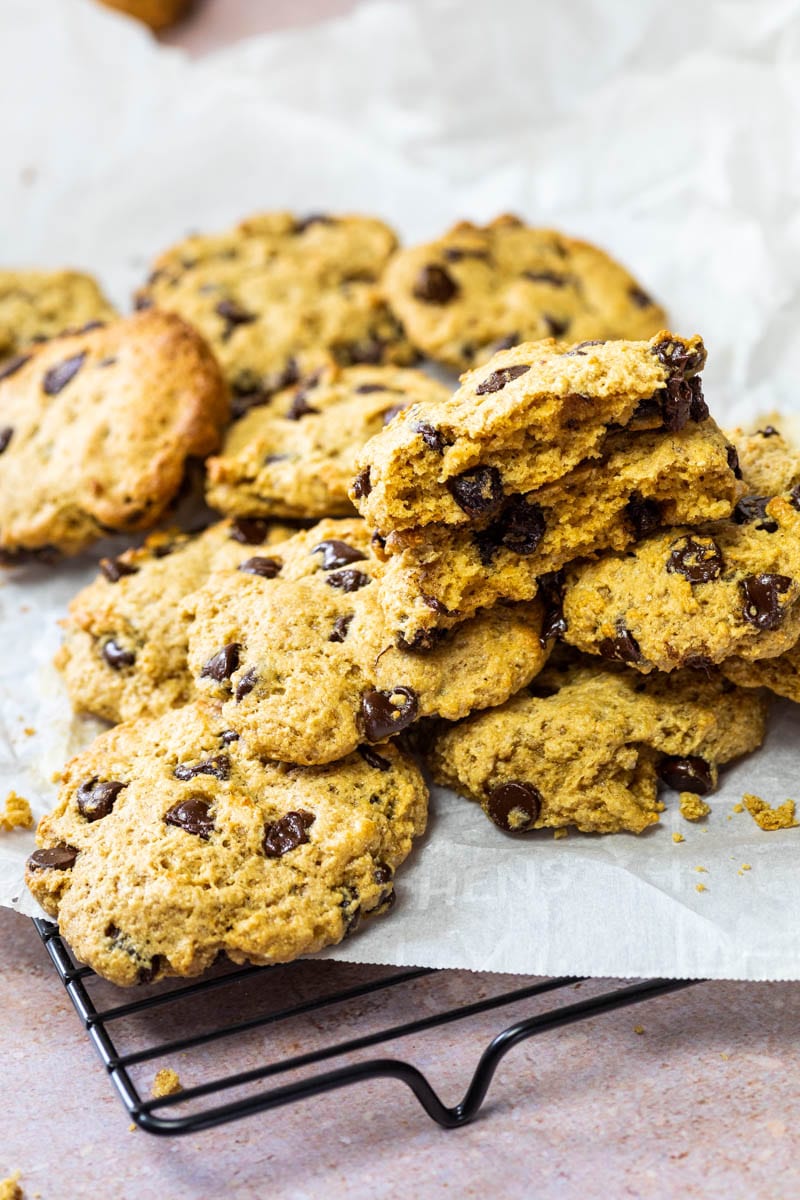 Instruction
Start soaking the raw cashews.
In the meantime, place all dry ingredients except the chocolate chips in a mixing bowl and mix to distribute all ingredients evenly.
Add the moist ingredients in a high speed blender, and make sure that you sieve the cashews before you put them in the blender.
Now blend until there are no pieces left. Add the liquid to the dry ingredients and stir until a dough is formed without lumps. Fold in the chocolate chips.
Preheat the oven to 350°F (180°C) and prepare a baking sheet with baking paper. Now take a tablespoon and cut out tablespoons of batter to form the cookies.
To do this, roll a ball with your hands and place it on the baking sheet. Now push the ball down a bit.
This is necessary because we do not use fat which melts and makes the cookie flat.
Do this until the batter is used up. Leave the cookies for about 5 minutes and bake them for 10 minutes.
Take them out, they still appear very soft. When the cookies cool down, they become a little firmer.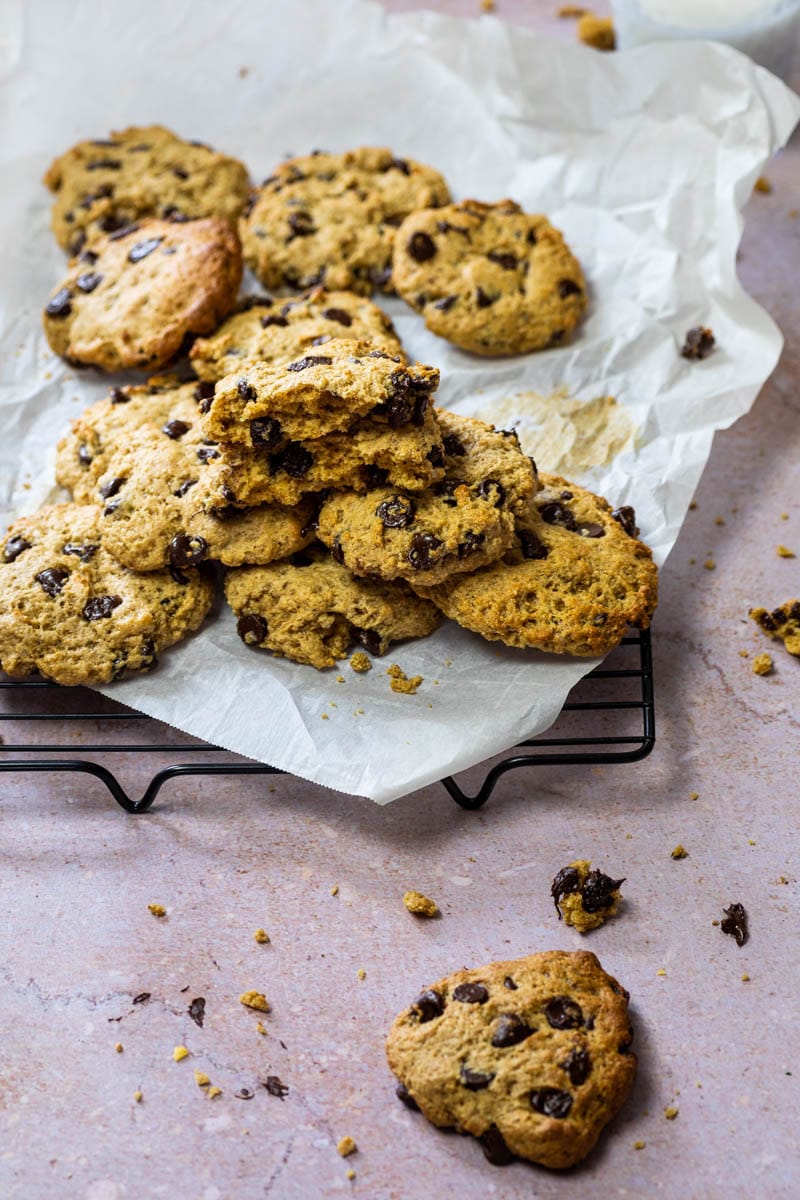 What makes these cookies so perfect?
Since we don't use oil, butter or margarine, we still need healthy fats so that the cookies don't get too dry.
We use ground almonds, which are very high in fat, and cashews, which we mix with the liquid.
Furthermore, the applesauce helps to prevent the chocolate chip cookies from drying out.
Are all chocolate chips vegan?
Unfortunately, no. Please pay attention to the list of ingredients here.
Often chocolate chips have butterfat or milk sugar, which doesn't make the chocolate chips vegan. You can use these or these chocolate chips. If you want sugar-free chips, you can use these.
Vegan chocolate chunks vs. chocolate chips
If you don't have chocolate chips at home, but you definitely want some cookies.
You can also use chocolate chunks. I know in Germany or other countries it is sometimes difficult to get chocolate chips.
You can also just take a vegan chocolate and cut it into chunks.
Storage
They can be frozen very well. The cookies stay in the freezer for about 3 months.
Let them freeze one at a time on a baking sheet and then later put them in a container or bag.
Prepare in advance
You have the option to prepare the dough 1-2 days beforehand and then put it in the fridge.
And bake them fresh the day you need them. To do this, take out the dough beforehand and let it warm up to room temperature before you start making cookies.
More vegan cookie recipes: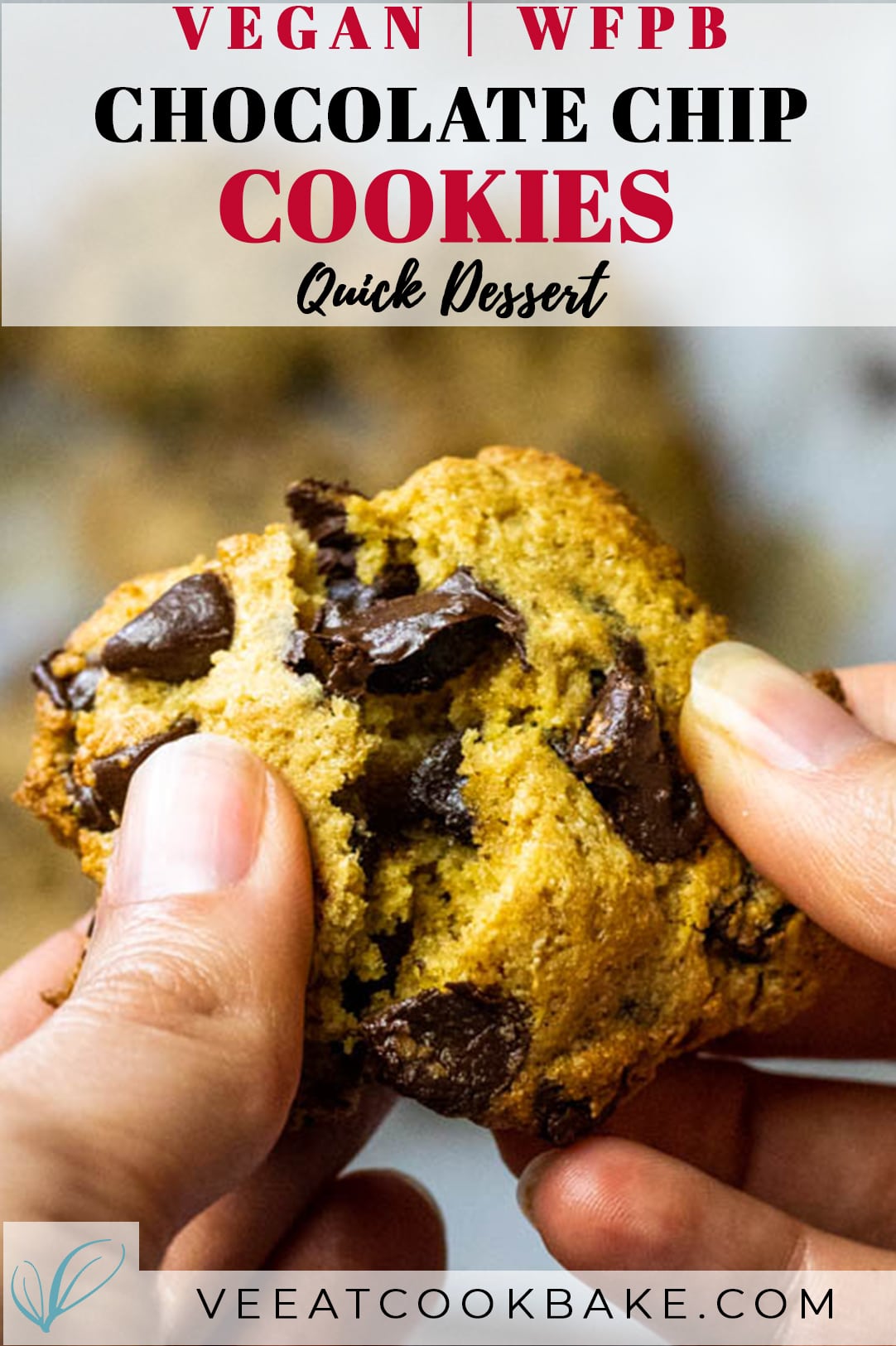 Have you tred the recip
If you tried the vegan Recipebe so nice ♥ and let me knw byrating the recipe and writing what you think about it in the comments.  I would love to see your photo on Instagram orFacebook. To do this tag me with @veeatcookbake andmy hashtag is #veeatcookbake. So that I can see your creation. Did you know you can add photos n Pinterest under the recipe Pin? I can't wait to see a photo of your creation here. You find me with @veeatcookbake