These vegan apricot custard cups are the perfect finger food for your brunch at Easter or simply if you fancy a quick and easy tart dessert. Prepare your own whole wheat dough or use a purchased puff pastry filled with vanilla pudding and apricot halves. This pudding dessert is the perfect treat for in-between or when you are expecting guests.
vegan | vegetarian | dairy-free | lactose-free | egg-free | healthy | plant-based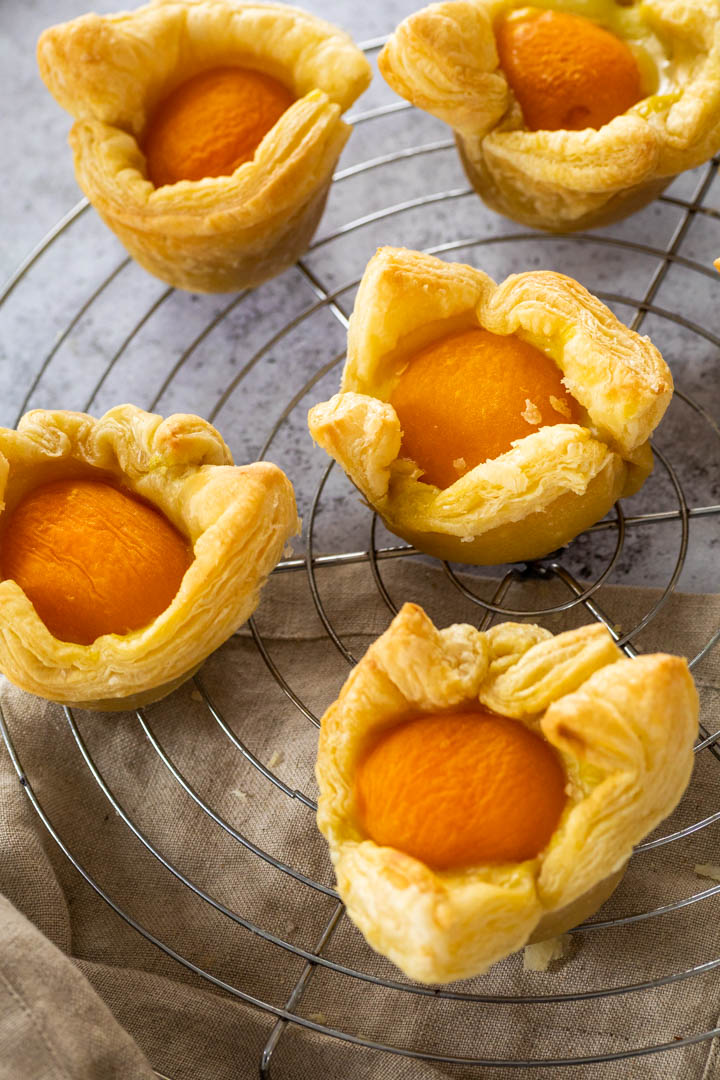 These apricot pudding cups or tarts were made when I thought about what a quick dessert or cake alternative I could serve for the afternoon table at Easter. After baking this delicious "Sunny Side Up" cake, I had the idea that I could serve something similar as finger food and voilà these cups were made.
And these apricot custard cups are not just for Easter, even in Summer during the Apricot Season it tastes refreshingly good.
What do I need for vegan apricot custard cups / tarts?
Puff pastry
Apricot halves from a can
Almond milk
Vanilla pudding powder or cornstarch, vanilla extract and turmeric
Homemade Dough:
Wholemeal flour
Almond flour
Maple syrup
Almond butter
Almond milk
Cold water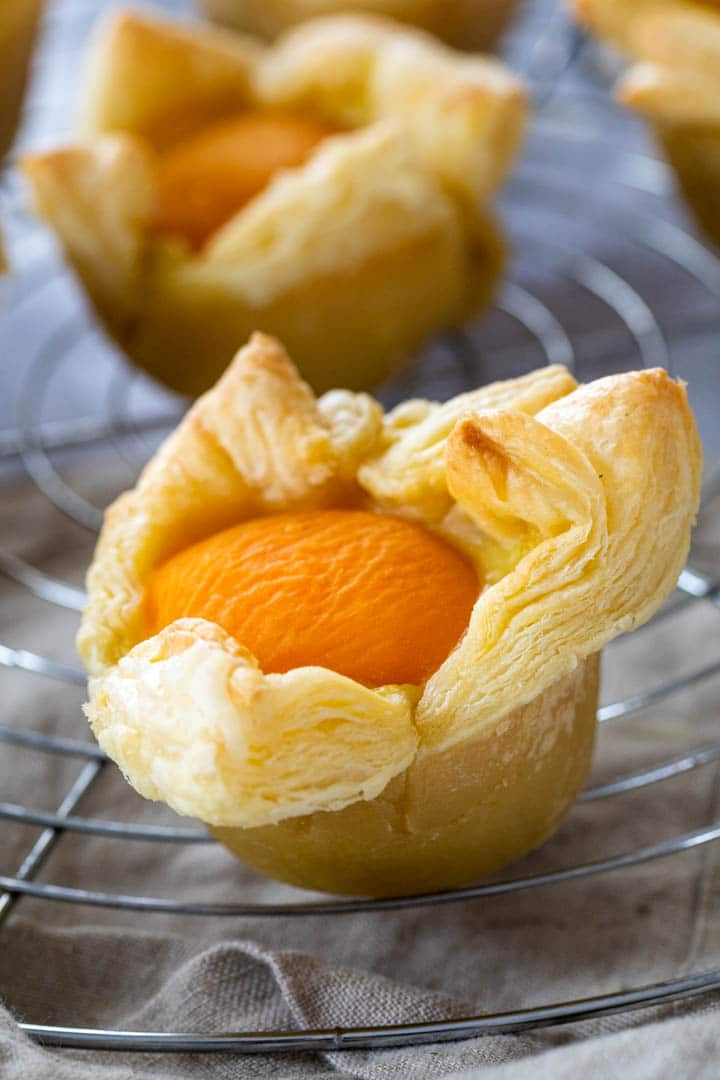 How do I prepare vegan apricot pudding tarts?
Preheat the oven to 400°F (200°C).
Prepare the dough by crumbly processing the dough in a food processor. We are preparing a kind of shortcrust pastry here, this must never be overworked. It is best if you use cold almond butter.
Now take a muffin mold and grease it and flour it so that the cups or tarts also come out. Depending on the size of your muffins, cut the puff pastry or the rolled short pastry into appropriate squares or rectangles. They should be big enough so that they come out of the pan like in the photos.
When you've filled the muffin tin. Bake them for about 10 minutes.
In the meantime, prepare the pudding. Put all the ingredients for the pudding in a saucepan and cook it. Sieve the apricots or, if fresh, cut them in half and core them.
Now add the pudding to the pre-baked tarts. Finally, put an apricot on top.
Now bake the tarts for another 10-30 min. Depending on the dough you use, they may take longer or shorter. Here I always pay attention to the color of the dough. They should be golden brown.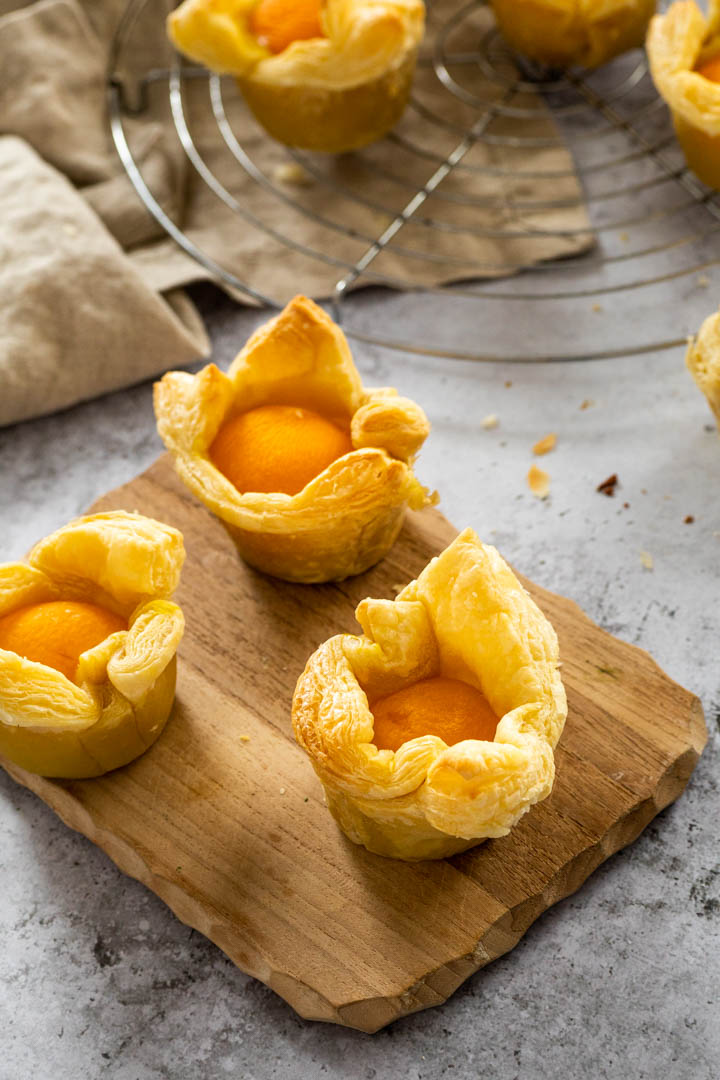 How do I store vegan apricot custard cups?
They taste best freshly baked. You can keep them in an airtight container in the fridge for about 3 days. You can serve them cold or briefly put them back in the oven.
I haven't tried freezing them.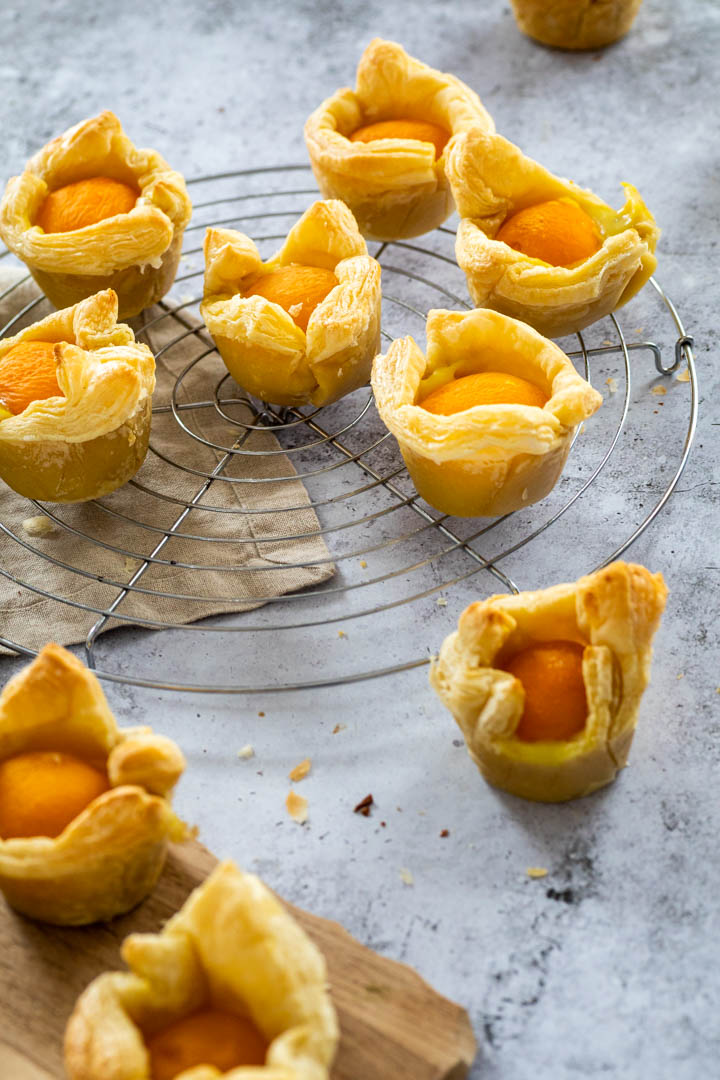 Can I prepare the vegan tarts in advance?
I would partially prepare them. For example, prepare the dough so far and place it in the muffin tin that the next day you only have to cook the pudding and put the apricots on it.
More vegan desserts: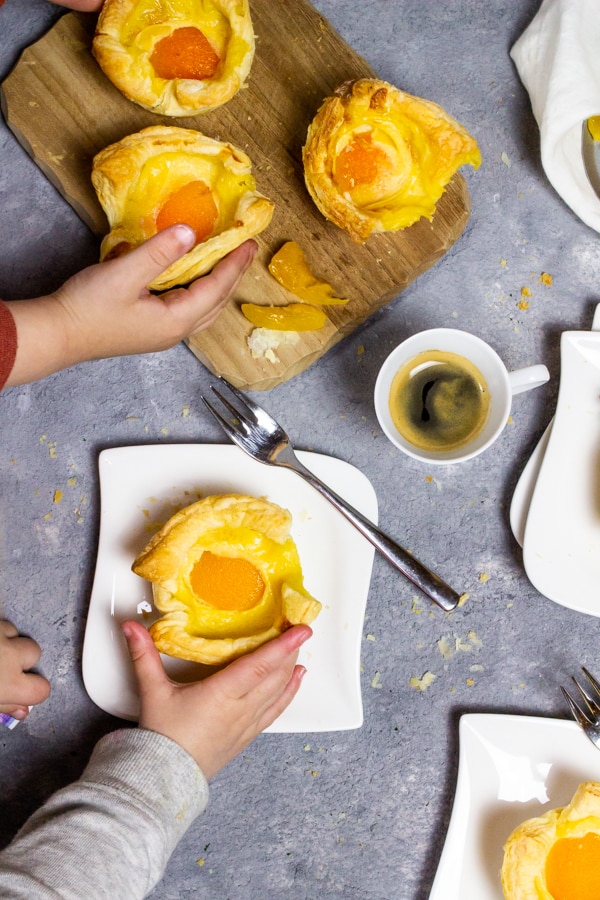 Do not forget to Pin on Pinterest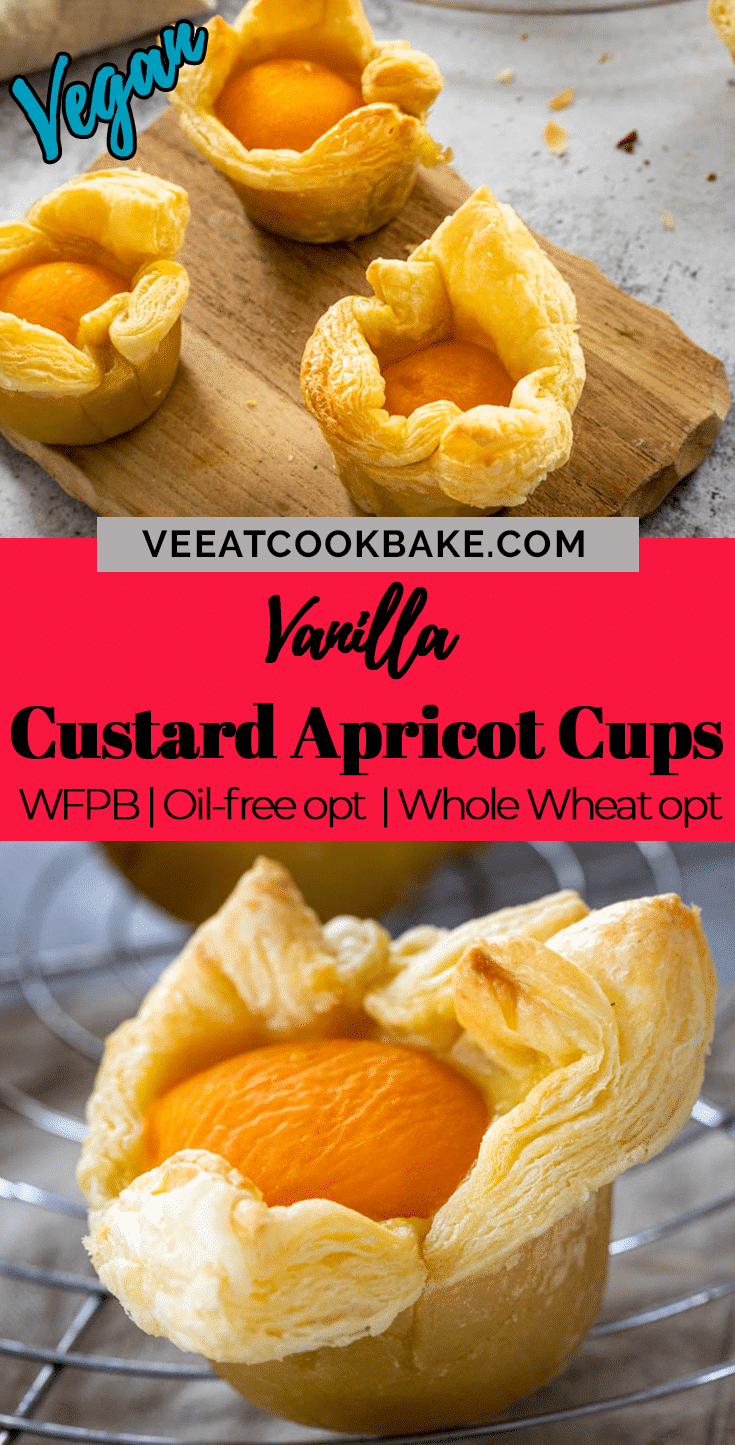 Have you tried the recipe?
If you tried the vegan Apricot Custard Cups, be so nice ♥ and let me know by rating the recipe and writing what you think about it in the comments. Tag me on Instagram too. I am @veeatcookbake and my hashtag is #veeatcookbake. So that I can see your creation. Did you know you can add photos on Pinterest under the recipe Pin? I can't wait to see a photo of your creation there. You find me with @veeatcookbake. I also would love to hear your feedback so I can share it on my social media channels.

This post may contains affiliate links and I may receive a very small commission if you buy through these links at no extra cost. Thank you very much for supporting Ve Eat Cook Bake! More information can be found here.
---