This post is also available in: Deutsch
*As an Amazon Associate, I earn from qualifying purchases. This post may contain affiliate links. That means if you click and buy, I may receive a small commission. Please see my full policy.*
These delicious pastry cupcakes with a vanilla cream filling are vegan and perfect to bring with for easter holiday. Everyone will love these apricot cupcakes, not just vegans. They taste incredibly refreshing and are therefore the perfect dessert or the perfect "cake" for afternoon snack (tea time). vegan | vegetarian | dairy-free | refined sugar-free

Vegan Pudding Cupcakes – A quick and easy easter dessert
These vegan pudding cupcakes are whipped up in minutes and everyone will love these amazing cupcakes. You can make your own vanilla pudding or buy some vegan vanilla pudding. When we make them we never can stop eating them.  Vanilla Cupcakes are a perfect easter treat or anytime of the year.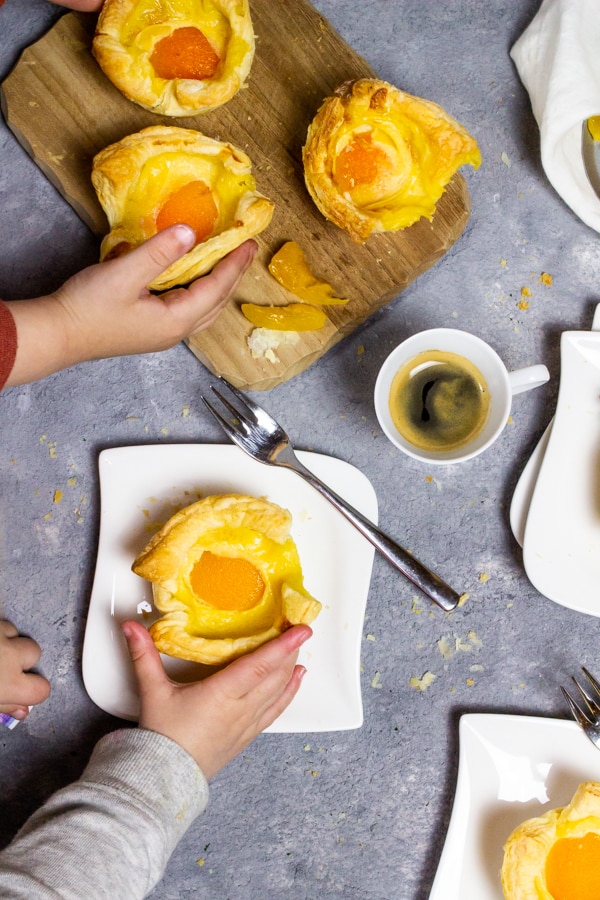 Easter Dessert, Apricot Pudding Cupcakes (vegan, dairyfree, eggfree)
The delicious apricot pastry cupcakes are perfect for bringing with on family occasions.
Recipe type:
Dessert, Cake, Cupcake, Muffin
Instructions
Preheat the oven to 180 C.
Cut the puff pastry into 11 equal squares. These squares should be big enough to fit nicely into a muffin shape. Mine were about 9cmx9cm. It's best to try it out. Put the puff pastry squares into the muffin dish so that it is well-filled and the pudding can be put in later.
For the filling, put all remaining ingredients except the apricots in a saucepan and mix well so that no lumps are formed. Bring the almond milk to a boil and remove from the heat. Distribute the cream evenly on the puff pastry. It could be that there is still some pudding left. You can spoon it directly. It just tastes too good to keep it.
Now put the apricot halves with the outside up, on top.
Put the muffin tin in the oven and bake for about 30 minutes. Make sure that the puff pastry is nice and brown. Depending on the oven, it can be longer or shorter.
Must haves: