Homemade vegan cinnamon rolls - this airy, soft cinnamon roll recipe smothered with a delicious frosting without dairy is made from whole wheat flour and without oil and refined sugar. These vegan pastries are a healthier version of traditional cinnamon rolls.
You can serve these dairy-free cinnamon rolls with a delicious vegan breakfast, brunch or dessert, and not just for breakfast at Christmas.
Not only are these egg-free cinnamon rolls great to prepare in advance, they are also great to freeze. And if you are looking for a recipe that you can serve a crowd, these vegan cinnamon buns are just the thing.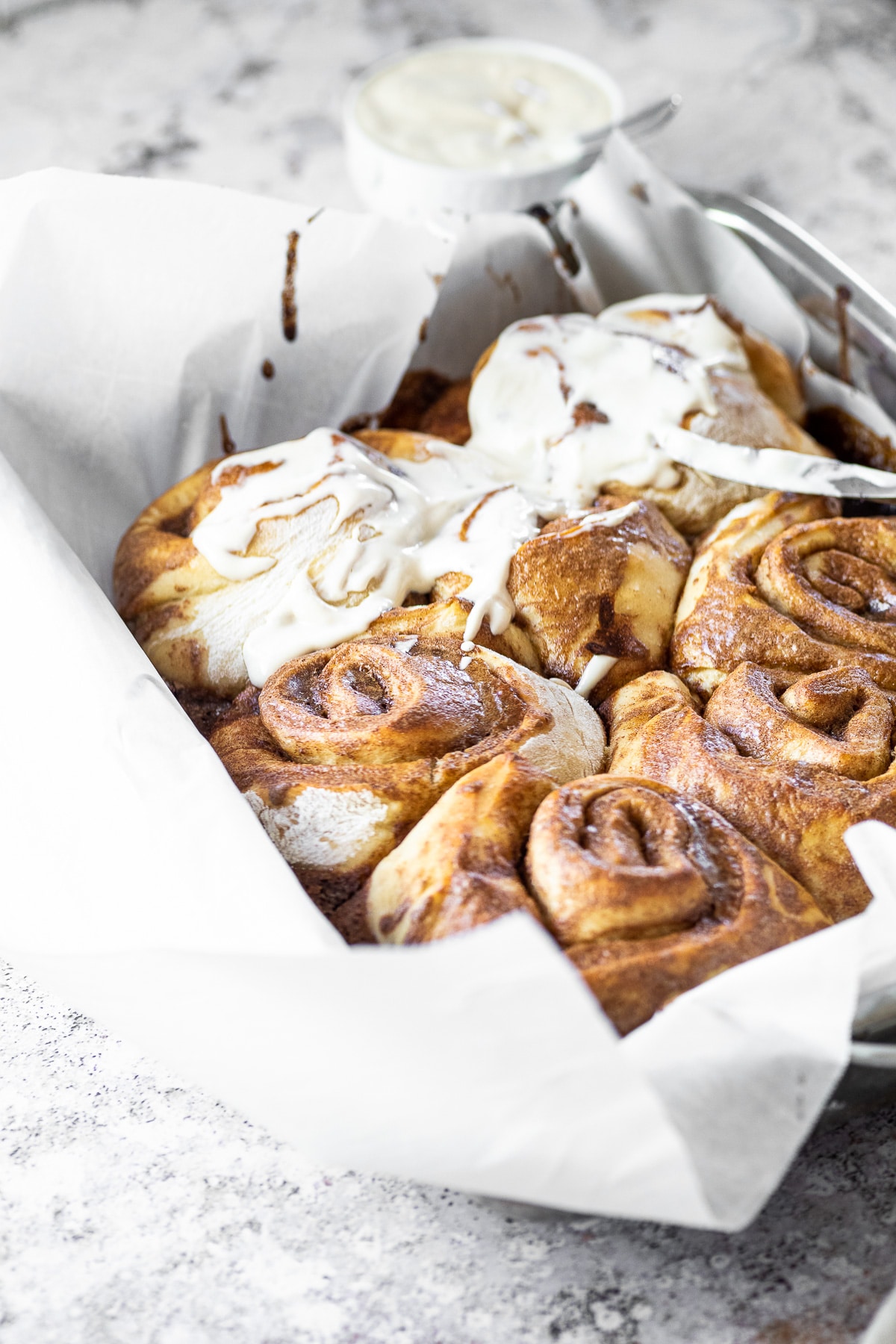 As an Amazon Associate, I earn from qualifying purchases. This post may contain affiliate links. Read More
Jump to:
Here you can find a simple cinnamon rolls recipe and homemade quick cinnamon rolls simply taste the best.
From my non-vegan days, I still fondly remember the classic cinnabons that you can find in every shopping center here in the USA. They were incredibly tasty. And now with a whole food plant based diet, a healthy cinnamon rolls recipe was of course required. And I worked it out and created these mouthwatering vegan cinnabons.
These cinnabons are classically served with cream cheese frosting and are therefore anything but vegan. My vegan version of the cinnamon buns is a recipe with wholegrain yeast dough, a delicious cinnamon filling and a vegan cinnamon roll icing made from yogurt and cashews.
With this recipe I would like to show you how to make vegan cinnabons and I will give you more tips and alternative options at hand to bake perfect eggless, sugar free cinnamon buns.
Ingredients
Now let's take a look at the ingredients in these vegan cinnamon rolls. Maybe like us you already have most of it in your pantry and you can start baking right away.
Dough
Active Dry Yeast
Oat or Soy Milk
Maple Syrup
Nut Butter
Water
Flour (whole wheat flour, whole white wheat, spelt, for example)
Cinnamon Filling
Date Paste, Maple Syrup
Ground Cinnamon
Nut Butter
Frosting
Vegan Yogurt Almond or Soy
Maple Syrup, Date Syrup
Cashews
Water
Vanilla Extract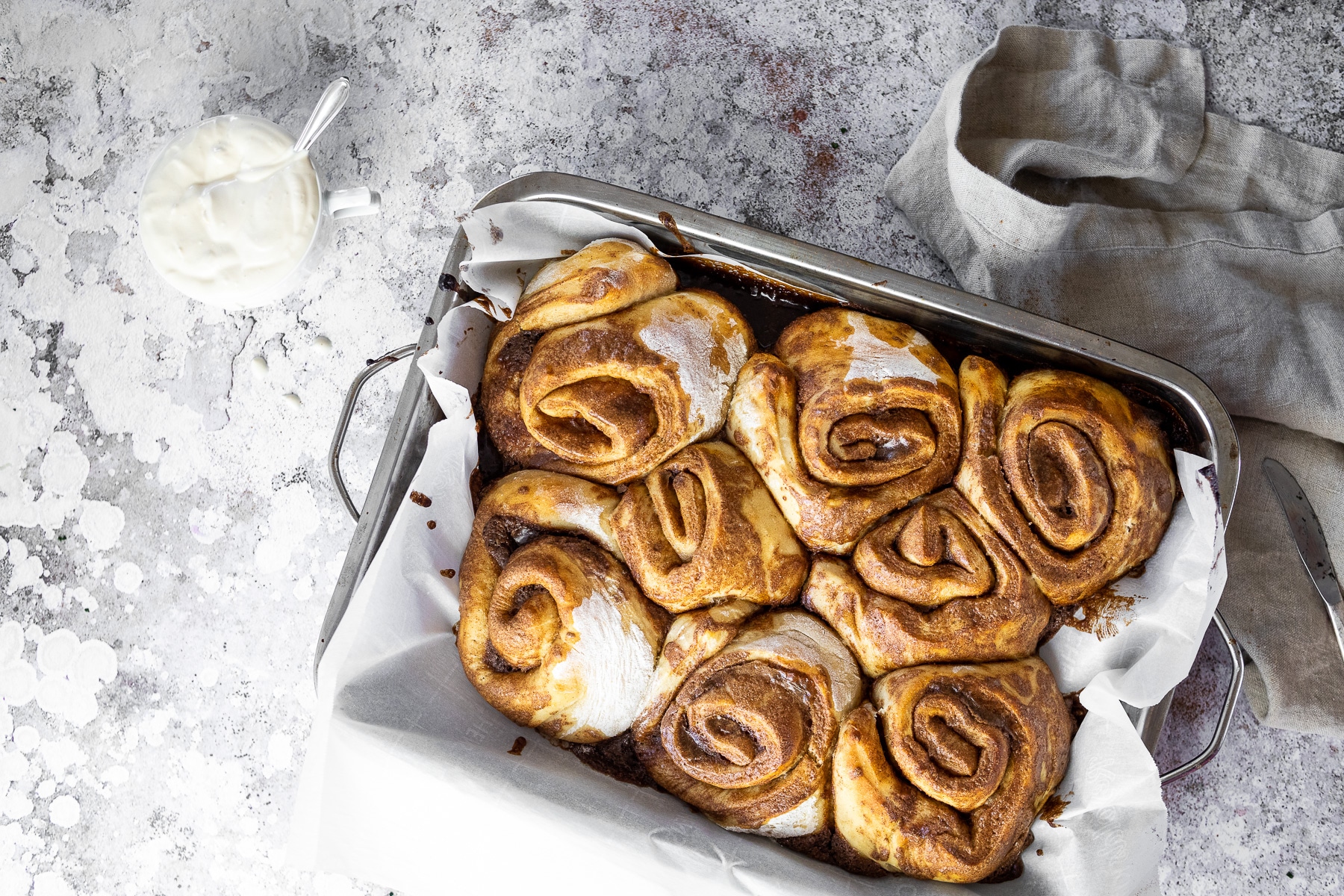 Alternatives
Now that you know what we use for the vegan cinnamon rolls. I would like to show you alternative options. You can easily replace some ingredients with others.
Oat or soy milk substitutes
Of course, you can easily use other plant-based milk such as almond milk or rice milk. Both will work.
Maple syrup substitute
If you don't want to use maple syrup,then you can also use coconut sugar in the yeast dough, for example. Date sugar will work too.
I like to use date paste for the filling, which you can easily make with dried dates and water. Mix the dates with enough water for a creamy consistency.
Nut butter substitute
Don't want to use nut butter for the frosting? You can simply use sun butter. If it is not important to you that the cinnamon rolls are oil-free, then you can also use vegan butter or coconut oil.
Flour Substitute
I used whole white wheat flour for this recipe. You can of course also use spelt flour, whole spelt flour, whole wheat flour or all purpose flour. Depending on the type of flour, the amount of liquid must be adjusted a little.
Here, slowly add the water to the dough until a dough emerges that comes off the edge of the bowl, but is not too dry either.
Yogurt Alternative
Instead of soy or almond-based yogurt, you can also use other plant-based yogurts. Here I like to use a yogurt that is creamy. This is how you get a nice creamy frosting.
Variations
Then let's just take a look at how we can prepare these cinnamon rolls in gluten-free, keto or nut free.
Gluten-free cinnamon rolls
For a gluten-free variation, you can swap the flour for a gluten-free baking mix, for example. Simply adjust the amount of liquid as it can be different depending on the type of flour.
Keto cinnamon rolls
I did a lot of research on how to bake keto and have now put together an alternative for you.
These ingredients are around ⅓ of the above ingredients. Therefore adjust the amount of liquid, sweetening alternative.
Take approx. 2 cups (200 g) of almond flour, 4 tablespoons of tapioca starch, 2 tablespoons of ground flax seeds mixed with ⅓ cup (80 ml) of water and 1 tablespoon of coconut flour. Here you also add the yeast. And add enough liquid to make a dough that you can roll out.
As a sweetener, you can use whatever you use for other recipes.
Nut-free cinnamon rolls
These cinnamon buns are easy to prepare nut-free, simply replace the nut butter with seed butter made from sunflower seeds or pumpkin seeds and you can replace the cashews with sunflower seeds.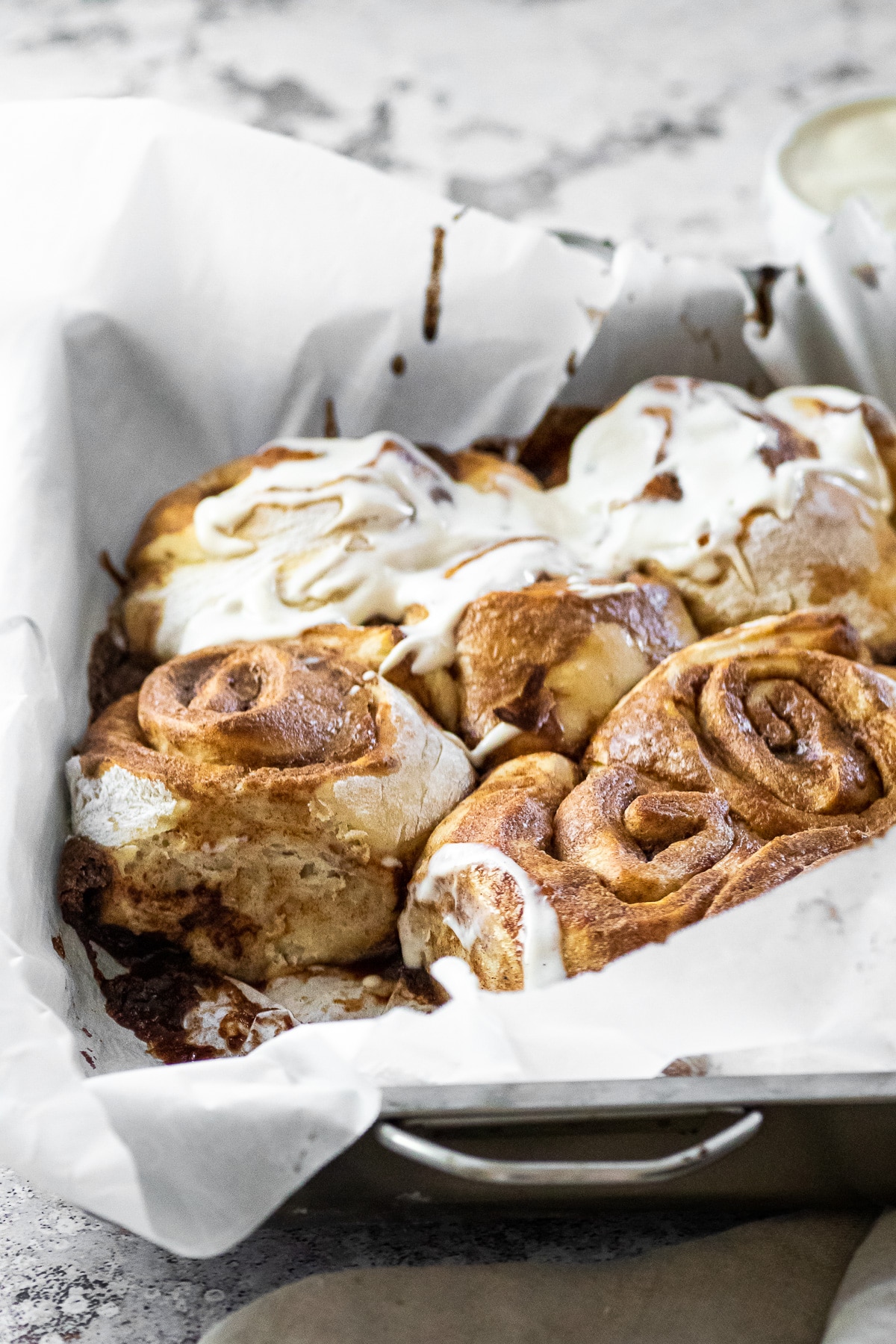 Instructions
Now let's take a closer look at how we prepare these simple vegan cinnamon rolls. Here I will also show you how you can prepare these without a stand mixer and how you can prepare them the day before.
Dough
Mix the room temperature milk with the maple syrup and the yeast in a bowl and let it stand for about 5 minutes.
Now put the nut butter and some water in a mixing bowl and stir until the nut butter is dissolved and creamy. Now add all the remaining ingredients and the yeast water and knead the dough to form a homogeneous elastic yeast dough. Here knead for about 8-10 minutes with a stand mixer, this is very important so that we get soft and airy yeast rolls.
The dough should now come off the edge of the bowl. You may need to add a little more flour or liquid. The dough should no longer stick, but it shouldn't be too dry either.
For whole grain flours, it is important that the dough rise for a long time. Here I like to let it rise for at least 2 hours. So the yeast can do its full job.
You should see that the dough has risen properly, about twice its volume.
If you don't have a stand mixer, use a mixing bowl and knead the dough with your hand. When the dough comes together, place it on a floured work surface and knead there for about 10 minutes until you have an elastic and soft dough.
Cinnamon filling
Mix all the ingredients for the filling into a creamy mass. If you use syrup, it will be a little more liquid.
Frosting
For the frosting, take the cashews and the water and blend them in a high speed blender until you get a cream without pieces. This is very important so that we get a creamy frosting.
Now fold in the remaining ingredients. It is important that the yogurt does not liquefy, use a spoon to fold in the yogurt.
Assemble
Preheat the oven to 350°F (180°C). Now roll out the dough in a rectangular shape on a floured work surface, approximately 16 x 12 inches (40x30 cm).
Now it's time to distribute the cinnamon filling evenly over the dough. Start rolling the dough up from the long side.
Now cut about 1 inch (3 cm) thick rolls. I usually get 12 cinnamon rolls out of here. Put these in a baking dish. Now it is important that you let it rise again covered for about 30 minutes. Bake the cinnamon buns for about 20 minutes.
We love to serve them warm.
Prepare in advance
If you want fresh cinnamon rolls in the morning, you can prepare them and put them together, just don't bake them. When you have placed the cinnamon buns in the baking dish, cover them and place them in the refrigerator.
The next morning, take out the cinnamon rolls and let them stand for another hour at room temperature. In the meantime, preheat the oven to 350°F (180°C) and bake the cinnamon rolls for about 25 minutes until they are ready.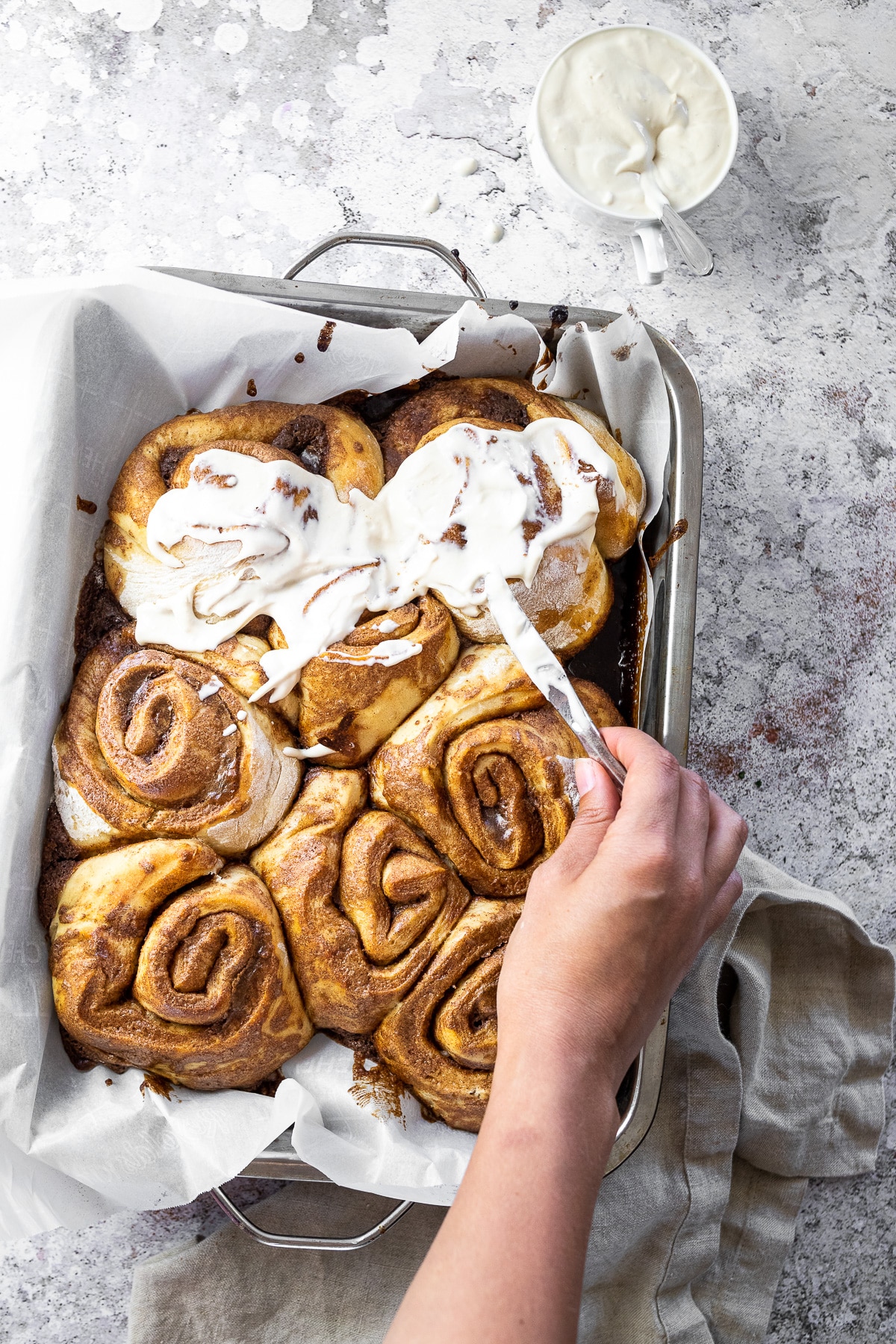 Storage
You haven't eaten all the cinnamon rolls? Then let's see how we can store the leftovers.
How to refrigerate it?
Keep the cinnamon buns in the refrigerator, they'll keep there for about 5 days. Make sure you keep these in a sealed container.
How to freeze it?
You can freeze the baked cinnamon rolls and then let them thaw in the refrigerator overnight. Now you have the option to let them come to room temperature on the countertop or briefly heat them in the oven or microwave before serving.
I haven't frozen the frosting yet, but I can imagine that it should work. I would appreciate your feedback if you tried it out.
Tips:
Make sure that you roll out the dough really thin. Roll this out about ¼ inch (0.6 cm). This way you can be sure that you have a delicious cinnamon filling in every bite. The dough rises properly when baking.
Roll the cinnamon buns tightly so that there is not much air in them, that makes the cinnamon buns perfect and you really have the cinnamon filling everywhere.
Use dental floss to cut the rolls. Dental floss is great for cutting dough.
You can also cut the dough into strips before rolling them up and then roll them up. This prevents the filling from running out and it doesn't get as messy.
The batter is too much for you? Just cut the recipe in half.
Do you want to prepare more in advance? Double or triple the recipe and prepare them. You can freeze them baked or not baked. This is up to you.
More vegan Recipes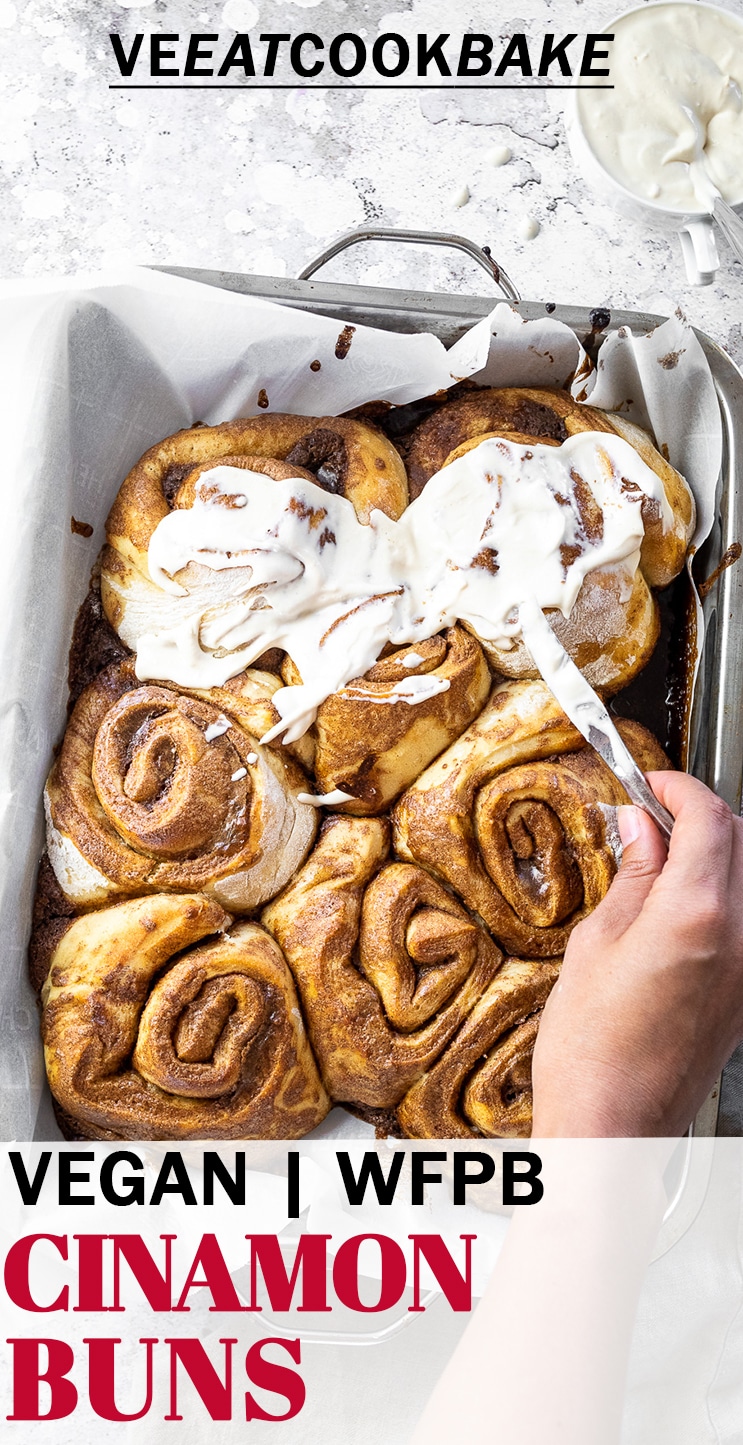 Have you tred the recip
If you tried the vegan Recipebe so nice ♥ and let me knw byrating the recipe and writing what you think about it in the comments.  I would love to see your photo on Instagram orFacebook. To do this tag me with @veeatcookbake andmy hashtag is #veeatcookbake. So that I can see your creation. Did you know you can add photos n Pinterest under the recipe Pin? I can't wait to see a photo of your creation here. You find me with @veeatcookbake