Are you ready for the ultimate vegan chocolate experience? Then prepare to be wowed by this delicious plant-based Mint Chocolate Bundt Cake!
This decadent dessert will leave your taste buds dancing with joy, while it's soft and airy texture melts in your mouth.
Not only is this treat incredibly tasty, but it's also easy to make without compromising anything when it comes to flavor or texture.
So if you're looking for a healthier way to indulge in some sweet chocolate goodness, then look no further!

The Mint Chocolate Pound Cake is not just vegan, it is also oil free and refined sugar-free, what makes it whole food plant based friendly.
This was inspired by my other Chocolate Bundt Cake Recipe. And if you love all kinds of chocolate goodness like I do, you are going to love this Chocolate Peppermint Cake.
Jump to:
Ingredients
Here is a quick list of the ingredients that you will need for this recipe.
You can find the ingredients with quantities and the recipe to print out on the recipe card below.
white whole wheat flour
Hazelnut flour
Baking Powder
Unsweetened Cocoa Powder
Potato Starch
Peppermint Extract
Date Paste or Coconut Sugar
Nut Butter
Sparkling Water with no flavor
Apple Cider Vinegar
Glaze
Instructions
First to make this vegan bundt cake you will need to mix the wet ingredients like Sparkling Water, teaspoon of peppermint extract (except the vinegar) and depends on the sweetener of your choice. Whisk in a large bowl until the nut butter is creamy.
Add the dry ingredients and whisk until everything is well combined. If the dough is too dry, add a little more sparkling water. Depends on the flour you are using, you will need more or less sparkling water.
The dough should not be runny. It should be a little thicker, almost like a pancake dough. Add the vinegar and give it a good stir.
Pour the cake dough in your prepared bundt pan and bake at 350°F (175°C) in the preheatet oven for about 40 minutes. Always do the toothpick test to see if the chocolate peppermint bundt cake is baked through.
Let the cake cool on a cooling rack. Let it cool completely before you remove the cake from the pan.
Melt the chocolate in a double boiler and brush the cake.
Substitutions
I want to give you some options for substitutions and that the cake will still turn out amazing.
Flour - instead of White Whole Wheat Flour, you can also use Whole Wheat Flour, Spelt Flour or Regular Flour like All Purpose Flour. If you are using spelt flour, you will probably need less liquid. All Purpose Flour is not wfpb and if you are not that strict of course you can use ap flour.
Hazelnut Flour - I am using it because I love the taste of hazelnuts in my cake. But you could also use Almond Flour. If you cannot find hazelnut flour, you can buy whole hazelnuts and grind it in a high speed blender until you got a flour.
Potato Starch - The Potato Starch helps that the cake holds together. If you do not have potato starch, you can also use cornstarch. You could also try a flax eggs. I have not tried it yet.
Peppermint extract - I can imagine instead of Extract flavor, you could add a strong brewed peppermint tea instead of sparkling water. This will add a nice peppermint flavor to your cake.
Sweetener - I mentioned Date Paste or Coconut Sugar. Of course, you can use your favorite sweetener to make the perfect vegan cake that you can indulge in.
Nut Butter - use a nut butter that is pretty neutral in taste. I would not use peanut butter because of the strong taste, but you could use almond butter. You can also substitute a part of the nut butter with unsweetened apple sauce or mashed bananas.
Sparkling Water - the sparkling water gives a nice airy texture. If you do not want to use it, you can also use unsweetened almond milk or just cold water.
Dark Chocolate - For the Dark Chocolate, I use 70% -90% chocolate bar. You can also add a few drops of the peppermint extract. We do not need a peppermint frosting for this delicious cake. Just simply brush it with melted chocolate. You will get a rich chocolate cake.
Variations
Here I want to give you some ideas what you could change for this cake.
Mocha - Brew some hot coffee. Let it cool and substitute 1 cup sparkling water with the coffee.
Mint Chocolate Chips Cake - You got some Chocolate Chips? Add 1-2 cups to make a double chocolate bundt cake with rich chocolatey flavor.
Equipment
To make this good bundt cake you will need a bundt cake pan, wire rack, large bowl, electric mixer or hand whisk, double boiler, spatula.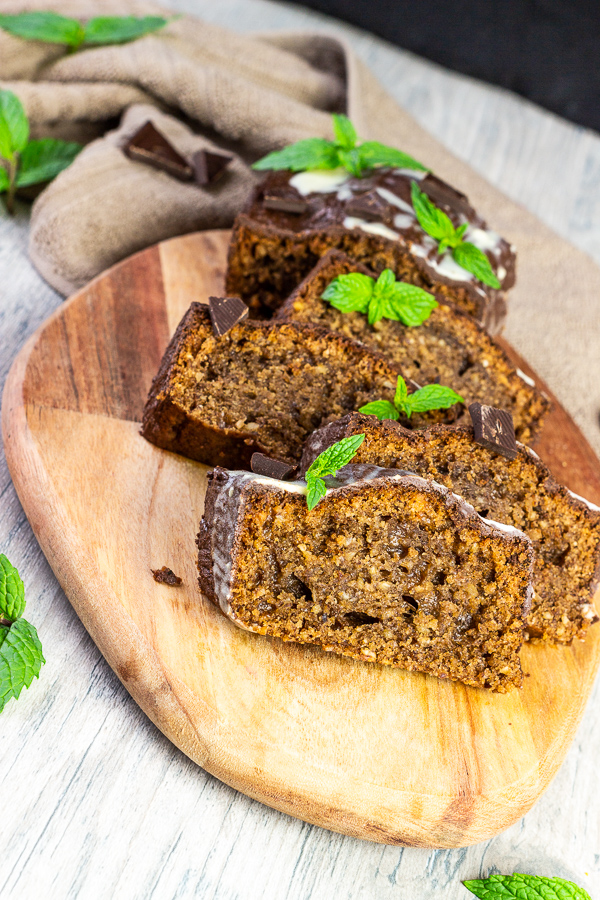 Storage
This vegan chocolate pound cake is perfect to prepare 1–2 days in advance and eat it throughout the week as a quick dessert, breakfast or afternoon snack with a hot cup of tea. I love my teas.
I'd not store it at room temperature because we do not use refined fats and sugars, it will last the best in an airtight container instead of plastic wrap in the fridge for a week.
You can also freeze slices separately and once frozen put them in the same bag. It will last for up to a month. To enjoy it let it thaw for 24 hours in the fridge and enjoy it at room temperature.
Top Tip
Use a non stick or silicone bundt cake pan. This way you do not need to grease the pan.

FAQ
How do I know my cake is fully baked?
Depends of your oven, type of flour the cake will take more or less time. Like if you got a convection oven, it will take a little less time. You should always check the core of the cake.
Use a clean toothpick before you take out the cake. Insert the toothpick in the center of the cake and if the toothpick comes out clean and dry with no dough sticking to it, your cake is ready. If there is some dough on it, bake a few minutes longer and repeat the test.
How long should I stir the cake?
Do not stir the cake batter to long, just until the ingredients come together and you do not have any flour clumps left. If you stir too long the gluten will activate and the cake will be heavier and gummier.
My cake is too dense. What happened?
Maybe you stirred too long, or you waited too long to put the cake in the oven. Because of the baking powder, you want to react quickly. This will help to get a lighter cake.
What is the difference between bundt cake and regular cake?
Bundt cakes are a unique and elegant treat that adds flair to any occasion. The distinctive fluted edges of the Bundt pan create an eye-catching shape, while the hole running down its middle ensures even baking for delectable results every time!
Can you use a normal cake pan instead of a Bundt pan?
Yes you can use a regular cake pan if you want to. For this recipe I used a German Style Bundt Cake Pan that is included in my spring form pan.