This post is also available in: Deutsch
*As an Amazon Associate, I earn from qualifying purchases. This post may contain affiliate links. That means if you click and buy, I may receive a small commission. Please see my full policy.*
A summer recipe for fluffy, soft lemon raspberry buns made of yeast dough with a sweet, lemony filling and a lemon cashew glaze. These lemon raspberry buns fit perfectly with coffee/ tea and cake time, breakfast, brunch or  as dessert. vegan | less sugar | plantbased | lactose free | egg-free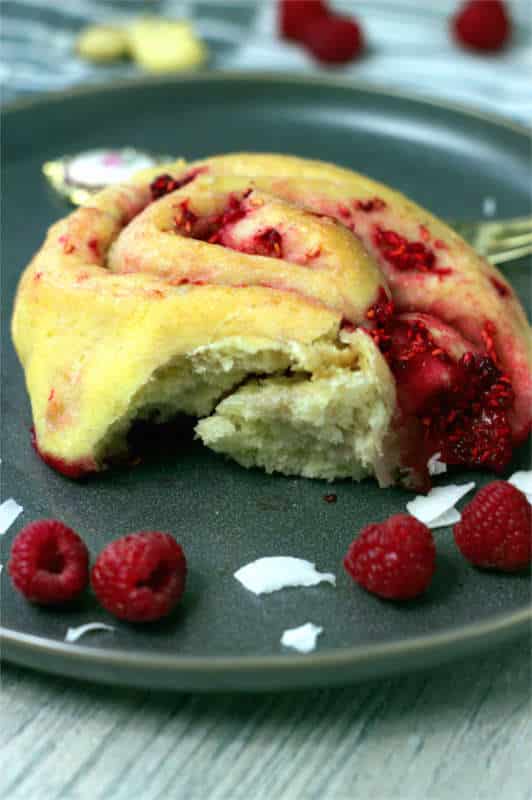 Raspberry picking
If you follow me on Instagram, you've probably already known that we were on a raspberry field a few days ago. We picked so many raspberries that I really wanted to make these lemon raspberry buns. And what can I say, they are so soft and fluffy that we just could not get enough of them.
Have you ever picked raspberries on a field? The best part is the nibbling  while picking. When I tasted these super sweet raspberries I knew directly I should prepare lemon raspberry buns. And this recipe came out: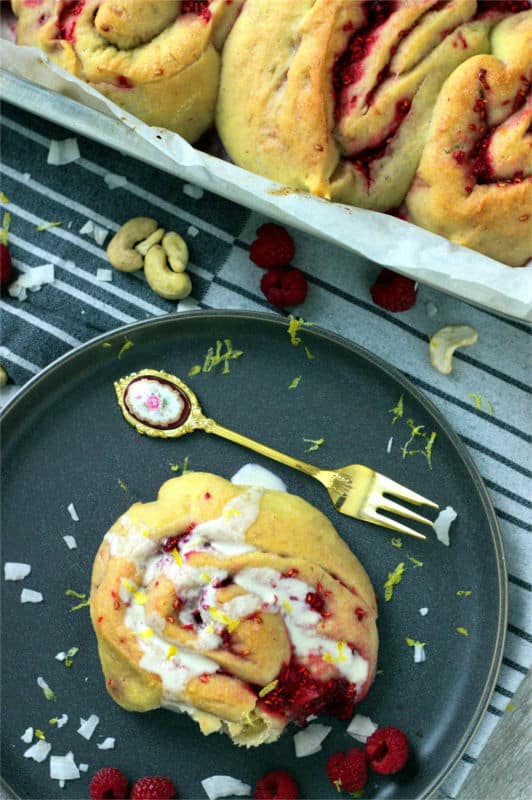 Ingredients of the  lemon raspberry buns
olive oil
Vanilla sugar
Spelt flour or normal wheat flour
raspberries
Lemons
sparkling water
aquafaba
coconut oil
Raw cane sugar
food starch
cashews
You find the exact instructions of the lemon raspberry buns in the recipe card below.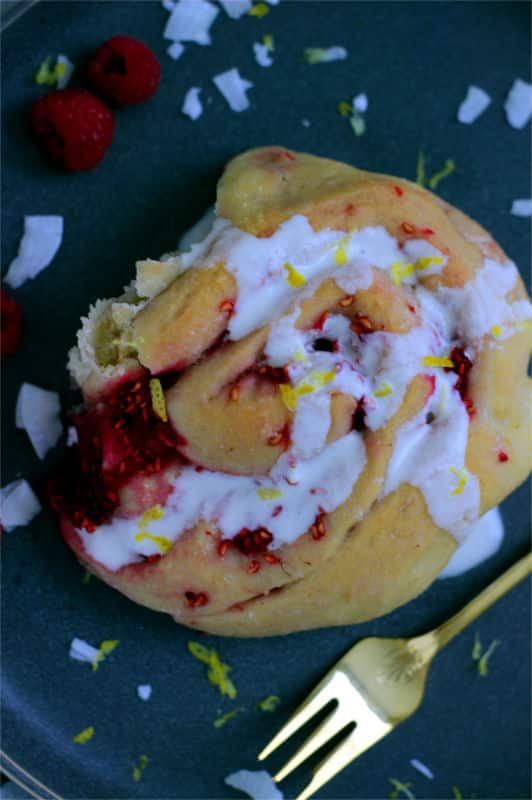 Exclusive monthly recipe
In the Sitebar you can see my current monthly recipe. You can get now the raspberry tiramisu recipe with interesting facts about the raspberry. To do so, simply subscribe further down in my mailing list or click on the Tiramisu photo. I also do not spam you, but I want to create a benefit/value for you, in which you get an exclusive recipe directly in your mailbox. My exclusive recipes are just for my Subscribes and will not appear here on my blog.
More vegan Raspberry Recipe: 
---
Did you try the recipe?
If you did it, be so nice ♥ and let me know by rating the recipe and writing what you think about it. Tag me on Instagram too. I am @veeatcookbake and my hashtag is #veeatcomforts. So that I can see your creation. Did you know you can add photos on Pinterest under the recipe Pin? I can't wait to see a photo of your creation there. You find me with VeeatCookBake.
---
Lemon Raspberry Buns
A summer recipe for fluffy, soft lemon raspberry buns made of yeast dough with a sweet, lemony filling and a lemon cashew glaze. These lemon raspberry buns fit perfectly with coffee/ tea and cake time, breakfast, brunch or  as dessert. vegan | less sugar | pure vegetable | lactose free | egg-free
Recipe type:
Cake, Breakfast, Dessert, Snack
Cuisine:
vegan, less sugar, plantbased, egg free, lactose free
Ingredients
dough
7 g active dry yeast
½ cup of lukewarm water
3 tablespoons of olive oil ornut butter
¼ cup vanilla sugar (I made it myself)
4½ cups spelt flour, wheat or gluten-free
1 cup of sparkling water
6 tablespoons of Aquafaba (dripping water of chickpeas), whipped
filling
¼ cup of coconut oil or almond butter
⅛ cup of vanilla sugar
2 cups of raspberries fresh or frozen
lemon zest
¾ tsp cornstarch
frosting
40 g cashews, soaking overnight
3 tablespoons water
⅛ cup of coconut cream (the detached part of the coconut milk)
¼ cup of maple syrup
½ teaspoon lemon zest
Instructions
dough
Mix the yeast with the water and let it stand for a couple minutes.
Beat the aquafaba like egg whites until it is white and stiff.
Now pour all ingredients together and knead until a soft, homogeneous, non-sticky dough is formed. Possibly, you have to add some water or some flour. Depending on the type of flour. It is sometimes different.
Now let the dough rice double volume.
frosting
Now prepare the frosting in the meantime. Mix all ingredients in a blender and until a creamy consistency is reached. Put it in the fridge.
Prepare the buns with filling
Roll out the dough and spread the coconut oil or almond butter on it. Sprinkle vanilla sugar over. Stir the raspberries with the lemon and cornstarch.
And spread the raspberries on the dough.
Now roll up the dough on the long side and cut about 1inch thick slices. Place with the swirl up with some space in a baking pan.
Cover and let it rice to its double volume. In the meantime preheat the oven to 350 degrees F.
Put the buns in the oven and bake for about 25 minutes.
They do not need a lot of color, just baked through. So they are nice and soft and fluffy.
Enjoy the lemon raspberry buns with frosting.
Join my Mailing List and get a exclusive monthly recipe
---