These vegan cinnamon rolls with a raspberry filling are prepared with a fluffy yeast dough. The vegan raspberry swirls are quick, easy and sure to succeed.
The yeast dough for these raspberry and cinnamon buns can be prepared very well in advance.
Have you ever eaten the famous cinnamon buns from the USA? Then maybe you always wanted to try a refreshing fruity version? I created these yeast dough rolls with a raspberry and lemon filling when I was really in the mood for vegan pastry with raspberries.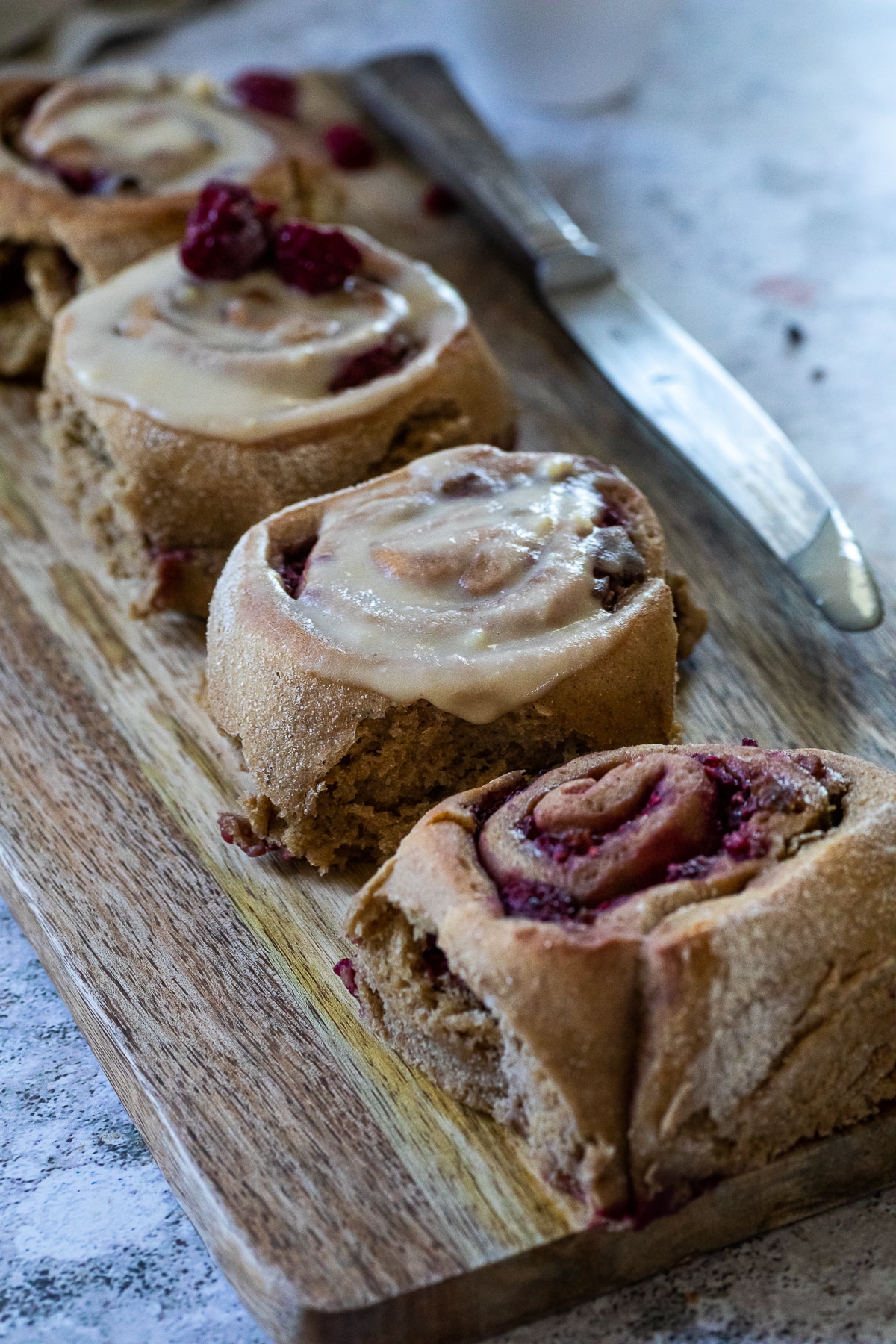 As an Amazon Associate, I earn from qualifying purchases. This post may contain affiliate links. Read More
Jump to:
If you have prepared these dairy-free raspberry rolls without eggs, you will see how incredibly fluffy they get and all without oil or butter / margarine. These cinnamon raspberry rolls are whole food plant-based coffee pastries that do not contain any refined sugar.
With this recipe I would like to give you not only a quick recipe on how to make these vegan cinnamon rolls with raspberries, but also other tips and tricks on how to make perfect rolls with frosting.
Ingredients
Now let's take a quick look at the list of ingredients. As you can see, you don't really need extraordinary ingredients for these delicious vegan cinnamon rolls with raspberry filling.
You can find the exact quantities below in the recipe card.
Almond Butter
Vanilla Extract
Whole White Wheat Flour or whole wheat flour (All-purpose flour works too)
Raspberries
Lemons
Cinnamon
Sparkling Water
Aquafaba
Dates, dried and chopped
Food Starch
Sunflower Seeds
White Beans
Maple Syrup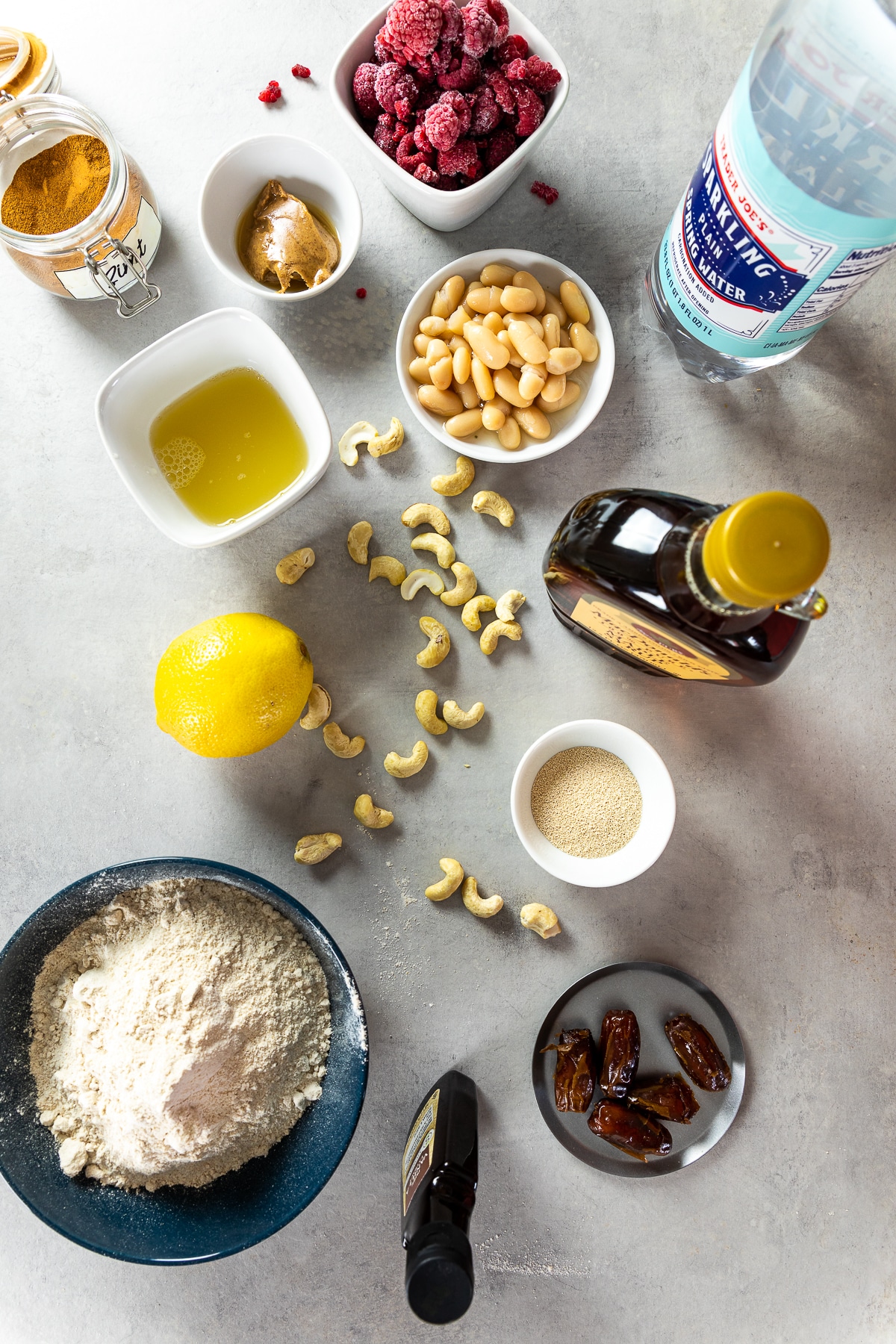 Substitutes
Here I would like to show you how you can replace certain ingredients.
Almond Butter Substitute
Instead of almond butter you can also use other nut butters, e.g. Cashew butter. You can also use seed butters, such as sunflower seed butter.
If you do not want to prepare your recipe oil-free, you can also use an oil such as coconut oil.
Vanilla Extract
Do you not have vanilla extract at home, but you have vanilla pods? Then you can also add a quarter of the vanilla pod. Use the pulp of the vanilla pod.
Date Paste Substitute
If you don't have any dates on hand, you can of course use your favorite sweetener. E.g. Coconut sugar or maple syrup and the like. This is where you can really use your sweetener, whatever you prefer to use.
I use date paste because it is whole food plant based and not processed. To do this, I mix dates with a little water until they have a creamy consistency. This can also be prepared in large quantities and then frozen tablespoon at a time.
Flour Substitute
You don't have to use whole wheat flour here, you can also use normal ap (all-purpose) flour. Or even white whole wheat flour. I like to bake these with white whole wheat flour. If wholemeal flour tastes too intense, you can also use half household flour and half whole wheat flour.
Aquafaba Replacement
If you don't have chickpeas at home, you can leave them out. Although I have to say, I think the yeast dough is even softer and fluffier with the Aquafaba in it. You can also make a Flax-Egg.
Dried Dates
The dates serve as a sweetener in the filling, you can also use something else. E.g. Raisins or other dried fruits.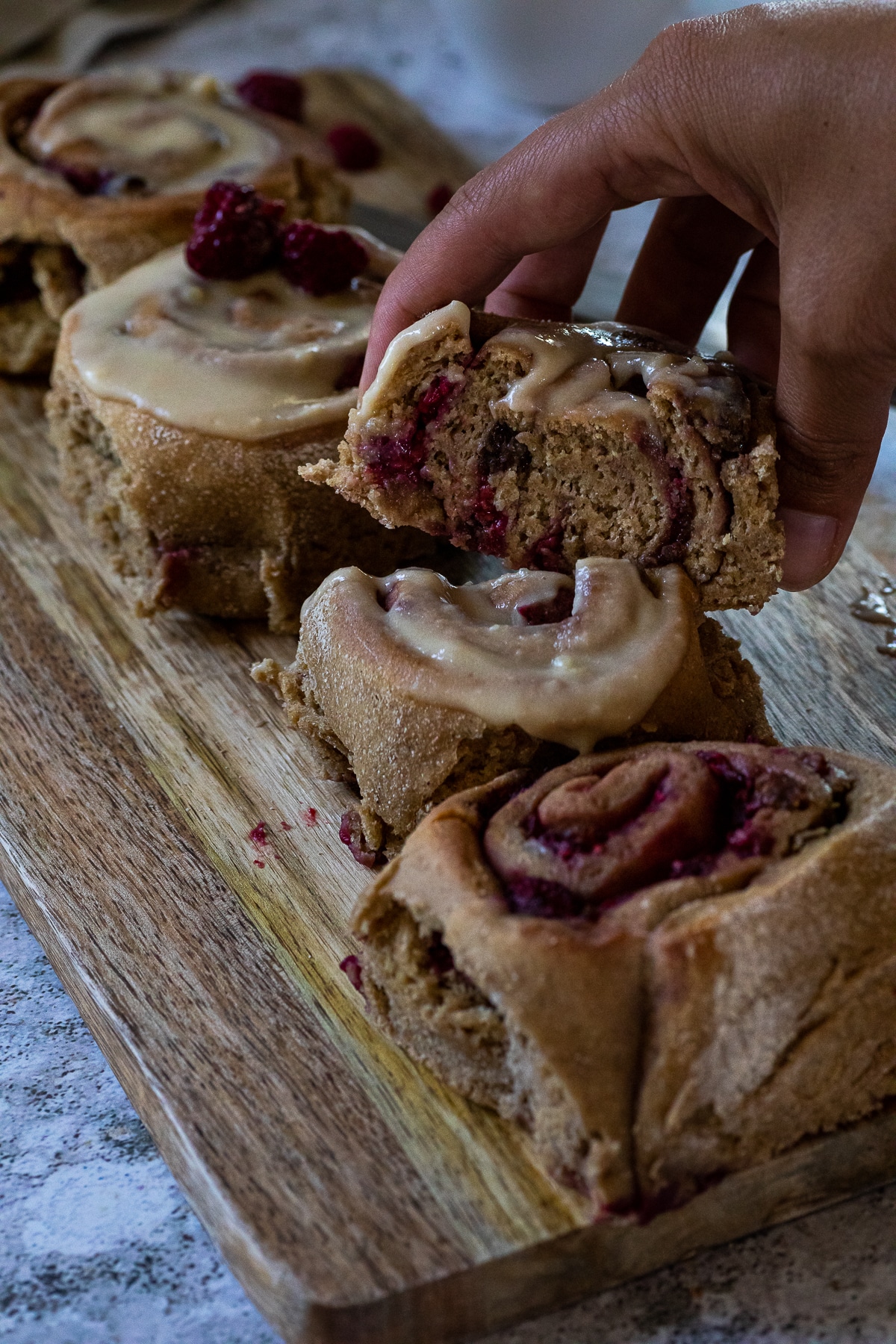 Raspberry Substitute
If you don't have raspberries, but e.g. you have blackberries at home, you can of course use them. Here you can use berries as you like. You can also use a berry mix.
I have already prepared these vegan raspberry swirls with blackberries or currants (if you like it sour). I can also picture gooseberries well.
Cashew substitute
If you find cashews too expensive or simply don't want to use them for other reasons, I can recommend using the same amount of sunflower seeds. These get super creamy and are a budget-friendly replacement.
White Bean Substitutes
The white beans help to make the vegan topping even creamier and smoother. If you can't eat legumes, you can also use coconut cream here. Coconut cream is the solid part of coconut milk. The part that settles.
Variations
Do you want your vegan raspberry and cinnamon buns gluten free, nut free, paleo, or keto? Then take a look here, for variations that are suitable for you.
Gluten-free vegan
Instead of normal wheat or spelt flour, you can use gluten-free flour. Use gluten-free baking flour here. You can also use some almond flour.
Nut-free
We use almond butter and cashews for these vegan raspberry snacks.
To prepare the coffee pastries nut-free, use a seed butter instead of almond butter, e.g. sunflower butter. You can also use sunflower seeds instead of cashews.
Keto vegan
You can also eat keto without animal products. Here I recommend replacing the flour with almond flour. To do this, take 7 tablespoons of the almond flour and replace them with tapioca starch.
Instead of yeast, use 1 teaspoon of baking powder. Slowly add the liquid until you get a batter that you can roll out. You probably need less liquid.
Leave out the aquafaba. And use e.g. a flaxseed egg. (1 tablespoon of ground flaxseed and 4 tablespoons of water).
Use your favorite sugar alternative as a sweetener.
Instead of the white beans, I recommend using coconut cream (the solid part of coconut milk).
Paleo vegan
For a paleo variant of the vegan raspberry and cinnamon snails, you can use almond flour instead of flour. Proceed as with the keto variant with the almond flour.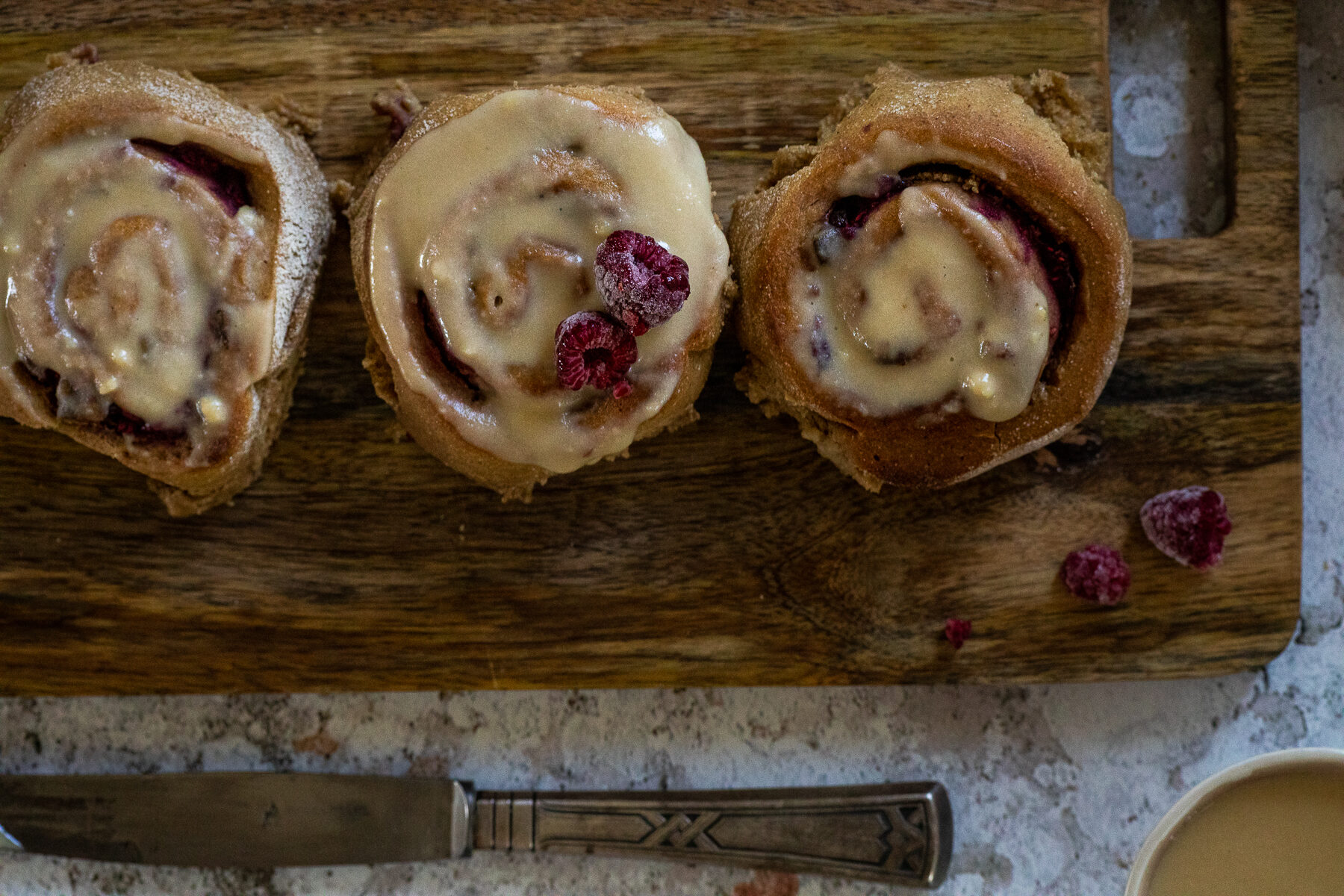 Instructions
Dough
Start by letting the yeast stand briefly with the water.
Now stir the almond butter with some of the sparkling water until it is creamy. Now weigh all the ingredients and put them in a mixing bowl.
Add the yeast water and knead the dough for about 8 minutes. If the dough seems too dry, add a little more water. It is important that the dough is slightly sticky. But you can remove it from the edge of the bowl relatively easily.
Let the dough rise for about 1 hour. Now beat the dough briefly so that the air can soak and let the dough stand for another hour at room temperature.
Filling
In the meantime, prepare the raspberry filling. To do this, defrost the raspberries.
Mix the raspberries with the cornstarch, vanilla extract and lemon.
Frosting
For the frosting, put all the ingredients in a food processor or high speed blender and mix to a creamy texture. There shouldn't be any bits left. Taste the glaze to see if it is sweet enough for you. If necessary, add a little maple syrup. Put it in the refrigerator.
Assemble
Preheat the oven to 350°F (175°C).
Start by rolling out the dough into a rectangle. Now spread the almond butter on it. Top it with the chopped dates. And distribute the raspberries. Now roll up the rectangle from the long side and cut 1 inch (2.5 cm) thick slices for each roll. Lay these on a baking dish with a little space between each. I line the dish with parchment paper.
Let the rolls rise again for about 30-45 minutes. It is important that these noticeably rise. Now bake the raspberry cinnamon buns for about 25 minutes.
The raspberry rolls do not have to get brown, it is enough if they are baked through. This keeps the rolls soft and fluffy.
Let the buns cool down a bit. And serve it slightly warm with the topping.
Prepare in advance
You can prepare the yeast dough in advance. To do this, proceed as described above. And after an hour of rising, cover and put in the refrigerator. The next day, take them out of the fridge 2 hours before you want to bake them. So that the dough can return to room temperature.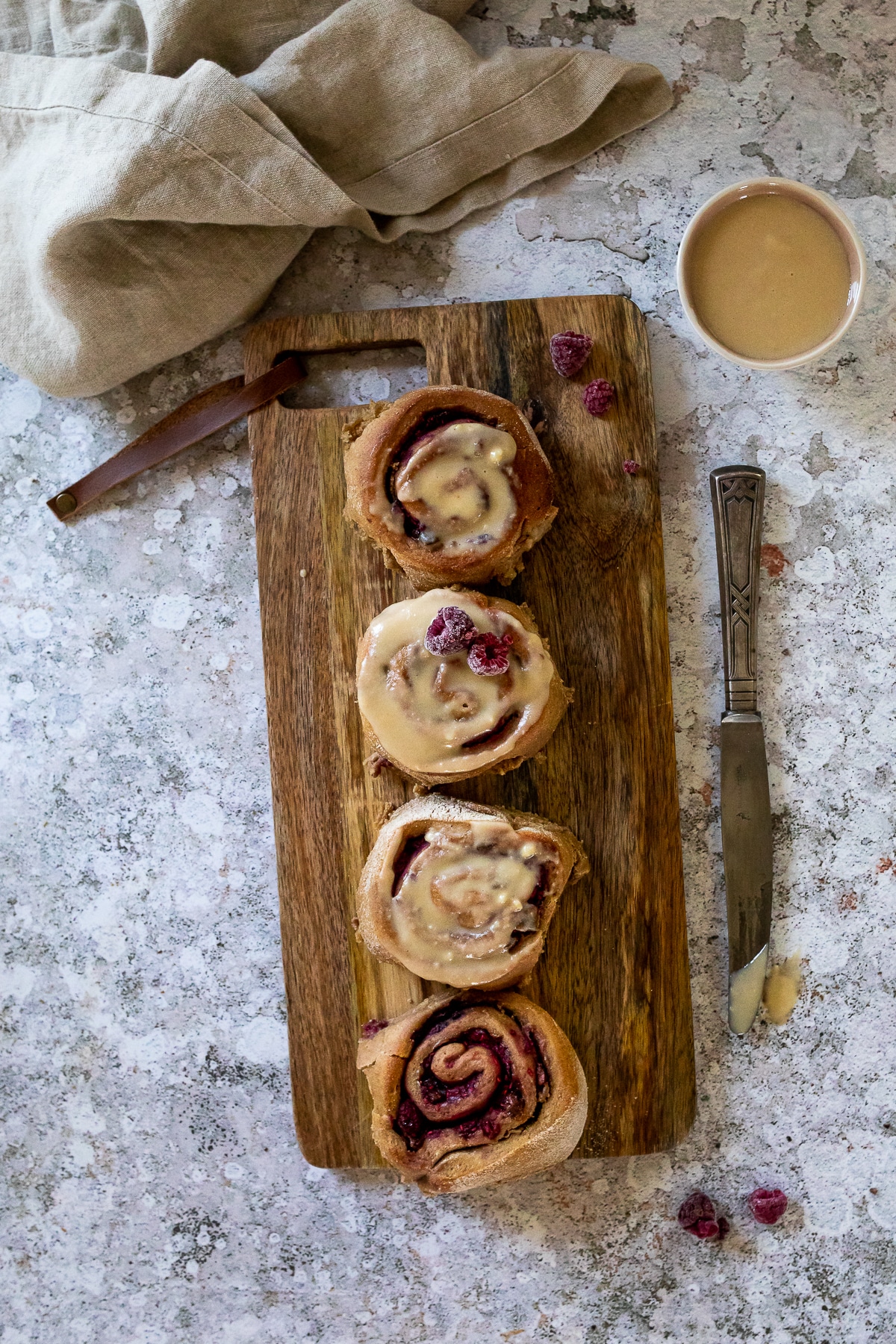 Storage
How to refrigerate?
The vegan raspberry buns can be stored in the fridge for about 4 days. To do this, simply put the rolls in a sealed container.
Just before serving, briefly reheat the buns in the oven or microwave.
How to freeze?
The vegan raspberry and cinnamon rolls can also be frozen well. Simply put the buns in a container in portions. They last there for about 3 months.
Here I recommend you take the rolls out the evening before and let them thaw in the refrigerator.
Then heat the cinnamon rolls with raspberry filling in the oven or microwave.
Tips
It is important that you knead the dough for a long time, this will make the yeast dough nice and smooth. The gluten develops and the dough becomes elastic. This is essential for the dough to rise nicely.
It can get messy. If you cut the dough in rolls, the raspbberry filling might run out. If you want, you can also leave the raspberries frozen and then proceed so that they are firm and do not run out.
It may just be that you don't get the raspberries so nicely distributed during baking.
I recommend adding the frosting just before serving. Otherwise, it can make the buns soggy.
More Vegan Recipes: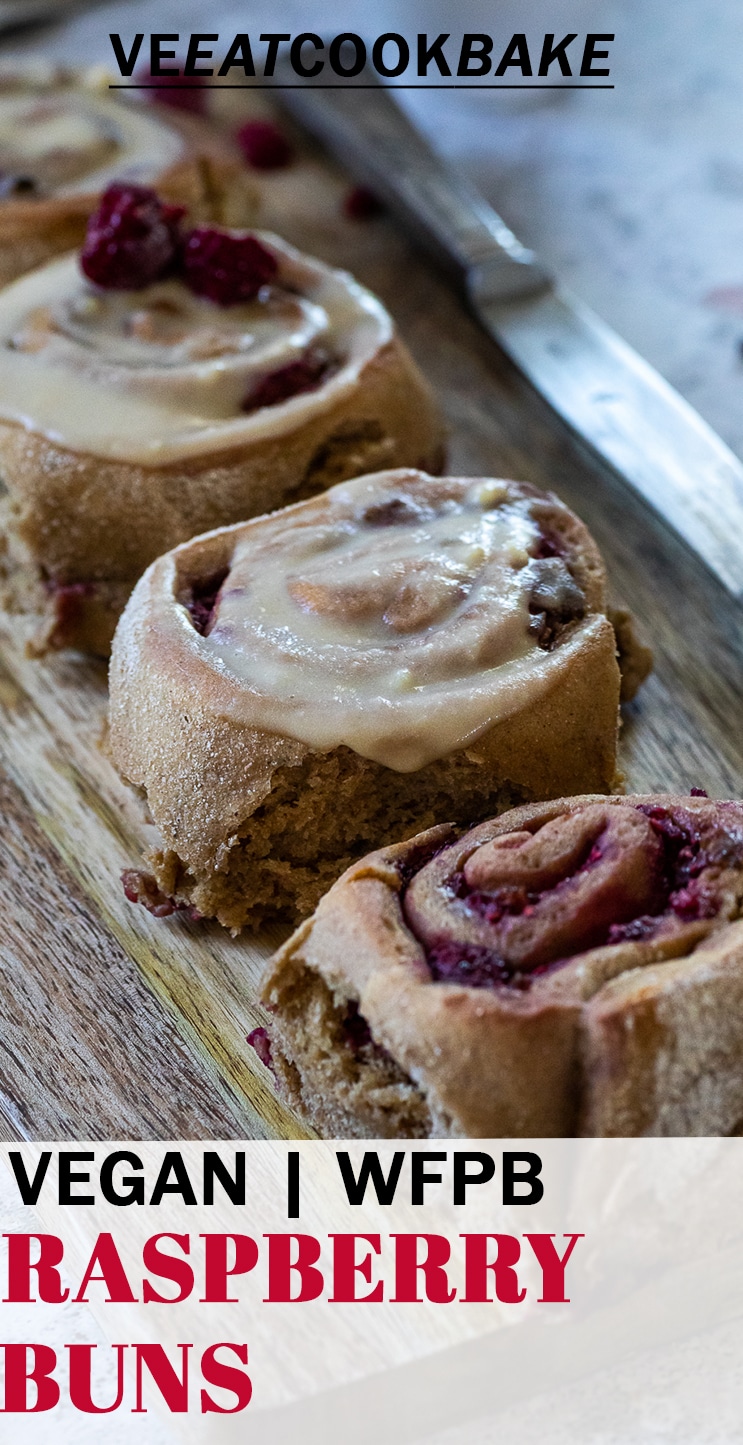 Have you tred the recip
If you tried the vegan Recipebe so nice ♥ and let me knw byrating the recipe and writing what you think about it in the comments.  I would love to see your photo on Instagram orFacebook. To do this tag me with @veeatcookbake andmy hashtag is #veeatcookbake. So that I can see your creation. Did you know you can add photos n Pinterest under the recipe Pin? I can't wait to see a photo of your creation here. You find me with @veeatcookbake