Are you vegan but still crave a rich and creamy Gorgonzola sauce? Well, this Vegan Cheese Gnocchi recipe is just the thing for you! It's got all the tangy flavor of traditional Gorgonzola without any dairy products. Plus, it features delicious vegan smoked salmon and spinach. Quick to prepare yet full-bodied in flavor - what more could one ask for on their lunch or dinner table?!
All thanks to miso paste and nutritional yeast that make creating an authentic lactose free Gorgonzola sauce possible with cashew as its base. Try out this hearty meal today; trust me – your taste buds won't be disappointed!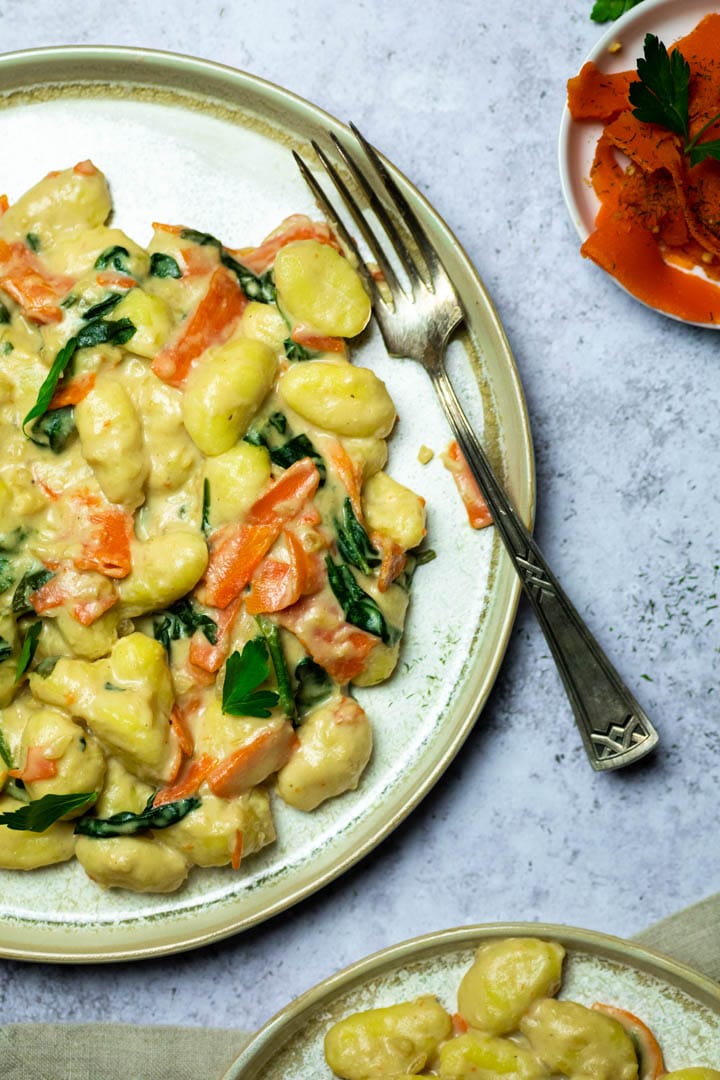 This recipe is inspired by my vegan Mac and Cheese Recipe and my Carrot Lox recipe. It pairs well with Bruschetta, Caesar Salad.
As an Amazon Associate, I earn from qualifying purchases. This post may contain affiliate links. Read More
Jump to:
Ingredients
A quick list for this easy dairy free cheese gnocchi recipe.
You can find the ingredients with quantities and the recipe to print out on the recipe card below.
Carrot salmon
Fresh Spinach
Gnocchi
Sauce
Onion
Garlic cloves
Raw cashews
Vegetable Broth
Tapioca starch
White miso paste
Nutritional yeast
lemon juice
Garlic powder
Onion powder
Salt
White pepper
Topping: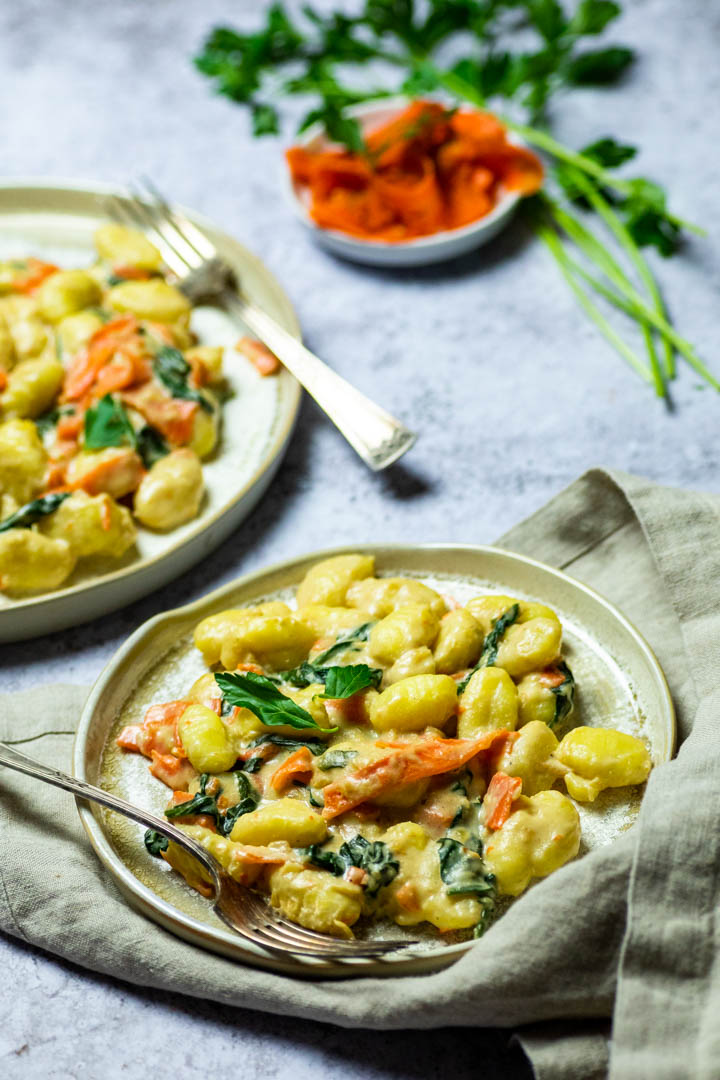 Instructions
Prepare the carrot salmon a day or two in advance. Soak the cashew nuts in boiling water for 10 minutes.
Dice the onion and garlic clove very finely, so I'll use my chopper. It's quick and onions and garlic are super fine.
Fry the onion and garlic in a pan until glassy with some water. Add more water, but only enough to cover the bottom. Add the spinach and let it collapse. Drain the cashew nuts and rinse.
Now put the cashew nuts, the veggie broth and the remaining ingredients to a high speed blender.
Mix at the highest level (my #10) for 10-20 seconds until you have a creamy sauce. Taste the sauce and season.
Add the cashew cream to the onions and spinach and bring to a boil.
Maybe add some water if the sauce is too thick for you. If it's too liquid for you, and let it cook a little longer.
In the meantime, cook the gnocchi according to package instructions on medium heat. Should only take 2-3 minutes.
Drain the gnocchi with a slotted spoon and add them to the sauce along with the carrots. Give it a good stir. Now serve with the vegan smoked salmon.
Make this cheese gnocchi, check out my homemade tomato sauce, creamy tomato sauce, my other vegan pasta sauces.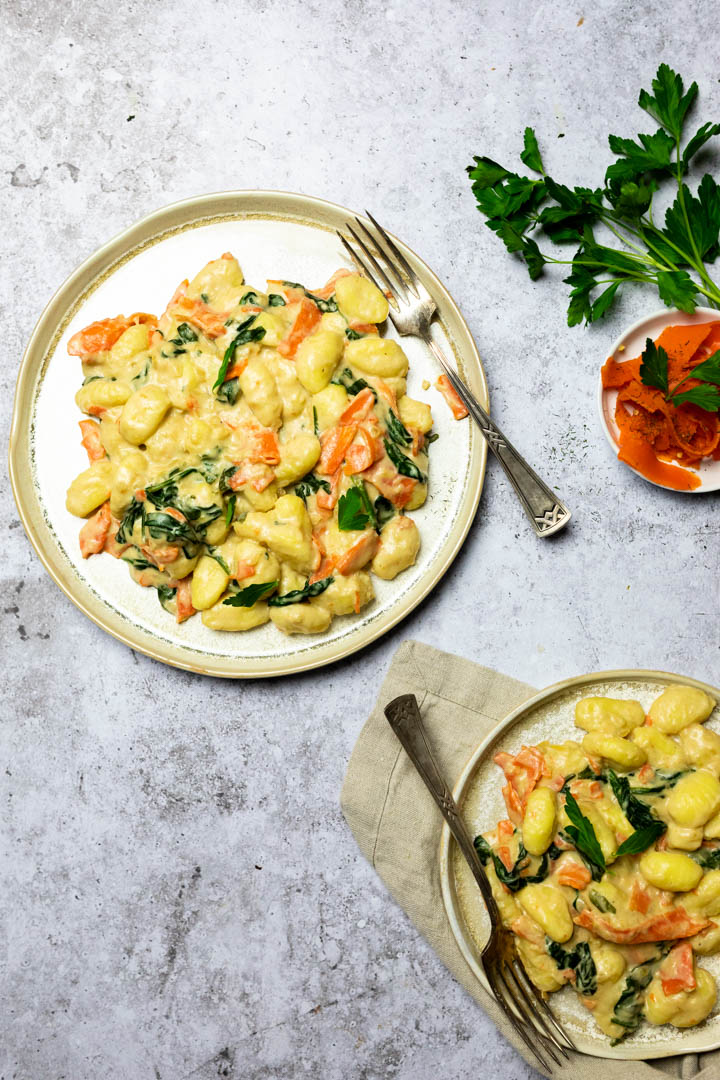 Substitutions
Gnocchi: You can make homemade gnocchi or use store-bought gnocchi. If you want it to be gluten-free you need to check out the ingredients of the gnocchi you are using. The Creamy Cashew Sauce is already gluten-free.
Raw Cashews: To make creamy vegan gnocchi you can also use sunflower seeds instead.
Miso Paste: The Miso will add this tangy flavor you know from Gorgonzola Cheese, of course you can omit it, but you will not have that nice tangy flavor in your cheesy gnocchi.
Variations:
Bake: Make a cheesy vegan gnocchi bake. Add the dish in a casserole and top it with some vegan cheese sauce.
Sweet Potatoes: Add some diced sweet potatoes to this comfort dish.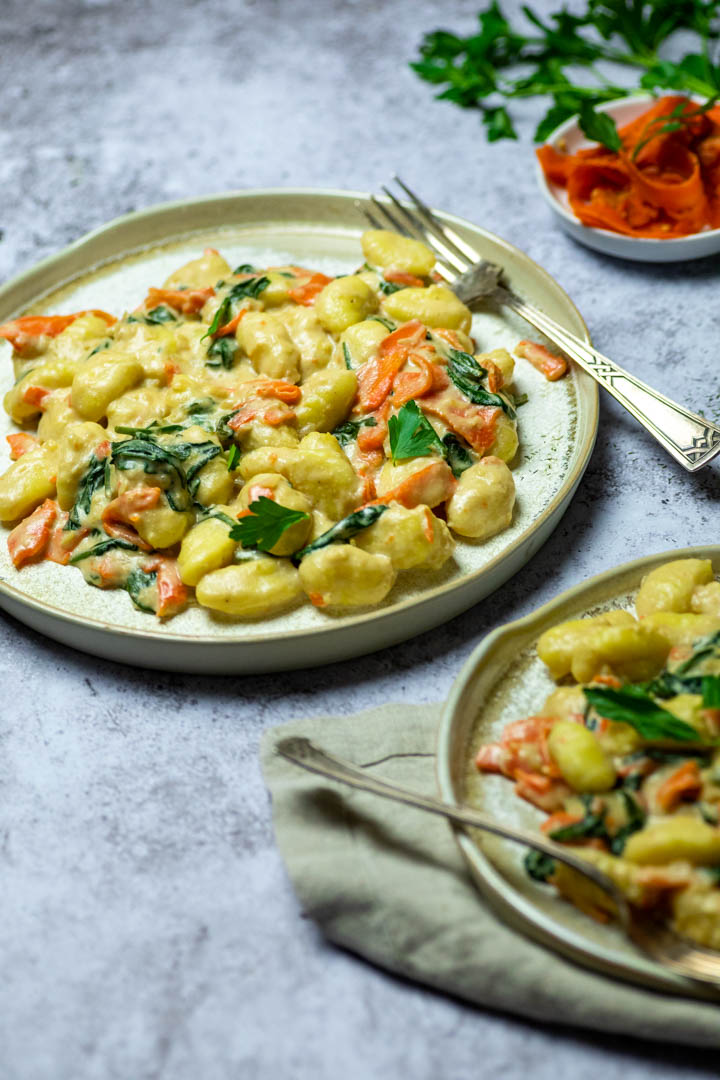 Equipment
These kitchen tools will help to make this gnocchi recipe with vegan cream sauce.
Storage
You can store this recipe in an airtight container for about 5 days. I recommend storing the sauce, gnocchi, carrots separately.
You can also prepare just the sauce and freeze it. Use freezer bag or freezer safe container. I love to make this for meal prep and just freeze the sauce, easy and quick to have a good sauce the whole family loves on hand.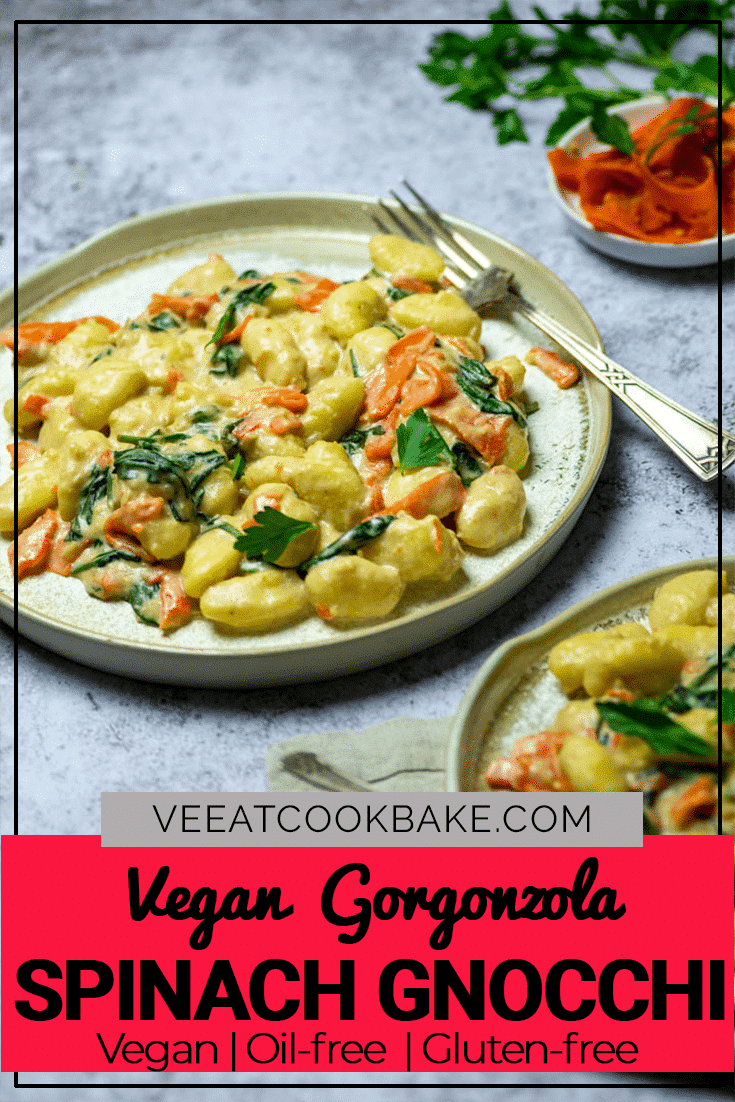 Serving Suggestions
I love this great sauce with:
regular pasta
gnocchi
boiled russet potatoes
FAQ
What can you do with the leftovers?
You can put leftovers of sauces in the fridge and serve them cold as a dip. Dilute the sauce a little and serve them as a blue cheese dressing.
What are gnocchi?
Gnocchi are basically small potato dumplings, a popular Italian dish. This dish is made from boiled potatoes. The basic recipe of Gnocchi contains mashed potatoes, flour and water that will turn in pillowy soft gnocchi. All the flavors of gnocchi dishes are in the sauces, like this Gorgonzola sauce. Gnocchi are traditionally served as a side dish or starter.
Gnocchi are filling and simply taste great. What is your favorite gnocchi dish?