Forget about Butter Chicken for a second - let's talk about the vegan version of it: buttery cauliflower curry! This 15-minute meal is sure to bring you all the comfort and flavor of traditional takeout, with none of the guilt.
We don't even need tofu here - just smother your fresh veggies in our delicious Murgh Makhani sauce (aka 'Butter Chicken' sauce) made sans animal products. A quick weeknight dinner never tasted so good!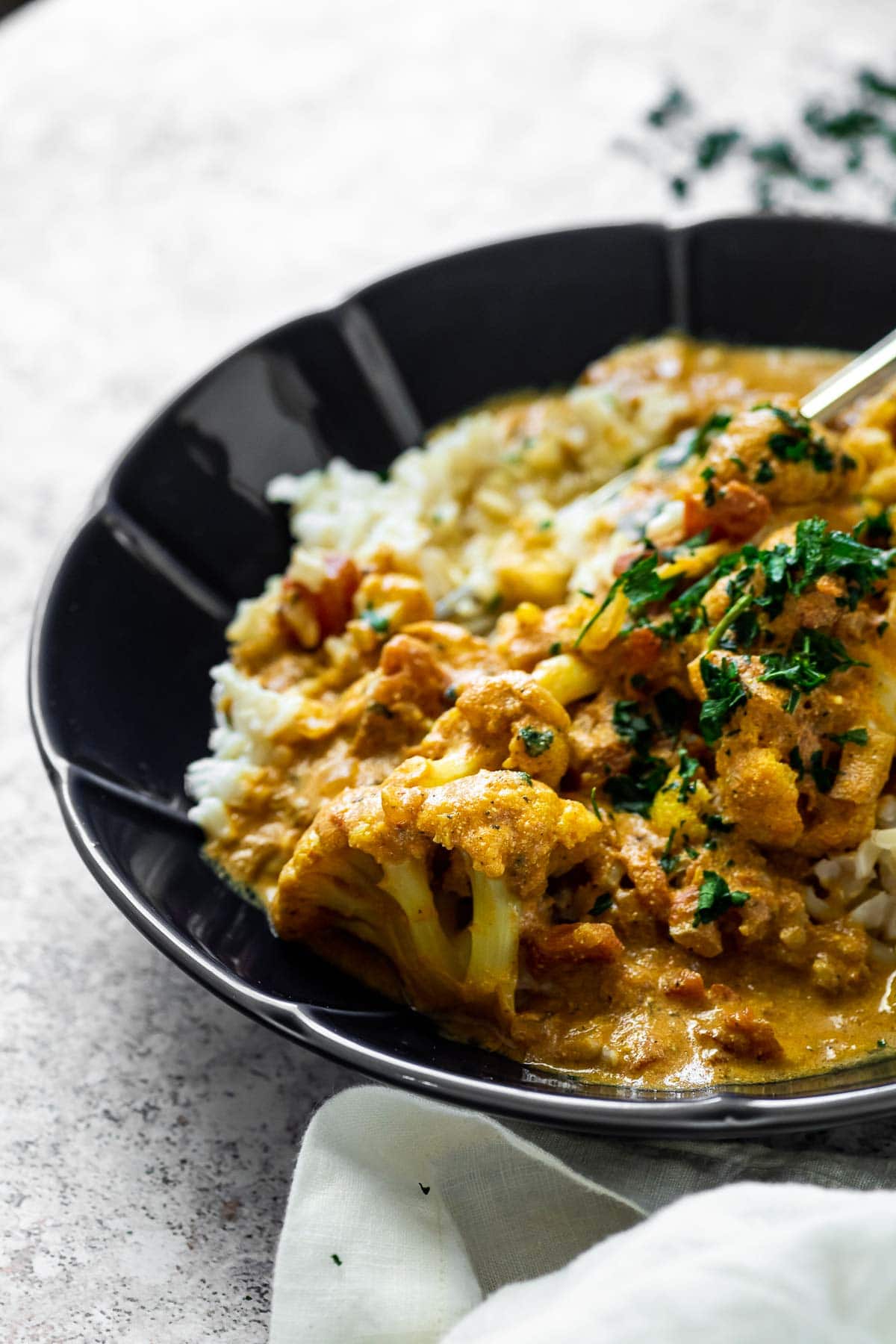 As an Amazon Associate, I earn from qualifying purchases. This post may contain affiliate links. Read More
Jump to: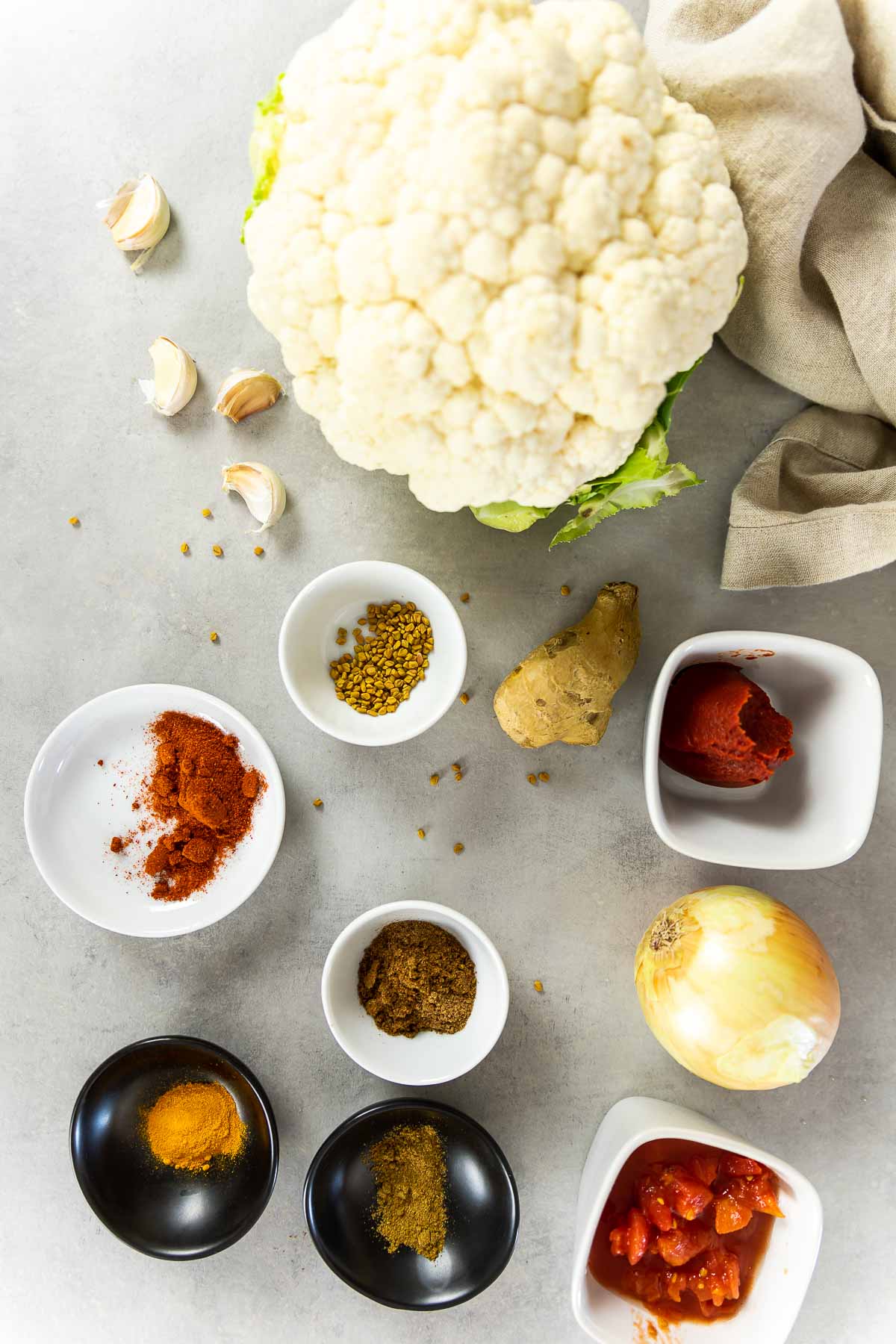 Ingredients
A quick list of the ingredients you will need to make this butter' cauliflower.
You can find the ingredients with quantities and the recipe to print out on the recipe card below.
Cauliflower Head
Onion
Garlic
Ginger
Garam Masala
Sweet Paprika
Turmeric
Fenugreek Seeds
Cumin
Diced Tomatoes
Tomato Paste
Coconut Milk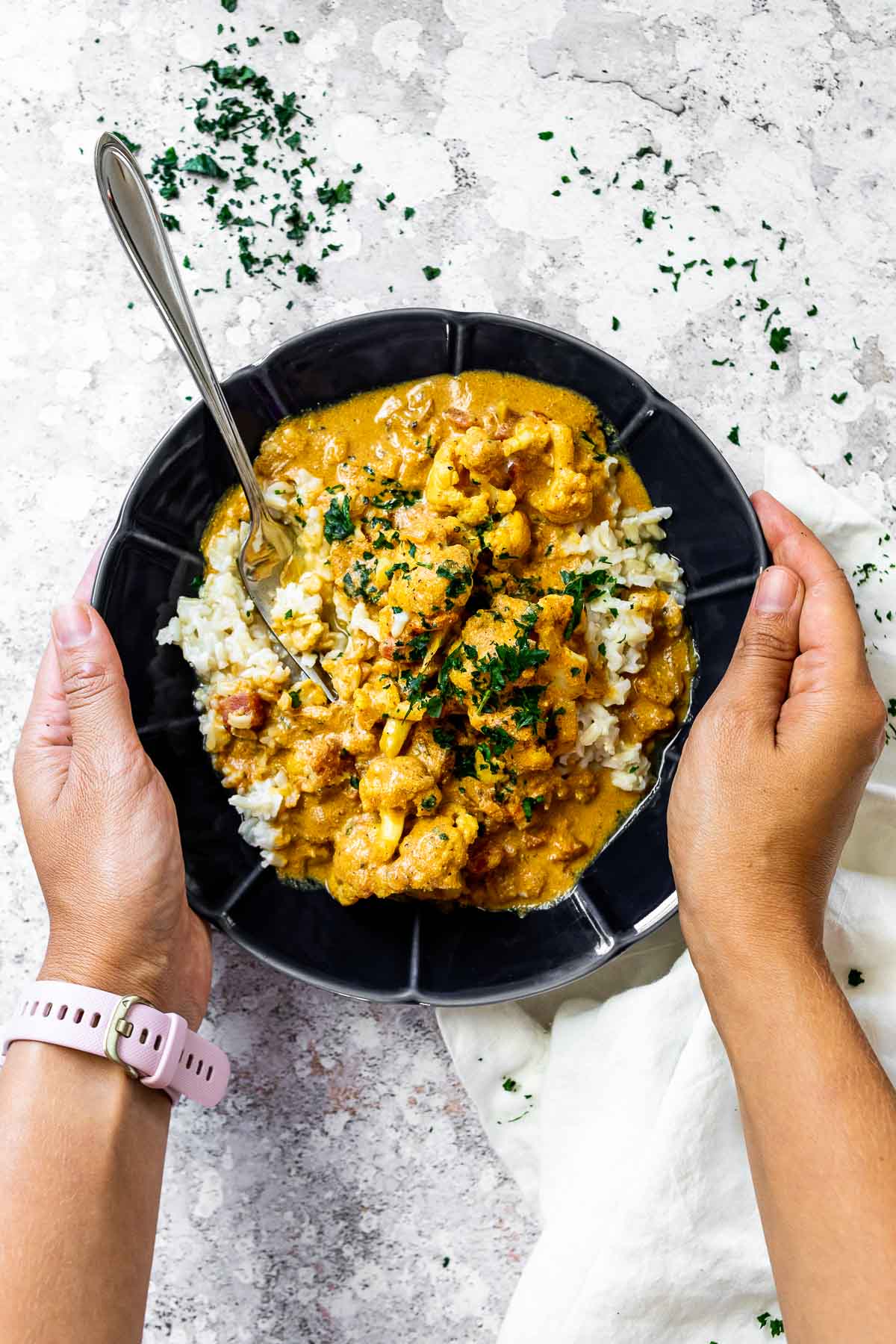 Instructions
To start, chop the onion, garlic cloves, and peeled ginger.
Next, sauté the onion, garlic and ginger in a non-stick pan with a little vegetable stock on medium heat. When the onions start to stick to the pan, add a sip of the vegetable stock or water. Repeat this step until the onion is slightly brown.
While the onions are sautéing, you can divide the cauliflower into bite-sized florets.
Add to the onion, the spices with crushed fenugreek seeds. And sauté them over medium heat for about 1 minute.
Now add the diced tomatoes, tomato paste and coconut milk. Stir everything vigorously so that you get a tomato cream sauce.
Add the cauliflower florets and let it simmer covered for about 8–10 minutes. Pierce the cauliflower with a knife and check that the cauliflower is soft but not crumbling. Season to your own taste buds.
Hint: If necessary, add a little more coconut milk or vegetable stock to have enough sauce for the cauliflower. Depending on the size of the cauliflower, you may need a little more.
Make this Indian butter cauliflower, check out my chickpea curry, dal with red lentils.
Cooking Time
The cooking time here is around 15-20 minutes. Depending on how much cauliflower you use.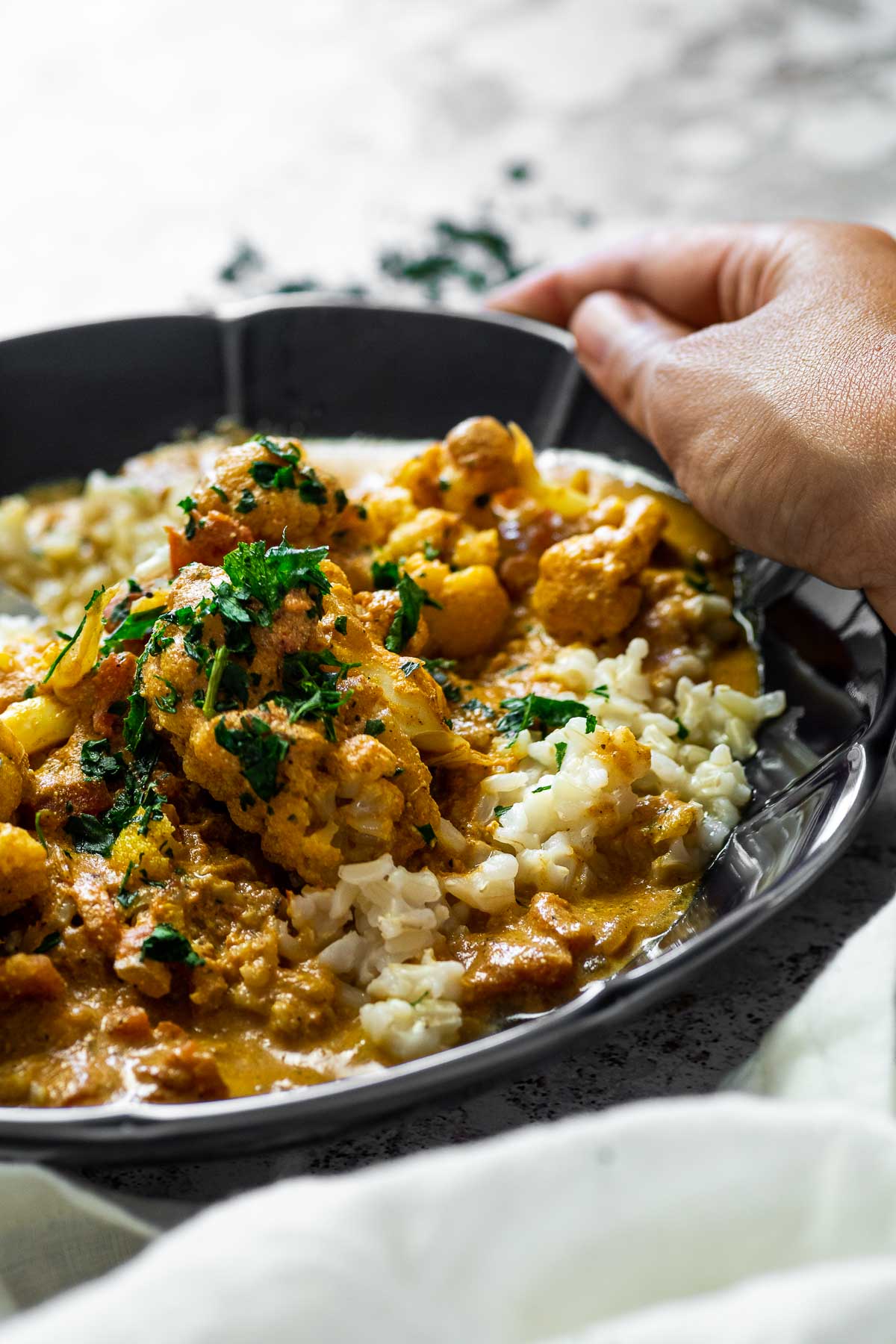 Substitutions
Cauliflower: We're preparing a vegan Butter Chicken with cauliflower here. If you don't have cauliflower on hand, you can use chickpeas or tofu instead. I recommend roasting tofu cubes and chickpeas in the oven before you add them to the sauce.
Ginger: If you don't have fresh ginger on hand, you can use ginger powder as well. Simply add ½ -1 teaspoon ginger powder with the other spices. You can also omit the ginger, which gives this Indian Curry a special flavor.
Garlic: You can also use garlic powder instead, just add it with the other spices.
Fenugreek Seeds: In theory, you can leave out the fenugreek seeds in the vegetarian Butter Chicken. But, Fenugreek is a typical curry spice that adds vibrant flavors. If you've ever smelled fenugreek, the smell might remind you of curry. So if you have the opportunity to buy fenugreek seeds, I recommend you do this. You might now wonder what to do with the remaining seeds. You can let these sprout and eat them as little sprouts, for example on your next toast or sandwich.
Tomatoes: I have to say I haven't tried replacing the tomatoes yet. But I could imagine that you can use pumpkin purée instead of tomatoes. The taste changes a little, but the sauce should still taste delicious.
Coconut Milk: No need for heavy cream. The coconut milk is used to make this vegan butter cauliflower sauce so incredibly creamy and full of flavor. Instead of coconut milk, you can also use cashew milk or sunflower seed milk or use almond milk. Depending on how it thickens, you need a little more or less.
Garam Masala: It is a curry powder, you can also use a different curry powder if you want to.
Variations
Let's take a look at different diets and how you can adjust the Butter Chicken if necessary.
Spicy: You want your butter cauliflower curry spicier, add some cayenne pepper or chili powder.
Some of my favorite cauliflower recipes: vegan cauliflower soup, whole roasted cauliflower, Buffalo Wings, Yellow Curry.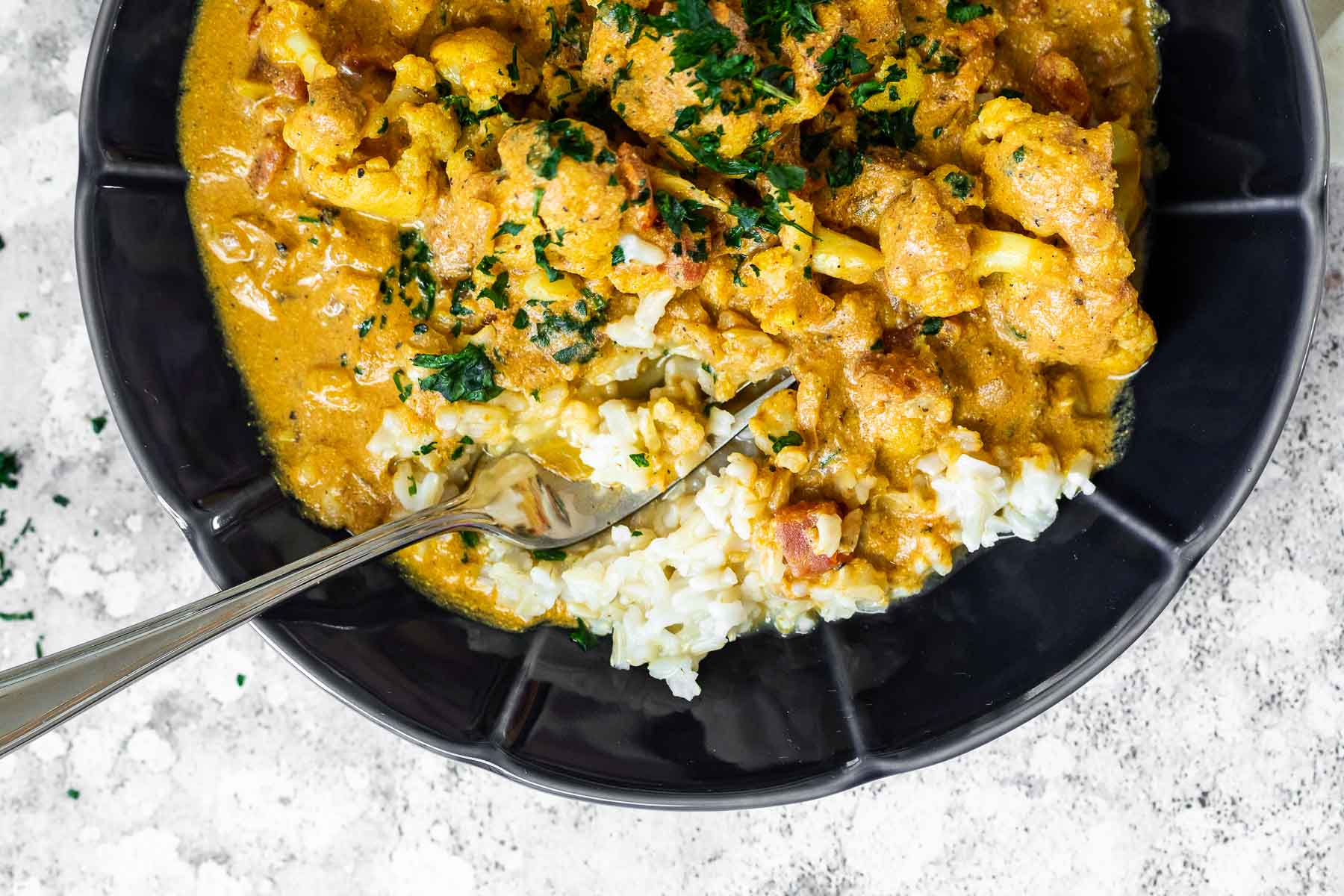 Equipment
Some kitchen tools that will help you making this awesome recipe.
Serving Options
Some ideas what to serve with this Butter Cauliflower that the whole family will love.
side of naan bread
Brown Rice like Brown Basmati Rice
White Rice like Jasmine Rice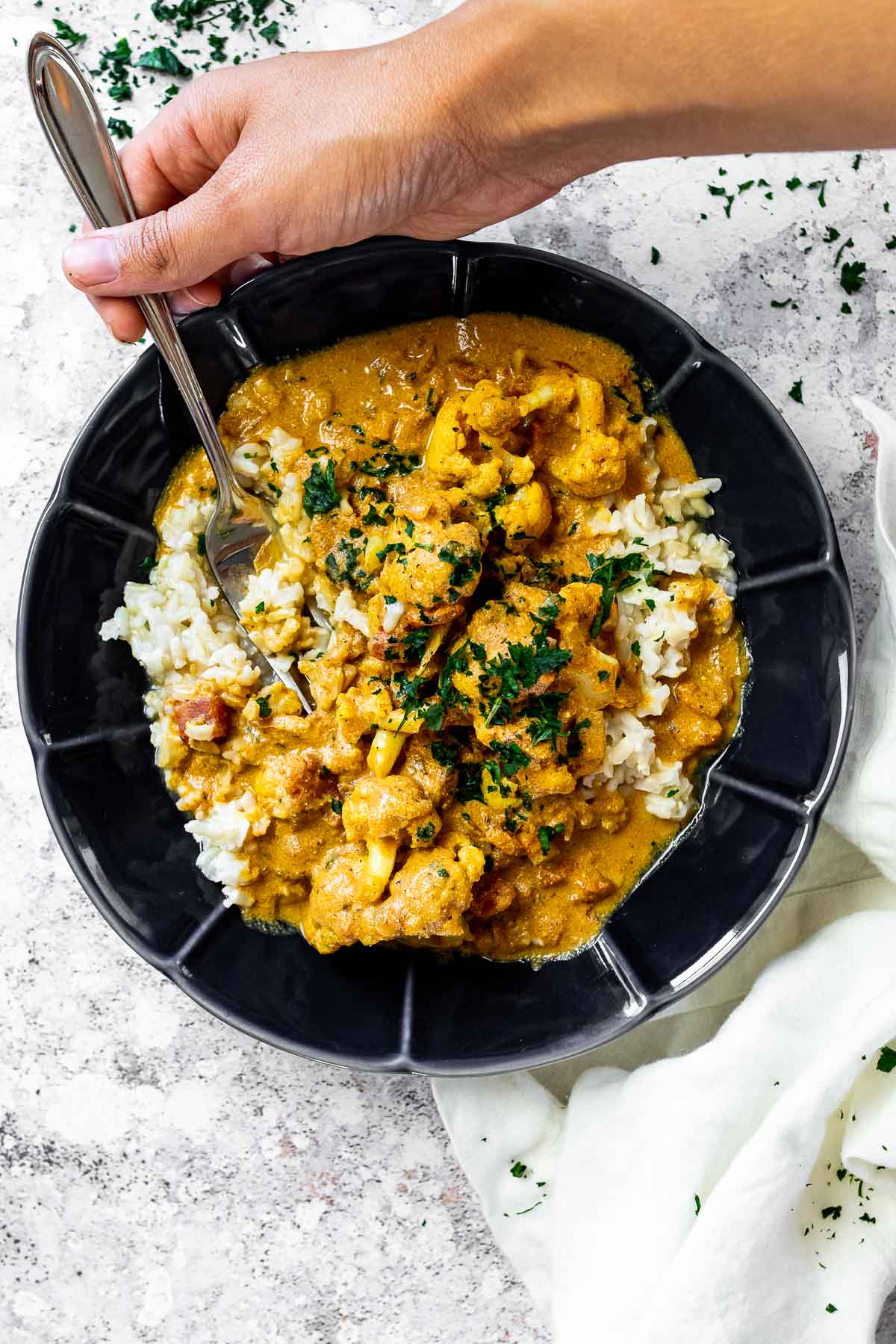 Storage
Fridge: You can store the butter cauliflower in an airtight container in the refrigerator for about 4 days.
Freeze: You can freeze the cauliflower with the sauce. Depending on how soft the cauliflower is, the cauliflower may get mushy when reheated. Or you can freeze just the prepared sauce. I have to say, I prefer to freeze just the sauce, it will last about 3 months in the freezer.
Thaw and Reheat: To thaw the sauce, put it in the fridge the night before and let it thaw there. You can now heat the butter chicken sauce in a saucepan and let the cauliflower simmer until the cauliflower has reached the desired consistency. If the cauliflower is frozen, you can warm it up briefly in the microwave.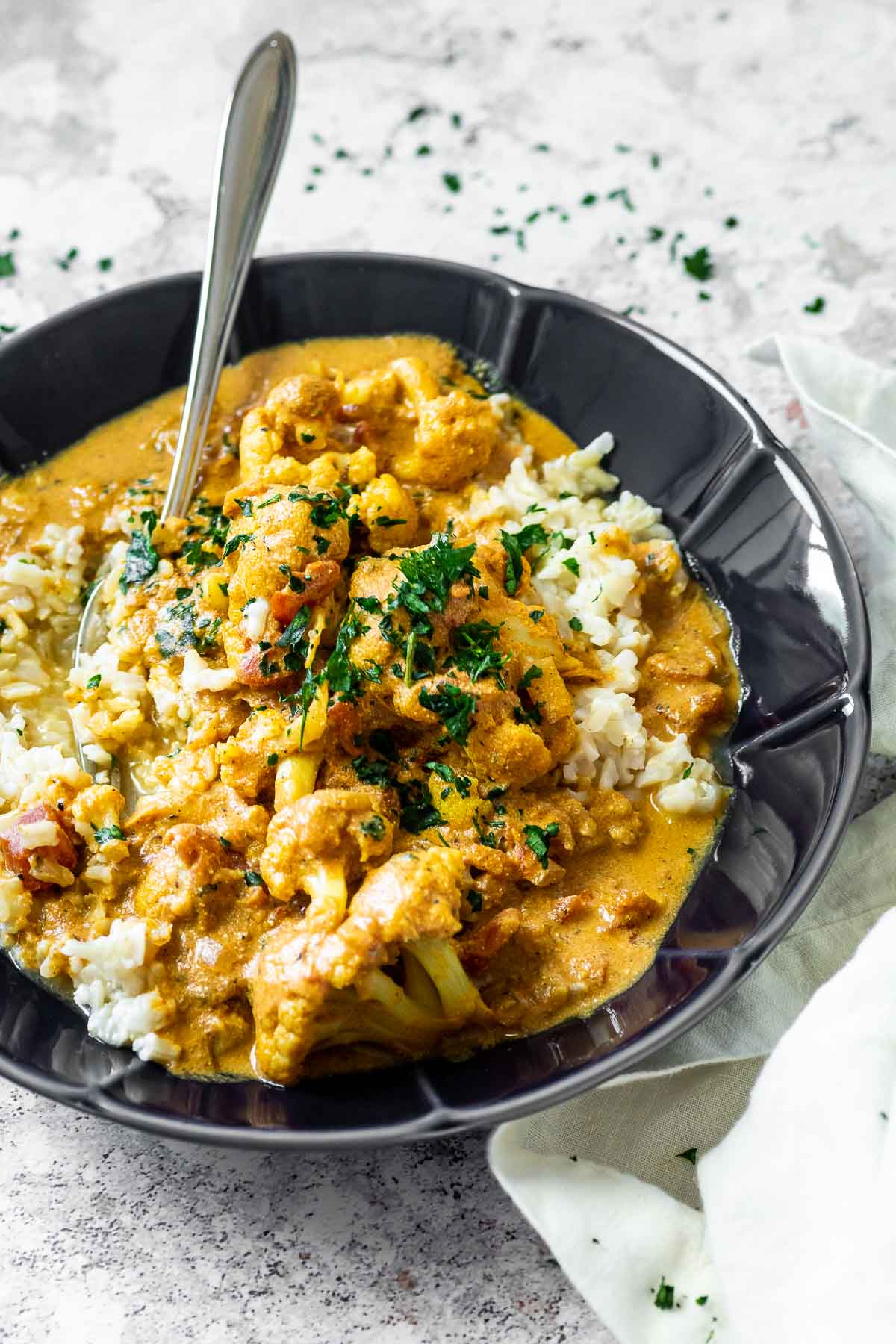 Meal Prep
This vegan indian butter chicken is recommended as a great meal prep. You can prepare it 2-3 days in advance and then only heat it up briefly. You can also just prepare the sauce and freeze it.
Tips
If you've bought a large cauliflower, I recommend making double the amount of sauce. We usually buy a small to medium-sized cauliflower.
To grind the fenugreek, I recommend using a small spice mortar, electric coffee or spice grinder. That works in no time at all.
To peel the ginger, I recommend that you use a spoon and scrape over the ginger, the peel will almost come off by itself.