A super fast vegan yellow curry that will be on your table within 30 minutes. This yellow curry uses curry powder, vegetables and has an incredibly delicious aromatic taste.
A perfect vegan weeknight dinner.
Such a hearty curry, made with cauliflower, broccoli, aromatic spices, becomes a great quick vegan dinner if you are craving a real feel-good meal.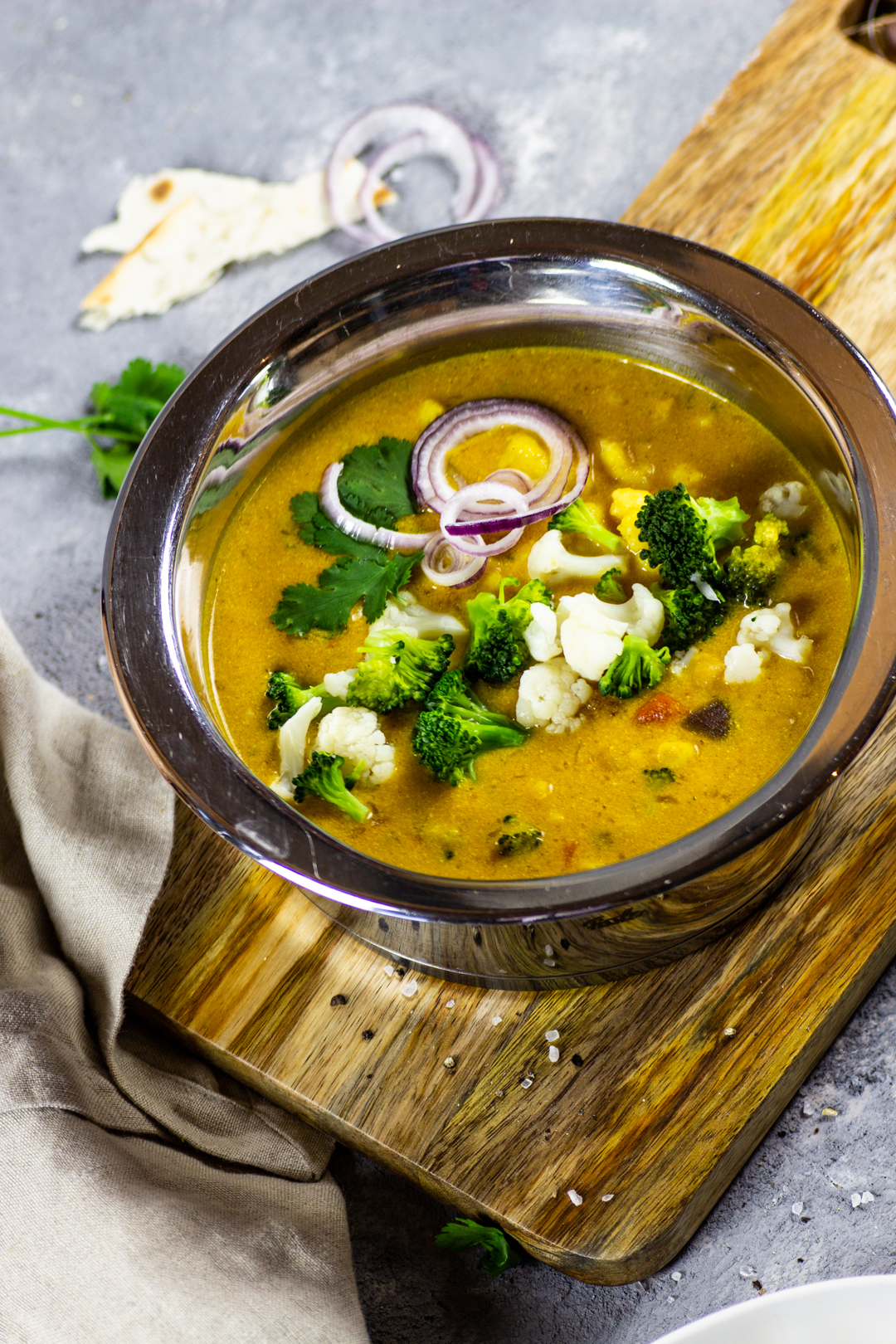 As an Amazon Associate, I earn from qualifying purchases. This post may contain affiliate links. Read More
Jump to:
We prepare this vegan yellow curry from wholesome plant-based ingredients and avoid oil and highly processed foods.
For this vegan curry we use yellow curry powder, which gives an incredibly great yellow color, which is just mood-lifting and makes you reach for a second serving.
You can also prepare the curry well as a meal prep and then just heat it up.
I think curries taste even better on the second or third day, because all the curry flavors have a change to permeate through.
Ingredients
Now let's take a look at what exactly is in this vegan yellow curry. As always, the exact quantities can be found below in the recipe card.
Cauliflower
Broccoli
Onion
Garlic
Ginger
Chickpeas
Curry Powder
Vegetable Broth
Tomatoes
Coconut Milk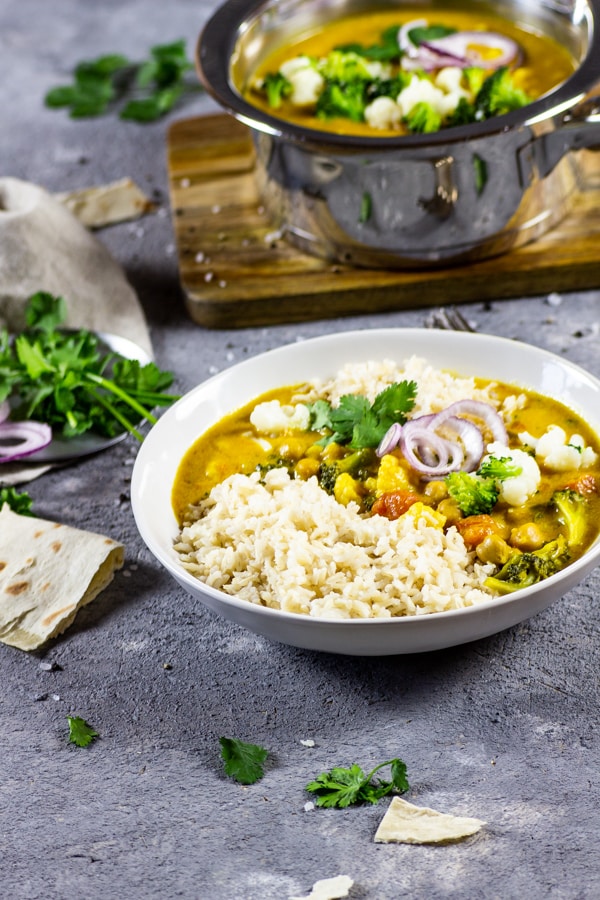 Substitutions
You can also make a few substitutions here.
Cauliflower and Broccoli
If you don't want to use cauliflower and broccoli, you can also use other vegetables, for example mushrooms, peppers, or zucchini.
Chickpeas
Instead of chickpeas, you can also use green beans or other beans, for example.
Curry Powder
I like to use a yellow curry mixture for this. You can also use a different curry mix. The taste will probably change here.
Tomatoes
You can also use peppers instead of tomatoes.
Coconut Milk
If you don't want to use coconut milk, you can also use cashew cream. Mix 50 g cashews with 100 ml water to make a cream.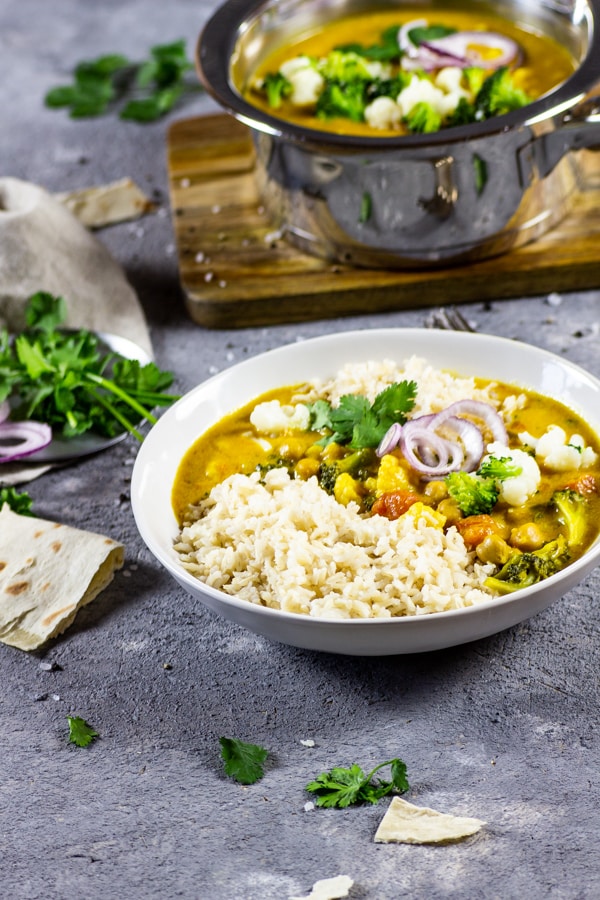 Variations
This vegan yellow curry is already a gluten-free, soy-free, and oil-free recipe.
Nut Free
If you want to make the curry nut-free, I recommend that you use sunflower cream instead of coconut milk or cashew cream. You make it in the same way as the cashew cream.
Keto and Paleo
Skip the chickpeas or replace them with green beans and you get a great vegan curry that is keto and paleo friendly.
Instructions
Roast the diced onions and chopped garlic in a little water. Now add the chickpeas, chopped ginger and yellow curry powder and roast everything briefly.
Now add the cauliflower and broccoli and briefly roast the vegetables.
Add the vegetable stock and coconut milk and simmer on medium to low heat until the broccoli and cauliflower are firm to the bite. Put the lid on the pot and it will cook faster.
After about 10-15 minutes, prick the vegetables with a knife and see if they are soft.
If the curry is not spicy enough for you, add a little more curry powder.
Storage
Do you have leftovers from the curry? No problem. You can store leftovers great.
How to refrigerate it?
The curry will keep in the fridge for about 5 days. To do this, put the curry in an airtight container.
How to freeze it?
You can also freeze the curry in portions. Then you always have something on hand. Which makes it great as a meal prep. Just let it thaw overnight in the refrigerator.
Serving options
You have different options for what you can eat with your vegan yellow curry. Here I would like to show you a few possibilities:
Naan Bread
Rice
Freekah
Millet
Quinoa
Tips
To make it a little spicier, add a little more curry powder. I usually don't make it so spicy because my children won't eat it otherwise.
If you want it creamier, add a little more coconut milk.
You can also roast the cauliflower and broccoli in the oven. And serve as a side dish.
More vegan Recipes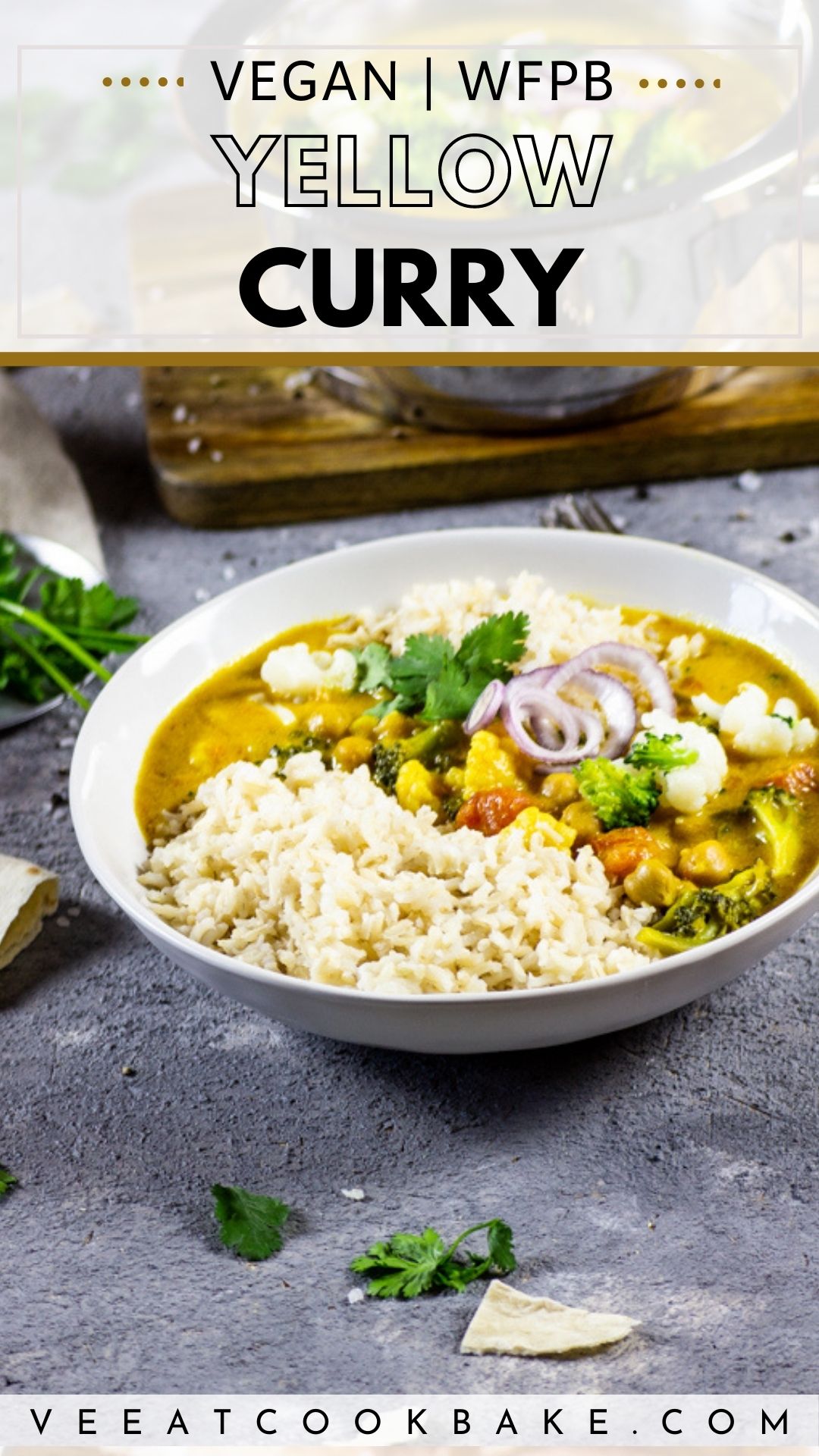 Have you tred the recip
If you tried the vegan Recipebe so nice ♥ and let me knw byrating the recipe and writing what you think about it in the comments.  I would love to see your photo on Instagram orFacebook. To do this tag me with @veeatcookbake andmy hashtag is #veeatcookbake. So that I can see your creation. Did you know you can add photos n Pinterest under the recipe Pin? I can't wait to see a photo of your creation here. You find me with @veeatcookbake