This vegan rice pudding pie is a tasty twist on the classic Swiss Easter cake, perfect for anyone looking to keep it all natural. Filled with wholesome ingredients like dates, apricots and almonds instead of processed sugars or oils - this delicious dessert can even double as an energy-packed breakfast! Dig in and enjoy every last bite, guilt free.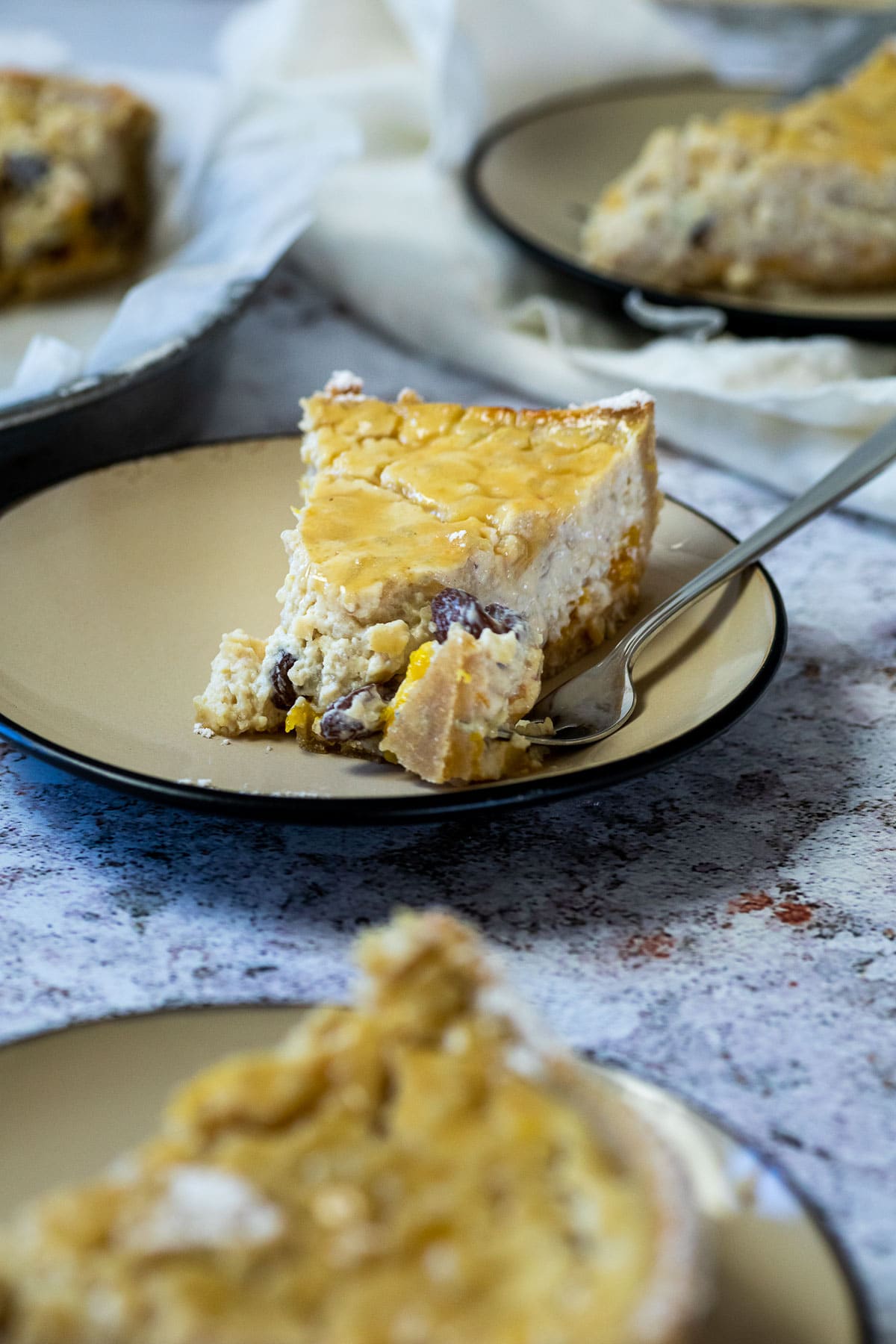 This easy recipe is inspired by my dairy-free rice pudding.
As an Amazon Associate, I earn from qualifying purchases. This post may contain affiliate links. Read More
Jump to:
Ingredients
A list of the ingredients you will need to make the best rice pudding pie.
You can find the ingredients with quantities and the recipe to print out on the recipe card below.
Dough
Whole Wheat Flour
Ground Almonds (Almond Flour)
Arrowroot Meal
Date Paste or Maple Syrup
Almond Milk
Filling
Uncooked Rice
Almond Milk
Dates
Pure Vanilla Extract
Silken Tofu
Natural Tofu
Maple Syrup or Date Paste
Lemon
Raisins
Apricots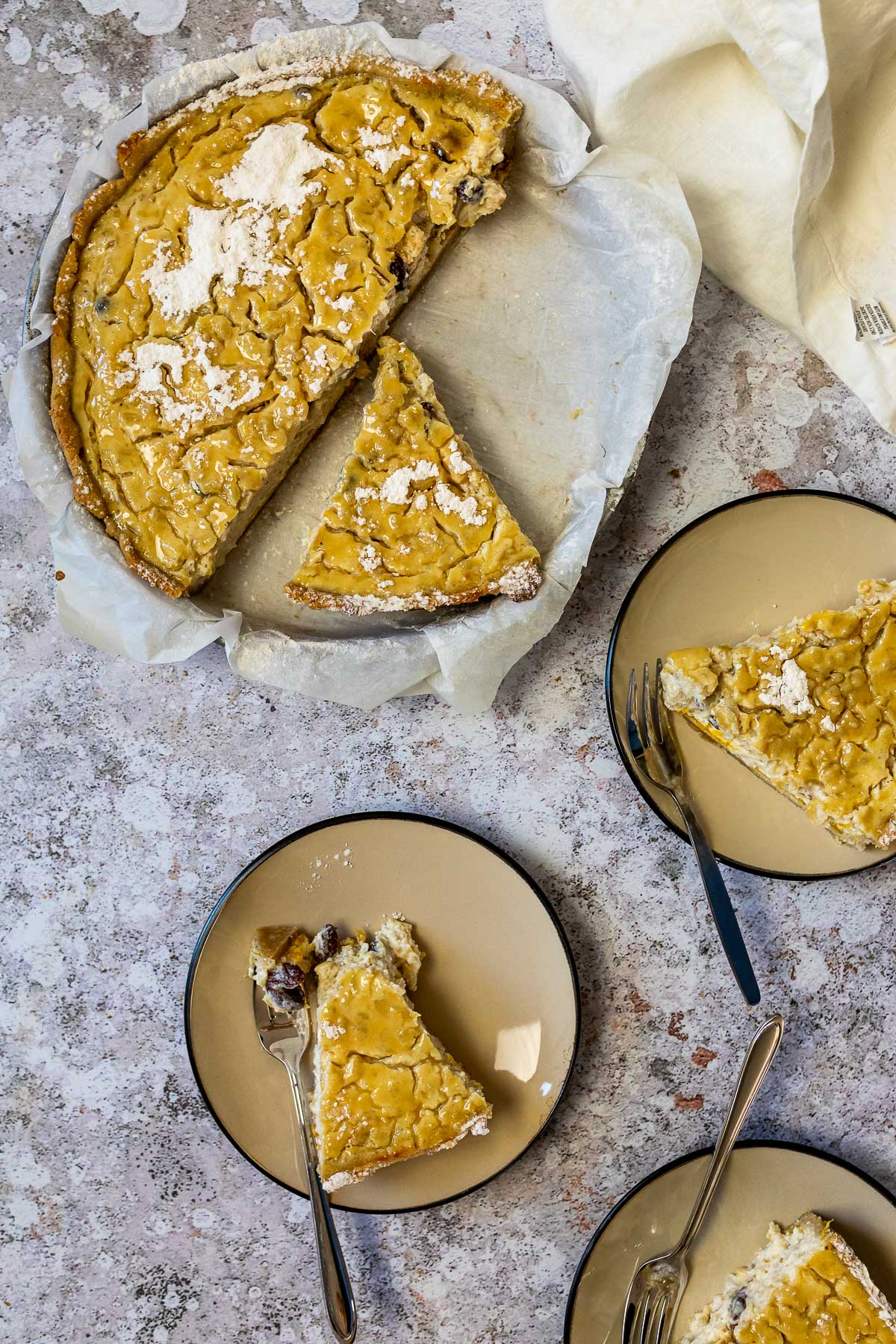 Instructions
Start cooking the rice with almond milk, vanilla extract and dates, Bring to boil on medium-high heat. Let it simmer on low heat for about 30 minutes. Be careful that the rice does not stick to the bottom of the pot.
Preheat the oven to 175°C (350°F).
In the meantime, knead the flour, almond flour (ground almonds), arrowroot flour, maple syrup or date paste and almond milk until it comes together.
Roll out the dough in a circle on parchment paper. It should be big enough that it fits in an 11-inch pie pan and comes up the edge.
Take the pan and press the crust into the pan.
Now you should bake the shortcrust pastry for about 5 minutes.
Mix the silken tofu, firm tofu and maple syrup in a high speed blender until creamy and smooth. We want a really creamy consistency.
Fold in a handful of raisins and the zest and juice of one lemon.
You can now purée the apricots.
Fold the cooled rice pudding into the tofu cream. Spread the apricots on the crust. Fill the crust with the rice pudding cream and bake for about 20 minutes.
Let the cake cool completely for at least 2 hours, preferably overnight.
Hint: You can also use leftover rice pudding and make this awesome rice pudding cake.
Make this rice pudding pie, check out my vegan apricot custard cake, my apricot pudding cups, carrot cake and hot cross buns.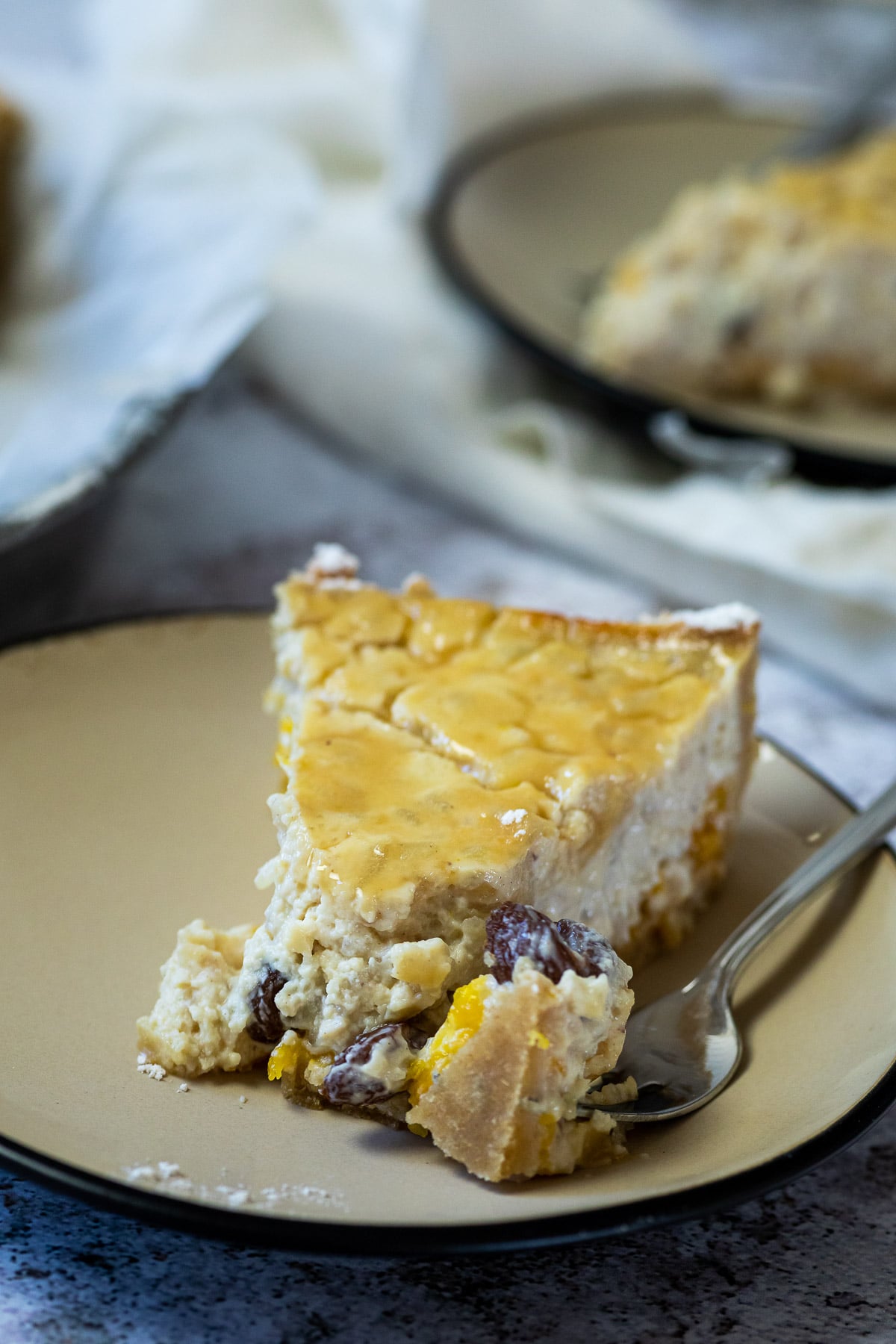 Substitutions
Whole Wheat Flour: Here you can use wheat flour, spelt flour or oat flour. All three varieties are very suitable for the recipe.
Ground Almonds or Almond Flour: The almonds serve as "fat carriers" because we don't use butter, margarine or oil. If you don't want to use almonds, I recommend you either grind hazelnuts, macadamia nuts or pumpkin seeds.
Arrowroot Flour: Instead of arrowroot flour, you can also use potato starch or cornstarch.
Almond Milk: You can use pretty much any plant-based milk of your choice. Like cashew milk, rice milk, coconut milk, soy milk for creamy texture.
Rice: A rice with a lot of starch is best suited for rice pudding. Here, there are often long-grain rice varieties that are declared as rice pudding or risotto rice. I like to buy arborio rice.
Apricots: As already mentioned above, you can also use other fresh fruit here like date paste or golden raisins.
Variations
pumpkin spice: This rice pie is not only something for spring, add a fall twist to it. Add some pumpkin pie spice for the typical fall flavor. You can even go crazy and add some pumpkin puree.
Orange Peel: Make this vegan pudding pie with orange zest and cinnamon. Simmer the rice pudding with cinnamon sticks or ground cinnamon. It will taste amazing. For your creamy rice pudding, add some orange zest and orange juice.
Berries: For summer, you can purée some berries of your choice and use these instead of the apricots.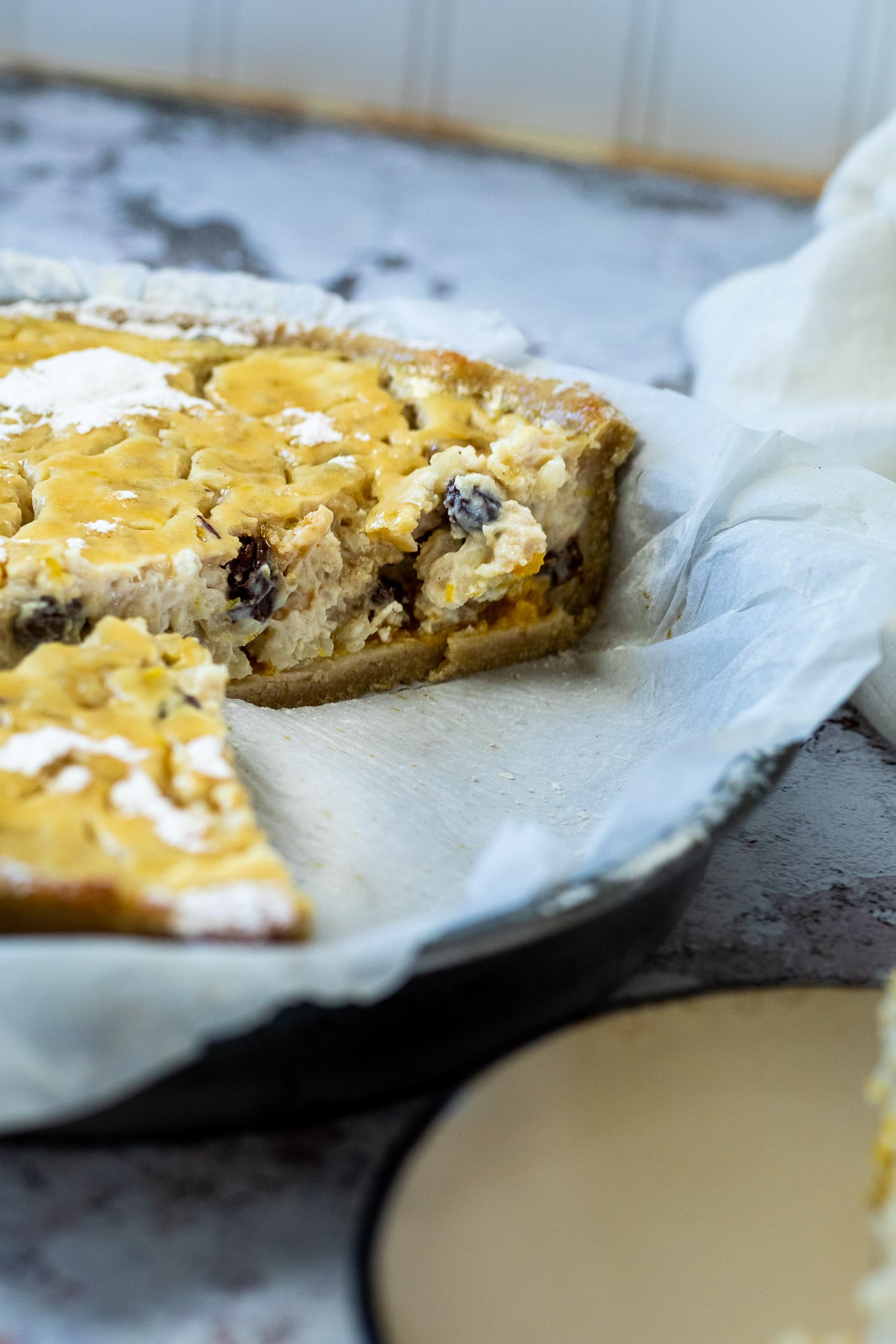 Cooking Time
The cooking time is around 50 minutes, and after that we need at least a 2-hour cooling period to make the perfect rice pudding pie.
Storage
Fridge: This homemade rice pudding pie can be stored in an airtight container in die fridge for around 5 days.
Freeze: You only need half a cake? Freeze the other half for a different occasion.
Thaw: Thaw the cake in the fridge, no need to reheat the pie.
Meal Prep
I even recommend that you prepare the cake the night before. So this can still thicken and it unfolds its full taste.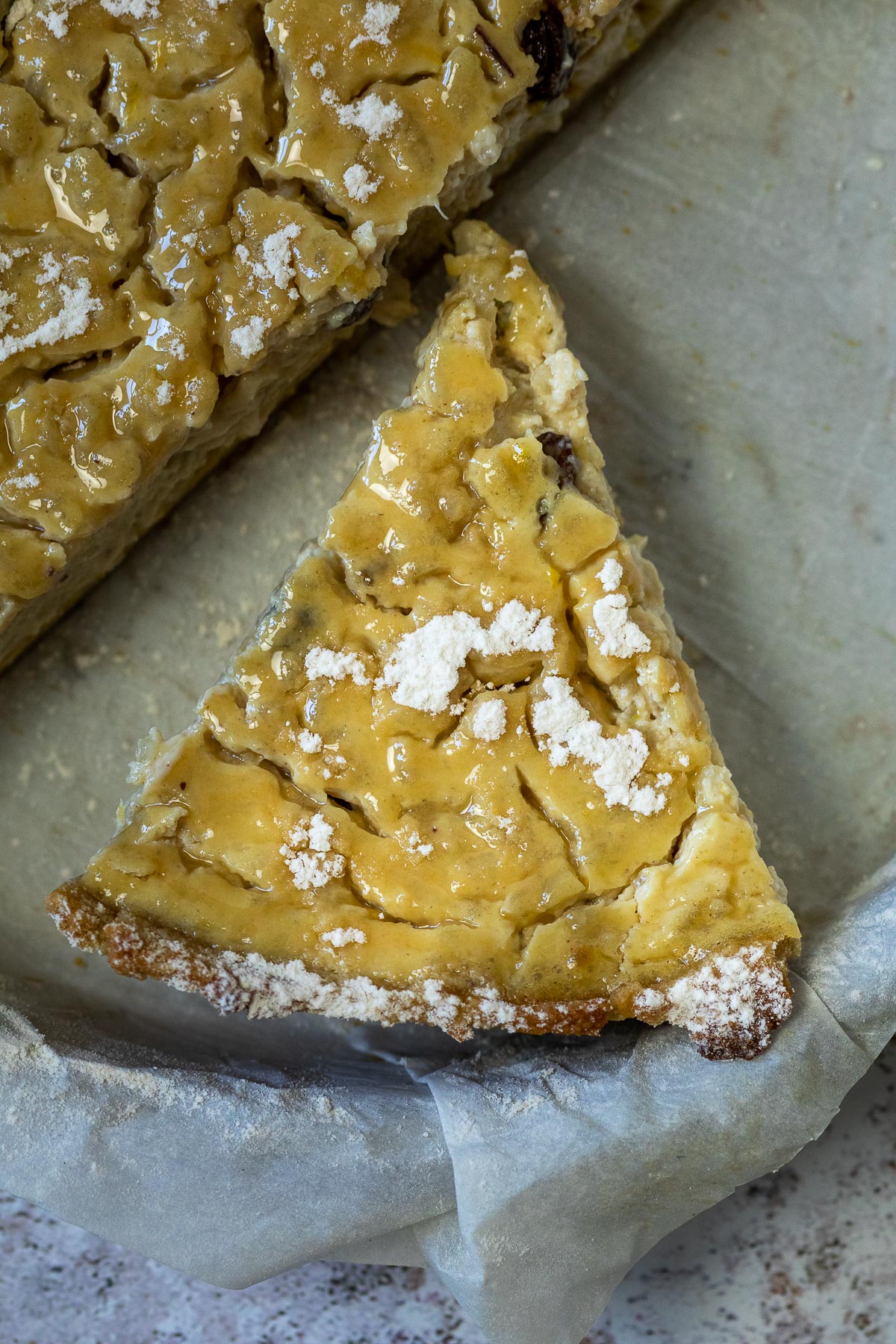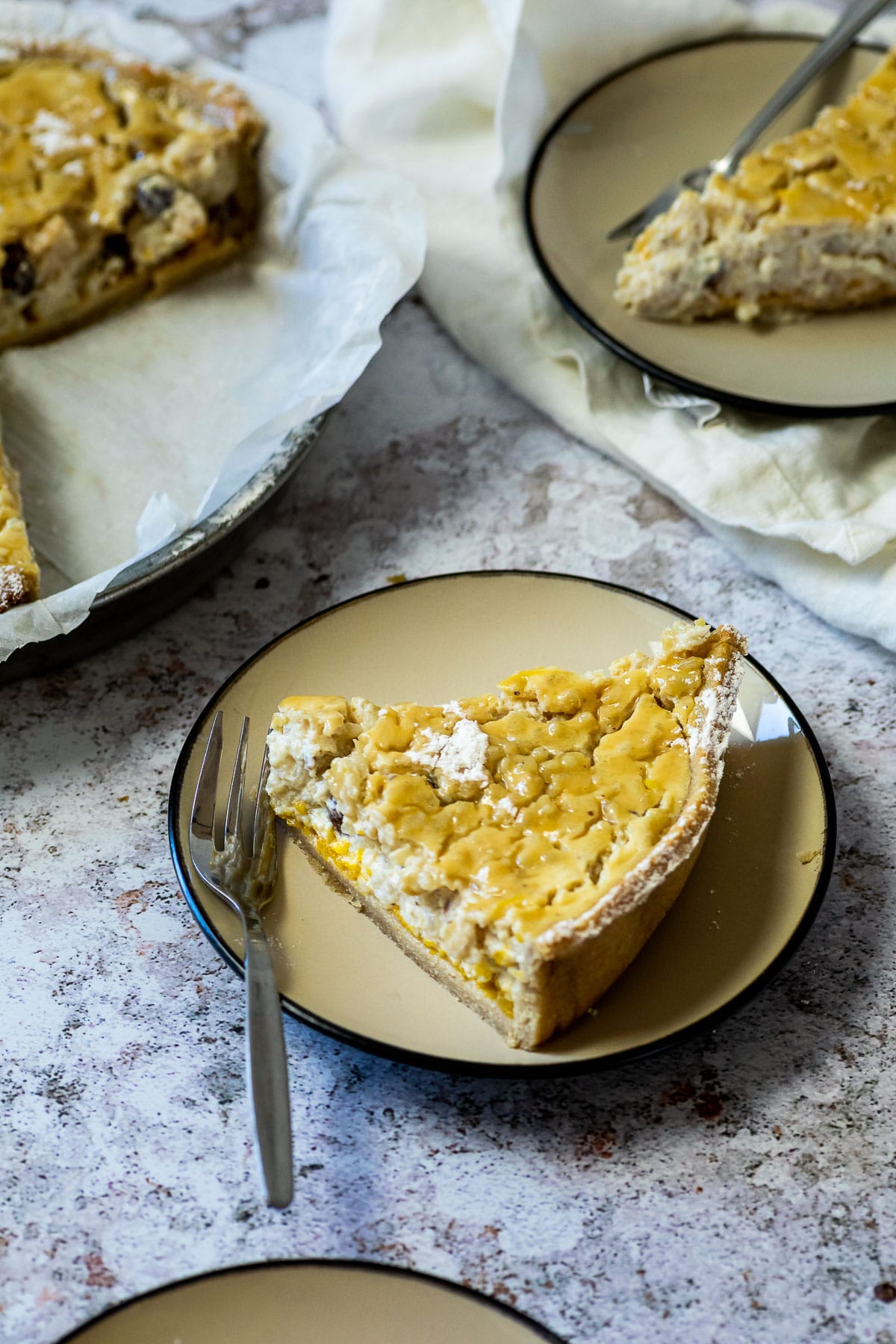 Serving Options
This delicious Swiss-style Easter cake can be served as a dessert, brunch, breakfast or as a snack with coffee or a cup of tea.
Tips
If you have dates at home, I can recommend processing the dates with a little water to a puree and using this as a sweetener.
You want to prepare this as a dessert, you can also use small tart molds, lay them out and then use them. The baking time is reduced by about half. Always make sure that the little cakes don't get too dark.