Who says you can't enjoy great tasting food quickly? With just 20 minutes and a few ingredients, you can have an explosion of flavor on your plate. Experience the indescribably delicious taste of vegan chickpea curry with garam masala, tomatoes and coconut milk – a delectable Indian meal that is full-bodied yet still fast to make!
Plus prepare it in bulk, so all week long your fridge has ready-made nutritious plant-based goodness waiting for those busy nights when time is short, but appetite still strong. Welcome to exciting flavors right at home - quick cooking never tasted this good before!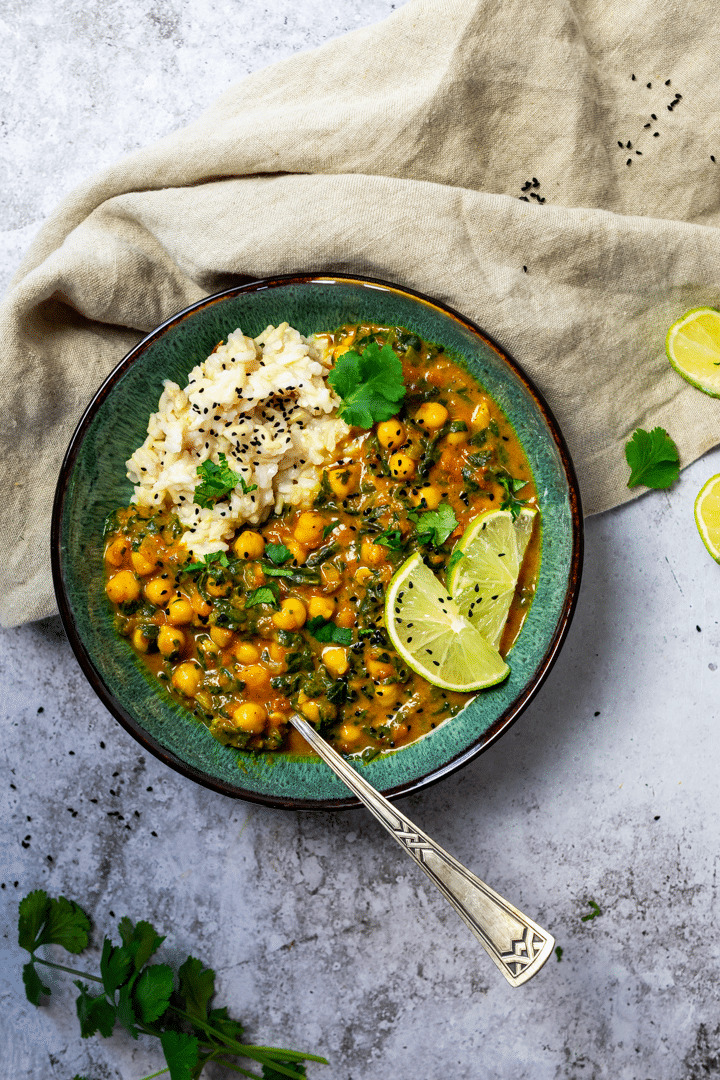 This chana masala pairs well with a Naan Bread, Roti.
As an Amazon Associate, I earn from qualifying purchases. This post may contain affiliate links. Read More
Jump to:
Ingredients
A quick list of the simple ingredients you will need to make this amazing vegan curry recipe.
You can find the ingredients with quantities and the recipe to print out on the recipe card below.
Yellow Onion
Fresh Garlic Clove
Ginger
Cinnamon
Garam Masala
Cumin, ground
Coriander powder
Bay leaves
Turmeric
Fresh lime juice or lemon juice
Cayenne Pepper
Canned Chickpeas
Can of chopped tomatoes
Can of coconut milk
Sea salt and black pepper
Baby Spinach optional
To serve:
Brown rice or cauliflower rice
Fresh Cilantro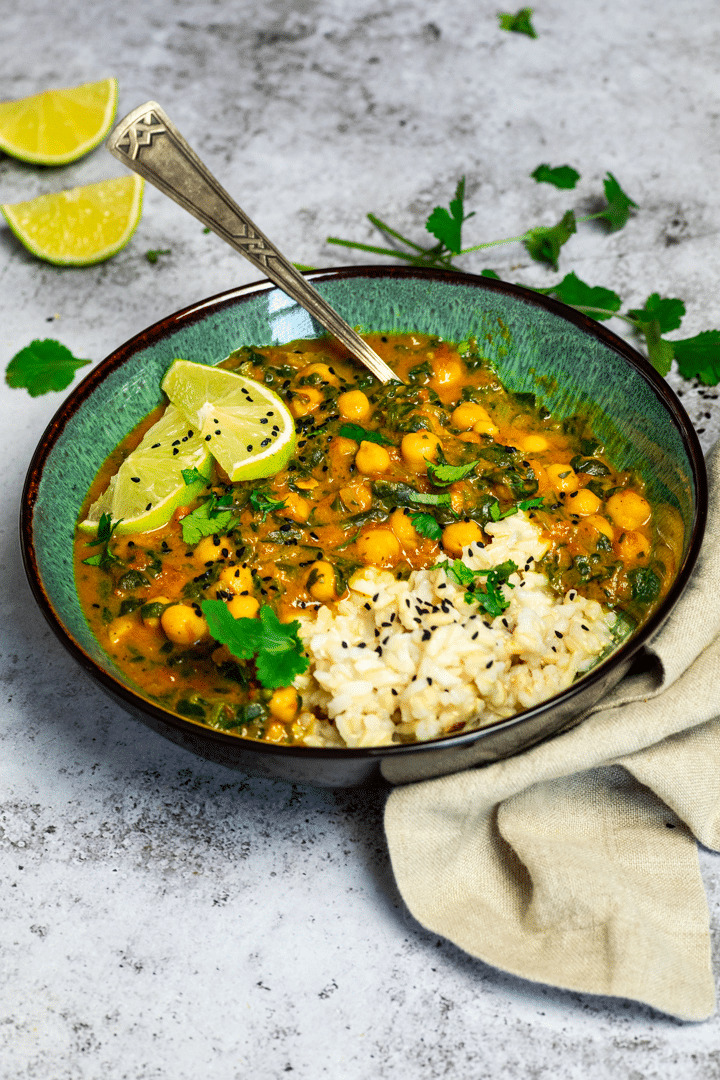 Instructions
Sauté the chopped onions and garlic in a large pan on medium heat. Add a little bit of water. When the onions get color, add the spices and ginger and let them sauté for 3-4 minutes briefly.
Add the remaining ingredients and let it simmer on low heat for about 15 minutes. Now season the sauce again briefly to your own taste. And add your chopped greens.
We eat the curry with rice and a green salad.
Hint: Curries stand or fall with the spices. It is important that you add them to the onions and garlic, this allows them to roast and release all that flavor. What makes your curry sauce so special.
Make this delicious vegan chickpea curry, check out my red thai curry, Butter Chicken (Cauliflower), Potato Green Bean Curry, Tikka Masala, Red Lentil Dahl or my other vegan curry recipes.
Substitution
Onion: For this Indian food, you can easily use red onion.
Tomatoes: I wouldn't do it, they're part of the great flavor combination. If you really don't like tomatoes, you can hardly taste them. Tomatoes are a natural flavor enhancer and help to fill the full taste of the curry. You can try replacing the tomatoes with pumpkins or maybe sweet potatoes.
Spinach: This is optional, I love to add leafy greens to my meals. You can either use spinach, kale, tatsoi or other greens.
Coconut Milk: Instead of full fat coconut milk, you can also add some cashew cream for this easy chickpea curry. Because we do not add oil like coconut oil, I love to add some creaminess with coconut milk or nut cream. Light Coconut Milk will work as well.
Canned Dice Tomatoes: Instead of canned tomatoes, you can also use fresh tomatoes.
Serving Suggestions
You can serve it with different types of vegetables.
Brown Basmati Rice
Naan bread or other bread.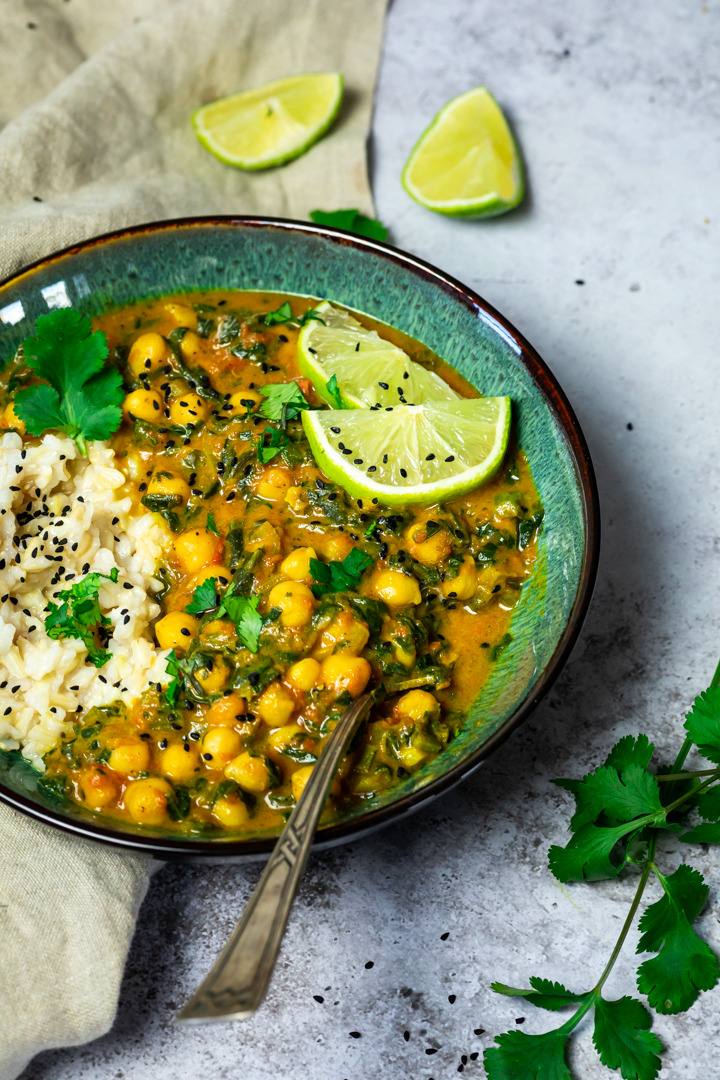 Storage
Leftover coconut chickpea curry lasts very well in an airtight container in the refrigerator and can be used up within 4–5 days. You can also freeze the curry and then take it out in portions, so you always have something quick on hand.
Meal Prep
This easy vegan curry recipe is made with pantry staples and makes the perfect midweek dinner.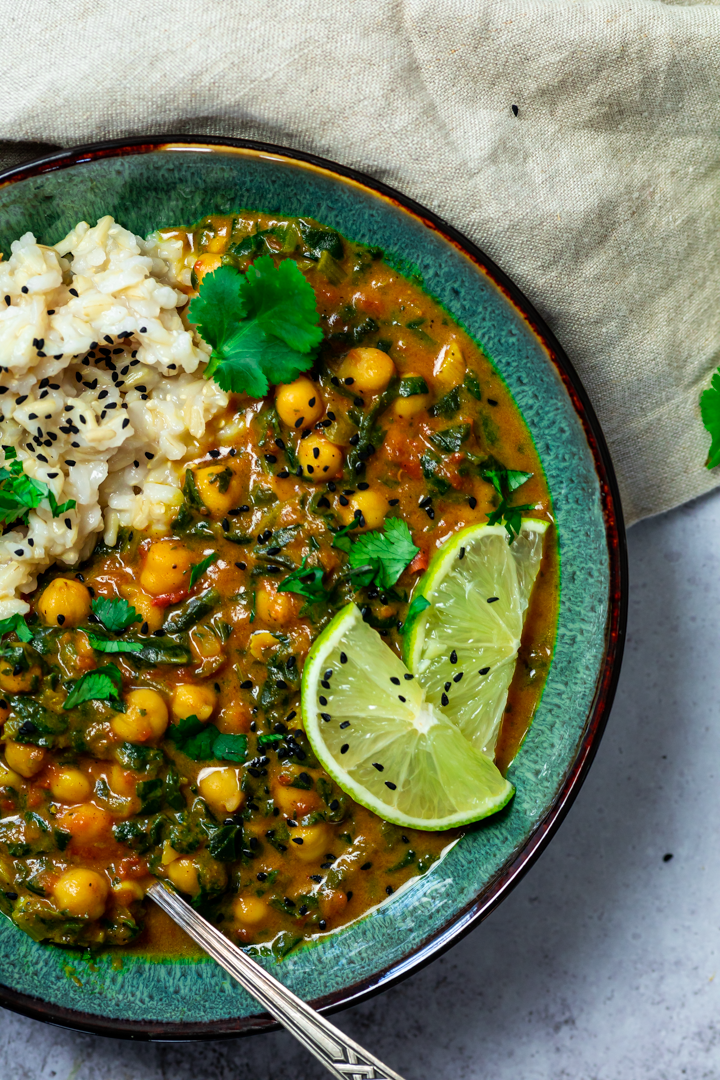 Top Tip
If you want your curry to be thicker, add less or no coconut milk.
FAQ
How Good Are Chickpeas?
Chickpeas or Garbanzo beans are very nutritious. These legumes are full of fiber, protein and iron as well as B6 and manganese. You will also get some health benefits. They are said to help regulate blood sugar, reduce heart disease, reduce cancer and help with digestion. Chickpeas are long satiating thanks to the fiber.