Vegan chickpea curry is super easy to prepare quickly. It is one of the recipes that are full of taste, but are still on your table for dinner in no time. This Indian curry with chickpeas, garam masala, tomatoes and coconut milk becomes an indescribable taste experience, whether for dinner or lunch. Prepare the curry in large quantities and freeze it in portions.
vegan | vegetarian | wfpb | healthy | gluten-free | dairy-free | sugar-free | lactose-free | oil-free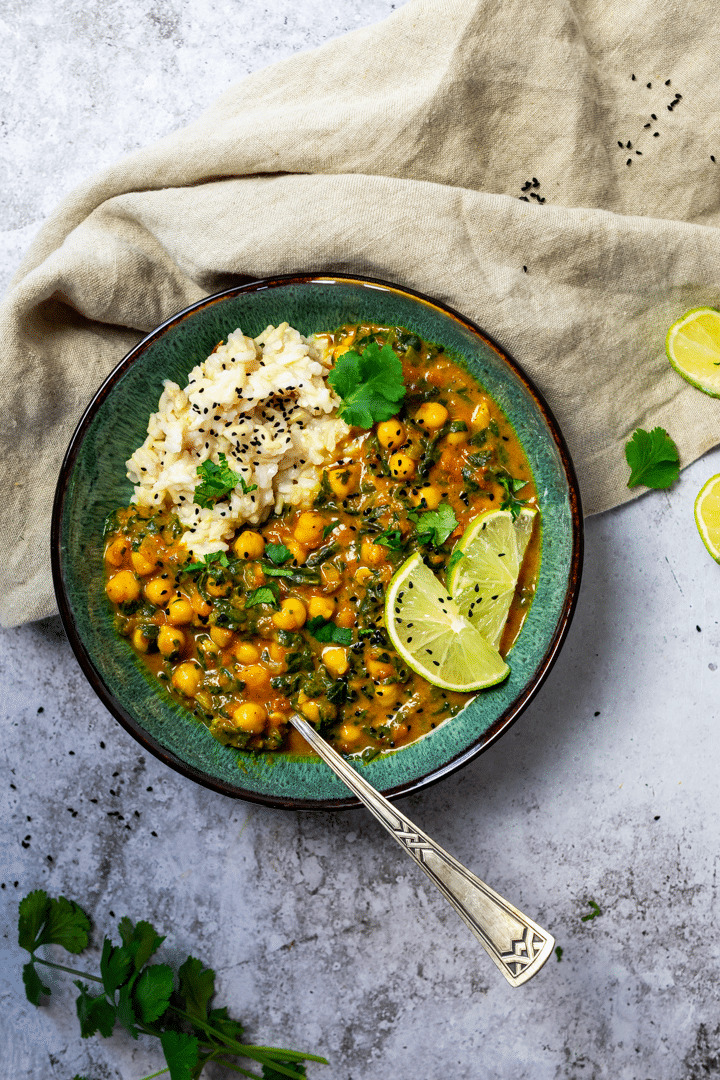 This curry not only tastes extremely delicious, thanks to the protein, the Indian curry will keep you full for a long time. Depending on the type of rice used, the food can be on your table within 20 minutes, a quick and uncomplicated dinner, for everyone who wants to eat a plant-based diet or simply wants to try something new.
This coconut curry with chickpeas is super simple and full of flavor. The mixture of spices makes this curry dwarf other dishes. This wholesome curry is a great go-to recipe for evenings where you want to go fast or on days when you fancy Indian cuisine. No matter if you eat completely vegan, want to consume a little less meat, or just join Meatless Mondays.
What do I need to prepare a vegan chana masala (chickpea curry)?
You are now wondering what you actually need for this vegan chickpea curry.
Onion
Garlic Clove
Ginger
Cinnamon
Garam Masala
Cumin, ground
Coriander powder
Bay leaves
Turmeric
Lime or lemon
Cayenne Pepper
Chickpeas
Can of chopped tomatoes
Can of coconut milk
Sea salt and black pepper
To serve:
Brown rice or cauliflower rice
Fresh coriander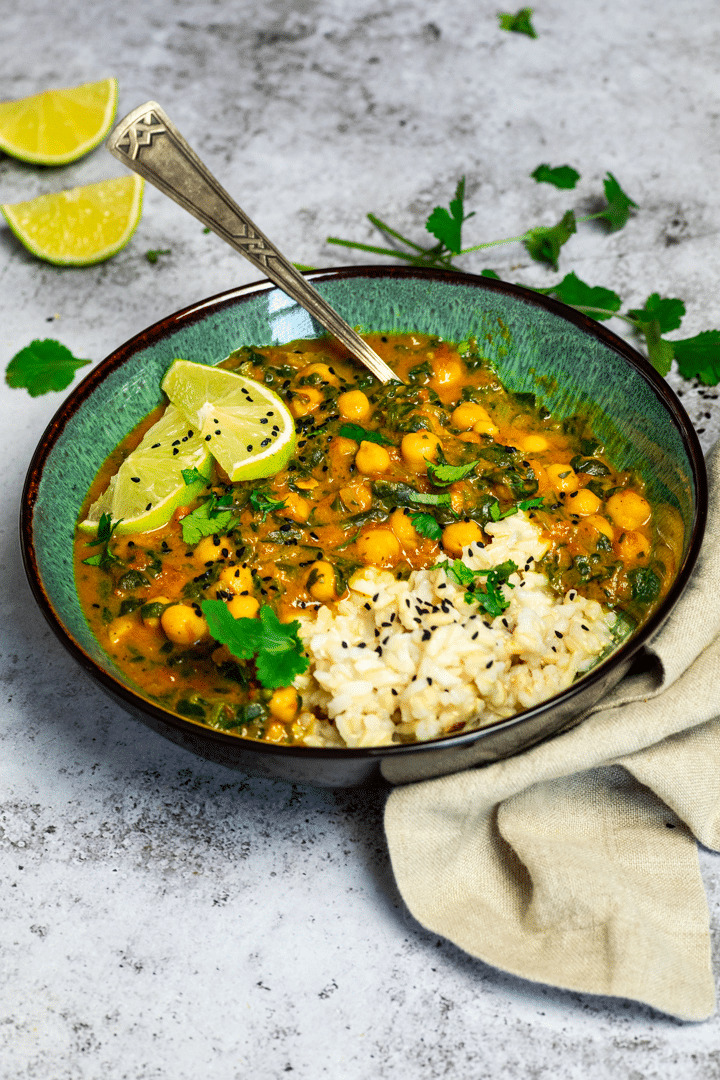 How do I make a vegan chickpea curry?
Braise the chopped onions and garlic in a large pan. Add a little bit of water. When the onions get color, add the spices and ginger and let them sauté briefly.
Add the remaining ingredients and let it boil briefly. Now season the sauce again briefly.
We eat the curry with rice and a green salad.
How Good Are Chickpeas?
Chickpeas or Egyptian peas are very nutritious.
These legumes are full of fiber, protein and iron as well as B6 and manganese.
They are said to help regulate blood sugar, reduce heart disease, reduce cancer and help with digestion.
Chickpeas are long satiating thanks to the fiber.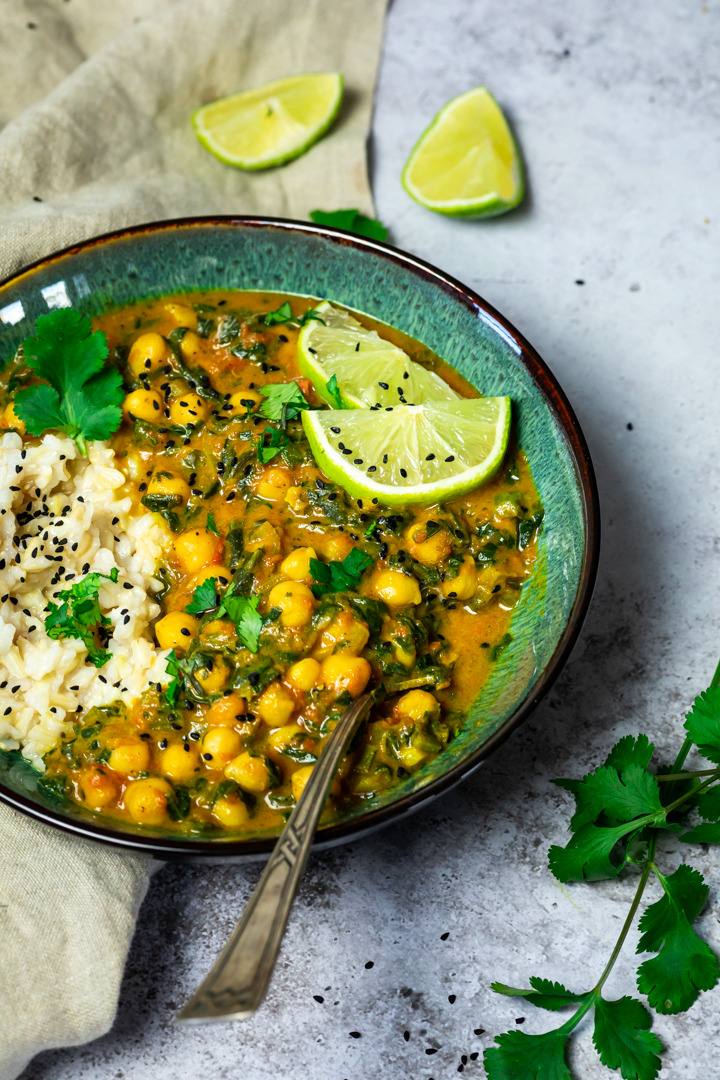 Can I replace the tomatoes in this curry?
I wouldn't do it, they're part of the great flavor combination. If you really don't like tomatoes, you can hardly taste them. Tomatoes are a natural flavor enhancer and help to fill the full taste of the curry. You can try replacing the tomatoes with pumpkins or maybe sweet potatoes.
Can I prepare the vegan chickpea curry with spinach?
A big, fat yes. You can. We do that very often. And it doesn't hinder the chickpea curry.
How can I serve the vegan chickpea curry?
You can serve it with different types of vegetables.

Rice

Naan bread or other bread.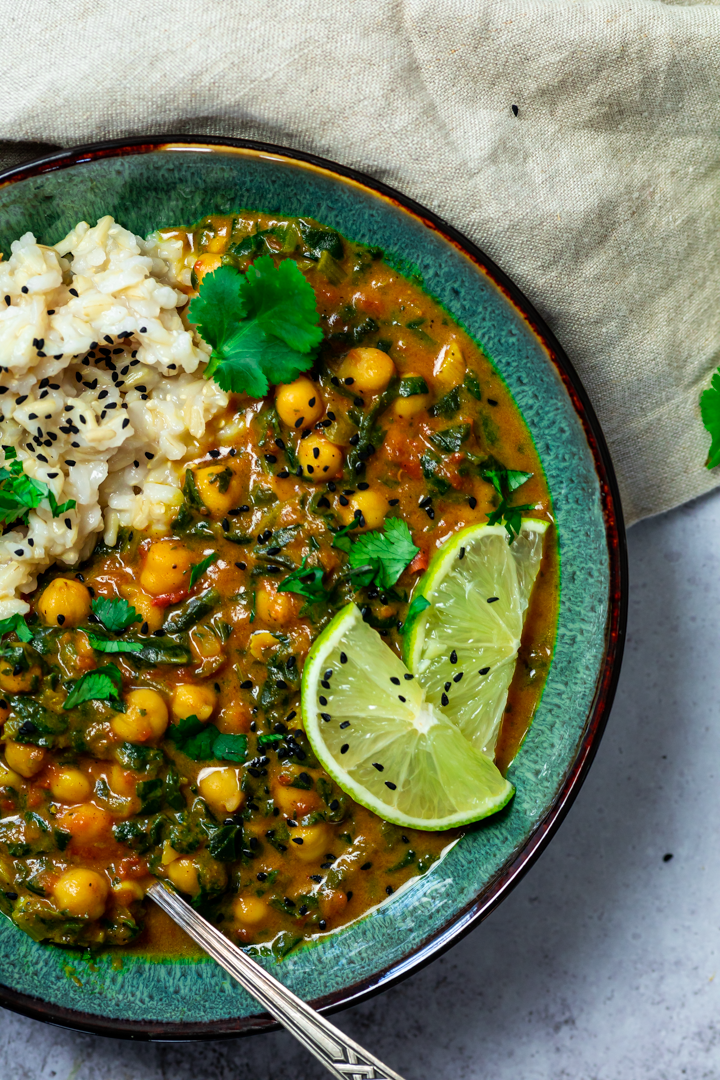 Is coconut milk wfpb?
Light coconut milk is whole food plant-based. Another alternative to coconut milk would be cashew cream, which you add. With the cashew cream, make sure that the cashews thicken the sauce, possibly use less or add more liquid.
How do I keep the vegan chickpea curry?
Leftovers keep very well in the refrigerator and can be used up within 3-4 days. You can also freeze the curry and then take it out in portions, so you always have something quick on hand.
More vegan Recipes:
Tomato Alfredo Pasta with Sun Dried Tomatoes and Spinach
Do not forget to Pin on Pinterest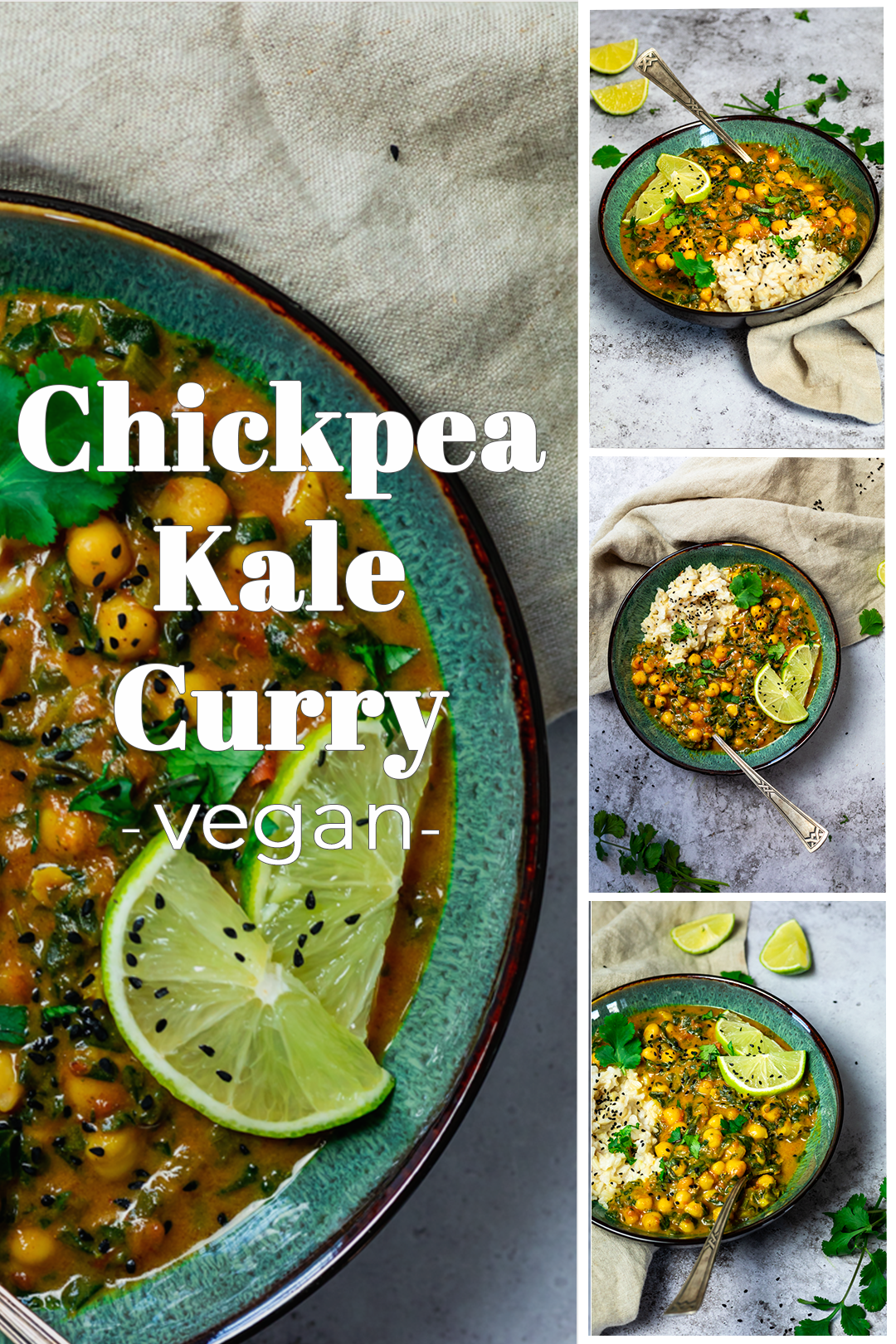 Have you tried the recipe?
If you tried the vegan Chickpea Curry, be so nice ♥ and let me know by rating the recipe and writing what you think about it in the comments. Tag me on Instagram too. I am @veeatcookbake and my hashtag is #veeatcookbake. So that I can see your creation. Did you know you can add photos on Pinterest under the recipe Pin? I can't wait to see a photo of your creation there. You find me with @veeatcookbake. I also would love to hear your feedback so I can share it on my social media channels.

This post may contains affiliate links and I may receive a very small commission if you buy through these links at no extra cost. Thank you very much for supporting Ve Eat Cook Bake! More information can be found here.
---