Vegan Tikka Masala - Aromatic, golden cauliflower florets in an incredibly creamy curry sauce. An Indian classic is inspired as a veggie masala with cauliflower and a delicious authentic tikka masala sauce. Save yourself a trip to Trader Joe's and cook for the next dinner in no time at all with this simple vegetarian dish of Indian cuisine.
vegan | vegetarian | gluten-free | wholesome | sugar-free | dairy-free | lactose-free
I just love dishes that are on the table quickly, it is always an enrichment. And so it is with this incredibly tasty Tikka Masala, which is strongly seasoned and for those who like slightly spicier dishes, will love this dish.
Don't have time to cook in the evening? How about a slow cooker (crockpot) and prepare this incredibly authentic masala? To do this, simply leave the cauliflower in the sauce if it needs to be roasted in the oven first.
What does Tikka Masala Sauce taste like?
Tikka Masala is a reddish orange sauce that gets its color thanks to the spices. This curry sauce is combined with many spices based on tomatoes and coconut milk. This sauce is warm, spicy and simply a perfect comfort meal.
What is the Tikka Masala Sauce made of?
A Tikka Masala sauce consists of tomatoes, cream or coconut milk and spices. The chicken or, in our case, the cauliflower turns slightly orange or yellow due to the turmeric. Here is a small overview of which ingredients are included in this dish:
Cauliflower
Vegetable stock
Lemon juice
Sea-salt
Cumin
Coriander, ground
Garam Masala
Garlic powder
Onion powder
Smoked paprika powder
Onion
Garlic cloves
Ginger
Cayenne pepper
Paprika
Red pepper
Chunky tomatoes
Tomato paste
Coconut milk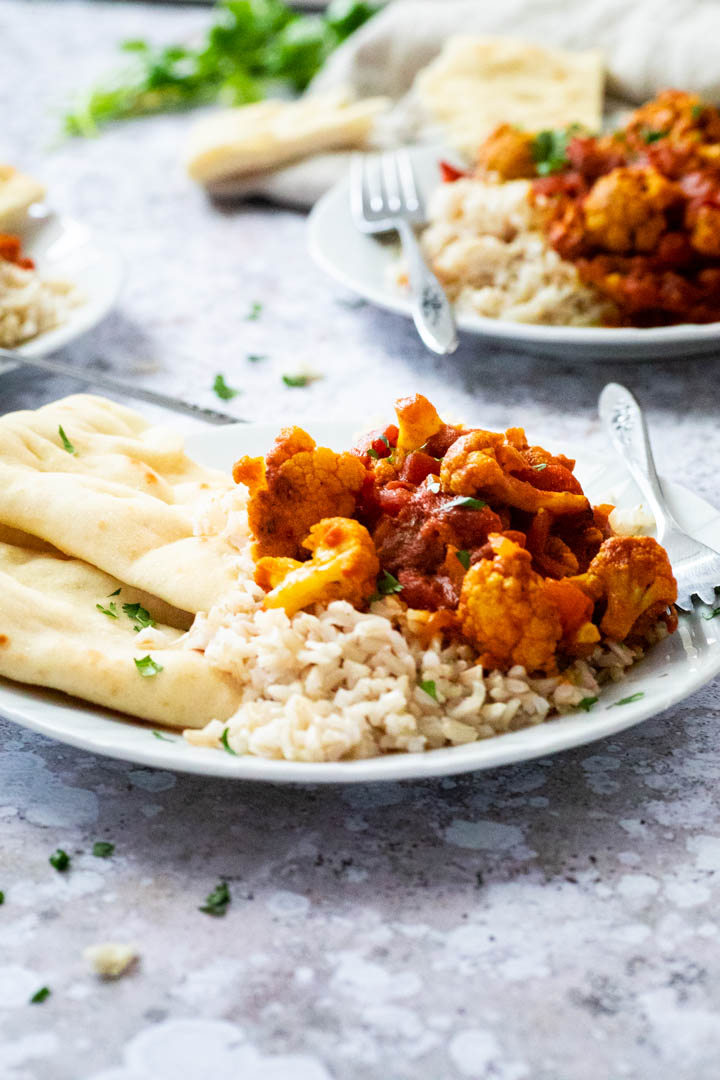 How do I prepare vegan tikka masala?
First, you start by dividing the cauliflower into small florets and mixing them with the spices and the vegetable broth. Now bake the cauliflower in the oven for approx. 20 min at 400°F (200°C).
In the meantime, you can sauté diced onion and chopped garlic in a pan. I add some water to the pan. Add the cumin seeds and the ginger and briefly sauté them.
Now add all the remaining ingredients and stir vigorously.
Let the sauce boil briefly and season to taste again.
When the cauliflower is ready, add it to the Tikka Masala sauce and let it cook for a couple more minutes (3-4 minutes).
While you are preparing the sauce and cauliflower, you can cook rice and serve it with the sauce.
We like to eat a mixed green salad with the meal.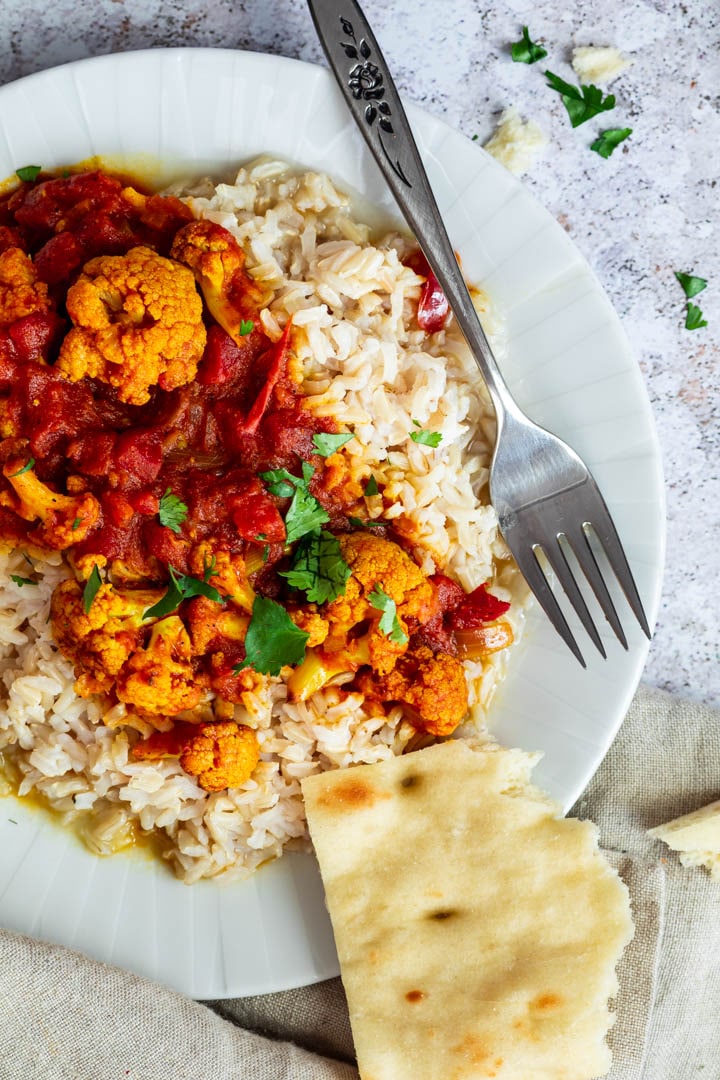 Can you cook the Tikka Masala in a slow cooker?
This dish is even very good in a slow cooker. Simply sauté the onions and garlic in the slow cooker and the remaining ingredients into a creamy sauce. Add the cauliflower florets and let them cook slowly in the sauce.
Can I freeze Tikka Masala Sauce?
Let the dish cook and cool completely. Place it in an airtight container, a plastic zippered bag, or a glass container. Now freeze the sauce. To reheat, simply remove the sauce one evening before and bring to boil.
How can I replace the cauliflower?
If you don't like cauliflower or don't want to go to the store again. How about diced tofu, vegan chicken substitutes, or chickpeas. There are no limits to your fantasies here. Just use what you like best.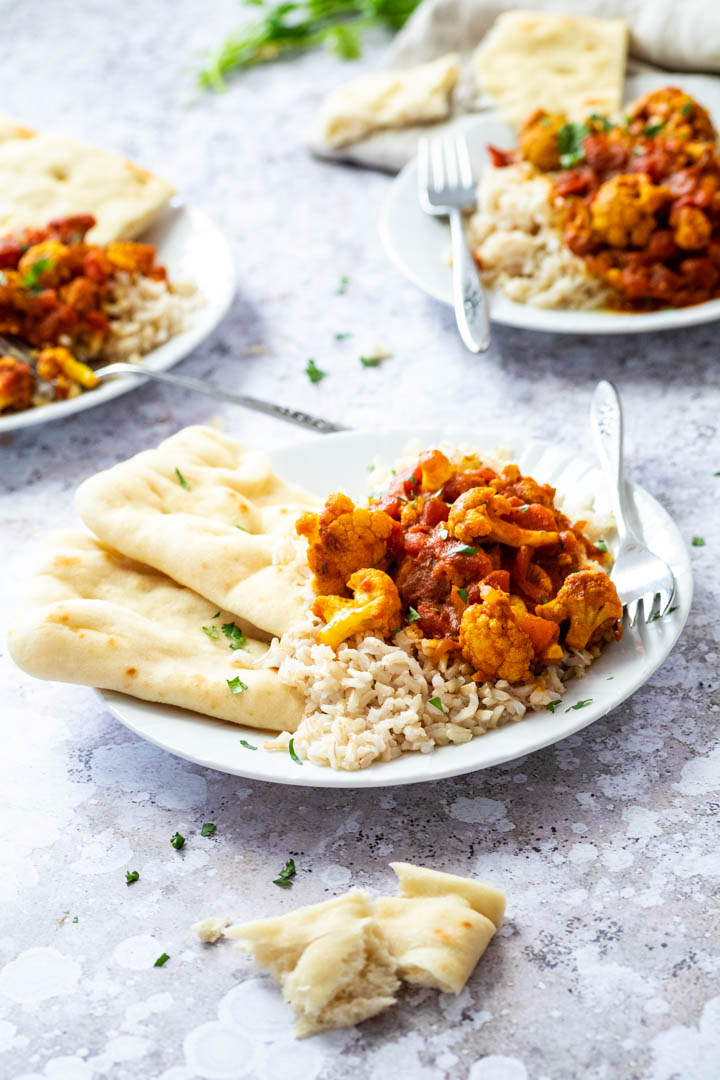 Tips for the best vegan Tikka Masala Sauce:
Let the sauce simmer a bit, so it first develops its taste. The dish tastes even better on the second day because the sauce has an intense taste.

Let the sauce simmer and do not bring to a boil

Prepare the sauce in large quantities and freeze some of it as a meal prep.
More curry-like recipes you might love:
Do not forget to Pin on Pinterest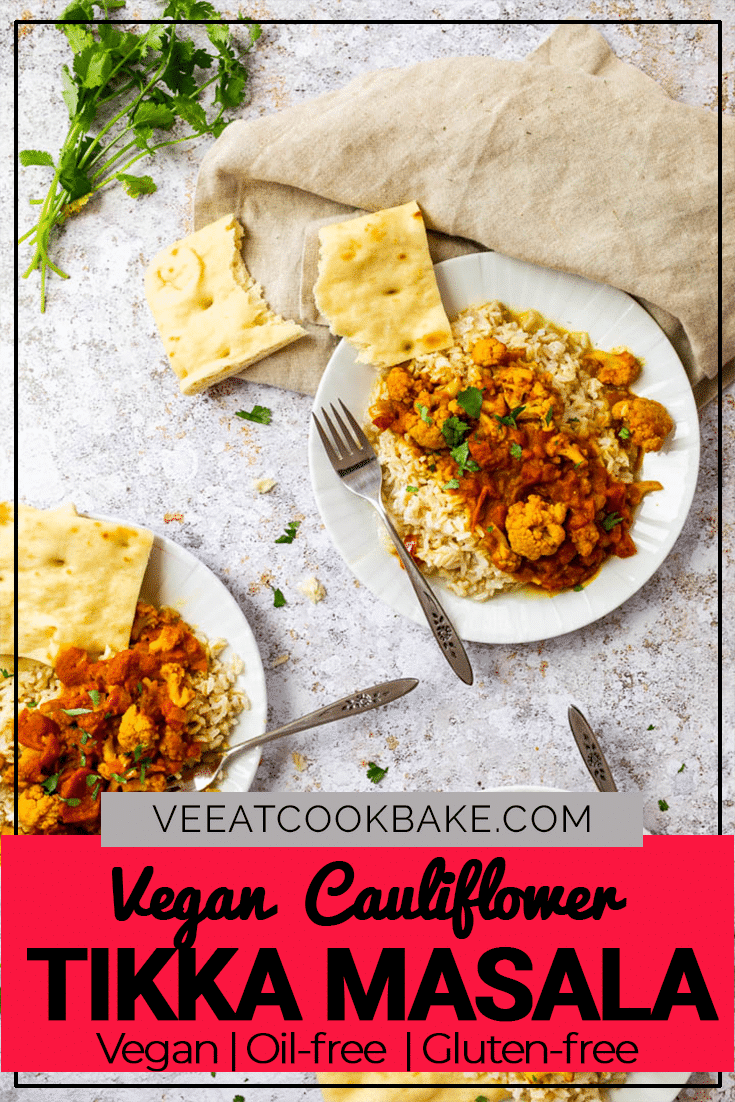 Have you tried the recipe?
If you tried the vegan Parmesan, be so nice ♥ and let me know by rating the recipe and writing what you think about it in the comments. Tag me on Instagram too. I am @veeatcookbake and my hashtag is #veeatcookbake. So that I can see your creation. Did you know you can add photos on Pinterest under the recipe Pin? I can't wait to see a photo of your creation there. You find me with @veeatcookbake. I also would love to hear your feedback, so I can share it on my social media channels.

This post may contains affiliate links and I may receive a very small commission if you buy through these links at no extra cost. Thank you very much for supporting Ve Eat Cook Bake! More information can be found here.
---