Are you a fan of squash pumpkin dishes like butternut squash? If so, then this vegan butternut squash soup recipe is for you!
With no added oil and gluten-free ingredients, we can guarantee a healthy yet tasty meal.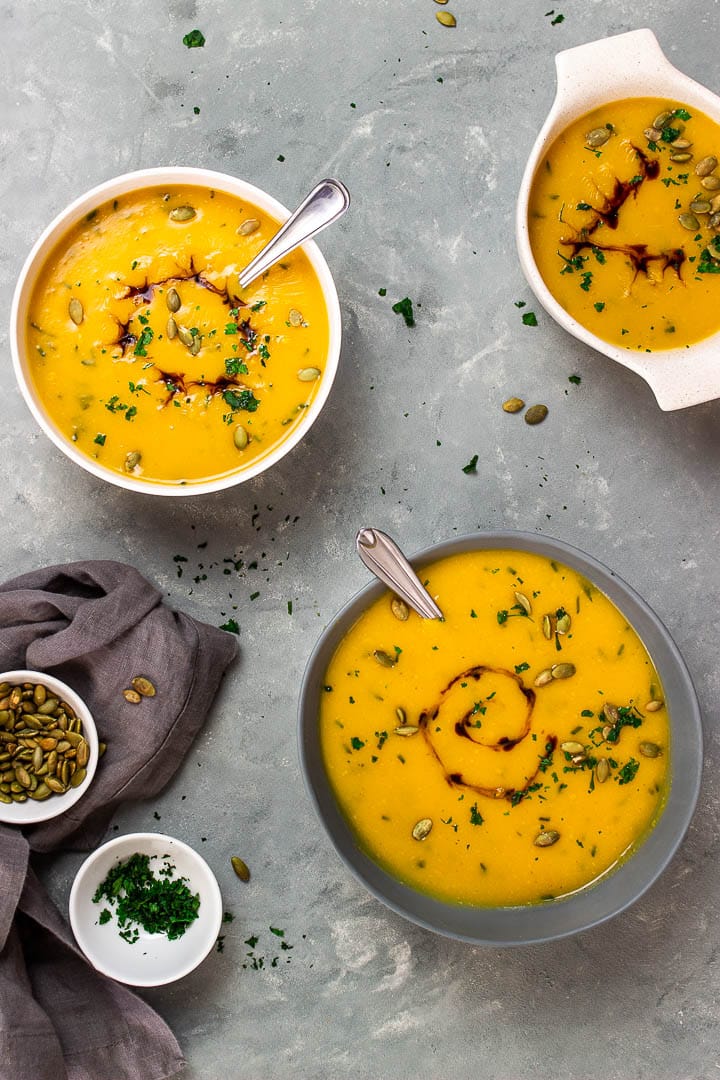 In just minutes, you'll be able to prepare an amazingly delicious dish, not just for the winter months, that uses sweet apples as the star of the show.
Not only do these flavors come together perfectly to make your mouth water, but it'll also feel good knowing you're eating something nutritious while still indulging in some comfort food. So don't wait any longer - get ready with us to learn how to make vegan butternut squash soup!
This recipe is an old family recipe and pairs well with some crispy chickpeas, or crusty bread, baguette or flatbread.
As an Amazon Associate, I earn from qualifying purchases. This post may contain affiliate links. Read More
Jump to:
Ingredients
Let us see what we will need to make this creamy butternut squash soup.
You can find the ingredients with quantities and the recipe to print out on the recipe card below.
Butternut Squash
Yellow Onion
Apple (green or red)
Garlic cloves
Vegetable broth
Himalayan or Sea Salt
Black Pepper
Nutmeg
Mace
Ginger
Coconut milk
Dill
Chives
Balsamic cream for garnish
Pumpkin seeds - roasted
Instructions
Pot Version
For the healthy butternut squash soup, first half the pumpkin and then hollow out (fibers and seeds). Now cut the pumpkin into cubes. The shell can be eaten and does not have to be peeled.
Chop the onion and garlic and fry with a glass of vegetable stock. Add the pumpkin cubes, fry vigorously.
Oven variant:
Half the pumpkin, remove seeds and place on a baking sheet. Now place in the oven and bake at 400 F (200 C) for about 50 min.
For the last 15 minutes, you can chop the onion and garlic and place on the baking sheet. Poke into the shell of the pumpkin to see if it is soft. Put in a pot or blender.
For both options:
Now mix in the measured vegetable broth and season with salt, pepper, nutmeg, mace and possibly a little ginger.
Let it simmer in the pot until butternut is soft. Purée with a blender. Now stir the coconut milk in and taste the creamy soup to your own taste. If the soup is still too thick, simply add some vegetable stock until the desired consistency is achieved.
Decorate the soup with some balsamic glaze and roasted pepitas.
Crockpot Butternut Squash Soup
You will need to make this slow cooker butternut squash soup like the pot version. Start with sautéing onion, garlic. Add the squash and let it sauté for a few minutes.
Add all the other ingredients except the coconut milk. You will simmer this easy butternut squash soup recipe on high for 3-4 hours and on low for 6-8 hours until the squash is tender. Add the coconut milk and purée with an immersion blender until creamy. Your slow cooker soup is ready to serve.
Hint: To see if the squash is tender, pierce the squash with a knife.
Substitutions
You are looking for substitution ideas? I will give you here some ideas how this comforting soup will still turn out amazing.
Butternut Squash - You can always use a different fresh winter squash for this soup. I recommend a squash that you do not have to peel. You can easily use a Hokkaido (Red Kuri), Nutmeg Squash or Acorn Squash. Pumpkin will work as well. All of these are amazing in flavor and will add a boost of flavor to your soup.
Apples - A sweet and tart apple will compliment the nutty flavor of the butternut. What apples are sweet and tart? I love Honeycrisp Apples, Pink Ladies. If you like the sour punch of the Granny Smith Apples, try it.
Vegetable Stock - Instead of veggie broth you can easily use water, but I love to add to my soup a good vegetable broth to add some more flavor.
Coconut Milk - I know not everyone wants to use creamy coconut milk you can easily substitute with some almond milk, homemade cashew cream/milk in this delicious soup. No need for heavy cream. We want a light soup.
Fresh Herbs - The herbs I am using are my favorite in this type of soup. Of course you can add other herbs like fresh sage or fresh thyme.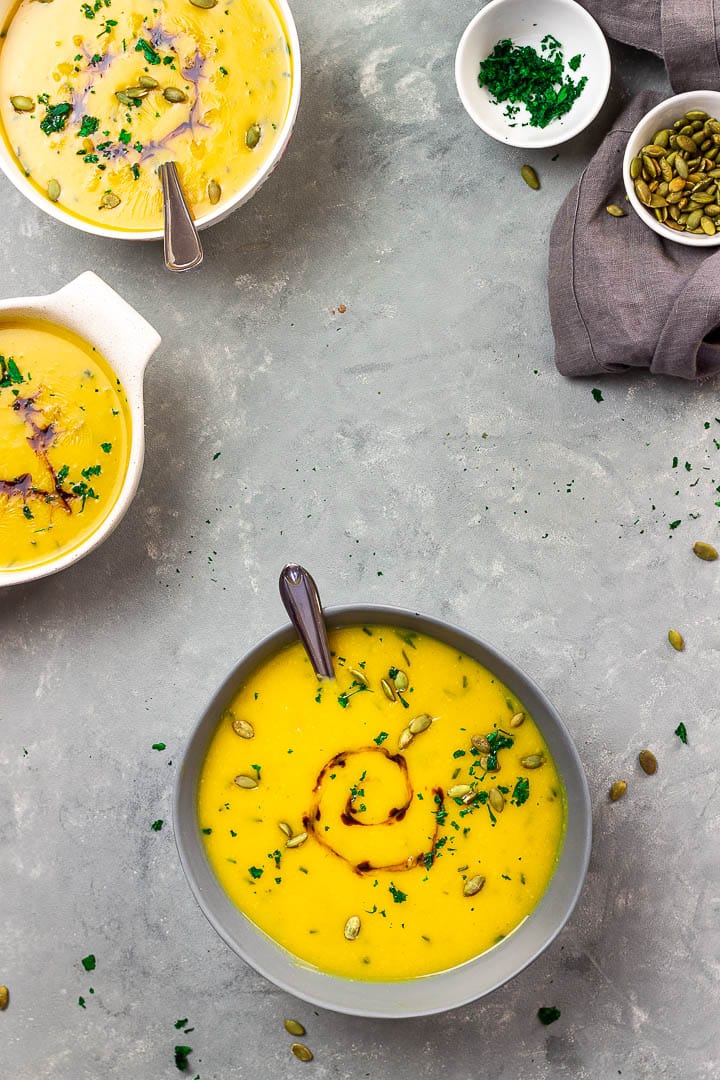 Variations
It will never get boring in the soup season and to enjoy squash to the fullest I will give you some ideas for variations.
Curry - Add some curry powder or even red curry paste to add warm spices to the soup.
Spicy - You love a kick in your soup add some cayenne pepper or red pepper flakes.
Sweet Potato - Add a peeled sweet potato to add a bright color and natural sweetness.
Storage
Store your homemade soup with care for later enjoyment; an airtight container in the refrigerator can keep it safe and delicious up to five days.
To reheat, gently heat on the stove or pop it into a microwave-safe bowl -- if needed, give a splash of broth to thin out before serving. Alternatively, freeze your leftovers flat in ziptop bags, so they take up less space - then you'll have savory soups at hand when cravings strike all through winter!
Top Tip
No fresh butternut squash on hand? Use pre-cut frozen squash!
This meal prep recipe is the perfect way to ensure you always have healthy and tasty food on hand throughout your week. Whether it's doubling the ingredients for a larger batch, refrigerating enough servings for five days straight or storing portions in your freezer with up to three months of shelf-life – this dish offers convenience without compromising nutrition!
Buying Tip: Knock on the pumpkin, if it sounds hollow it is fresh.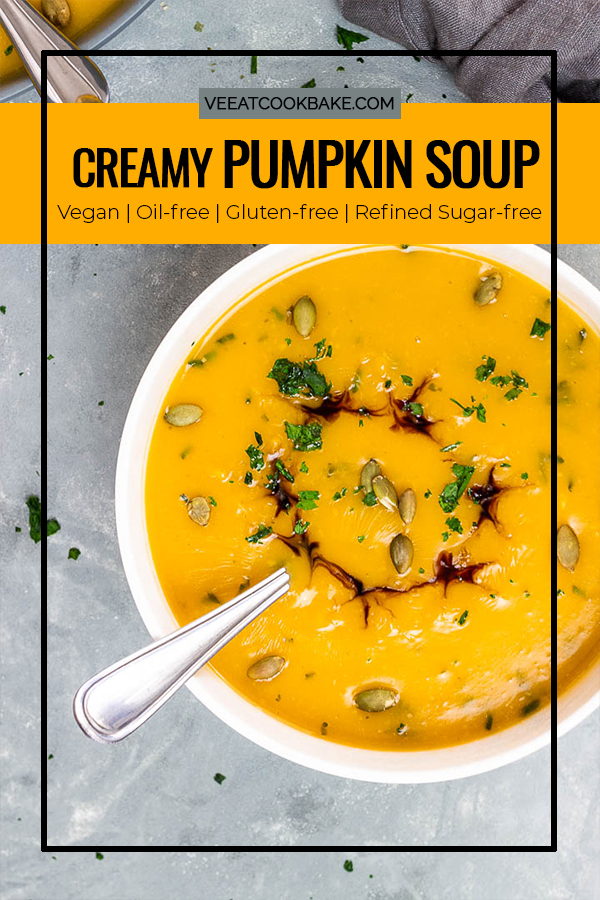 FAQ
Why is squash so healthy?
Squashs are very healthy. It has hardly any calories in it, but it is still so full of nutrients (minerals and vitamins). The pumpkin is said to make beautiful skin, strengthens the immune system and strengthens the nerves.
Squash/ Pumpkins are also one of the so-called superfoods.
A miracle weapon against cold and flu, thanks to the vitamin C. It has a lot of beta-carotene which causes the orange color. It is converted to vitamin A, protects our cells, strengthens the immune system and is good for our eyes.
Potassium and magnesium strengthen the nerves and the heart.
Can I also use pumpkin out of the can?
 I prefer fresh squash or pumpkin rather than pumpkin puree from the can, but of course you could also take the finished pumpkin out of the can. However, the soup then does not have this great strong taste.
 If you decide to use ready-made pumpkin puree, just fry the onions and garlic in a pot and then add the puree and the remaining ingredients.
Does the squash/ pumpkin now belong to vegetables or fruits?
 According to the botanical definition, pumpkins with tomatoes, courgettes, peppers, aubergines and cucumbers are fruits, as these fruits are produced from fertilized flowers. These are referred to as an annual plant (definition of vegetables) and due to the lack of sweetness and acidity as a fruit vegetable.