Vegan hot chocolate or also known as hot cocoa is a totally delicious plant-based drink. This great warming beverage needs only 5 ingredients and less than 10 minutes of your time. It is prepared super quickly and does not need any refined sugar, instead we sweeten the dairy free hot chocolate with dates.
With this healthy hot chocolate you get the feeling of drinking your dessert, so creamy, delicious, chocolatey and pleasantly sweet.
Not only children love a cup with almond milk hot chocolate, such a warming winter drink without lactose is always welcome after a cold winter walk.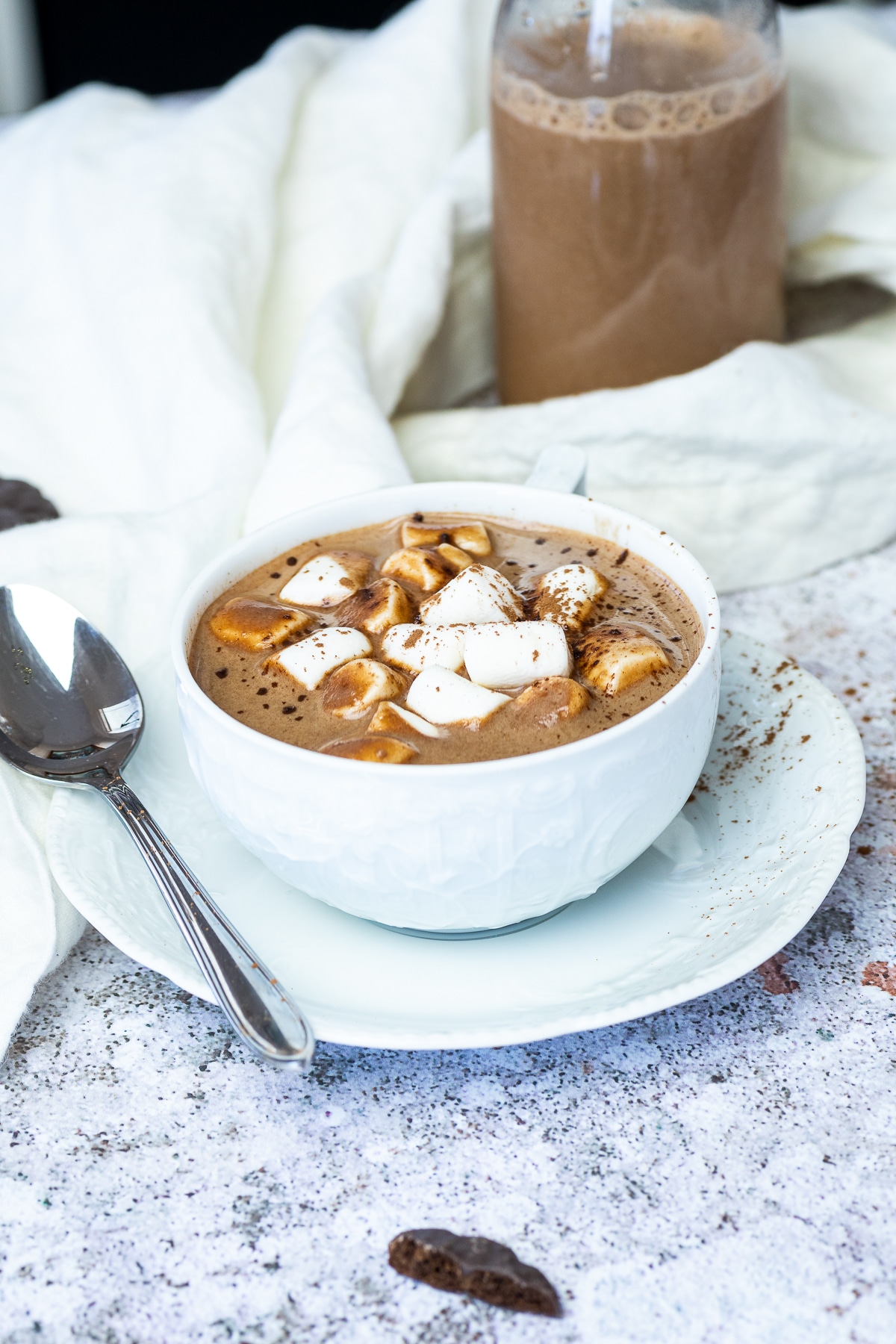 As an Amazon Associate, I earn from qualifying purchases. This post may contain affiliate links. Read More
Jump to:
You do not need a vegan hot chocolate mix to make a quick and delicious sugar free hot chocolate which will turn into the best you've had.
The right cocoa powder gives your non-dairy hot chocolate recipe an incredibly chocolaty taste, as if you had melted chocolate in it.
I have to say that when it comes to hot chocolate, I'm picky. Cocoa is often prepared with water, which I personally don't like, or it is too liquid and not creamy enough.
Then again, it must not be too sweet, but it must also not taste bitter.
If you prepare your vegan hot chocolate at home, you can adapt the recipe to your taste and try again and again whether you want to add a little more cocoa powder or if it is not sweet enough for you, add a little more natural sweetener.
You can also add some peppermint extract if you like the refreshing mint flavor.
If you like the hot chocolate from Starbucks, you can definitely try this hot milk. In principle, the well-known Starbucks drink consists of almond milk, sugar, cocoa powder, vanilla and water.
I do not use water in my hot chocolate and add a little almond butter to give it a great creaminess.
With this recipe, you don't just get a quick vegan hot chocolate recipe. Here I show you exactly how to make the sugar-free vegan hot chocolate and give you even more tips and tricks below.
Ingredients
Now it's time to take a look at the ingredients we use in this plant based hot chocolate recipe.
You can find the exact details below in the recipe card.
Almond Milk
Cocoa Powder
Dried Dates
Vanilla Extract
Almond Butter
You can also serve your hot chocolate with vegan whipped cream, coconut whipped cream, whipped Aquafaba or marshmallows if you wish. However, marshmallows will not be sugar-free.
Flavors for your hot chocolate
Hot Peppermint Chocolate: Use pure peppermint extract and add about ¼ teaspoon extract with the vanilla.
Hot Peanut Chocolate: add peanut butter instead of almond butter.
Hot Mocha Chocolate: stir in 1 teaspoon instant coffee (with or without caffeine) together with the cocoa.
Snickerdoodle Chocolate: Add ½ teaspoon cinnamon
Cocoa Powder
I wrote earlier that you should make the right choice of cocoa powder. Here take a cocoa powder that is unsweetened. I prefer also a dutched cocoa powder (European Style). It has a milder taste and tastes much more chocolatey.
Almond Milk Substitute
Instead of almond milk, you can also use another vegan milk alternative. Soy milk, rice milk or oat milk are suitable for hot cocoa. Since oat milk tastes sweet through fermentation, you may need to reduce the amount of dates.
Cashew milk and coconut milk are very creamy, just leave out the almond butter and you will get a creamy hot chocolate.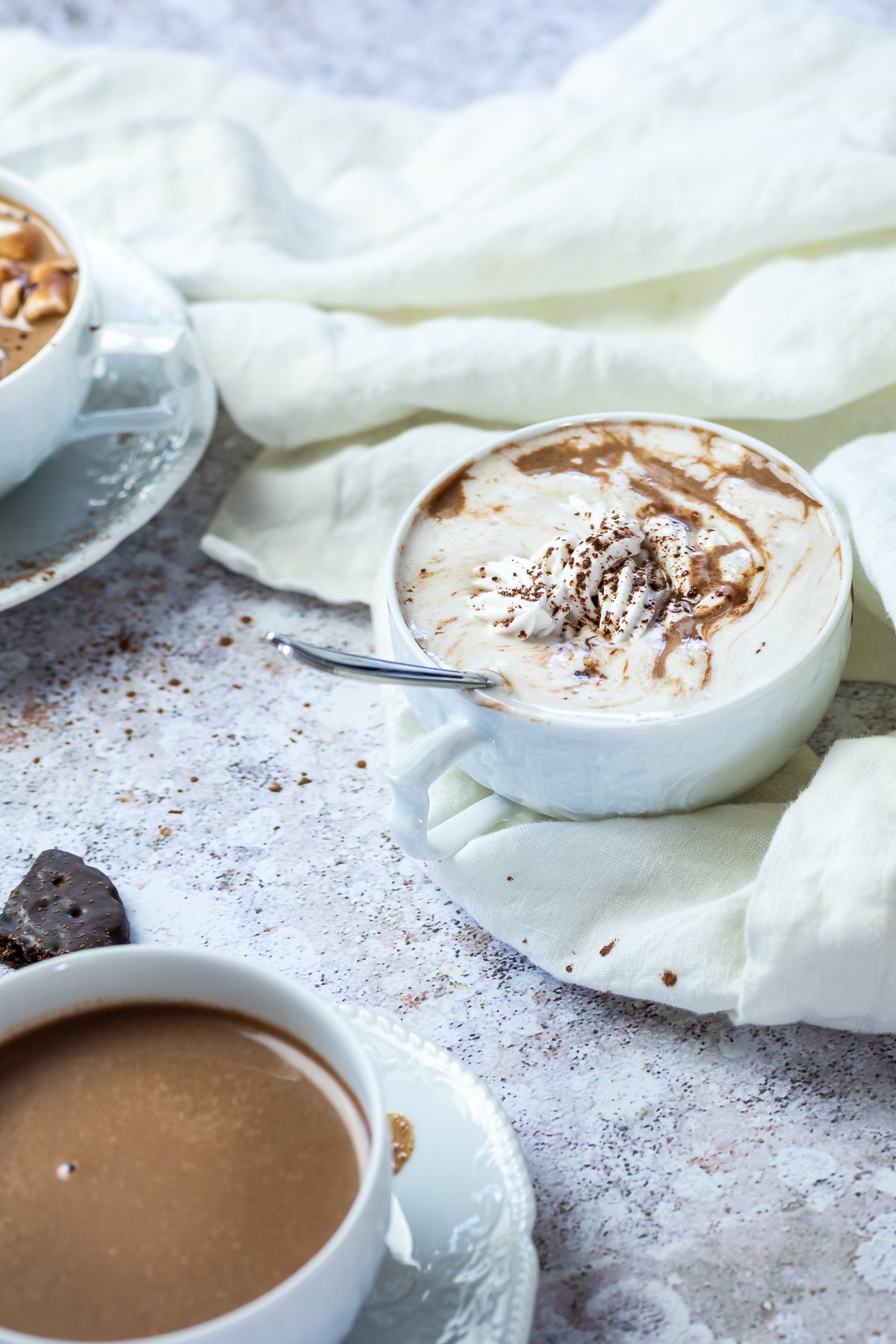 Date Replacement
If you don't want to use dates, you can use other sweeteners. For example coconut sugar, maple syrup or other natural sweeteners.
You could also mix an overripe banana, which will make the hot chocolate a little thicker and more like a smoothie.
Coconut Cream Substitute
If you do not want to prepare the whipped cream with the solid portion of coconut milk, you can also use Aquafaba, the drained water from canned chickpeas.
You whip it up like egg whites and sweeten it as needed. You can then put this on your vegan hot chocolate.
Instructions
The preparation for the vegan hot chocolate is super easy. Briefly soak the dried and pitted dates in hot water.
In the meantime, put all the remaining ingredients in a high speed blender and add the soaked dates. Now blend it at the highest level until you run out of pieces and it's totally creamy. This can take up to 1 minute.
If you want, you can sieve the milk through a nut milk bag to sift out small pieces.
Now put the milk in a small pot and heat to medium heat. I only heat it until it is hot enough to drink.
Prepare in Advance
You can also prepare the chocolate milk in advance and only warm it up later. If you want, you can also drink it cold.
How can I warm up the vegan hot chocolate?
You have the possibilities to heat the hot chocolate in the microwave or on the stove.
You should heat the chocolate in a saucepan over medium heat. If the hot chocolate has become too thick, simply add a little more vegan milk until it has the perfect consistency. Add the same milk that you used to make the cocoa.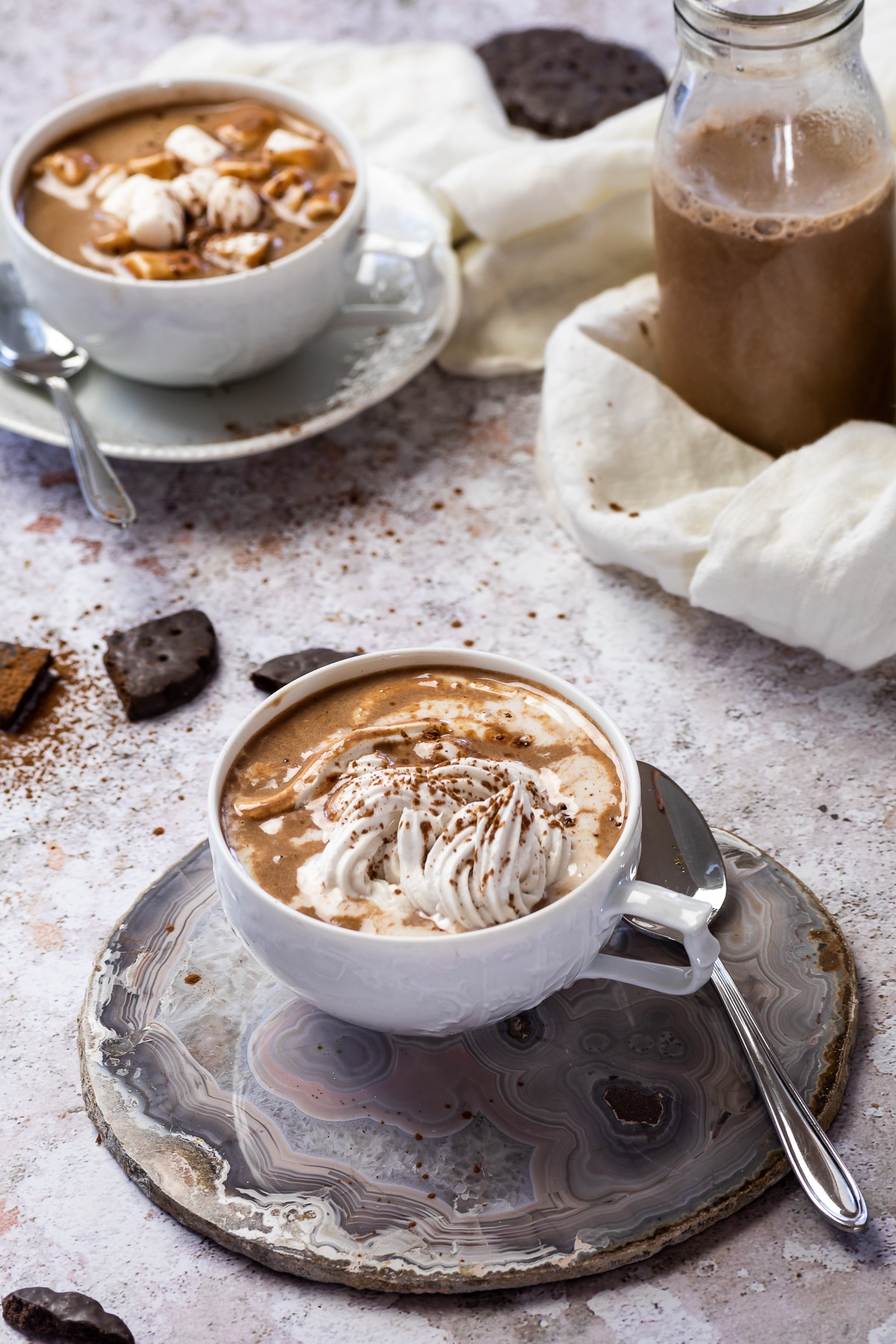 Storage
You can store the chocolate milk in the fridge for about 3 days.
If you have too much leftovers and you don't want to drink them every day, you can also freeze them and make Popsicles with it.
Even in cold seasons you sometimes feel like ice cream. At least that's how it is for us.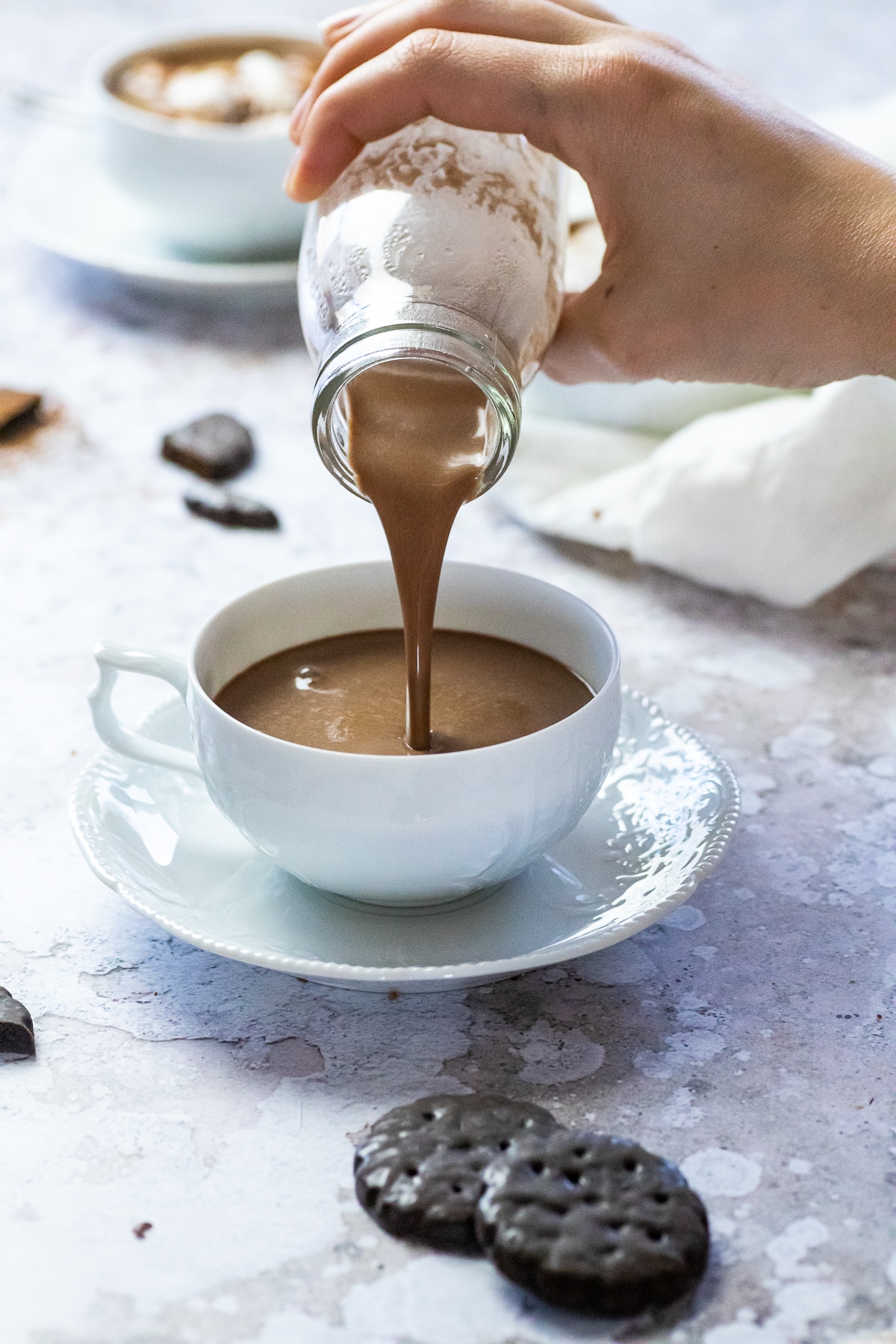 Serving Suggestion
You can serve the vegan hot chocolate without anything. Or you can serve cookies, cakes and the like.
I like to serve the following:
Cherry Vanilla Custard Squares
More Vegan Recipes
Mulled wine, also possible without alcohol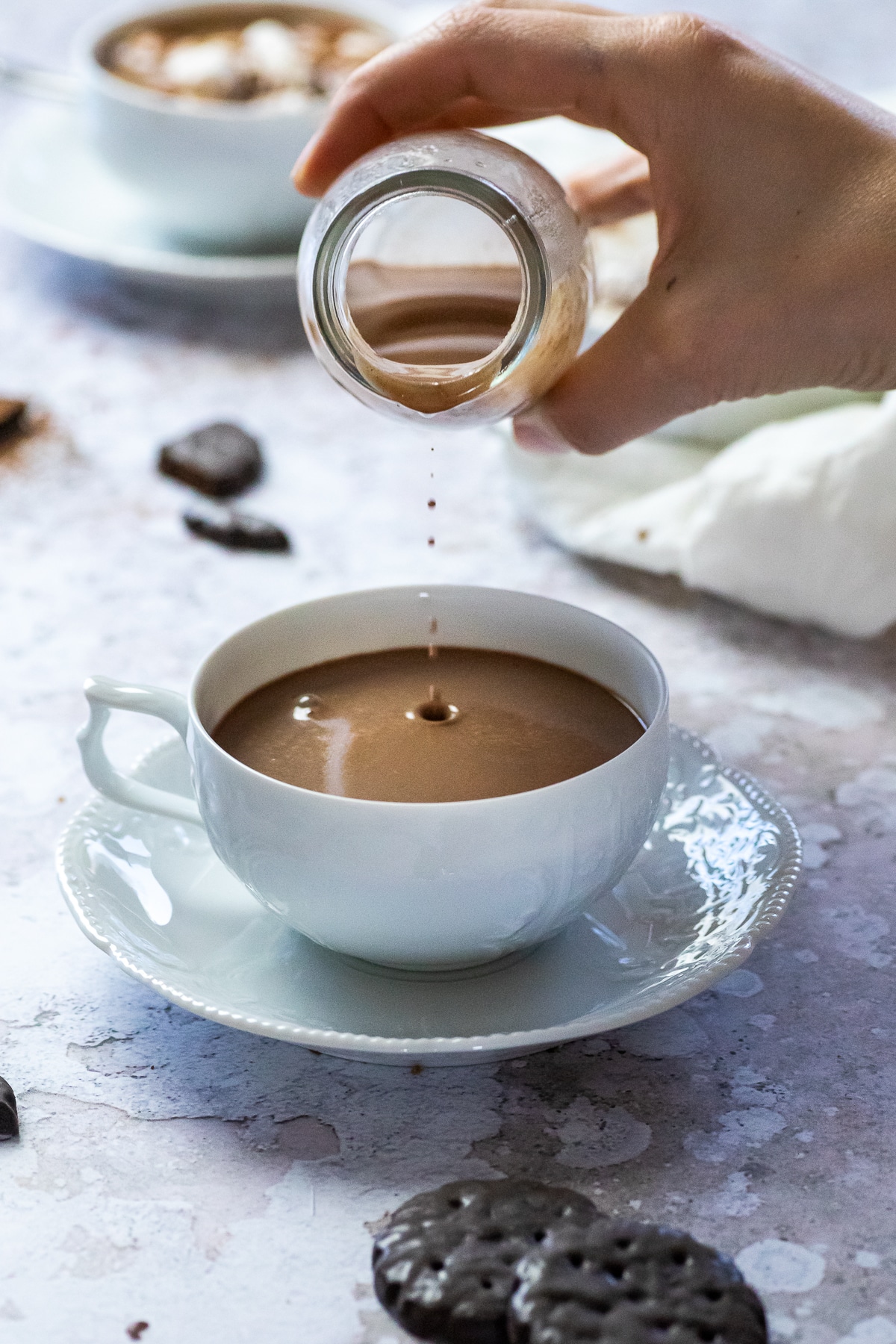 Tips
Use a mild and unsweetened cocoa powder that has a great chocolate. Here I recommend you take a look at the baking department or order a dutched cocoa powder online.
If you cannot tolerate nuts, you can also use nut-free milk and seed butter e.g. Use sunflower seed butter. Just make sure you use unsweetened milk as we sweeten the hot chocolate. If you've bought sweetened milk, just use fewer sweeteners.
If you want the hot chocolate to be even more chocolaty, replace some of the cocoa powder with dark chocolate (70% and more) and add it to the saucepan to warm up.
Vanilla extract is optional. I think it gives the hot chocolate a great taste.
Have you tred the recip
If you tried the vegan Recipebe so nice ♥ and let me knw byrating the recipe and writing what you think about it in the comments.  I would love to see your photo on Instagram orFacebook. To do this tag me with @veeatcookbake andmy hashtag is #veeatcookbake. So that I can see your creation. Did you know you can add photos n Pinterest under the recipe Pin? I can't wait to see a photo of your creation here. You find me with @veeatcookbake