Mulled wine is a traditional drink at Christmas markets in Germany and Austria. This alcoholic punch keeps people warm from the inside as they walk through the idyllic Christmas markets. Instead of serving a ready-made Glühwein, prepare this quick and easy mulled wine recipe with anise, clove, orange and cinnamon. The mulled wine isn't just perfect for the Christmas and Advent season, it's perfect for the complete cold and shivering winter season.
vegan | vegetarian | on request non-alcoholic | refined sugar free
Especially in the cold season, mulled wine is very popular and that is not just because of the warming effect of Glühwein. Thanks to the spices and their essential oils, the mulled wine has a positive effect on your feelings and mood. Which is perfect during the Christmas time and the dark season.
Unfortunately, here in the USA it is not common to have Christmas Markets around you. So we have to make the christmassy mood here at home and just prepare our own mulled wine and for the kids one without alcohol. Below I describe how you can prepare thid non-alcoholic.
What is all in mulled wine?
The classic ingredients of red mulled wine are traditional Christmas spices such as clove, anise, and cinnamon. Of course, there are no limits to your creativity and simply prepare the mulled wine to your own taste. For example, with vanilla, cardamom, lemon peel, ginger, which make the mulled wine something special.
How do I prepare a mulled wine?
Take a sufficiently large stainless steel pot and add all the ingredients. Now heat the drink to no more than 172 °F (78 ° C). Under no circumstances should the mulled wine boil. Not only do you lose a portion of the alcohol, the taste of the spices also changes and it can be bitter.
It is enough if you set up the mulled wine 20 minutes before your guests arrive. That's enough to let it infuse.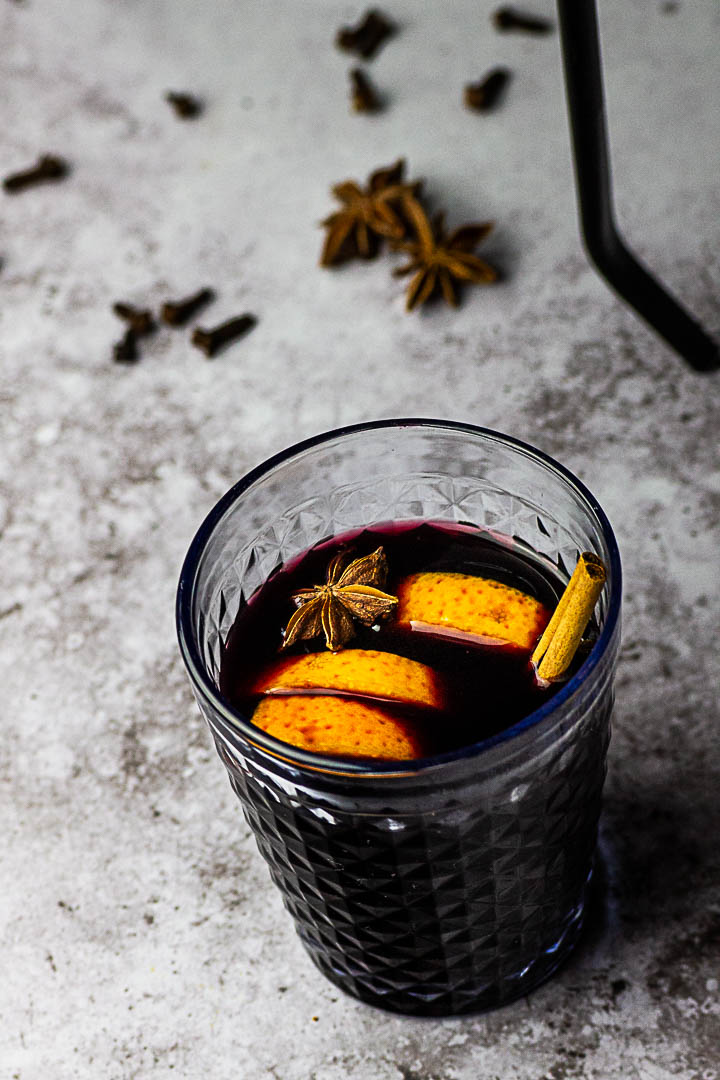 Which wine is best for mulled wine?
Of course it depends on your preferences, whether you prefer dry, semi-dry, or sweet wine. Most mulled wines are made with a dry or semi-dry wine. The following wines are best:
Red mulled wine varieties: Dornfelder, Merlot, Pinot Noir

White mulled wine: Riesling, Chardonnay
Do not take the cheapest wine variety you can find, but not the most expensive wine either. The wine is infused with fruits and spices and you do not drink it pure.
What wines are vegan?
Not all wines are vegan, did you know that?! Some are using animals parts to clarify and filter the wine. Here is a pretty good list of wines which are vegan. I read that the Aldi in UK has vegan wines.
How can I make the mulled wine alcohol free?
You can easily make mulled wine without alcohol. For my children, I used a red grape juice and warmed it with the spices and oranges. So the kids could drink a children mulled wine and we adults one with alcohol.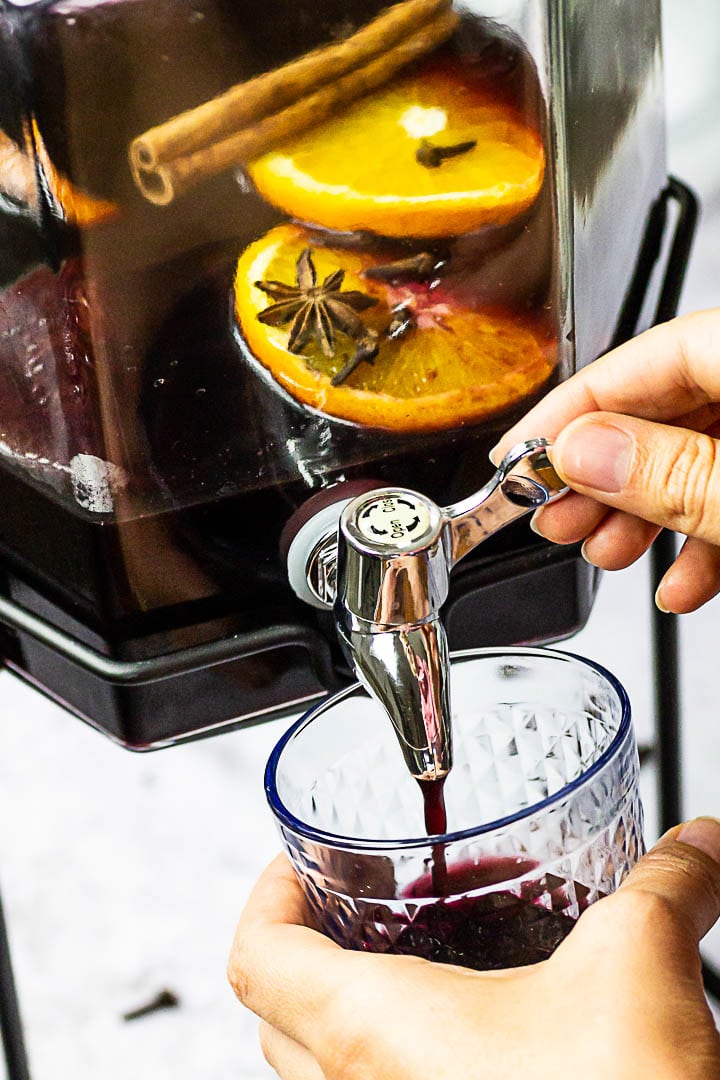 How can you make white mulled wine?
White mulled wine is lighter and fresher and tastes at least as good as red mulled wine. Just take a corresponding white wine and proceed with the spices and fruits like red Glühwein.
What can you serve with mulled wine?
Do not forget to Pin on Pinterest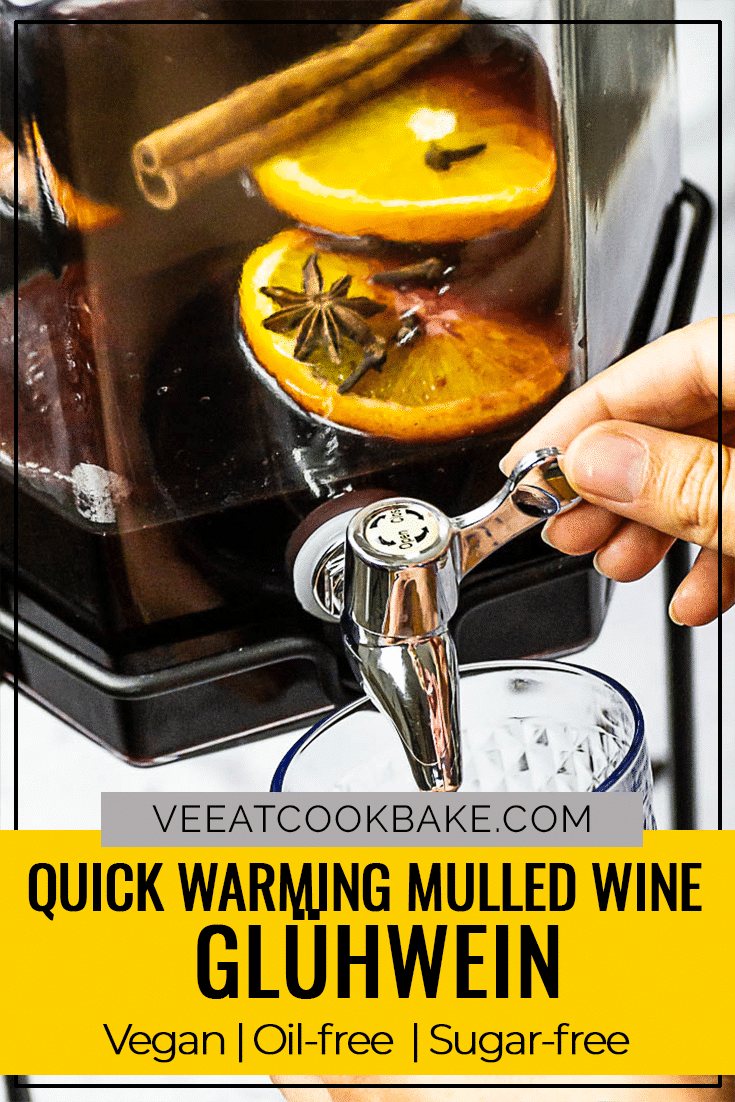 Have you tried the recipe?
If you tried the vegan Mulled Wine, be so nice ♥ and let me know by rating the recipe and writing what you think about it in the comments. Tag me on Instagram too. I am @veeatcookbake and my hashtag is #veeatcookbake. So that I can see your creation. Did you know you can add photos on Pinterest under the recipe Pin? I can't wait to see a photo of your creation there. You find me with @veeatcookbake. I also would love to hear your feedback so I can share it on my social media channels.

This post may contains affiliate links and I may receive a very small commission if you buy through these links at no extra cost. Thank you very much for supporting Ve Eat Cook Bake! More information can be found here.
---