Refreshing sparkling raspberry limeade prepared from a lime lemonade and fresh raspberries, make this lemonade the perfect cooling summer drink.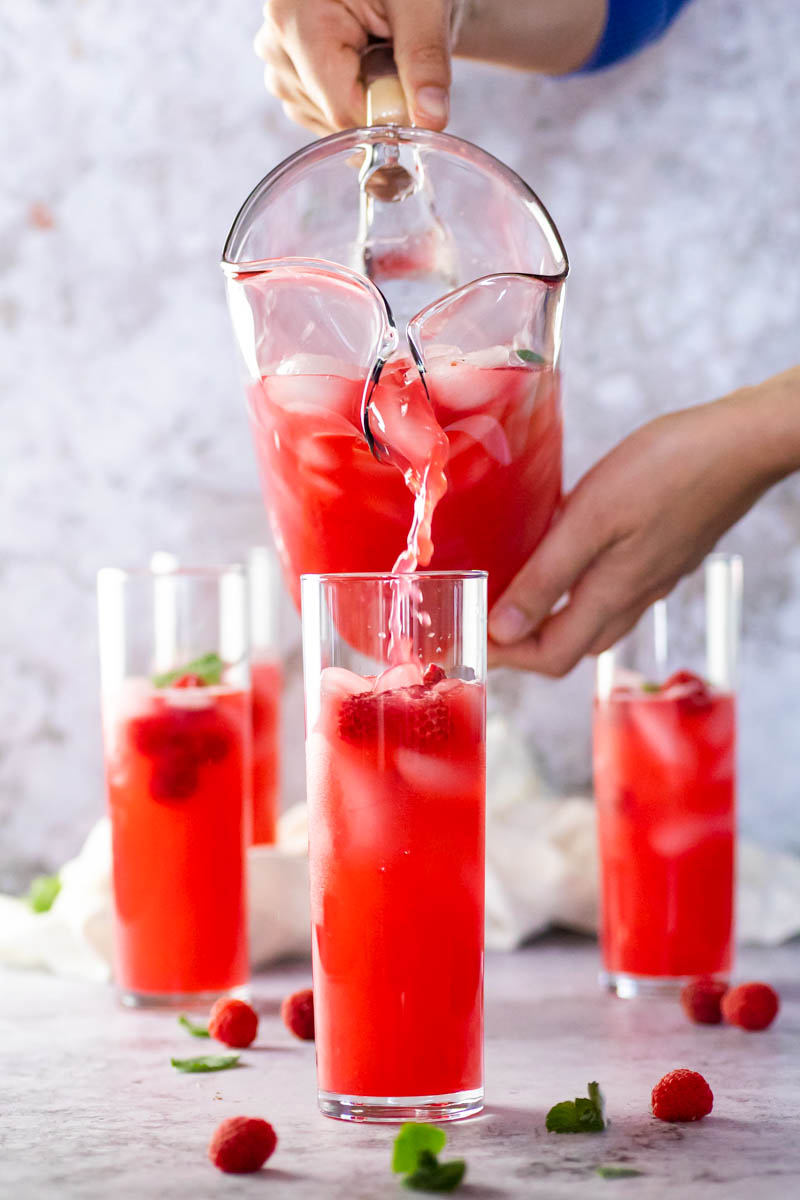 As an Amazon Associate, I earn from qualifying purchases. This post may contain affiliate links. Read More
Decorated with mint and fresh raspberries, this limeade is a real eye-catcher. We prepare this lemonade without refined sugar, instead we use monk fruit powder.
This bright rose color is perfect for a summer drink.
My daughter always wants me to conjure up something pinkish for her birthday, which is in summer. And this limeade is a complete success for children and adults.
You can also combine the lemonade made from lime with other berries, e.g. Blackberries or currants.
If you use the sour currants, you may need to use a little more sweetener. You can adjust it to your own taste.
With the kids at home, especially now during summer, we like to prepare such drinks together. My children are happy to help, and we can enjoy it later in the sunshine.
Where does the name Limeade come from?
Limeade is a combination of the words lime and lemonade. The classic lemonade is prepared from lemons.
With this lemonade we use limes and therefore it is called Limeade.
What does raspberry limeade taste like?
This lemonade has a slightly sweet and sour taste thanks to the limes. And the raspberries give a refreshingly sweet taste.
Ripe raspberries have a sweet, slightly sour taste. So make sure you use ripe raspberries. Immature berries only taste sour.
Ingredients
An overview of what is included. You can find the exact quantities below.
Limes
Raspberries
Water
Sparkling Water
Monk Fruit Powder
Lime Wedges for serving
Fresh Mint to serve
Fresh Raspberries to serve
Instruction
Place the raspberries and 125 ml of lime juice in a high speed blender and puree until there are no more pieces.
Now sieve the raspberry puree through a fine mesh sieve or nut milk bag to remove the raspberry seeds.
I use a tablespoon and move it in a circle to push the limeade through the sieve.
Now add the remaining lime juice, sparkling water, and sweetener to a sufficiently large bowl and stir until the sweetener is dissolved.
Serve the limeade with ice cubes in glasses topped with raspberries, fresh mint and lime wedges.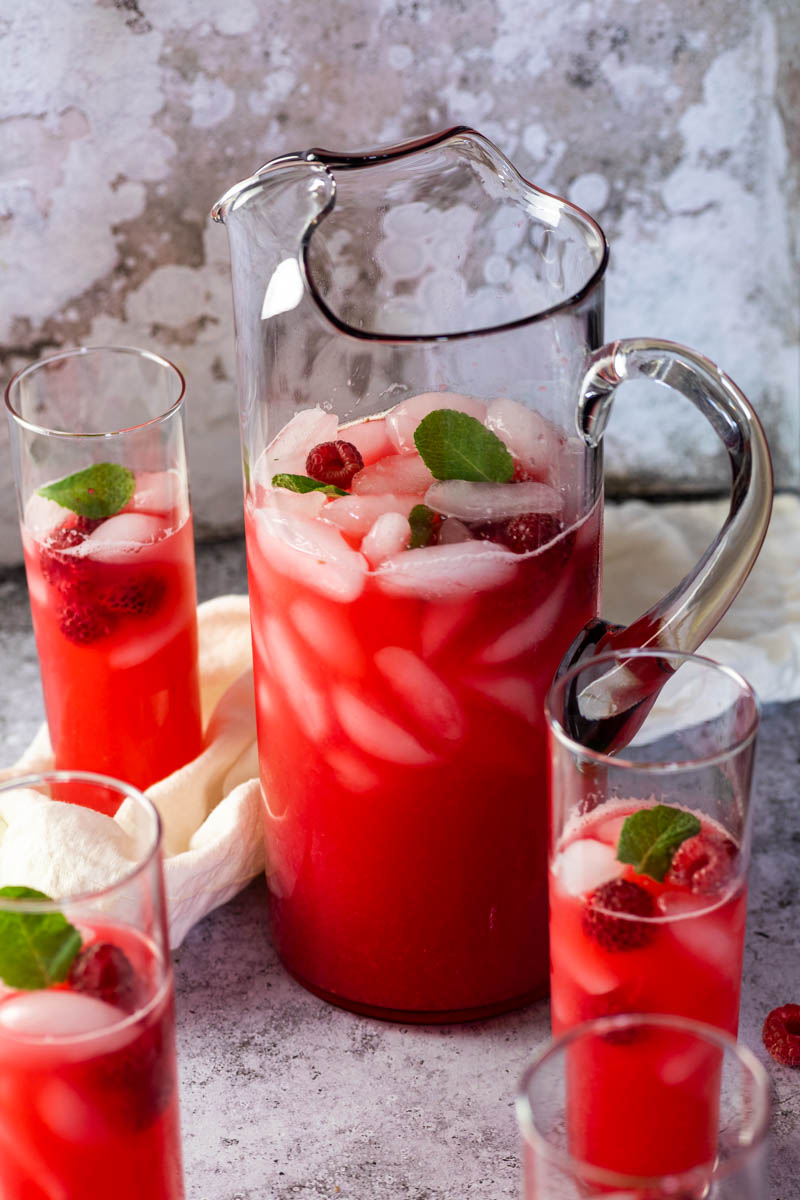 Should I add sparkling water to the Raspberry Limeade?
If you don't want to use sparkling water, you can of course also use normal water or tap water.
The bubbling and tingling give this raspberry limeade a special refreshing kick.
Can I use other berries to add to the limeade?
Of course, as described above, you can also use other berries. What you may need to do is adjust the sweetener.
Otherwise it may be sour or too sweet. You will probably need more sweeteners for currants and less for sweet berries like strawberries.
Do I have to strain the raspberry puree?
If you don't want to have the small seeds in your limeade, I recommend that you strain them.
It is entirely up to you how you like your lemonade.
How many limes do I need?
To make 250 ml of lime juice, you need about 8 relatively large limes.
To be on the safe side, just buy a little more, because we also need some for the garnish.
Approx. You need 15 limes to squeeze out, plus a few to decorate.
Leftover Use
We like to pour the leftovers into popsicle molds and then enjoy it refreshingly cool for several days.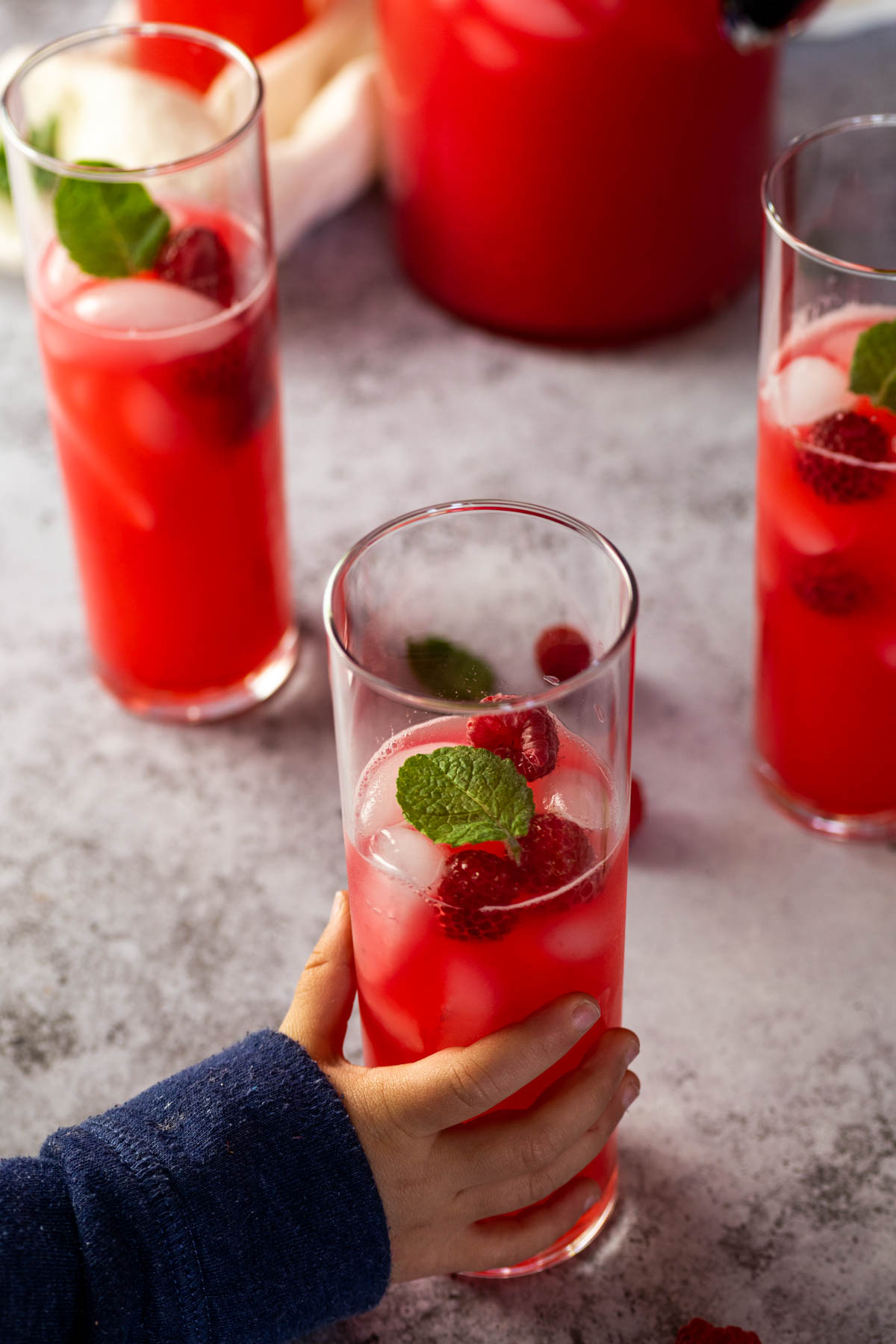 Tips & Tricks
Buy fresh limes and no ready-made lime juice. The fresh juice simply tastes better.
You can prepare the limeade 2 days in advance. Add the sparkling water just before serving, otherwise it is stale.
Use sweeteners as desired. We like to use monk fruit powder for such drinks because it is color neutral and the color of the raspberries remains the same.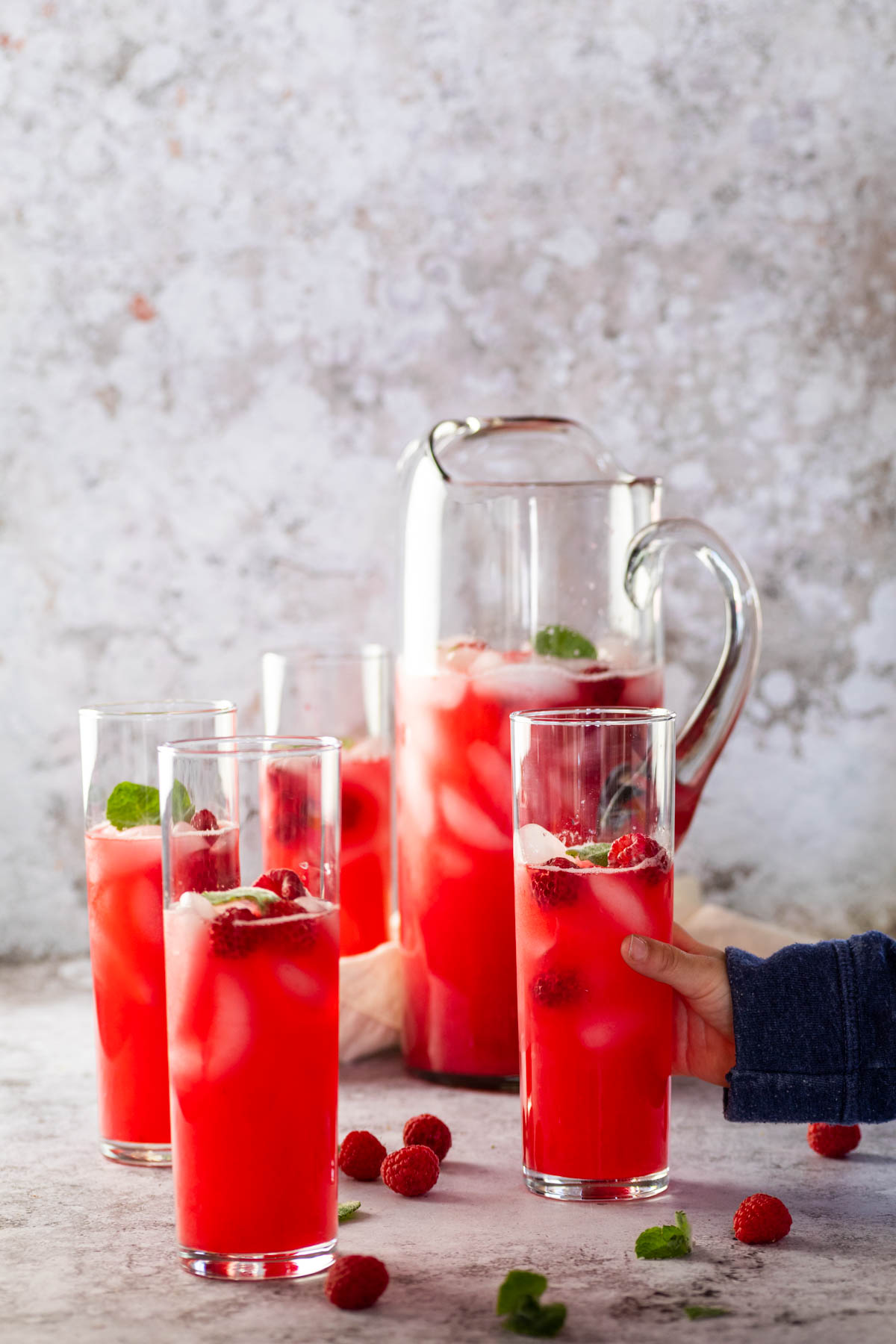 More refreshing beverages:
Blackberry Iced Tea
Raspberry Mojito (alcohol-free opt)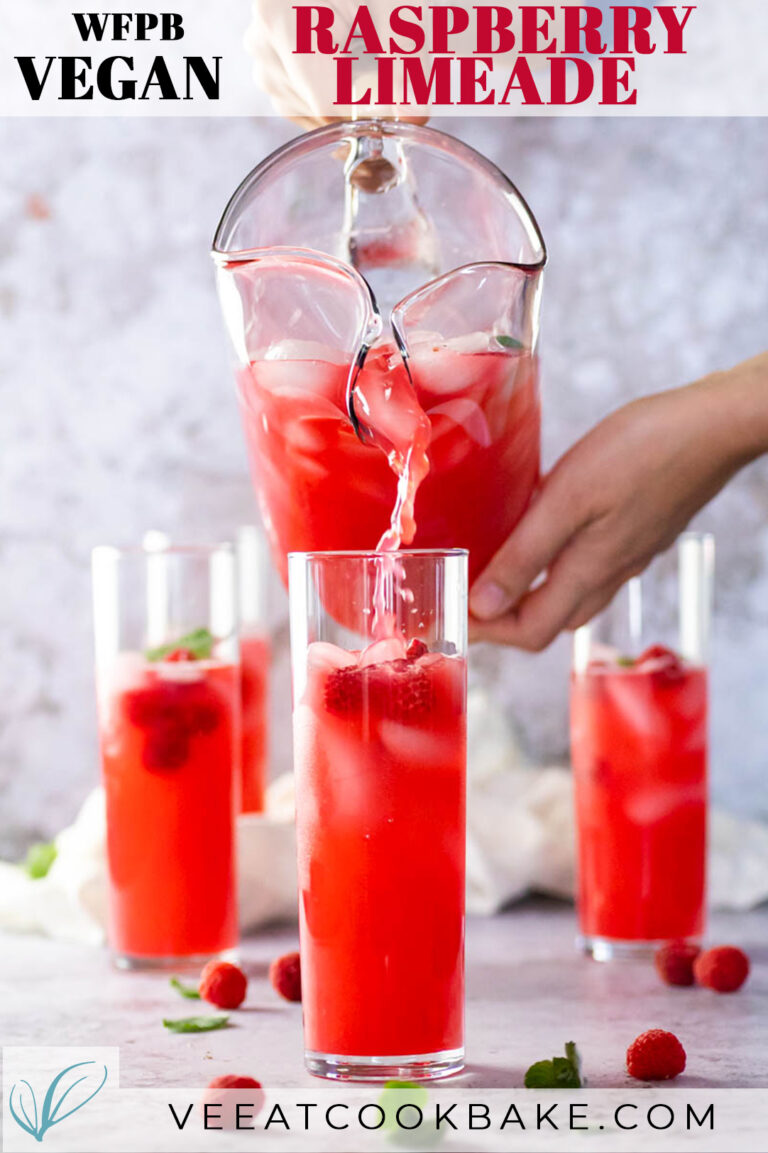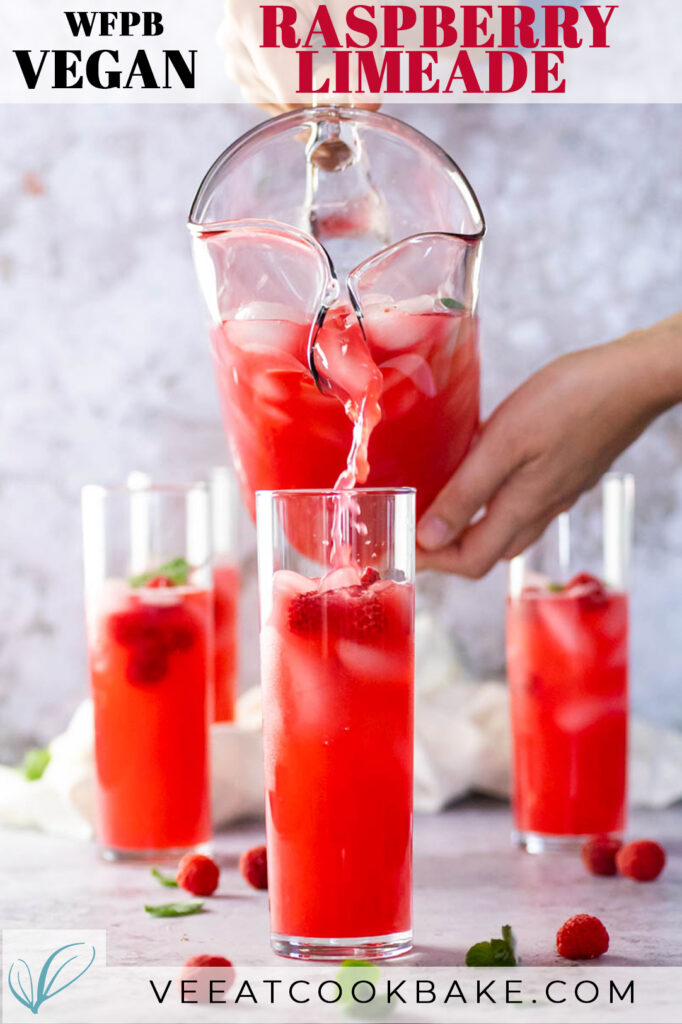 Have you tred the recip
If you tried the vegan Recipebe so nice ♥ and let me knw byrating the recipe and writing what you think about it in the comments.  I would love to see your photo on Instagram orFacebook. To do this tag me with @veeatcookbake andmy hashtag is #veeatcookbake. So that I can see your creation. Did you know you can add photos n Pinterest under the recipe Pin? I can't wait to see a photo of your creation here. You find me with @veeatcookbake