Linzer Cookies or also known as Spitzbuben and Hildabrötchen are super easy to bake vegan. Basically, the Linzer cookies are made of shortcrust pastry and this is made from flour, butter (fat) and sugar.
So you can enjoy Christmas cookies in the Advent season to your cup of coffee or tea to homemade cakes and cookies (biscuits), you do not need complicated ingredients and most of you will already have them in stock. These vegan cookies with red jam filling are perfect as a gift idea for a Gift Swap or as a host gift.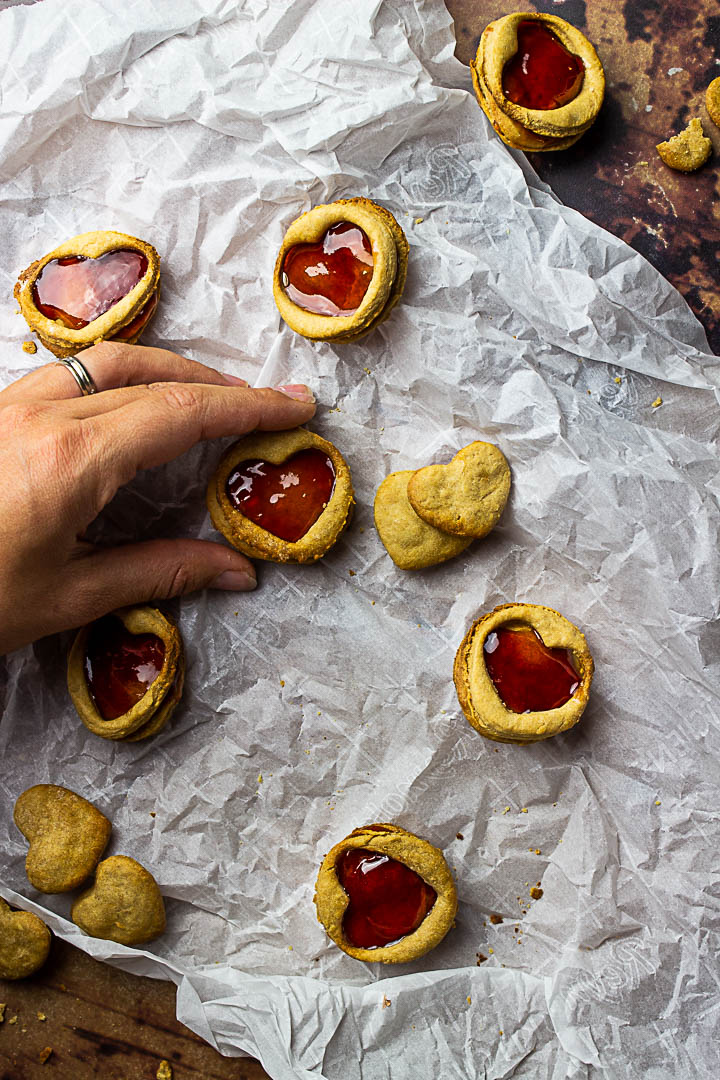 Linzer cookies are next to vanilla crescents, cinnamon waffles, gingerbread as one of the most popular Christmas cookies in Germany. The Christmas cookies are prepared from a simple dough without much effort. You can make these quickly without many steps. Use a jelly without fruit pieces instead of a jam.
We made these cookies with our kids and the kids had a lot of fun to cut them out. It took a little longer to get it all done, but the kids had a lot of fun with it. And that's the most important thing, right?
These cookies don't just look pretty, but thanks to the combination with the jam, these cookies taste heavenly good. Especially with a cup of mulled wine.

What do you need for Linzer Cookies?
Flour

Nut butter (or coconut oil)

Almond milk

Coconut sugar or raw cane sugar, ground into powder

Maple syrup

Finely ground almonds

Cinnamon

Clove, ground

Currant or blackberry jelly or another dark variety

Tapioca starch, ground for dusting (opt)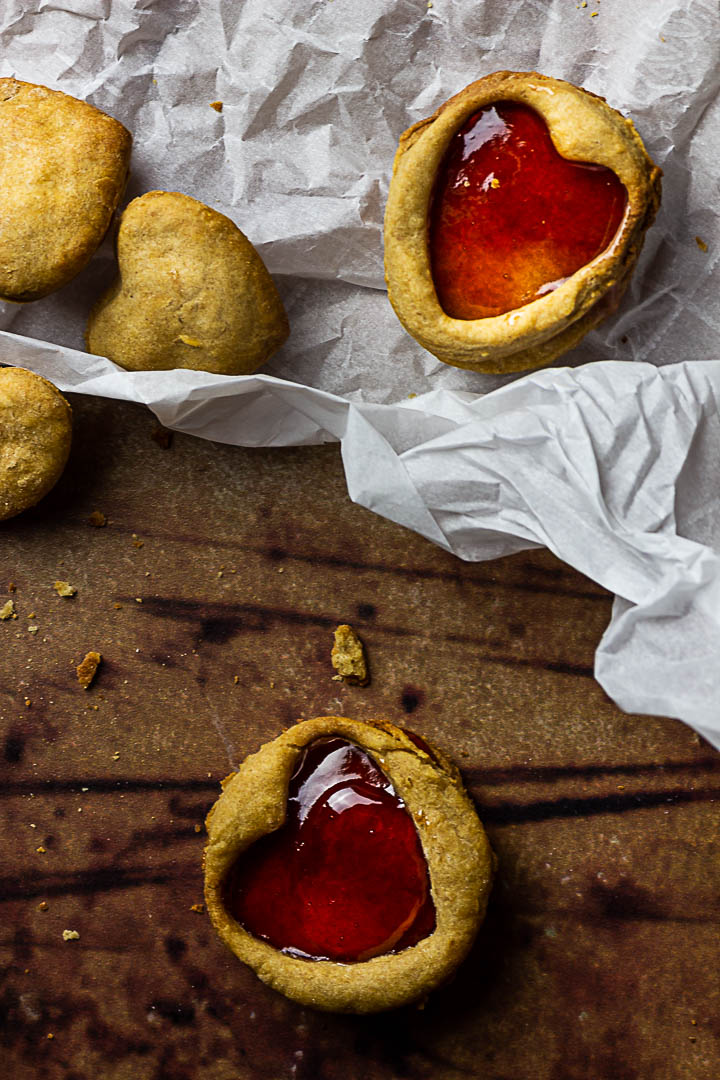 How are Linzer cookies prepared?
First, mix all dry ingredients together and separately, mix all the liquid ingredients until they are creamy. With your fingers, slowly knead in the dry ingredients with the liquid mixture until a crumbly dough almost like for crumbs is achieved.
Now wrap the dough in a cloth and put it in the fridge for 30 minutes.
Preheat the oven to 350 °F (180 °C) and roll the dough thinly out, as for using normal cookie cutters. Use cookie cutters to cut the dough out. Use a circle cutter to cut out the main shape for the cookies. Cut out half of the cookies with a decorative shape in the middle and the other half stay as they are.
Now you bake the Linzer Cookies for about 10 minutes in the preheated oven.
If you want you can sprinkle the cookies with the cut out middle with powdered sugar
Now put some jelly on the whole cookies and place a cookie with a cut out shape on top.
Let the biscuits cool down completely.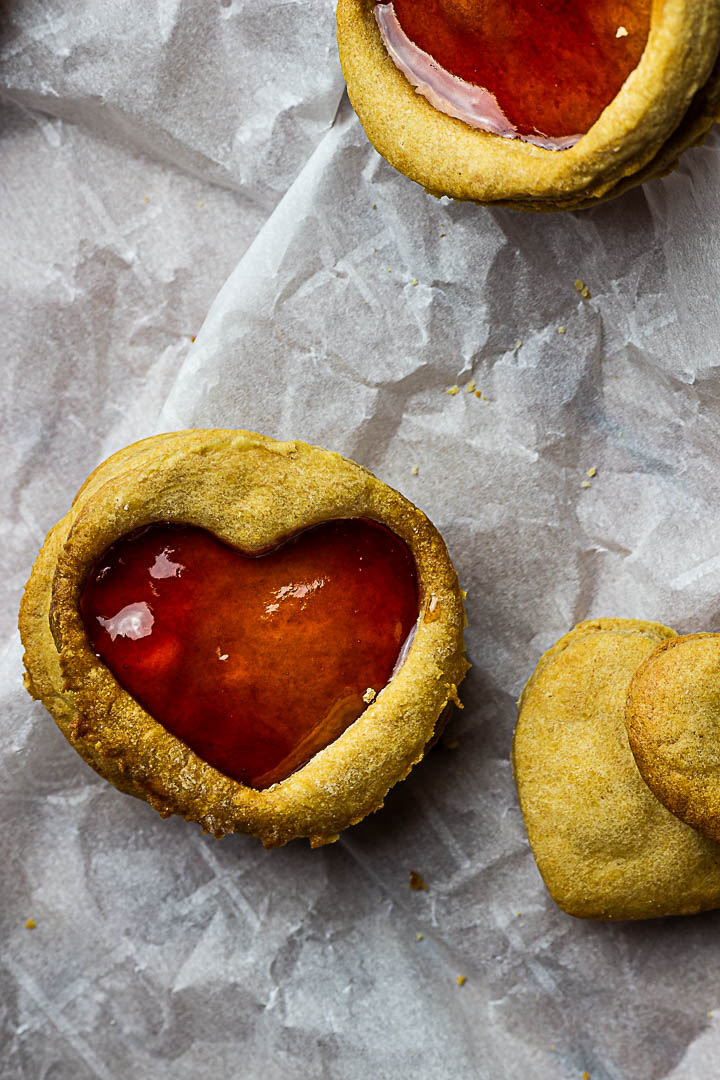 Which cookie cutters are the best?
Here you can decide with your preferences. You can use either circles, hearts, stars. Or use a Linzer Cookie cutter set.

How long do the Linzer Cookies last?
Christmas' cookies are eaten so fast in our house. If you place the cookies in a cookie tin made of metal, then the Linzer Cookies last for about 1 week at room temperature.
How is the dough crumbly without butter or margarine?
As you probably already noticed, I like to experiment with recipes and try to replace the oil with nut butter. Nut butters not only have more vitamins and nutrients, they are also full of healthy fats. And we do not want a cookie without fat, we want to replace the fat of processed foods like oils with wholesome foods like nut butter. Here it is important that we also replace some flour with ground almonds, otherwise the cookies will later become too dry and firm. However, if you do not refrain from oils, you can of course also just use coconut oil or margarine instead of nut butter.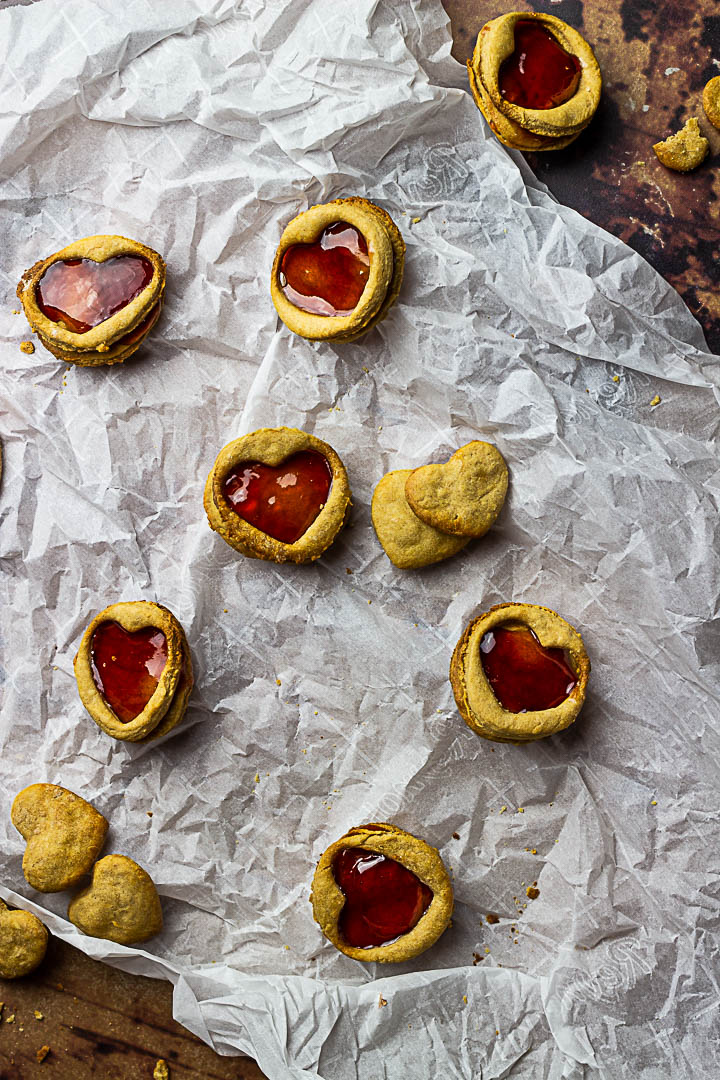 Must try vegan Christmas cookies and more
Do not forget to Pin on Pinterest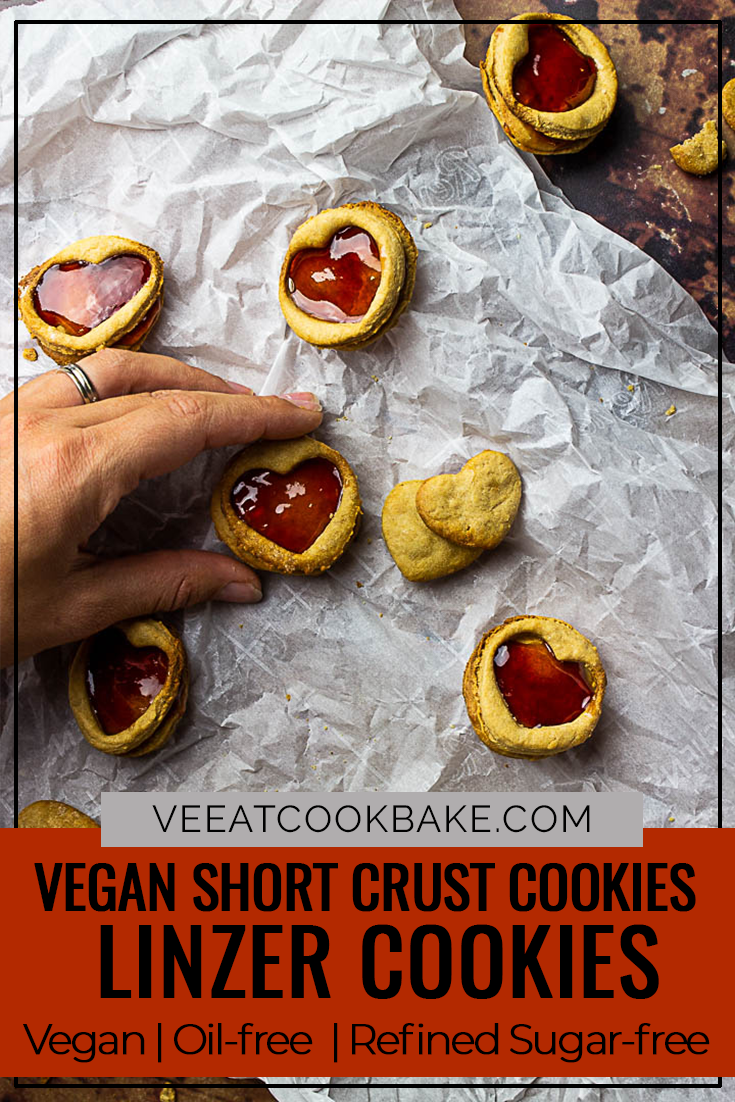 Have you tried the recipe?
If you tried the vegan Linzer Cookies, be so nice ♥ and let me know by rating the recipe and writing what you think about it in the comments. Tag me on Instagram too. I am @veeatcookbake and my hashtag is #veeatcookbake. So that I can see your creation. Did you know you can add photos on Pinterest under the recipe Pin? I can't wait to see a photo of your creation there. You find me with @veeatcookbake. I also would love to hear your feedback, so I can share it on my social media channels.

This post may contains affiliate links and I may receive a very small commission if you buy through these links at no extra cost. Thank you very much for supporting Ve Eat Cook Bake! More information can be found here.
---